This was my first ever wine tasting road trip!  I have done a little bit of wine tasting in the past in Napa Valley and in the Okanagan, but never a trip like this one, which lasted 4 days and 3 nights, covering a total of 13 wineries!
It was perfect timing when Ford Canada offered me to test drive their latest Ford Edge Titanium for a week. I had been talking about a road trip in the Okanagan Valley with my buddy Rick for quite a while.
Recently I attended the Science of Wine event at Science World, and discovered the Golden Mile Bench sub-regions. Having tasted wines from such a unique part of the BC wine country, I was definitely excited to actually visit the area.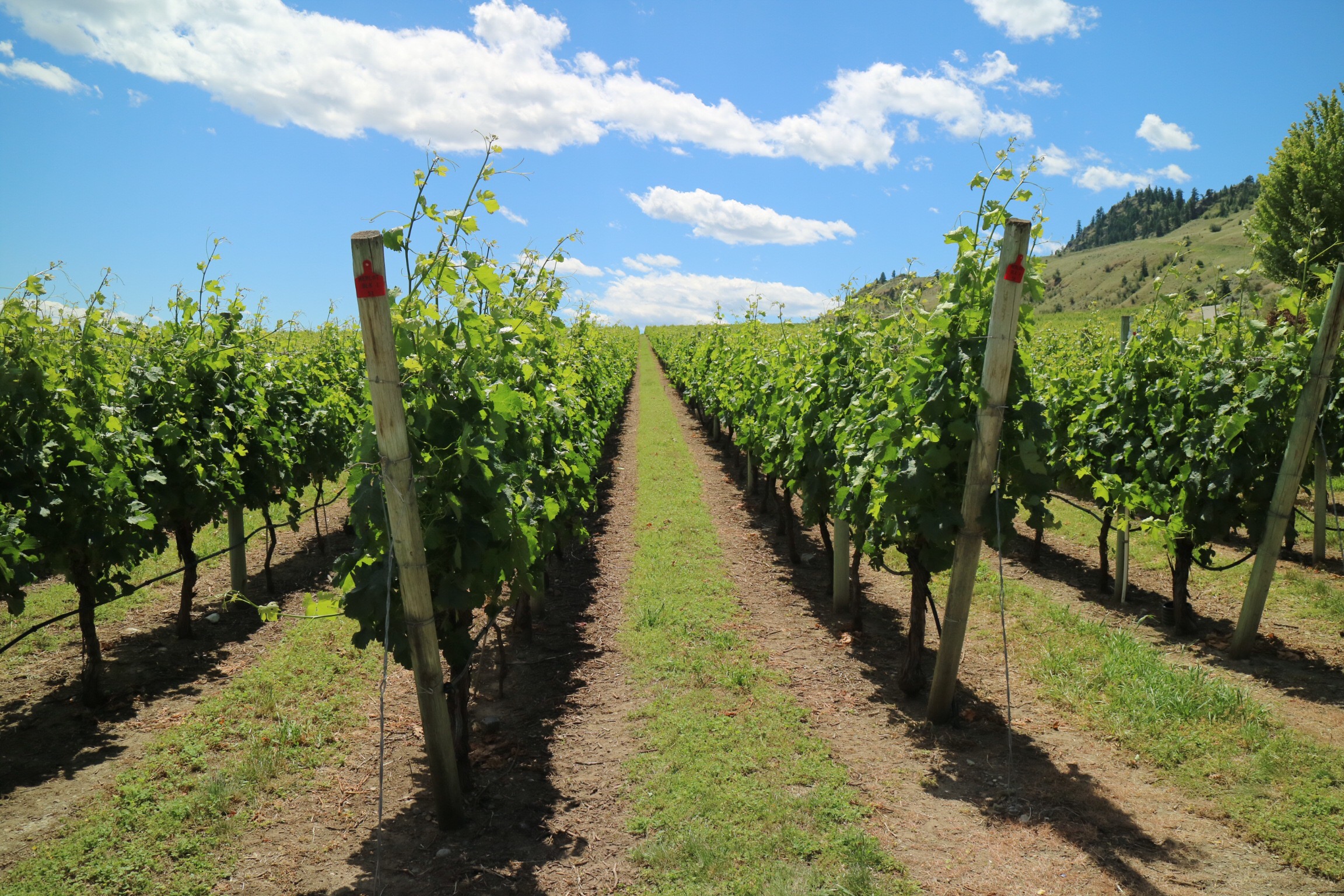 Day One
The Vehicle 
The brand new crossover in Burgundy was quite sleek to look at. Running on the road, it felt solid and steady, and very easy to handle. As I drive with manual transmission myself, I was impressed with Edge Titanium's Sport Mode with the power performance of the engine.
I picked up Rick from his Surrey home. He's the one with all the camping gears. Camping in Osoyoos is on the itinerary!
I would have loved to leave a little early but I was not able to pick up the car until 11 am. We left Surrey around 12:30 pm.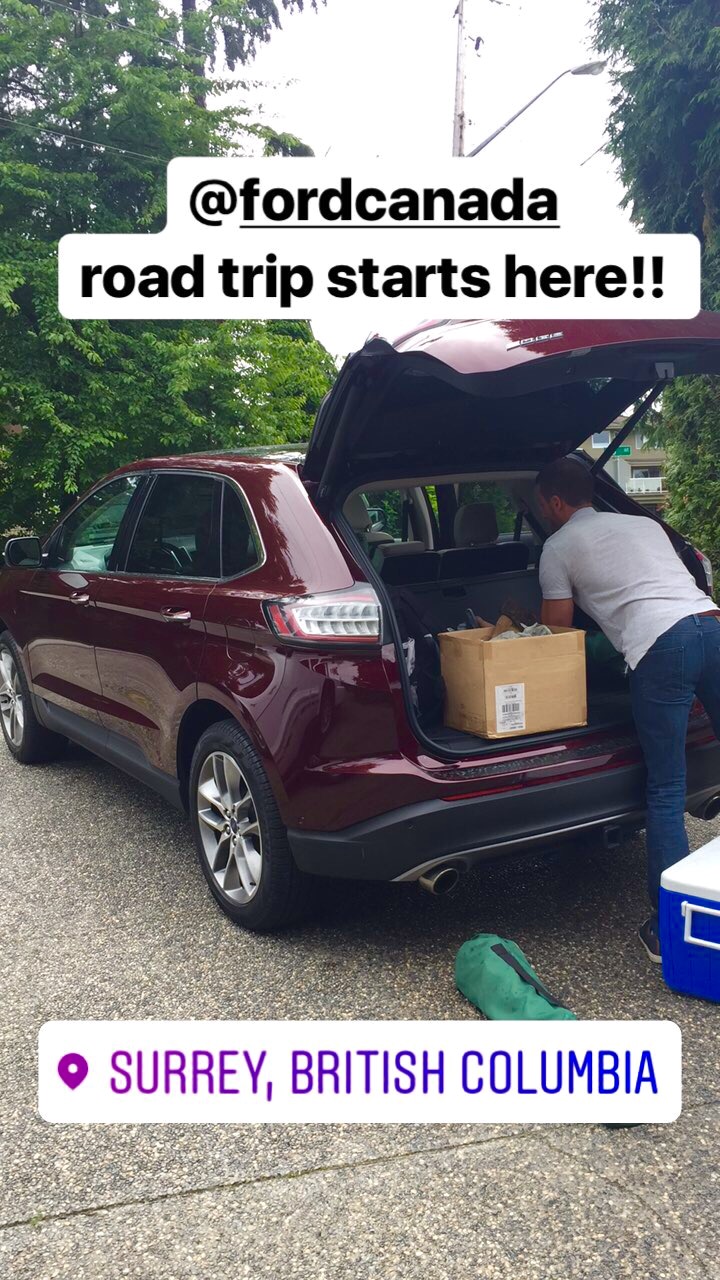 Merritt, BC
The gas tank was almost full before we left the Lower Mainland. But after breezing through Hell's Gate and Kokaholla Highway (BC Highway 5), we found only 1/4 gas left in the tank and had to stop in Merritt for gas. In fact I stopped in Merritt for gas almost every single time when I travel to Kelowna.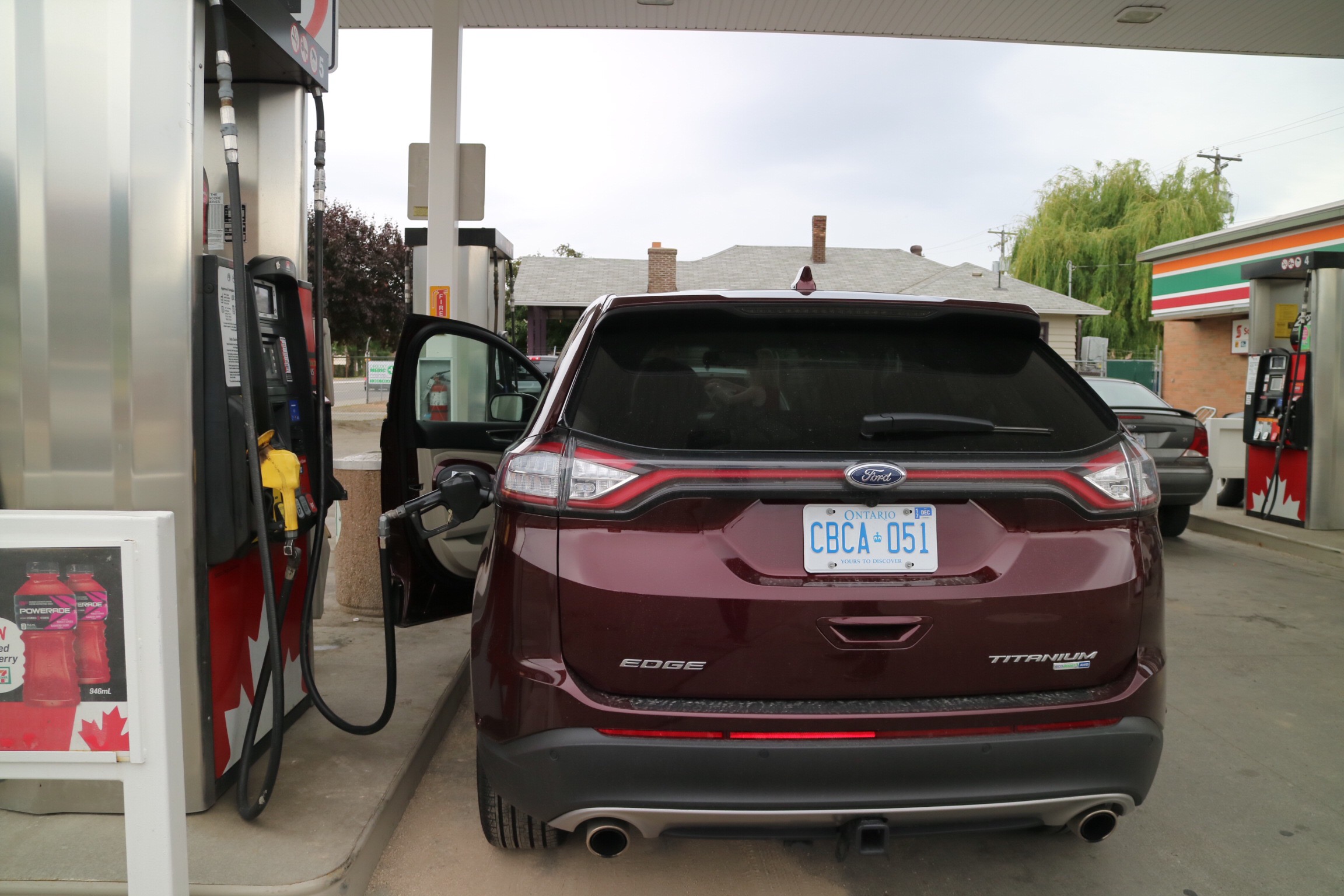 We made it to West Kelowna right after 5 pm, and there was still time to visit Mission Hill Winery before it closed at 6. However, after the winery's summer kickoff in the coming weeks, they will be open until 7 pm in the evening.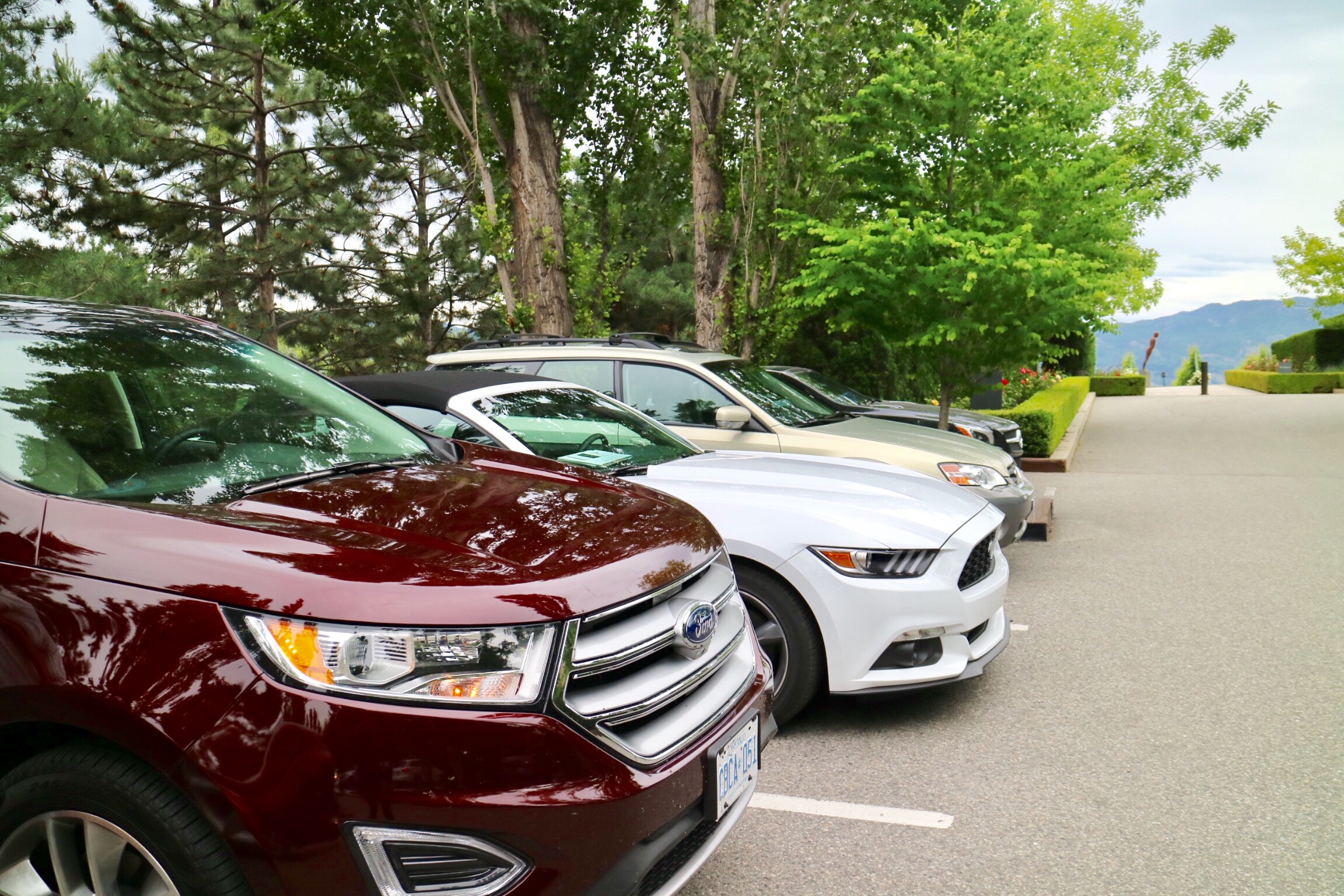 Here we are, at one of the most important landmarks of the Okanagan wine country.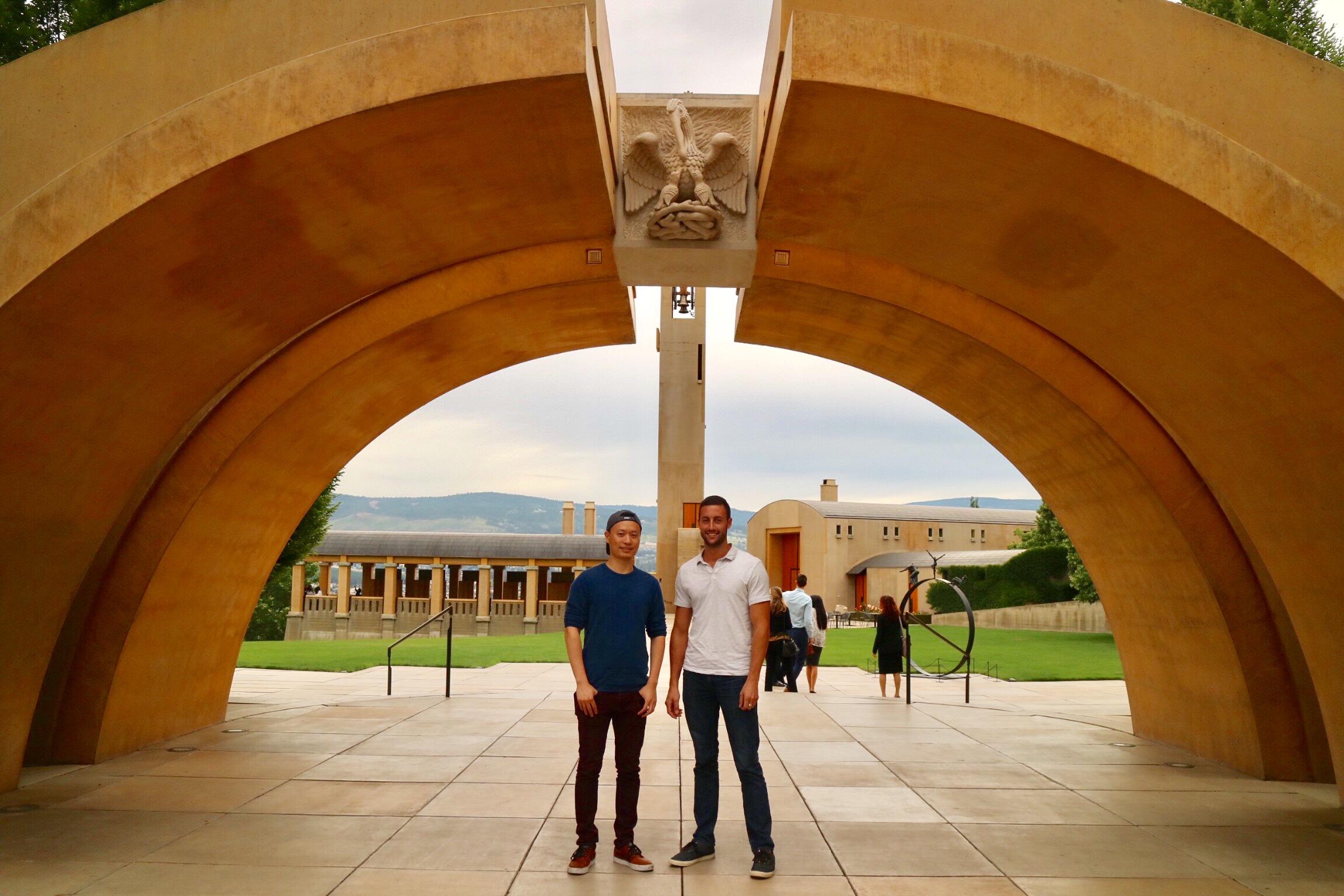 The focal point of the architectural design was a twelve-story and 85-foot bell tower, with bells cast by Fonderie Paccard in France who also crafted the bells for St. Patrick's Cathedral in New York and Sacré-Cœur in Paris.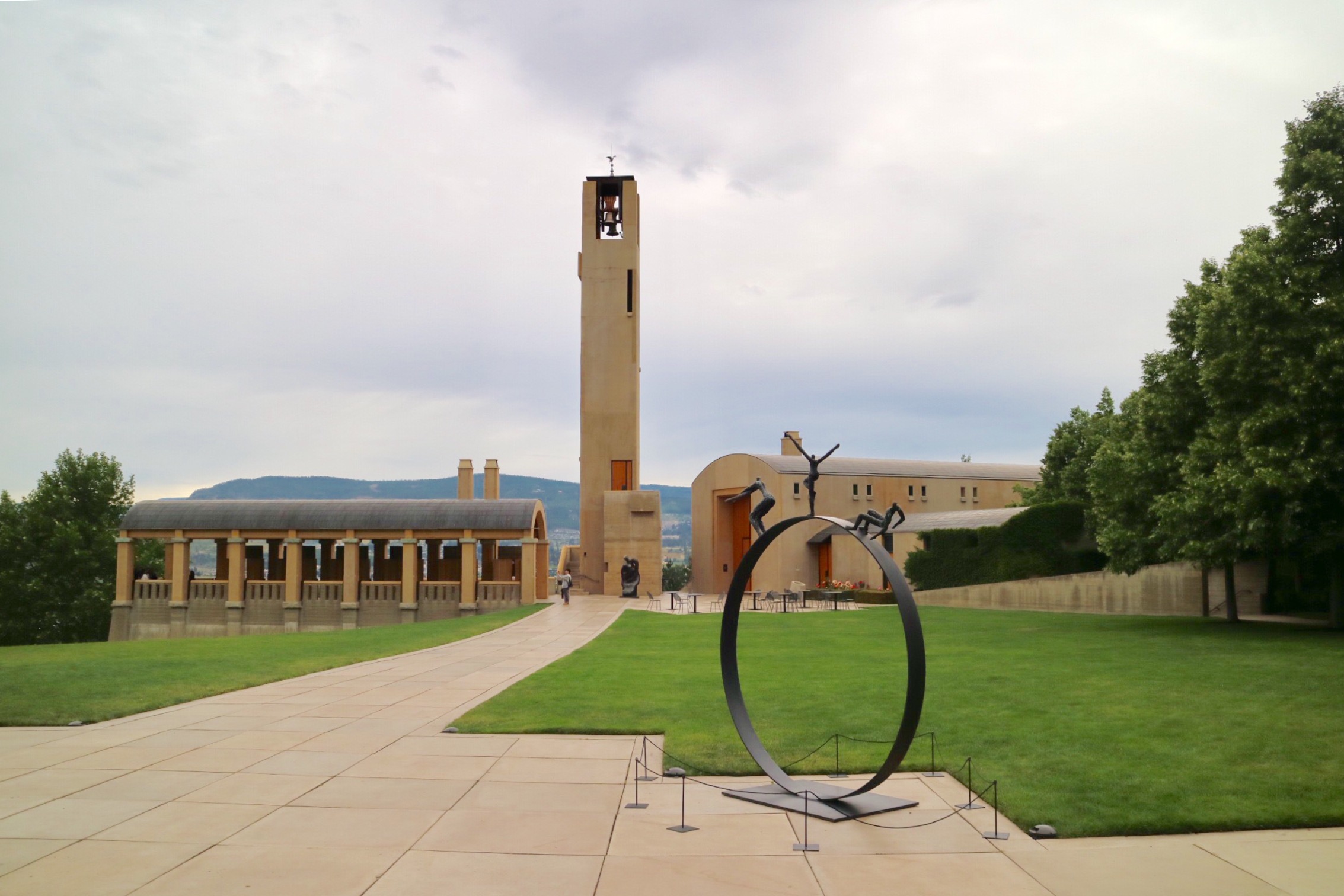 If you live in BC and have never been to Southern France or Napa Valley, you don't need to travel that far for the spectacular wine country experience, as our very own Mission Hill Winery is just as magnificent.
The beautiful Okanagan Lake and the lovely surroundings form the perfect backdrop.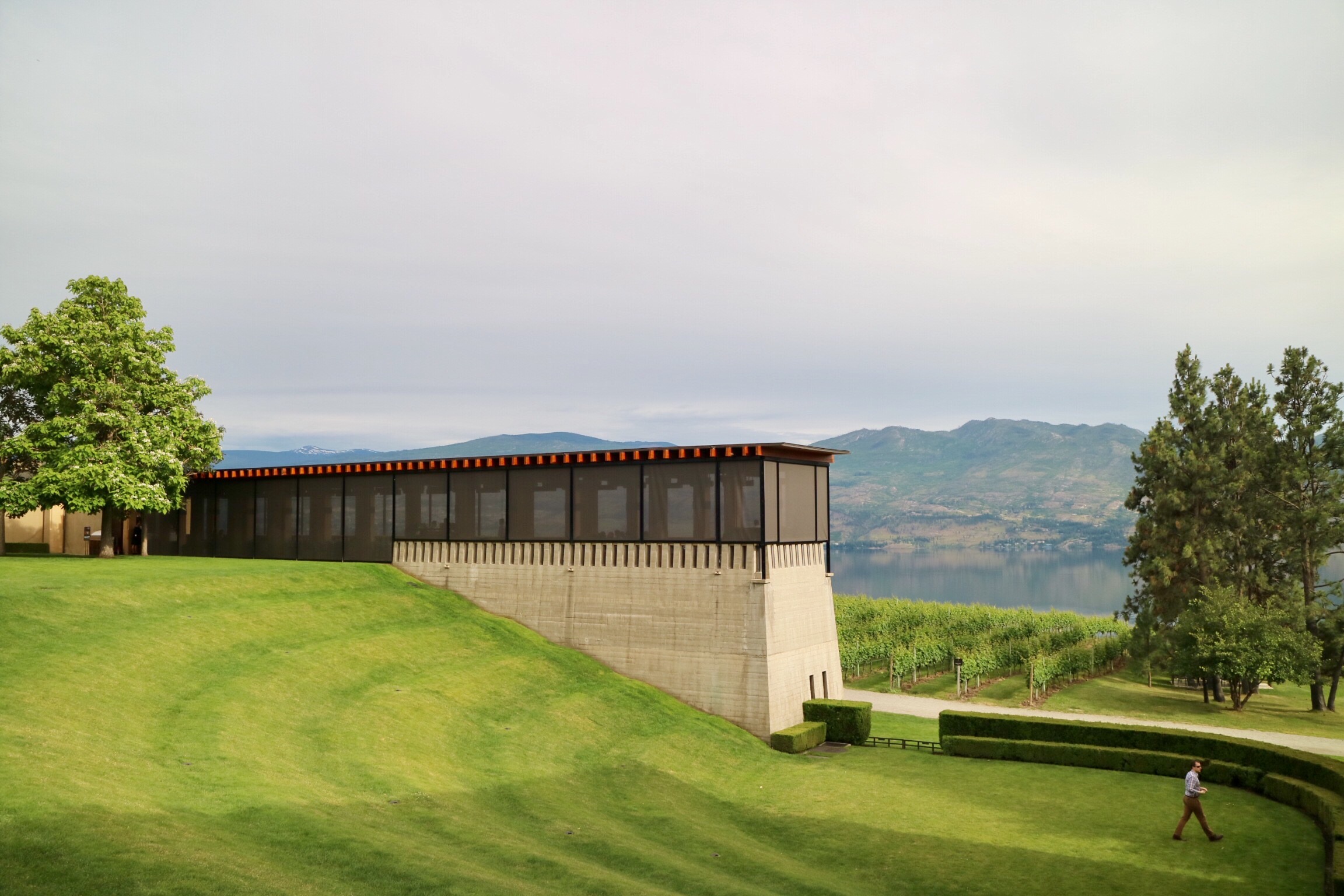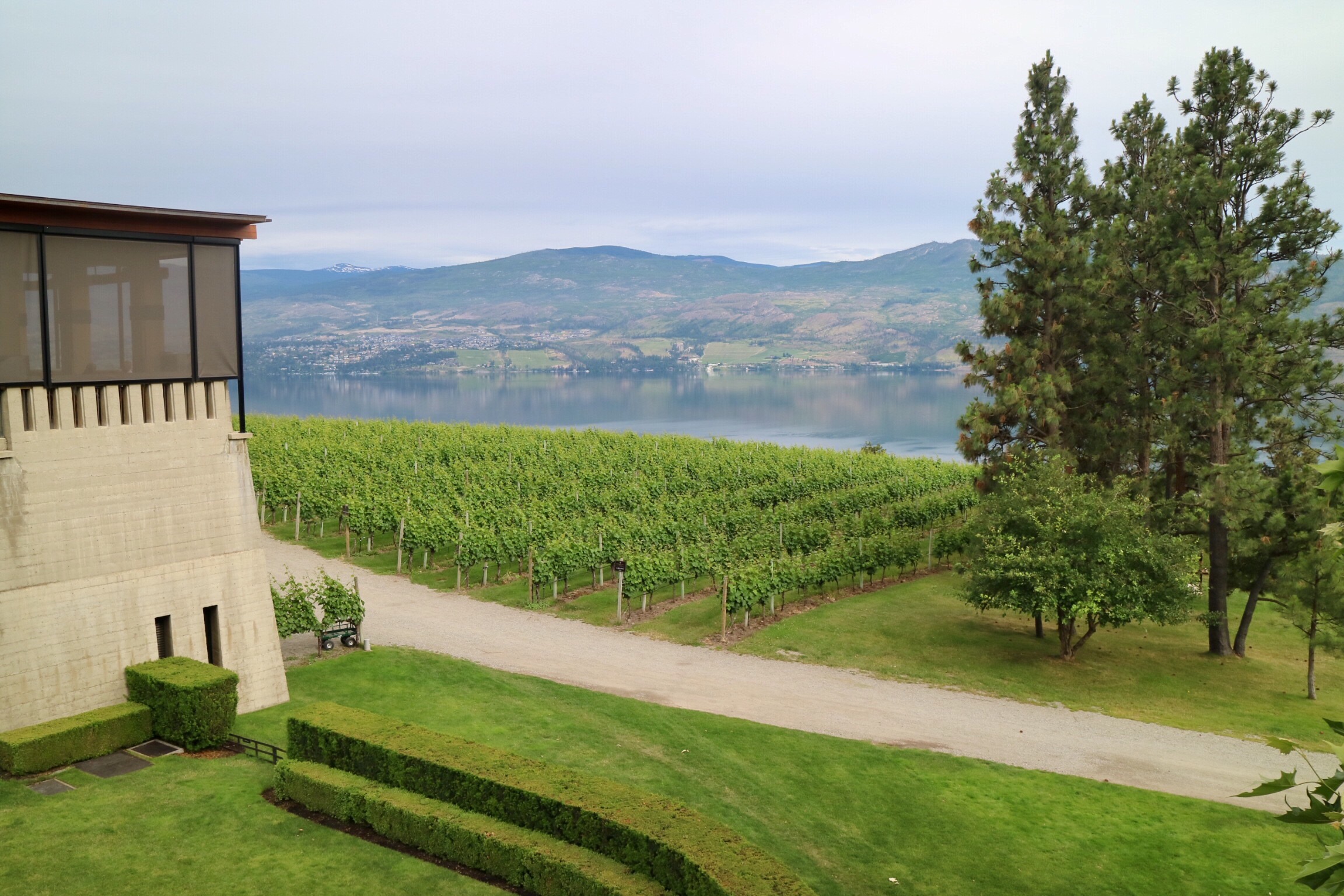 It's wine tasting time!  At the tasting room, they offer complimentary tasting of one red wine and one white. For additional $10, a tasting of 5 different wines is available but the fee will be waived if a bottle of wine is purchased.
They give a generous pour of wine into the glass. As you usually take 3 sips for tasting a wine, if you have small sips, you can totally share one tasting with another person. But for wine lovers like us, it's great to have 2 tastings so that we could taste more different wines!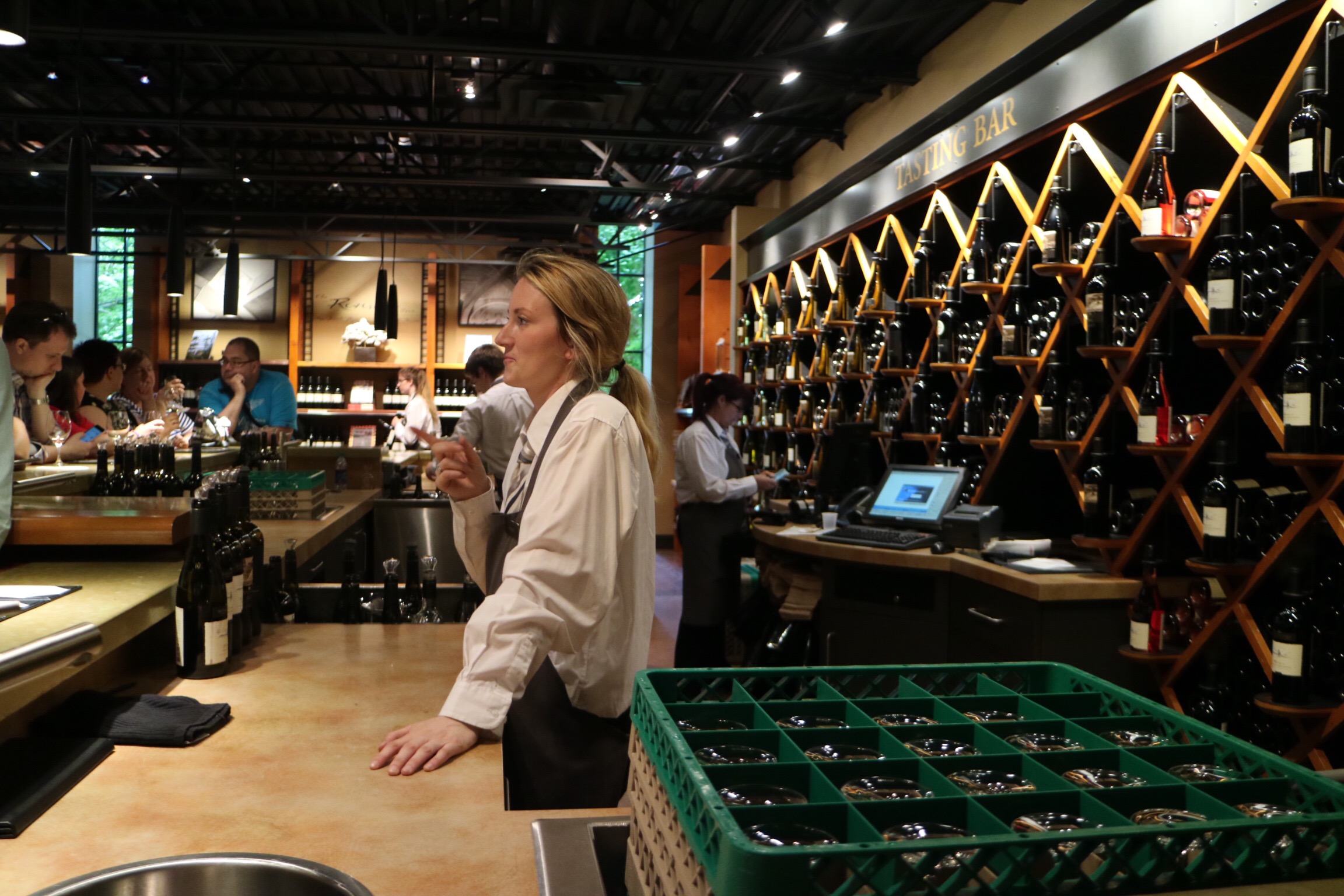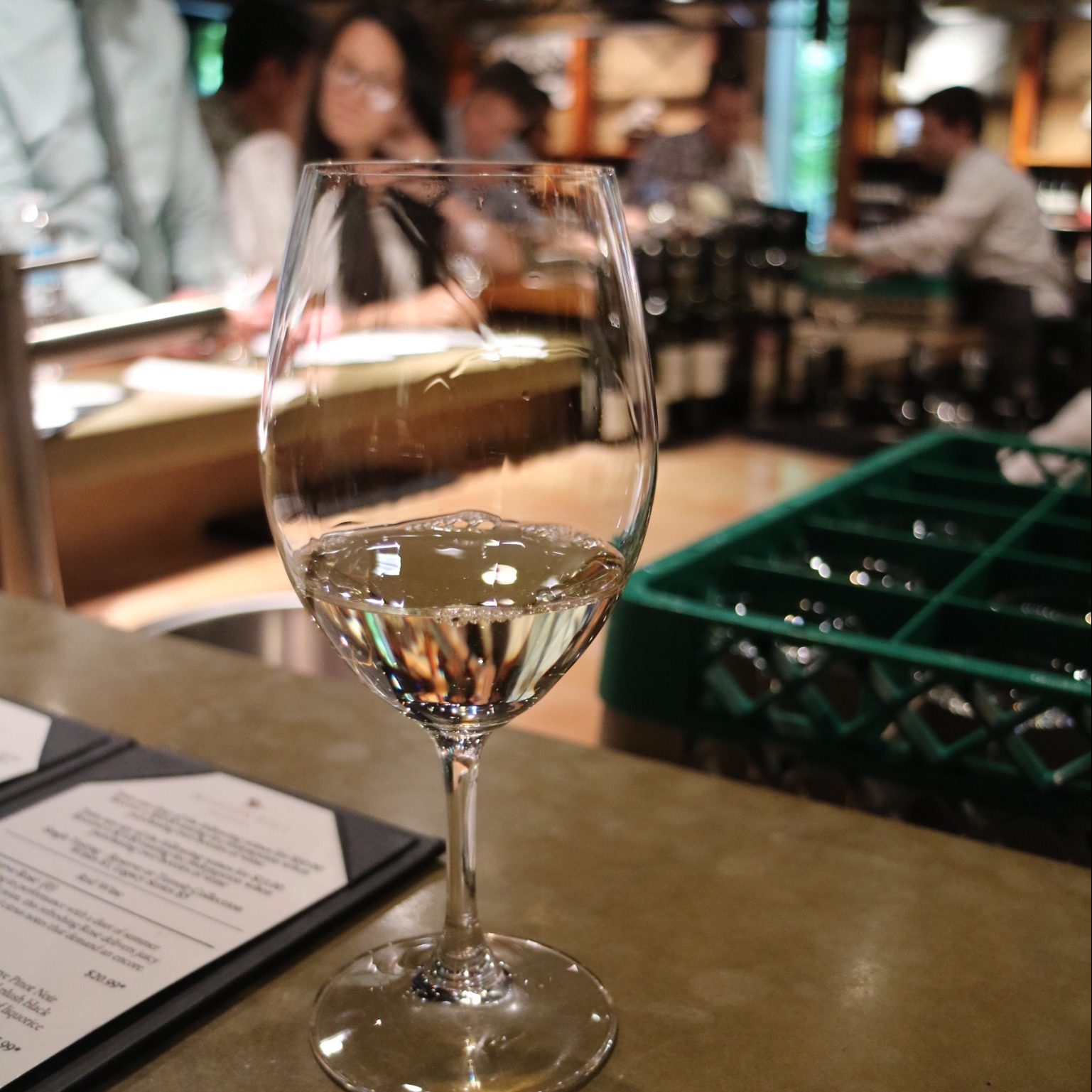 I ended up getting a bottle of the Mission Hill Reserve Pinot Noir ($25.99) and Rick bought the Mission Hill Reserve Chardonnay ($21.49).
While looking up the route to Mission Hill through those winding roads, I tried the Ford SYNC technology to sync up my iPhone to the GPS interface. Through the interface, I can access a lot of my iPhone apps so that I can navigate through iPhone maps, text, and listen to music. It's so nice to have a new car!  I think my 2004 Mazda 3 is about to retire soon.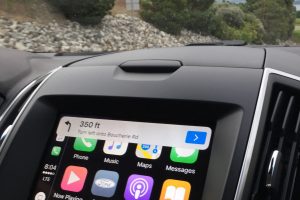 When most the wineries closed at 6 pm, Quail's Gate Winery closed at 7 pm. So we wasted no time running over there around 6. (They close at 8 pm in July – September) It is only a 5-minute away from Mission Hill.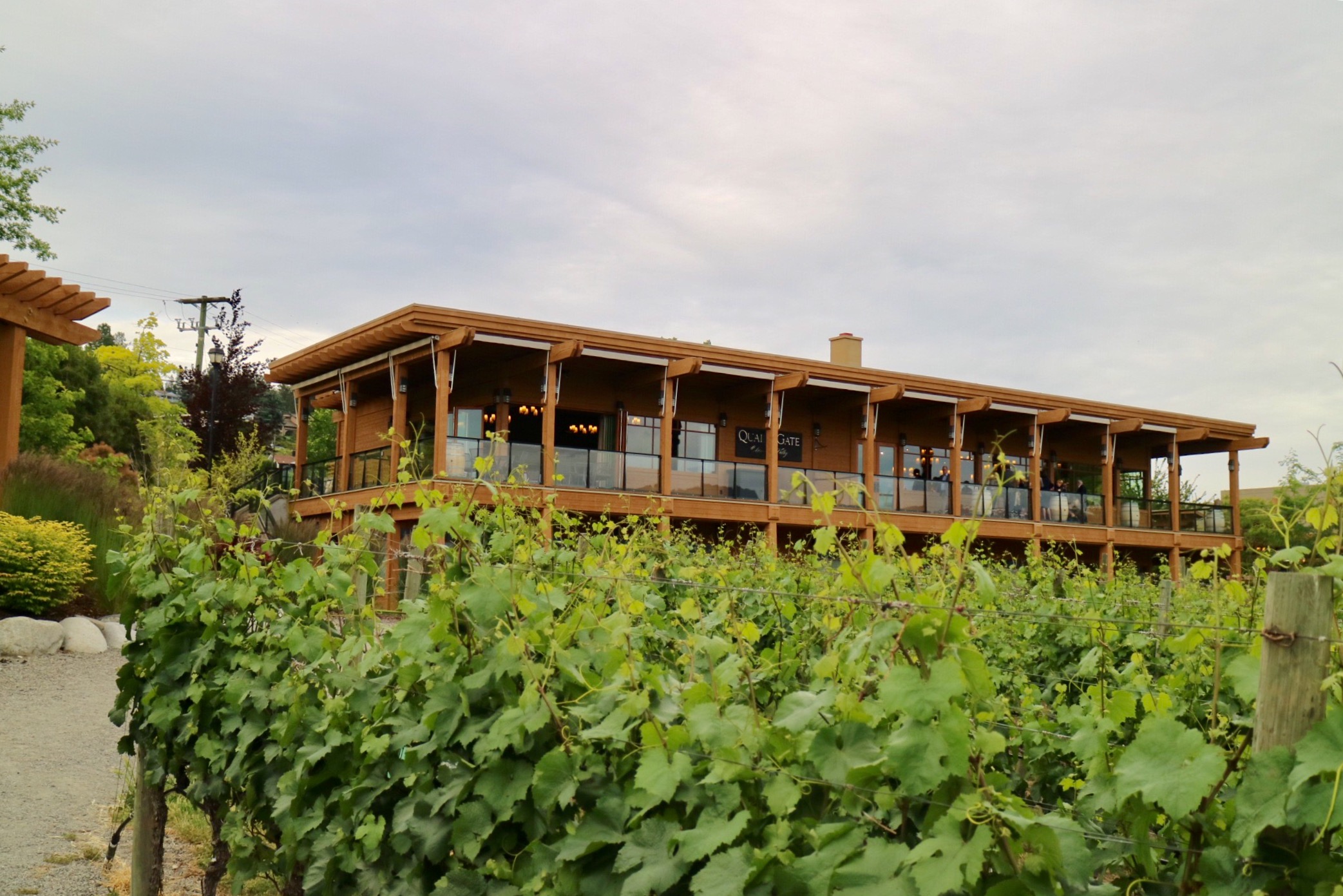 I really liked the wood structure of the buildings, including the main tasting room and the restaurant, Old Vines.
They offered two complimentary wines for tasting and $5  for a flight of three additional wines.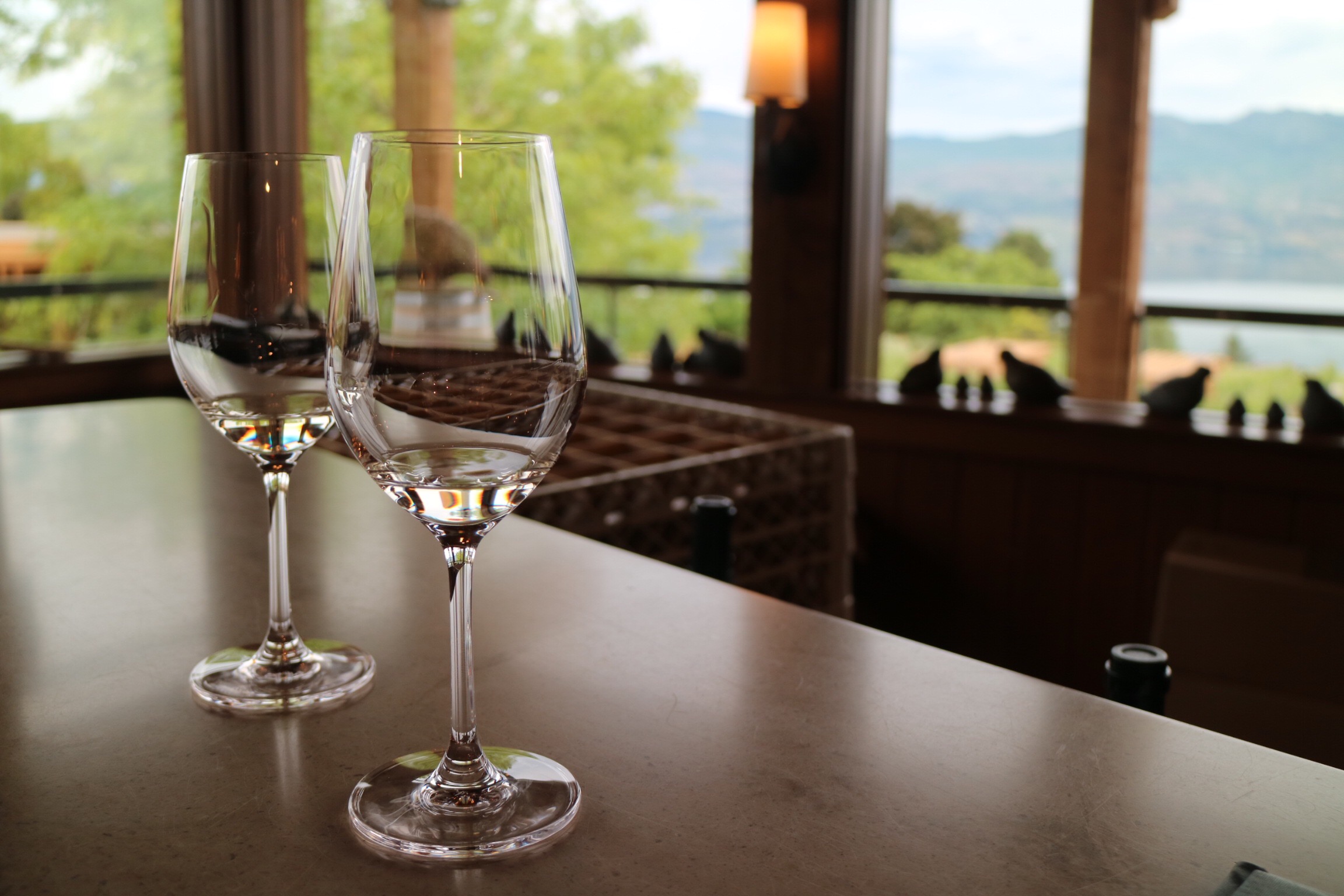 I was introduced to Quail's Gate's Pinot Noir years ago at The Keg Steakhouse and was impressed with how good and how affordable it was. It has been a favourite of mine over the years.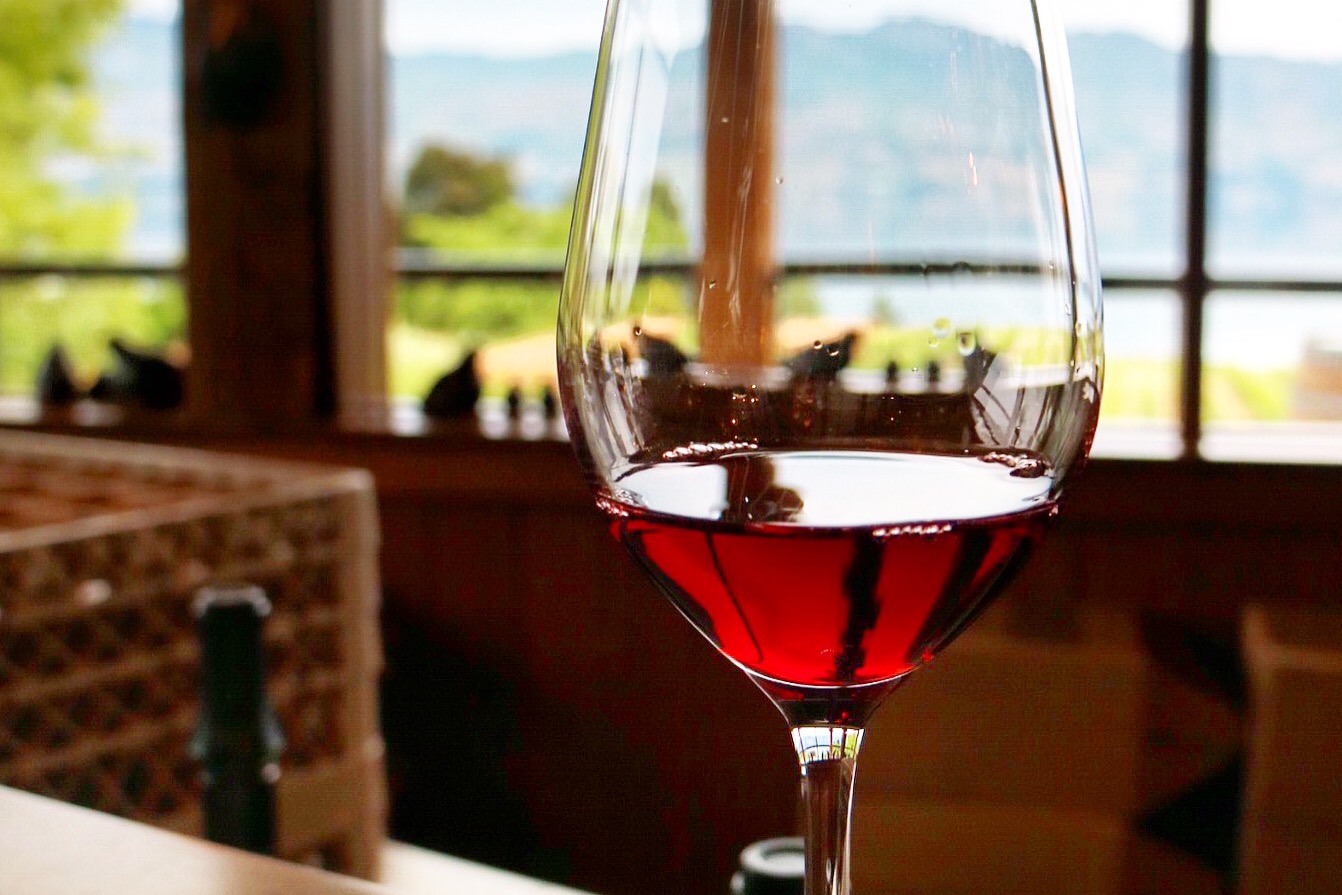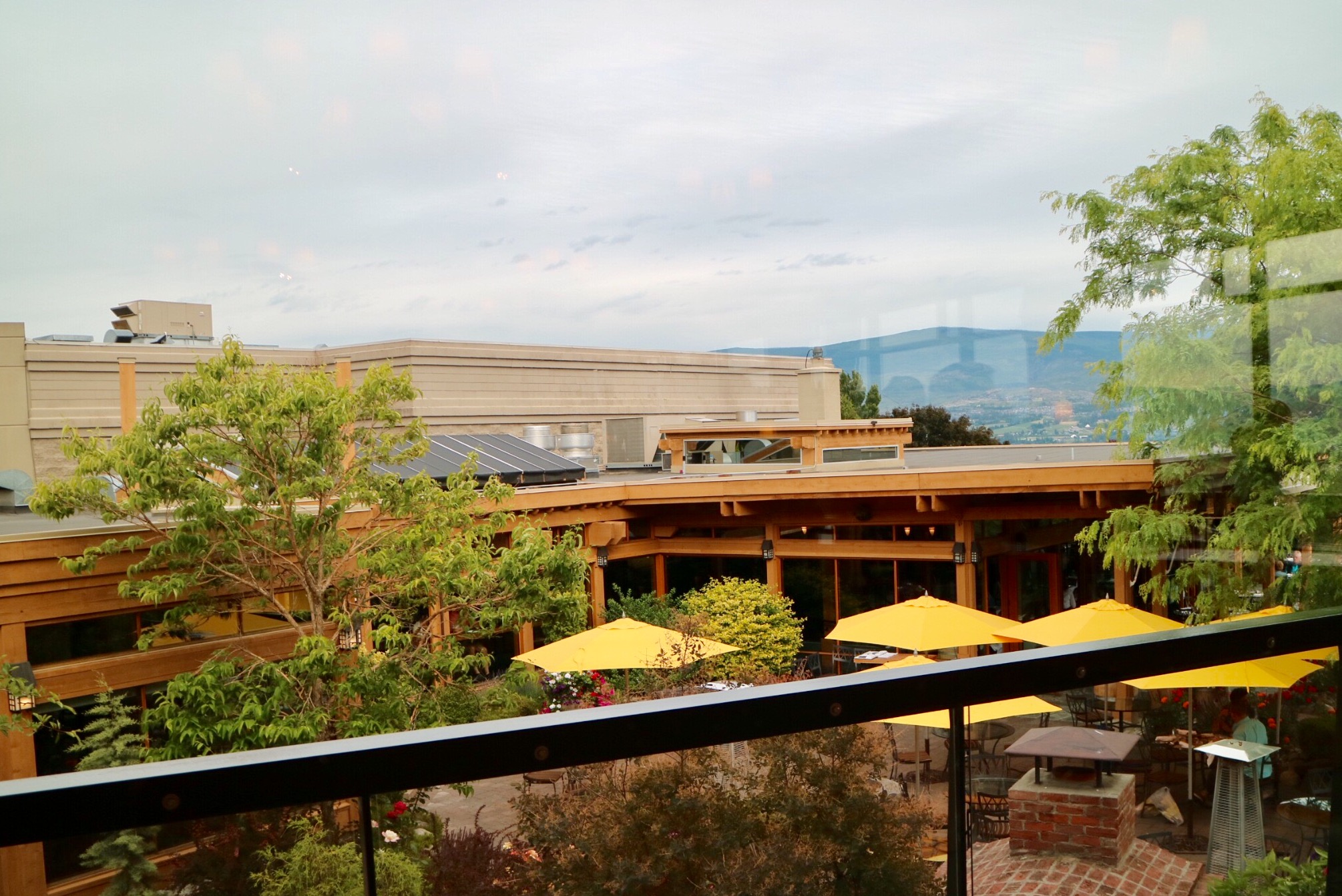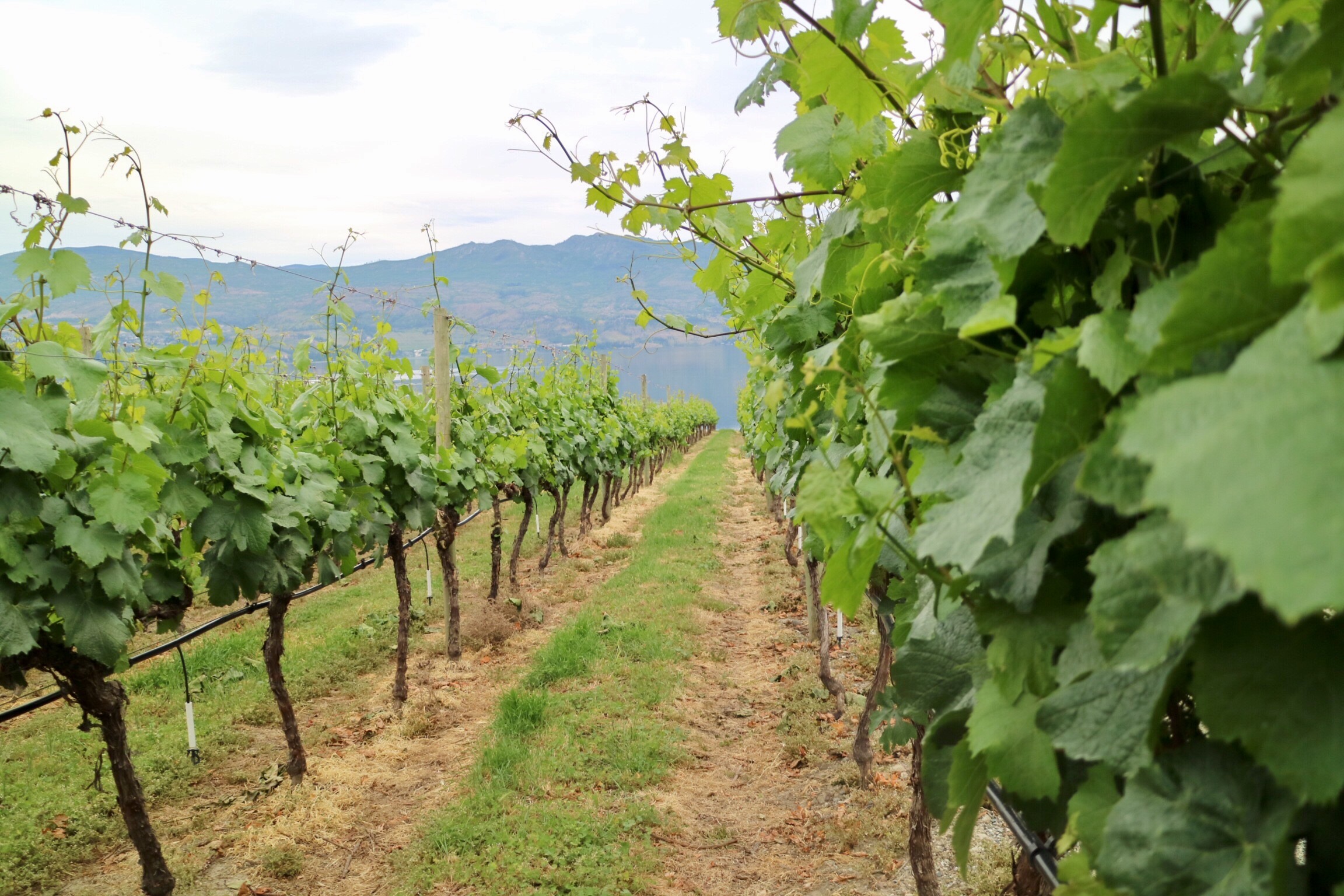 They have also 2 guest houses available for booking, The Nest ($500 – $800 / night) can accommodate 7 and The Lake House ($1100 – $2000 / night) can fit 10. Both provide exquisite lakeside experience.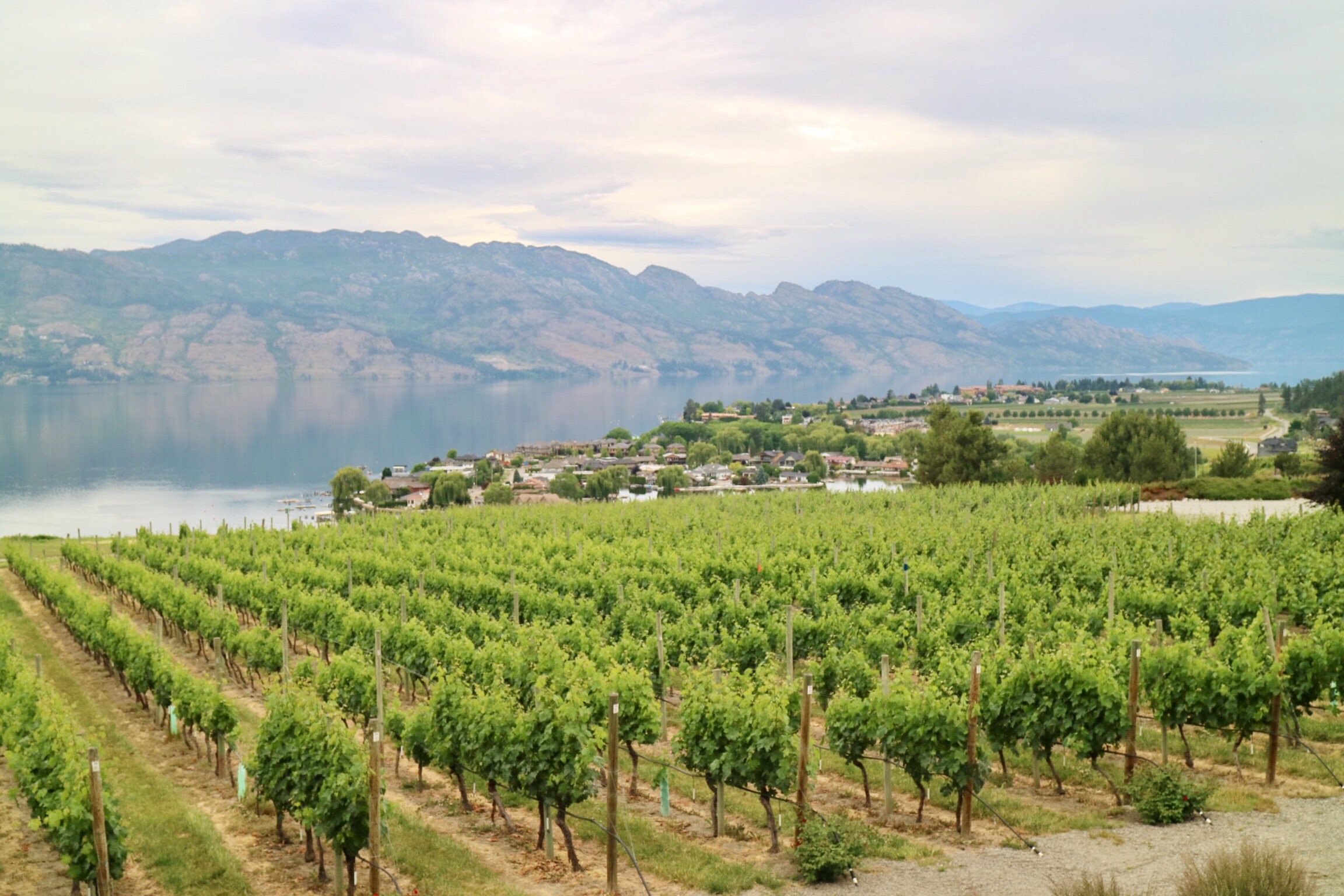 We both ended up getting Quail's Gate Old Vines Foch 2015 ($22) as it is quite unique and usually cannot be found at most BC liquor stores. Named after the French World War I hero, General Ferdinand Foch, the Maréchal Foch grapes produce a full-bodied red that has an intense but sophisticated flavour.

We checked in our Airbnb guest house ($69/night) around 7 pm. Although I ran Airbnb at my own condo for a while back then, I had never been an Airbnb guest myself. But for my very first Airbnb experience, this one was absolutely fantastic.   Sara and Lindsay take great care of their amazing house with incredible views of the lake and nearby scenery.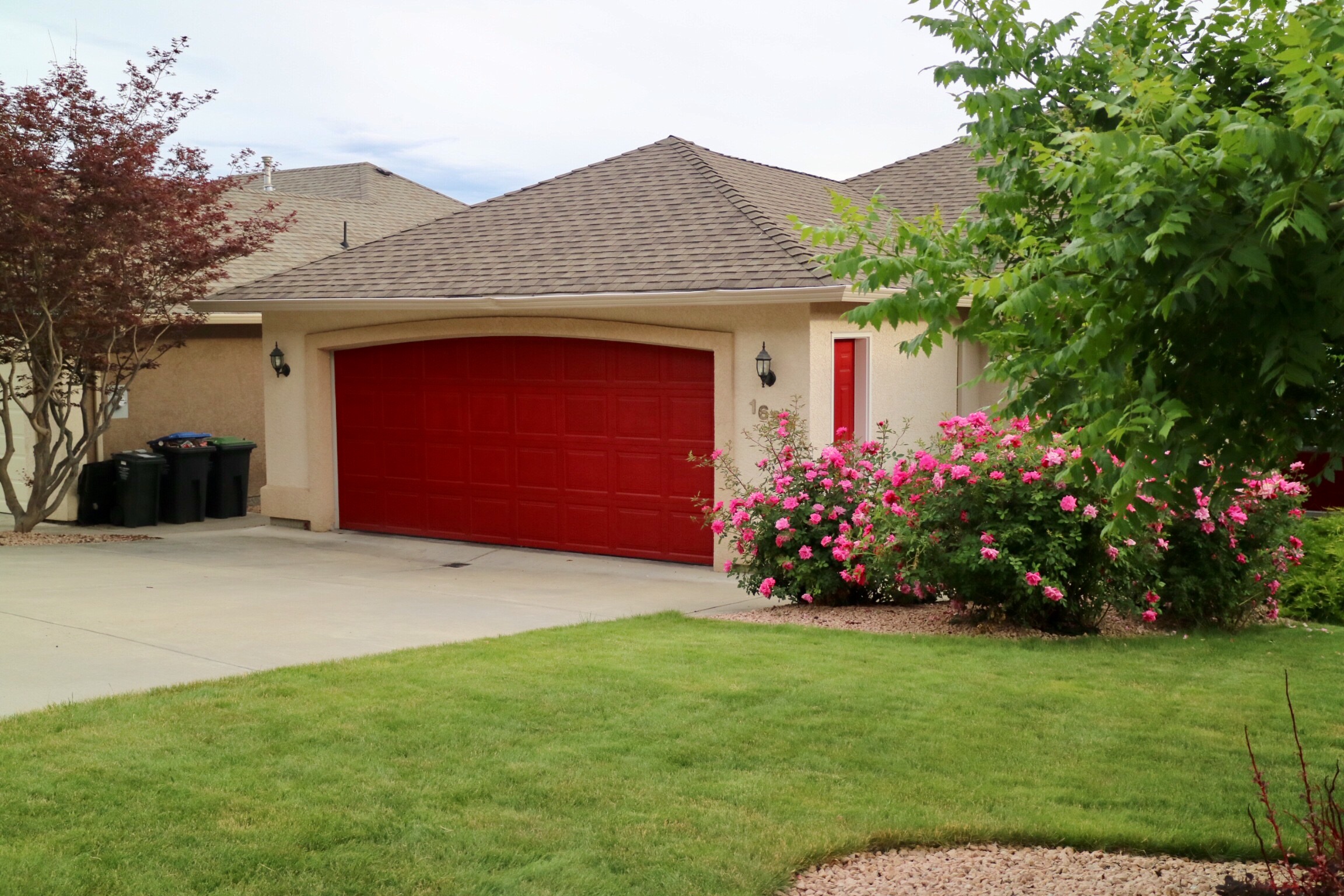 This is the view from their patio – it's absolutely breathtaking.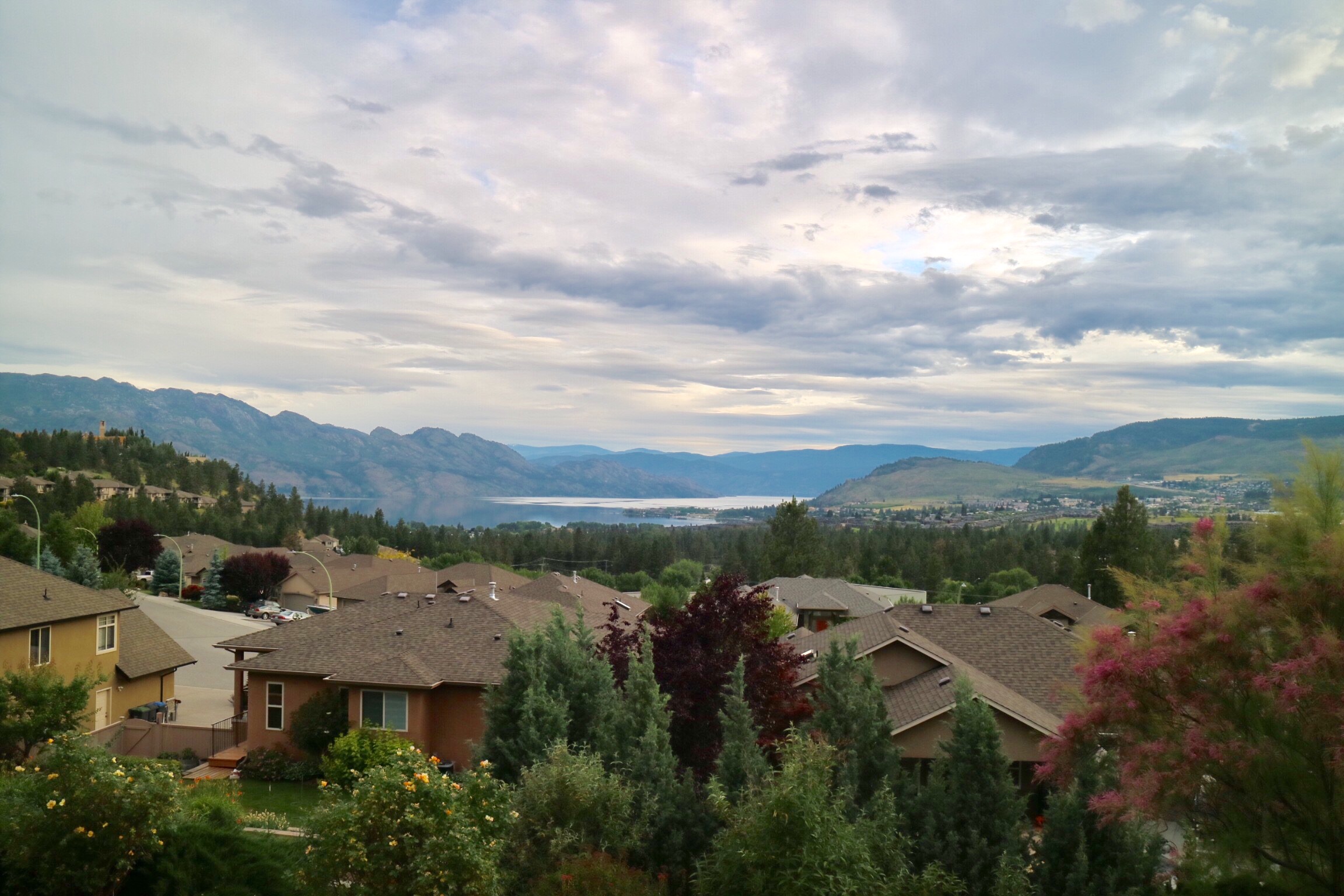 You can see the bell tower at Mission Hill Winery on the left.  The winery is within walking distance (about 15 minutes).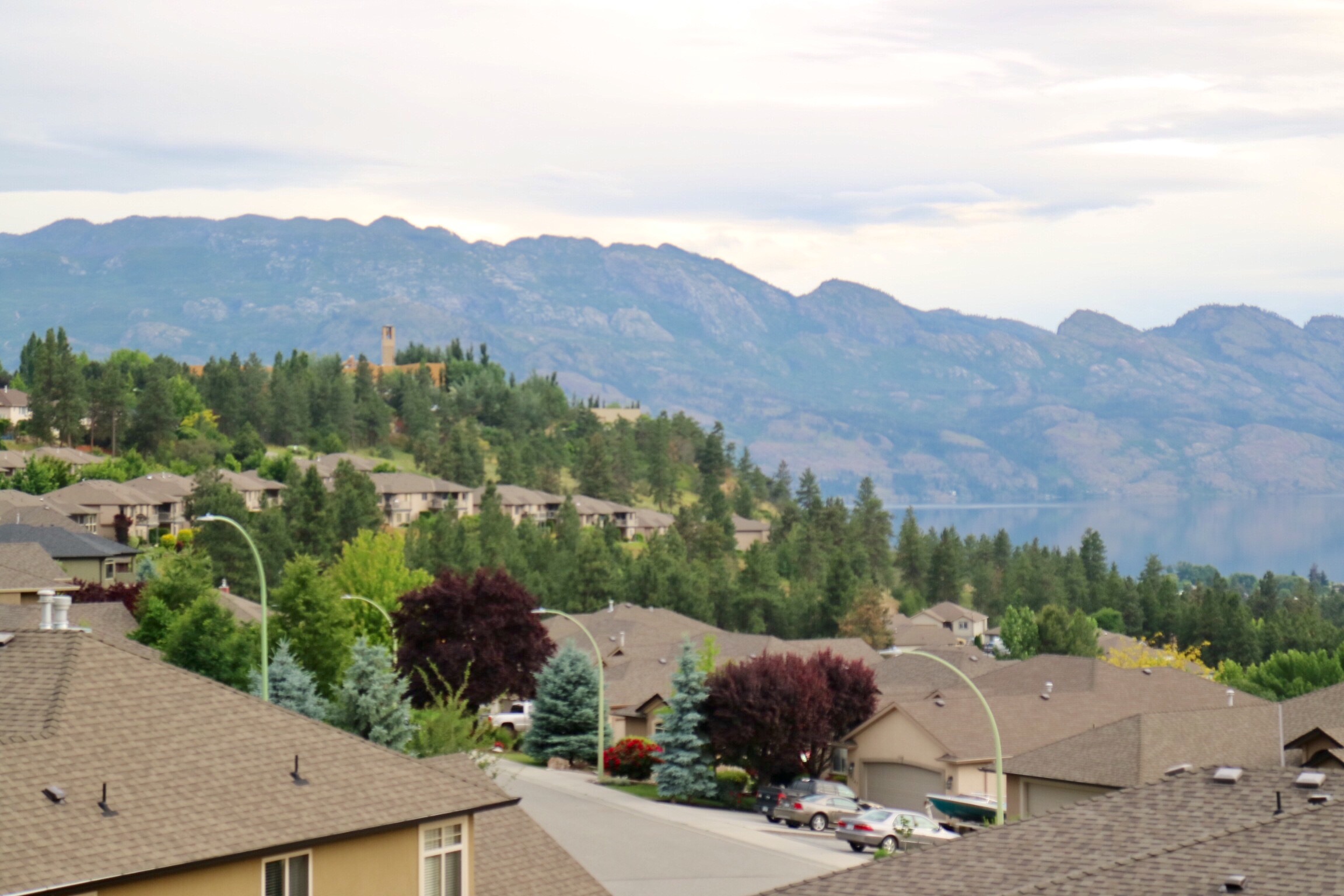 They have a 2-bedroom suite at the garden level available on Airbnb as well, and it can accommodate up to 6 guests. This is the view from the garden.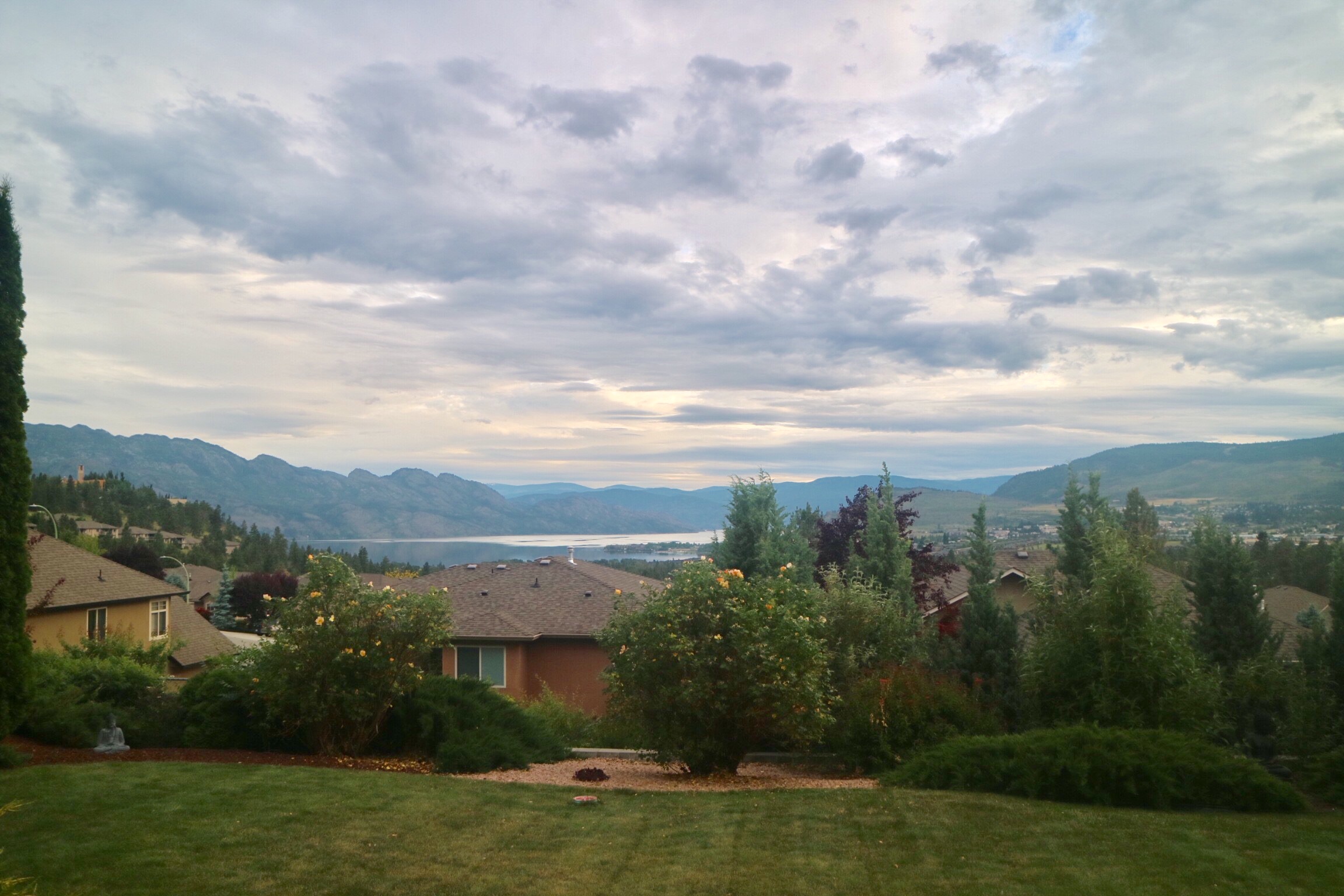 This is our room and the bed is quite comfy.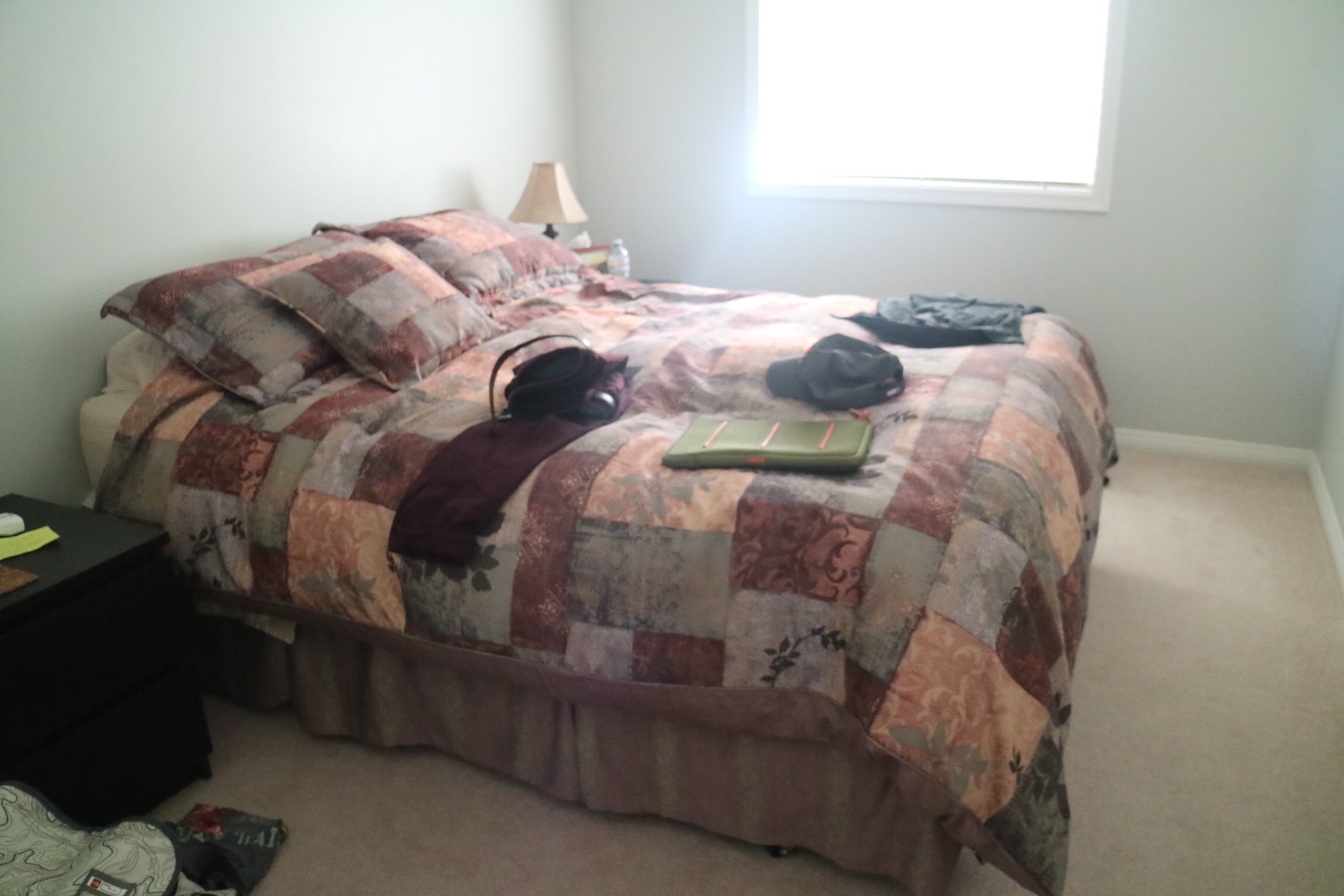 Downtown, Kelowna
The hosts proposed us a ride to Downtown Kelowna if we wanted to check out the nightlife, which was a very considerate offer. But we figured that we would want to get up early in the morning, so we decided to drive to downtown on our own just for dinner and a quick walk around.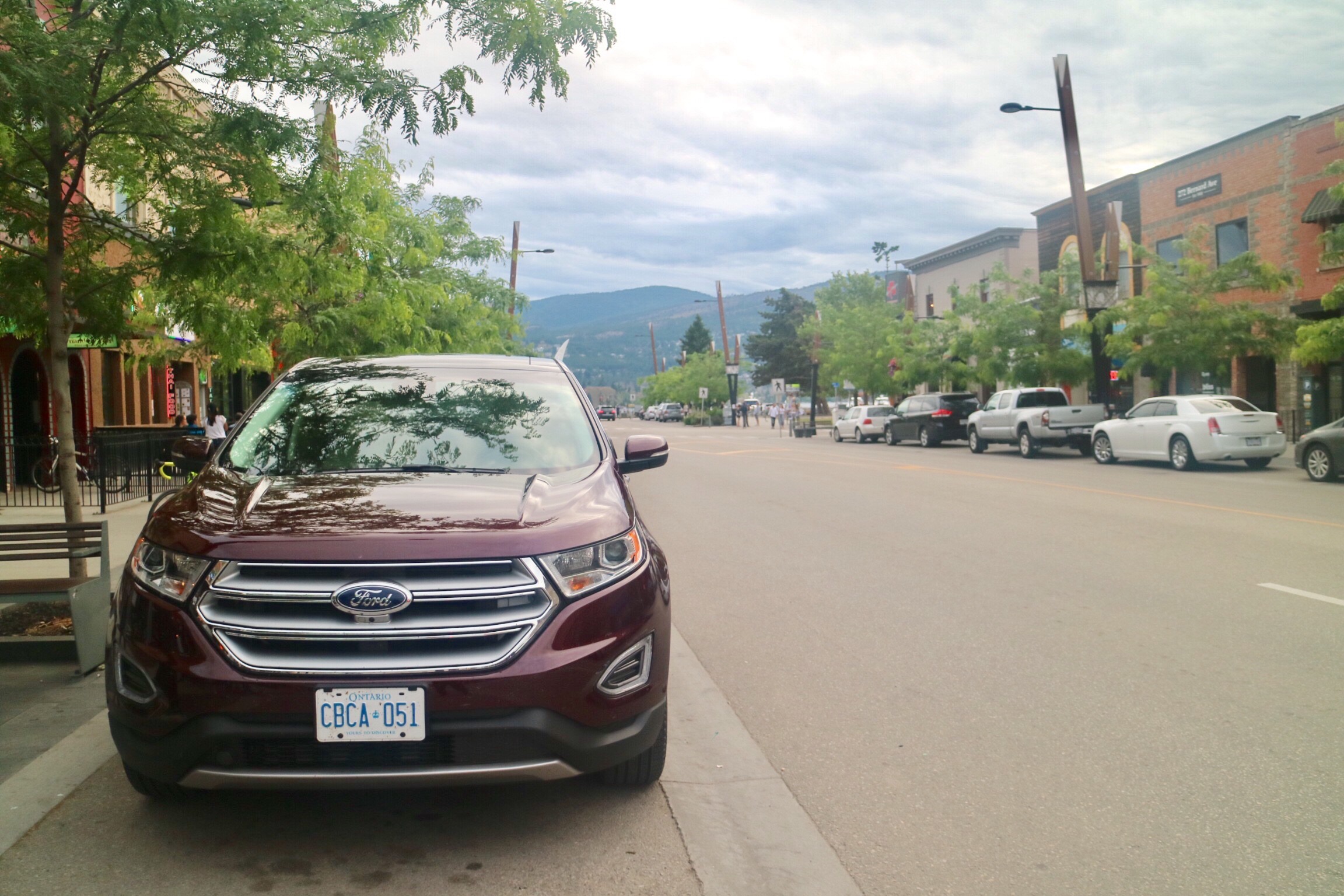 We felt like having a beer and some quick pub food, and we found this place, Doc Willoughby's Pub. It reminded me of The Capital on Davie in Vancouver, with their 5-dollor food menu.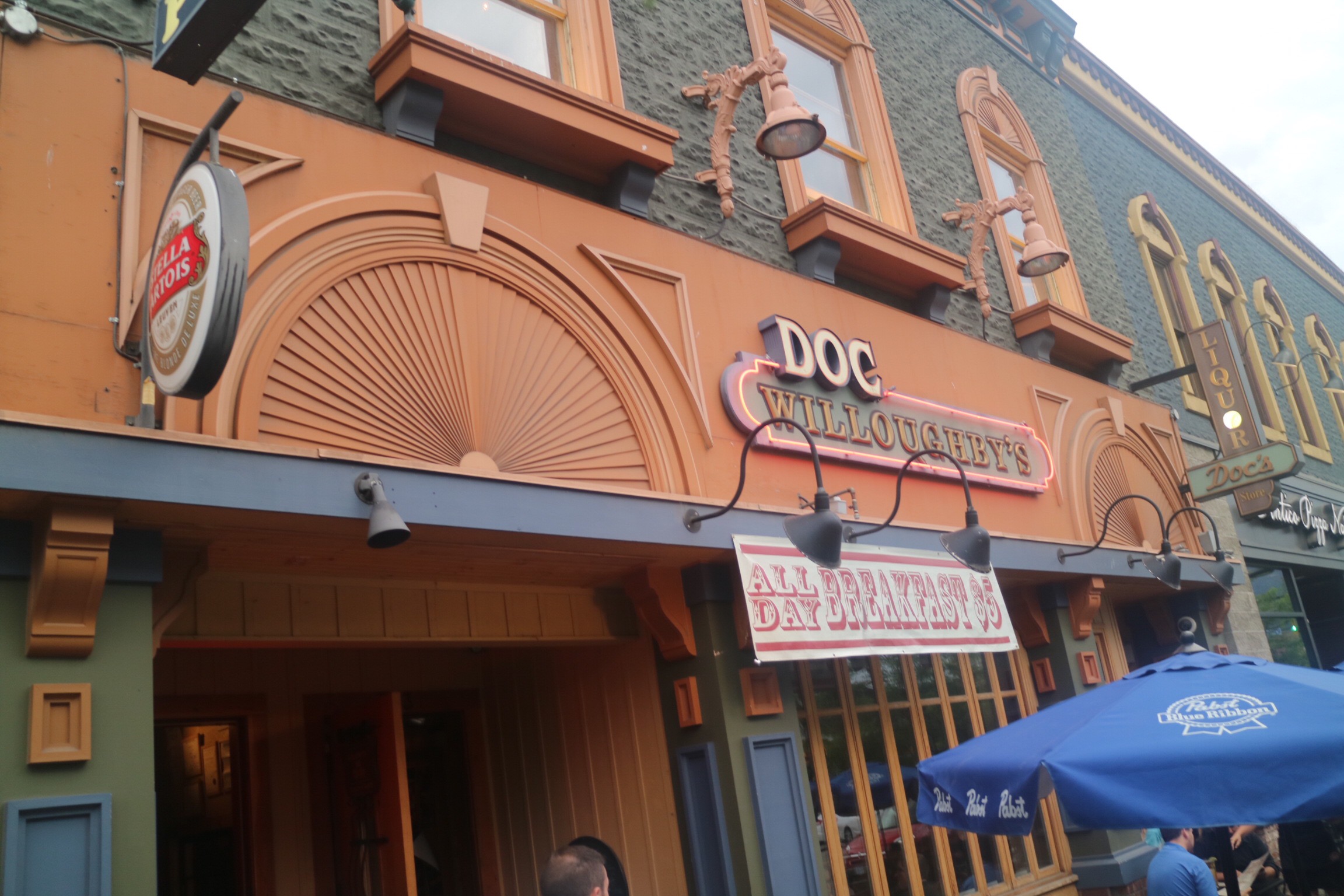 For 5 Bucks, this burger ain't bad!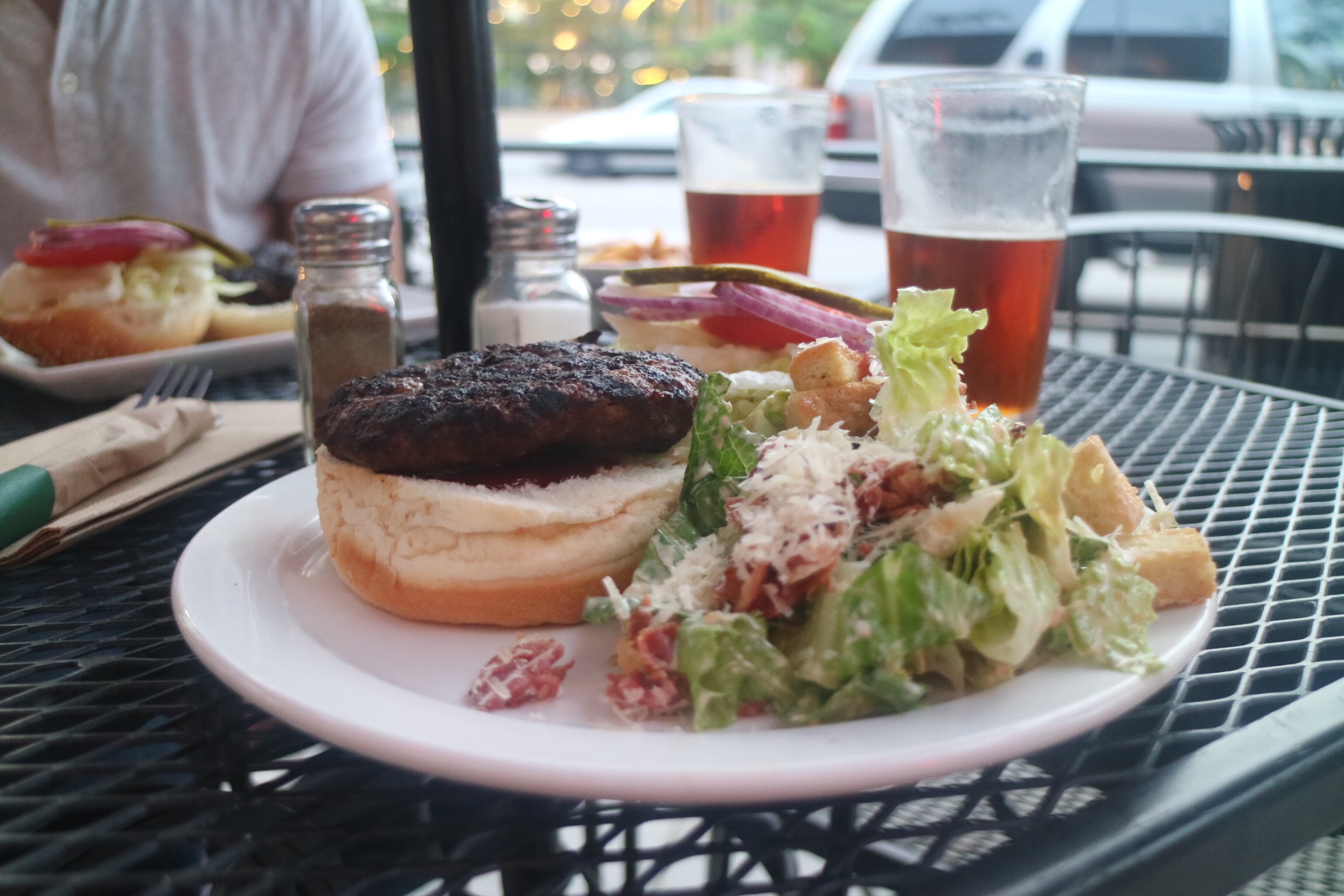 Rick also got some poutine for $5. We were happy to have saved some money for wines!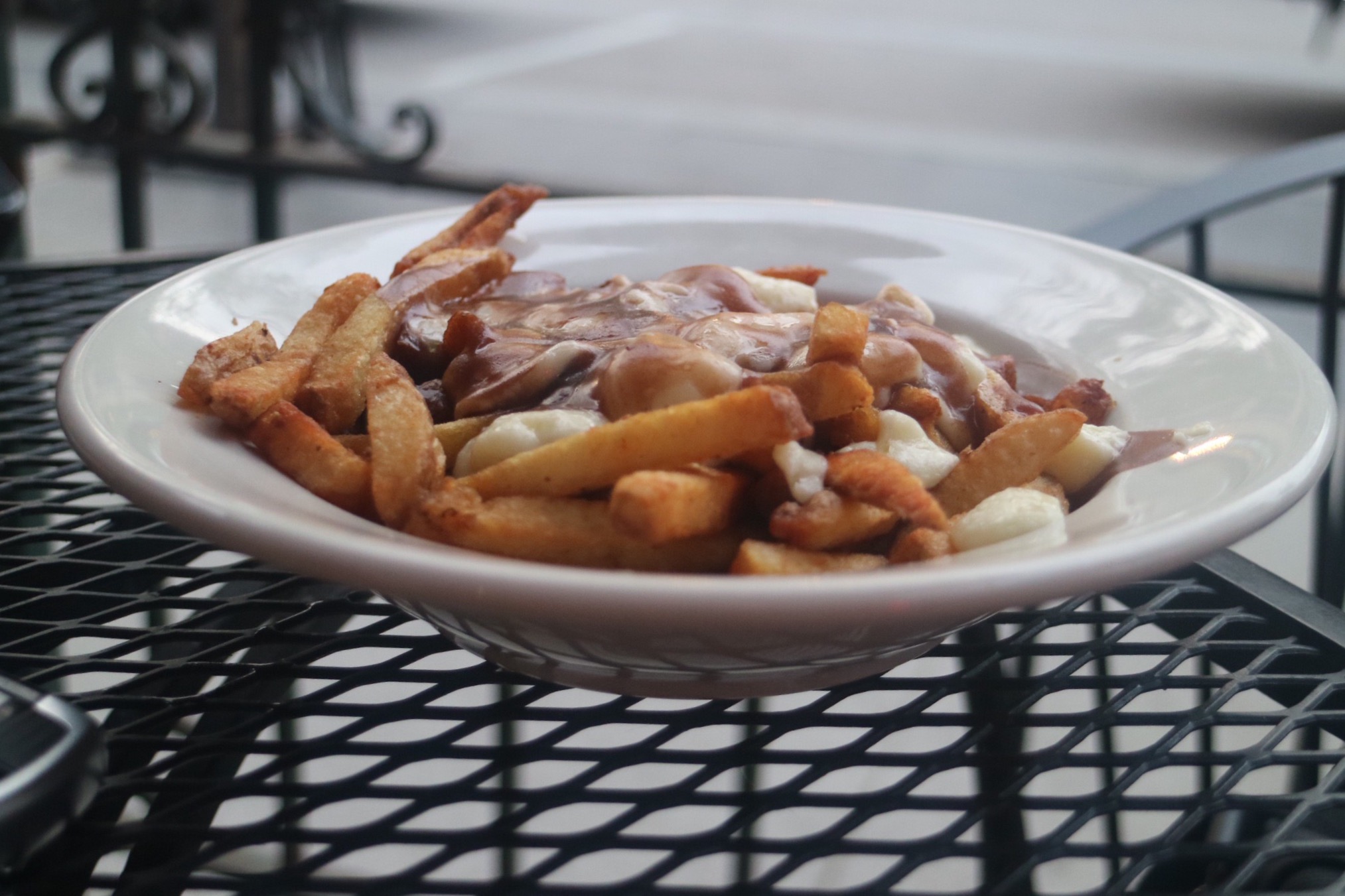 We had a short walk around the lakeside area in Downtown Kelowna.    All the water sports were closed due to the recent flooding of the lake. Let's hope the situation gets better soon as the summer season is very near.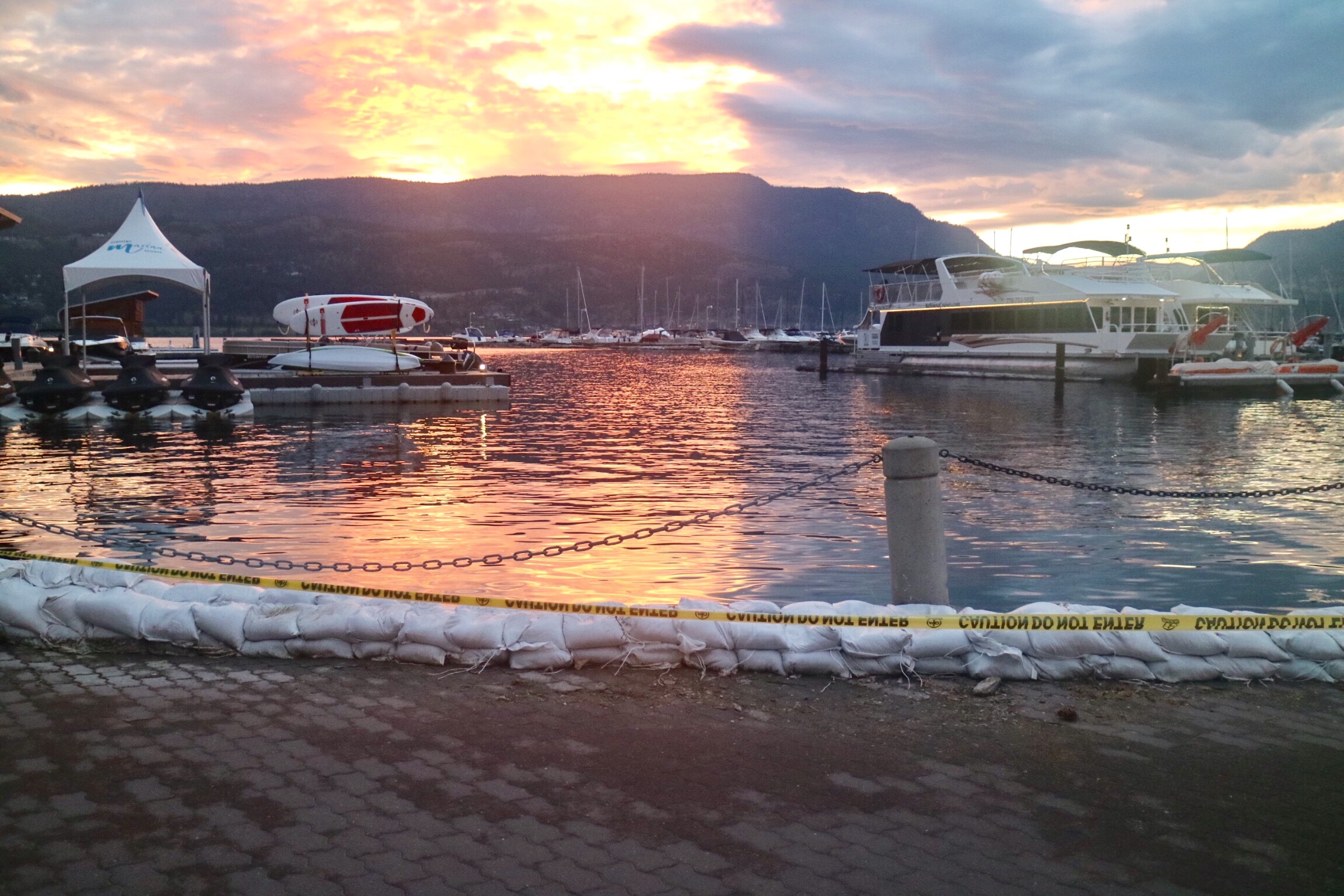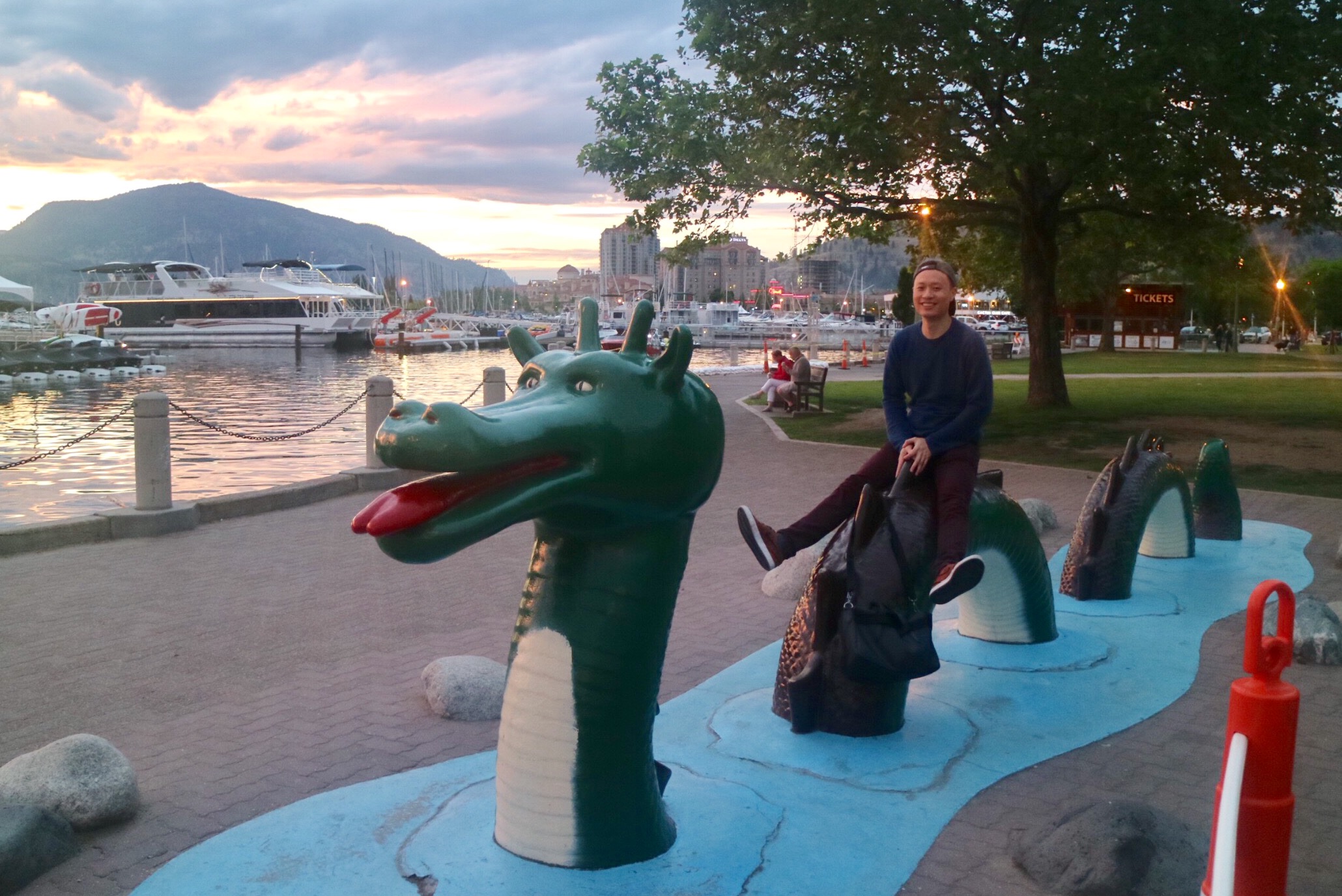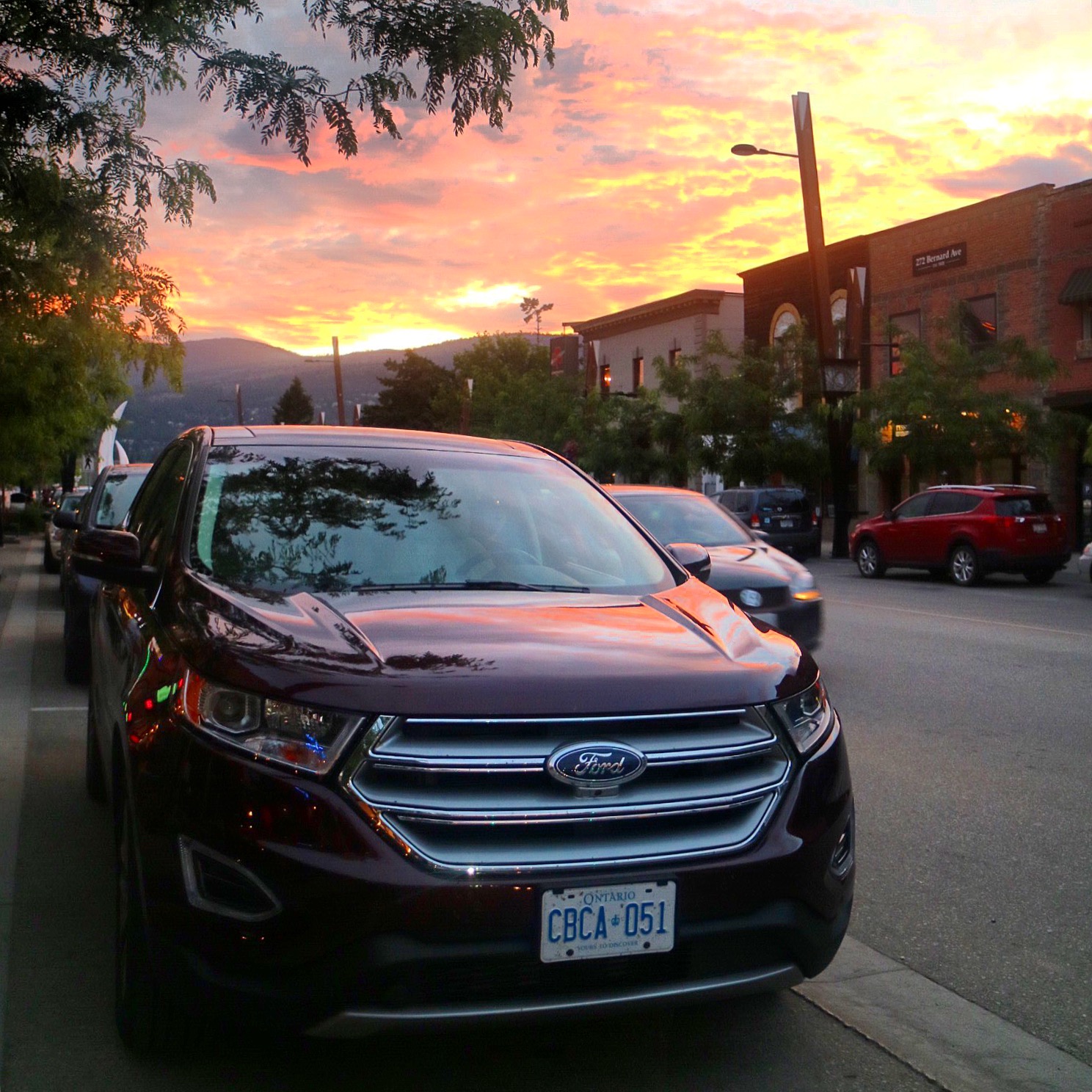 When we were back at the guest house, the hosts provided us some white wine that we could enjoy on the patio while watching the sunset.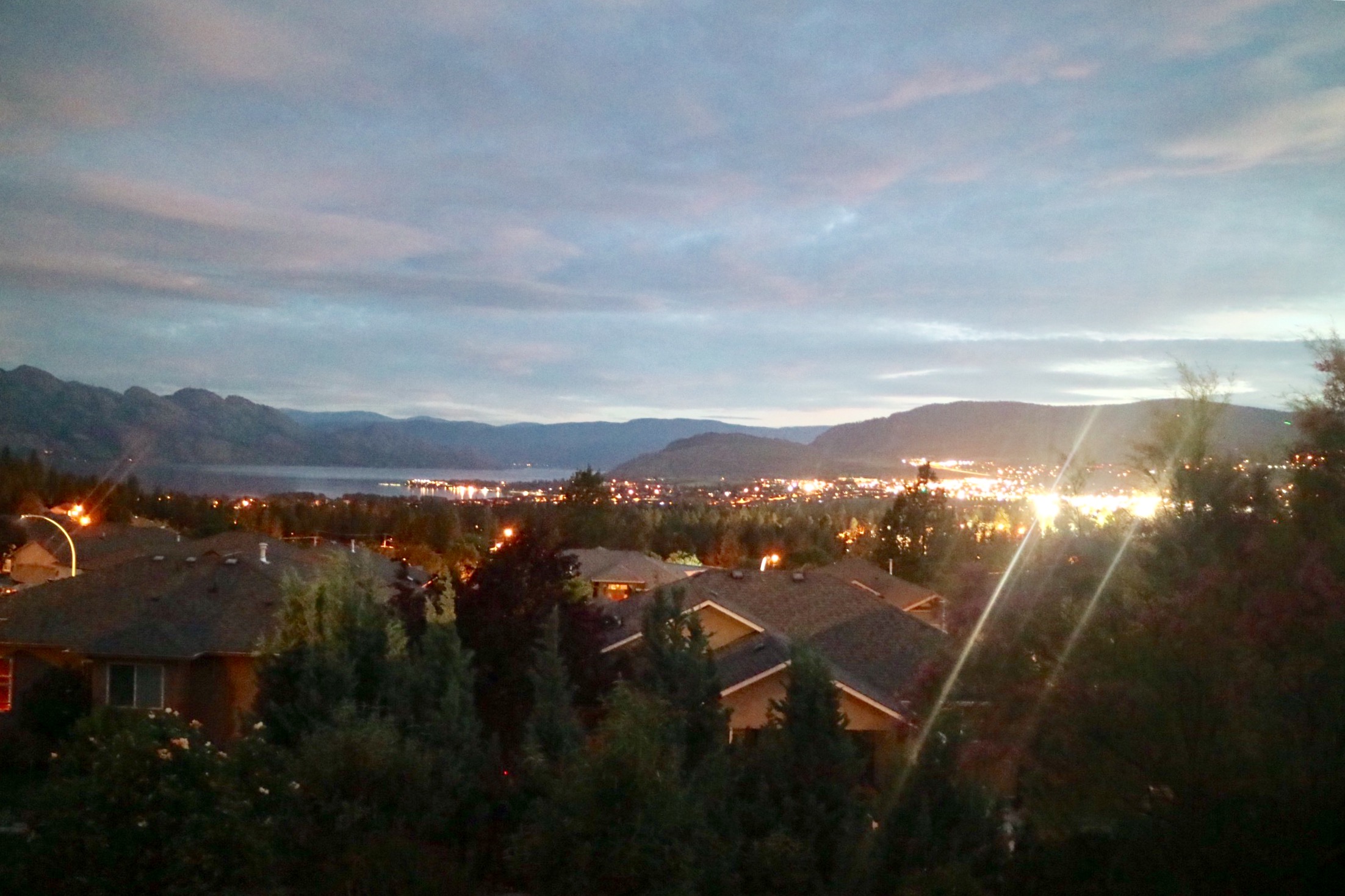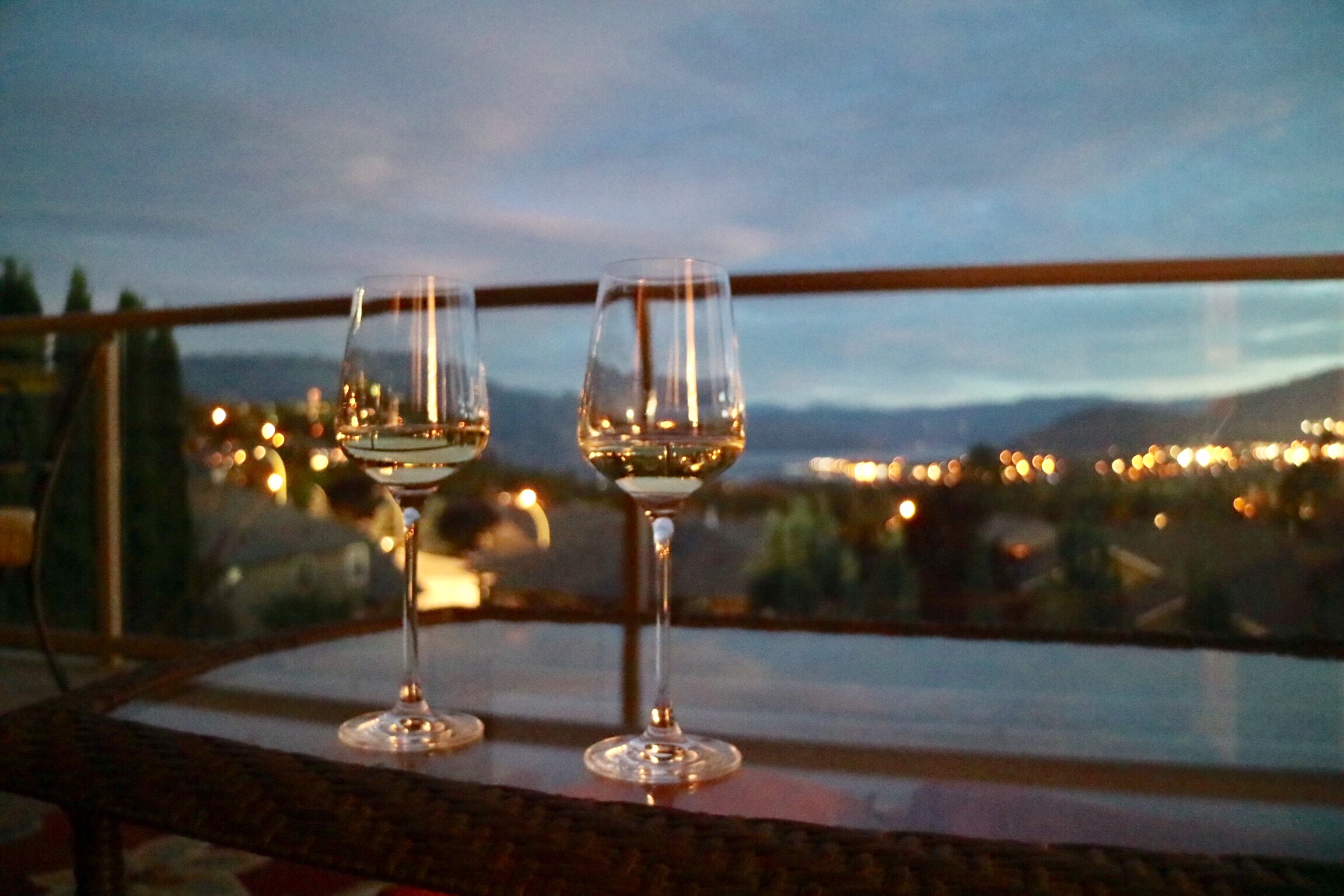 Day Two
Good Morning, Okanagan!
It was a little cloudy the day before, but the sky certainly cleared up quite a  bit the next morning. And we woke up to an incredible view like this!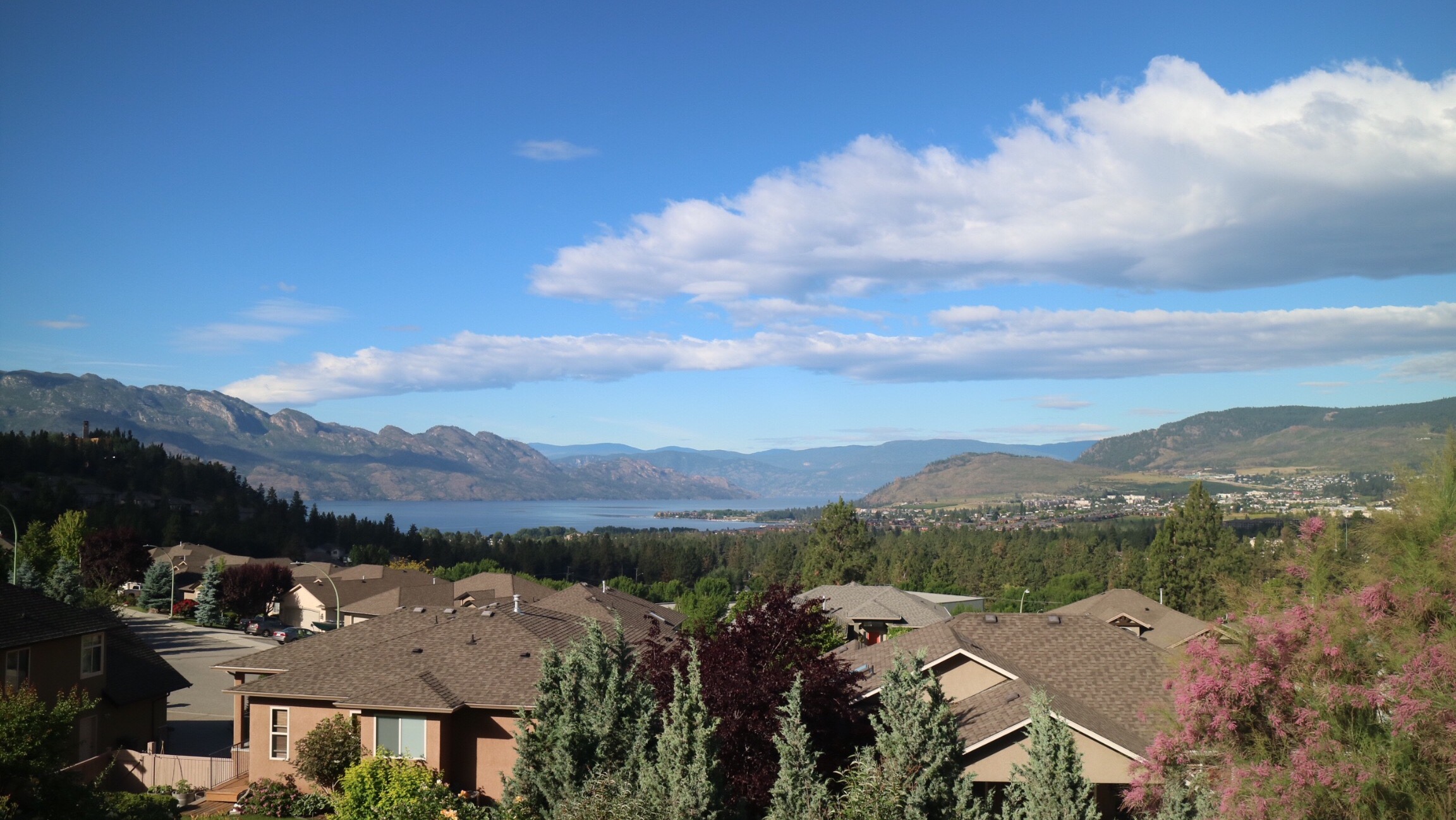 And we were treated to a nice breakfast with bagels, coffee, and different fruit jams from the valley.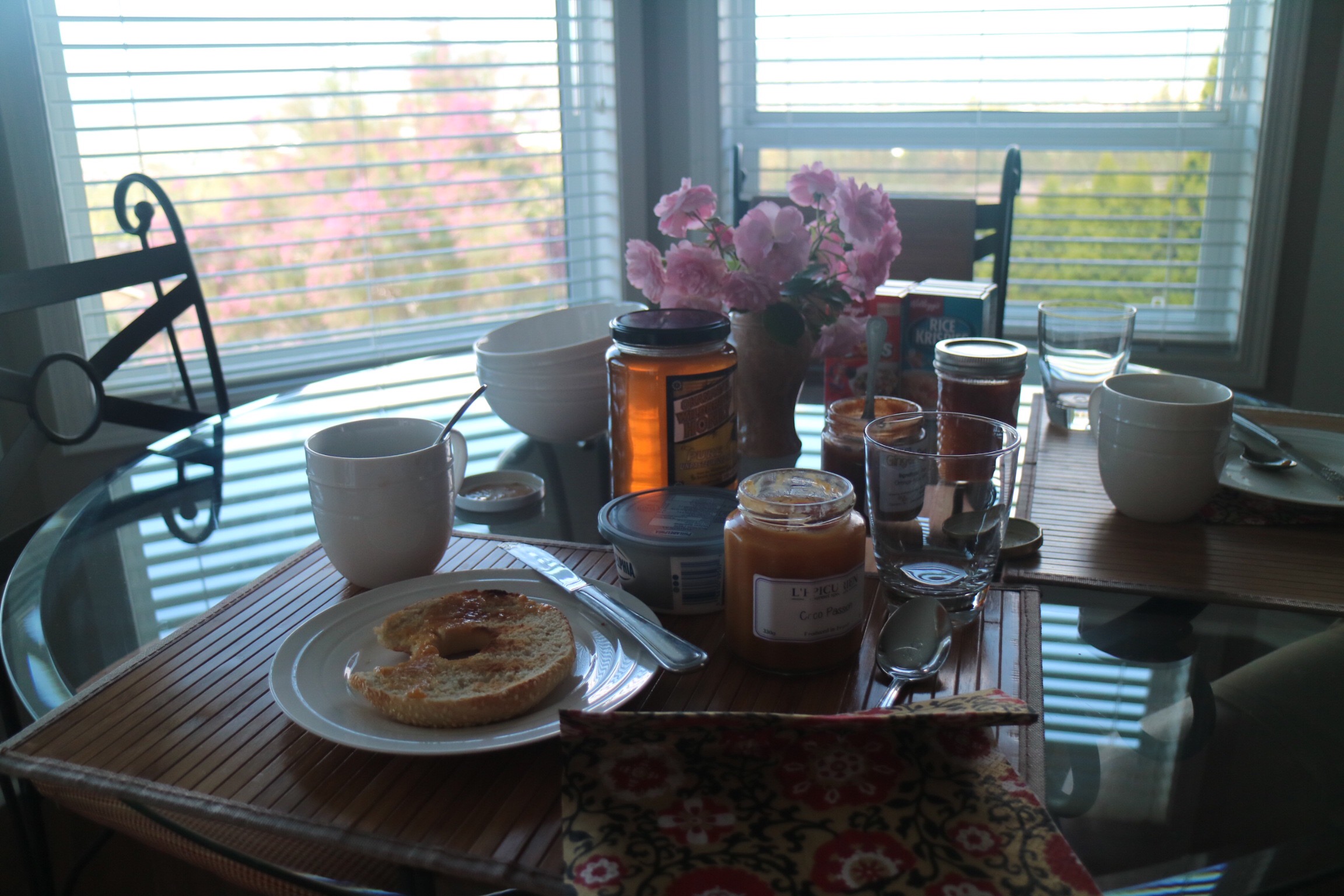 And Sara's homemade muffins and cookies!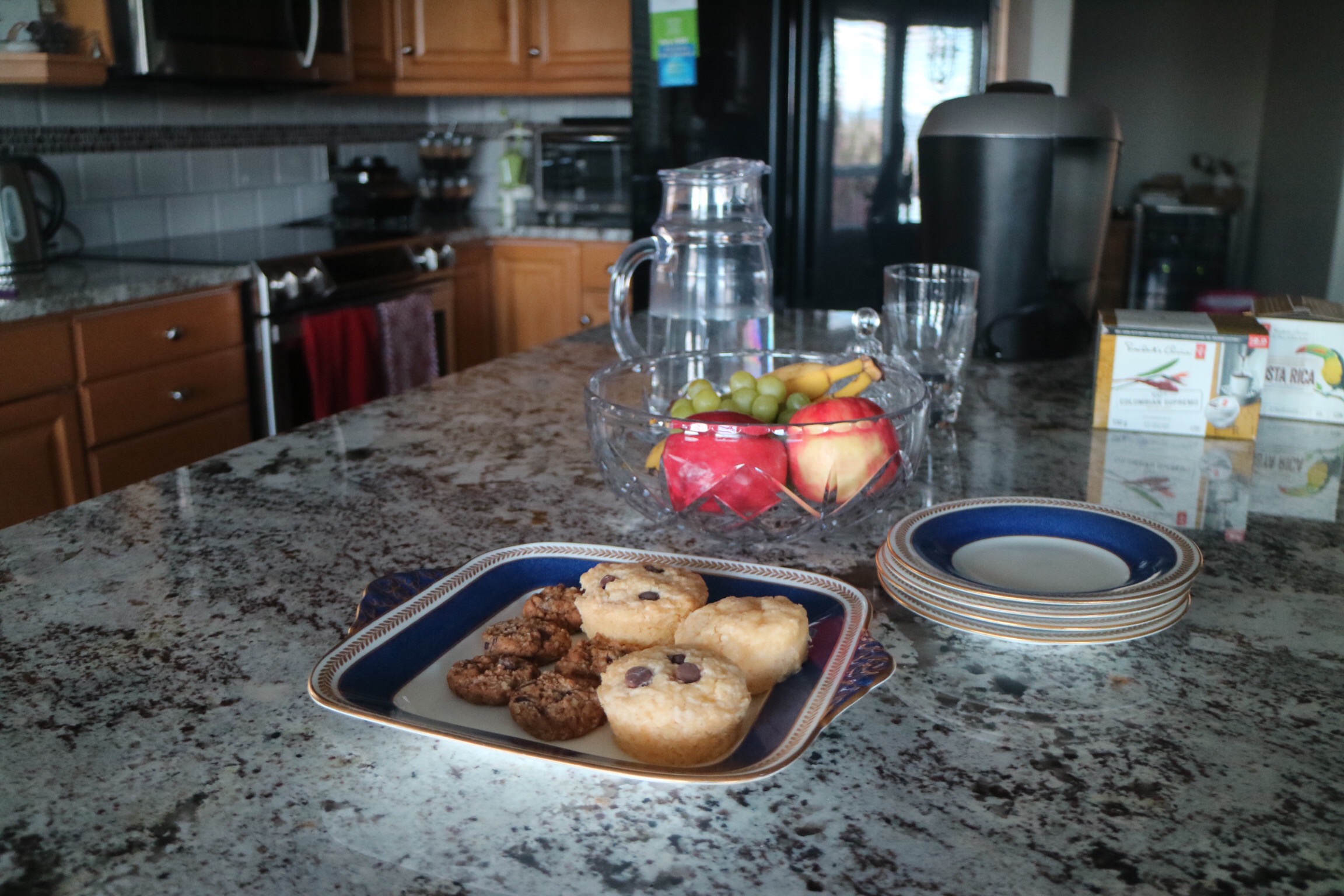 We are ready to go again! Thanks for the wonderful hospitality, Sara and Lindsay!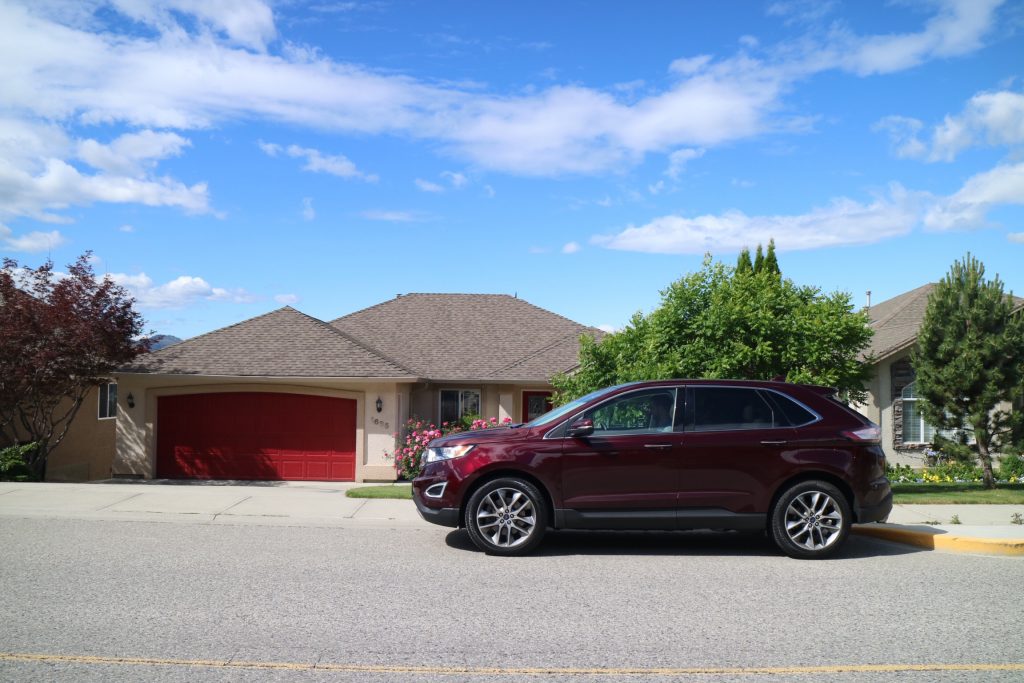 Our host Lindsay works at Mission Hill as a wine specialist, and he is very familiar with all the nearby wineries. He made some recommendations along the West Side Wine Trail in West Kelowna, which all could be found along Boucherie Road.  We had already visited Mission Hill and Quail's Gate and they are the 2 biggest on the trail.  Lindsay also suggested us to visit the Indigenous World Winery and have lunch at their restaurant, The Red Fox Club for a taste of the Indigenous cuisine.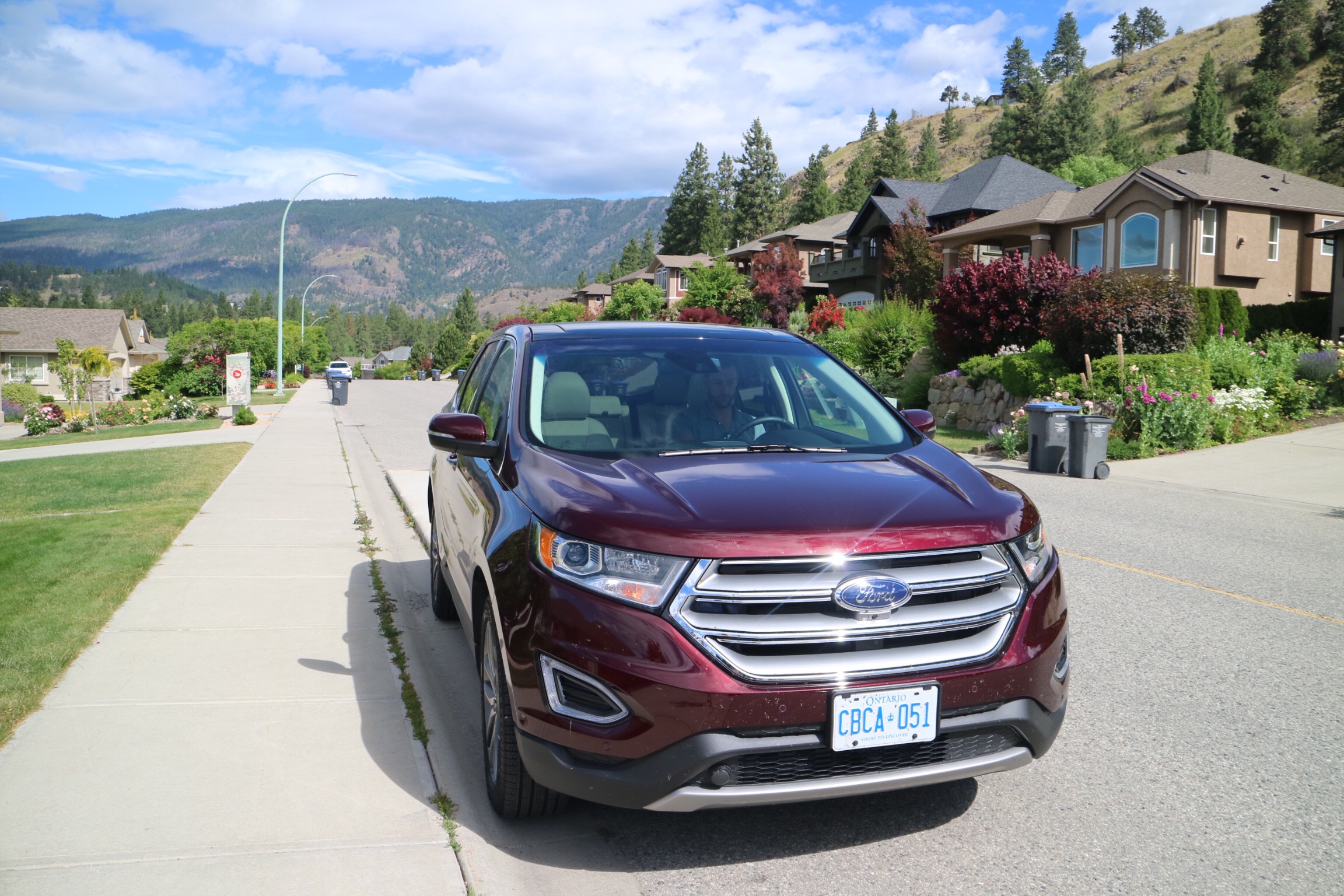 Finding our way to Indigenous Winery, we decided to visit a couple wineries on Boucherie Road. First, we visited Volcanic Hills Winery. Here they offer:
Tours: Available by appointment only. $10.00 plus tax, which includes wine tasting.
Tasting Fee: 4 table wine samples for $5.00 (fee waived with wine purchase)
Icewine Tasting Fee: 1 for $2.00 or 3 for $5.00 (fee waived with icewine purchase)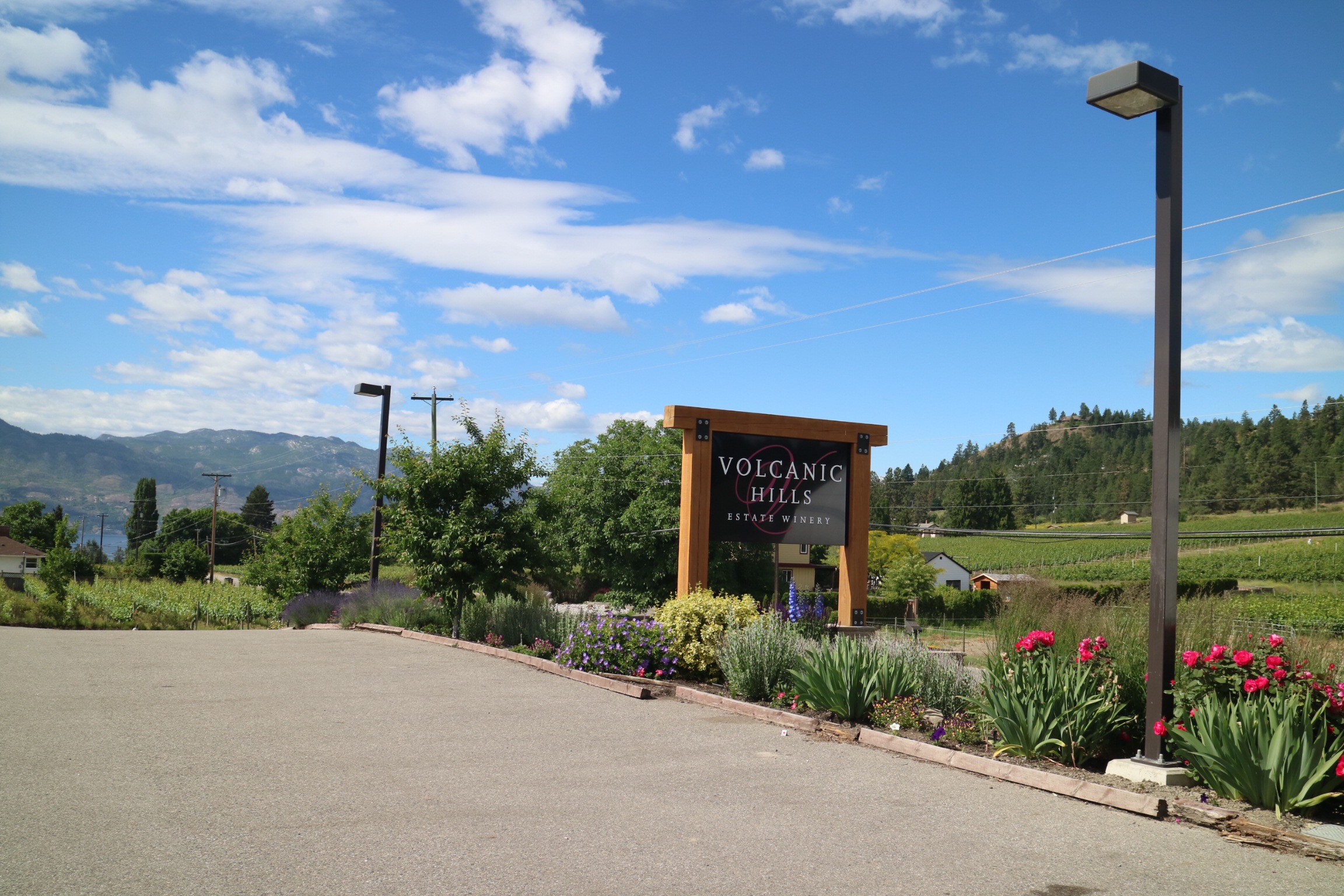 The tasting room is huge here and it is very bright and spacious inside.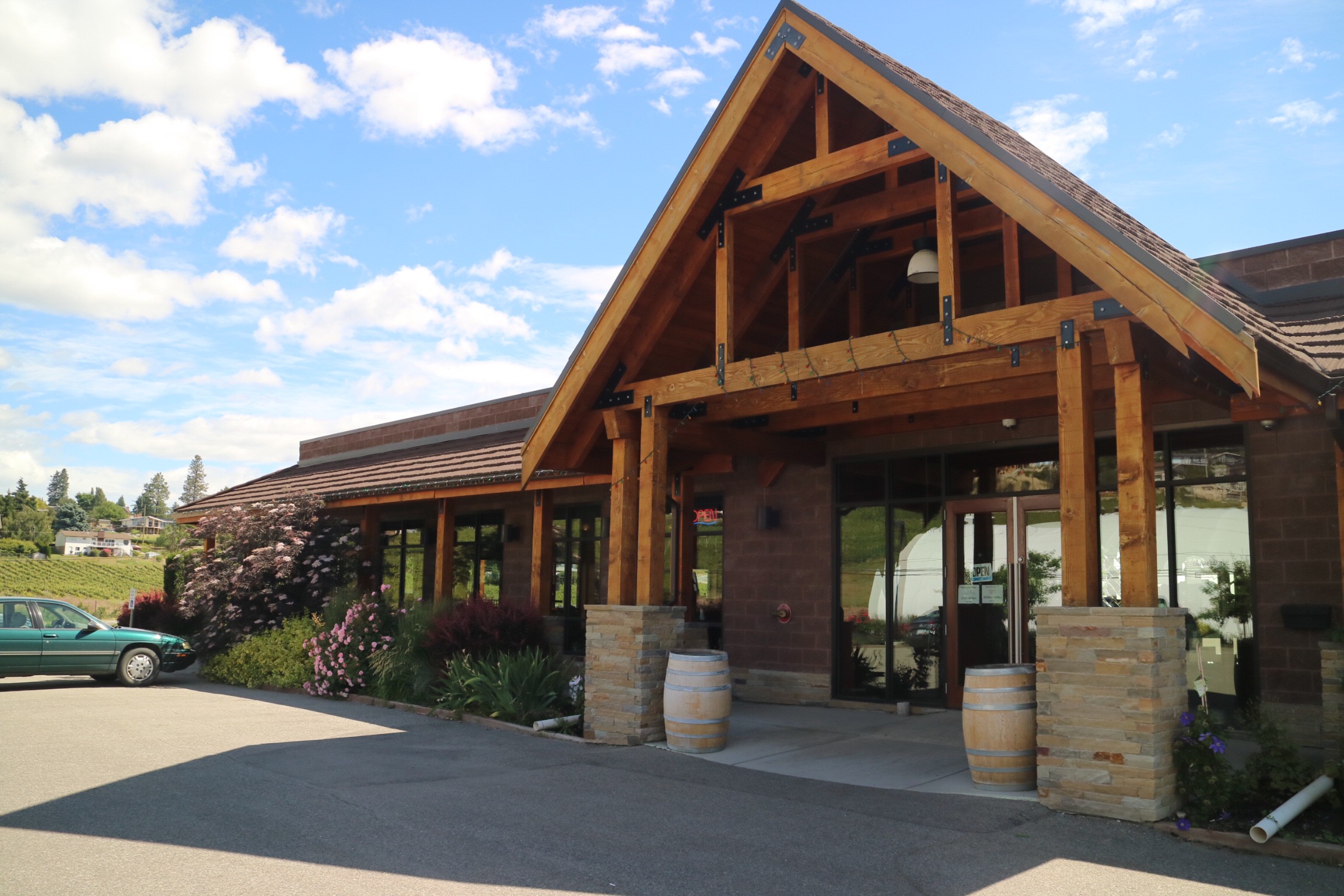 For a young red blend, I was captivated by Volcanic Hills 2014 Magma Red ($15.69), which has a large portion of Zweigelt ($56%), a grape originally from Austria that I had never tasted.  I ended buying a bottle of this unique wine.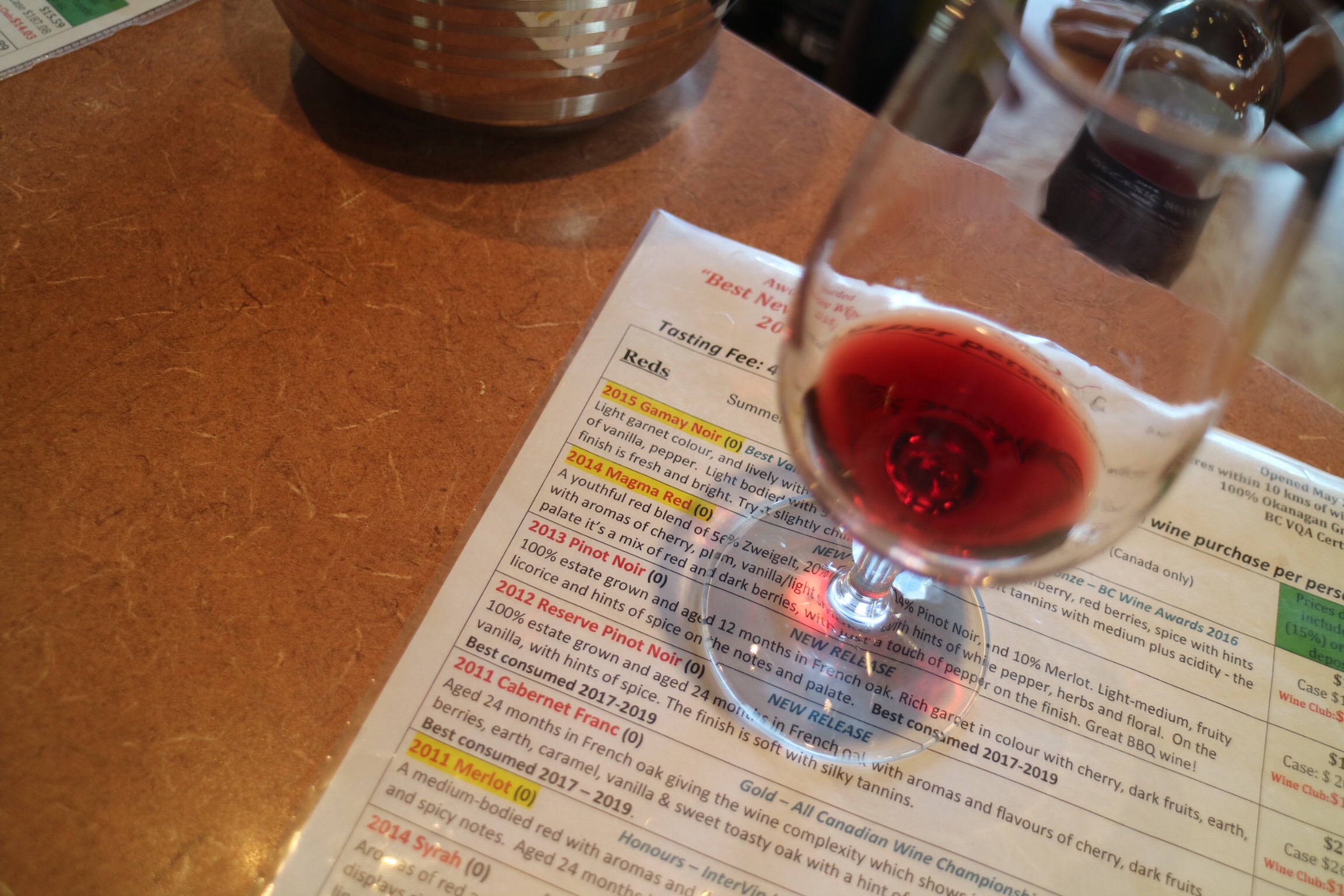 And Rick got a bottle of Volcanic Hills Gewürztraminer Clone 47 2015 ($15.69).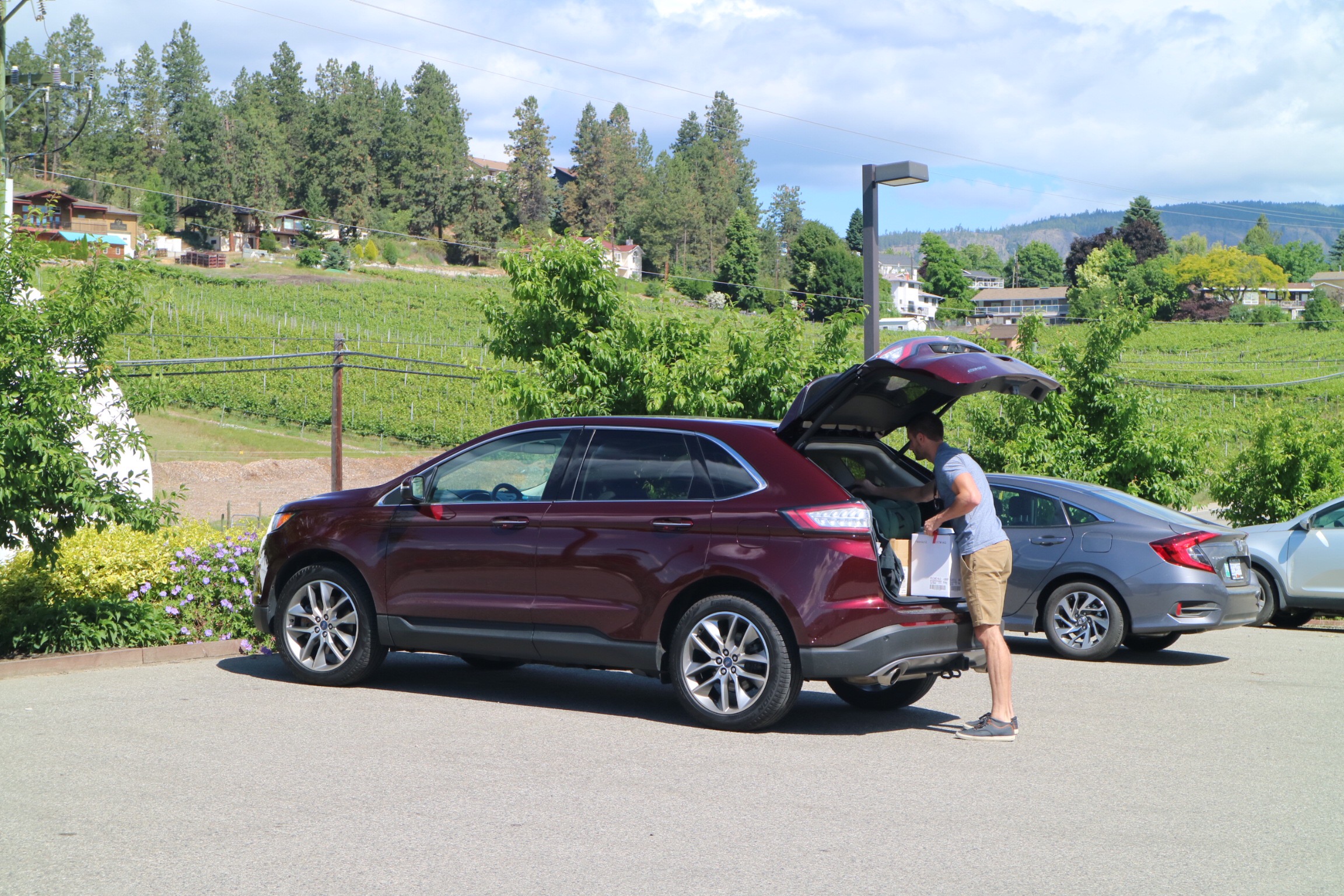 As intrigued by Zweigelt and told about Mt Boucherie Winery right around the corner from Volcanic Hills carrying a full Zweigelt red, we found ourself at Mt Boucherie's tasting room. The winery is right on the hill with amazing views of the nearby vineyards and the valley.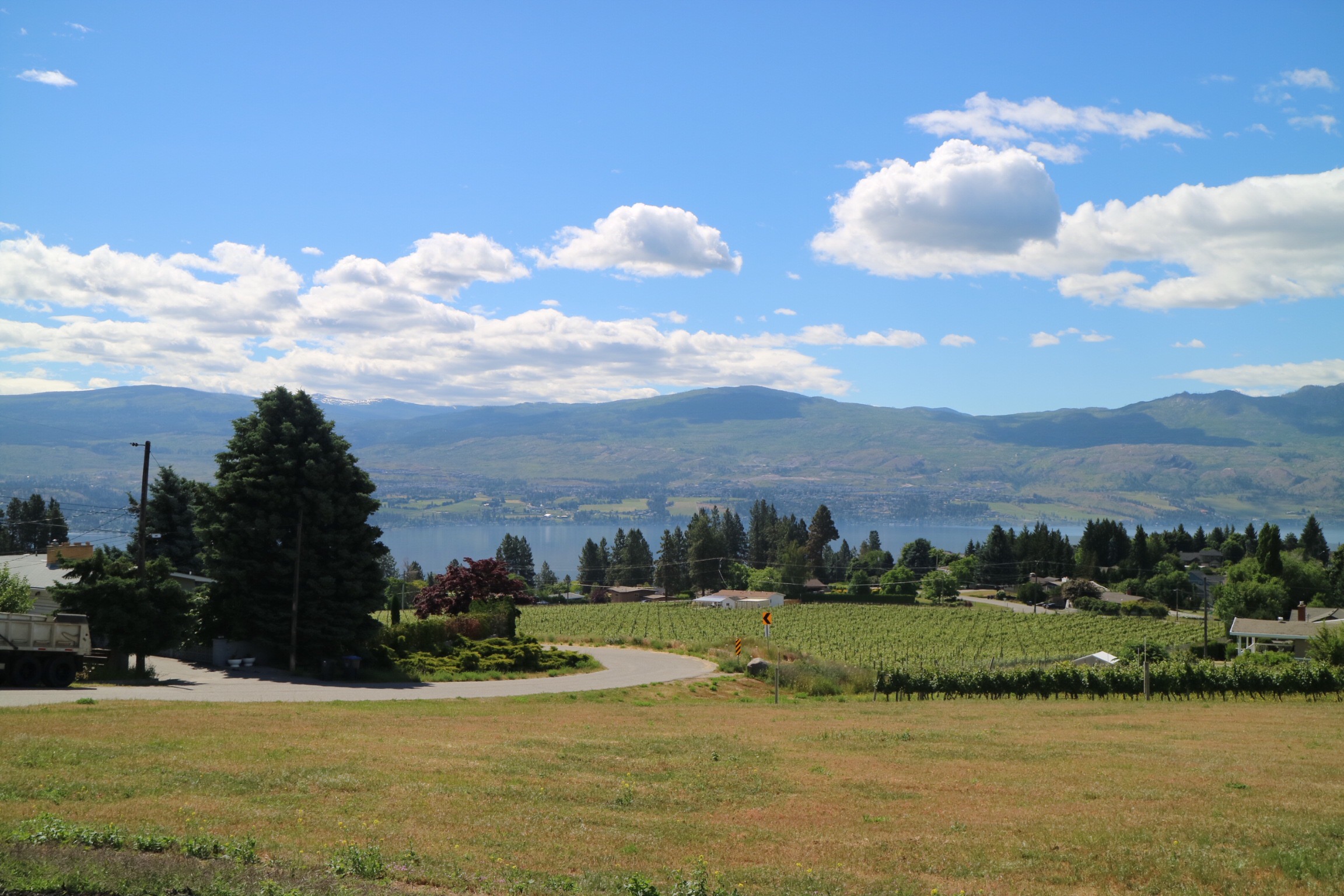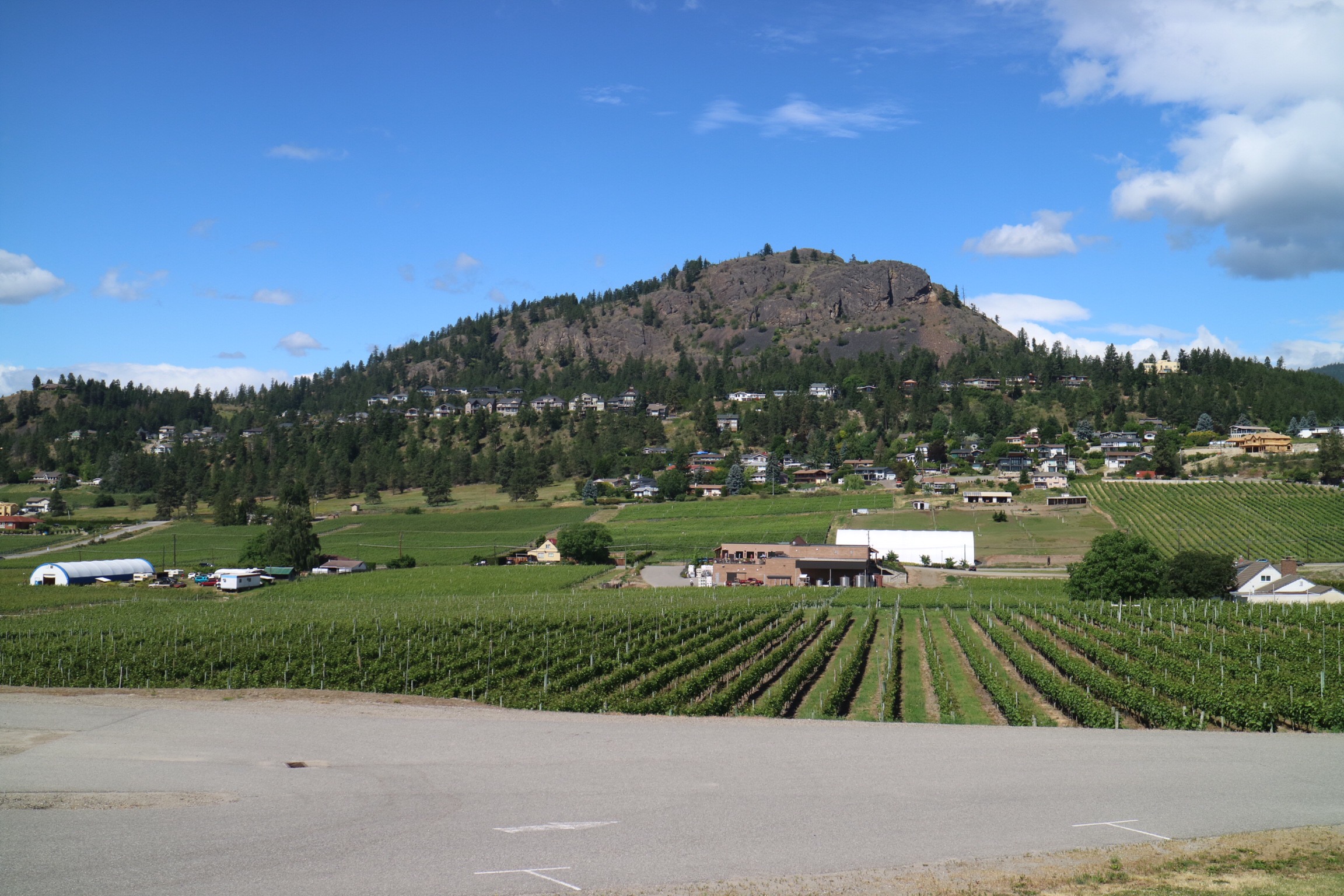 The full Zweigelt is very light, and maybe a little too light for me. I would rather prefer Pinot or Gamay after tasting Zwigelt. Here they also have very lovely white wine as well. We didn't buy any wine here.
At Mt Boucherie, We also found out that for the West Side Winery Trail, you can collect a stamp from each winery. After collecting 5 or more, you are qualified to be in a draw for a price of over $1000 worth of wine.  Thank you for the info, the nice wine specialist lady at Mt Boucherie!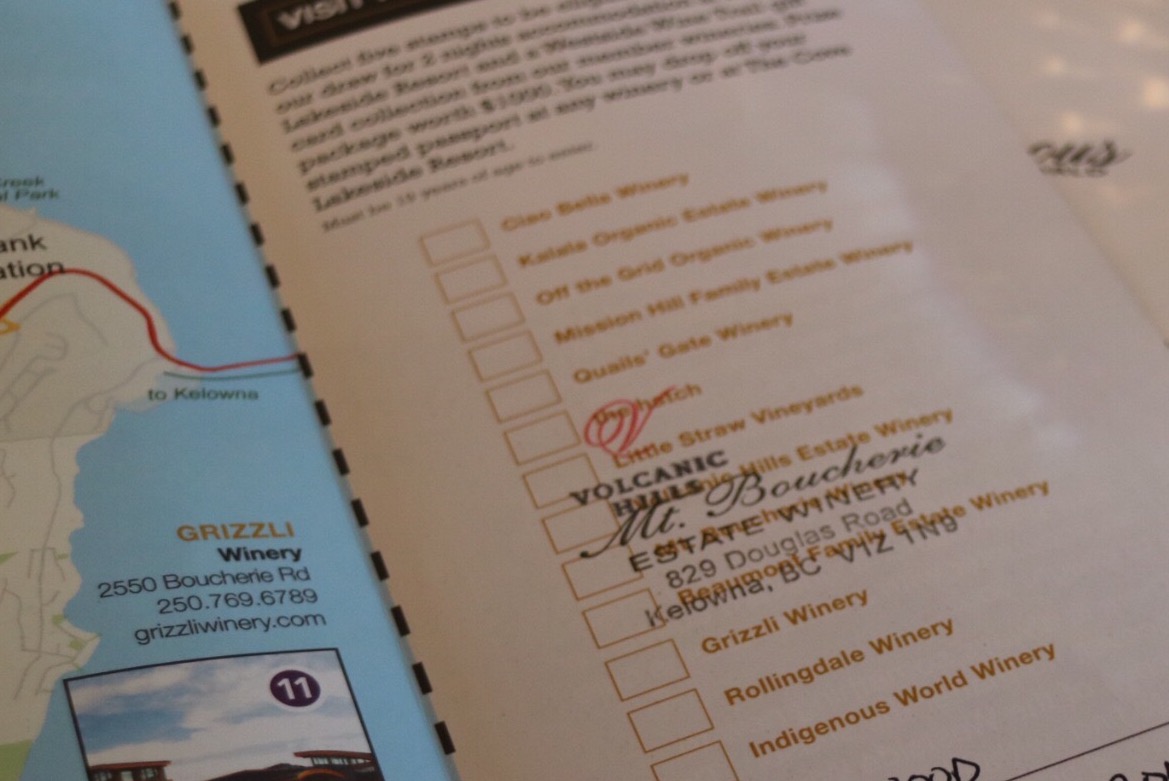 We made it to Indigenous World Winery, highly recommended by our Airbnb hosts. It's the first 100% Indigenous owned winery in Canada. The former Westbank First Nation Chief Robert Louie and his wife Bernice are descendants of the Okanagan Syilx people, determined to produce world-class wine in a respectful way to the environment, lands and its people.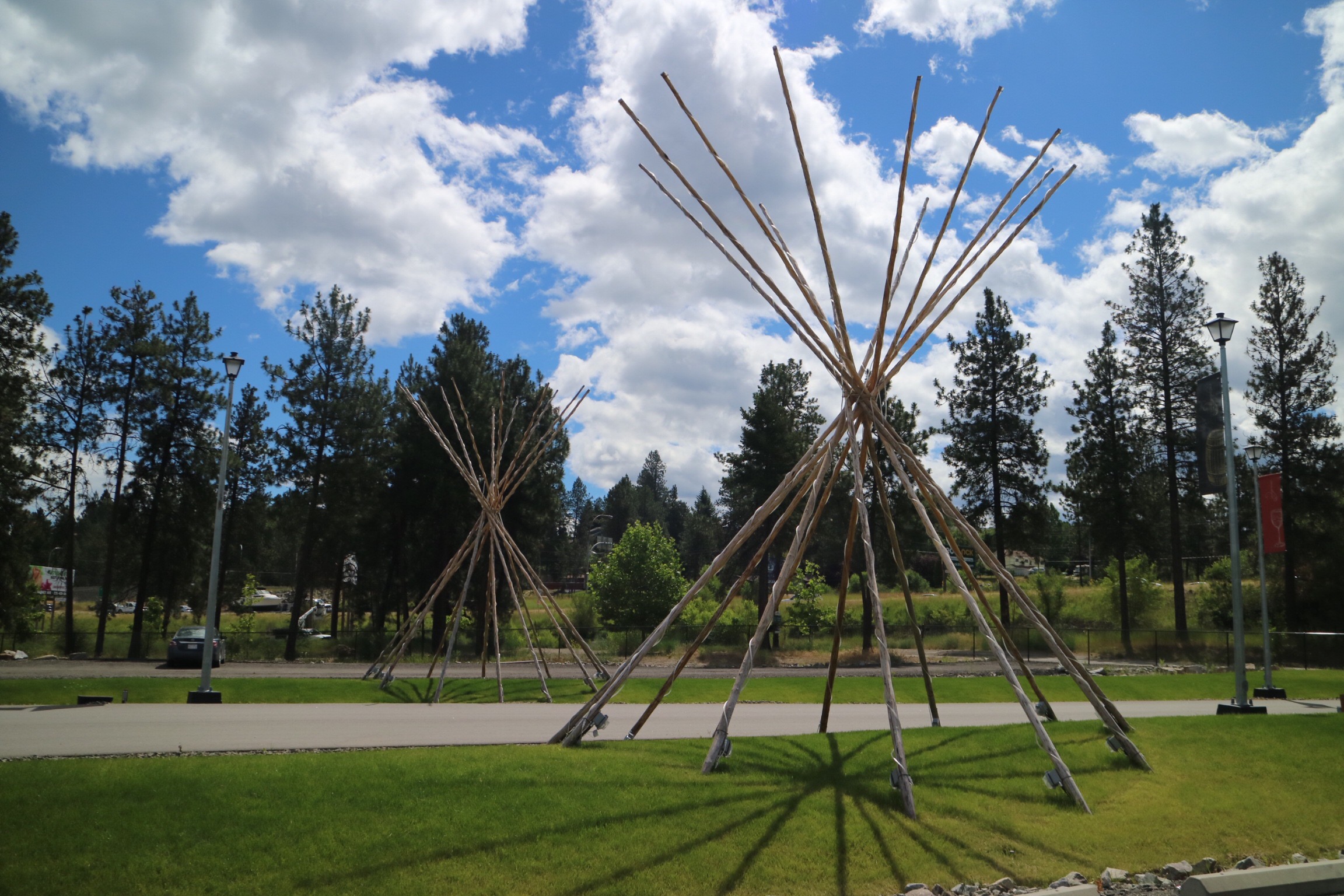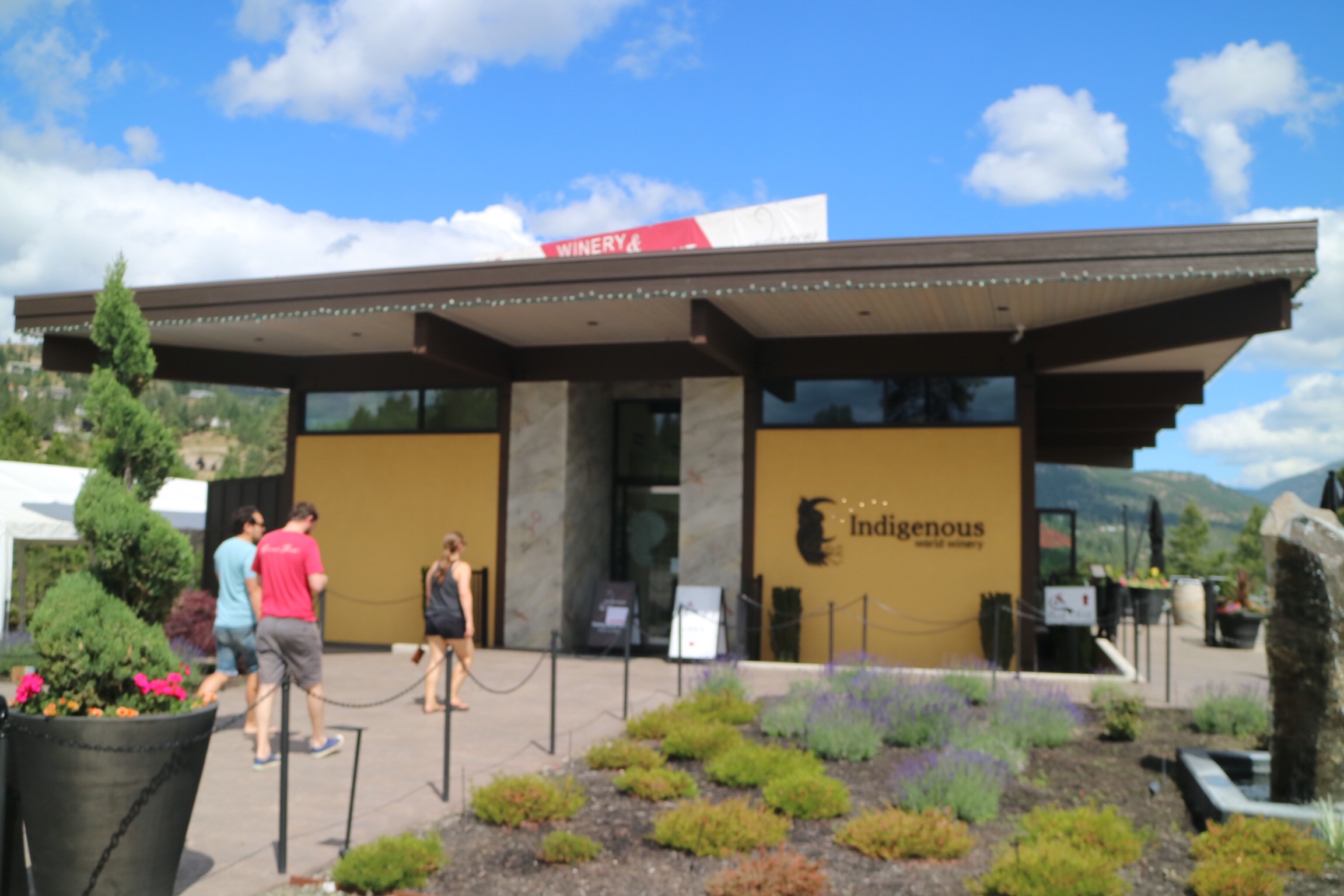 I really liked the artworks inside the tasting room, reflecting the people and their rich history.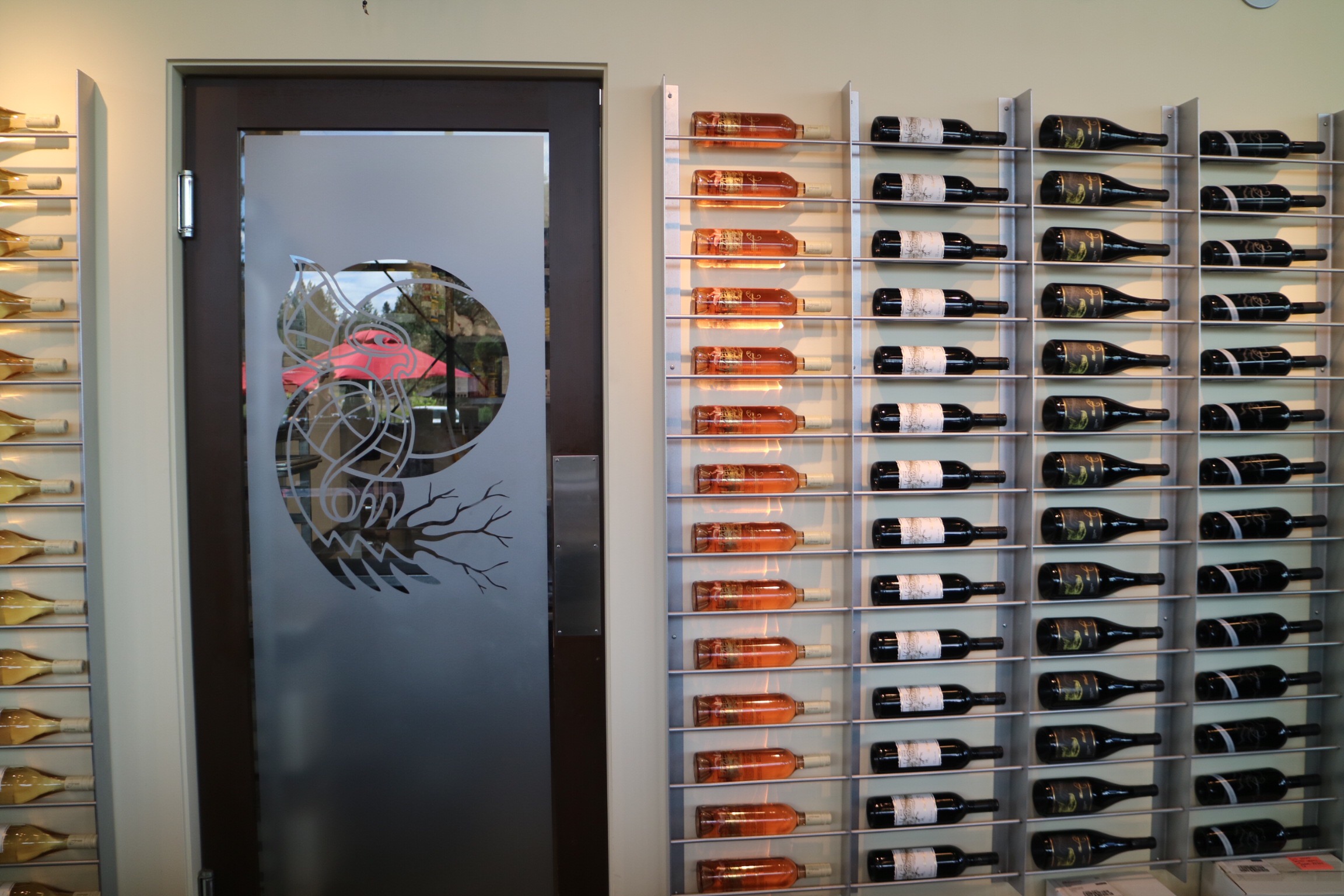 The tasting consists of 5 wines and costs $5. But the fee is waived if you purchase a bottle or eat at their restaurant, Red Fox Club.
Rick bought a bottle of the Indigenous 2015 Chardonnay ($29.99) and thought it'd make a great gift for his cousin, who we were going to visit in Oliver.
We indulged ourselves with aboriginal inspired dishes at Red Fox Club, with the beautiful Okanagan Valley as the backdrop.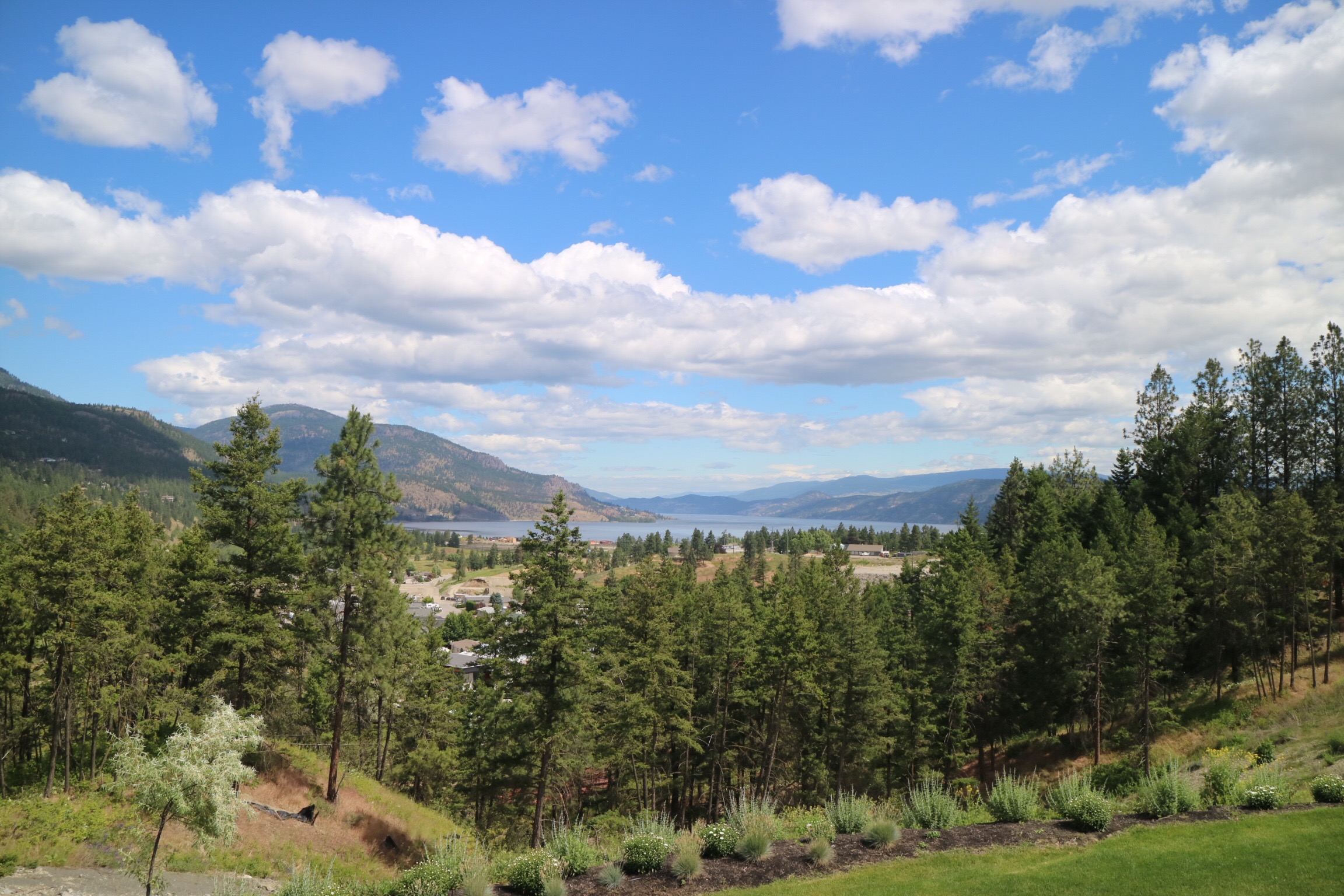 Having had a bit of wine tasting today, we decided to try some local fruit soda instead. Produced by The People's Crafthouse in Penticton,  both the Ginger Ale and Root Beer tasted very refreshing, perfect for such a warm day.
Rick's Stinging Nettle Hand Pie ($16) was complemented with house smoked salmon – very rustic presentation but with very sophisticated taste.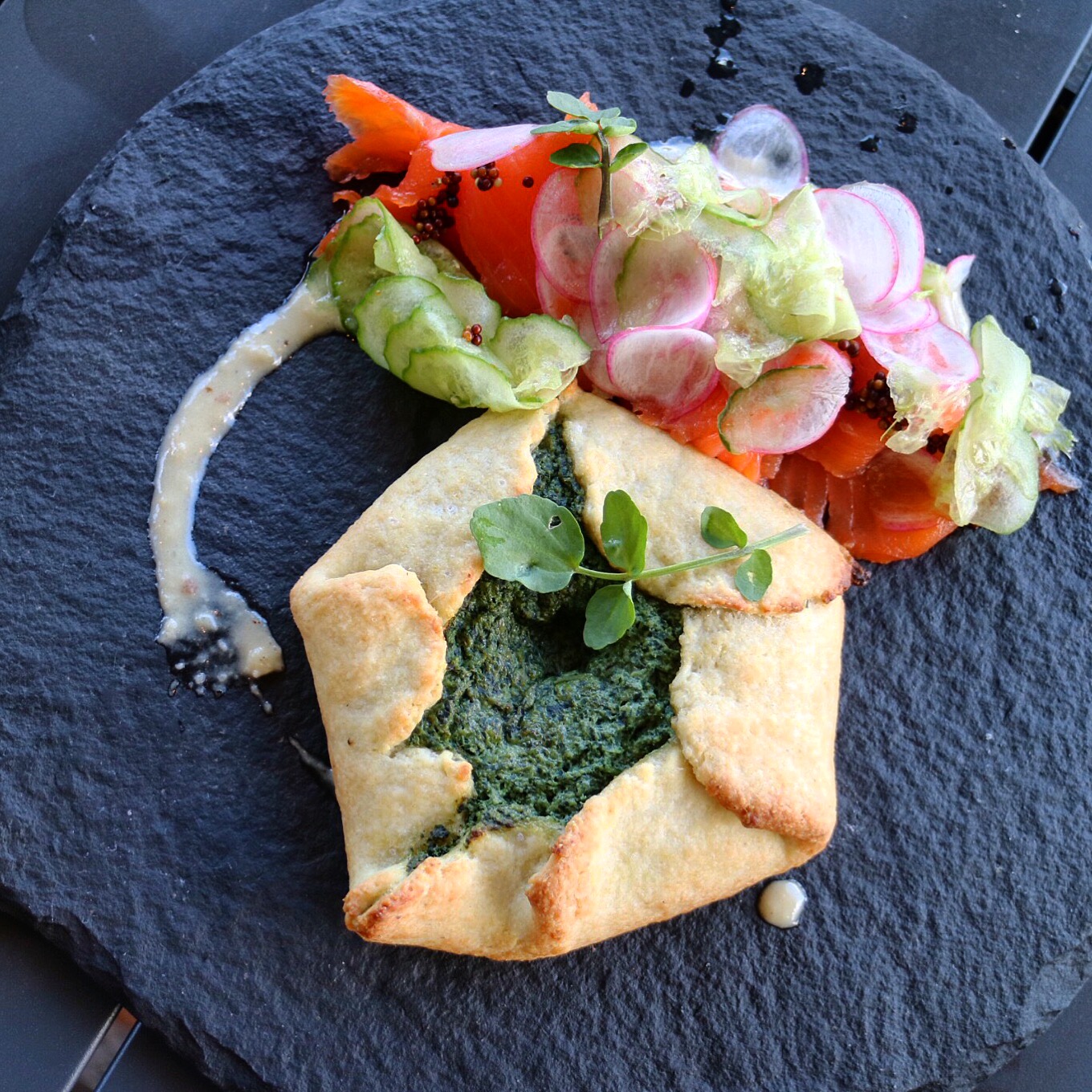 The Baked West Coast 1/2lb Mussels ($15) came with a smoked onion pine cream, which was somewhat ingenious – the smoky pine aroma reminds me of having a campfire in the woods. The garnish of little wild greens was also a nice touch of nature.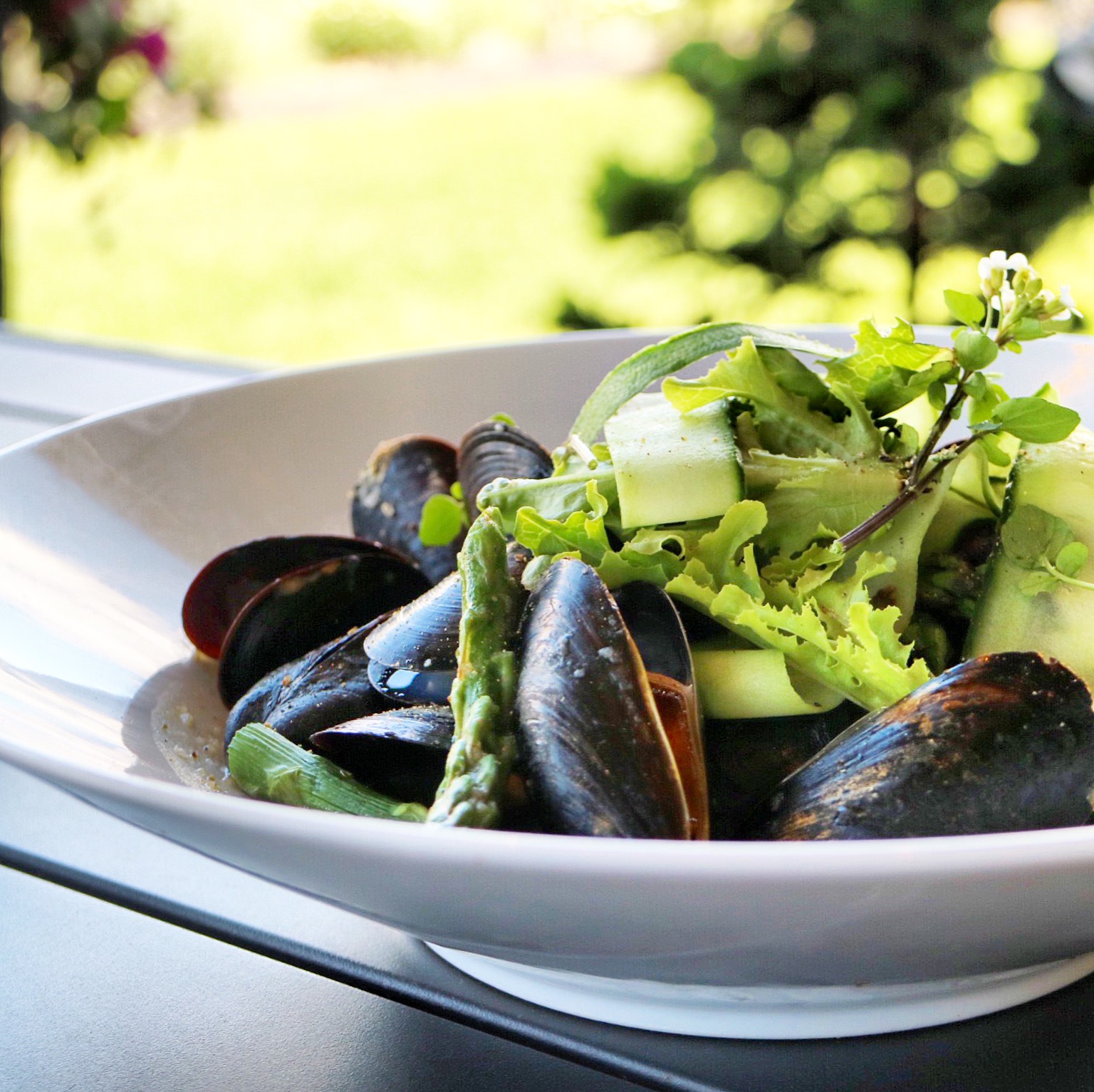 We also had a side of the Bannock Bread Plate ($5). The Bread had a hearty exterior but soft inside. It reminded me the fried bread I had at House Special.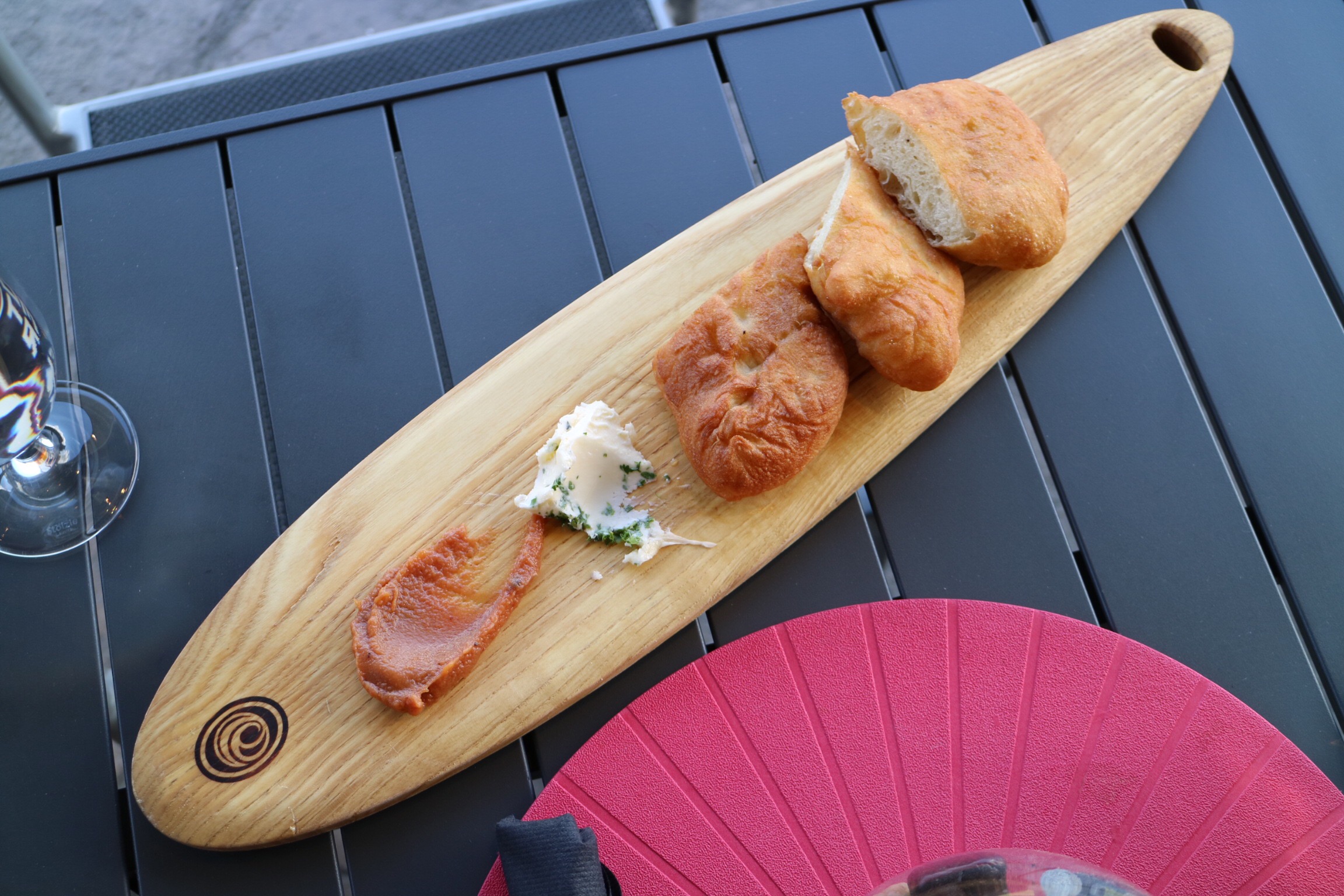 I will cover the dining experience in more details in a separate post!
Scenic Drive on Highway 97
We were heading for Olive after lunch, starting off on Highway 97 going South. This is definitely one of the top 5 scenic drives in our province, where you have an immaculate view of  the lake on one side and the hills and mountains on the other.  We were quickly driving past Peachland, Summerland, and Penticton.   Here is a video clip for a little glimpse of the drive.
Oliver and the Golden Mile Bench
We were surprised to see the sign "Wine Capital of Canada" when we arrived in Oliver. I know that they produce exceptional grapes and wines here but was never aware of such title. But this got me all excited about tasting the wine here.
We drove past the city center of Oliver and found ourselves at the Gold Mile Bench. The weather was incredibly warm and we were in the middle of a sea of green vines.
The Gold Mile Bench is referred to the first officially recognized sub-regions created in 2015, within the Okanagan Valley geographical indication. The sub-regions are linked to unique climates, soil types, and the resulting wine styles. The Golden Mile Bench is located on the western slope, south of Oliver and across from the Black Sage Bench.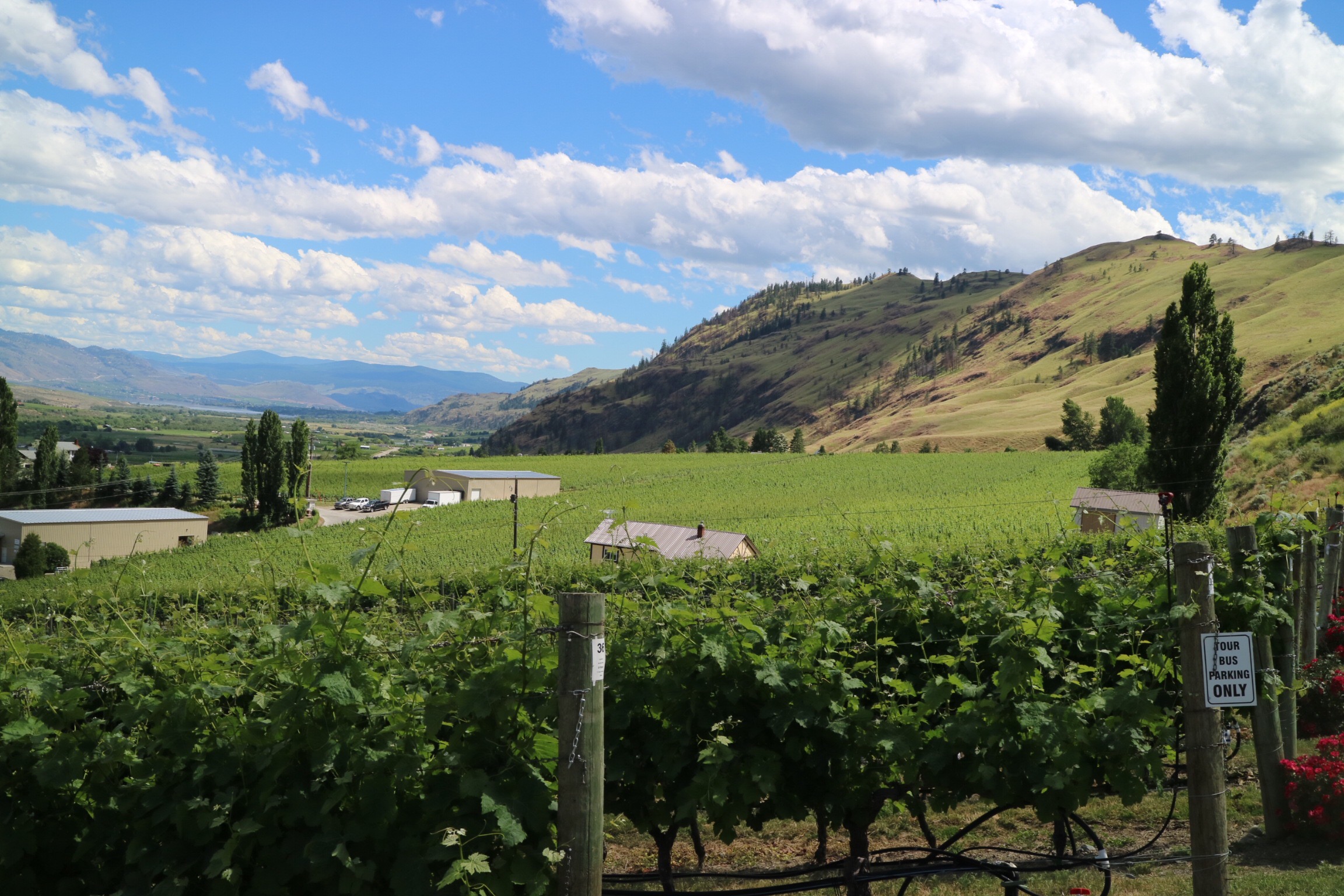 Our first stop on the Gold Mile Trail was Road 13. The tasting here is $5 for 6 different wines, and the fee is waived if a bottle is purchased.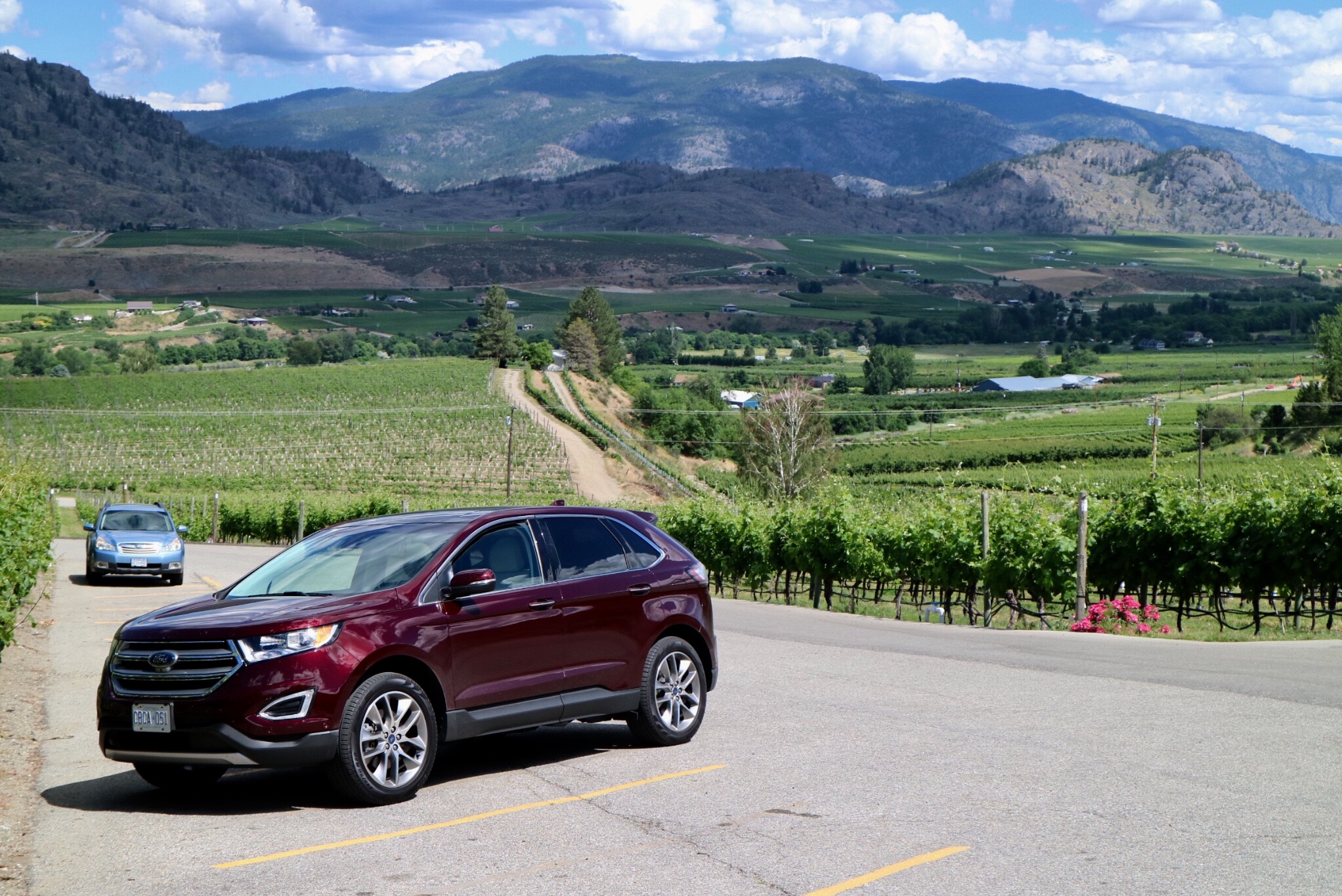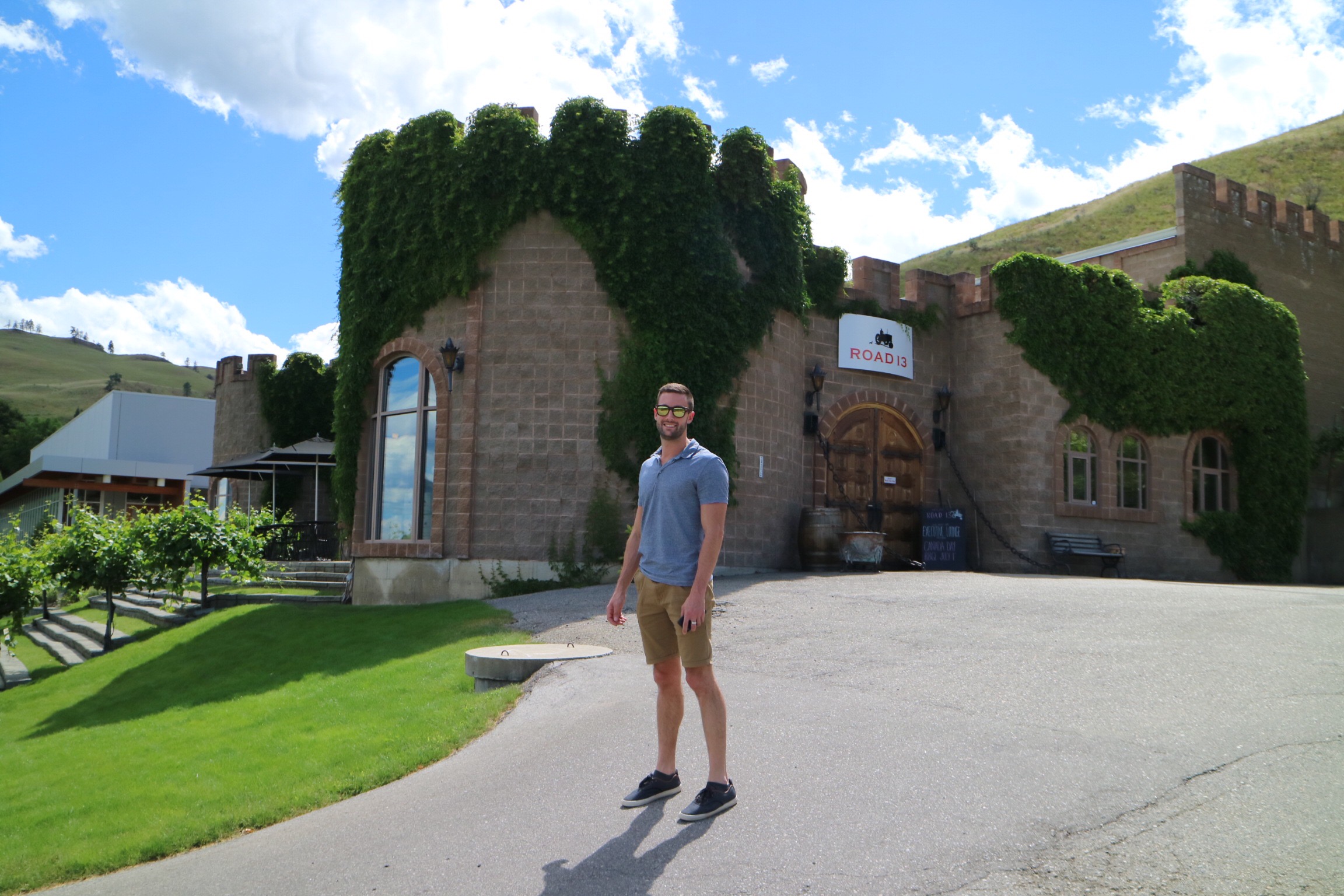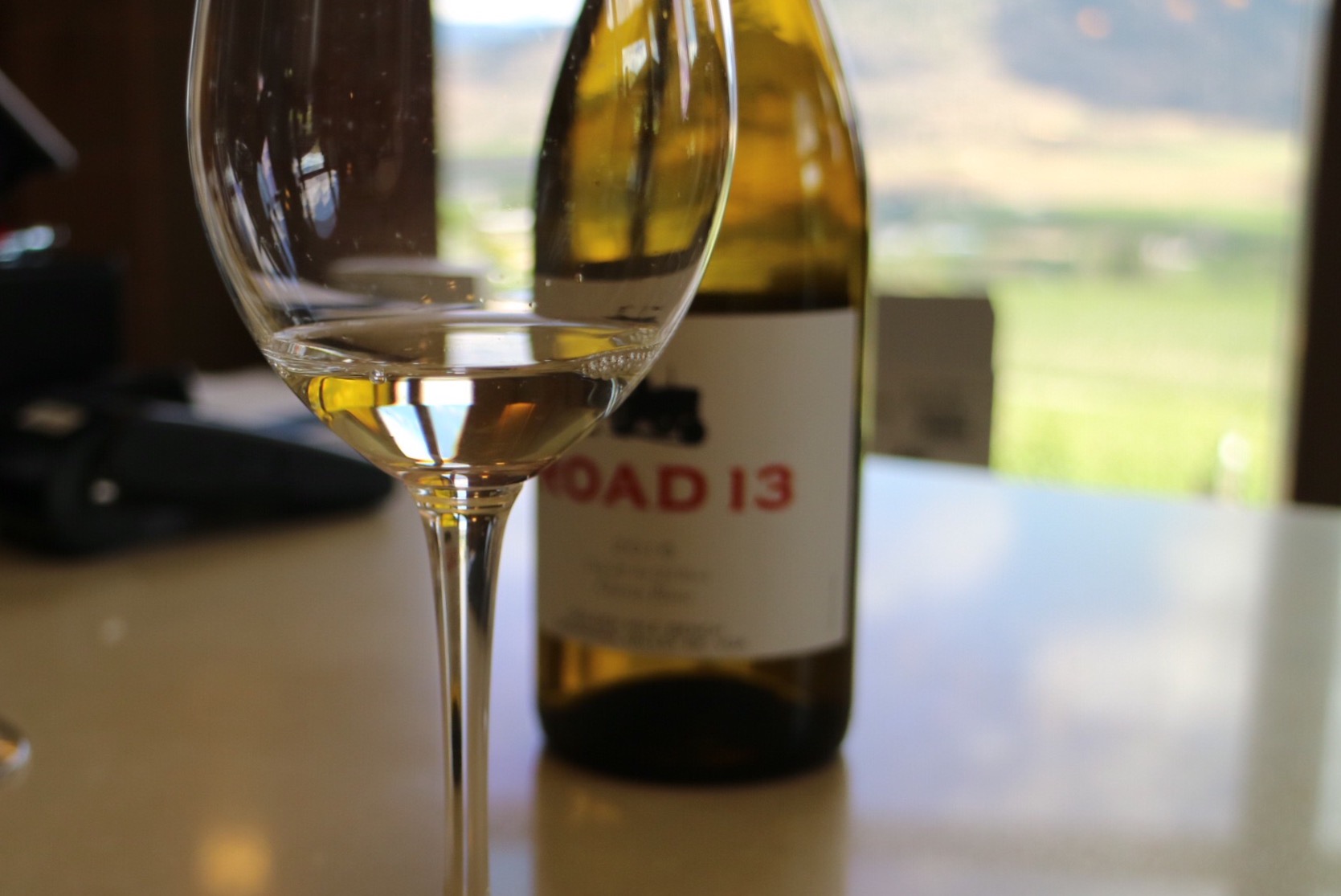 I really enjoyed their reds here, such as Seventy-Four K 2014 ($21.74), and their flagship blend Fifth Element 2012 ($42.61)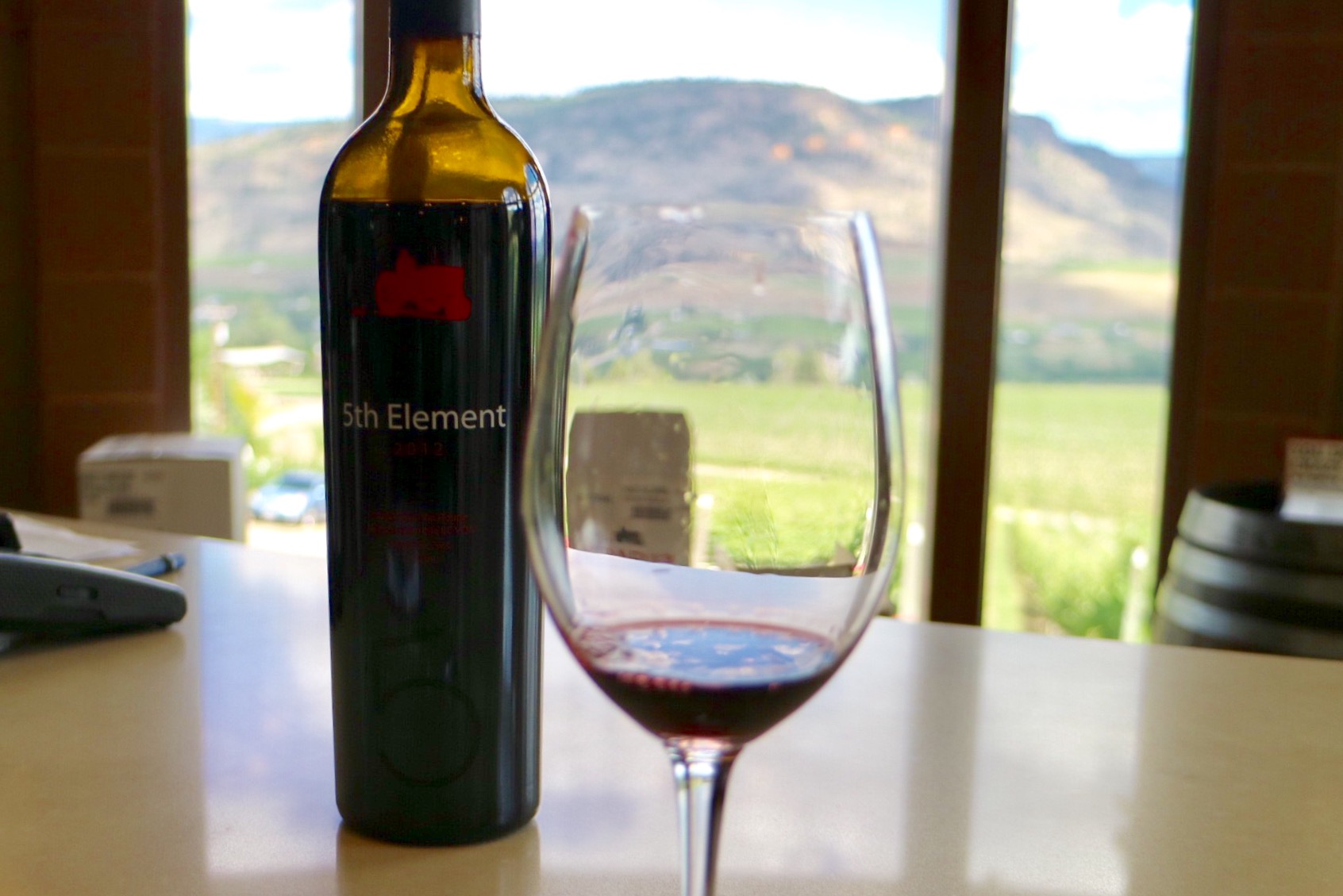 Amazing views from the outdoor patio at Road 13 Vineyards.
A visit to Culmina Winery was in my mind because their Bordeaux blend Hypothesis was my favorite red at the wine show at Science World. It is also located right off Road 13.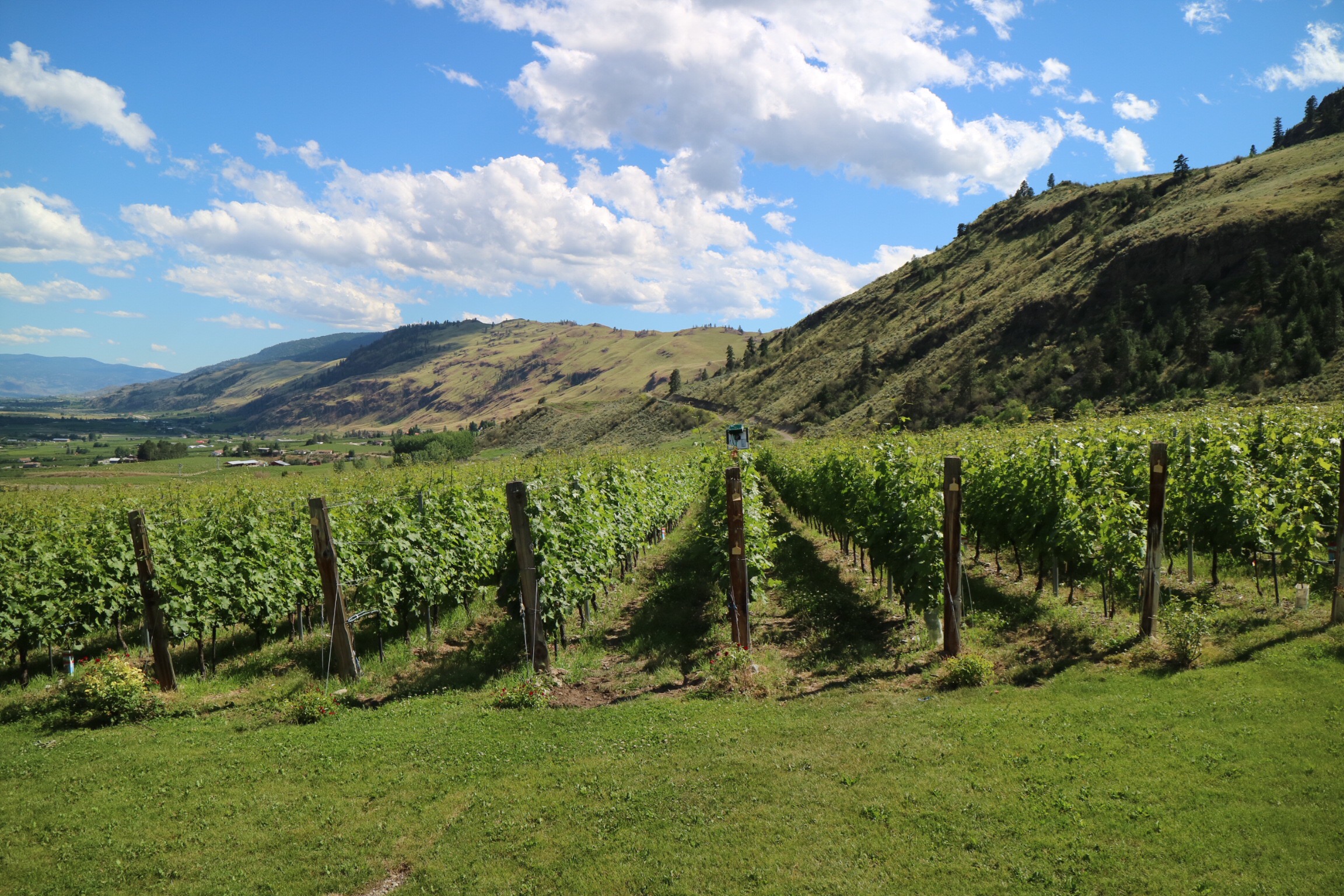 They offer an exclusive wine tasting experience here at Culmina. During the high season, it's by appointment only. Since it was not a busy day, we were able to get a tasting without booking in advance.
And we were joined by Rick's cousin Andrea, who lives in Oliver with her husband and her beautiful 3-year-old boy.
First, we were seated in an outdoor space, where we had a nice view of the bench and the vineyards. And the tasting started with a taste of the  2015 Culmina Decora ($27), an aromatic Riesling that exhibits a nice amount of acidity and floral notes.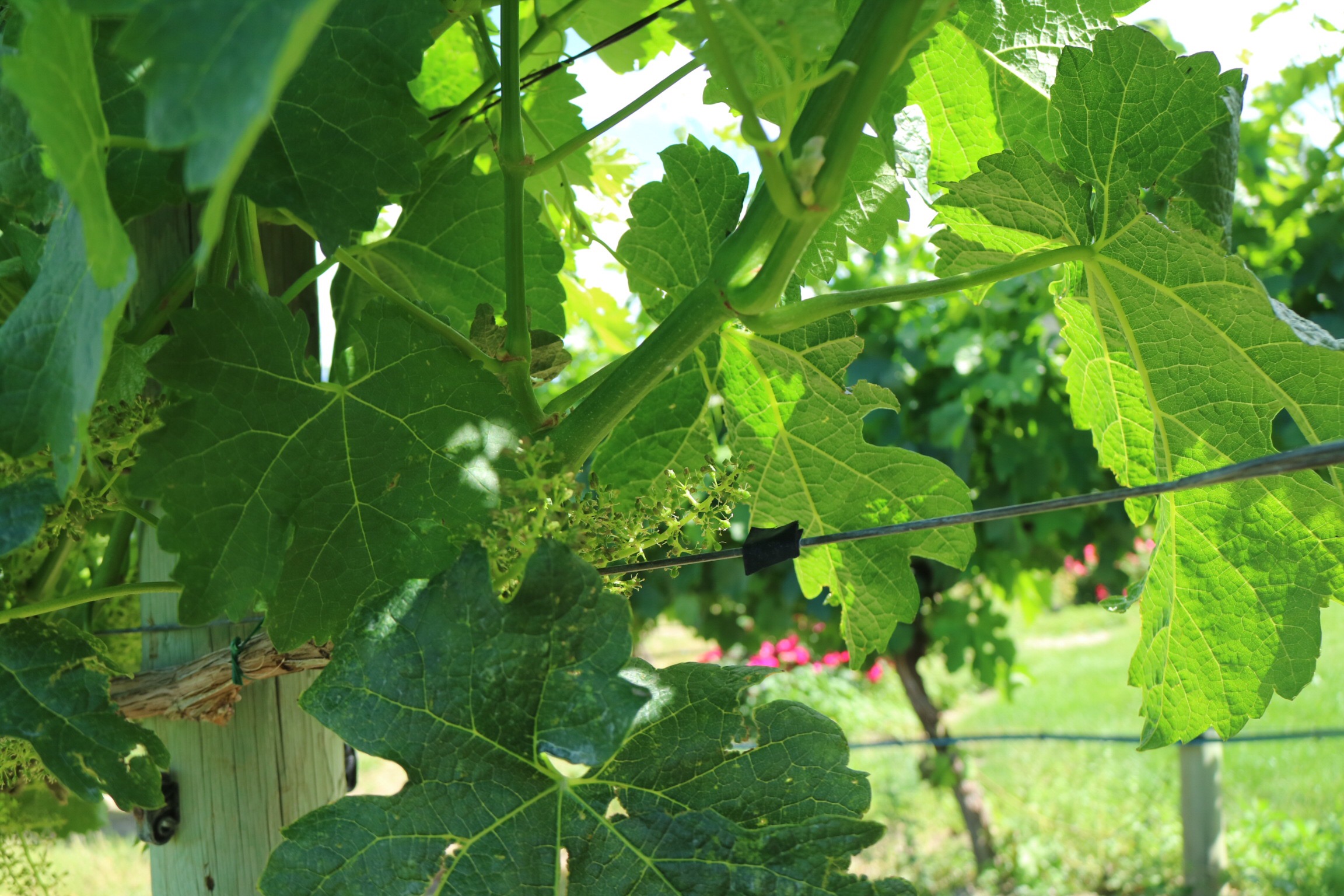 Then we were moved inside and had a flight of 4 different wines. The tasting is $10 but $5 is waived with a purchase of a bottle.
We were greeted by Sara, and found out her last name was Triggs, as Triggs in "Jackson & Triggs". With such a family history of wine making, Sara told me about how the Triggs, including her parents Don and Elaine, and herself, found this unused land on the bench with tricky micro-blocks, worked the science into the soil and finally finished developing the map of vineyards that they have today.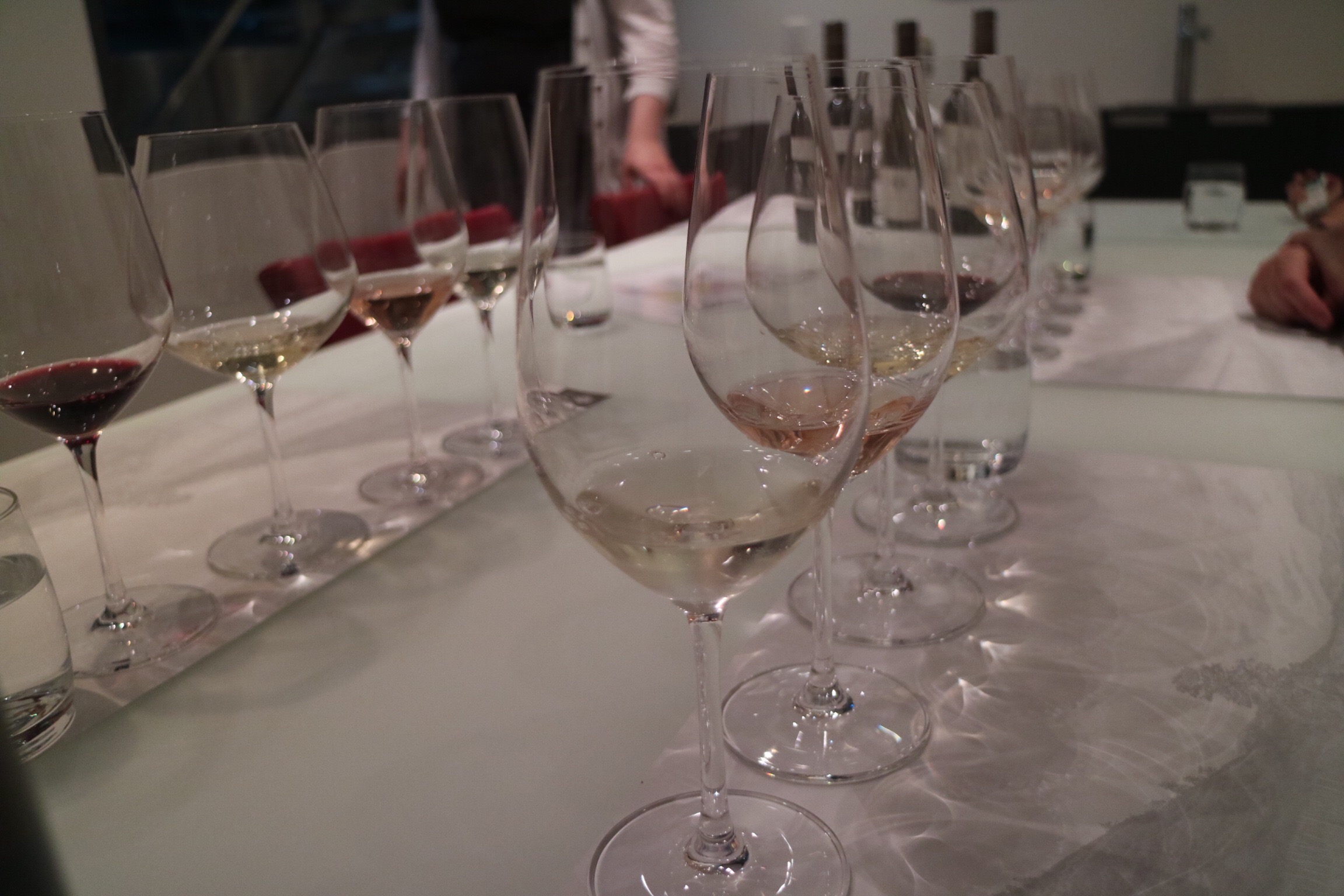 I learned a lot today, not just their story on the bench, but also knowledge on wine making, such as the 'bleeding' method used for making rose wines. And I highly recommended their 2015 Saignée  ($24), made from the process of bleeding off a portion of juice from each of Culmina's best Bordeaux-red varietal lots – bright and elegant.
But the winner belongs to their 2012 Hypothesis ($42), their flagship Bordeaux blend,  a rich, bold, terroir-driven blend of Merlot, Cabernet Sauvignon, and Cabernet Franc from select micro-blocks on the bench. So I was happy to be taking this home. You also find the bottle at BC Liquor Store for around $45. But with the whole tasting and learning experience, I got a good deal here!  Sara also offered me a small blogger discount which I really appreciated.
Rick had his eyes on the 2014 Dilemma ($34), their pride in making Chardonnay on the bench.  I was never a huge fan of oaked Chardonnay, but after this trip, I think I have started to appreciate the luscious buttery quality of the white wine.
Andrea's Home in Oliver
So that was all the tastings we had for the day.
Andrea, Rick's cousin, invited us to stay at her beautiful home in Oliver that evening. Located North of the city, her house is on a 2-acre property, with such beautiful greenery in their backyard. And they live next to locals who run either a vineyard or an orchard in their backyards.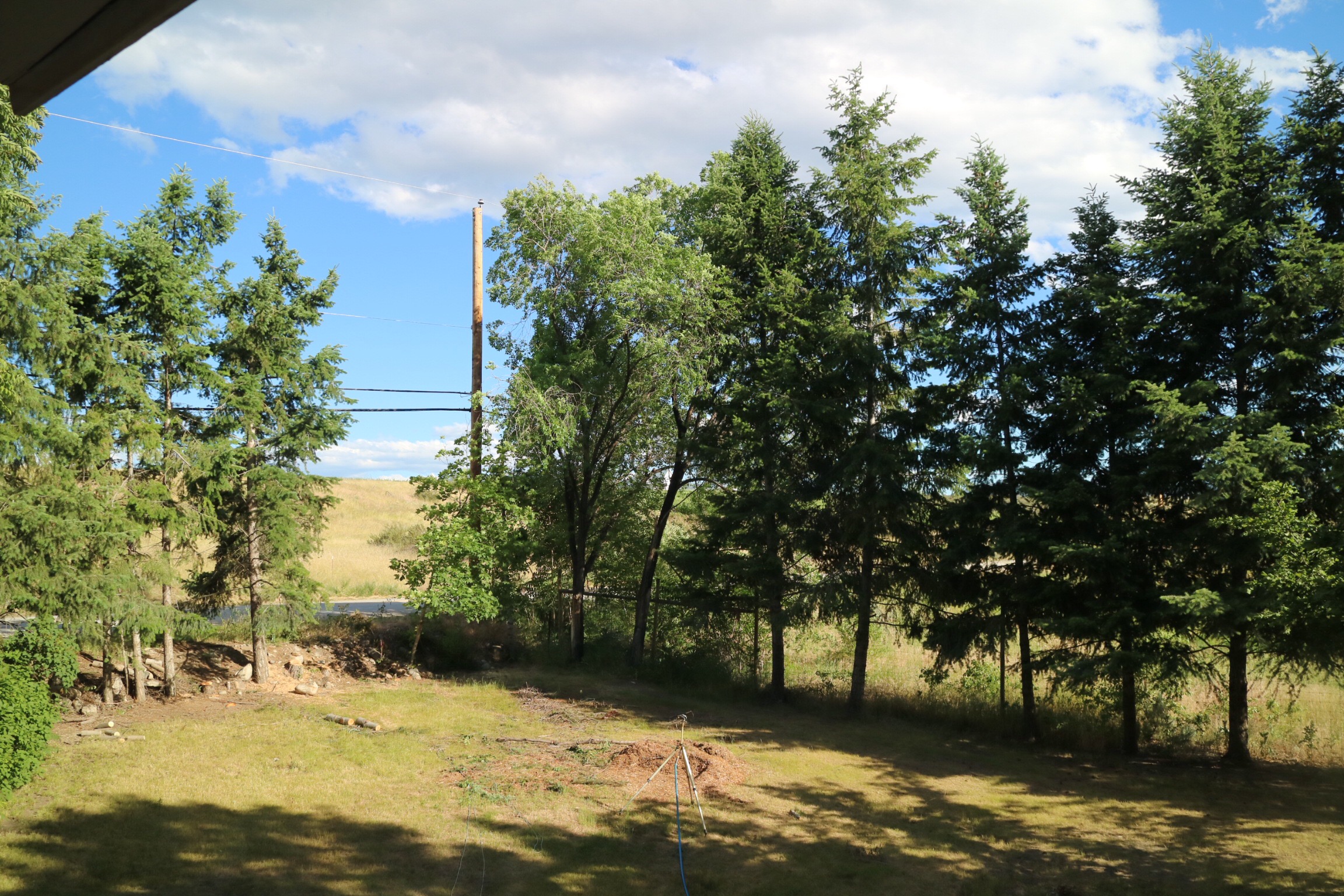 It was my first time staying in an area in Canada with a desert climate. The wind was blowing through the valley constantly, which I found very interesting. We also often spotted quails hanging out in the backyard. According to Andrea, wild quails are a little tough to eat apparently . 😛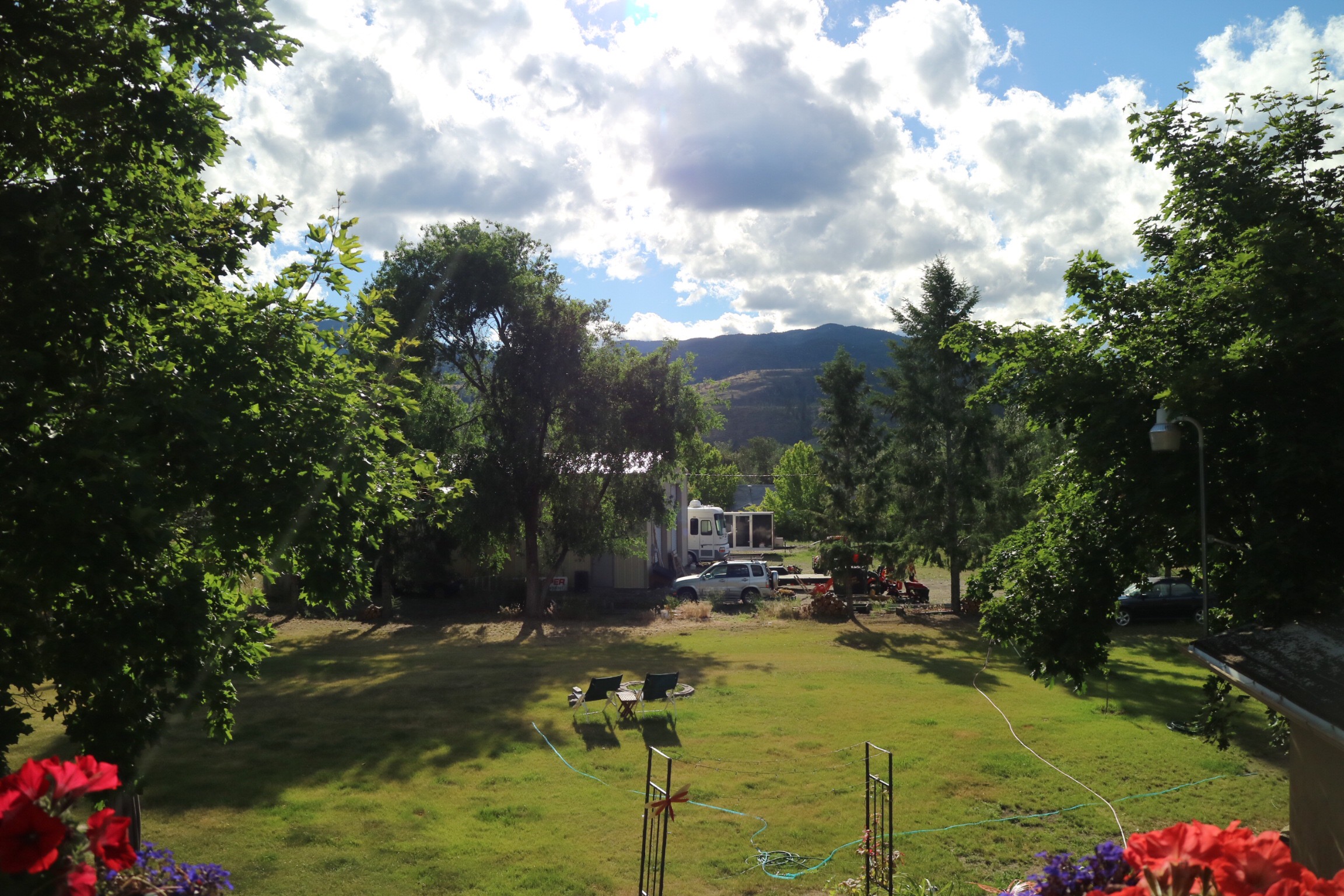 After a delicious BBQ steak dinner, we opened a couple bottles of the red wines that we bought – Rick's Quail's Gate Old Vines Foch 2015 and my Volcanic Hills Magma Red 2014. Despite the difference,  with one being 100% Foch and the other one being a blend, they tasted somewhat similar with notes of berries and black peppers, rich but smooth on the palate.  And they will most likely would taste better properly aged.
Day Three
We took our time in the morning and enjoyed some tasty coffee and treats from Andrea. We thanked her hospitality and went on with our road trip.
Before we were heading down to Golden Mile, we decided to give this small winery near Andrea's house a try.  Sometimes visiting a smaller winery brings unique experience, which was the case at River Stone Winery.
What impressed me here the most was their flagship Bordeaux-style blend 2013 Corner Stone ($31.80). From the Culmina Hypothesis to the Corner Stone, it's an eye-opening experience to learn about the art of wine blending technique, something started in Bordeaux, France but is flourishing all over the world.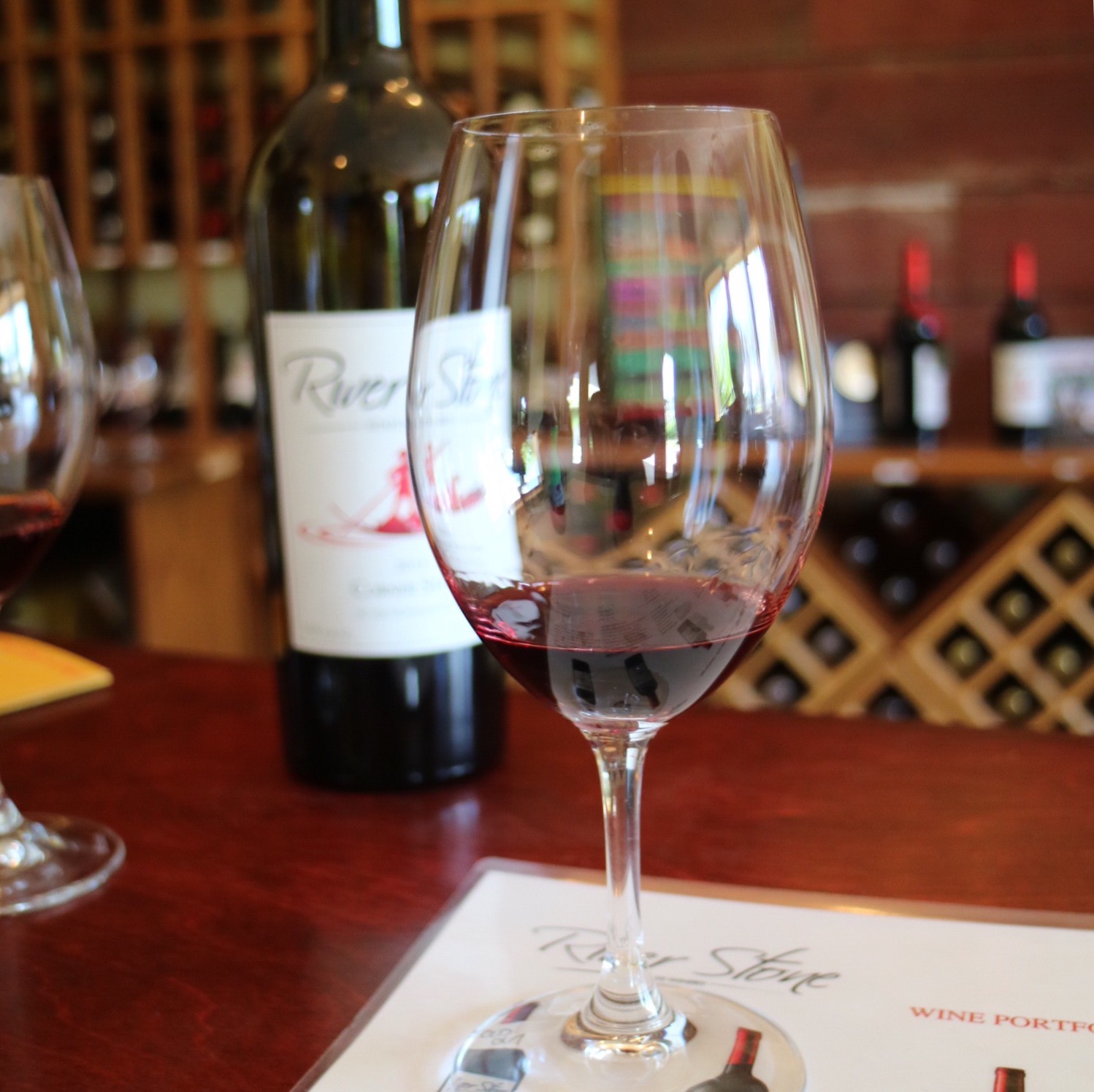 Rick picked up a bottle of Riverstone Splash 2016 ($18.90), a white blend on the sweeter side. Noted that most wines from their collection are not available at most of the liquor stores.
We met a few folks from Vancouver at River Stone and they recommended having lunch at Terrafina at Hester Creek
Terrafina and Hester Creek Winery are located on Road 8 south of Oliver, part of the Golden Mile Bench.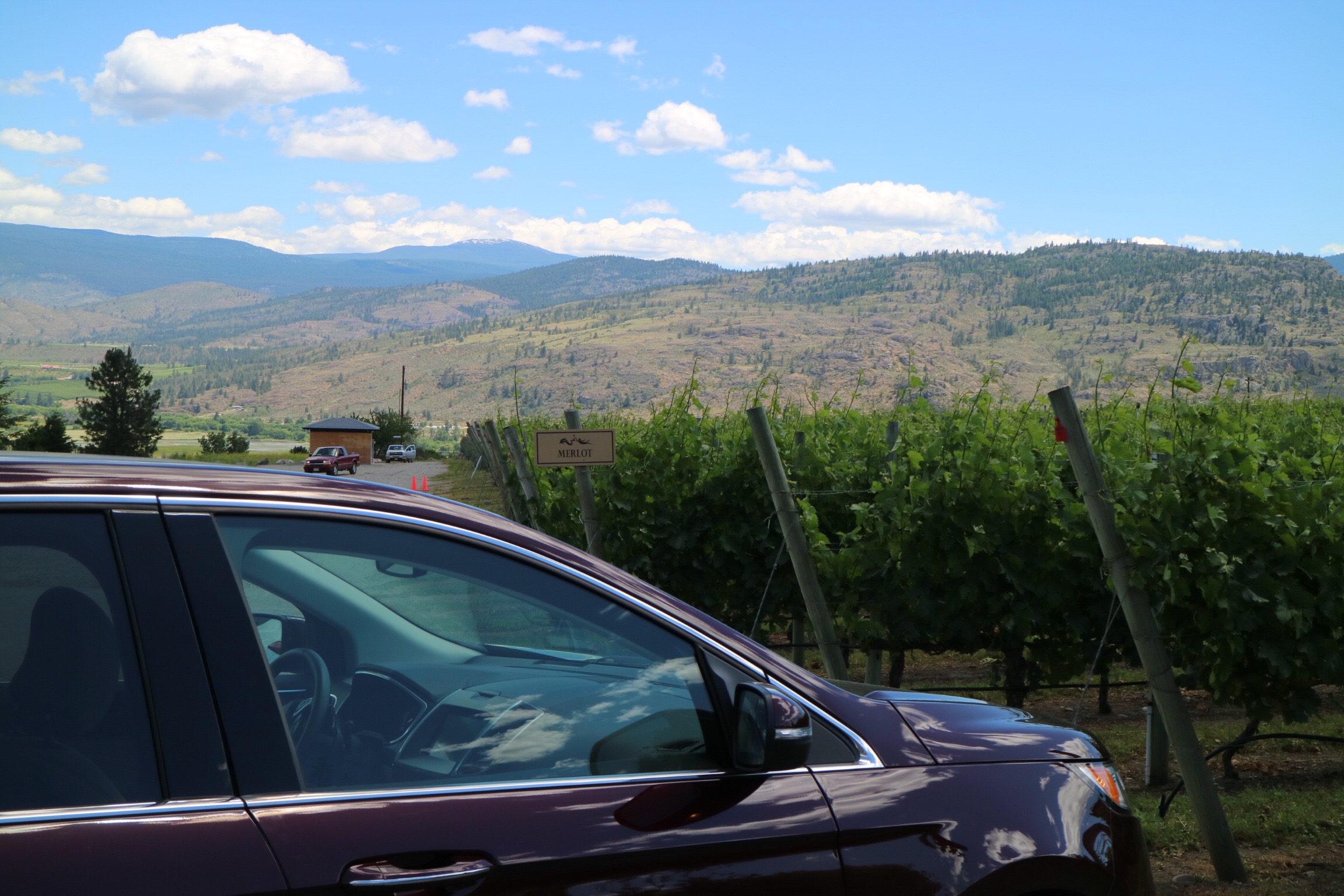 The restaurant is designed in the style of Tuscan wine country. And it's fantastic to sit outside bathing in the warmth of the sun.
We decided to skip wine again, and tried the products from the local breweries in the valley. Rick ordered a Firehall False Alarm ESB ($7), brewed right here in Oliver. I found the taste a mix of hops and malt, pretty clean and balanced.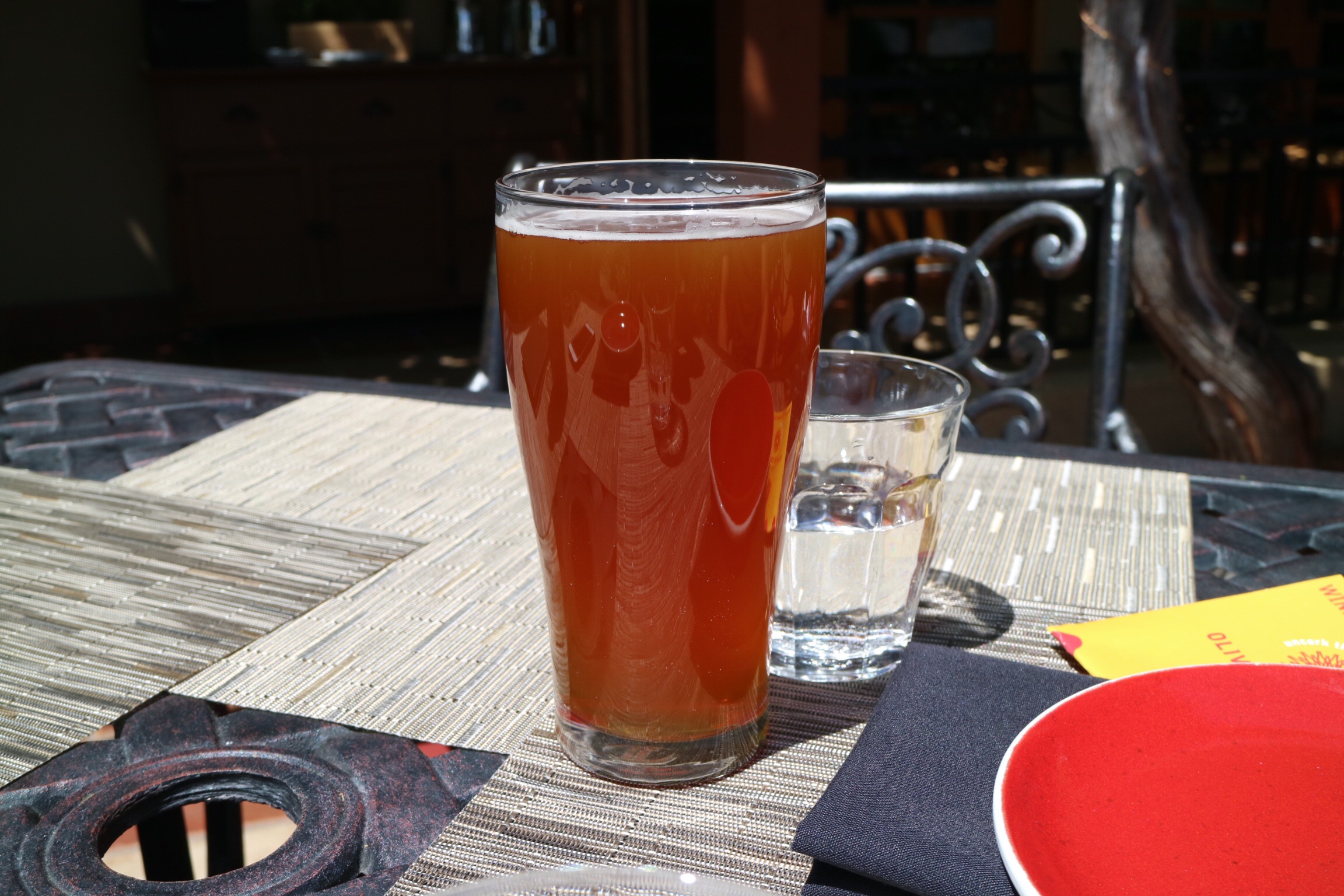 And I went for the Howling Moon Cucumber and Mint Cider ($9.50). This sounds a little adventurous because who would have thought of mixing apple cider with cucumber and mint. But it worked! The taste from the combination was delicate and refreshing.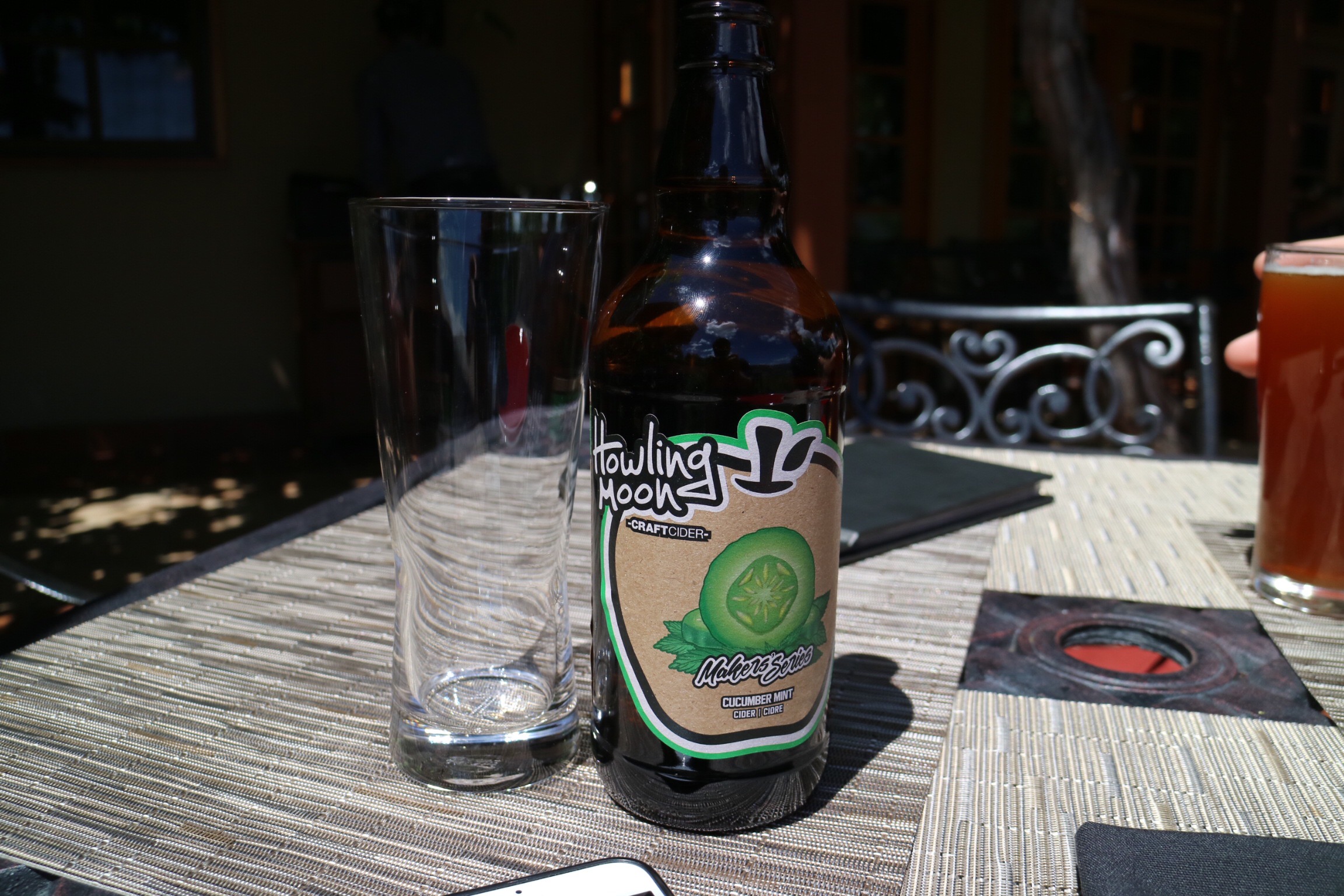 For starter, we shared the Wild Boar Meatballs ($15), served on top of a cream of leek and tarragon sauce. The wild boar was actually delicate and clean tasting, to me it tasted like veal but leaner and with more flavours.
The Potato Truffle Pizza ($19) seemed simple visually but tasted so much better it looked. It was topped with thinly sliced potato and Asiago, a layer of arugula and drizzled with a truffle aioli. I enjoyed the perfectly crispy crust and the earthiness of the pie.
And look at what we spot right outside of the restaurant?
The lunch was excellent. I will cover more about the restaurant on a separate post.
The tasting room at Hester Creek Winery is up on the hill from the restaurant.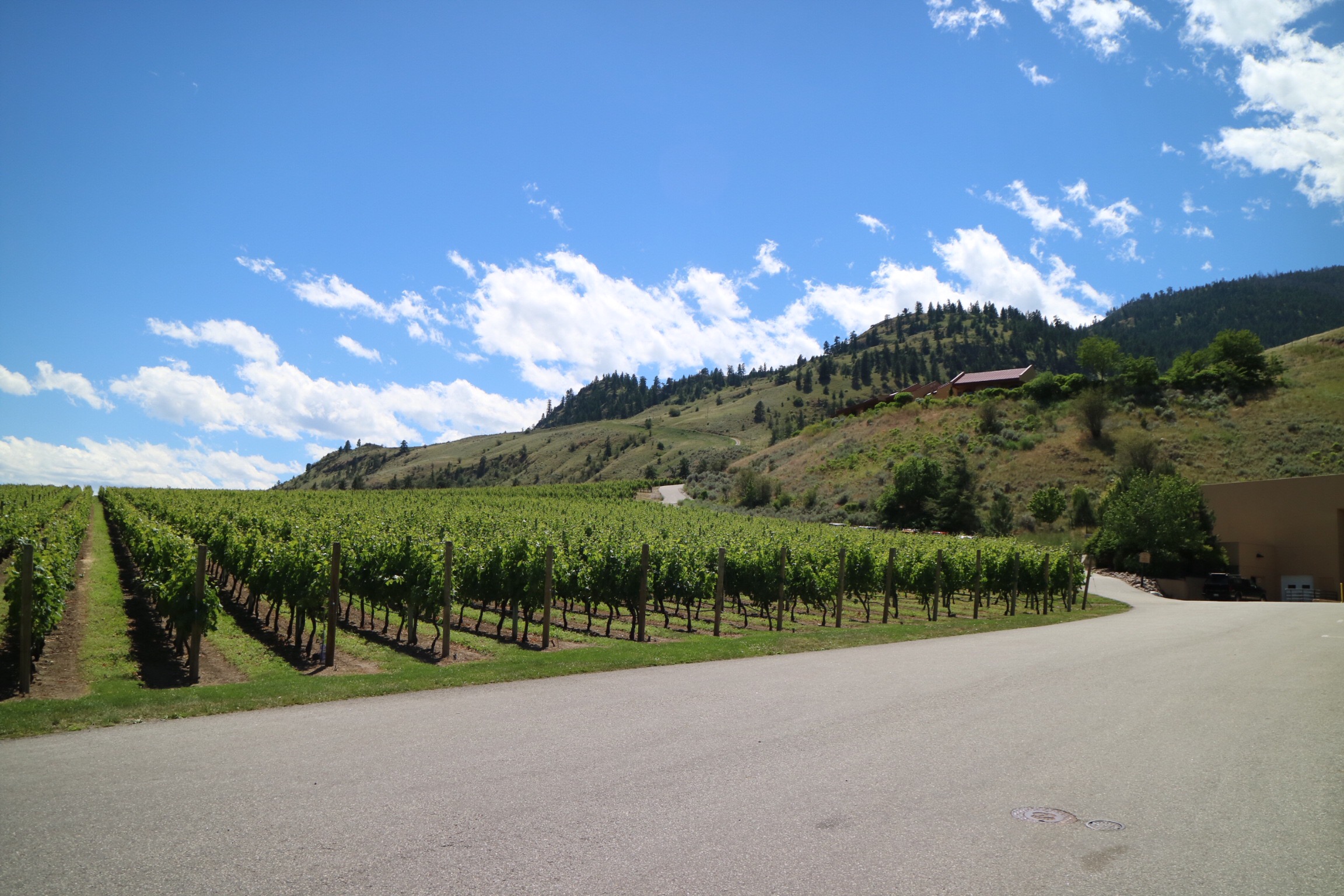 This is one of the bigger wineries on the bench and they have a sizeable tasting room as well.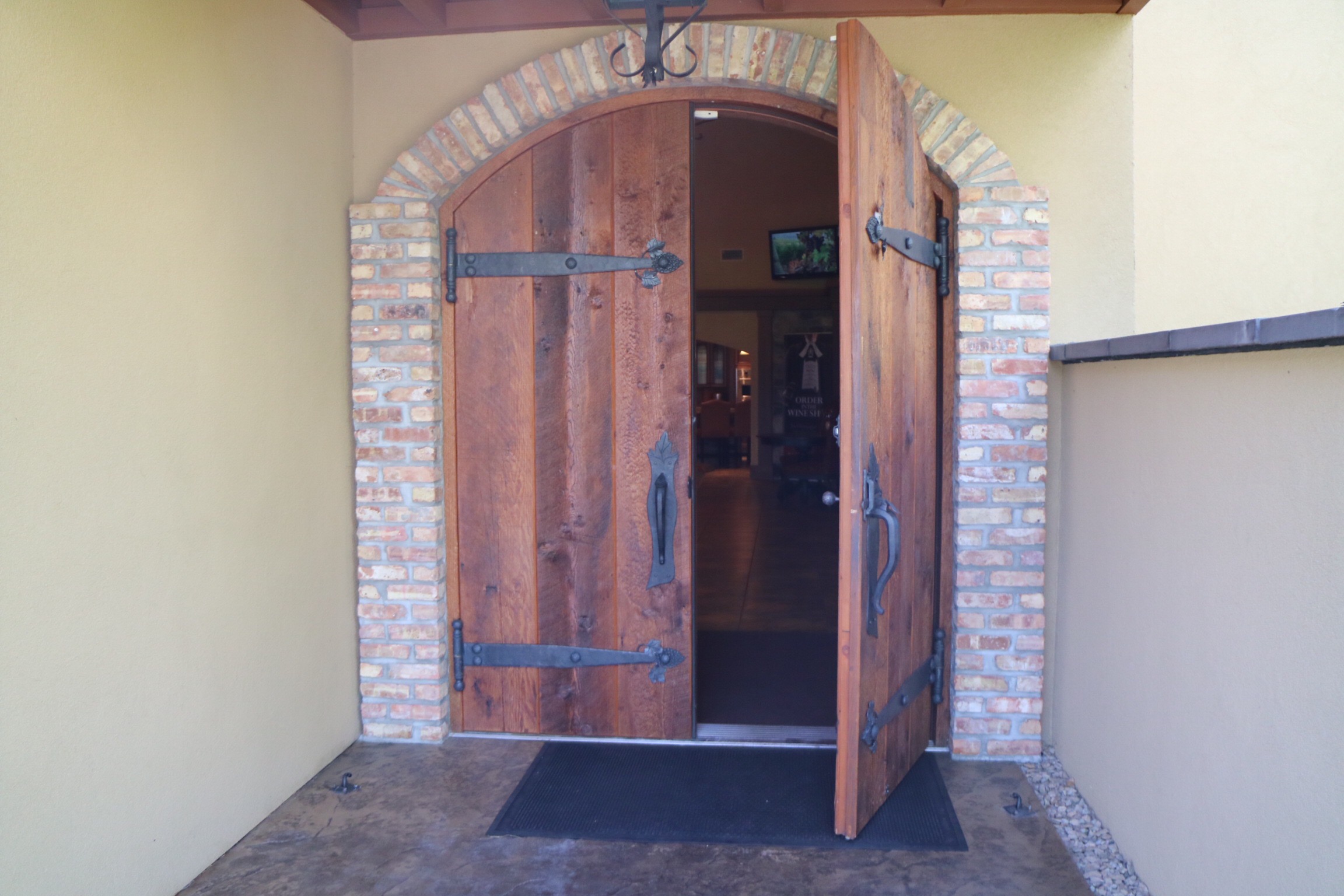 There is nice patio where you can look down the hill and the other side of the valley. There is also a villa at the winery with 5 deluxe rooms and one executive room available for booking.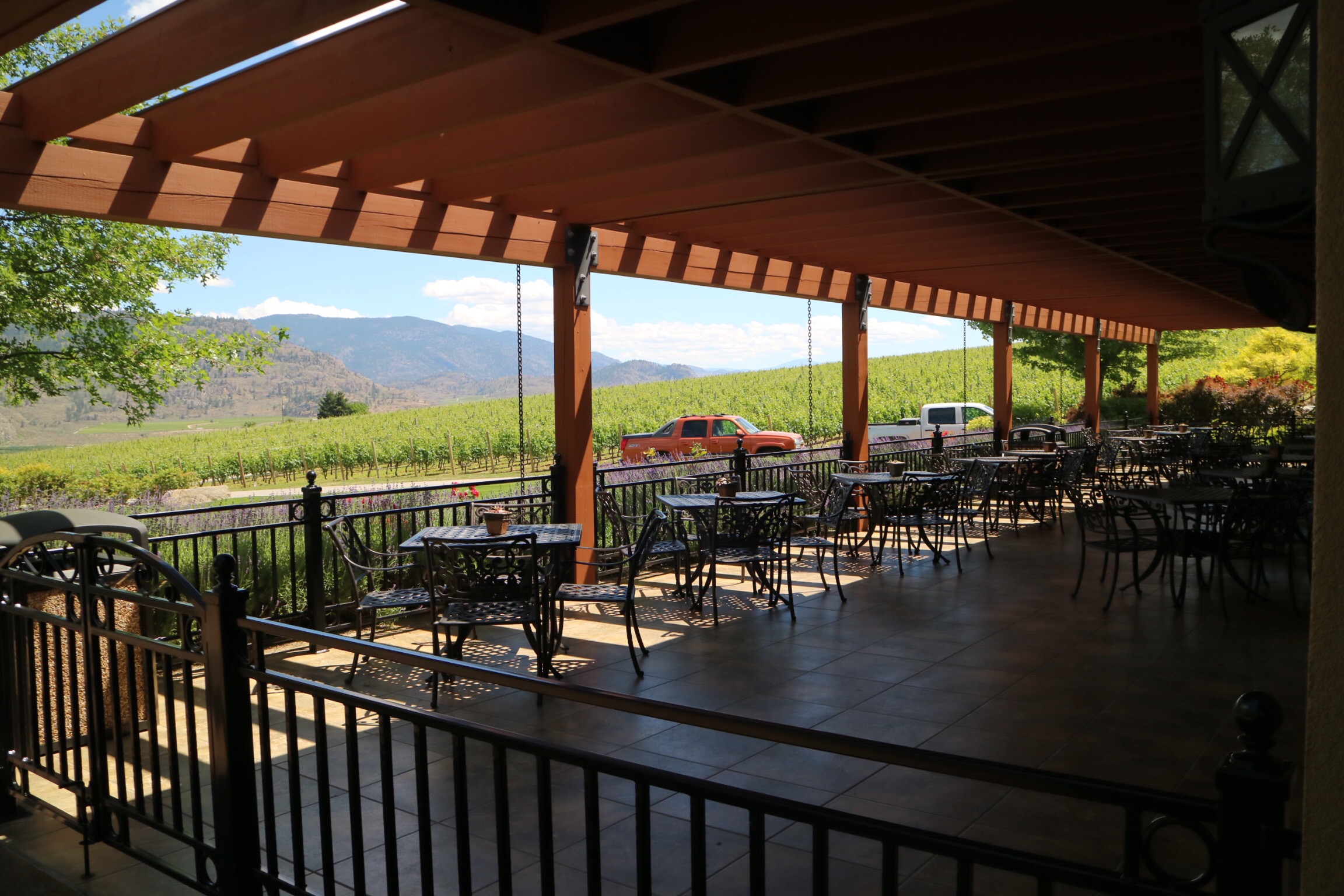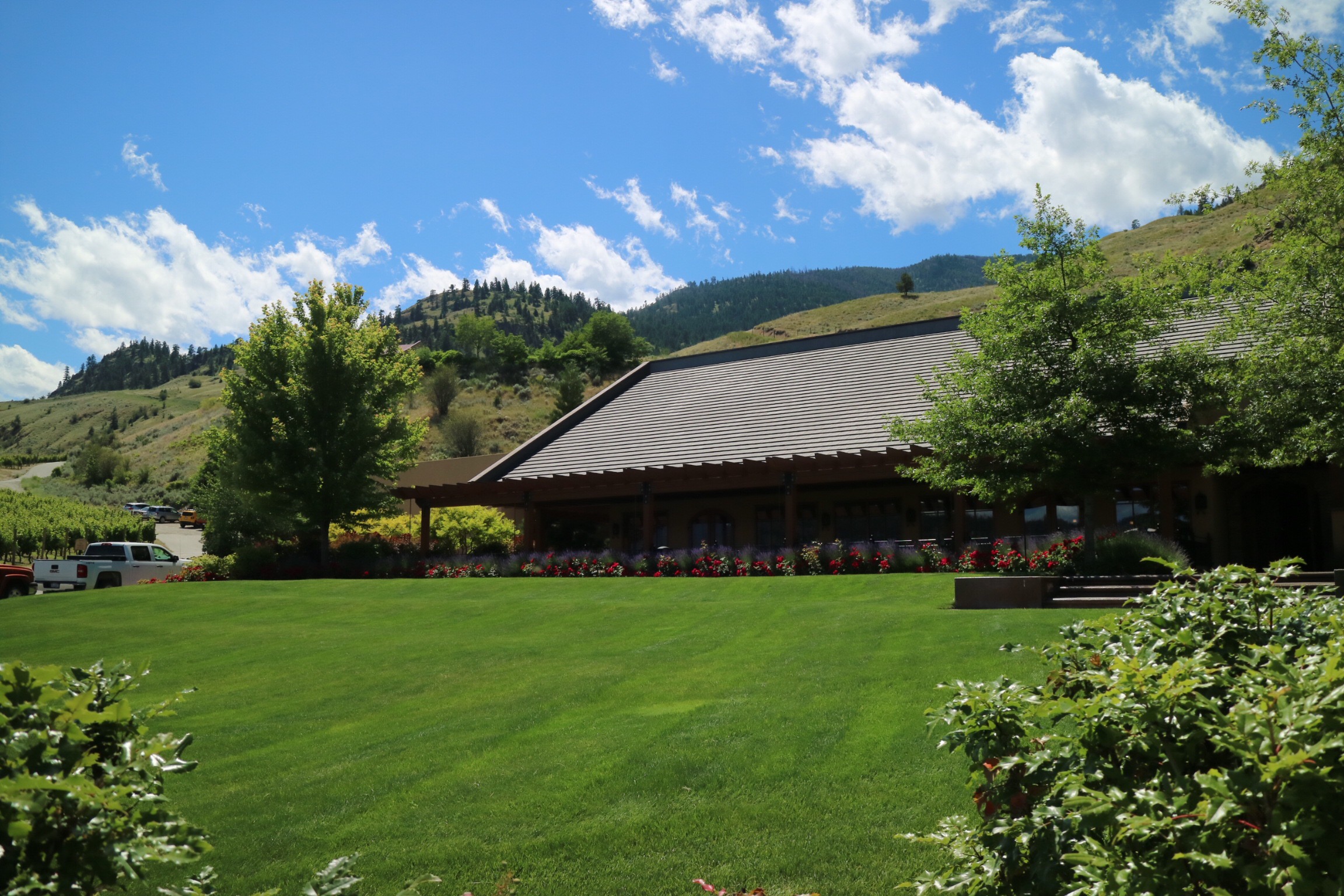 The wine tasting is $5 but again it's waived with a purchase of a bottle.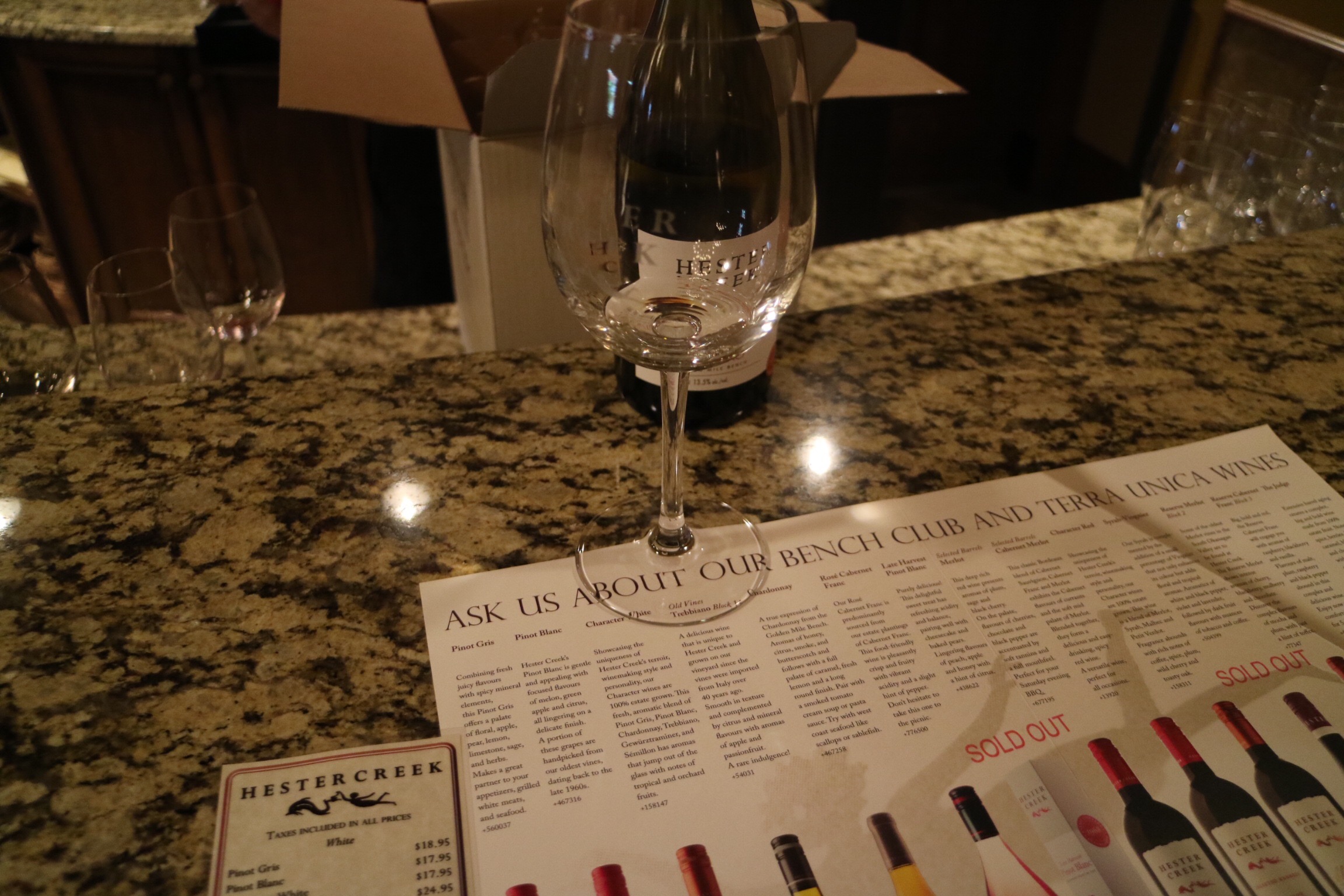 Hester Creek The Judge 2013 ($45) is definitely worth a mention, as the flagship Bordeaux blend is not quite as accessible outside of the winery.  Noted that a taste of the wine costs $3 alone.  We managed to have a free taste and yes it was simply divine, and it was just as good as the Culmina Hypothesis, if not better. But
We managed to have a free taste and yes it was simply divine. It was just as good as the Culmina Hypothesis, if not better. But they seem to have a different selling strategy it by making it more exclusive to visitors and wine club members. But if they were at the Science of Wine, I would have been totally in love with it and budget myself to get a bottle on this trip.
Next, we ventured to Tinhorn Creek Winery, where they are known for their outdoor theatre.
For wine tasting, I enjoyed the 2016 Tinhorn Creek Oldfield Reserve Rose ($19.99) as it's 100% Cabernet Franc from the lowest elevation spot that collects cool air and produces the sweeter ripeness. They seem to do really well with their Cab Franc and it's no surprise that the 2013 Oldfield Series Cabernet Franc ($31.99) is one of their popular choices.
I ended up getting a bottle of 2013 Tinhorn Creek Pinot Noir ($21.49) as I was fond of the taste complexity and the dark colour, which is unusual for Pinot Noir. But later on, I found out that they sell it at BC Liquor Store with a slightly cheaper price. Oh well…
At Tinhorn Creek you can also find Miradoro Restaurant, where diners enjoy Mediterranean-inspired dishes prepared by award-winning chef and Panoramic views of the valley below.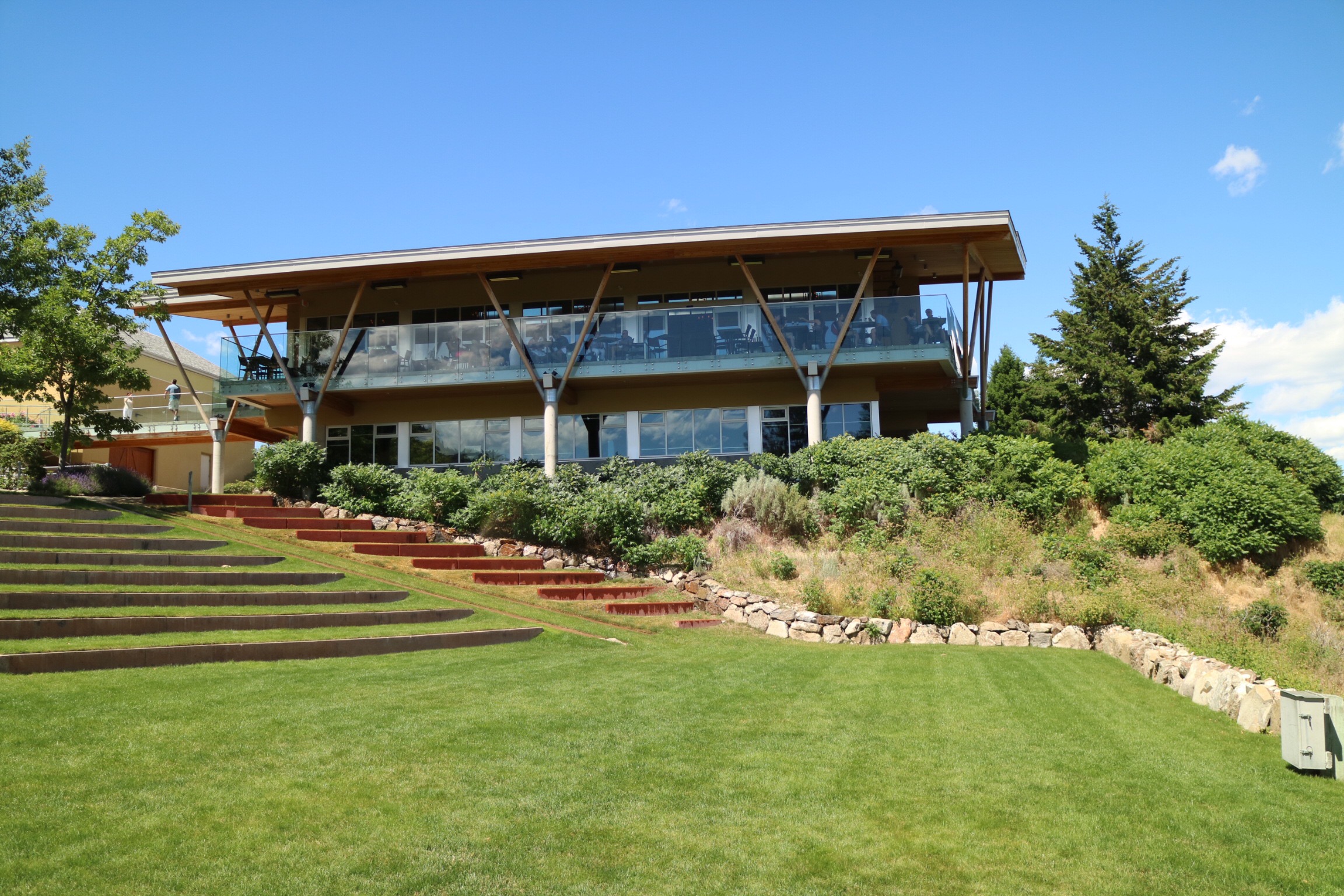 The outdoor theatre, or what they call the Natural Amphitheater is right beside the restaurant, where they hold outdoor concerts in the summer. We could only imagine how specular it is be when live music is performed with the backdrop of the valley and the lovely vineyards.
At Tinhorn Creek, you can also check out one of their Barrel Cellars.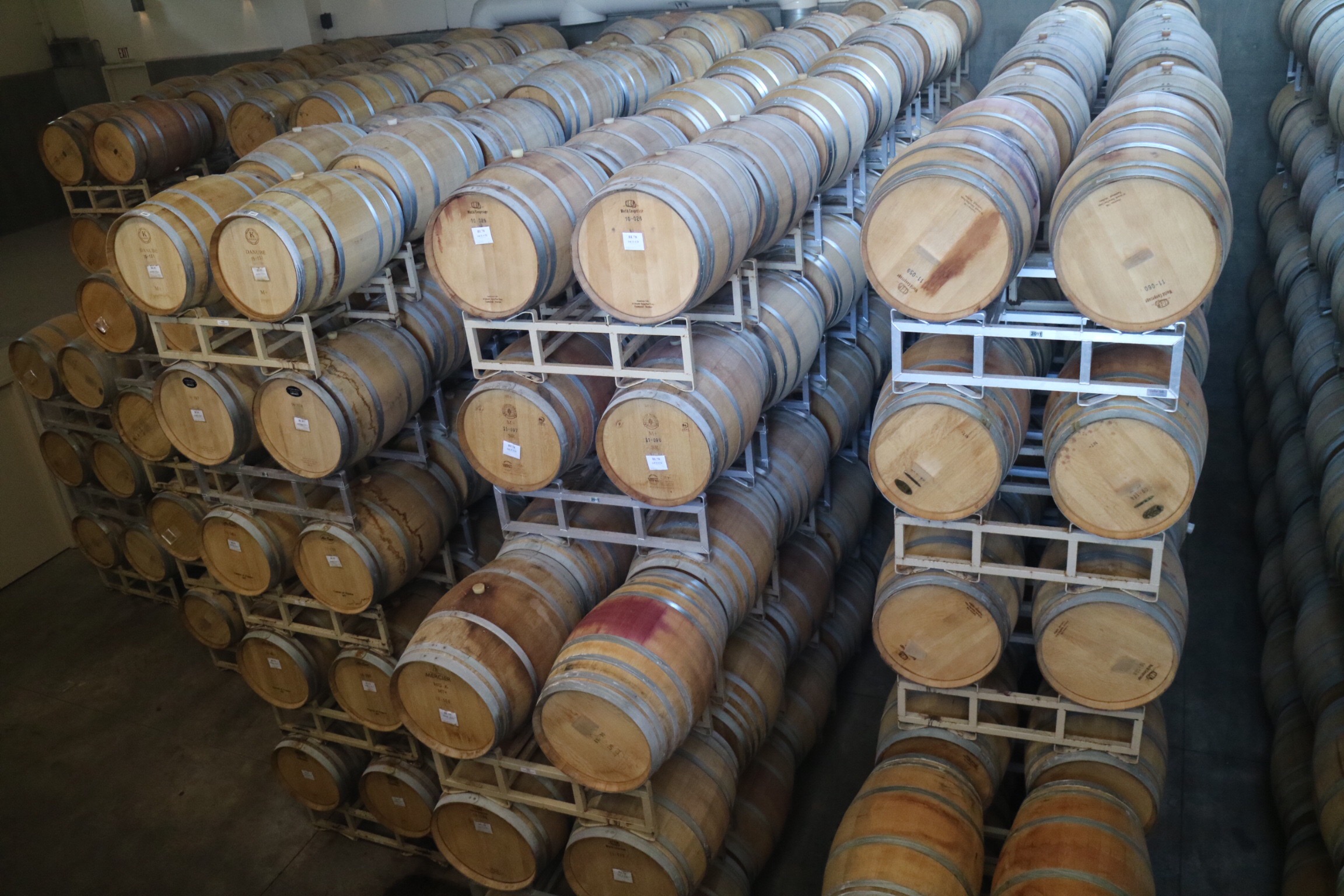 After visiting the 2 wineries on the Golden Mile Bench, we decided to visit at least one winery on the Black Sage Road, or the Black Sage Bench. Running on the east side of the valley, although it is not an official region, it has several hours more evening sun than the Golden Mile Bench, producing powerful reds and full fruit flavored whites.
Rick's cousin Andrea recommended Burrowing Owl Winery, as it's one of the biggest along this road and it has amazing views from the hills as well.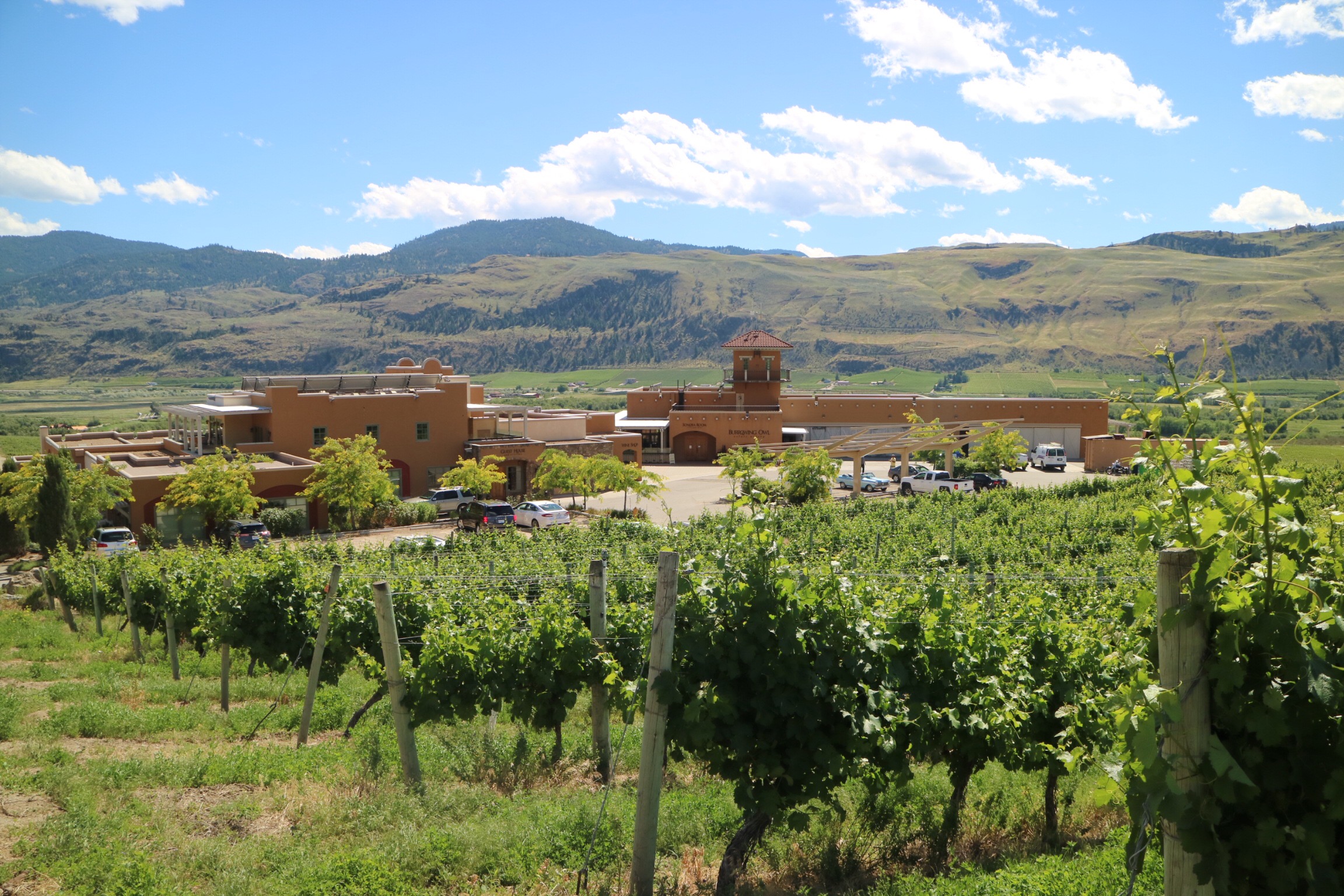 The main architecture reminded me of the wineries that I visited in Napa Valley. We noticed that there was a restaurant, The Sonora Room, with the 10-room guest house within walking distance.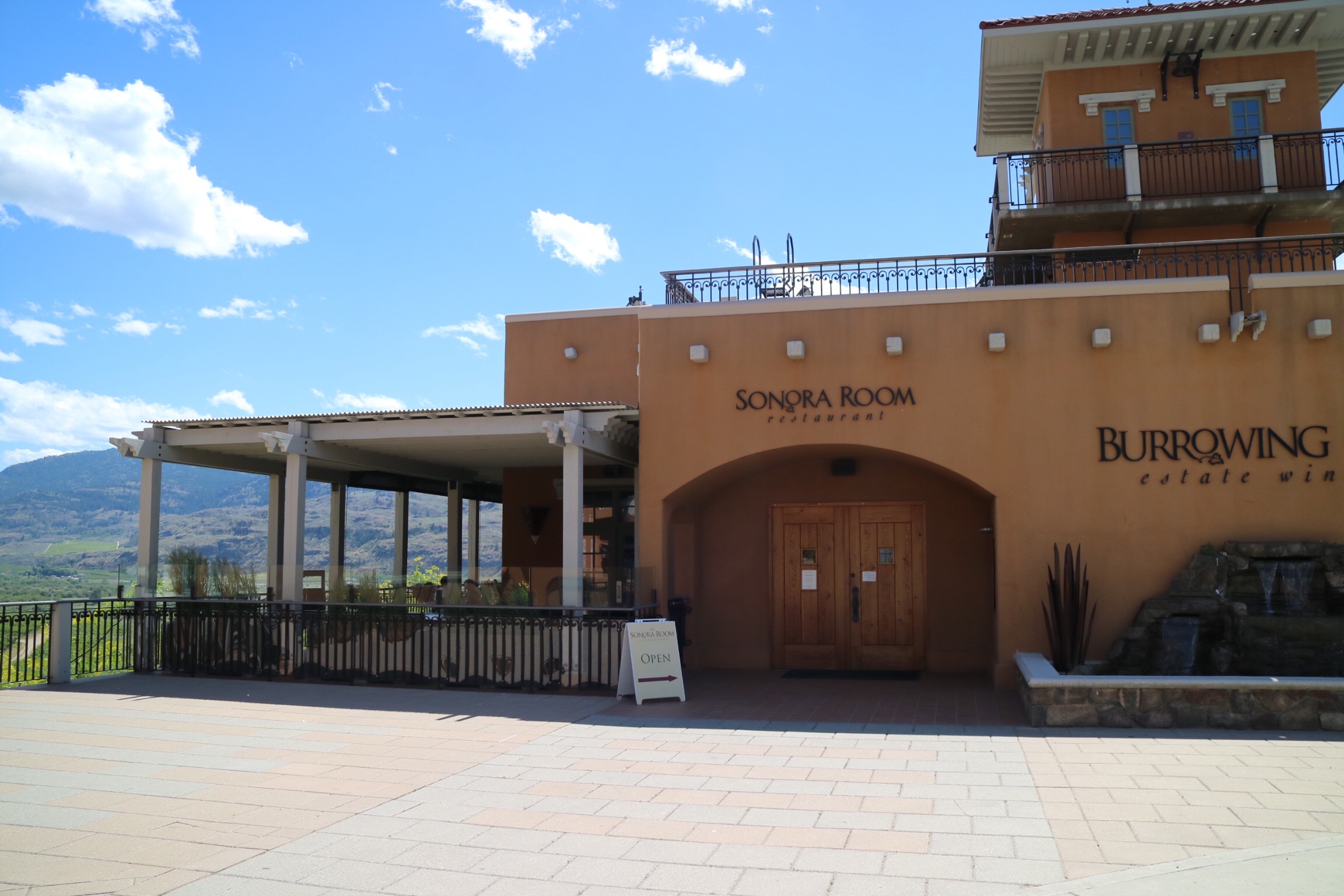 We noticed the swimming pool on the property for the staying guests. It looks extremely enticing on such warm days.
For wine tasting, I found the sweet wine, Coruja quite interesting. It's Burrowing Owl's first fortified, port-style wine, 100% made from Syrah grapes.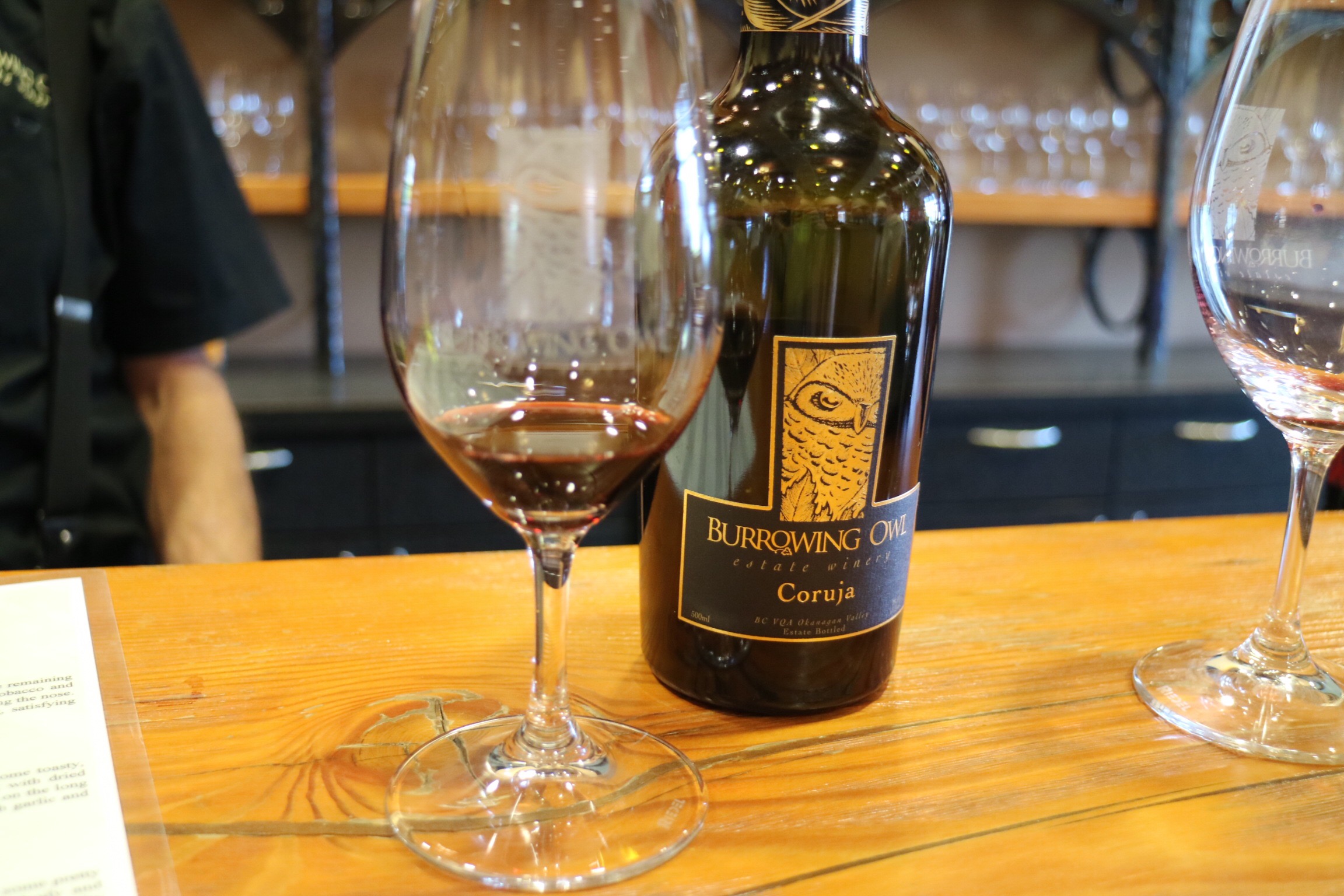 And of course their own flagship red blend 2013 Meritage ($45). The sommelier told us that, as we cannot exactly call it a Bordeaux blend when the wine is not produced in Bordeaux, Meritage is often used for the blend here.
If there's a chance, I would love to taste all the Bordeaux blends from different wineries in the region. So far Culmina Hypothesis, Hester Creek The Judge, and Burrowing Owl Meritage all tasted fantastic to me.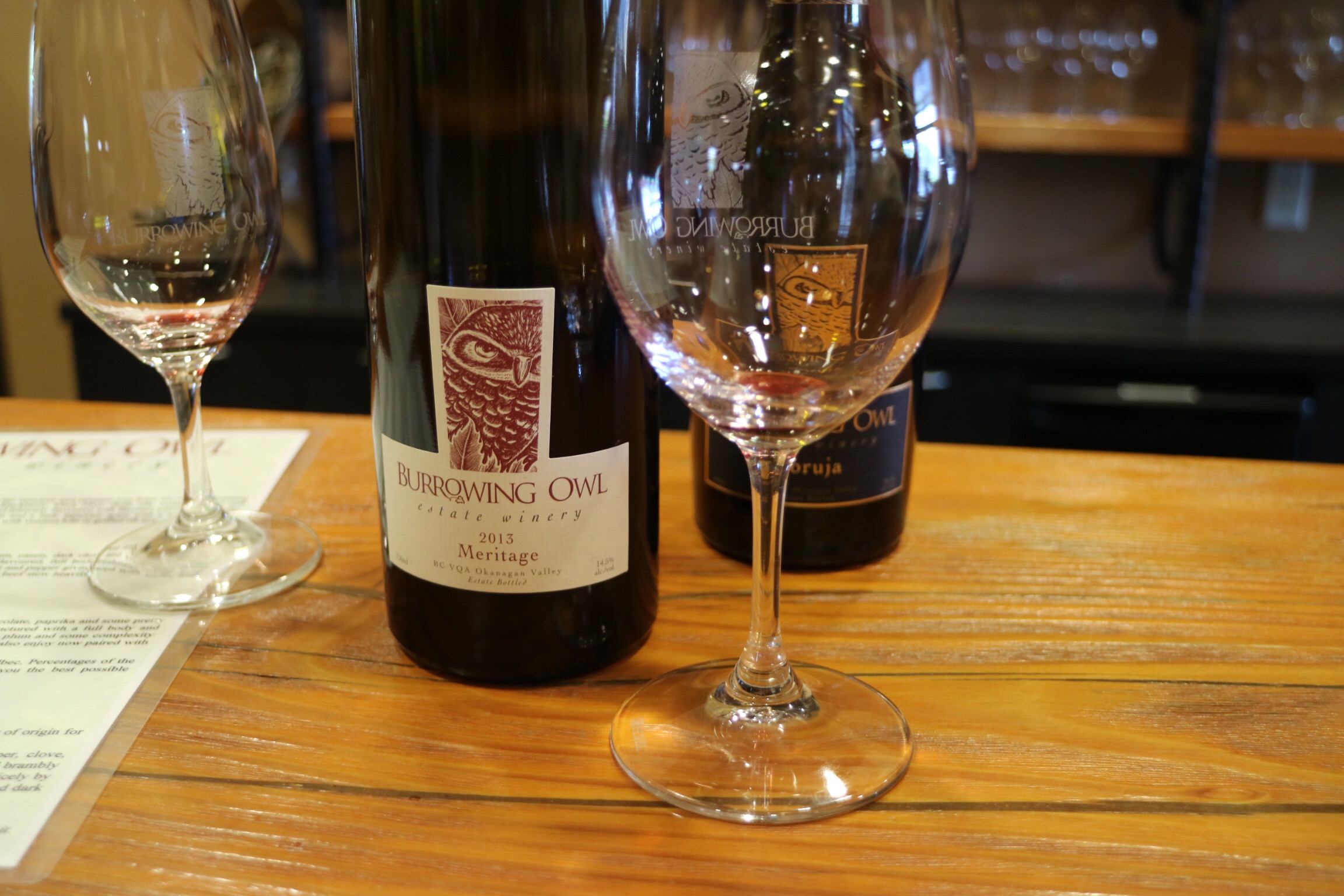 We were also able to drive up the hill and parked our car right beside the vines. And we had an incredible view of the west side of the valley including the Golden Mile Bench.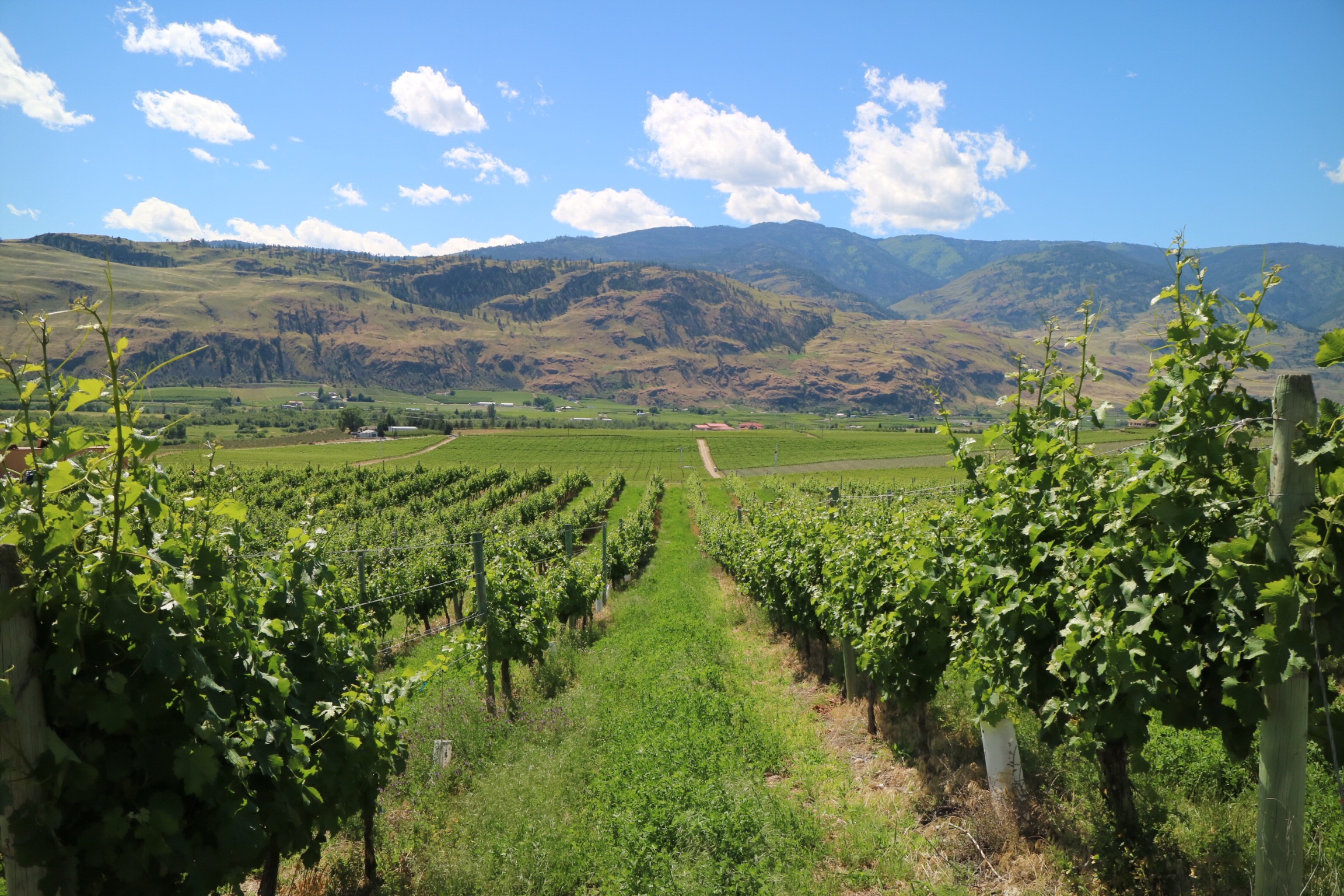 Osoyoos
It was time to say bye to the Wine Capital of Canada. But our next destination, Osoyoos was merely 10 minutes away from Burrowing Owl Winery.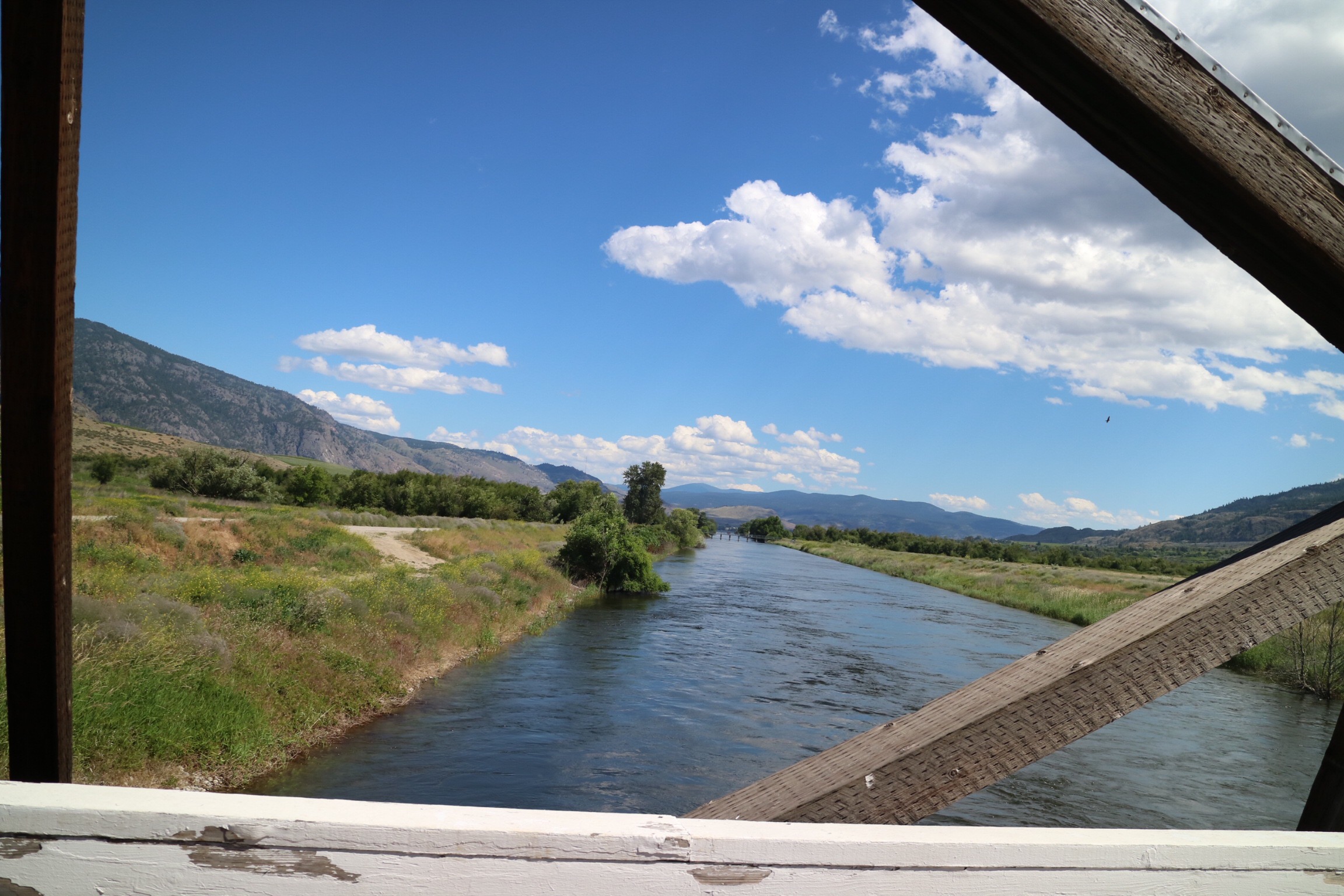 Being the only desert town of Canada, Osoyoos is often the hottest spot in the country during summer. We were excited to be camping right by Osoyoos Lake, which is known for its warm water, beaches, and water sports.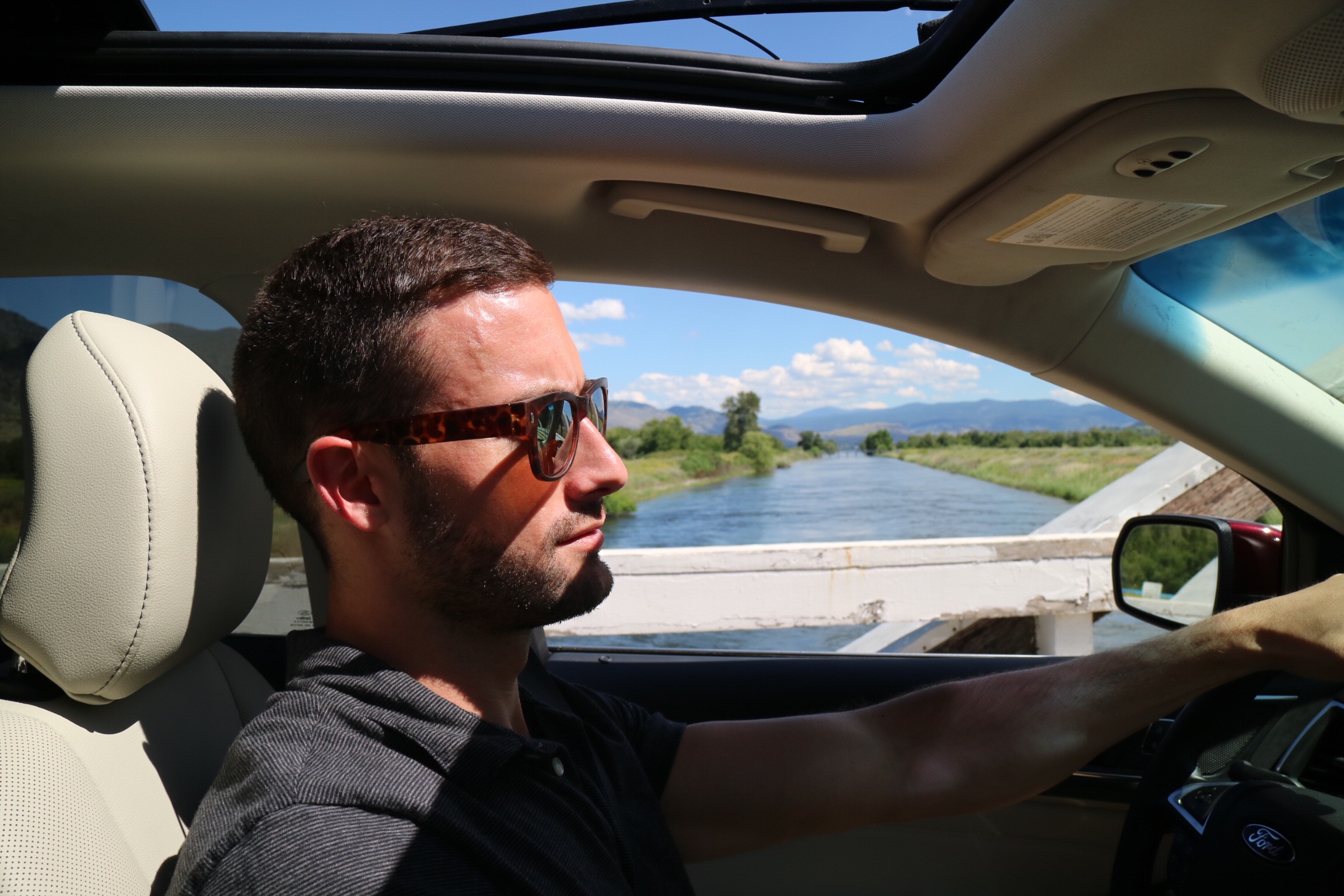 Osoyoos is called the dessert wine country of the Okanagan and has formed the Oliver-Osoyoos Wine Association to promote their wineries.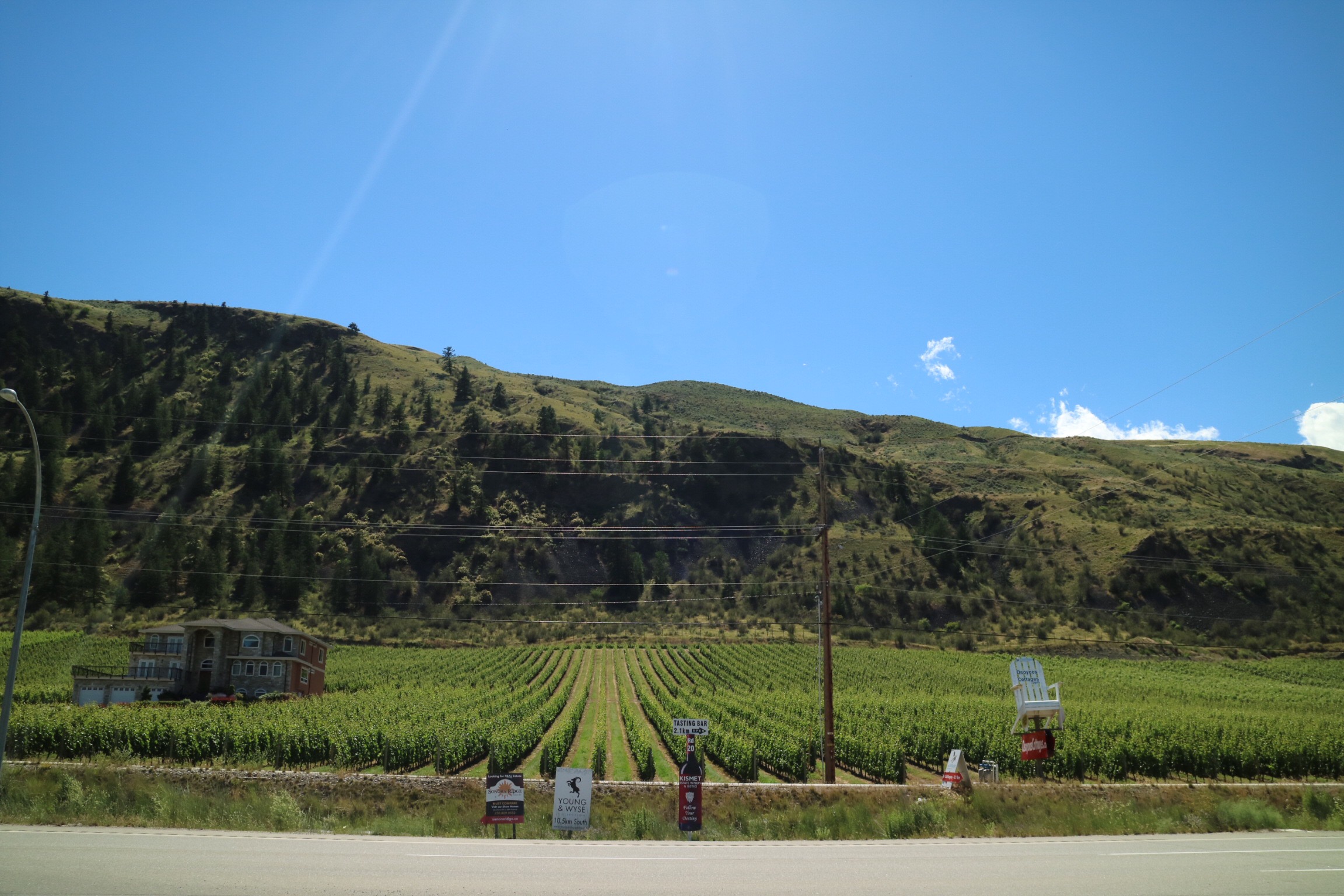 Like the Westside Wine Trail, the Oliver-Osoyoos Wine Country also offers a wine country map. When you collect 6 stamps from 6 different wineries on the map, you are eligible for being in the draw for a grand prize.  We didn't know this until we were at River Stone Winery. But Culmina and Road 13 that we visited the day before, are on this map too.
We arrived at NK'Mip Campground & RV Park by Osoyoos Lake, at the edge of the Sonora Desert. The park is about 5 minutes drive from the town centre. One of the largest parks in the region, it has 350+ campsites.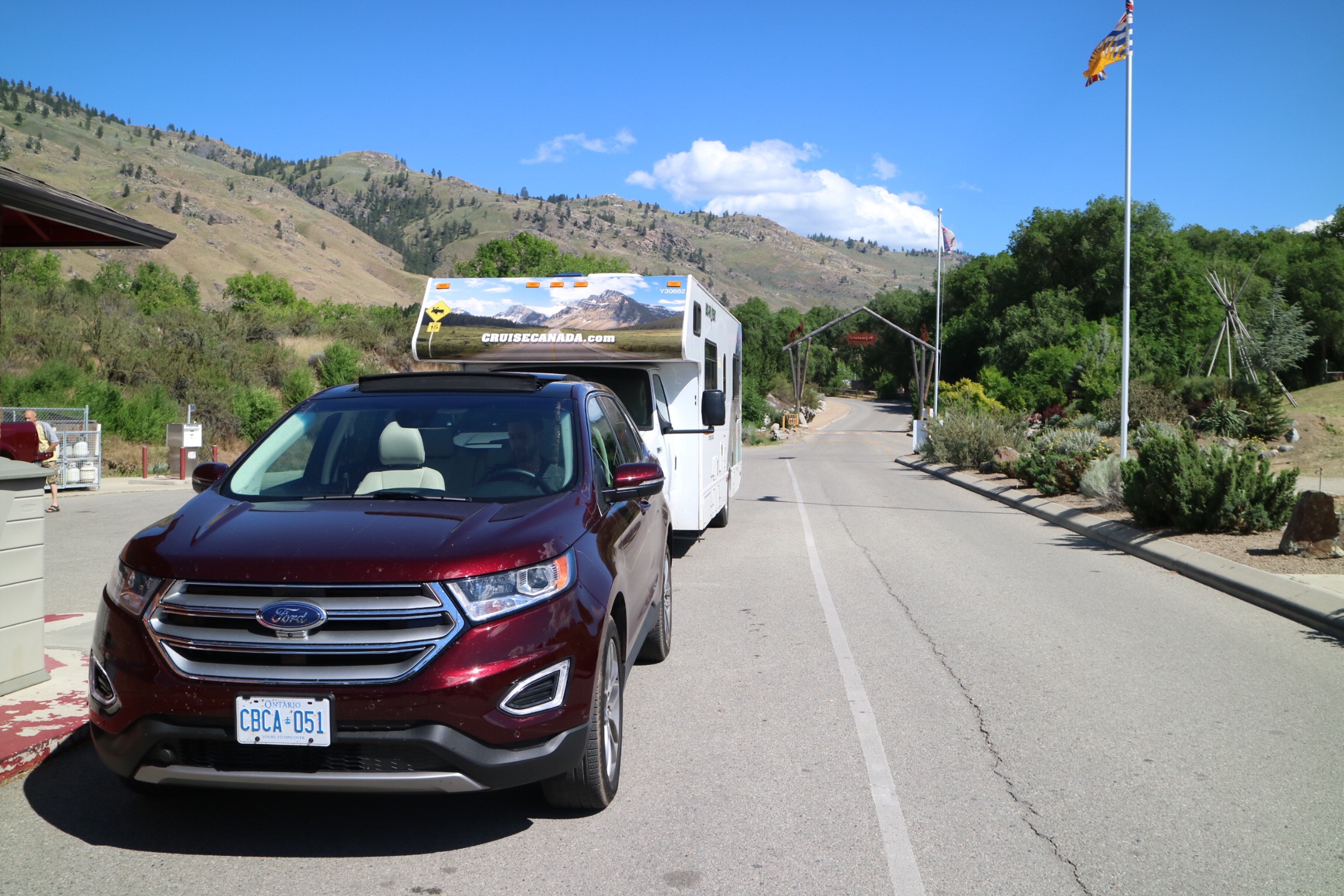 This is our campsite. There is green grass, a picnic table, a water tap and a power outlet for RV use.  Well to add more to the luxury camping, there are multiple washrooms with shower stalls and free wi-fi, although you have to pay $1 for 15 minutes of hot water.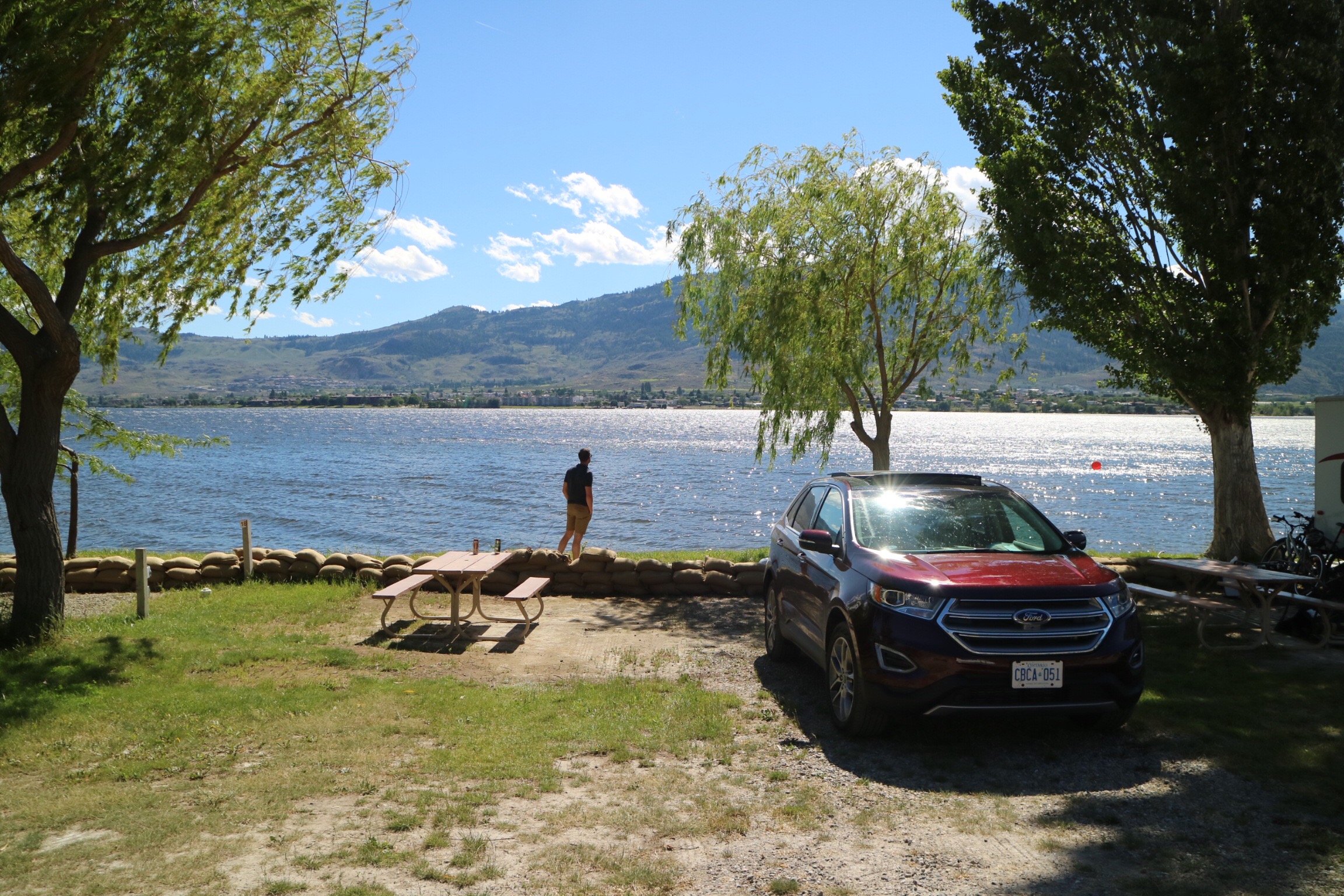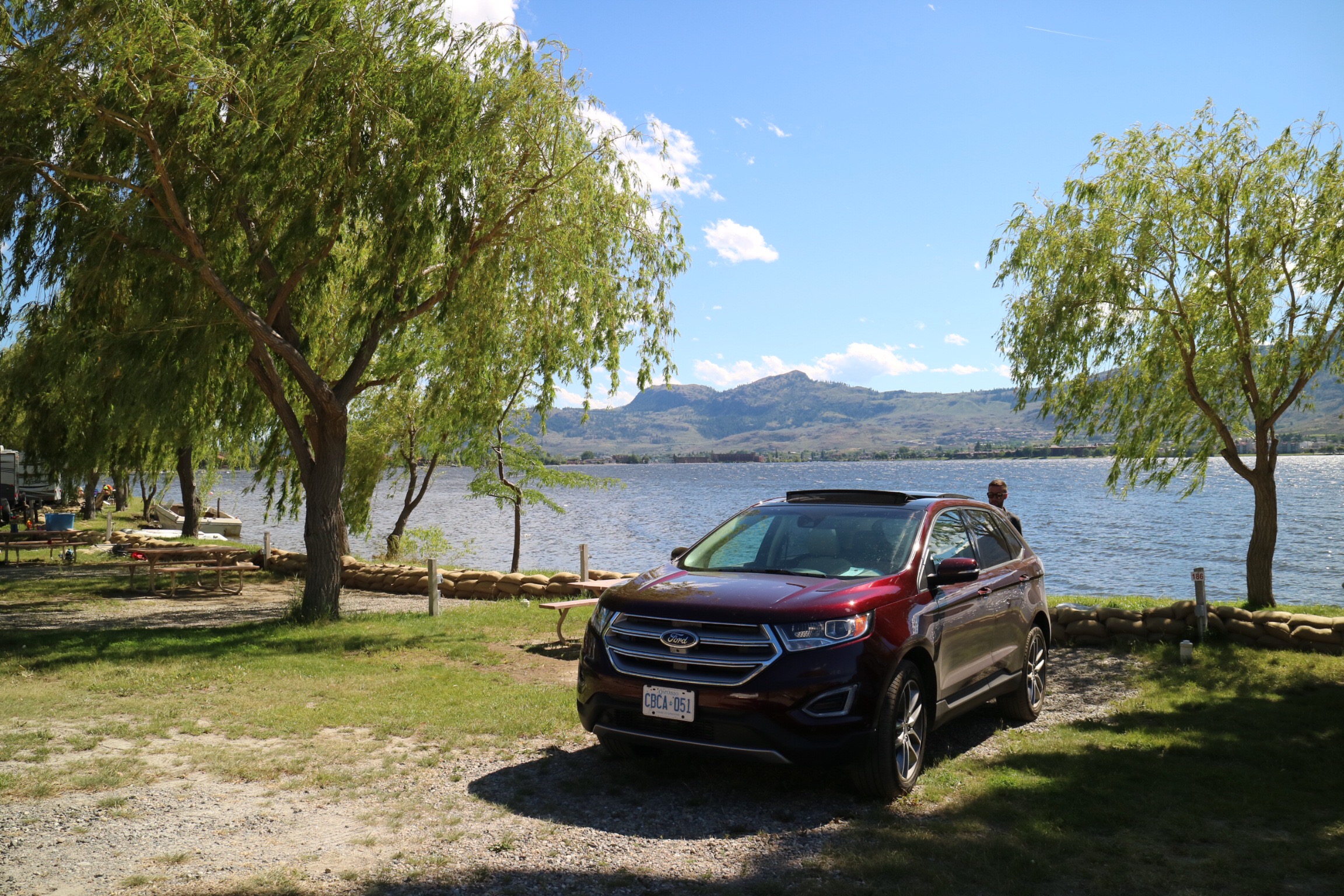 The lake looks amazing with the desert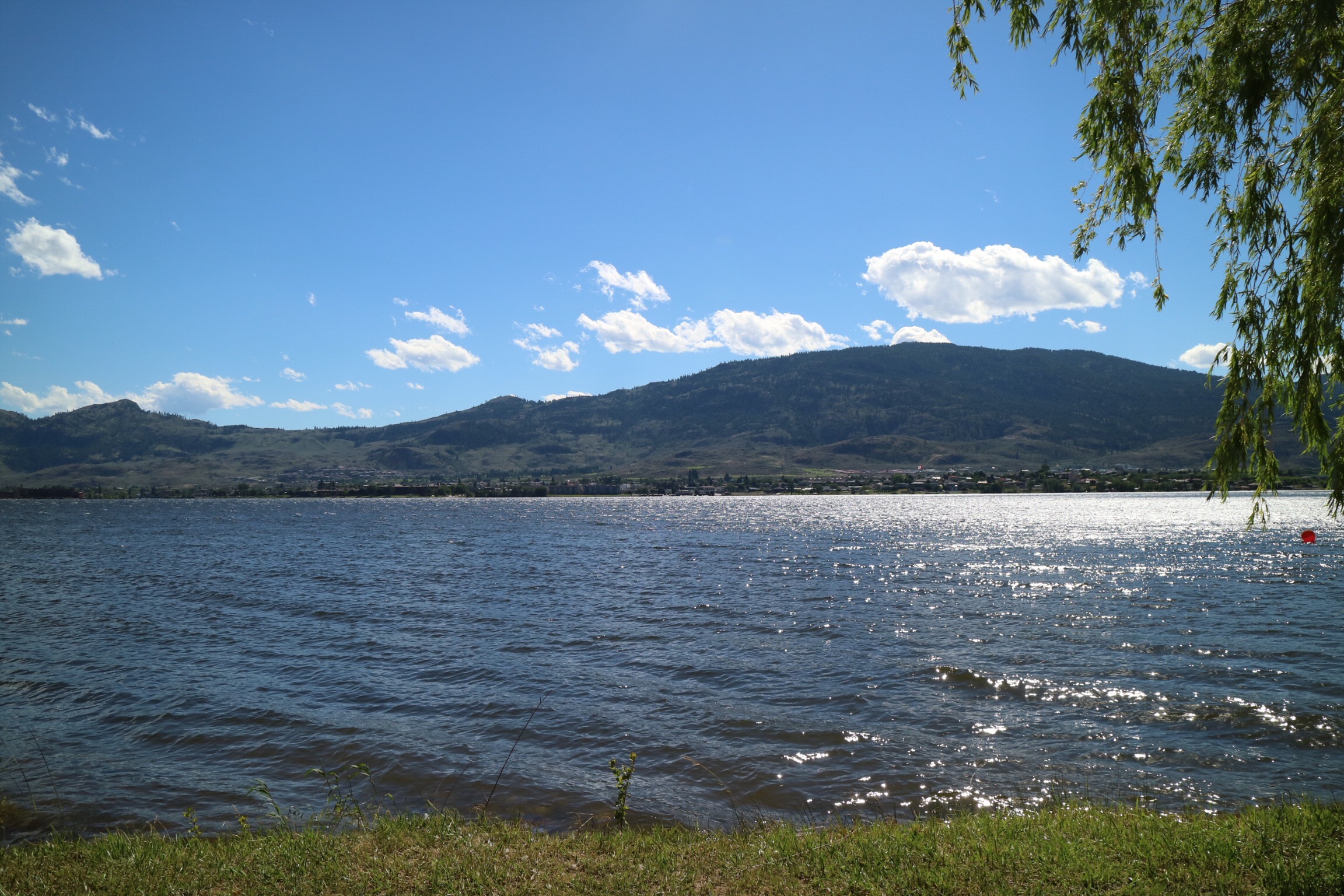 Our neighbours are mostly RV travellers. I think I would get an RV one day.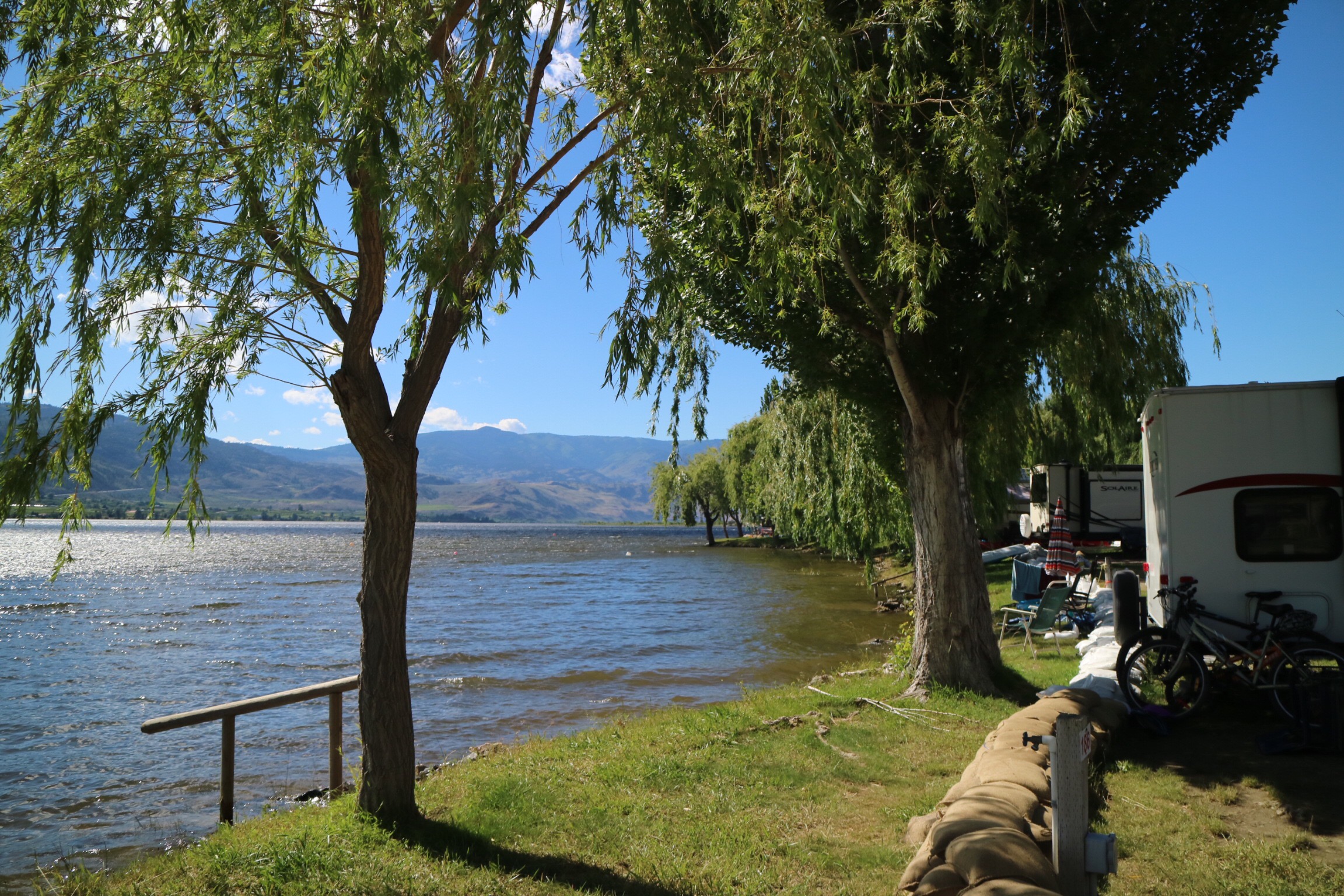 Ooh, a sign for rattle snakes!
Apparently, they are scared of people and wouldn't attack unless you are assaulting them.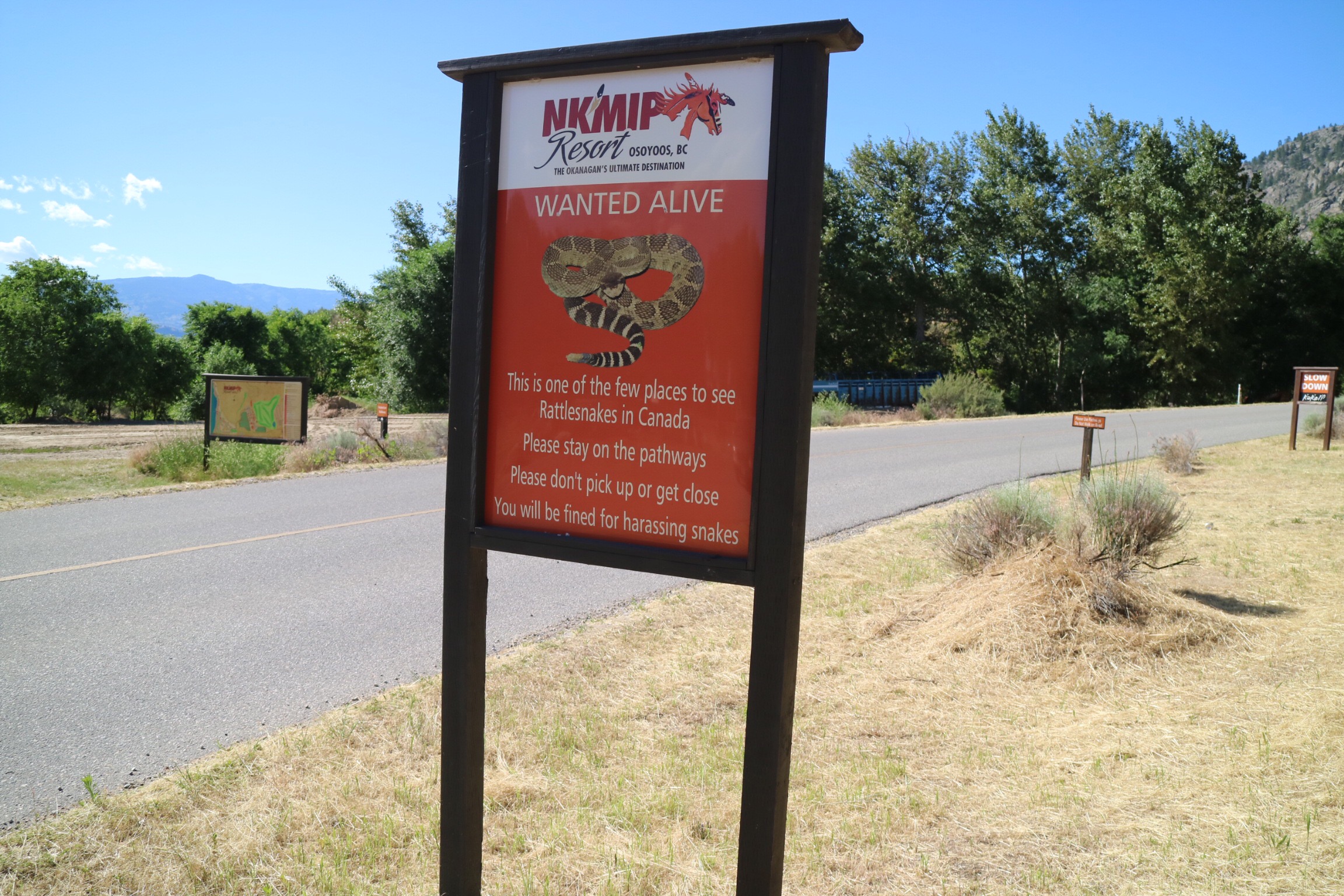 We still had time for wine tasting!
NK'Mip Cellars is right up on the hill from the campground, and on the other side of the vinyard.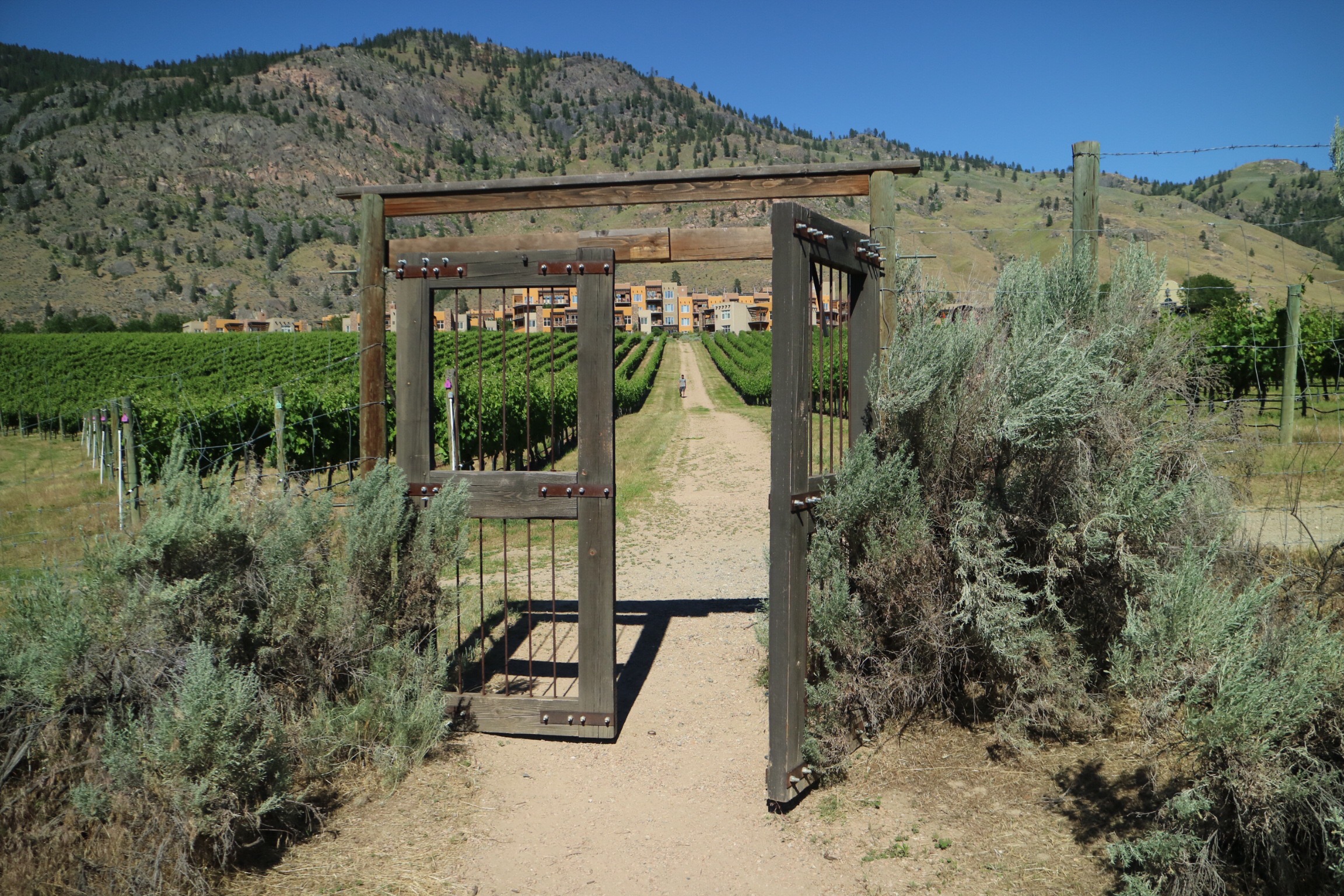 Nice selfie! But our red wine lips are noticeable. Haha…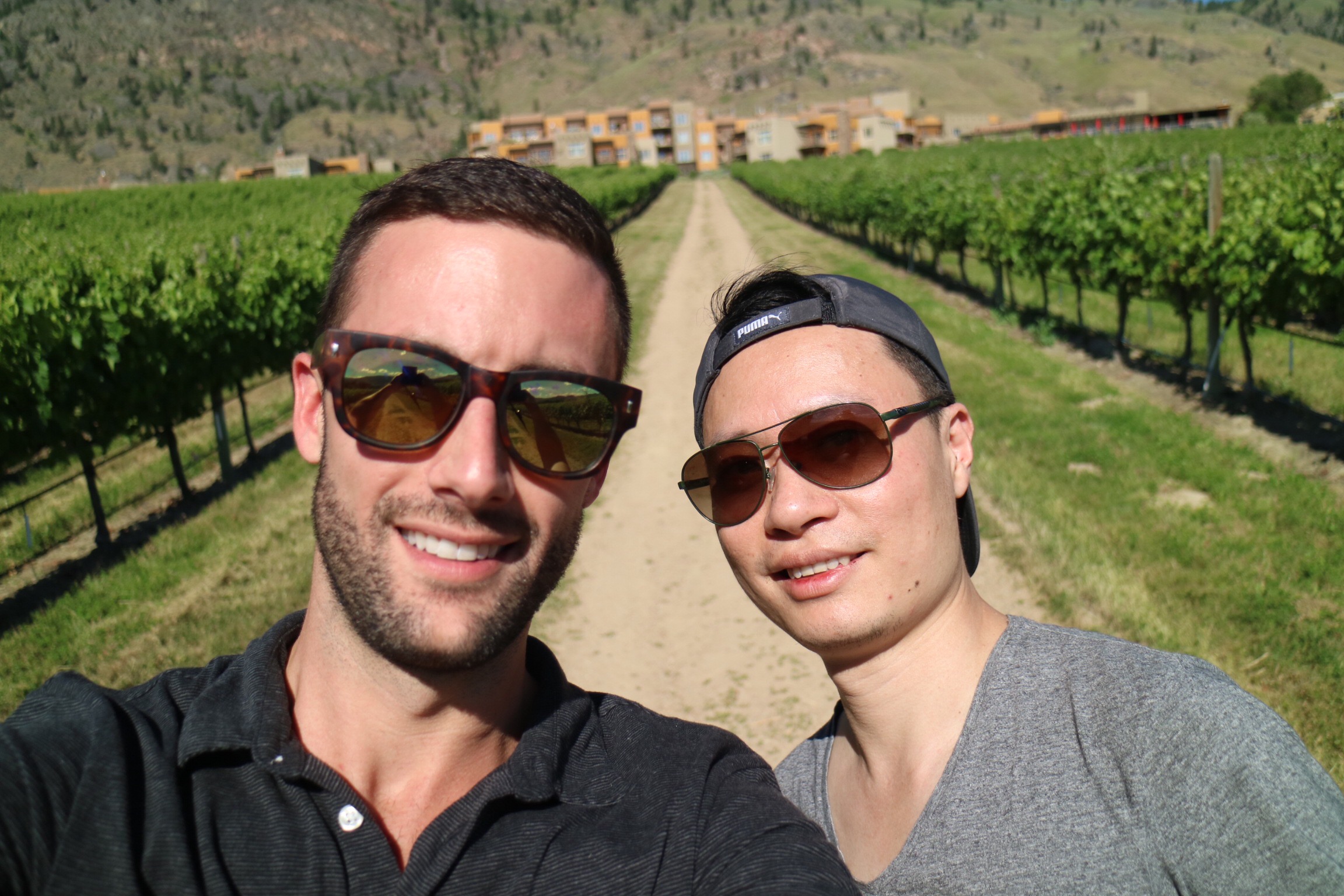 Up on the hill, through the lovely vines, there is an amazing view of the lake and the valley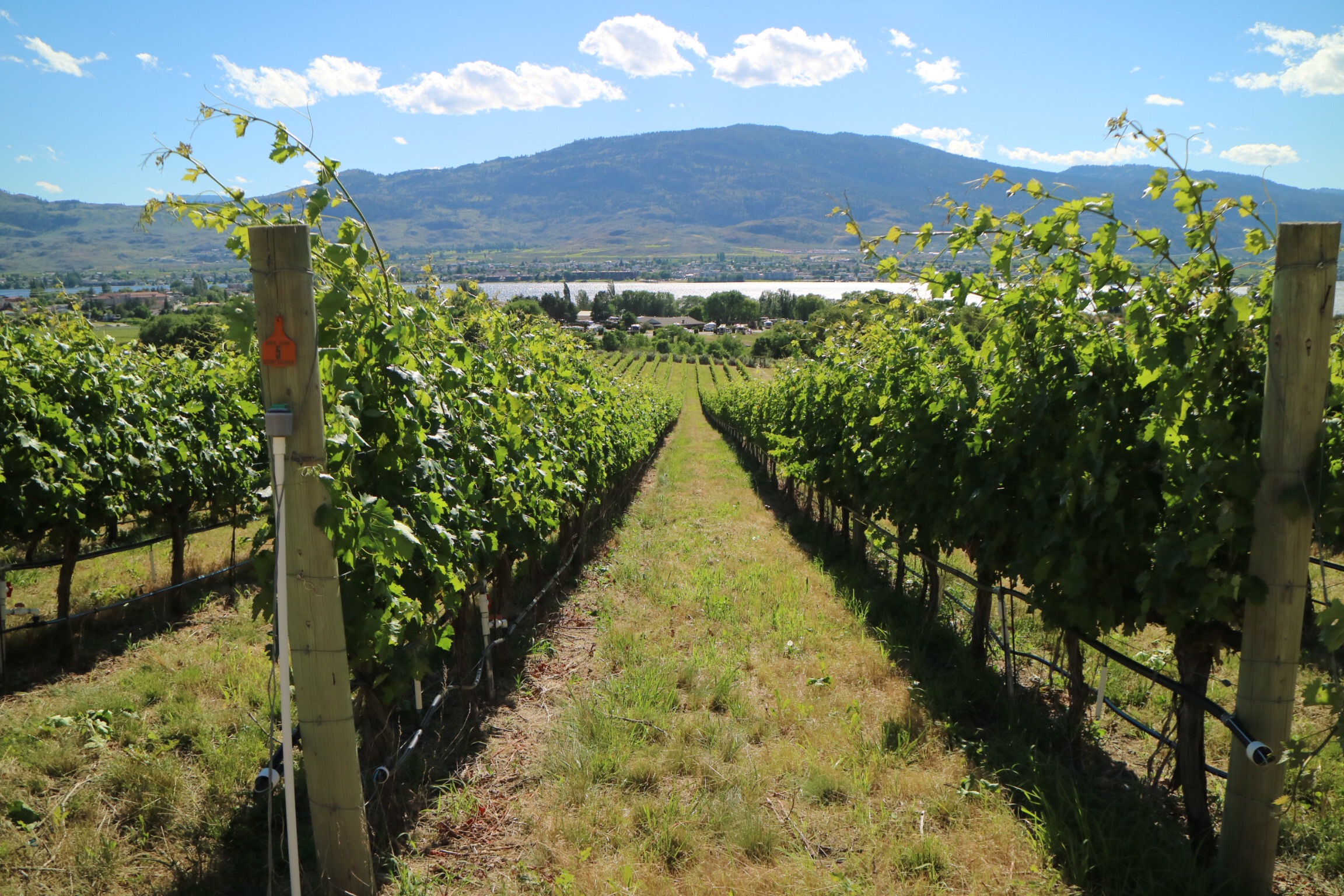 The interior of the tasting room is immaculate with tall ceilings and aboriginal art elements. As they are the first Aboriginal-owned winery in North America, I find it fascinating how they have incorporated the history and culture of Osoyoos Indian Band into this whole process and how magnificent the outcome is.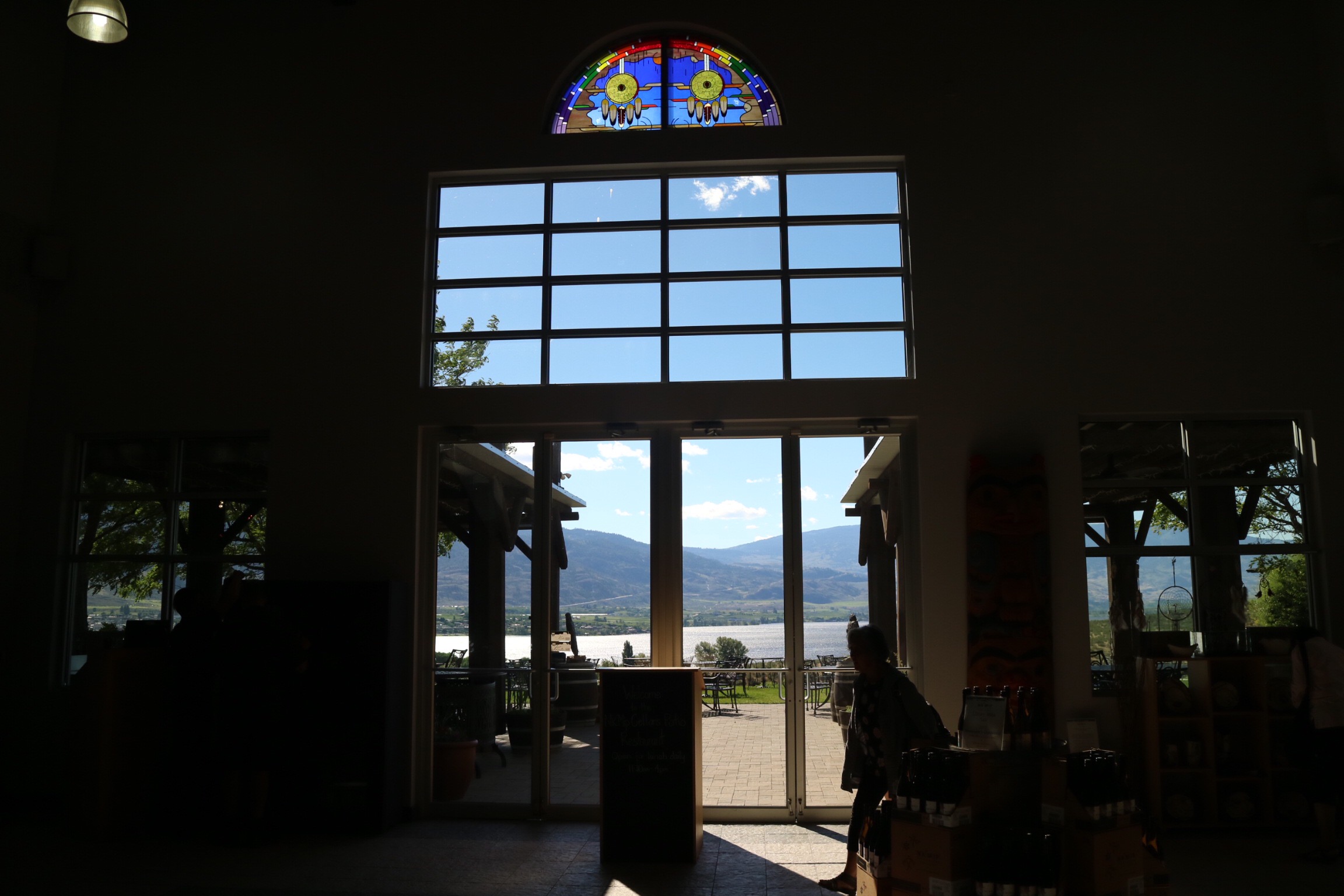 Now it is time to relax and do some tasting.
They offered 2 types of tasting here
$5 for 5 wines from the Winemaker Tier (the fee is waived if a bottle is purchased)
$10 for 5 wines from the QWAM QWMT Series (not refundable)
Our sommelier actually came from Southern France and his vast knowledge and his passion for wines really showed.
We only requested the winemaker tier tasting, but our somm offered us a taste of their flagship Bordeaux blend MER'R'IYM 2014 as well after I told him about my blog. Mer'r'iym means "merriage", the same idea behind the wine name Meritage used in other wineries.  It is just as rich, smooth and elegant as the flagship blends from other wineries, if not better. This definitely makes a fine addition to any collection of aged red.
We discovered some amazing white and rose wines here. And I ended up getting a bottle of 2016 NK'Mip Rose ($17.99), as I enjoyed its bright, crisp and refreshing taste. And Rick set his heart on a vibrant white blend 2016 NK'Mip Dreamcatcher ($17.99), which was filled with lovely fruity aroma.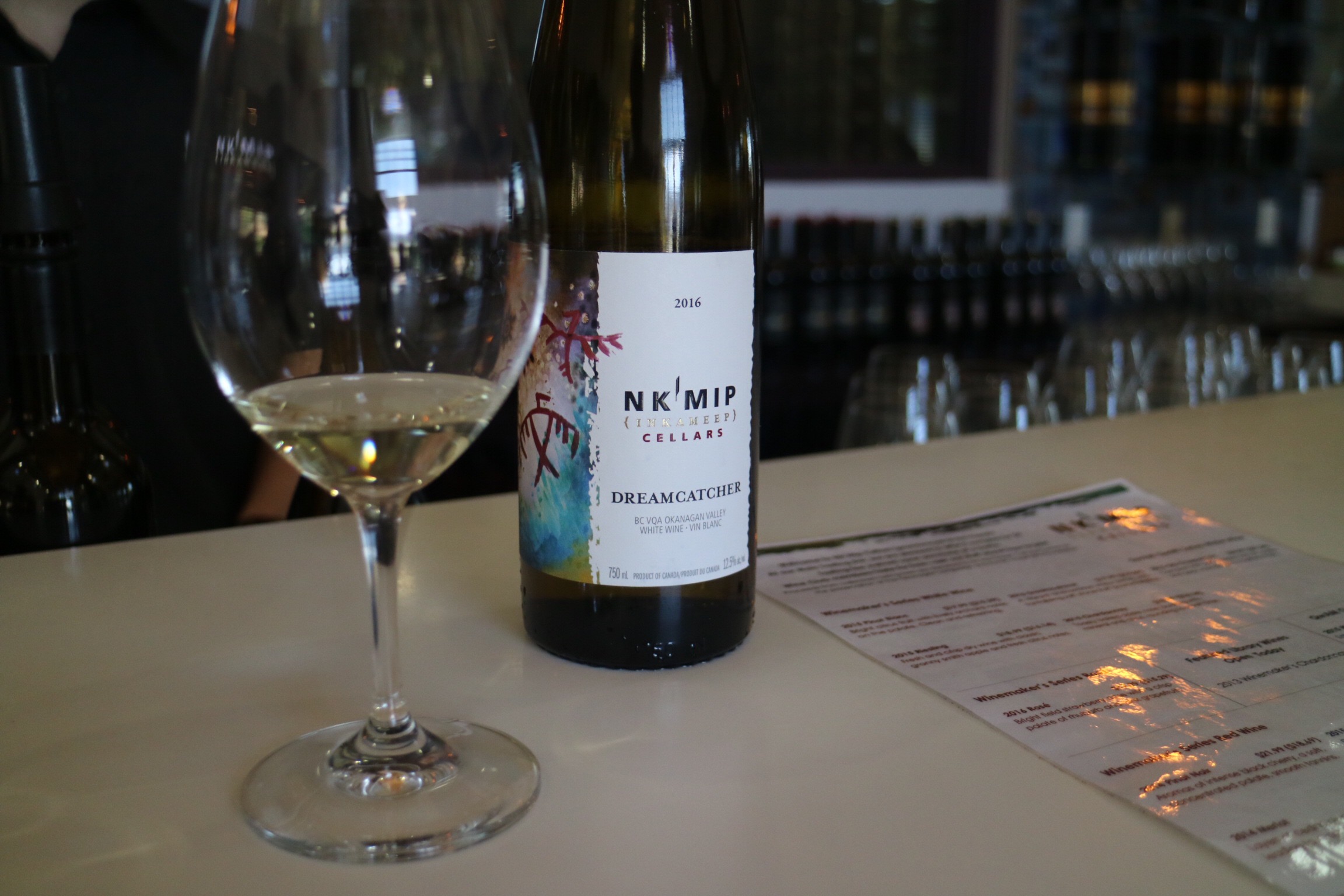 There is also a lovely patio dining room at the front with amazing views of the valley. They host Long Table Dinner events here during the summer.
Pubbing in Osoyoos
We were walking toward the Osoyoos town centre and got allured by the sign "40 cents/wing" in front of the Sage Pub. By its proximity to the nearby hotels, resorts and vacation homes, I could tell it's a favourite spot for the locals and the visitors.
The wings were really good actually. We had the Lemon Salt & Pepper, Honey Garlic, and Hot wings. The wings were perfectly cooked and the flavours were very clean.
If 30 wings were not enough, we also ordered the Mexi Skins ($12.50), with crispy potato skins topped with ground beef, cheese, and salsa. Again hats off to the chef who worked at the fryer!  This is exactly what needed after a whole day of wine tasting, some kickass pub food and some cold refreshing beer.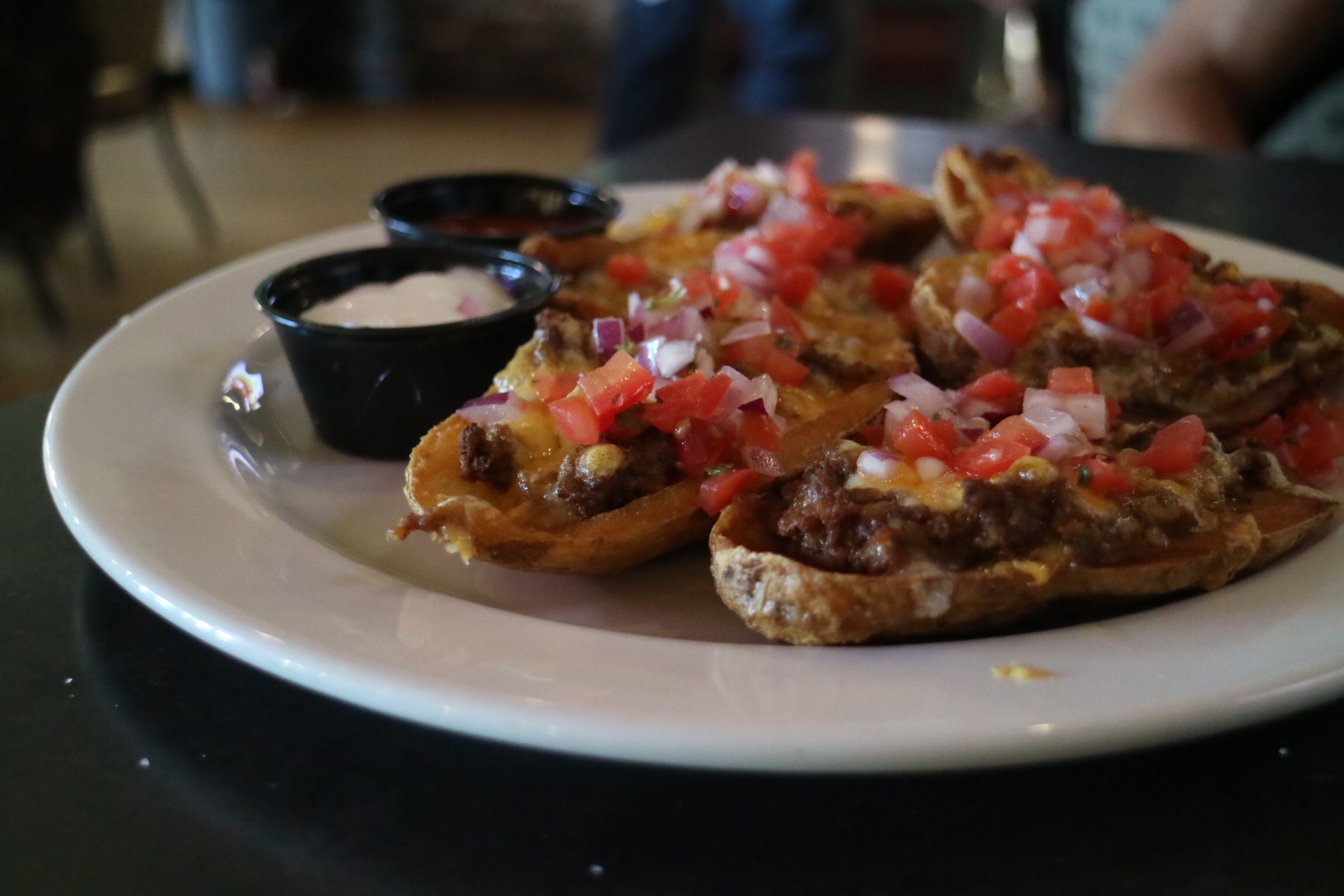 Summer Solstice Celebration by Osoyoos Lake
After dinner, we slowly walked back to the campsite by the lake. We felt lucky to be in such an incredible place to enjoy the day with most hours of sunlight of the year. The temperature was perfect, just around 29 or 30 Celcius. But the heat wave will hit Osoyoos the coming week at 34 – 36 Celcius!
We were back at our campsite and it was time to set up the tent!
And we set by the lake to watch the sunset with some cold beer,  to celebrate this amazing wine tasting trip in Okanagan, to celebrate this beautiful summer, and to celebrate our 14 years of friendship!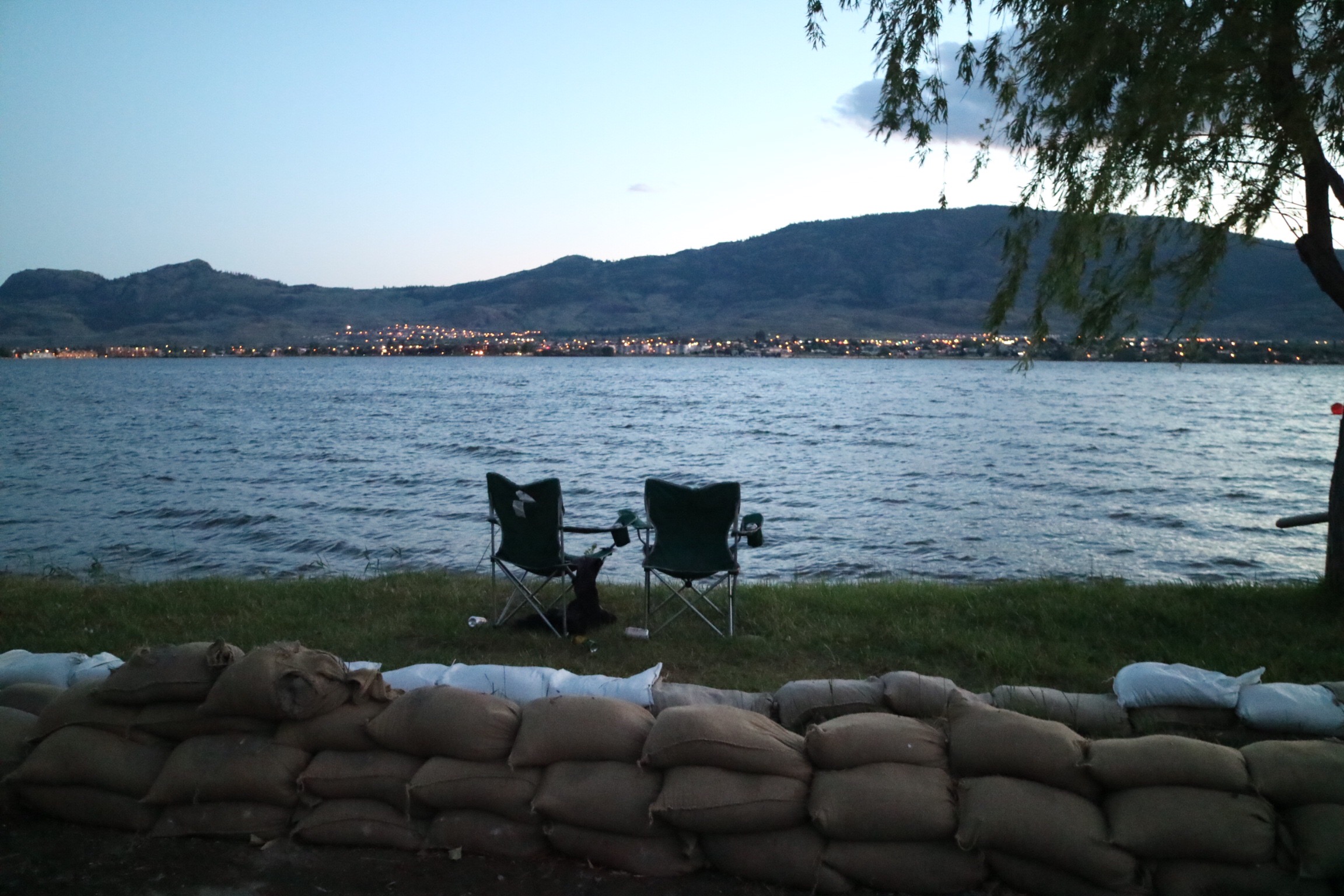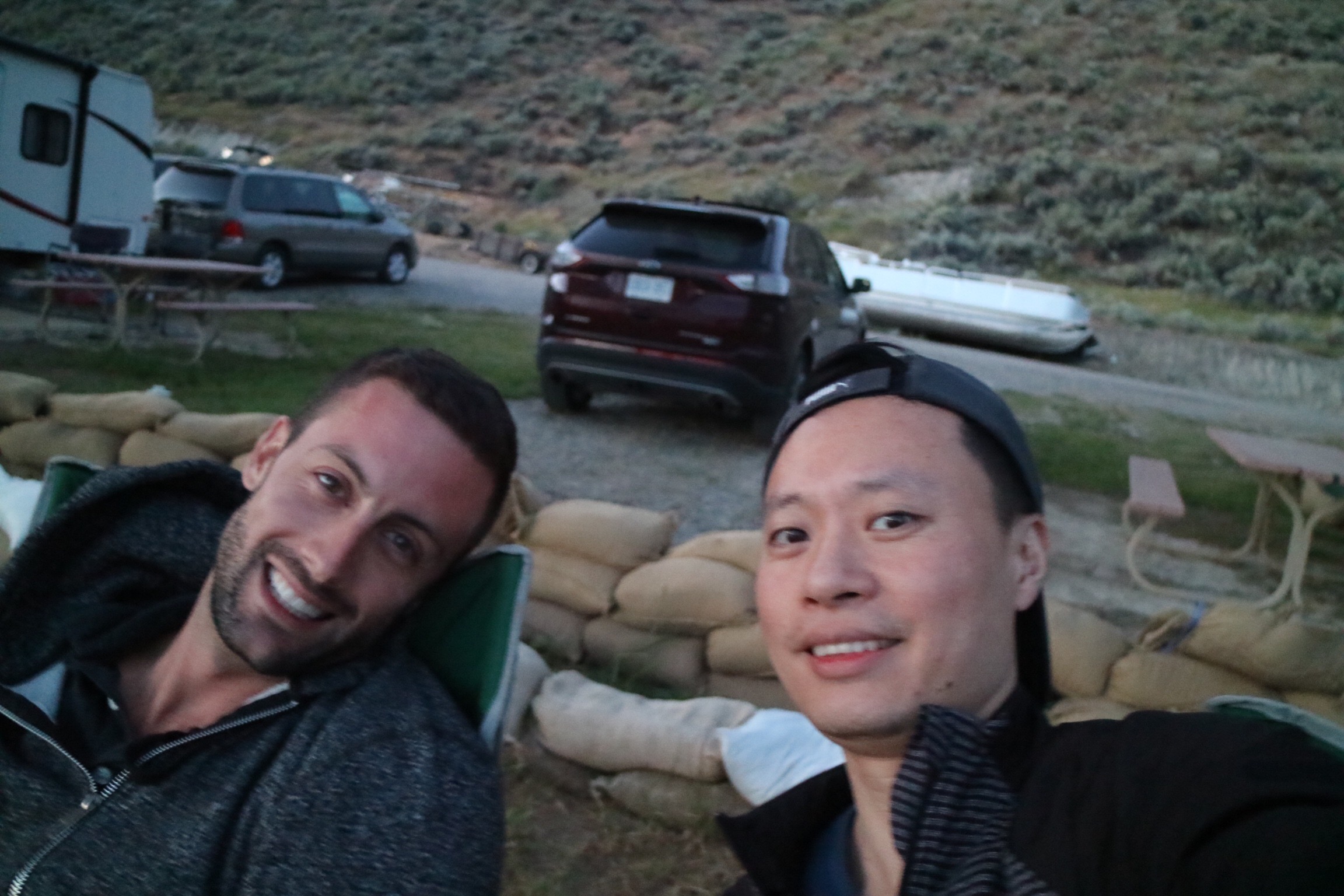 The starry sky looked amazing out here in the desert. Although it was hard to capture the beauty of the sky with my camera or my phone, I had fun using SkyView app to identify some of the stars and planets.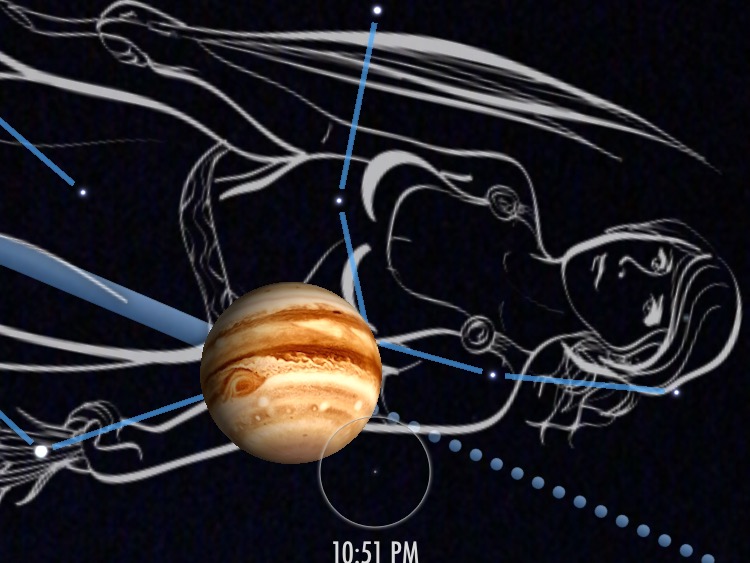 Day 4
Good Morning Osoyoos Lake!
I had a pretty decent sleep in the tent.  Warned about the cold desert night, I was well prepared with warm sleeping clothes and a warm sleeping bag. We didn't have a mattress but the grass was soft enough.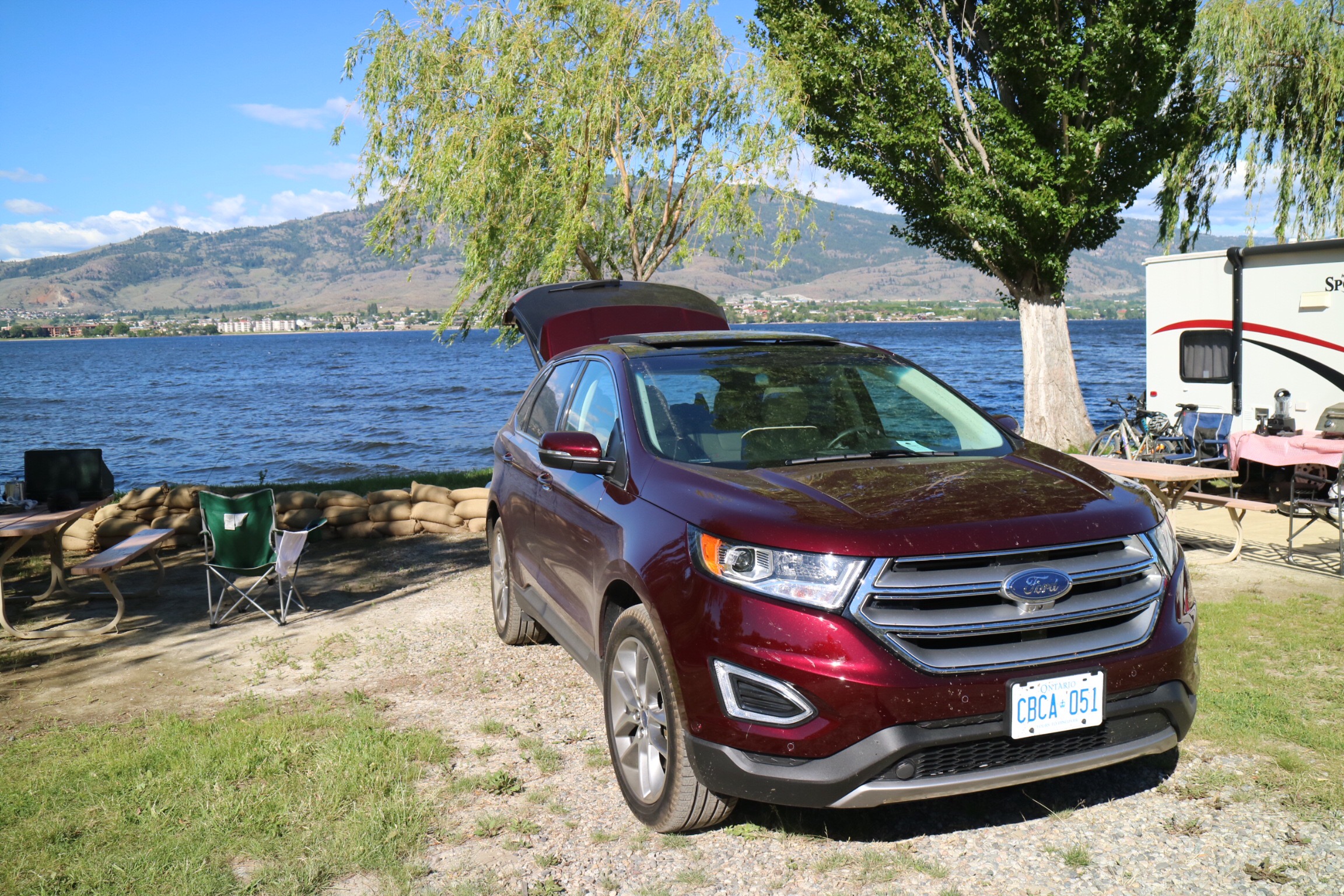 We are on the road again!
We took a short visit to NK'Mip Cellars again because we forgot to get our winery map stamps the night before. And we drove past the NK'Mip Desert Cultural Centre, where multiple events take place throughout the year. So if you are staying at the campground or one of the resorts nearby, this is a place to visit for some cultural experience.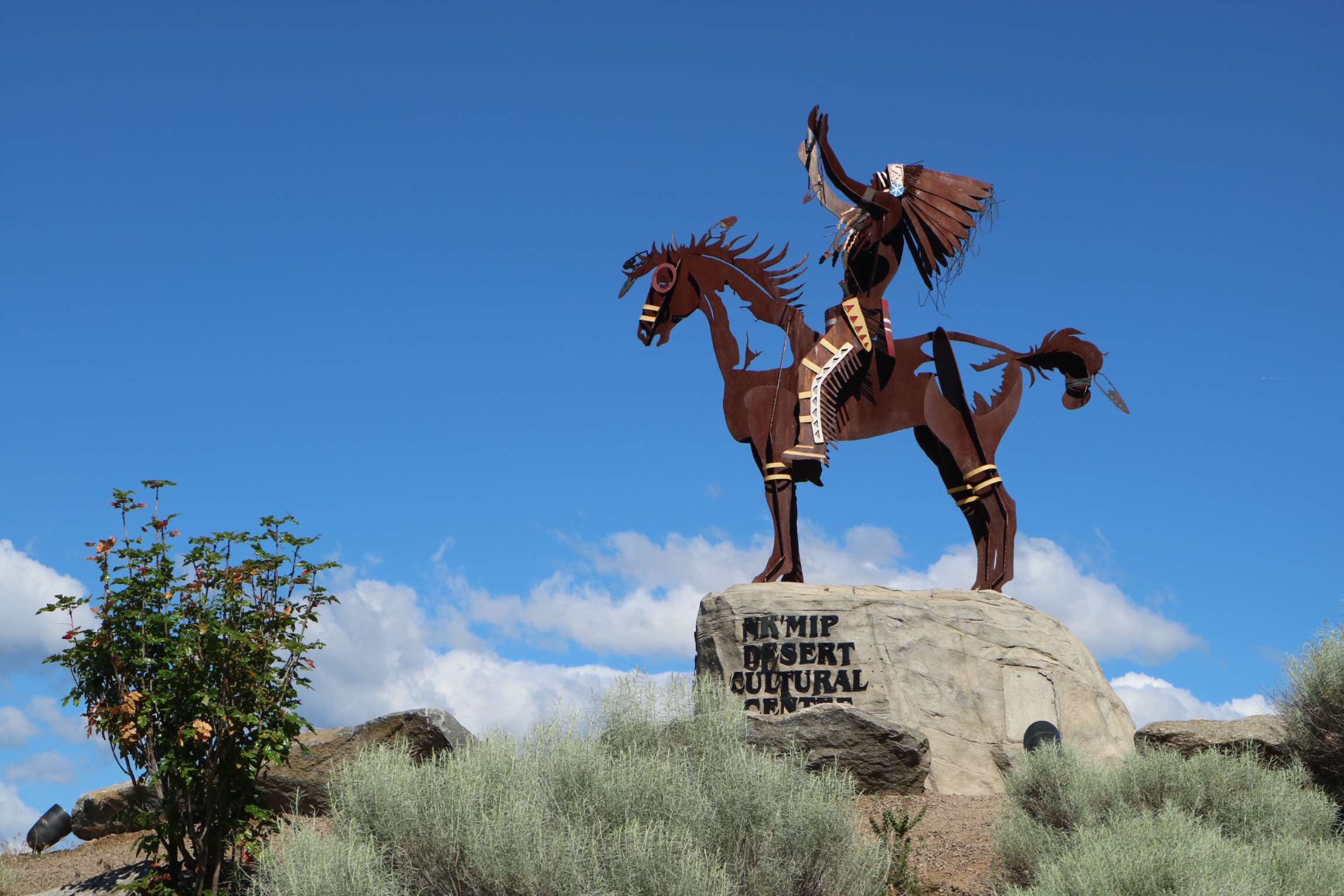 Okay… We need one more winery stamp on our map!
We could have gone down Highway 97 to visit Young & Wyse or Lariana, both highly recommended by the locals. However, they opened late in the morning (11 am), so we decided to visit Moon Curser Vineyards near the NK'Mip Campground.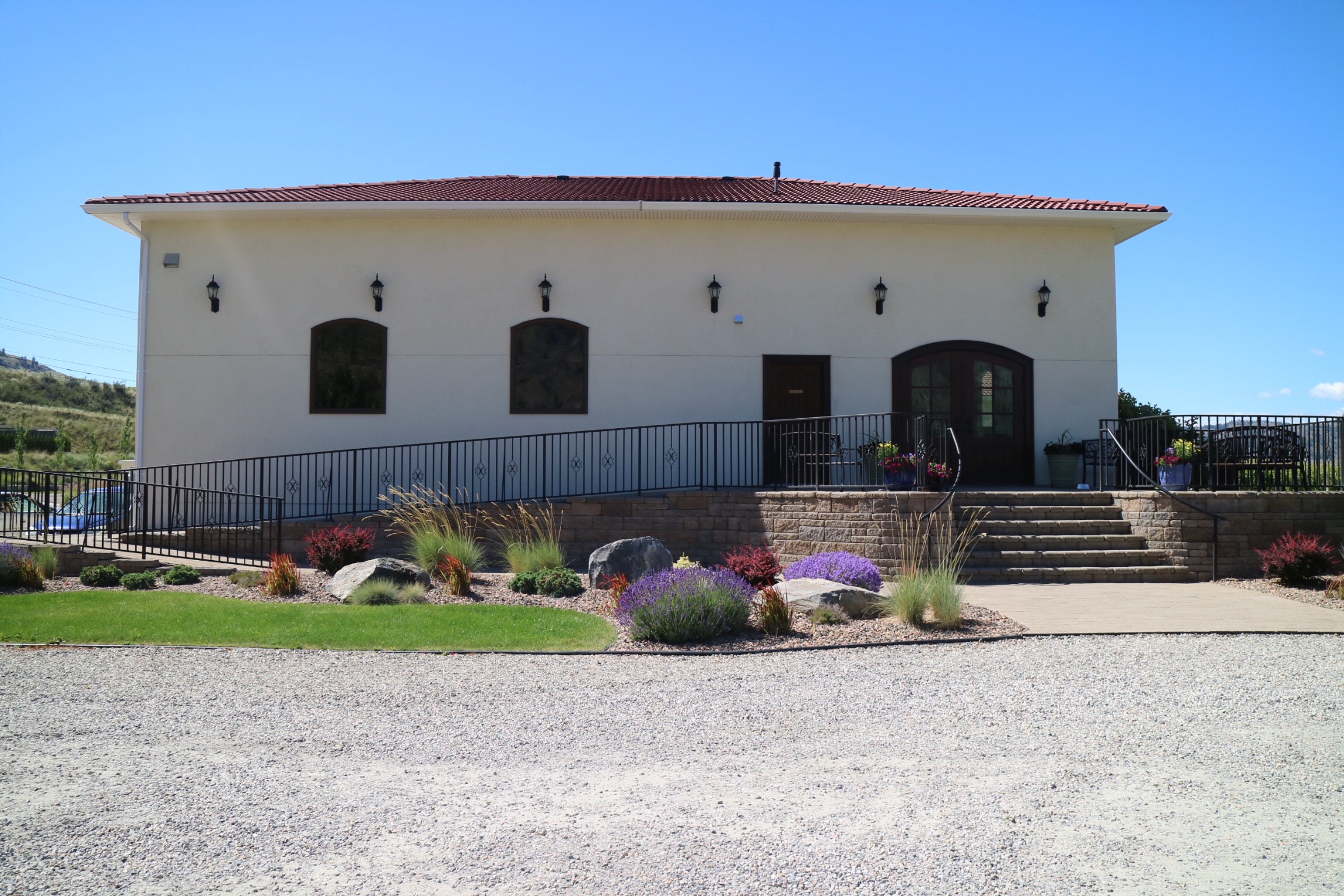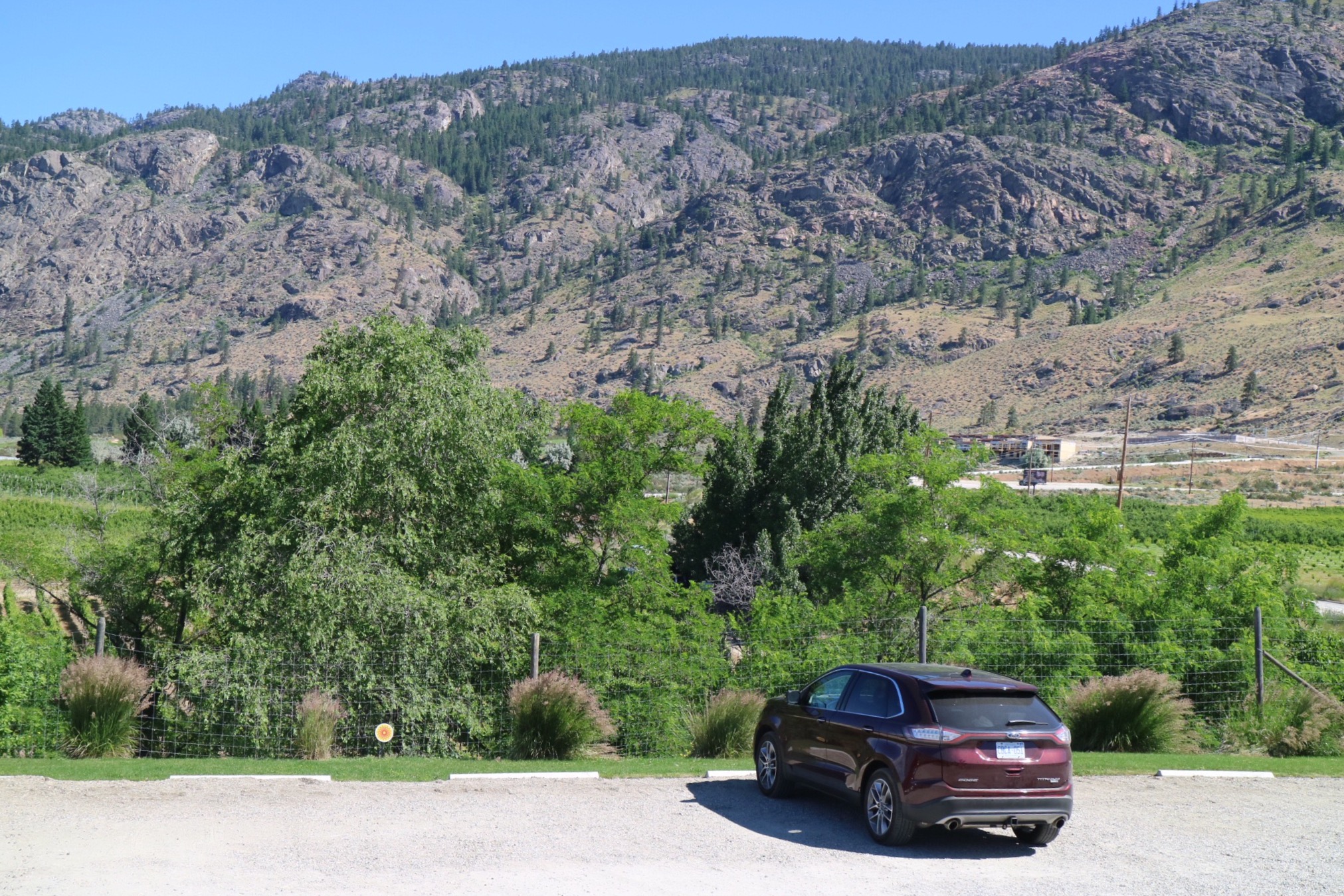 The tasting room is on the high ground above the vineyard and has a fantastic view of the Anarchist Mountain.
This winery differentiates themselves from the peers in the region by growing grape not typically seen in the Okanagan, such as Tannat, Tempranillo, Touriga Nacional, and Carméère.
The name Moon Curser indicates the history of Osoyoos. As a border town, Osoyoos was once a haven for gold-smuggling miners who relied on the moon to get back into the States.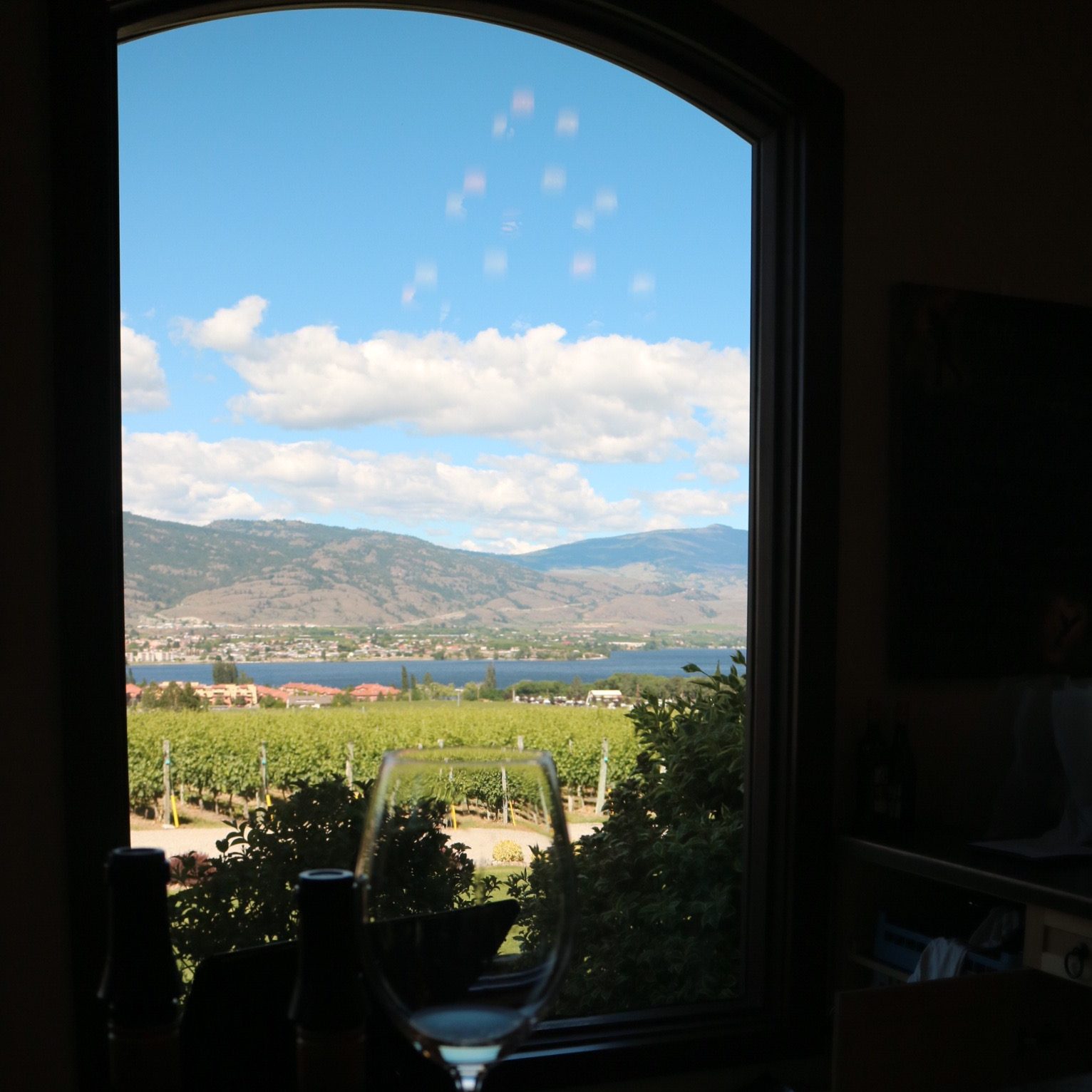 Although I found their Bordeaux blend 2014 Border Vines ($23.39) a steal, I decided to get a bottle of 2015 Arneis ($22.52) which is hard to find outside of the winery. The Arneis has a crisp and citrusy quality that I like in a dry white.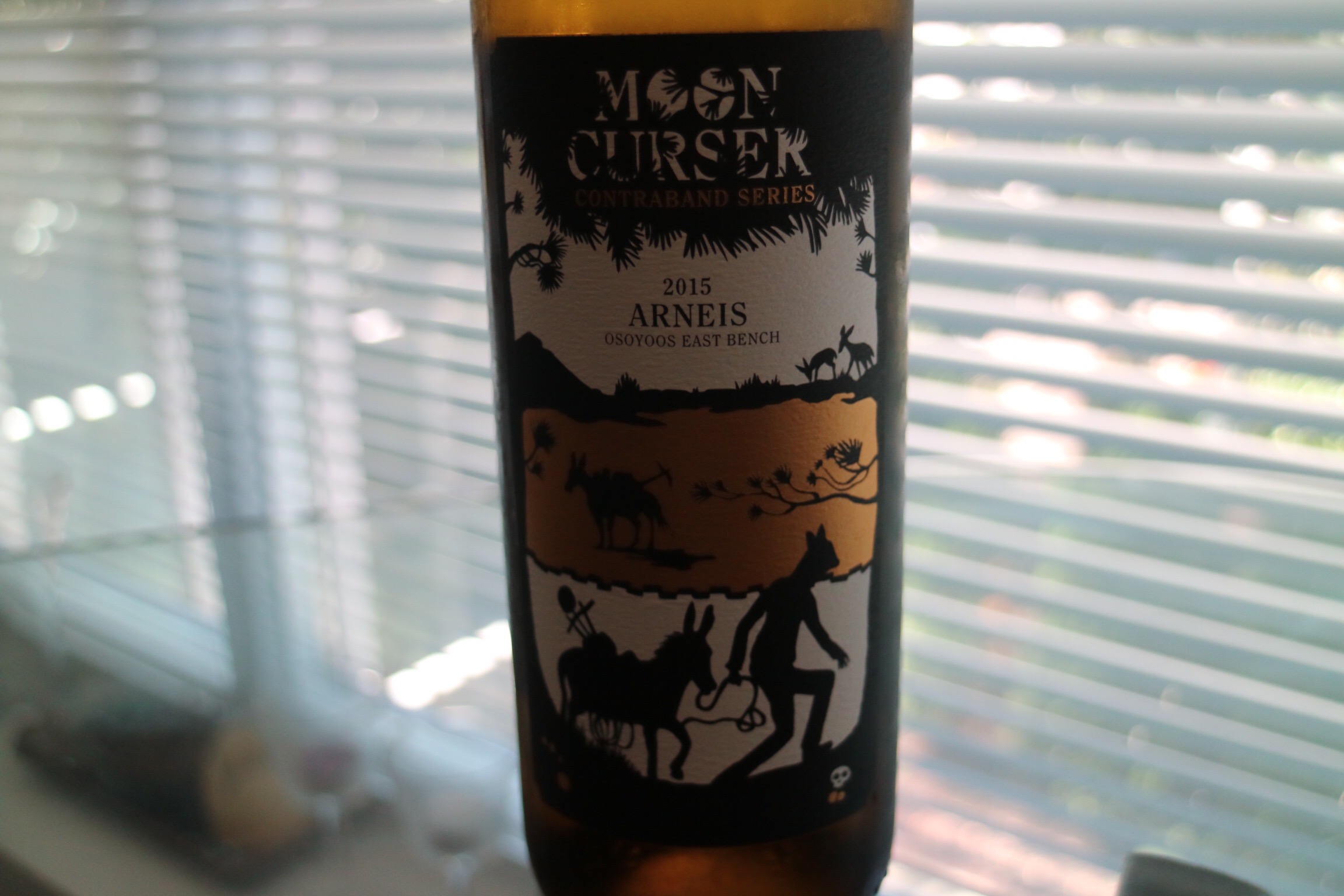 We also took a short visit to Haynes Point Provincial Park, where camping is also available. Rick actually would have preferred to camp here because of its beauty. But somehow they post on their website saying the park was closed on June 12 but never bother to take the message down.  Oh well we'll try next time!
The whole park is on a long narrow peninsula starting from the west side lakeshore.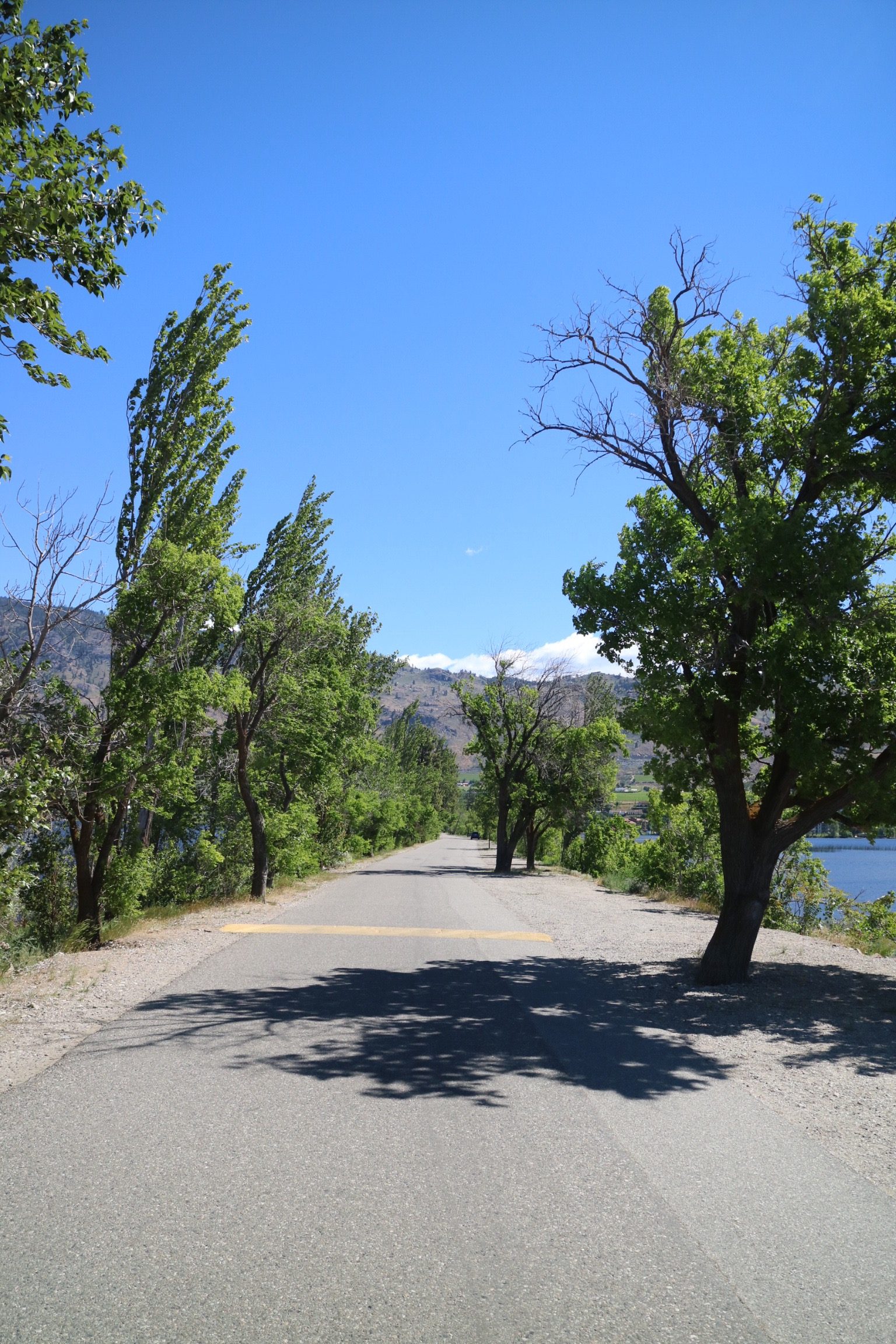 The town centre is in the North.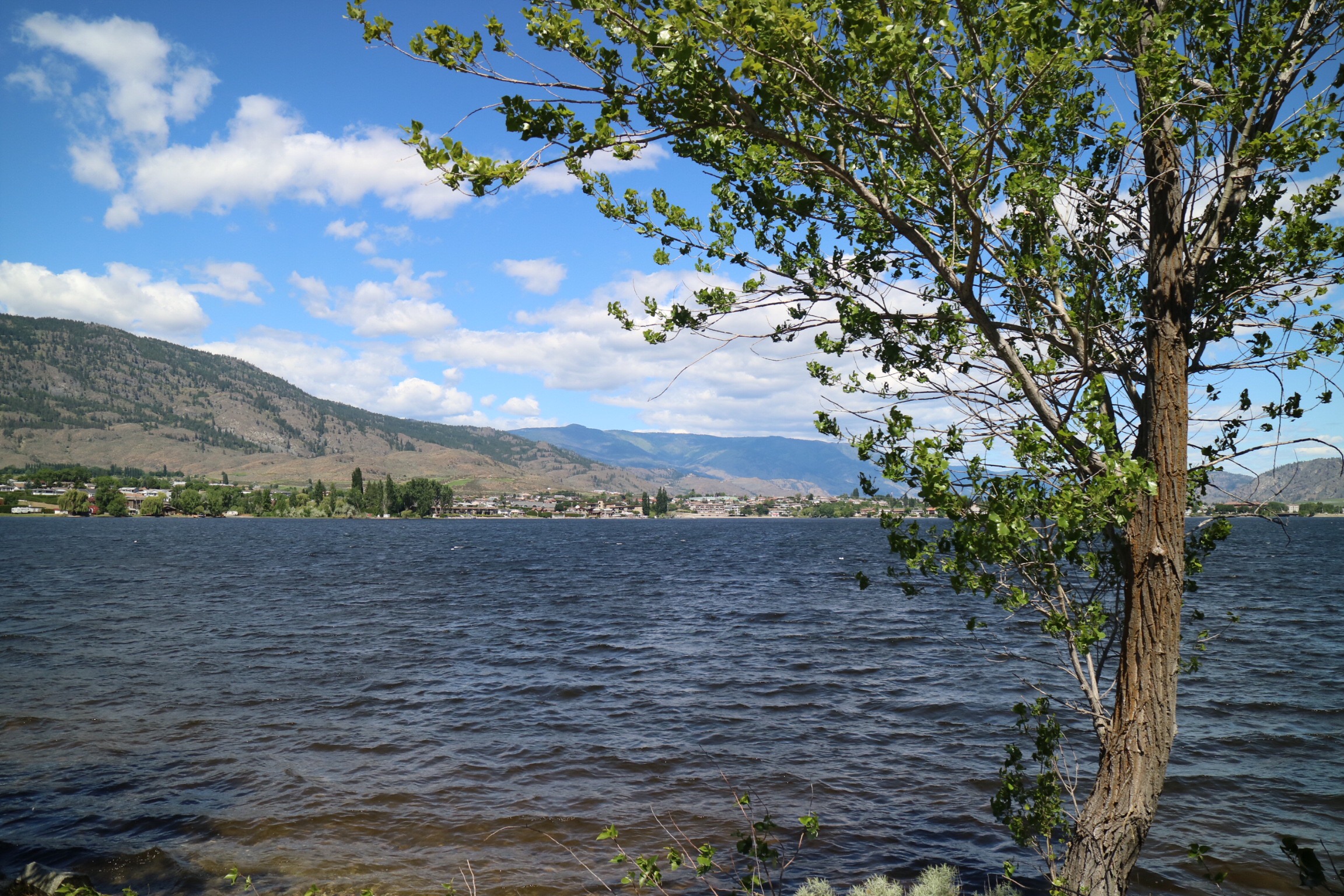 The border with the states is in the south.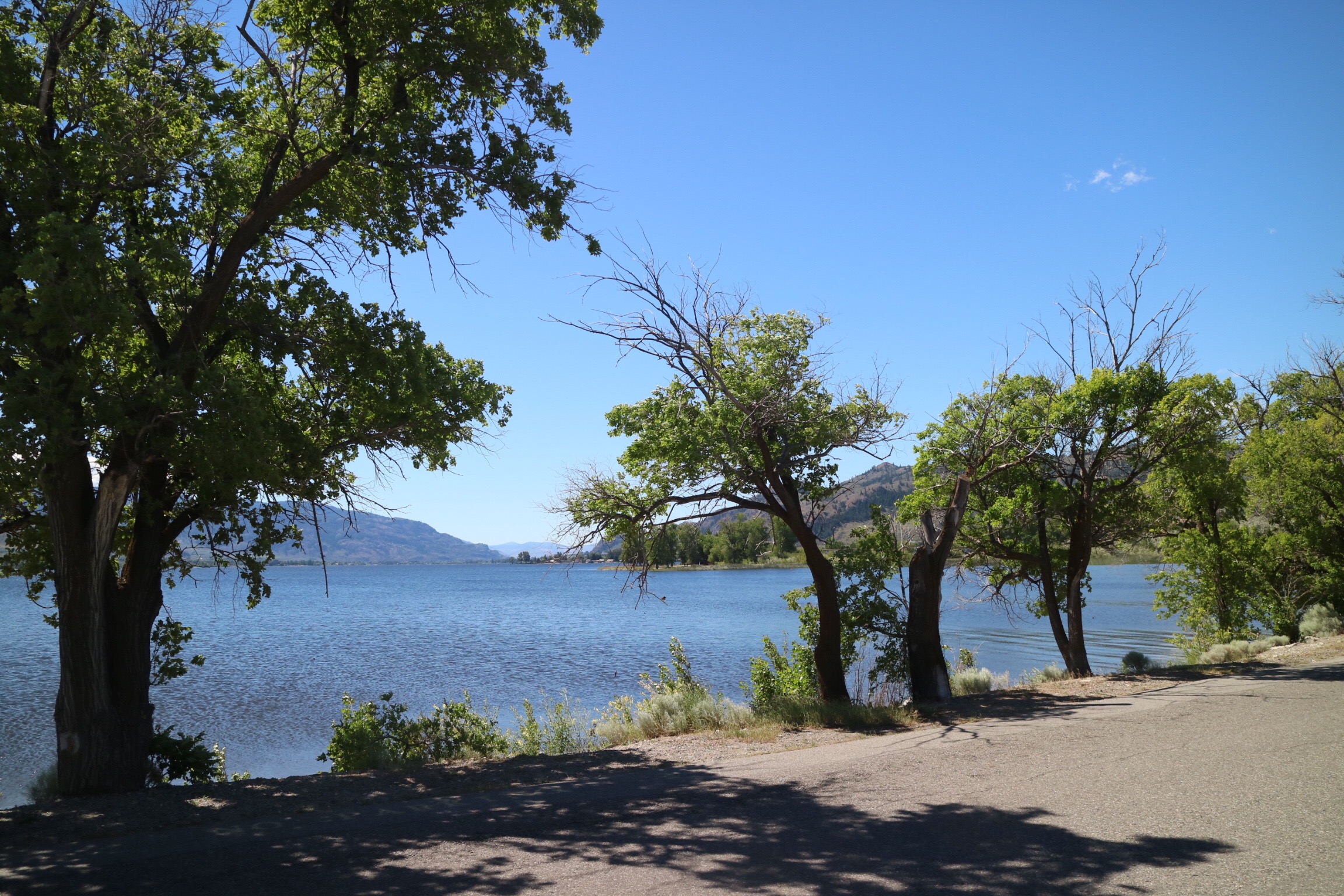 This would make a great camping spot. However, it's very windy here so make sure your tent is set up properly and won't' be blown away.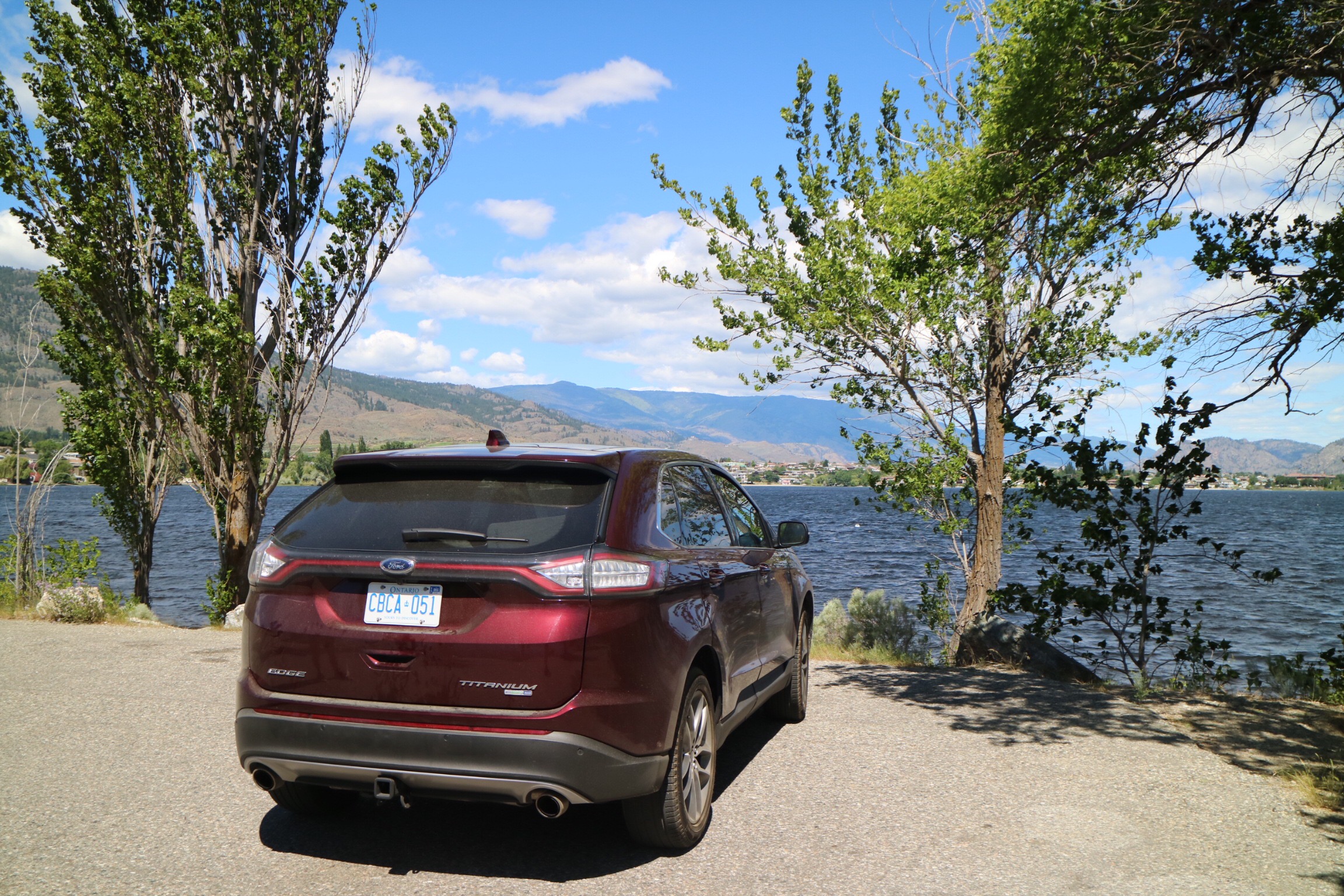 Crowsnest Highway (BC Highway 3)
It's time to go home!  We could have stayed a little longer but I had to run back to Vancouver for an event hosted by Italian Chamber of Commerce.
And we got on another amazing scenic drive of BC, the Crowsnest Highway, aka BC Highway 3.
The scenery through the mountain was breathtaking. We just had a late spring, so we were so lucky to travel through mountains still covered with luscious green.  As this region is one of the warmest in the country, once the heat hits, the green won't last very long. In fact, the temperature will dramatically go up the coming weeks. So we are truly fortunate to have such a green scenic drive on this highway.
There are more wineries and orchards along the highways if you are up for tasting on the way back to Vancouver.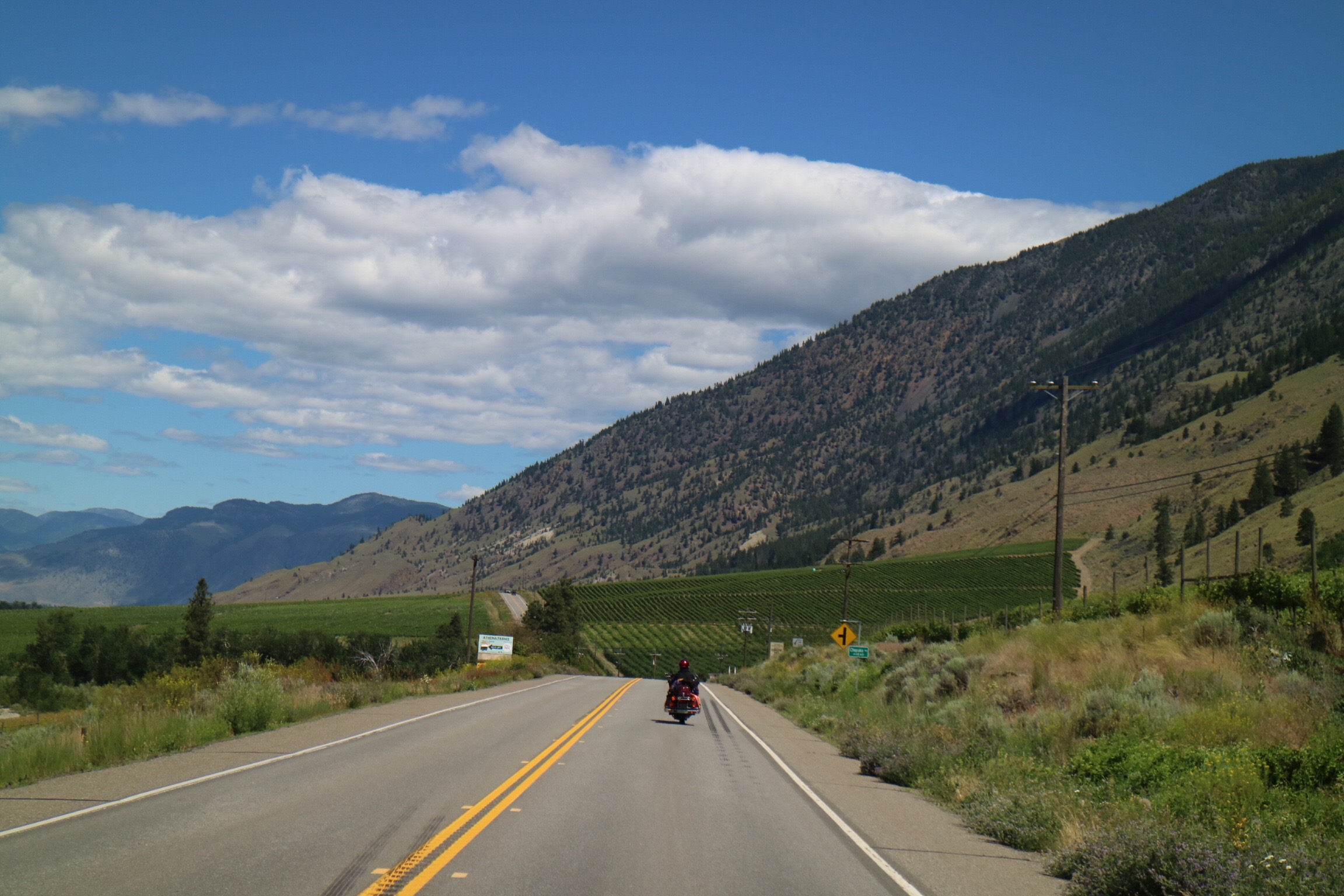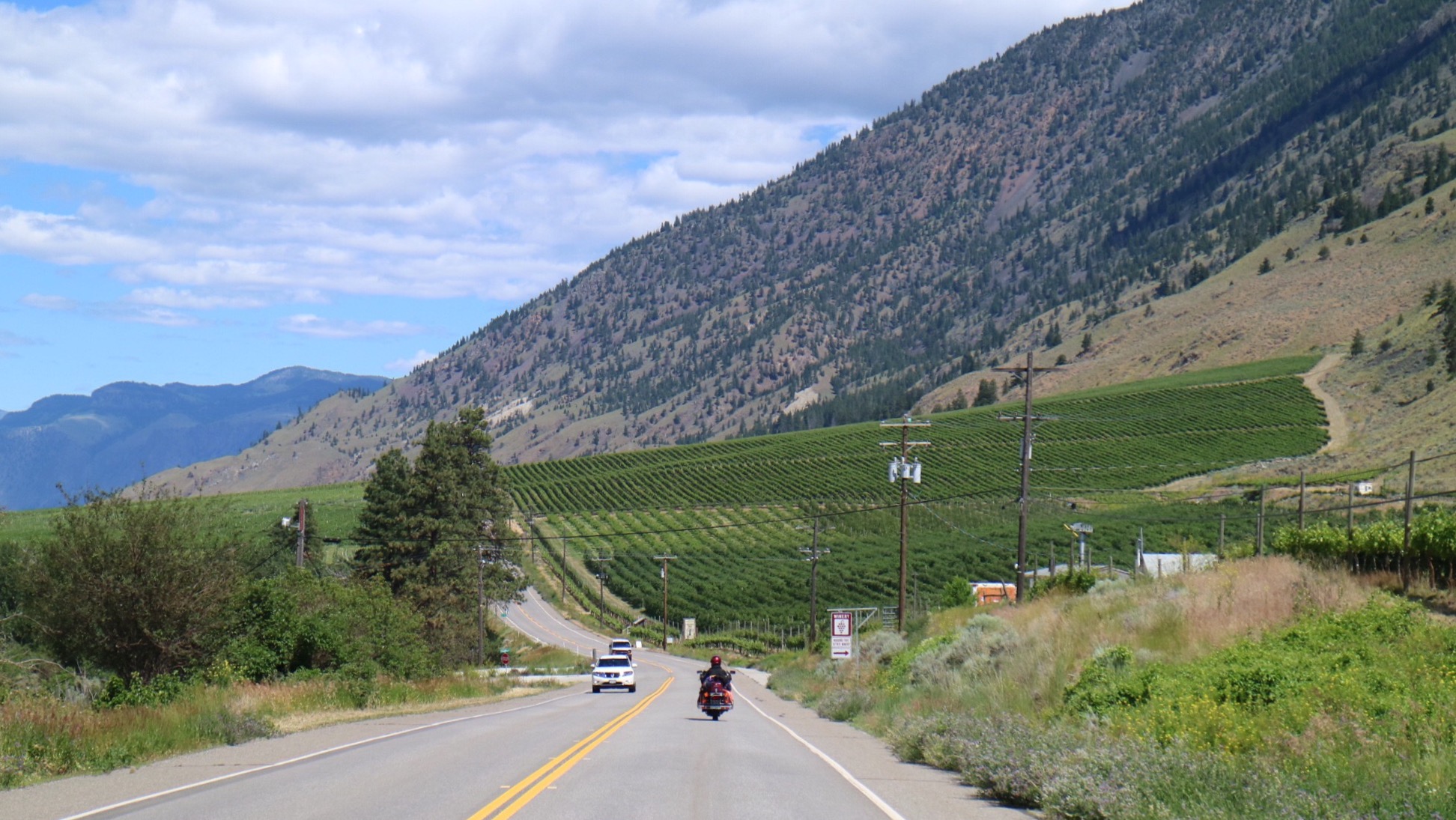 Okanagan Cherries
We stopped at Keremeos to get some new cherries. Due to a late spring, the first cherries didn't come up until the day before we left Okanagan. So we were lucky to get some cherries!
This is Apex Mountain, taken from the gas station in Keremeos.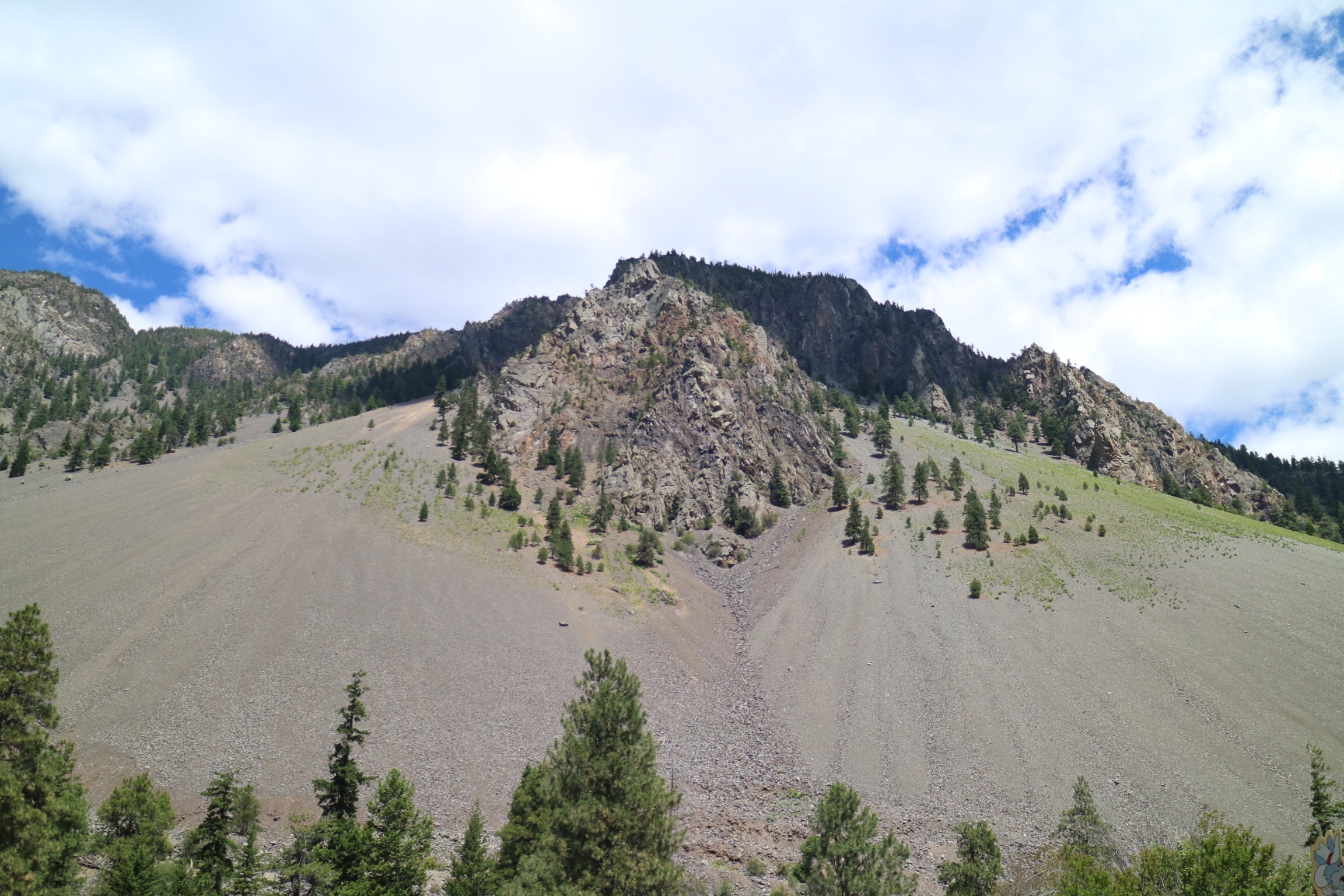 Our last stop of the road trip was Bromley Rock Provincial Park, where is named after a striking rock bluff along the Similkameen River. There are nearby forested campsites along the river. Tubing is also popular here giving a downstream route to Stemwinder Provincial Park.
There will be more video footage for the rest of the Crowsnest Highway drive all the way to Manning Park, and I will post here once the video editing is done.
So this concludes my amazing wine tasting road trip to the Okanagan Valley in a loaned Ford Edge Titanium 2017. I hope you have enjoyed reading this and start planning your own amazing wine tasting trip!
Here are all the wineries I have visited: