Butter and soy sauce are probably the most commonly used ingredients in the West and the East respectfully. Who would have thought that their love child, the soy butter sauce would provide such sublime qualities on your taste bud: sweet, savory, velvety, and luxurious.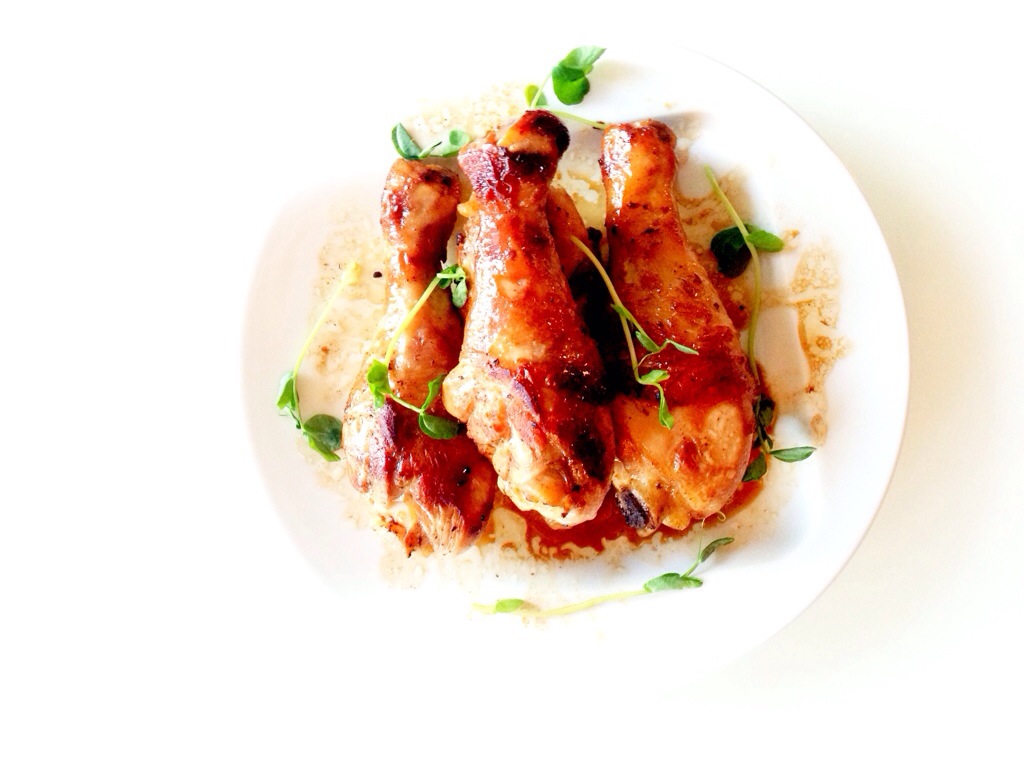 This a very simple dish serving for 4:
– 4-6 chicken drumsticks
– 4 tbsp premium soy sauce
– 2 tbsp butter
– 2 tbsp white wine or rice wine for cooking
– 1 tbsp sugar
– 2 tsp black pepper
– 2 tsp ginger, finely chopped
– 2 tsp garlic, finely chopped
Use a small knife to poke some holes all over the chicken drumsticks. Marinade the drumsticks with soy sauce, sugar, pepper, and wine.
Preheat the oven to 350F. Heat up an oven-safe saute pan on stove, set to medium once it is heated.
Place the drumsticks in the pan first, then put the butter in the pan after. Sear the drumsticks for about 5 minutes and let the butter melt along the searing. Constantly rotate the sides of the meat to make sure the drumsticks are covered in butter and seared evenly golden brown all over. Pour the marinade, along with ginger and garlic into the pan, mix well with the chicken. Braise the chicken in the butter and soy sauce marinade for another 5 minutes.
Put the whole saute pan in the oven and bake for another 10 minutes.
Serve with rice and vegetables. Make sure to pour the butter soy sauce all over the chicken. Voila!
Cooking tips:
– Poking holes on the chicken will help the sauce flavour the chicken better, and make the chicken cooked through better too.
– You can use maple syrup instead of sugar and make the colour and flavour more intense.
– You can use braising in medium low heat instead of cooking the drumsticks in the oven, but the texture of the skin would be a little different.