When Cantonese folks stir fry vegetables, they believe that giving vegetables a quick blanch in hot water, or a quick poach in hot oil could tone down the foul earthiness, and enhance the natural sweetness. But this procedure has to be rather short, to keep the freshness of vegetables. And when they do the stir fry after, the food is cooked through very quickly. Saucing is the important final step that requires precision and finesse.  Today this dish is not a stir fry, the bak choy is only being  blanched. The focus is to master the making of the final sauce.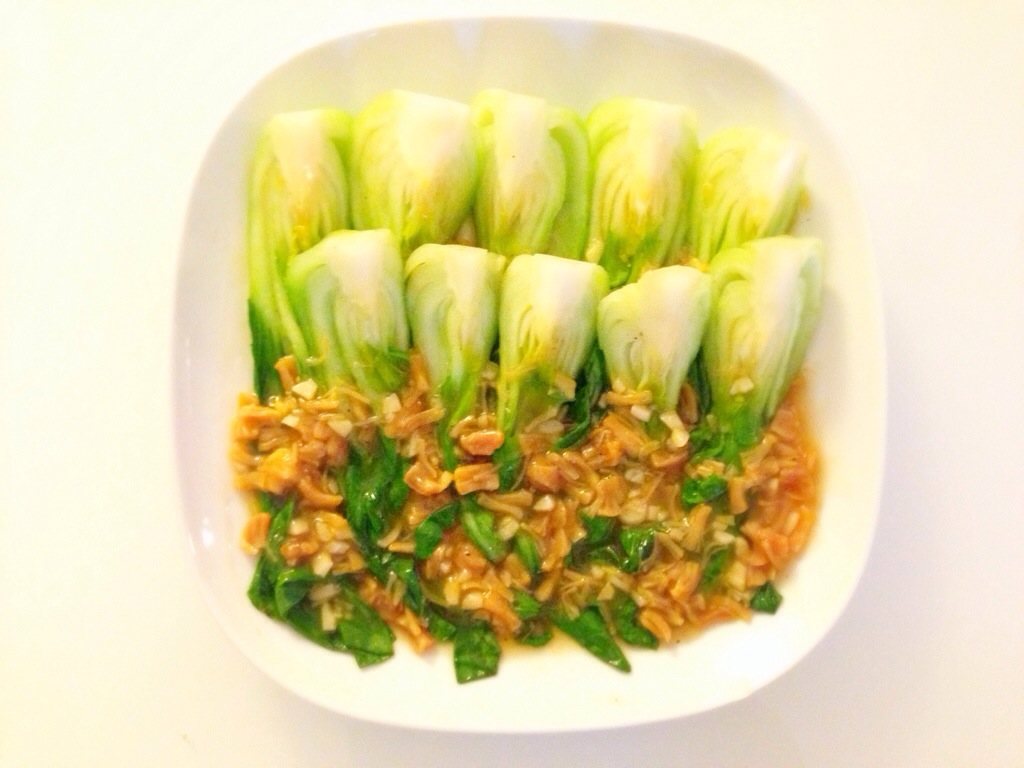 3 Shanghai bak choy, quartered
3-4 dried scallops
2 gloves garlic, finely chopped
1 tsp ginger, finely chopped
1/2 tbsp Chinese cooking wine
1/2 cup chicken stock
2 tsp corn starch, mixed in 1/2 cup of water,
2 tsp peanut oil
2 tsp salt
1/2 tsp sesame oil
Soak the washed dried scallops in a cup of warm water for 10 – 15 minutes or until the they are hydrated and easily shredded. Boil a pot of water. Add salt and peanut oil in boiling water. Put bak choy in boiling water, and turn down the heat to medium low. Blanch the vegetables for 2.5 – 3 minutes, Strain, and plate them nicely. Heat up a frying pan, put in dried scallops along with the soaking water. Add ginger, garlic, chicken stock, and cooking wine. Let it simmer in medium heat for 3 minutes. Add sesame oil. Add corn starch and water mixture and stir. Keep Stirring until the sauce is thick. Pour the sauce over bak chou.
Voila!
Cooking tips
– Make sure there is enough water in the pot, so that the vegetables are completed soaked while being blanched.