This is an exotic Asian influenced dish. All the ingredients are fresh and beautiful, and required very minimal cooking to keep the freshness and nutritions.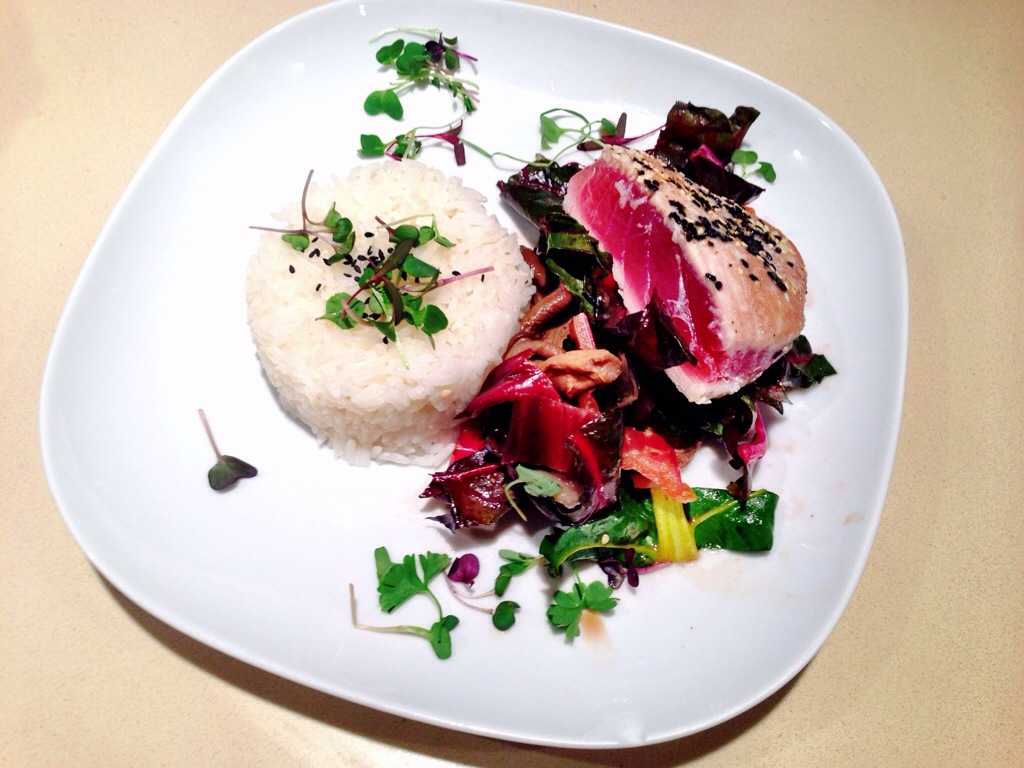 Here is how I prepare the dish for 4:
Coconut rice:
2 cups jasmine rice
1/2 cup coconut milk
1 1/2 cups water
1 tsp ginger, finely chop
1 tsp salt
Cook this on the stove top. Put everything in a small pot and boil with high heat. Once it is boiling, stir the rice for a couple minute, turn down to low (maybe a tiny little notch above the lowest), cover and let it cook for about 10 minute or when it is done.
Warm Rainbow Chard & Wild Mushroom Salad
5-6 leaves rainbow chard
2 cloves garlic
1 cup dried wild mushroom, hydrated
1 tbsp sweet almond oil or peanut oil
1 tbsp soy sauce
1 tbsp white wine or cooking rice wine
Cut off chard stems and dice them. Roughly chopped leafy parts. Heat up a frying pan with high heat, put oil, garlic, and chopped stems in first and stir fry for 30 secs. put in mushroom, soy sauce, and wine, stir fry for 1 minute. Add leafy parts, turn heat to low, cover, and simmer for 5 minutes. You can leave the leaf parts completely raw if you like to keep the crunch and colours.
Tuna steaks
2 ahi tuna steaks (1/2 lb each)
4 tbsp sesame seeds (black and White)
4 tbsp sweet almond oil or peanut oil (2 for marinade, 2 for cooking)
1 tbsp soy sauce
1 tsp black pepper
1 tbsp dijon mustard (optional)
Coat the steaks in oil, pepper, soy sauce, dijon, and sesame seeds evenly. Heat oil in a large frying pan with high heat. Sear the tuna steaks 2-3 minutes each side, or until your liking. (I usually like my tuna steak pretty rare).