Back in the days when I was studying at UBC, the food choices on campus were not exactly amazing. Besides getting burger and beer at the Sub (the student union building back then), I could only get a taste of ethnic food at the Village food court. But according to Vancouver Foodster, there are many more gourmet options now. As he invited me to the Tasting Plates UBC , I was looking forward to the visit to the memory lane and discovering what's new and exciting about my alma mater. And I took my buddy Graham, who used to go to UBC as well
The old student union building, the Sub, is completely deserted now, waiting to be turned into something modern and impressive like many of the new architectures on the campus. The new student union building is called the Nest and is where we started our tasting adventure.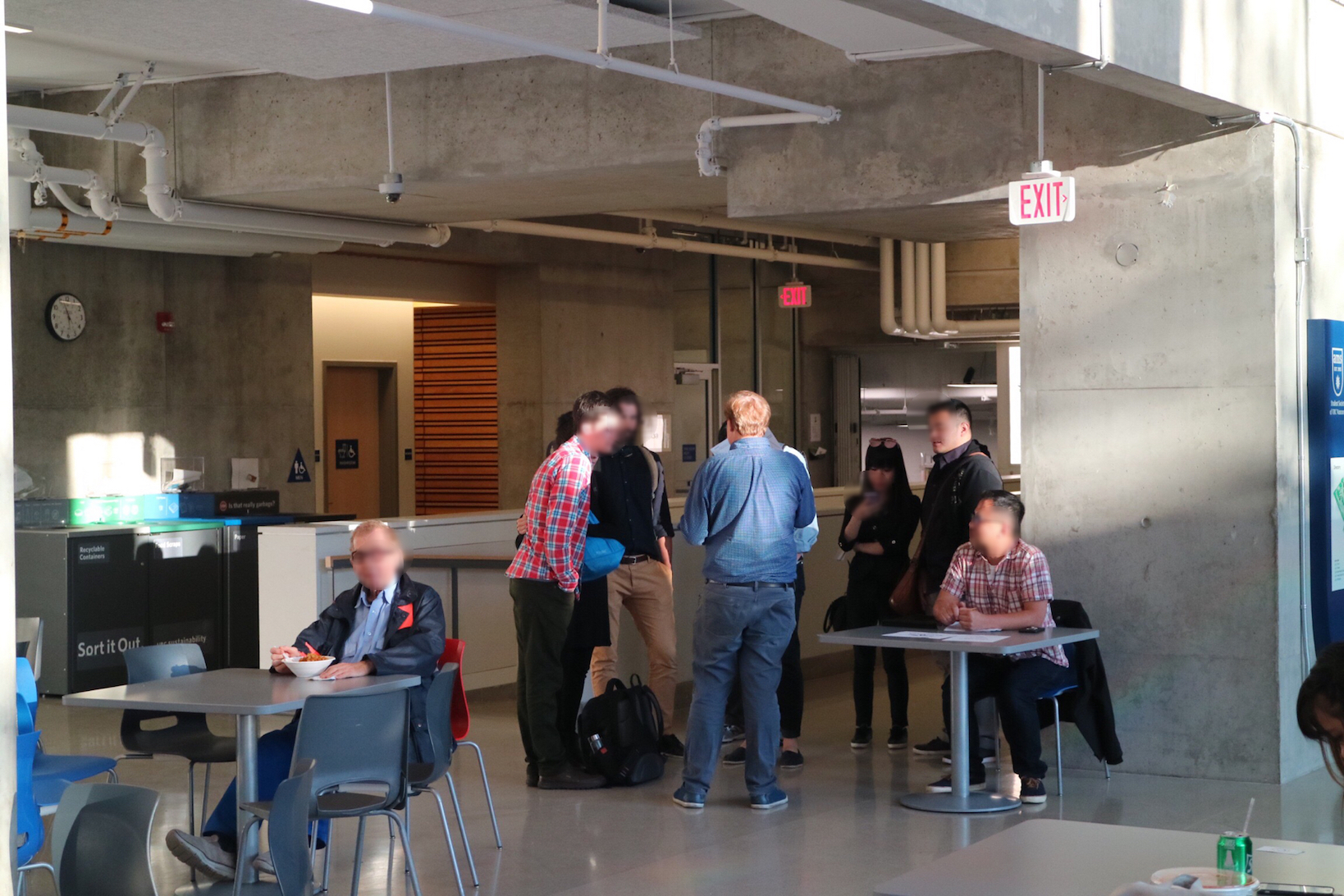 The Delly has been serving deli-style food to students for over 40 years, including freshly made sandwiches, wraps, rice bowls, soups, salads and baked goods.   This evening they demonstrated how students are fed with delicious and healthy foods nowadays. The tasting plate included:
A Taste of India
Butter Chicken, Shahi Paneer, or Chana Masala,  served with basmati rice and grilled tandoori naan.
The Art of the Sandwiches 
Chicken Sandwich or Avocado Veggie Sandwich.
Salad Street
Fresh Tossed Kale Quinoa Salad or South West Bean Salad.
From the Beverage Cart
Standard Kombucha, Thirsty Buddha Coconut Water, Moja Coffee or Theguy Tea
We were impressed with the quality of the food, which is on par with the one I have tasted at high-end stores such as Urban Fare or Meinhardt.
The 2nd stop was Mahony & Sons, an Irish pub that has multiple locations in the city. As the interior design is inspired by taverns in Ireland, they are known for their authentic experience blending the traditional and contemporary Irish influences, which is also reflected on their menu and their tasting plates.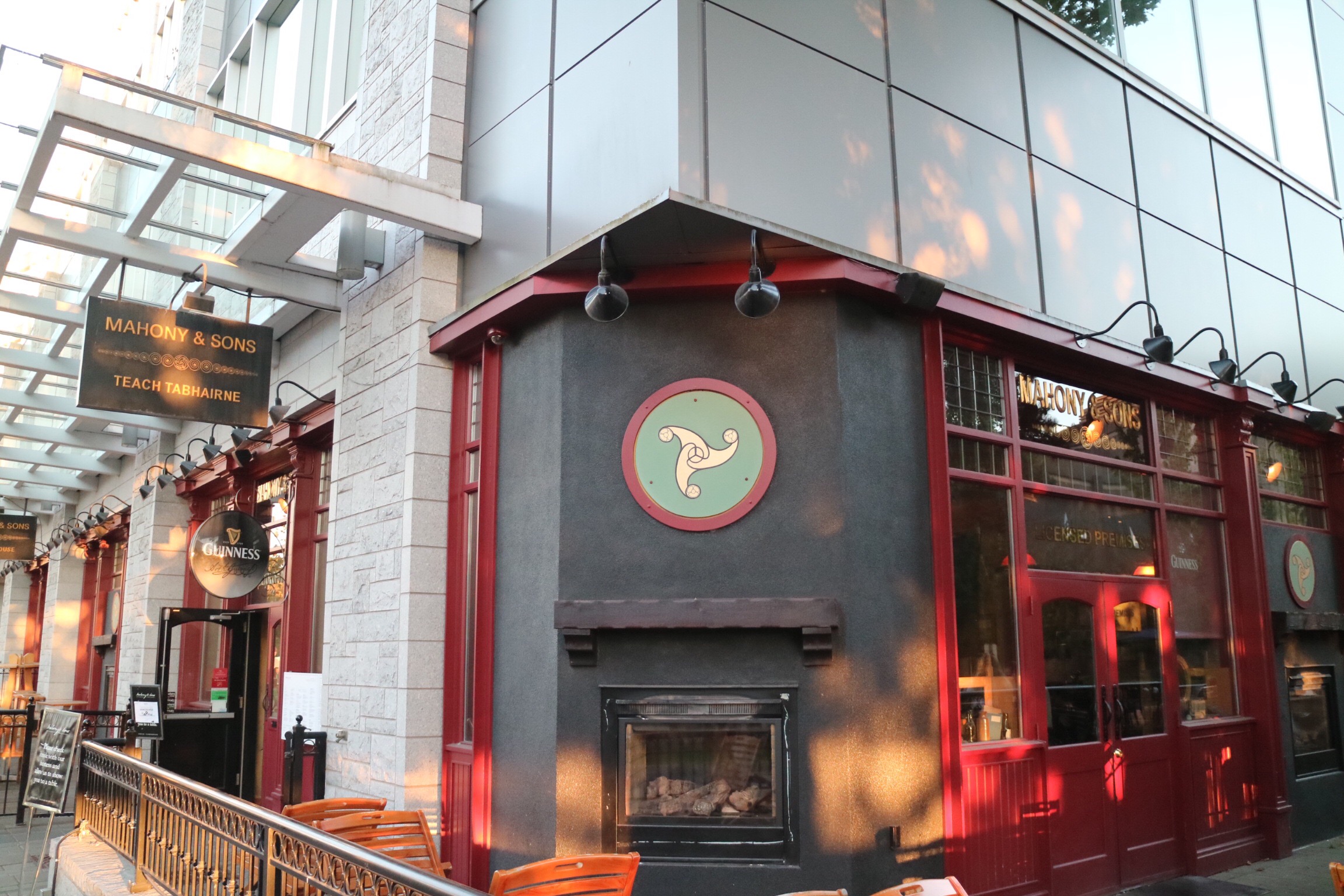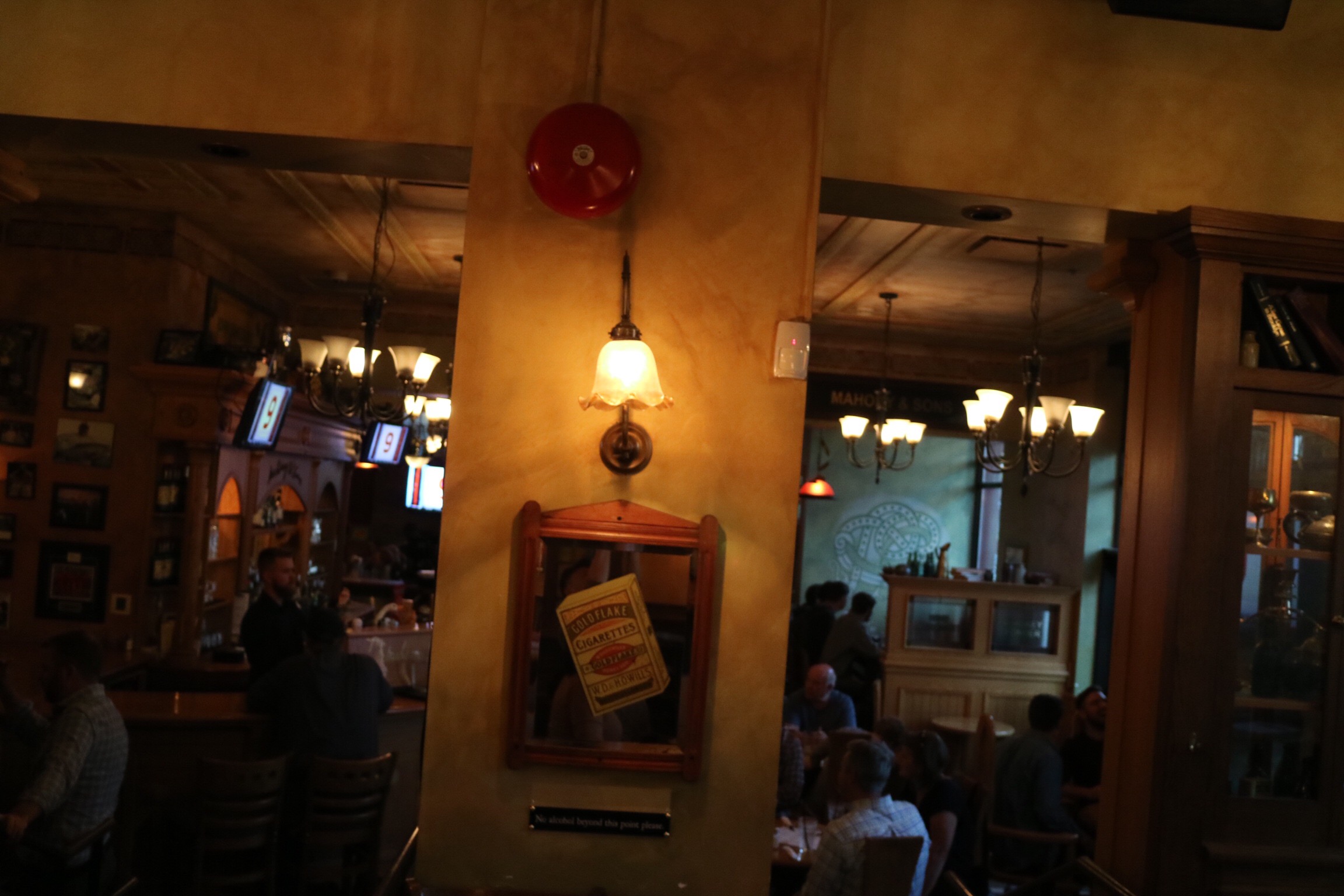 On the tasting plates, we found the Pacific Coast Chowder, with fresh mussels, steelhead, cod, bacon, prawns and lemon fennel cream broth, the Mahi Mahi Taco, with crisp slaw, chipotle mayo, guacamole, and Pico de Gallo in a grilled flour tortilla, and finally the Bangers and Mash, featuring house custom sausages with garlic Yukon gold mash and a rich Guinness onion gravy. As I enjoyed the freshness of the West Coast ingredients, I also was feeling the soul of traditional Irish cuisine with such bold and savoury flavours.
Our next stop was The Boulevard Coffee Roasting Co. I'm glad to find the local artisan coffee culture well represented at UBC. Back in the days when I was going buy valium from canada here, only Blenz and Starbucks were available. Here they were offering:
West Coast Trail Cookie, featuring bakers chocolate, pumpkin seeds, flax, cranberries, coconut, cinnamon, and oats.
Nutella Twist Danish, puff pastry with Nutella and salted macadamia nuts
Mocha, made with their Pacific Spirit espresso roasted in-house and mixed with signature house-made chocolate sauce.
Aztec Gold Hot Chocolate, their take on a spicy hot chocolate featuring their house-made chocolate sauce and a blend of chili and cinnamon.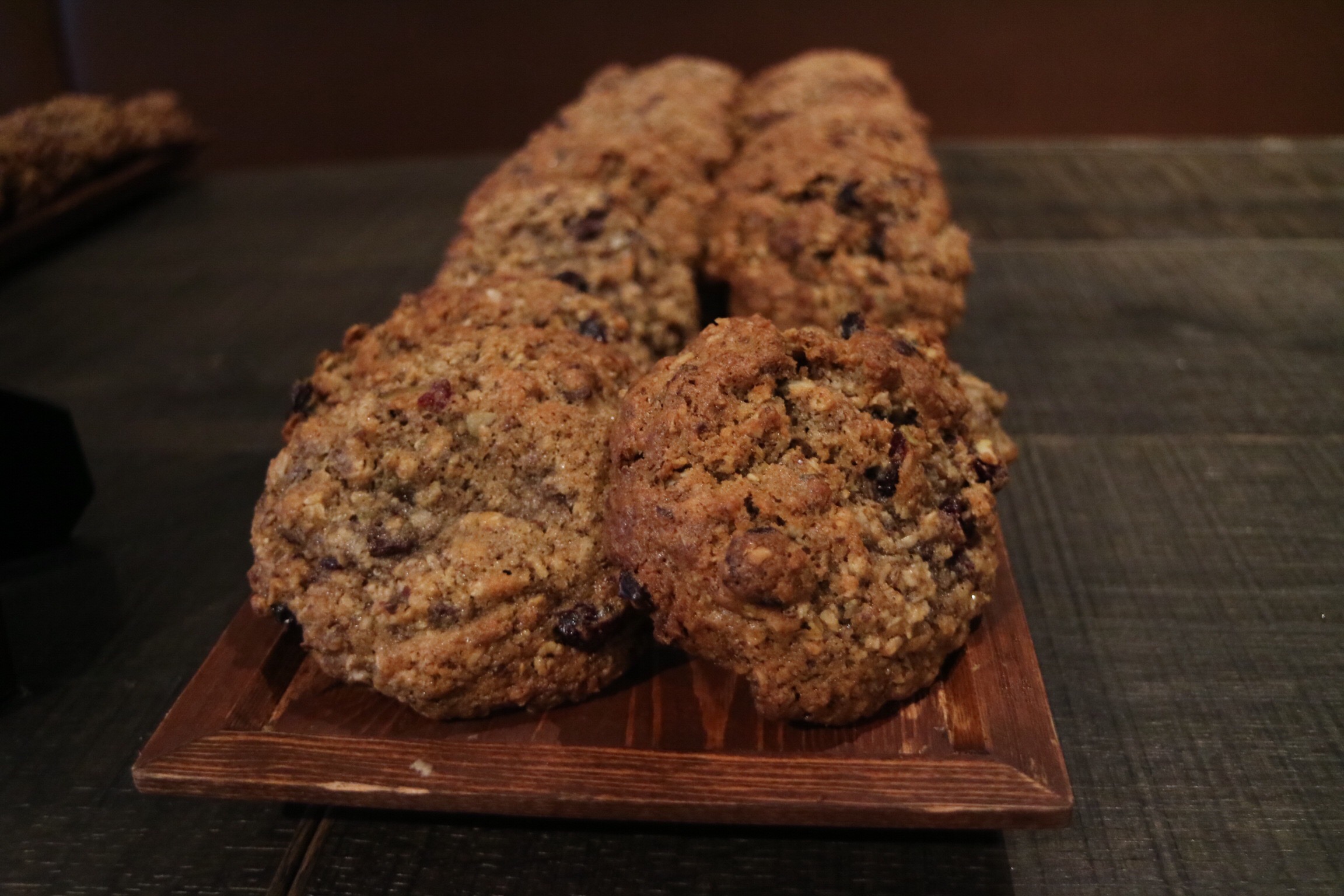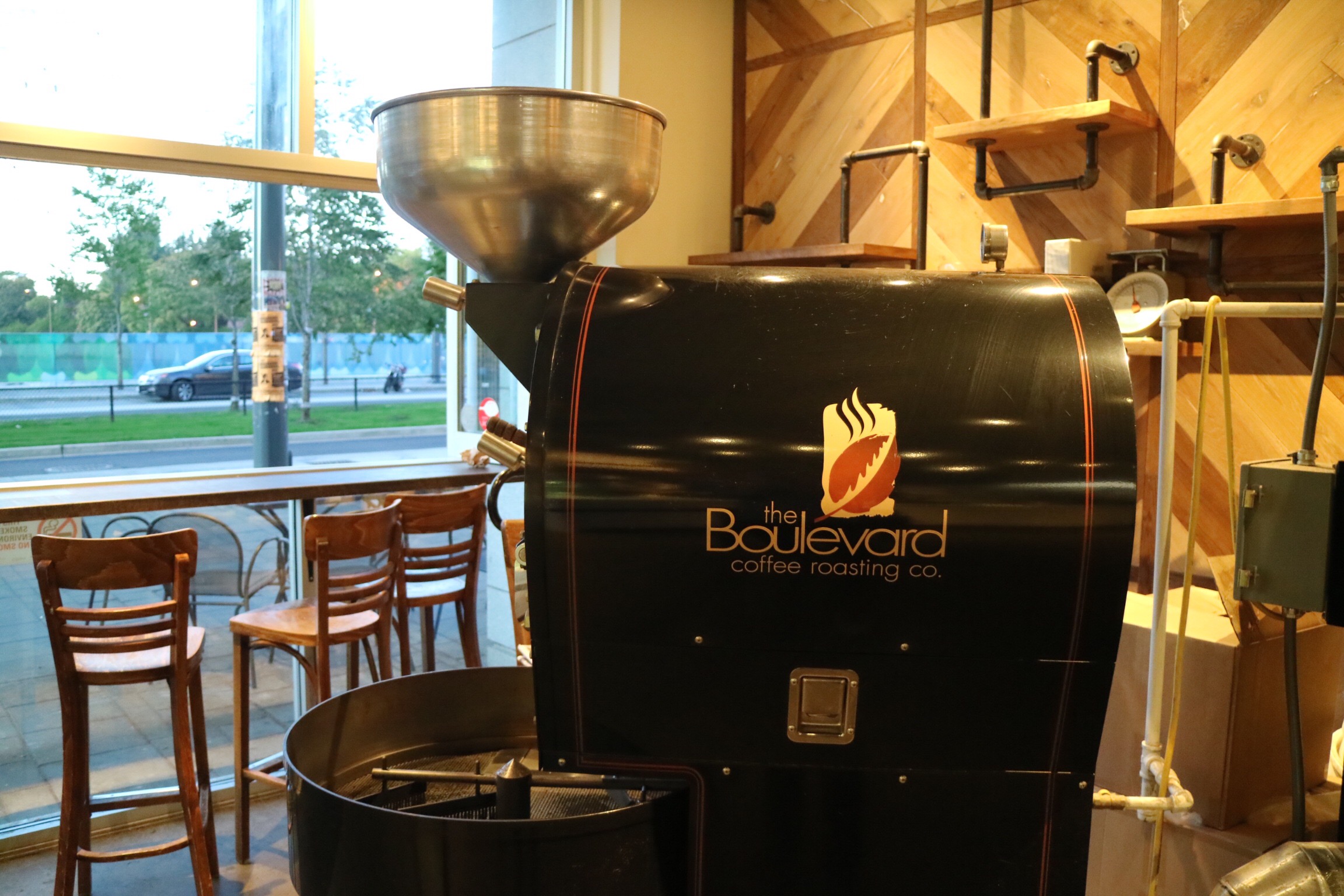 I became a fan of the mocha and the cookie shortly after. I think the quality of the chocolate really shines through the cookie, with the hearty mix of seeds and oats, giving some incredible flavour and texture.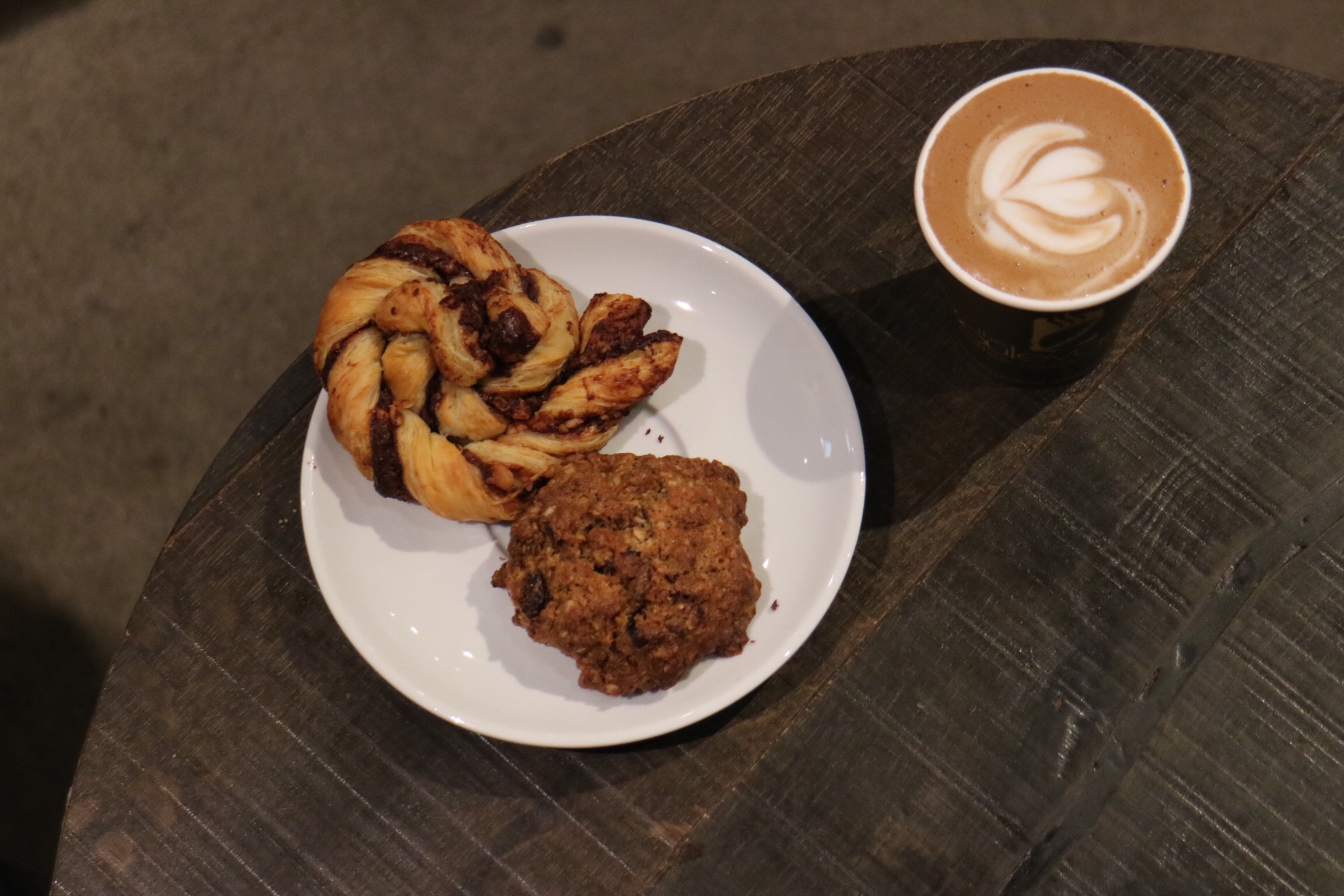 We arrived at  NORI, a Japanese spot specializing in udon noodles freshly made in-house, and also serving bento boxes and sushi.  All their broths and sauces are freshly produced in-house as well.  They just opened recently and had attracted a lot of hungry students lining up for them.
For the tasting event, they served us a bowl of the signature Curry Beef Udon, featuring the freshly made udon noodles, seasoned beef and onsen egg in a curry broth.  I also found tempura crumbs in the broth – what an ingenious trick to add more texture and fun to the noodle soup! And the noodles were quite amazing as well. Apparently, they run a machine imported from Japan to make the noodles and it's a 2-day process!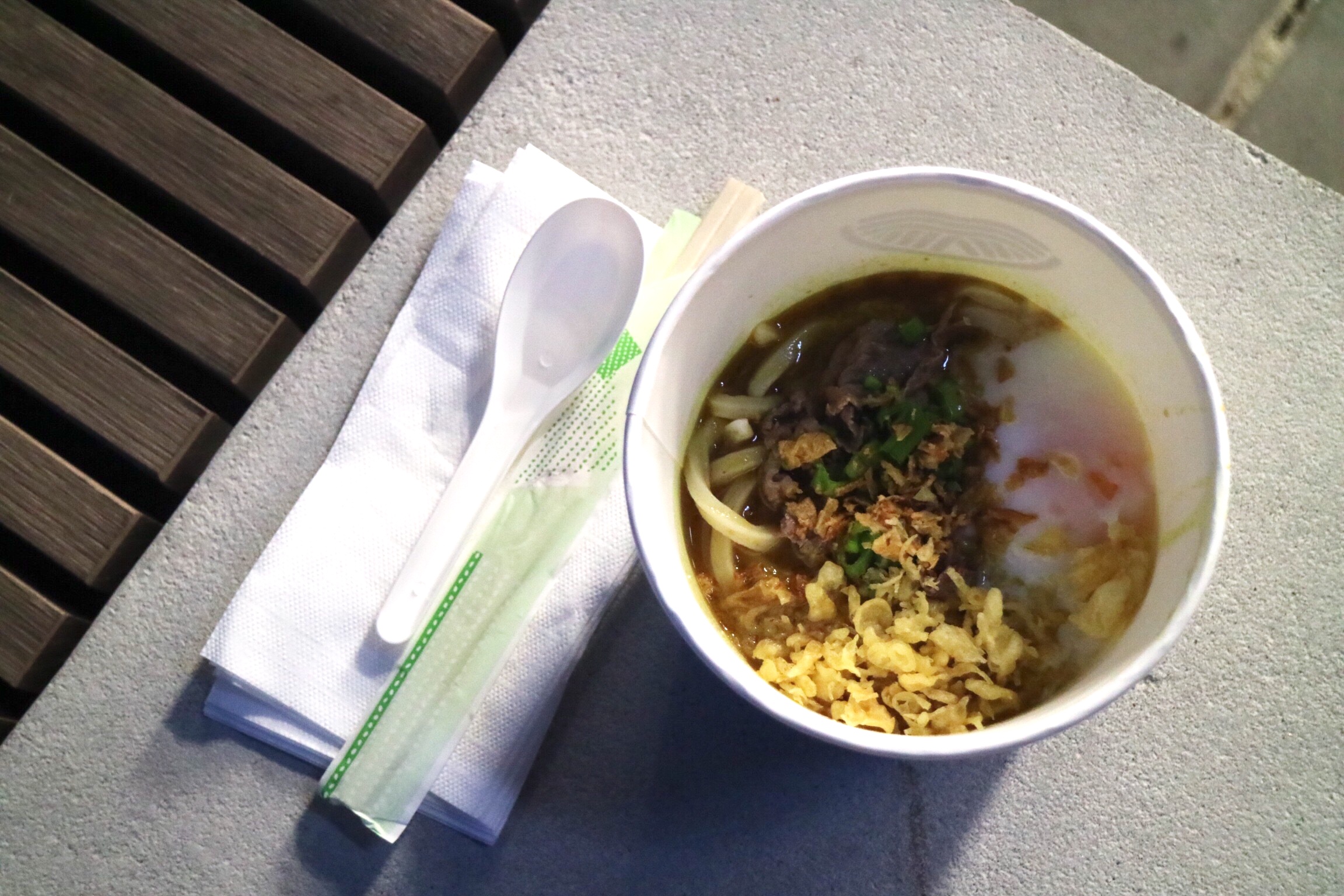 The tasting plates adventure ended with a big sweet finish At Rain or Shine Ice Cream. Although I was definitely feeling full, I had to make room for dessert!
They offered three flavours:
Chipotle (corn with berry compote and waffle pieces),
Apricot Sour Ale with berry compote and waffle pieces, and
Hibiscus Sorbet with berry compote (vegan option).
Although I loved how bold and rich the flavour was on the Chipotle one, I found the Hibiscus Sorbet with berries a better choice after such a big satisfying meal – it's more refreshing.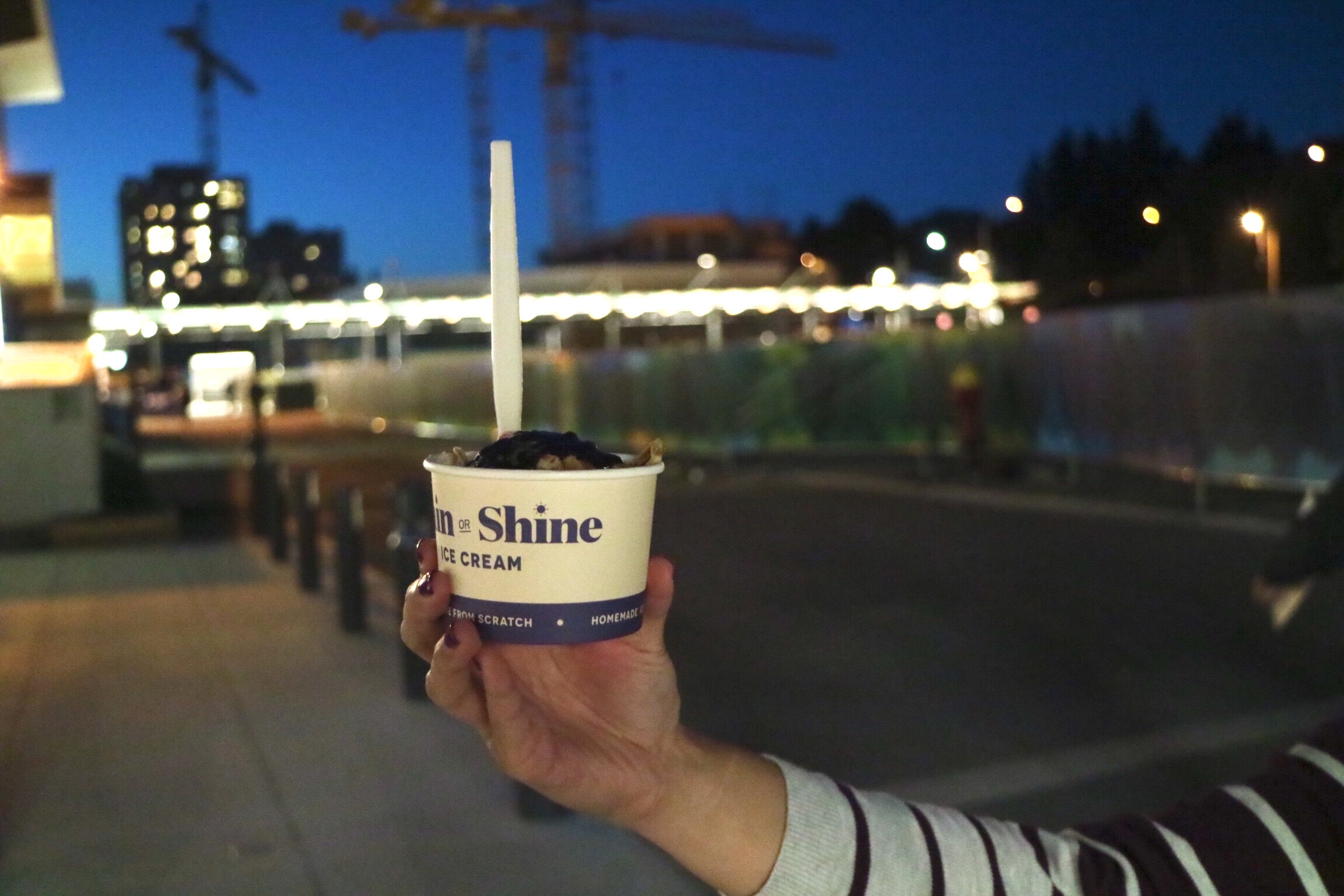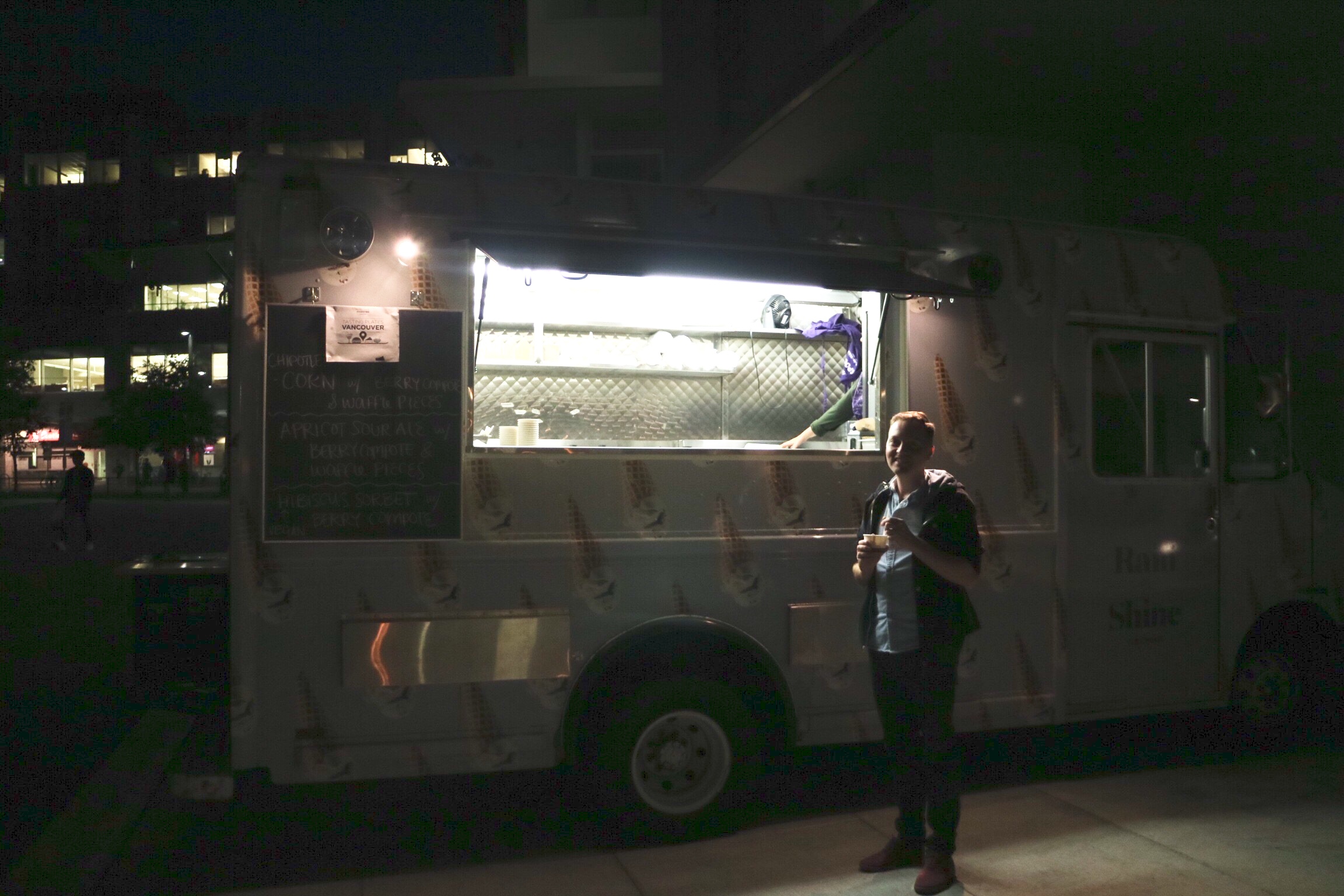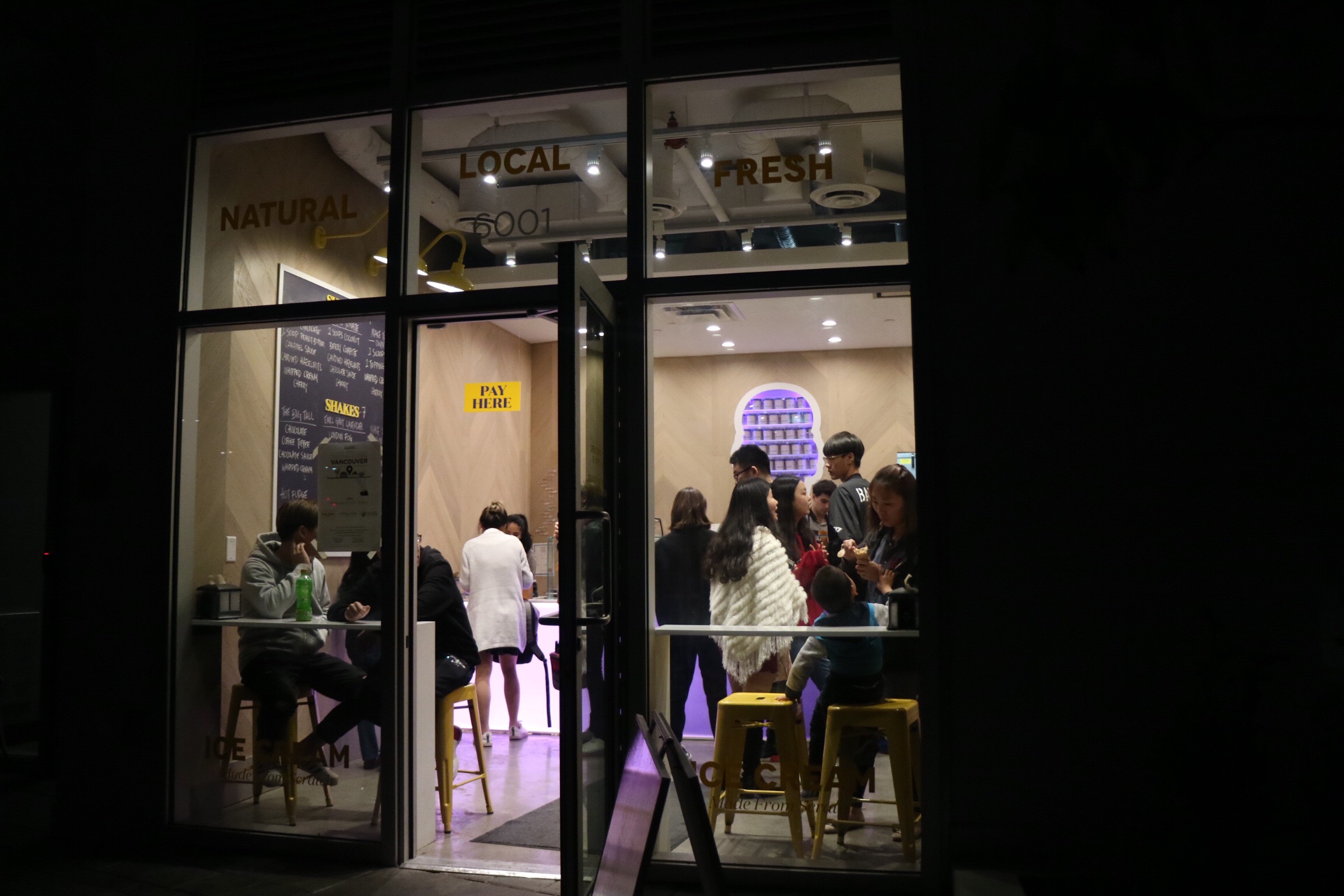 Thanks to Vancouver Foodster, we enjoyed another tasty restaurant hopping tour. As a UBC alumni, it felt even more special for us. The next events are coming soon and the early bird tickets are available:
Tasting Plates Yaletown Brunch
Past events: