Slow braised pork hock is a very popular dish in Canton. The slow cooking process will cook off the fat from pork hock and leave us the soft collagenous skin, tender ham meat, and sometimes delicious bone marrow. It is proved to be nutritious to new moms who are in need of a good amount of calcium and collagen. I pair this Cantonese dish today with chickpea stew, a middle east influenced dish that brings a little bit of a spicy kick to balance the sweet and savoury pork hock. Also chickpea, tomato, and different dry spices provide a great source of protein, vitamin C, and antioxidant respectively.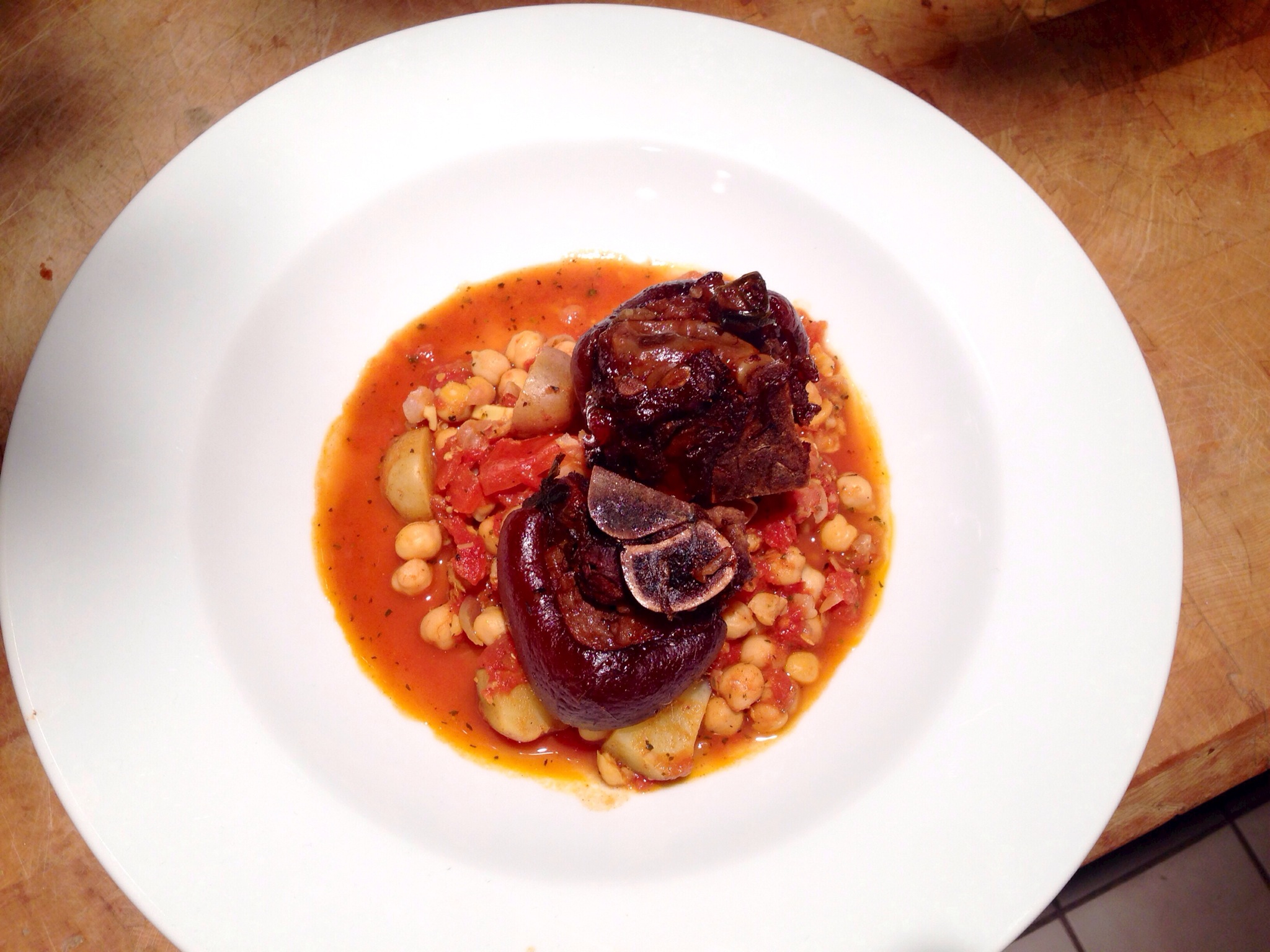 Braised Pork Hock
Ingredients:
1 pork hock (2-3 lb), chopped
1 cup Chinese cooking wine
1/2 cup light soy sauce
1 tbsp dark soy sauce
1/4 cup brown buy diovan without a prescription sugar
1 tsp canola oil
1 tsp 5-spice powder
1 tsp black pepper, ground
1 ginger root, 1/4 palm size, sliced into 1/2 inch thick sections
3 – 4 stalks green onion 3-4 stalks, chopped into 2-inch sections
The cooking process is very similar to braised pork belly. Brown ginger in braising pot (or a Chinese ceramic hot pot) with canola oil for 1 minute, medium heat. Add pork hock and brown the pieces on all sides, for a total of 5 minutes. Add brown sugar and stir quickly for about 30 seconds and let it caramelize. Add Chinese cooking wine to deglaze. Add light soy sauce, dark soy sauce, 5-spice powder, black pepper and green onion. If the liquid is not covering the pork completely, add water until it just barely covers. Braised on medium heat for 15 minutes. Rotate pork hock pieces every 5 minutes. Braised on low heat for 45 – 60 minutes. Rotate the pieces every 15 minutes.
Chickpea Stew
Ingredients:
1 can diced or crushed Tomato (14.5oz)
1 can chickpea (16oz), washed and drained
1 onion, medium, finely chopped
3 cloves garlic, finely chopped
1 tbsp olive oil
1 tsp cumin
1 tsp curry powder
1 tsp coriander powder
2 tsp dry basil
1 tsp ground black pepper
1.5 tsp sea salt
4 nugget potato, quartered (optional)
1 tbsp tomato paste (optional)
Brown onion and garlic in olive oil for 1 minute on medium heat. Add chickpea and stir fry for 1 minute. Add the rest of the ingredients and bring it to boil. Turn down to low heat and cook for 20 – 30 minute.
I like to add potatoes because they make it a heartier meal and also the starch of potatoes will make the stew thicker. Tomato paste is optional too depending how thick you want the stew to be.