For foodies like me and Jess from Domoiscraving.com, crappy weathers wouldn't stop us from checking out a new and highly anticipated restaurant. After venturing through the snow, we found ourselves sitting at Midam Cafe's new Richmond location.  With their first location established in Coquitlam, the Korean restaurant has quite a reputation for their Korean rice cake and dessert dishes.
The restaurant has taken over Bestie Chicken,  a shortly lived Chinese restaurant on Garden City Road. The transformation is impressive. I quite like the new decors and the unique NBA theme – not that I'm a huge fan of NBA. If I find a personal passion from a restaurant owner, other than food,   incorporated in the interior details, it often feels refreshing and inviting,  as long as long the exhibition is not too over the top.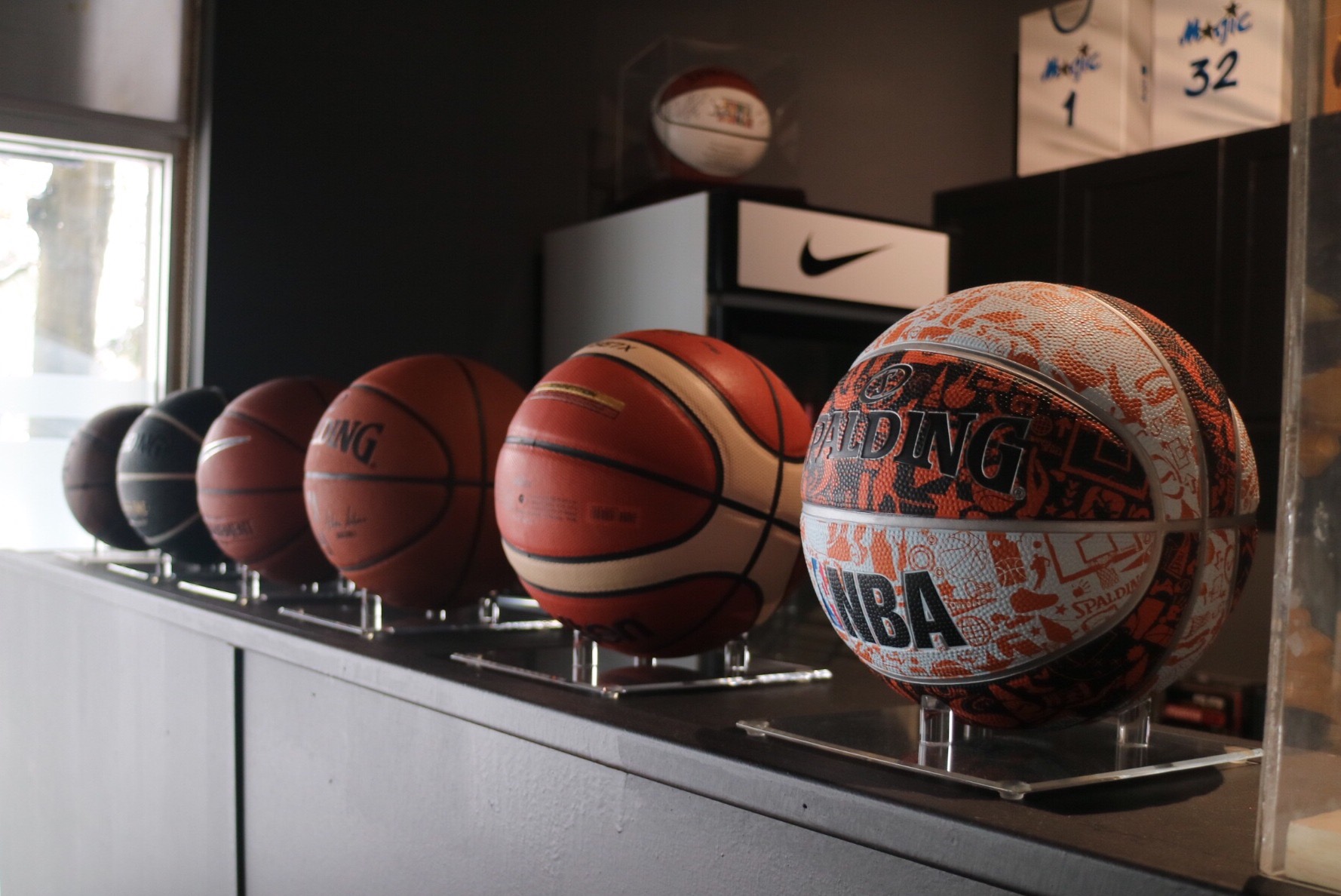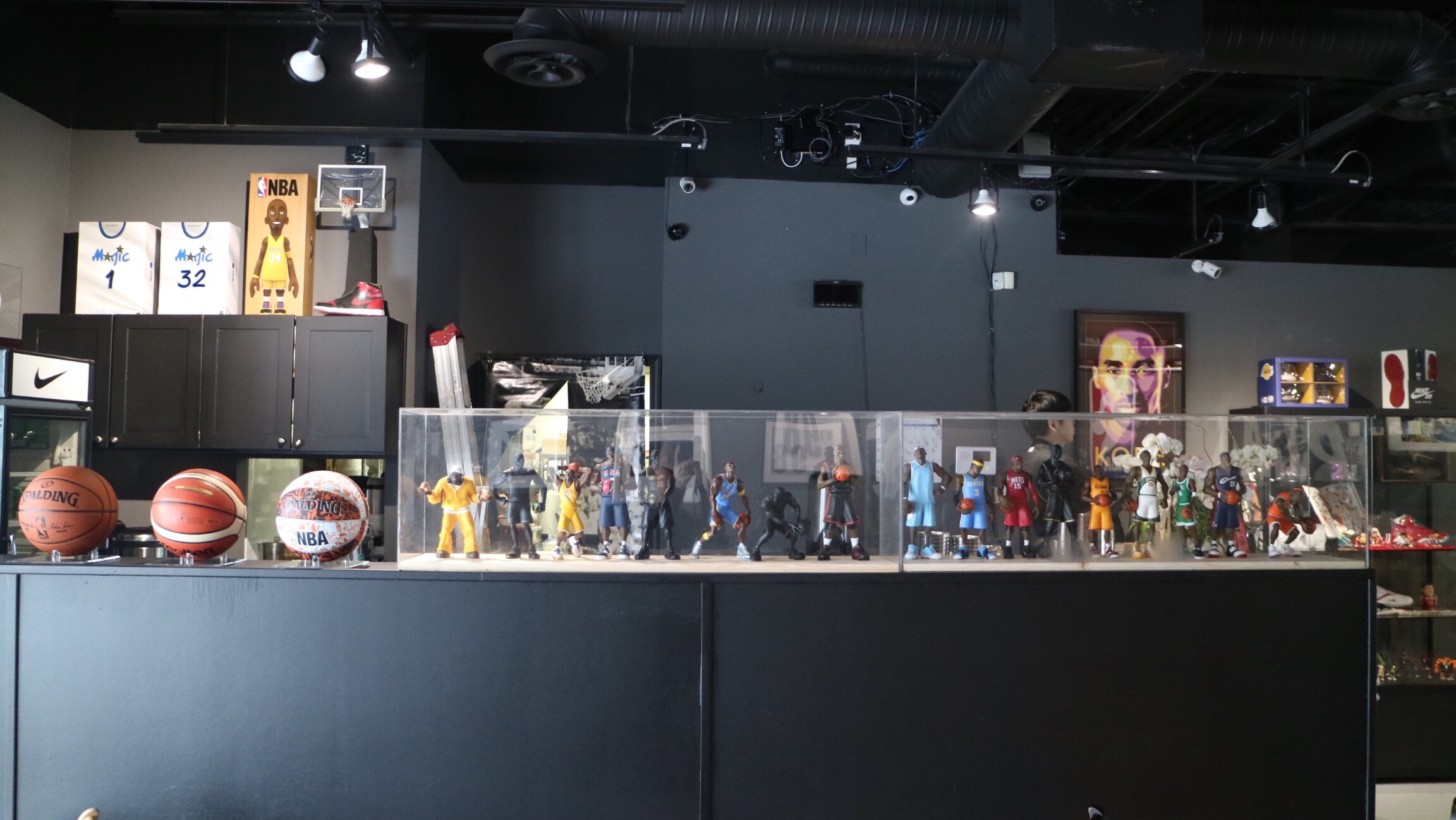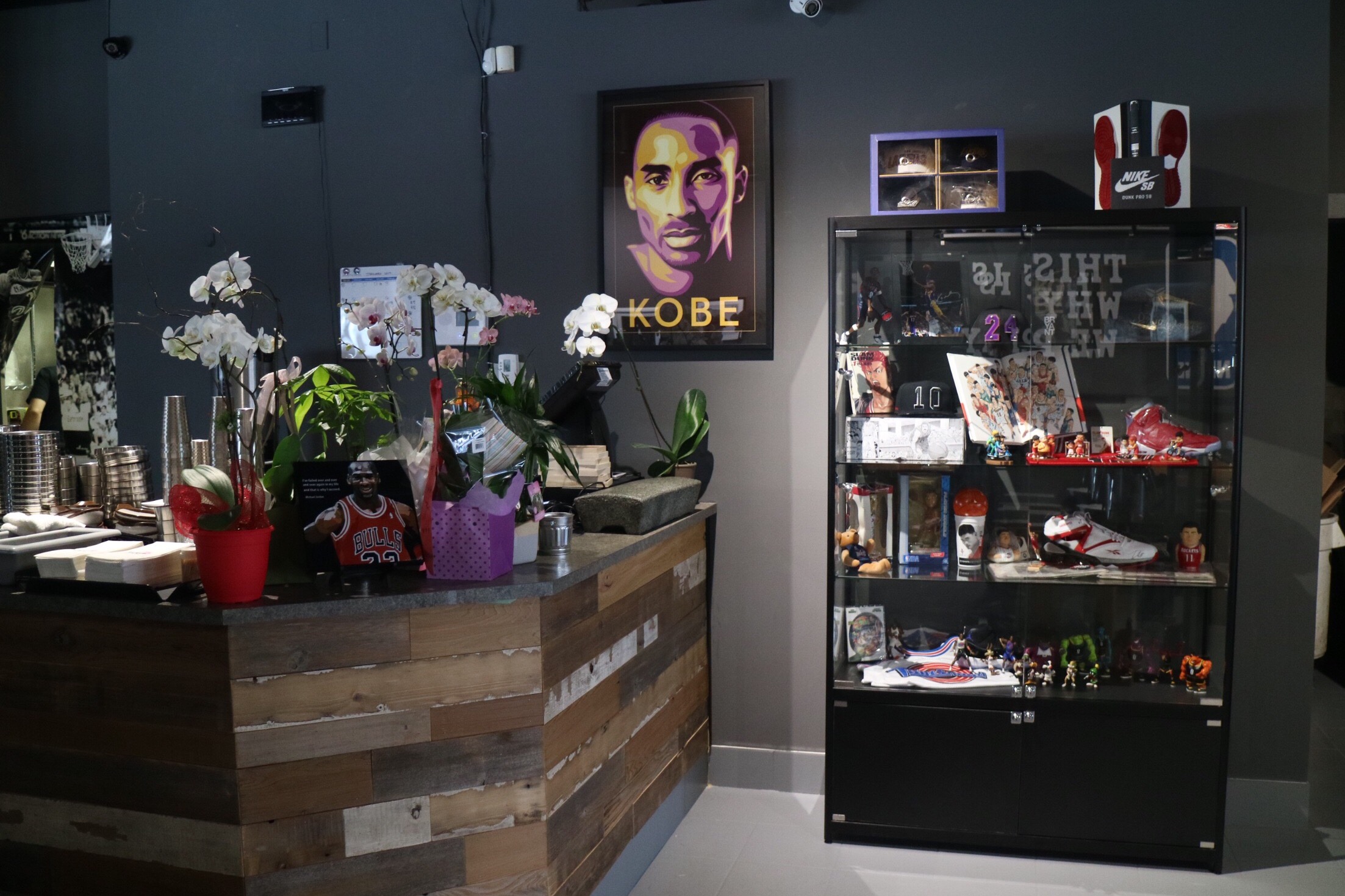 The banchan dishs came first, which is pretty standard at any Korean restaurant. I like how neatly cut and elegantly presented the dishes were. There were kkakdugi (a simple radish kimchi),  mung bean jelly, and braised potatoes. No baechoo kimchi that's usually served though.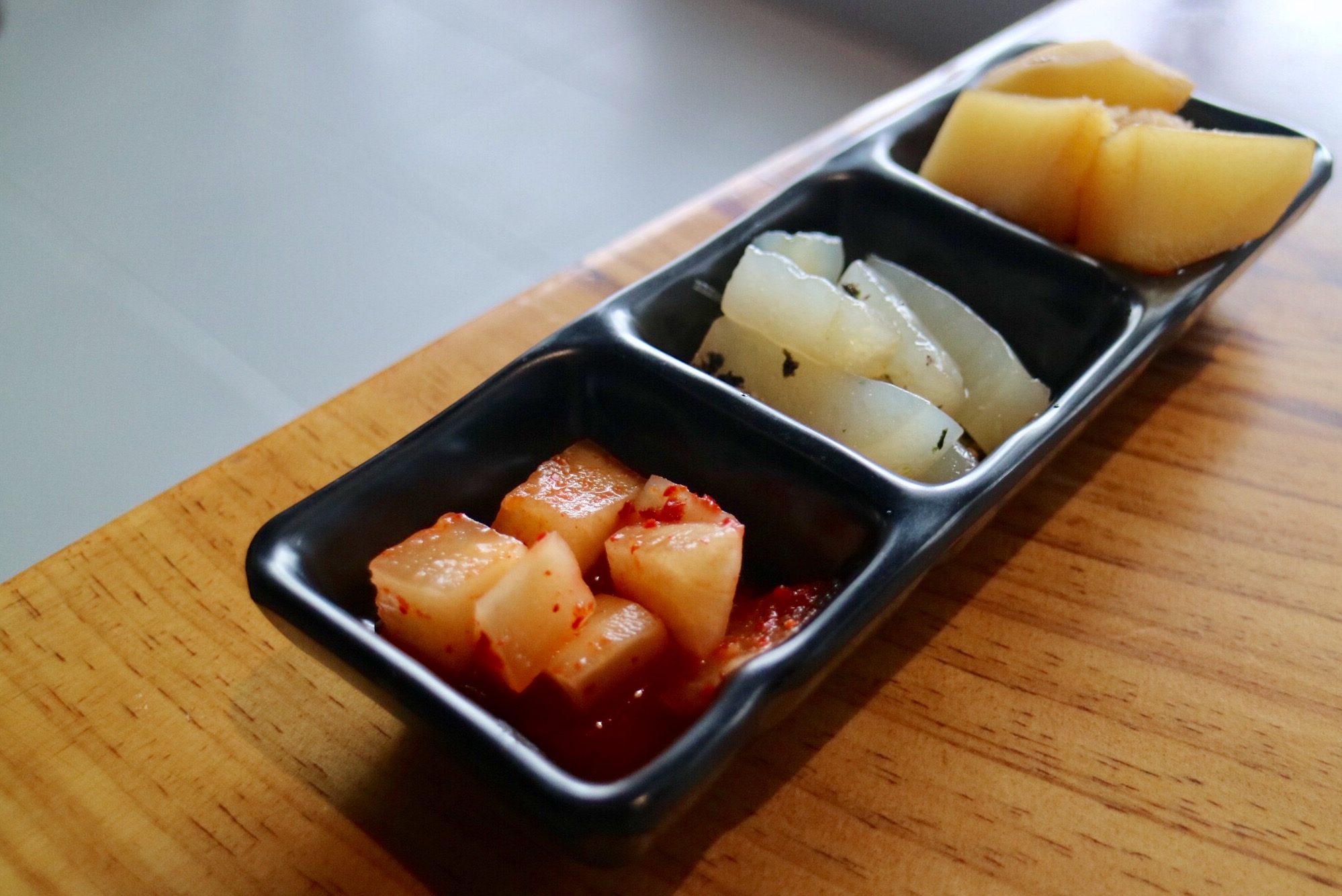 For appetizer we ordered the Pork Belly and Squid ($13), which was decently sized.  We asked if we could make it spicy, and they happily complied.  It was not quite what I had pictured, as I would like the pork belly a little thicker with a more luscious texture.  The spicy and savoury flavours were quite pronounced, and it was nice to see some vegetables and rice cakes for some nice contrast in taste and texture.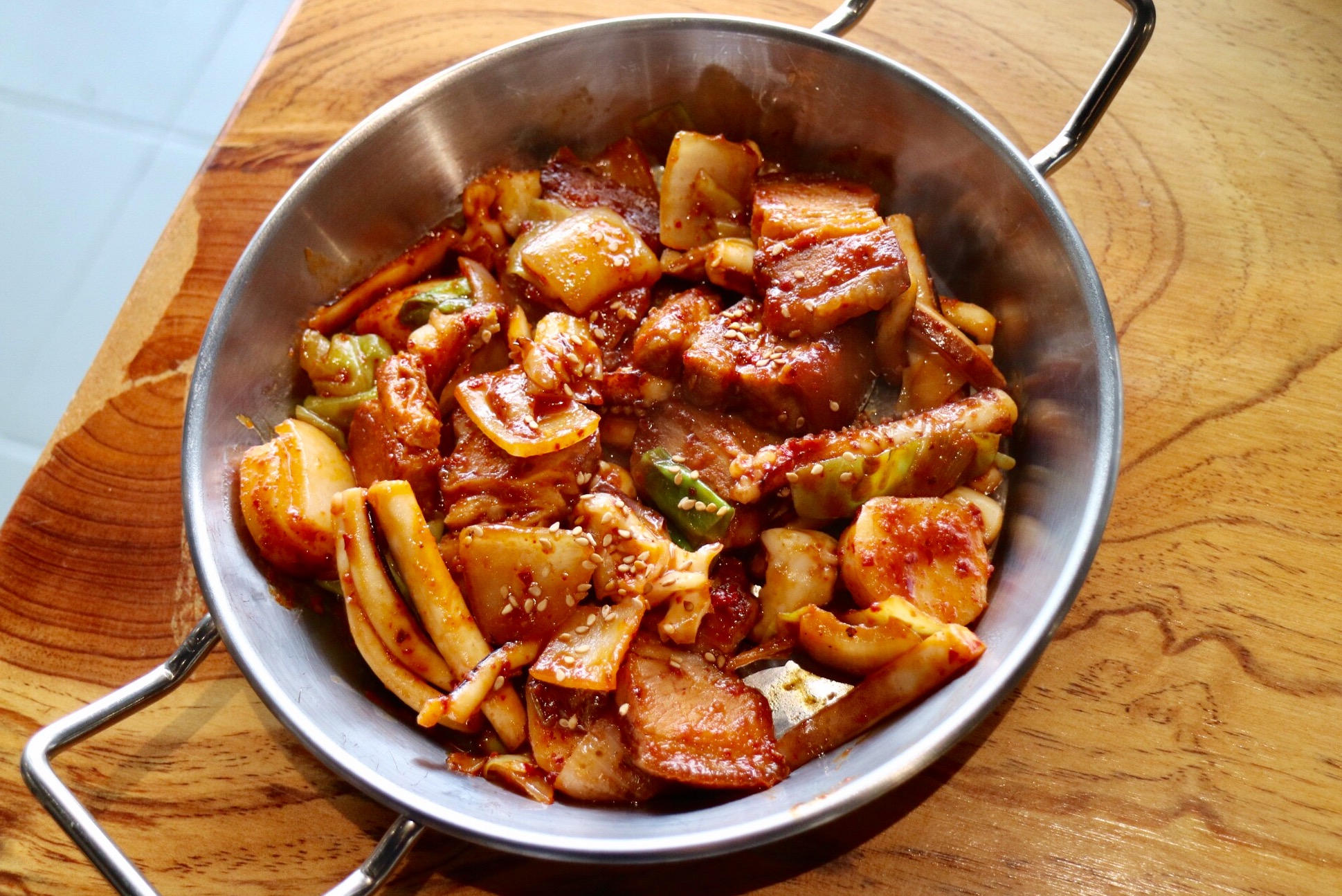 We were curious to check out the Budae Hot Pot ($28), which is popular among Koreans of the younger generation. As 'Budae' means Army in Korean, this dish came from the post-war era when food was scarce, and it was started near the U.S. Army base in Korea, where they used army rationed food such as spam and processed cheese. But today the 'Army Stew' has evolved and become a big comfort dish for sharing, especially among young people.  Besides cheese and spam, we could also find sausages, bacon, tofu, rice cake, instant ramen noodles, kimchi and different fresh veggies in the hot pot, and it was quite the experience to put the health conscience aside and enjoy a warm hearty meal, which was perfect for a cold winter day like this.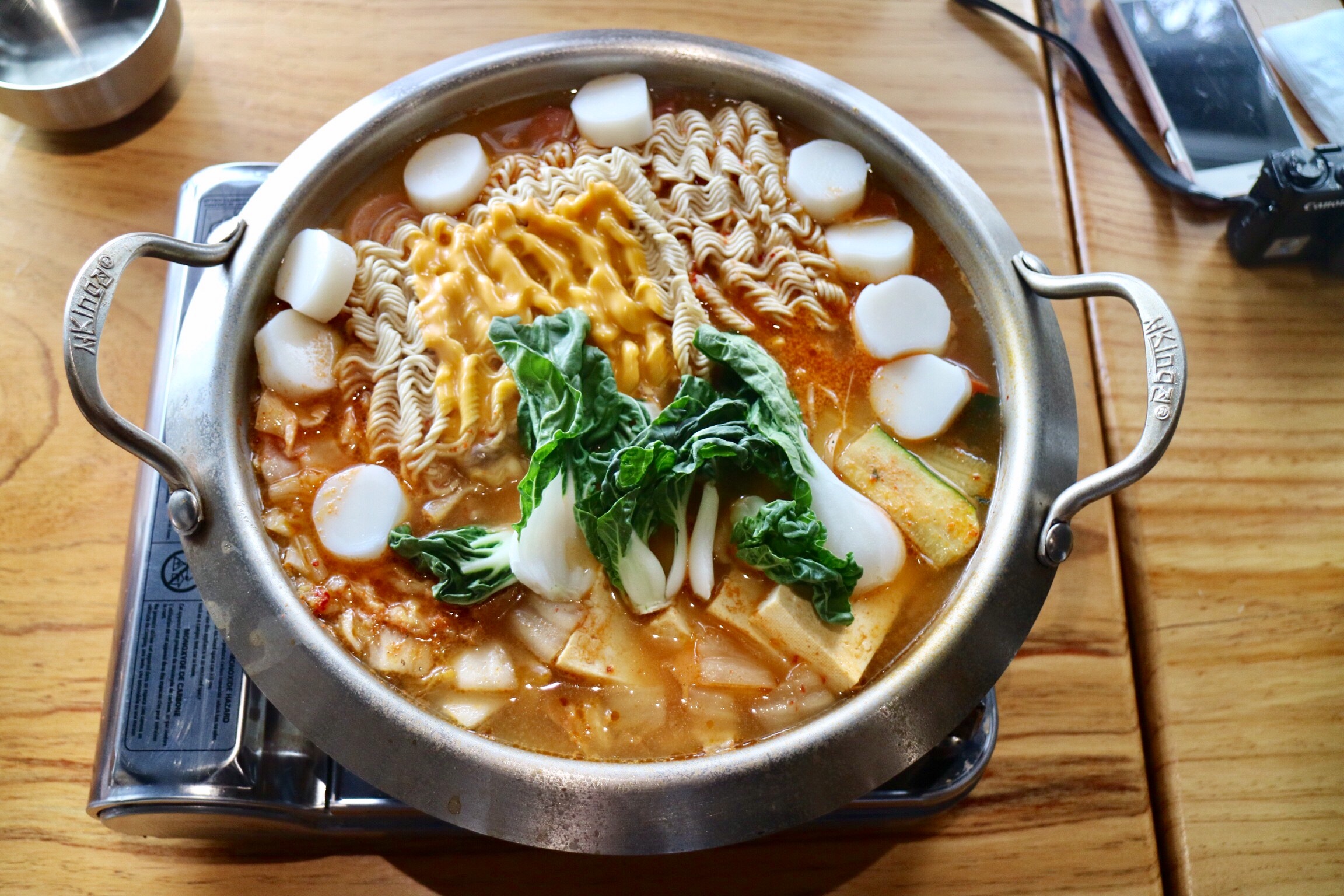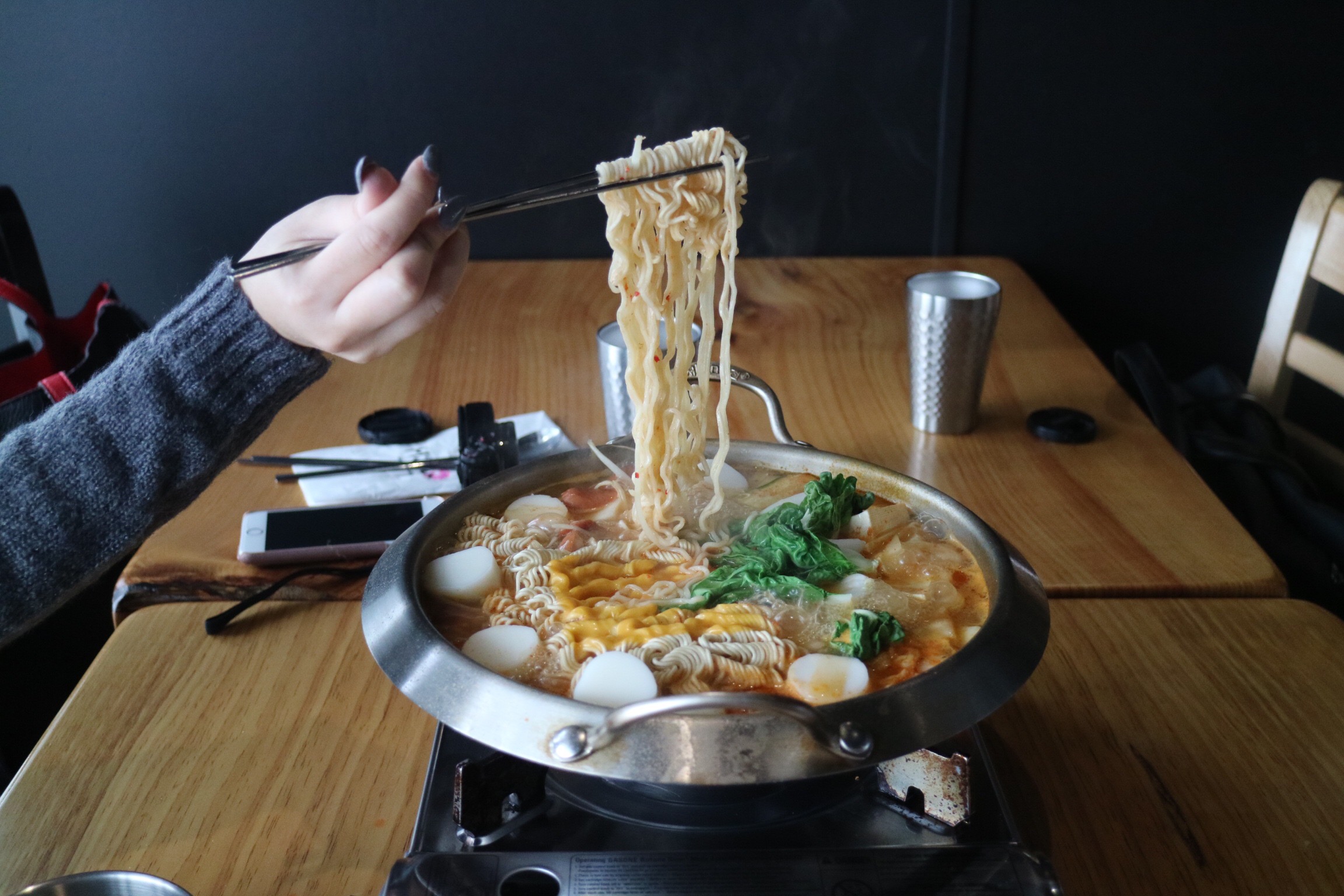 For dessert, we picked the 4 Coloured Rice Cakes ($13) as we thought it would be enjoyable as an aesthetic choice. The dish turned out to be even more visually stunning than we expected.  The 4 cakes had different colours, different flavours and unique toppings, including
mugwort flavoured, a green one with grassy and earthy essence topped with red bean paste,
sweet potato flavoured, a purple one drizzled with chocolate and topped with almonds,
plain, a white one topped with fresh strawberries, and
sweet pumpkin flavoured, a yellow one topped with black berries.
The whole presentation was quite ceremonial, making us feel very special.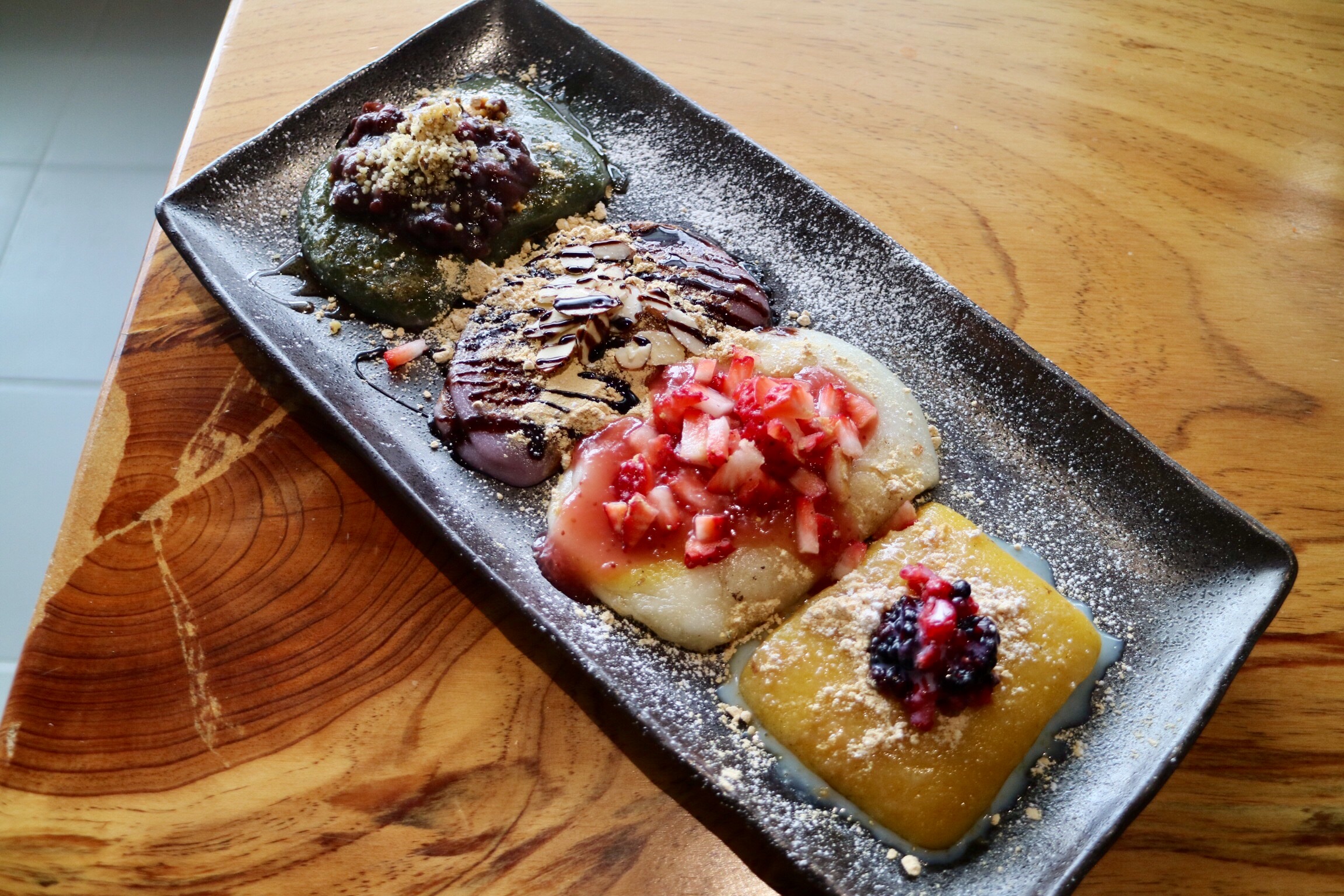 The portion of the dishes here was quite big, so we ended up having a lot of leftovers between 2 of us.  I am quite happy about the dishes we tried as they gave such unique experiences. The Budae Hot Pot (or Army Stew) was a great dish to share among a group of friends, and the Coloured Rice Cakes was beautiful to look at. I definitely want to come back here to check out their other unique dishes.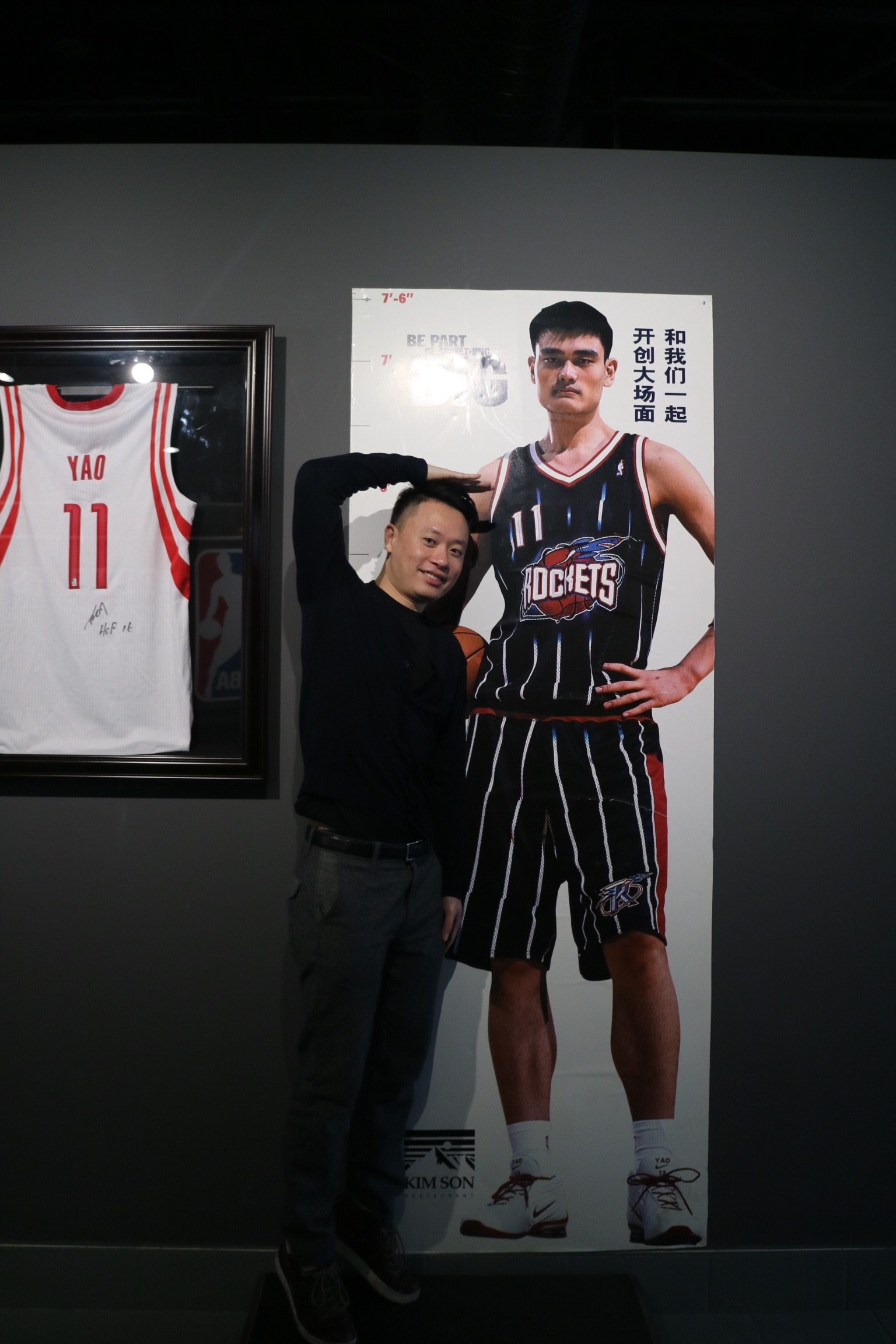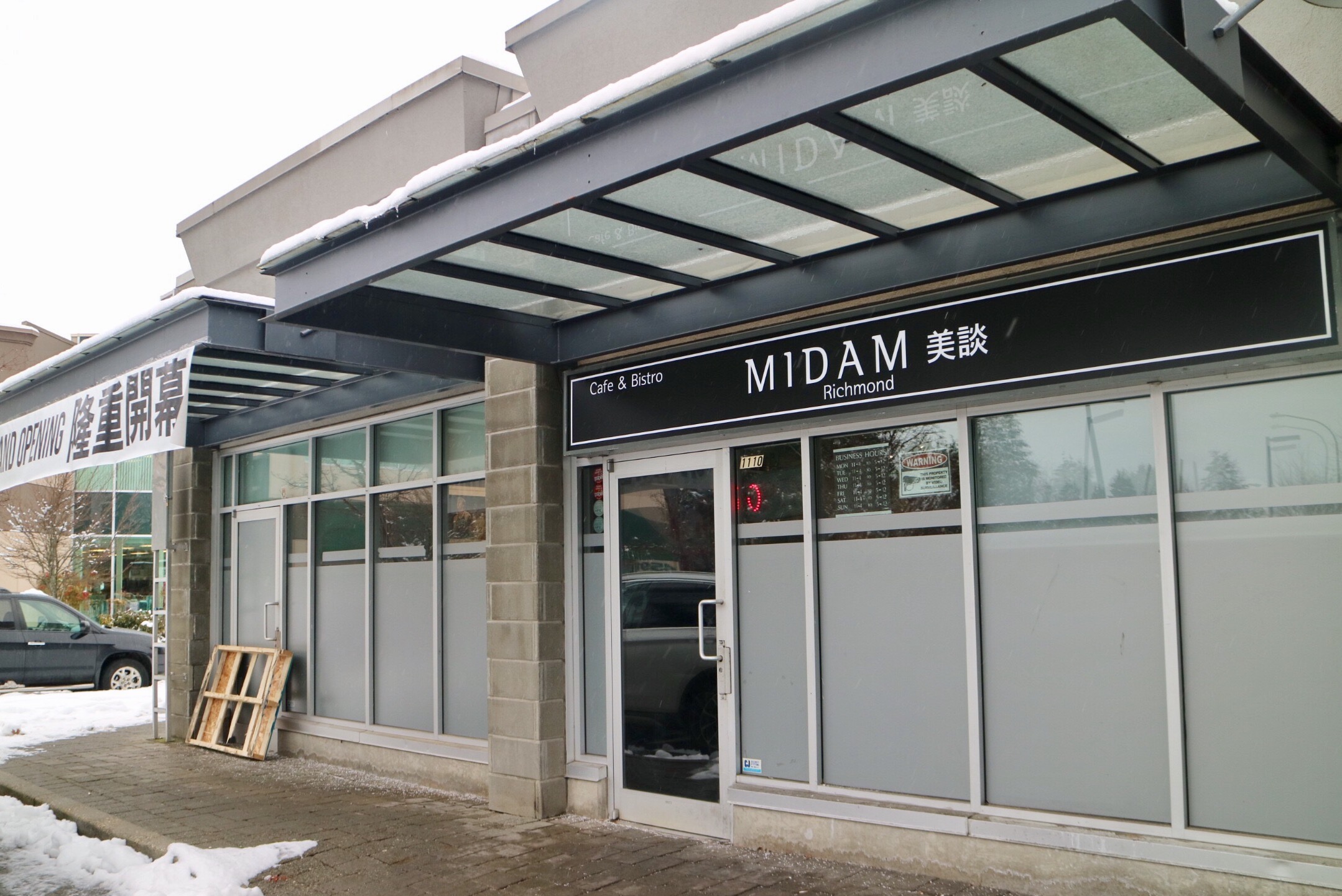 Website:
https://www.facebook.com/midamrichmond/
More reviews:
Location: