Chef-own Alex Jin opened his test kitchen,  Kitchen by Yugo, quietly in the West End last September. But a few lucky ones, including my buddies, Eating with Kirby and Foodology, had a taste of Alex's take on French-Japanese fusion cooking, a seemingly tough task to harmonize the West and the East. And they loved it.  The fact is, Alex was secretly planning to open a full-fledged restaurant of his dream. He found a spot on a busy block of restaurants on Main near King Edward, and Restaurant Yugo was opened just recently right after Easter. And thanks to my new fellow foodie Rita, a friend of chef Alex, I had a chance to come down there for a lovely lunch.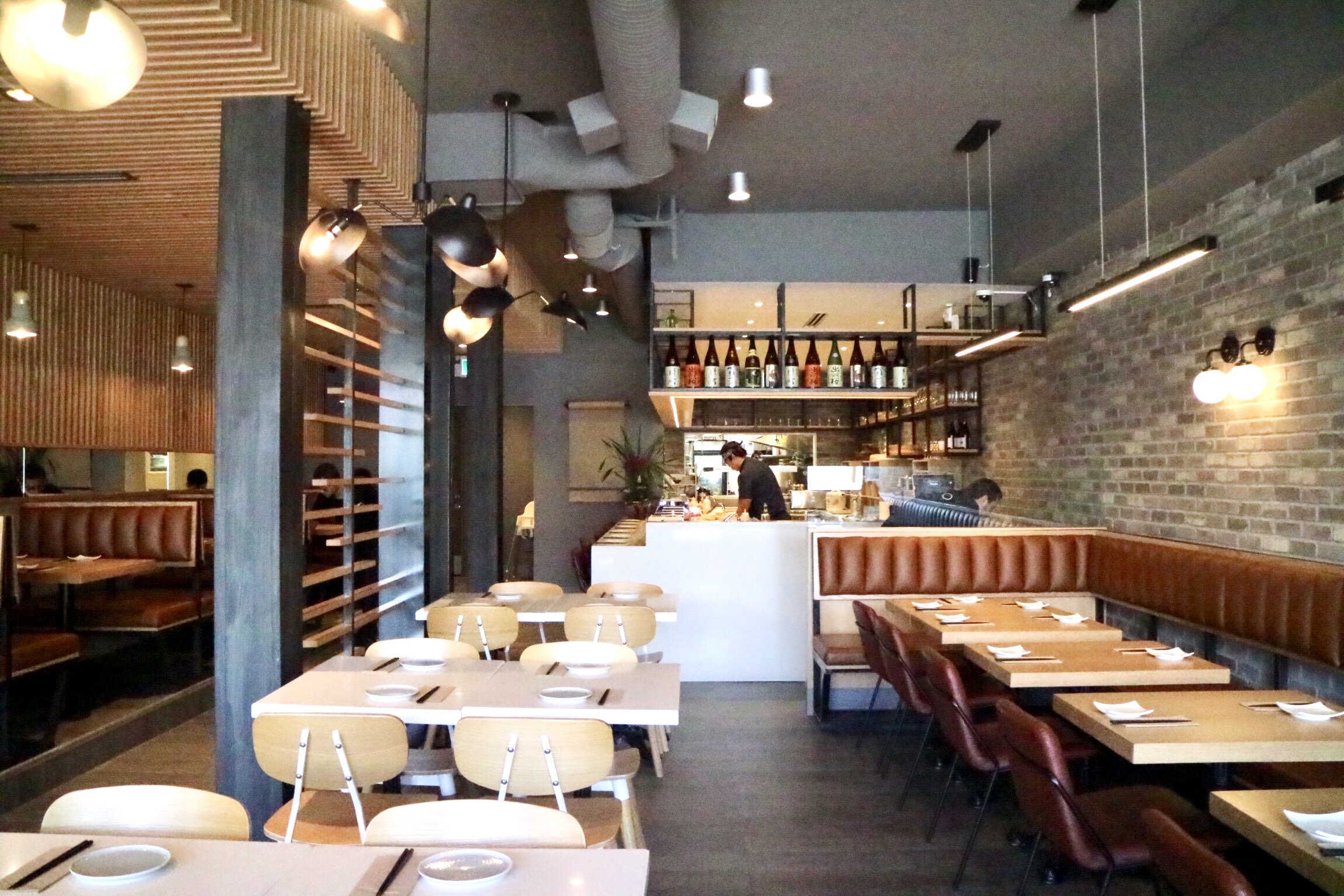 The tastefully designed dining room has a mix-of-classic-and-contemporary feel with an open sushi kitchen, probably one of the biggest raw bars I have seen in the city, featuring a hanging shelf for displaying a collection of large bottles of imported sake, something I truly miss from traveling in Japan. The wood and brick structure is the hipster touch,  with some modern semi-open layout also incorporated – a compromise between the hipster casual and fine dining, definitely feeling the Main Street vibe.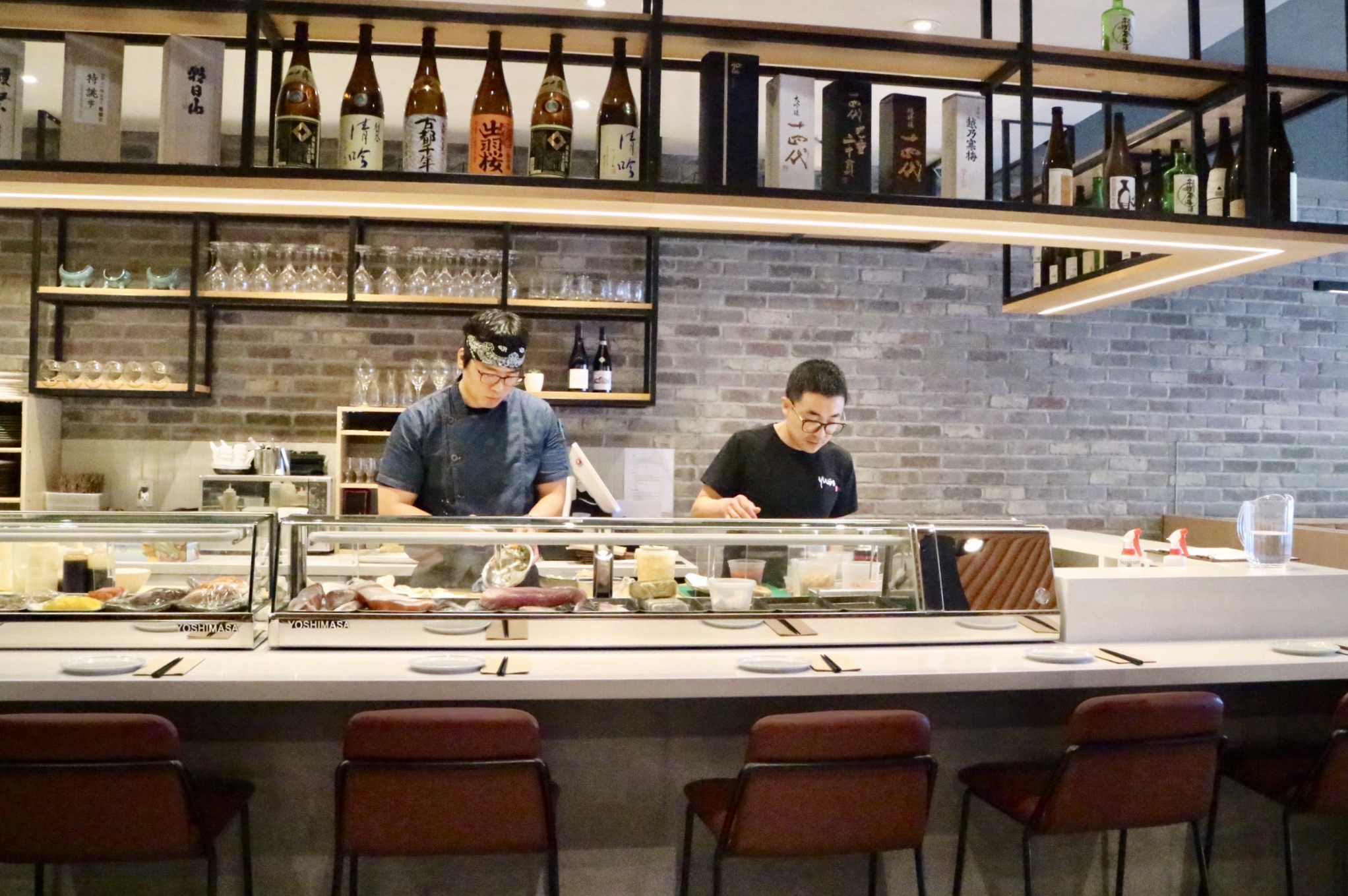 The lunch menu seems straightforward, highlighting a spectrum of staple Japanese dishes such as "Tempura Soba", "Chirashi", "Pressed Aburi & Maki", and "Nigiri & Maki", and some western or fusion sounding items like "Risotto", "Pasta", and "Carbonara Udon".
I had my eyes on the House Bento Limited ($18) which sounds like the perfect taster to sample as it features the chef's choice of 6 little dishes but eventually decided to take the Chirashi ($19) instead. The chef's take on chirashi is inspired by chirashizushi, for which the sashimi-grade fish and seafood are finely diced instead of served in whole pieces. The ingredients were incredibly fresh and the arrangement was thoughtful, making sure that fish, tamago (egg), and edamame are all included in every single bite. But each bite could be slightly different with a treasure like green onion, nori, chili threads or pickled shiitake.  The white soy sauce on the side gave an umami kick and a bit of acidity when added.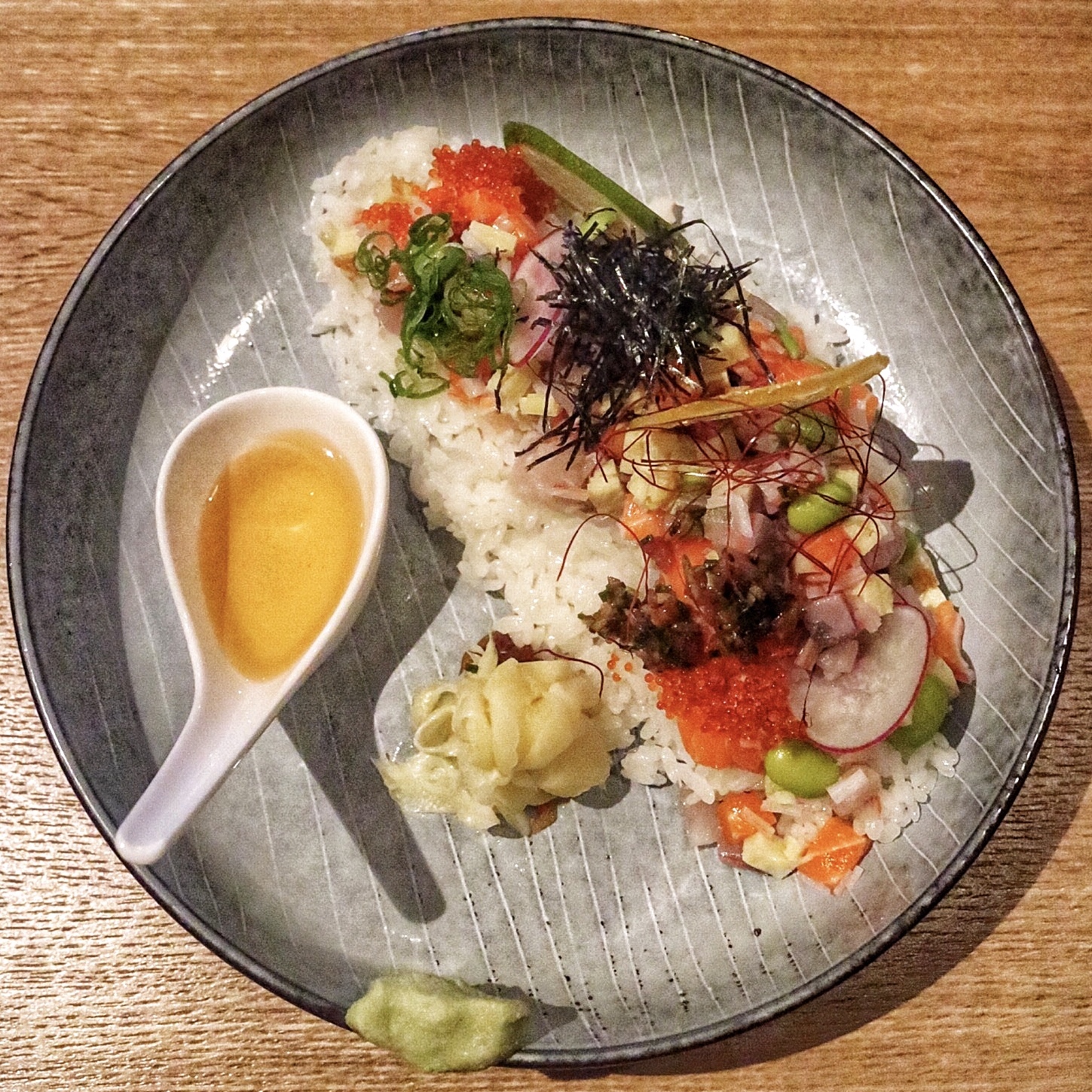 The next couple dishes continue to feature mostly Japanese and Asian influences on the menu, including the Aburi Oshi Sushi with King Salmon ($16), and the Bibimbap ($15). The braised pork buy cheap tramadol belly was super tender in the Bibimbap, and satisfyingly delicious along with the mustard caviar. Bok choy was charred for the smoky flavour.  Large chunks of kimchi and lotus root tempura, as well as a soft-boiled egg, could be also found in the sizzling hot stone bowl. At this point, we haven't seen a lot of French influence yet, but the chef's attention to details was impressive.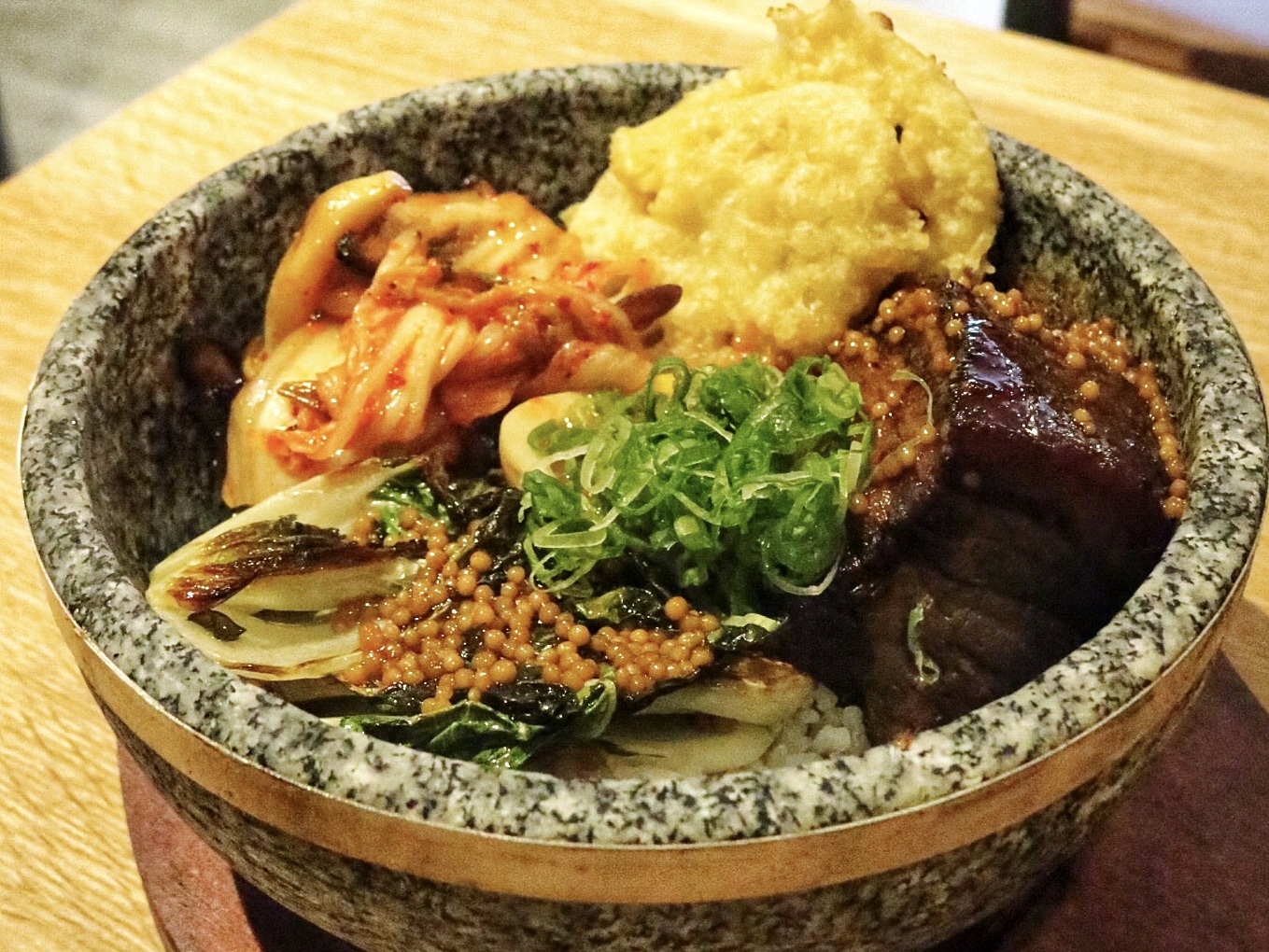 The chef's special dish of the week hit the home run. As the server humbly called it the Daikon Salad Roll  ($13), the chef chuckled and told us he didn't really have a name for it yet.  I think I would like to name it "The Essence of Daikon, Hamachi, and Beet", as these 3 ingredients were front and center.  The richness of hamachi, the highly sought-after fish for its fattiness, received a refreshing contrast from a thin crunch sheet of daikon, with also small leafy greens and avocado in the roll. The French technique kicked in with a beautiful beet puree – a smart balance to all the fresh ingredients on the plate.  Even the garnishing cilantro oil and pink peppercorns adding zesty touches to the dish. A damn fine fusion dish!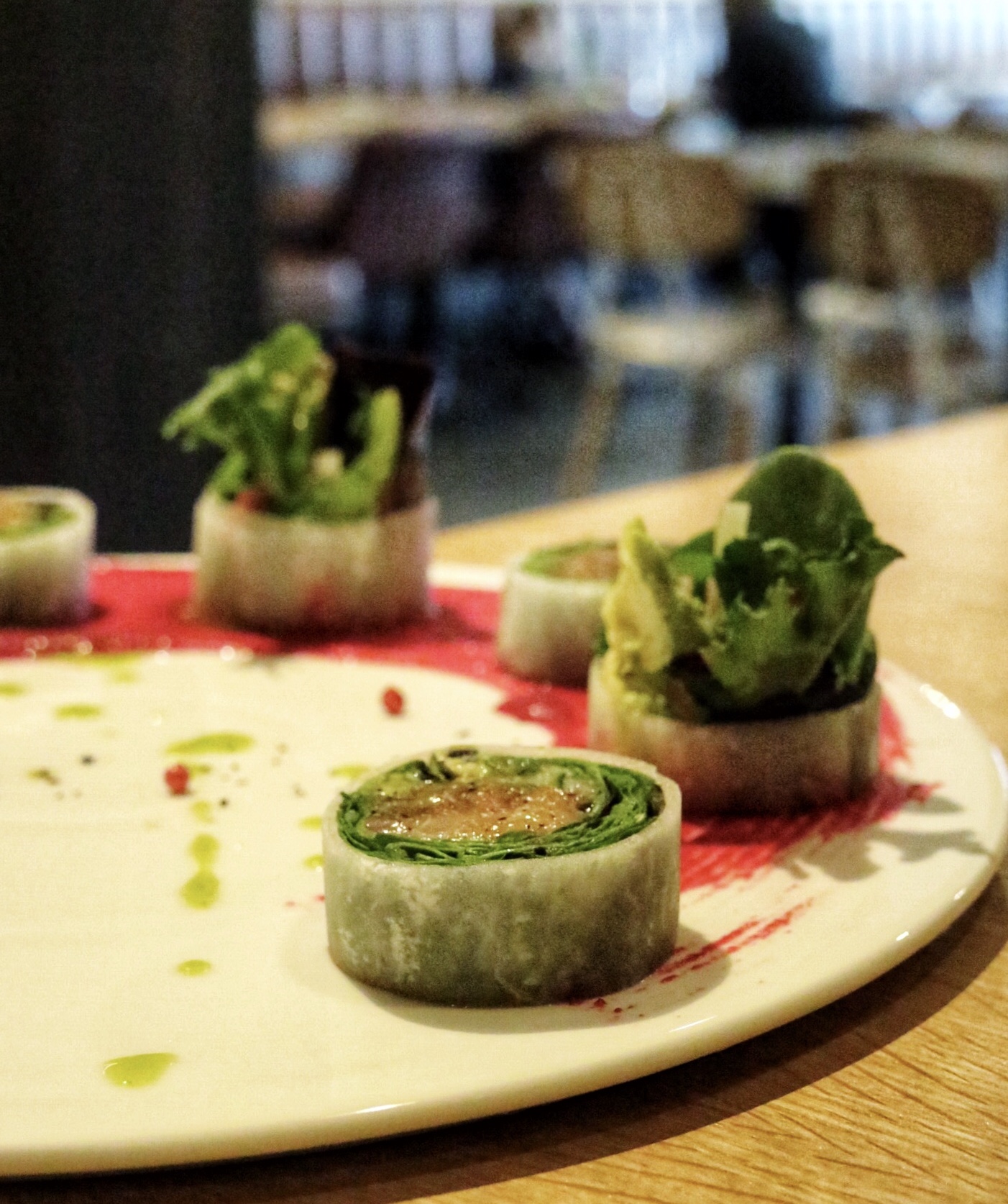 Now I'm hooked and determined to come back here to try the dinner dishes. Just look at the names.  "Spicy Fish Tartar" with crispy cheese sushi rice cake? "Ika Karaage" with truffle mayo? "Confit Beef Tongue"? "Risotto" with Hokkaido scallops, black truffle, and Ikura honey ricotta?  I'm incredibly intrigued.
Chef Alex is passionate about working with quality ingredients. It's no surprise that much of the fish, vegetables, rice, and sake options are imported directly from Japan.  But he keeps the menu seasonal as he largely incorporates local ingredients into his creations as well. And that's the trend we love to see, combining global flavours and local ingredients together, and bringing people together. I was fortunate to experience the trend at great Michelin eateries in San Francisco, such as Al's Place, State Bird Provisions, and the great Saison,   I'm glad to see chef Alex and Restaurant Yugo are right on that path.
$$ – $$$
[wp-review id="14135″]
Restaurant Yugo
4265 Main St, Vancouver, BC V5V 3R1
(604) 620-7878 or restaurantyugo.com