As many of you have known that I have started Vancouver Gourmet Club (@vangourmetclub) and get to present some of the best restaurants in the city. Restaurant Yugo in Reily Park is one of our new discoveries. Chef Alex, with a resume working overseas and Montreal,  is passionate about utilizing his French and Japanese cooking technique in his dishes and working with quality ingredients, both local and imported. After a taste of his food during lunch hours, I decided to take my mom there for dinner for her birthday.
With Restaurant Yugo's exclusive offer, Vancouver Gourmet Club (VGC) members get to enjoy 20% off on Tuesdays and Wednesdays.
I had to start with a glass of their premium Junmai sake as their have an extensive list of imported sake fro Japan. I truly wish imported sake were more available here in Canada and cheaper! It's something I miss a lot from travelling in Japan.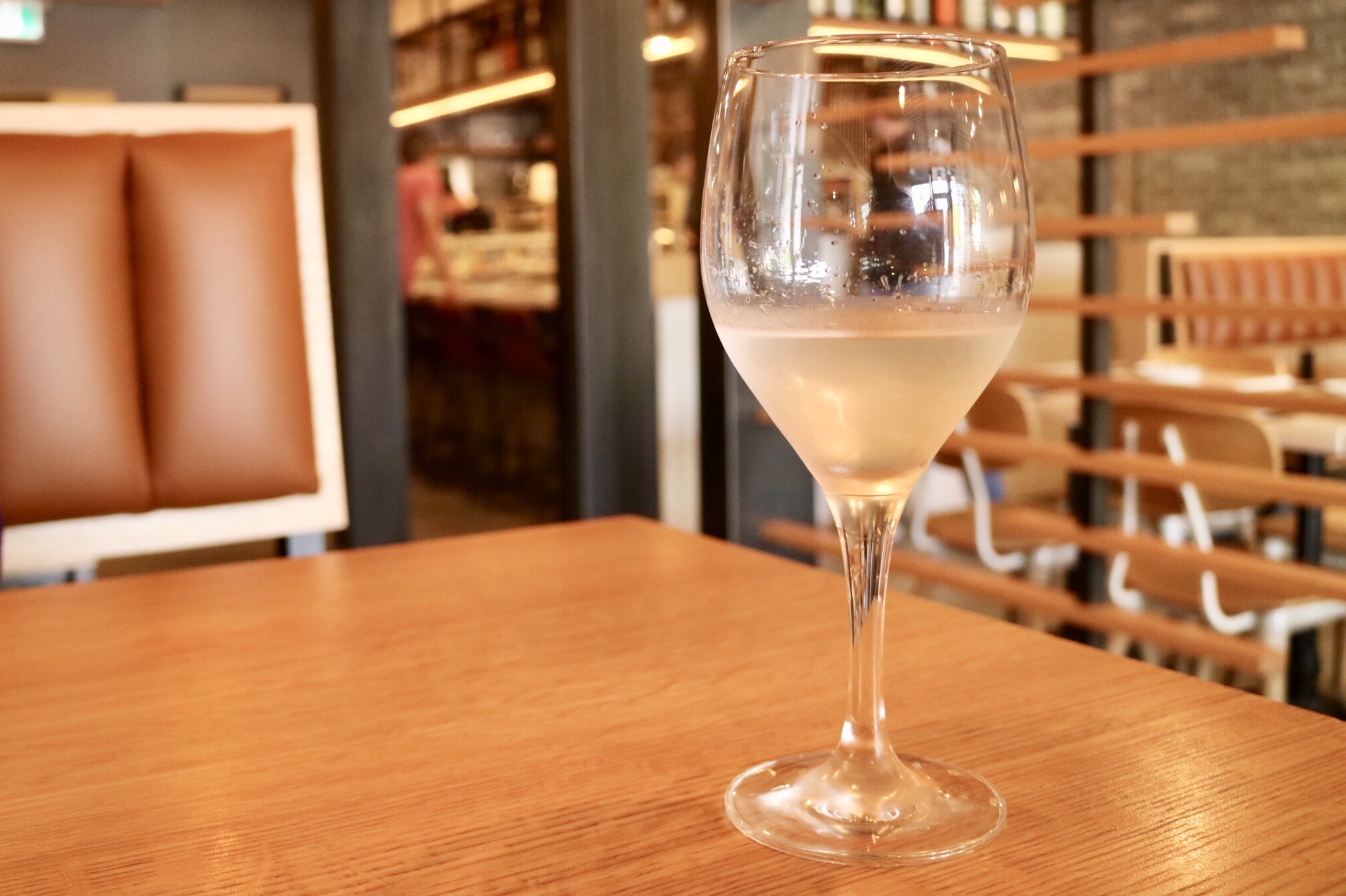 We went straight to the best of their fresh choices and ordered the Premium Sashimi ($35), featuring 5 kinds of their daily deluxe fish paired with 5 of their house-made sauces. Besides Hamachi, King Salmon and Giant Scallop, we had a taste of a couple of imports from New Zealand: Trevally and Red Snapper.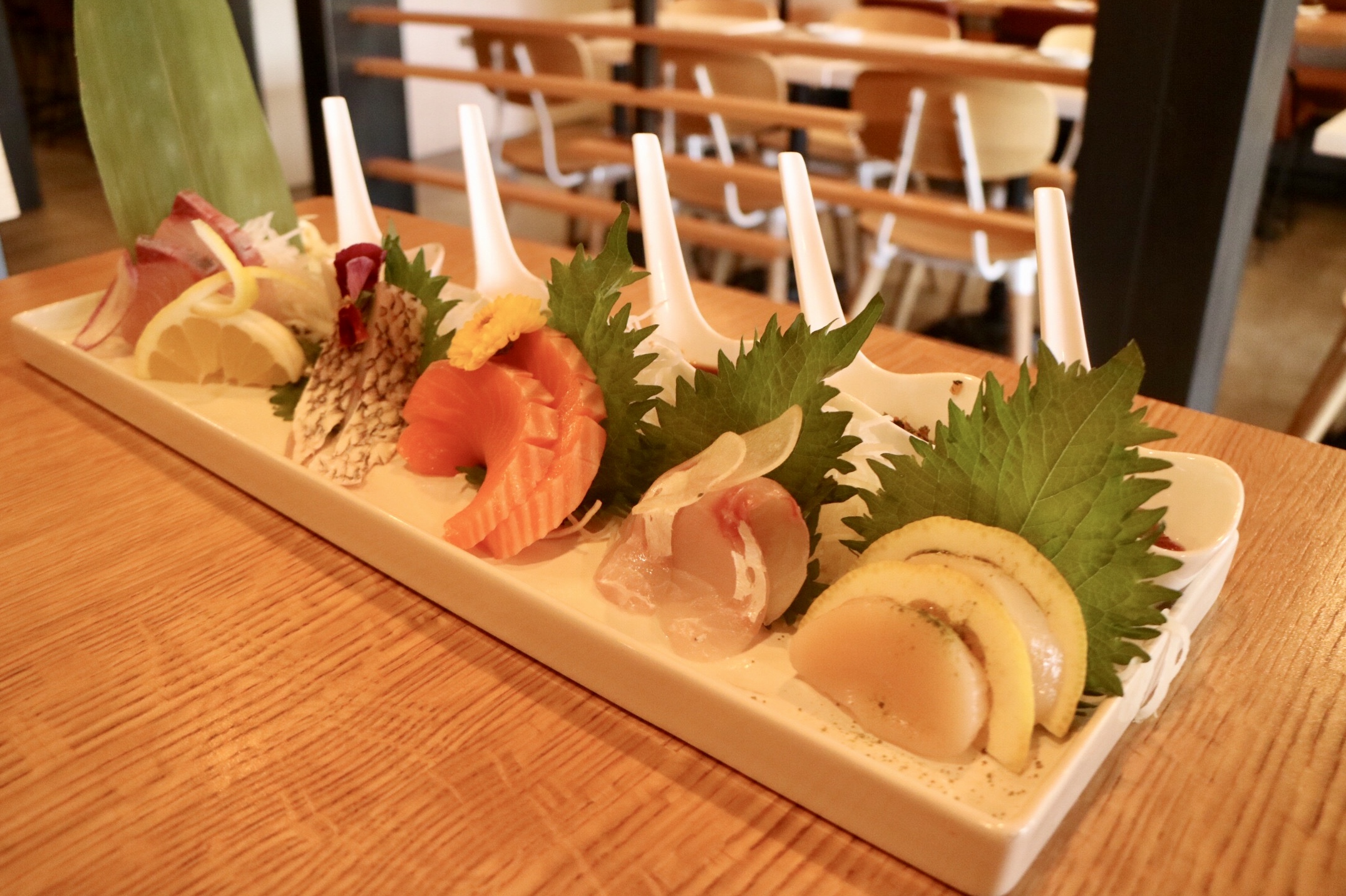 It was our very first time trying fresh sashimi from New Zealand. I found the Trevally delicate and subtly sweet, definitely my favourite among the bunch.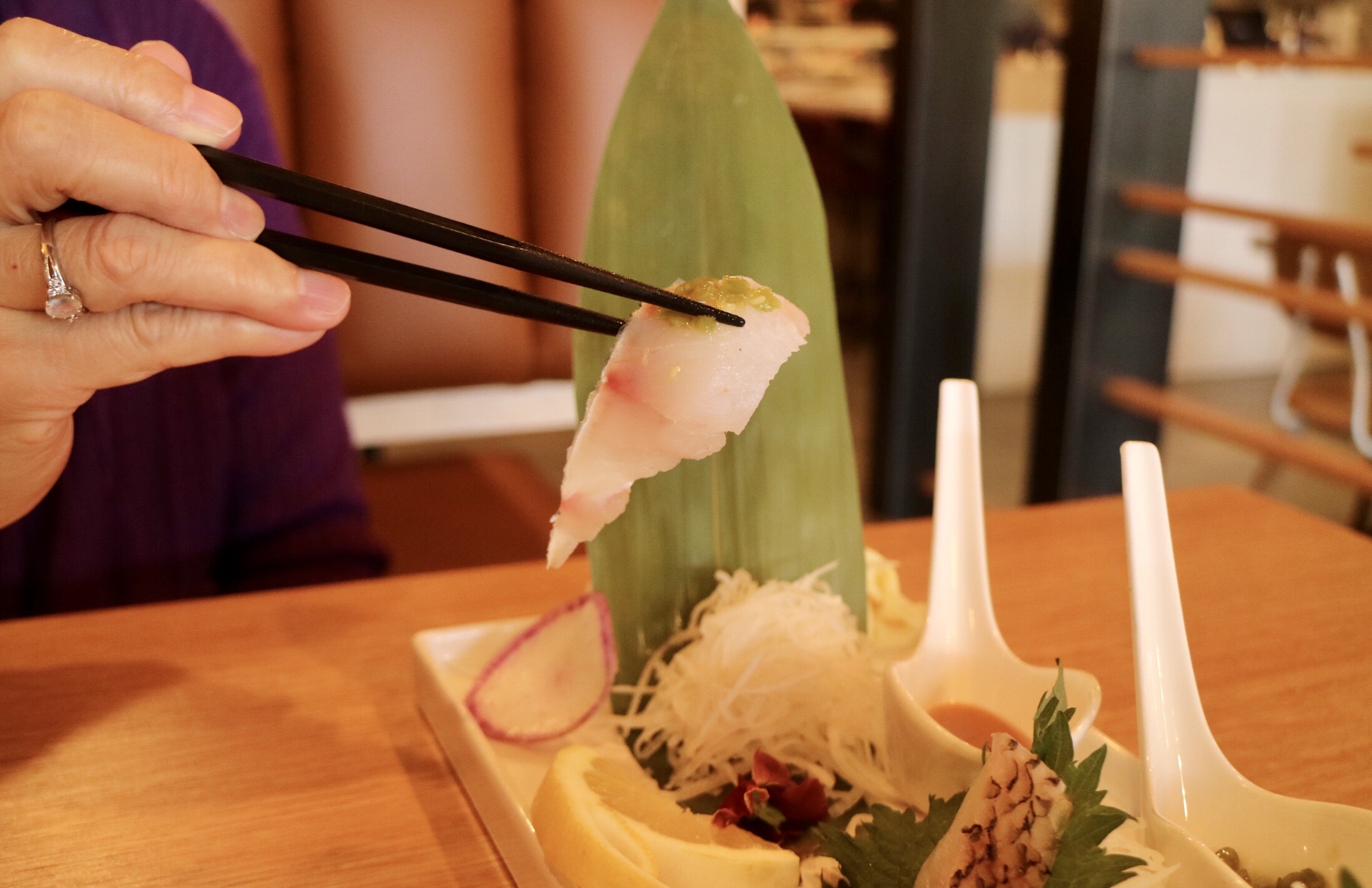 We tried 2 of the most popular dishes and both were excellent. The Scallop Risotto ($23)was cooked to a perfect texture and topped with many tasty bits: ikura, scallops, black truffle, bonito flakes, shiitake, finished with creme fresh to bine everything together. But the dish could use a pinch of black pepper or something to give it a little kick to make it more vibrant.  The Yugo Roll ($14) got bold flavours from the tasty combination of aburi beef tataki and garlic chips, complemented by kimchi mayo and caramelized onion.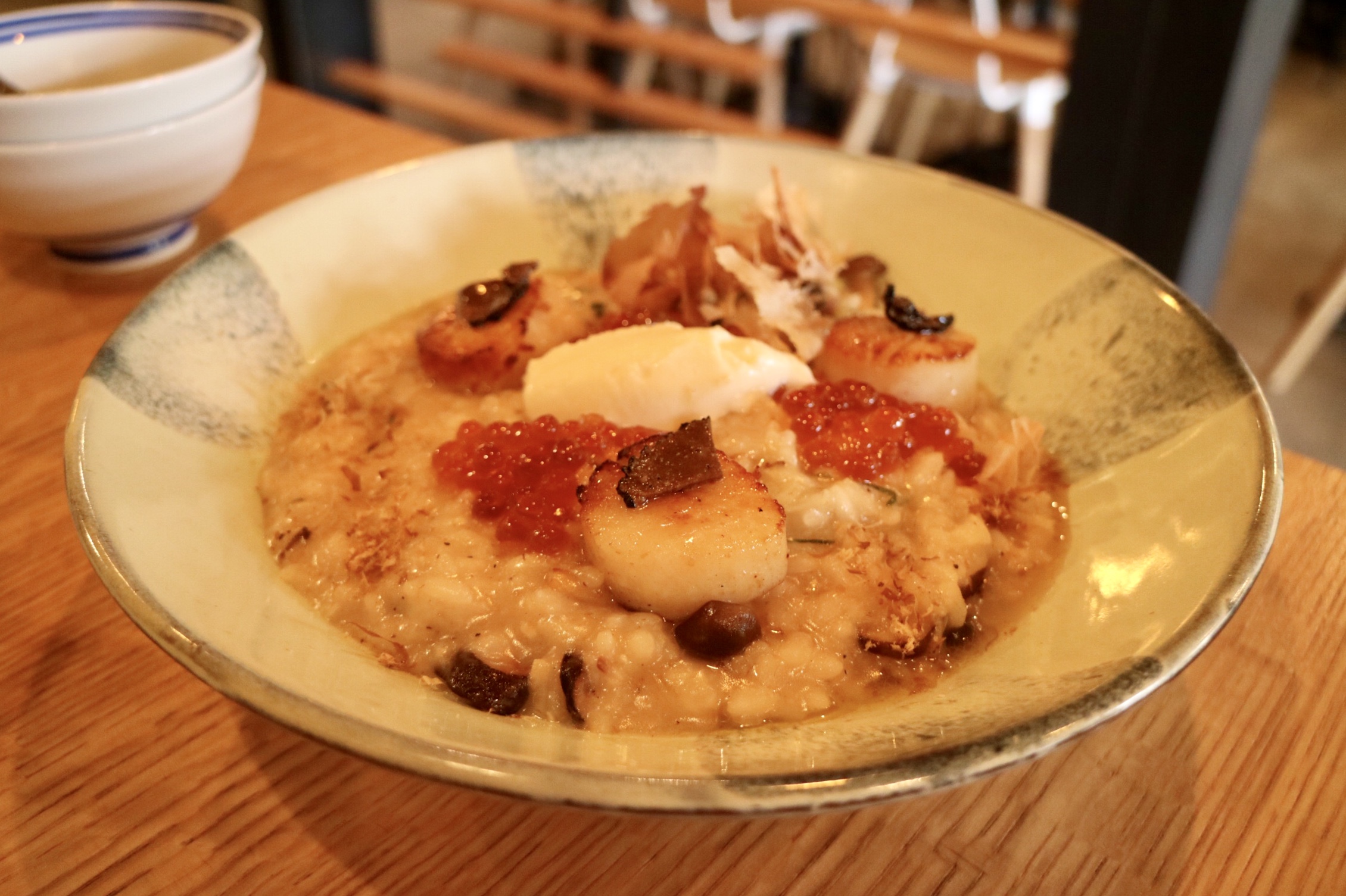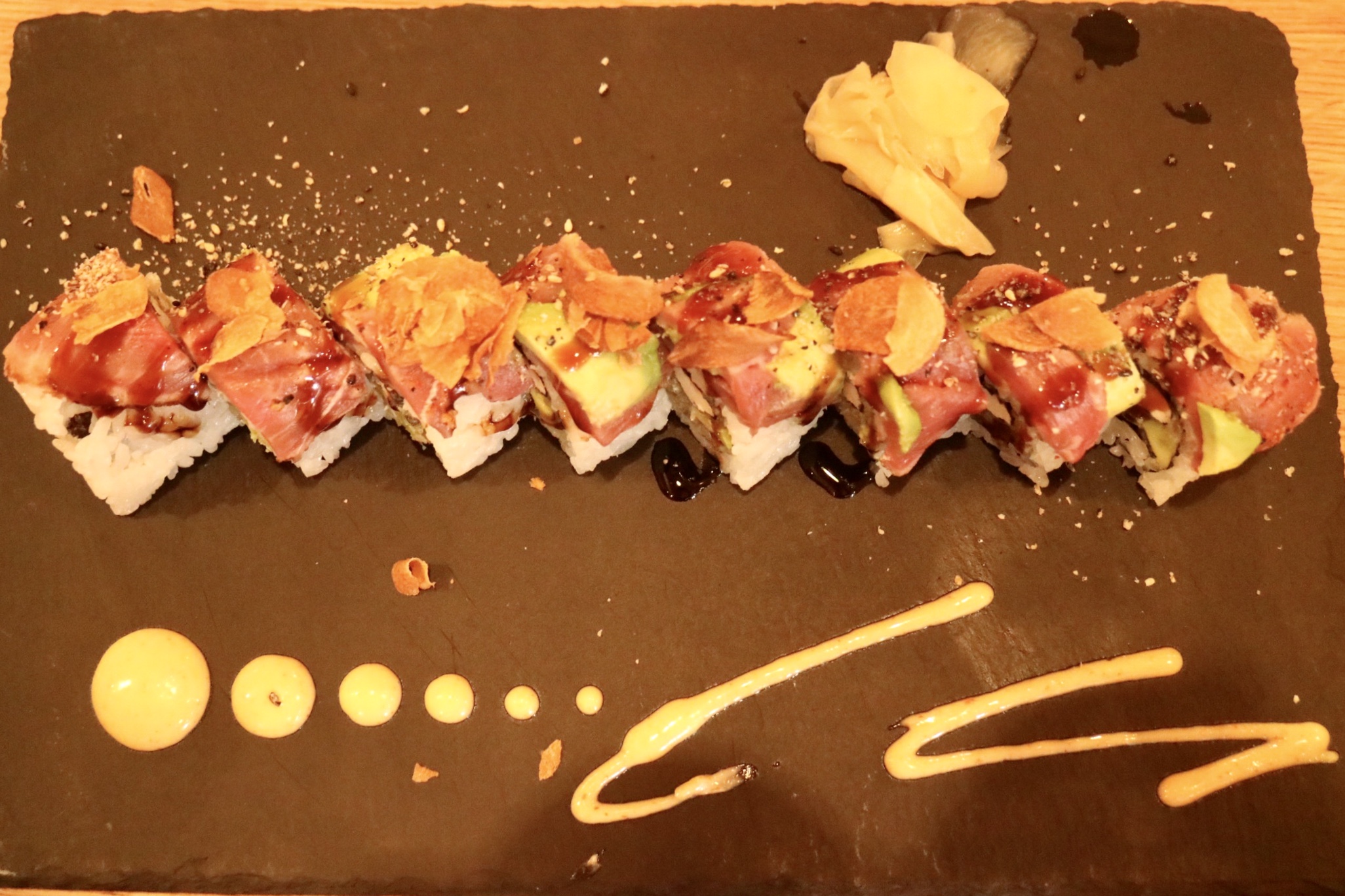 The dinner lived up to my expectations. I was impressed with the fresh sashimi imported from New Zealand. Their popular dishes such as Yugo Roll and Scallop Risotto did not disappoint either, both great dishes to showcase the chef's well-thought creativity to combine French and Japanee cooking technique.  And with the 20% off VGC discount, it was a heck of a deal!
For more information about VGC membership, visit Vangourmetclub.com
$$ – $$$
rating: [wp-review id="14662″]
Restaurant Yugo
4265 Main St, Vancouver, BC V5V 3R1 
(604) 620-7878 or restaurantyugo.com
60218