Check out David's vlog on Jardin de Jade here: https://youtu.be/Lek6Tc62gFY.
It felt great arriving in Hong Kong full of energy in the morning. Full credit must go to the premium economy flight on Cathay Pacific – the leg room was incredible and the rest was fantastic.  After the hour-long transit to North Point on Hong Kong Island via Airport Express and the connecting shuttle, it was still too early to check into Hotel Vic.    After the luggage was put away at the front desk, my foodie adventured was about to start! The first Michelin destination on the itinerary was Jardin de Jade 蘇浙匯 in Wanchai.
Wanchai is only 2 metro stops away from Hong Kong Central. The busy district is filled with office workers and shoppers but also known for the nostalgia of street foods and Cantonese cuisines. Jardin de Jade is located on the ground floor inside Sun Hung Kai Centre, one of the oldest premium business buildings in the area.
The first Jardin de Jade opened its doors in Shanghai in 1999. Since then the empire has expanded from Shanghai to Hong Kong, Macau, Suzhou, and Hangzhou, and is well-known for their interpretation of  "New Shanghai" cuisine. This particular location in Wanchai, Hong Kong is the Michelin restaurant of the chain and it has one star.
The main dining room looks elegant and welcoming with high ceilings, luxe furnishings, and modern light fixtures with Chinese elements. The friendly and attentive staff brings fine "Dragon Well" green tea to the table once you sit down.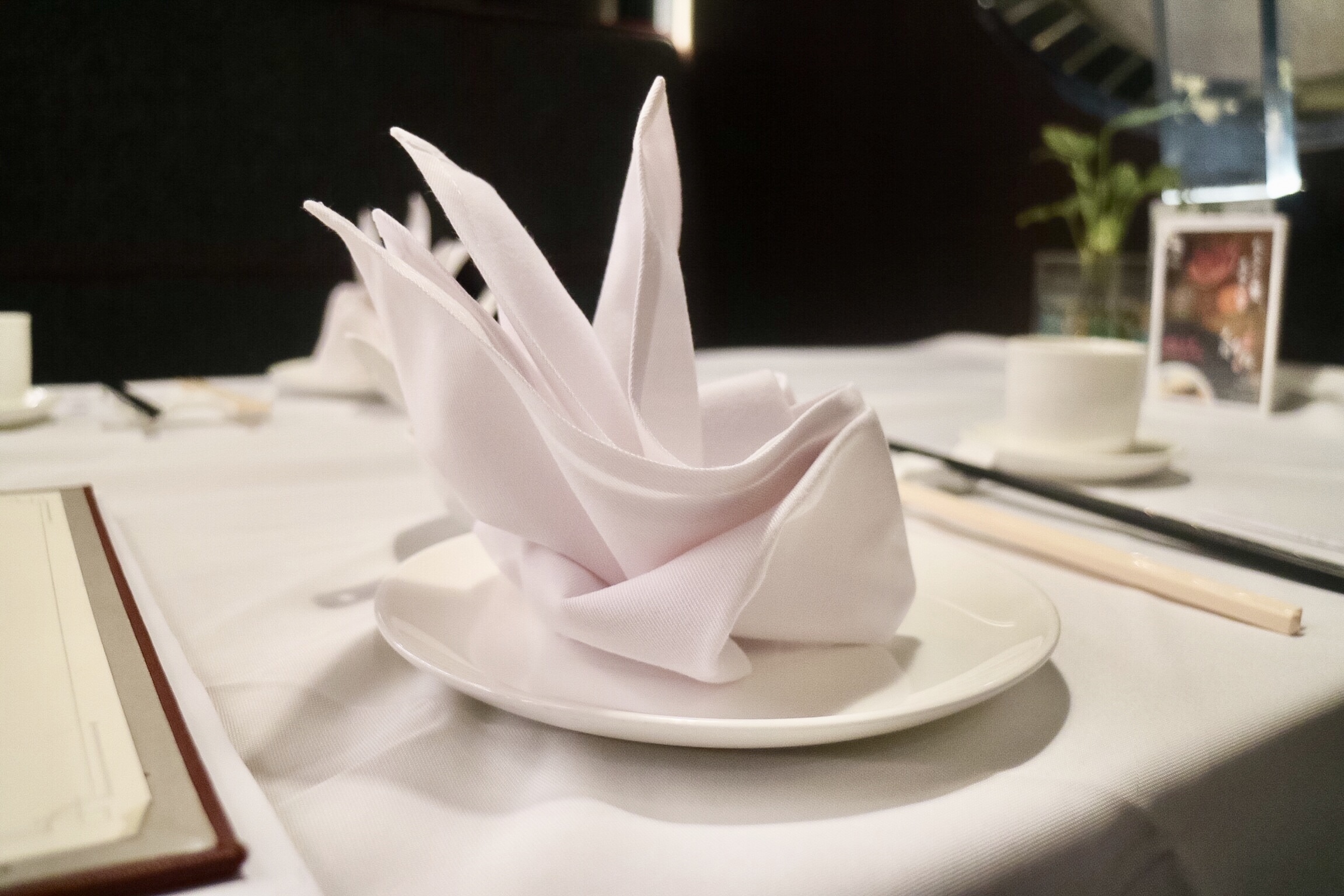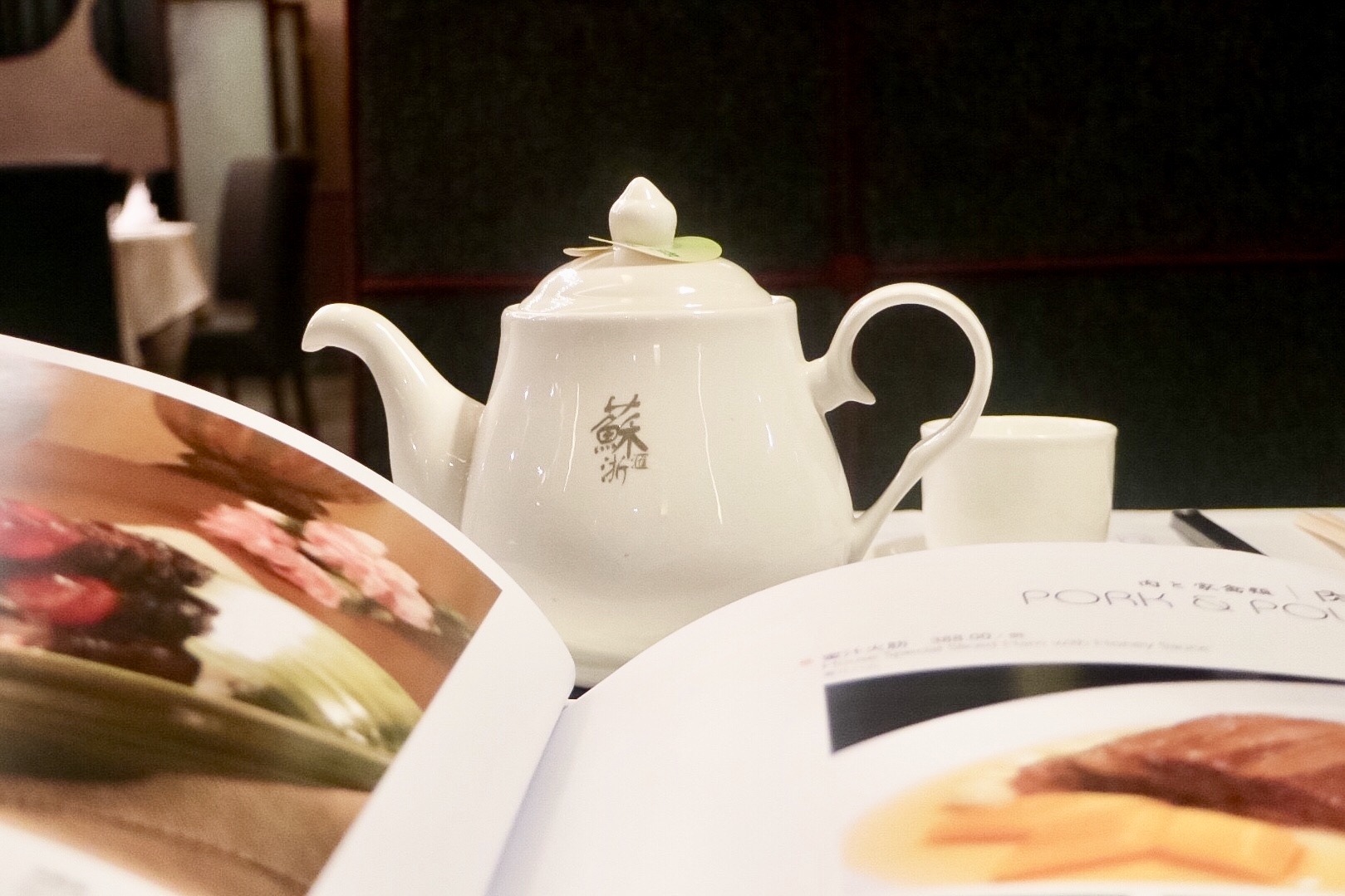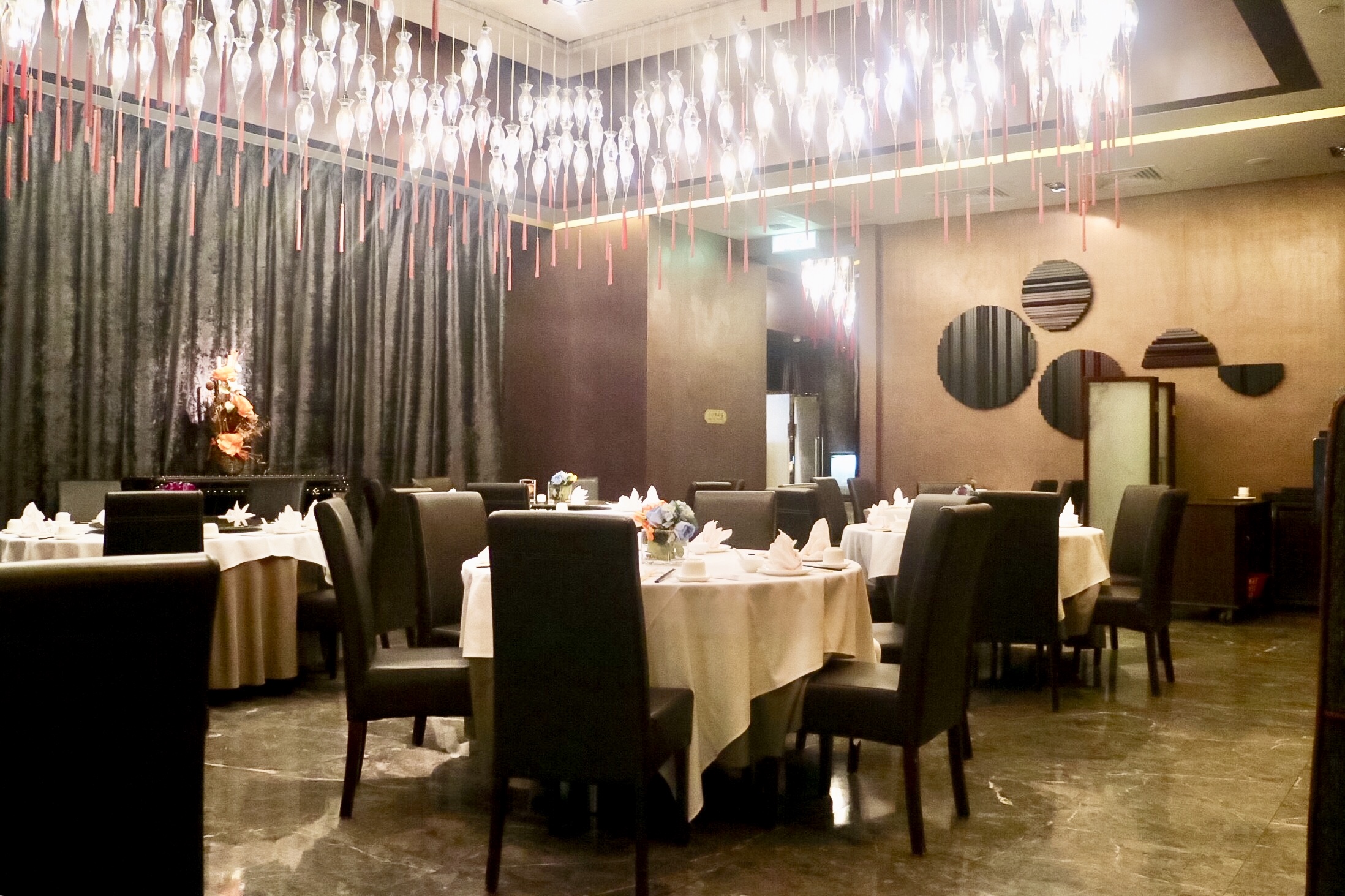 A university buddy, David – yes another David, was my lunch date.  He moved back to Hong Kong pretty much right after graduation, and a lot of catching up was expected.  As a local, he does find the lunch deals here great. The Luncheon Free Selects menu is designed for 2 or more guests, and it's only HKD$158 per person, which is $27 in Canadian dollars or $20 in U.S. Dollars.  For the pricier options, the Lunch Set for 2 is HKD$498,  when the Lunch Set for 4 is HKD$998 and the Lunch Set for 8 is HKD$2388. As for dinner,  the Michelin Guide suggests it would cost HKD$200 – $350 per person, which sounds quite reasonable for Michelin quality.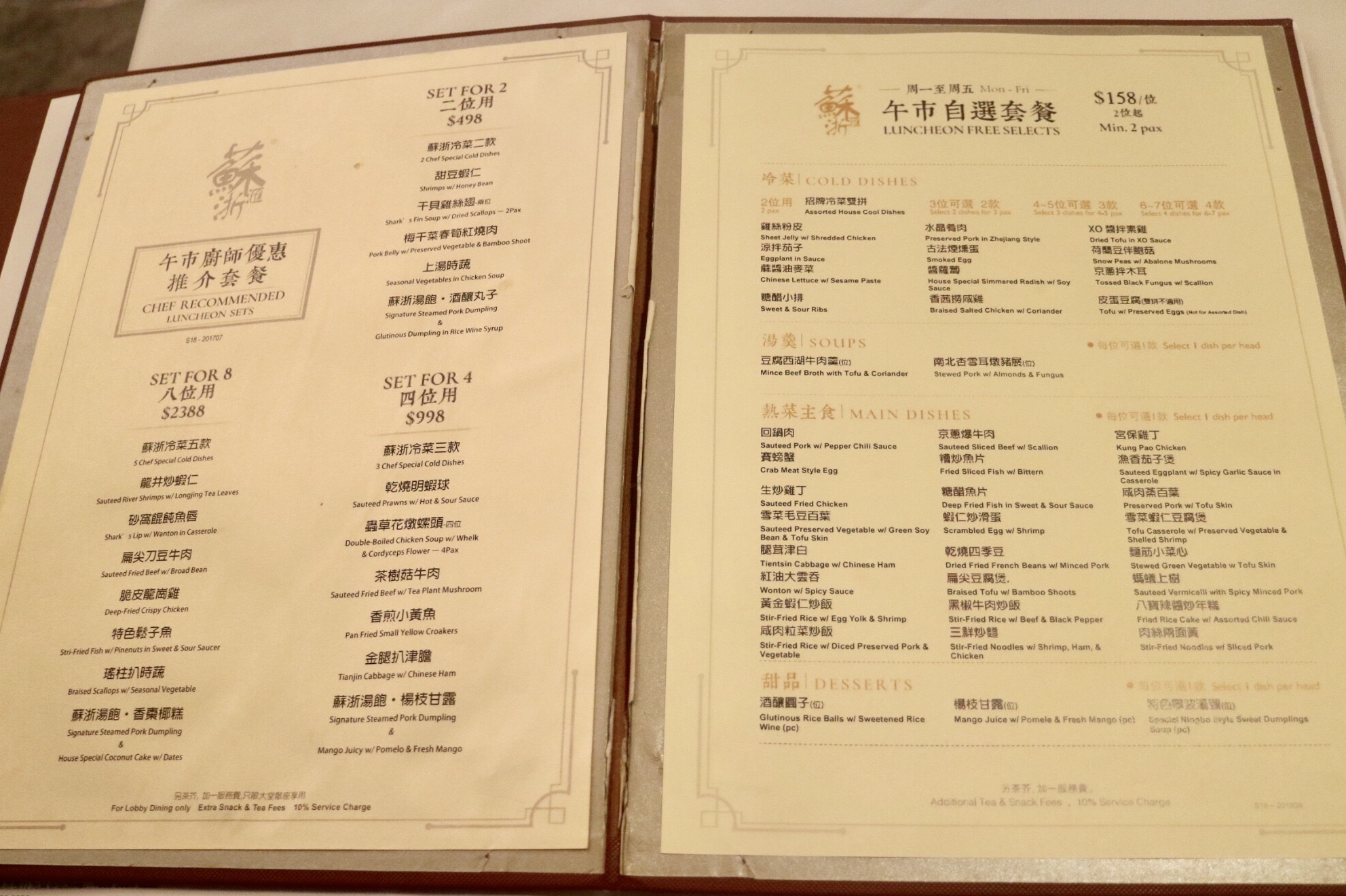 The Free Select lunch set for 2 consists of 4 courses, including a shared cold platter, a soup, main course, and dessert.
The  "Saiwoo" Minced Beef Soup with Tofu and Coriander (豆腐西湖牛肉羹) is a popular choice for soup here, smooth, luscious –  very well executed. A couple of cold dishes follow.  The Preserved Pork in Zhejiang Style(水晶肴肉) resembling head cheese but made with pork hock. If you a fan of European terrine, this is just as tasty for savoury flavour, jelly-like texture and a great source of collagen. The Smoked Egg (燻蛋)looks just like a marinated ramen egg with a soft golden jammy yolk in the middle, and the smoky flavor really comes through.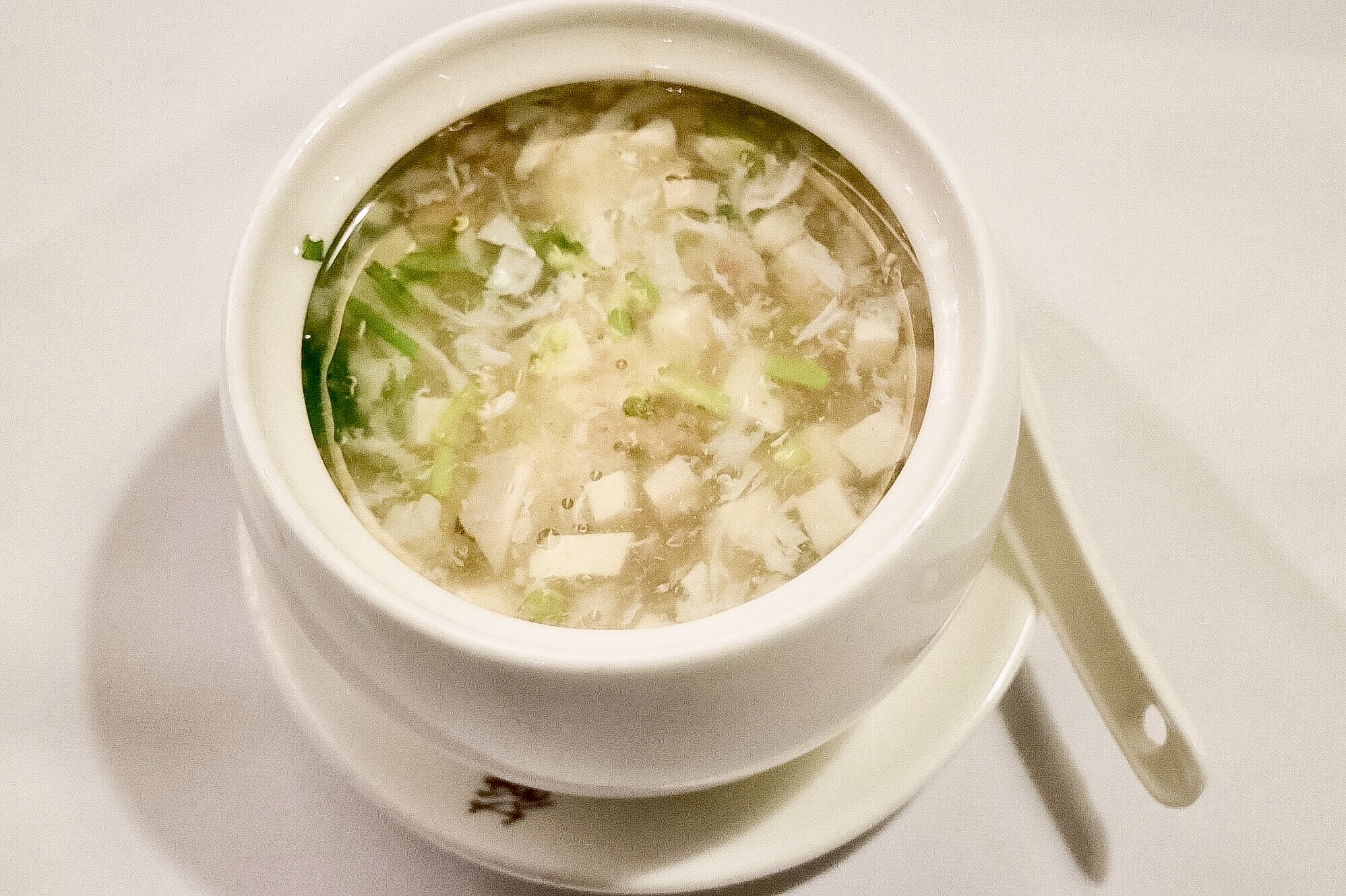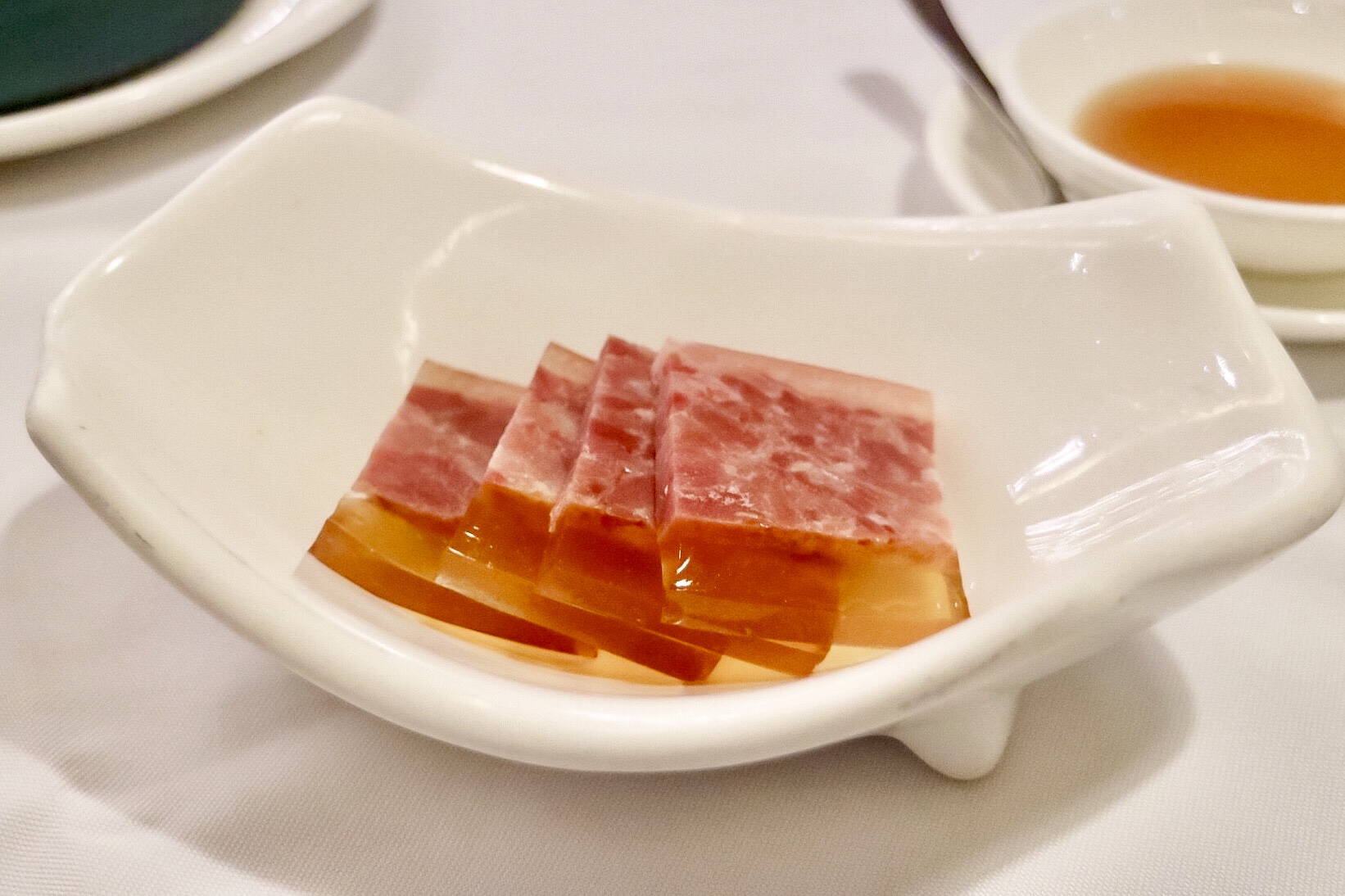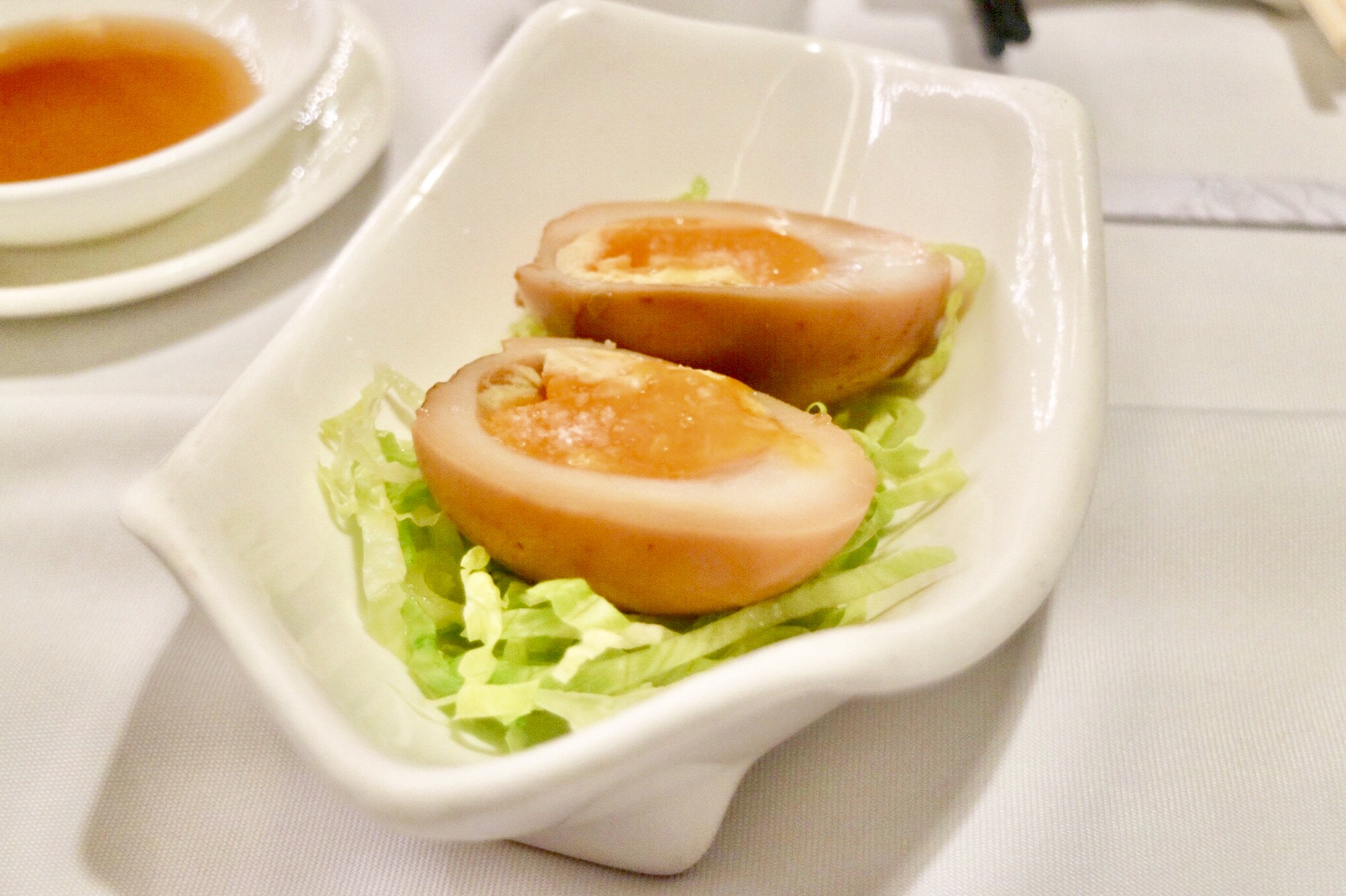 The tofu in Tofu Casserole with Preserved Vegetable & Shrimp (雪菜蝦仁豆腐煲) is just as smooth and creamy compared to the tofu and beef soup. But the flavour of the preserved vegetable really hits the spot with some tartness and bits of umami, bringing out the sweetness in fresh shrimp. The Stir-Fried Noodles with Slice Pork (肉絲雙面黃) is a popular Shanghai dish, prepared with stir-frying greens, beansprouts, and think pork slices together with a thickened sauce and have the mixture poured all over fried thing noodles. The contrast of crunchy noodles and velvety is key to the dish.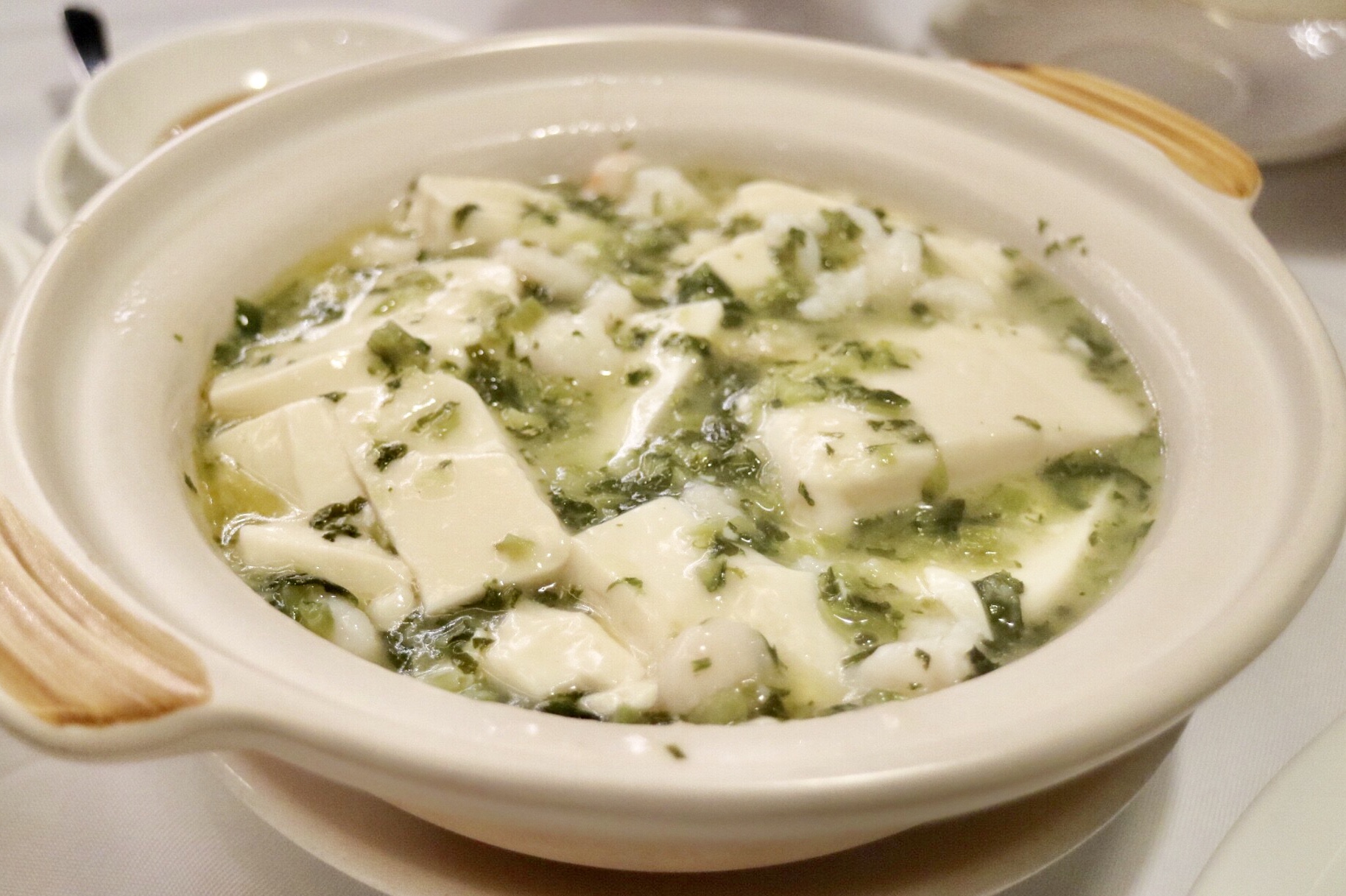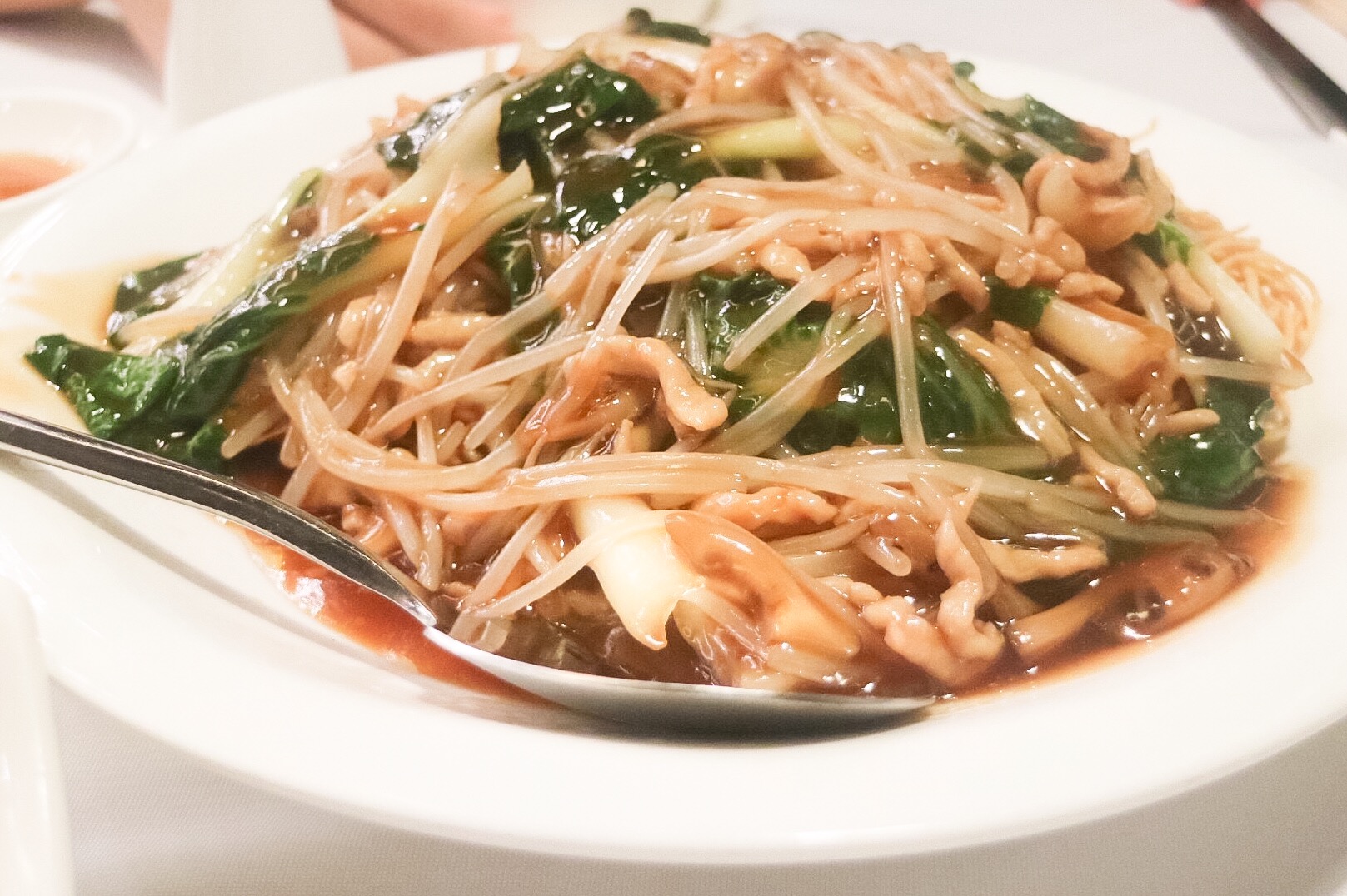 To end the meal, the dessert dishes selected were the Mango & Pomelo Sago (楊枝金露) & Glutinous Rice Balls in Sweet Rice Wine (酒釀丸子). They tasted good but they were nothing special compared the ones you could find in Vancouver or Richmond in BC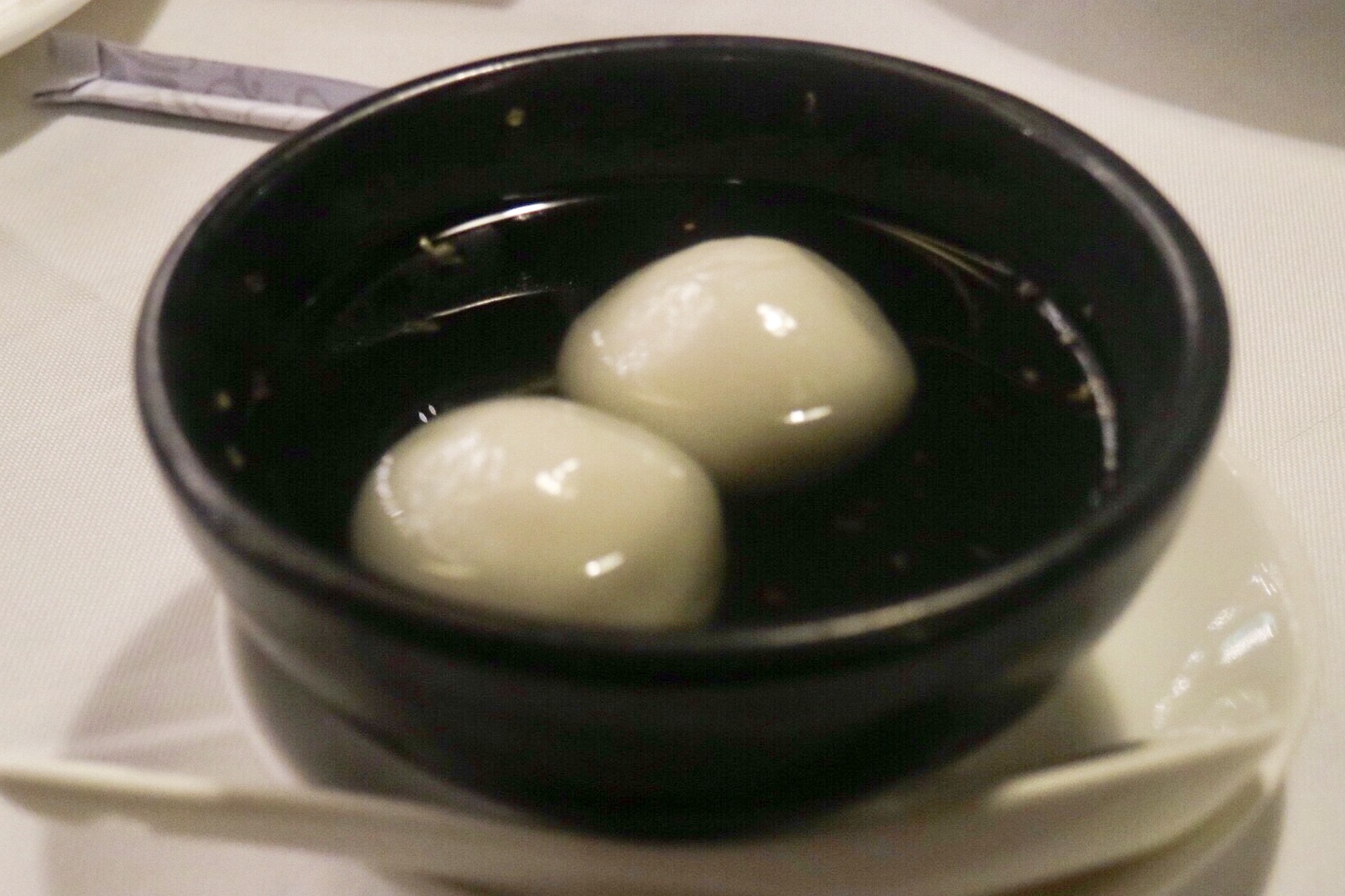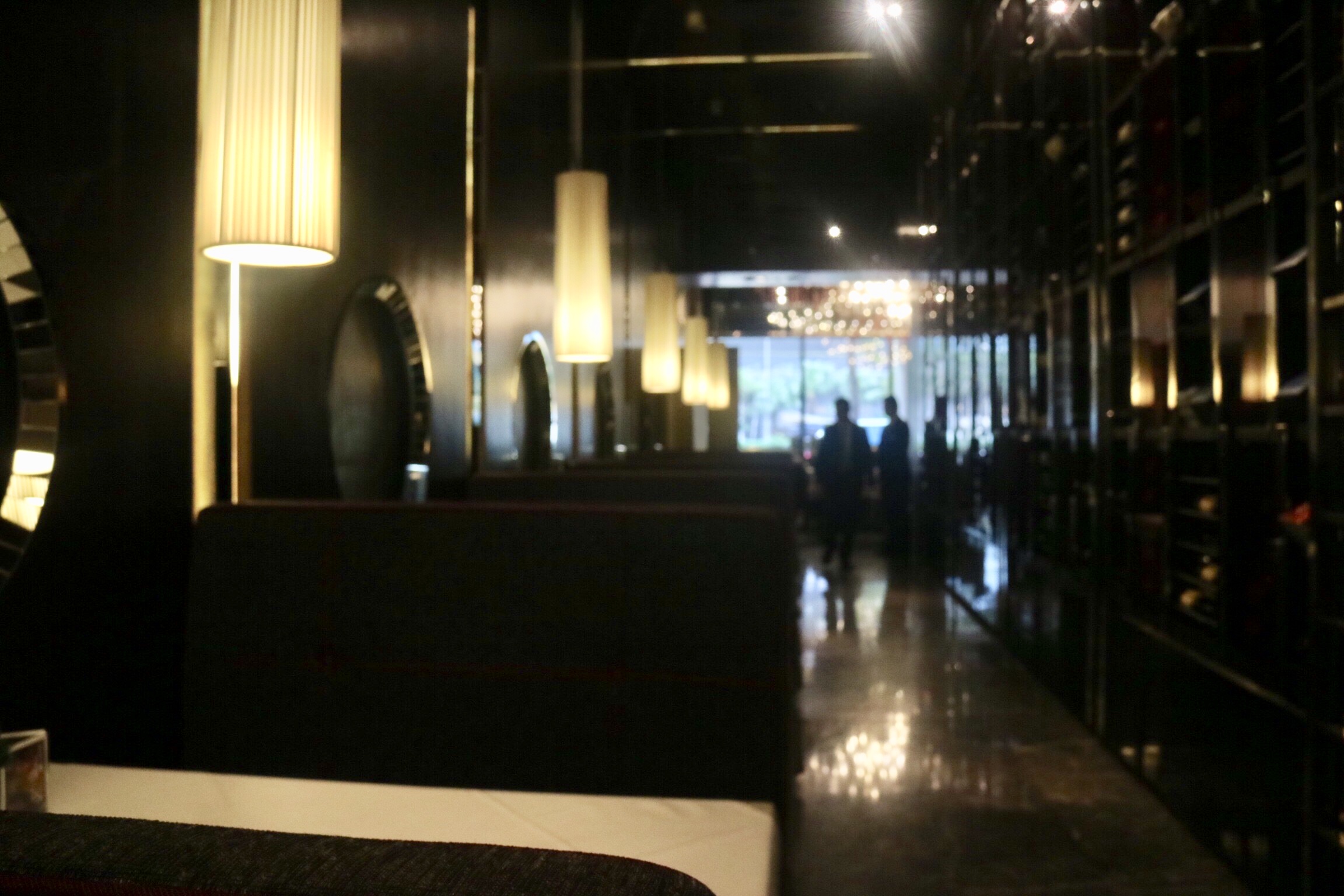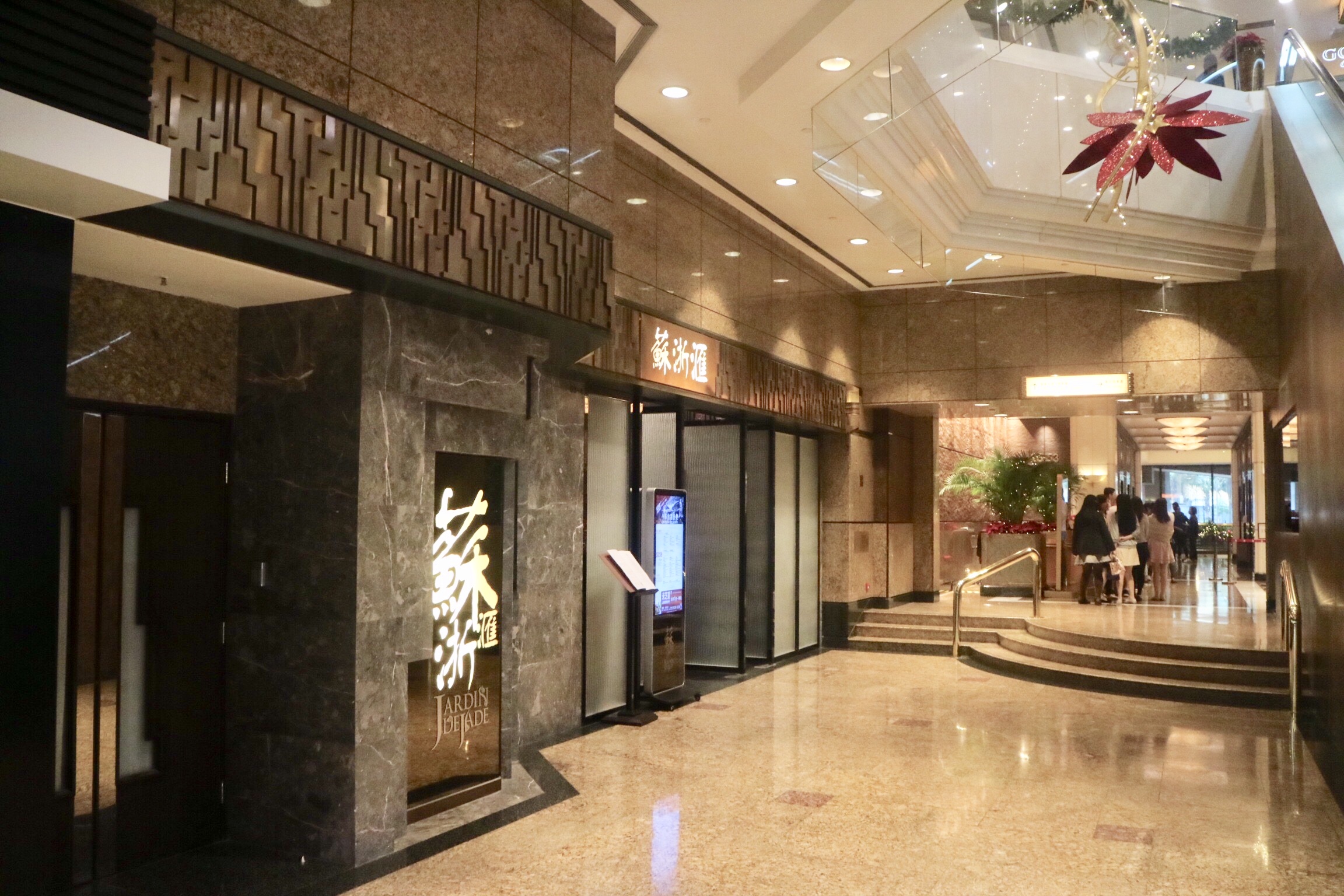 Final thoughts
It is very exciting to have discovered solid and attractive lunch specials at Jardin De Jade (Wanchai) with such affordable price.  The "Free Selects" set lunch is only HKD$158 per person, which is only 27 Canadian dollars or 20 bucks USD – quite an amazing deal for a Michelin starred restaurant. The Hong Kong locals probably all have their own favourite Shanghai foodie spots, but for travelers and visitors alike, this restaurant provides a friendly, tasting and elegant dining experience. The first Michelin star in Hong Kong was earned in a satisfying manner.
$$ (lunch)
rating: 3.5/5
Jardin de Jade (Wanchai)
Shop G3–4, G/F, Sun Hung Kai Centre
30 Harbour Road, Wan Chai, Hong Kong
+852 3528 0228 or jade388.com