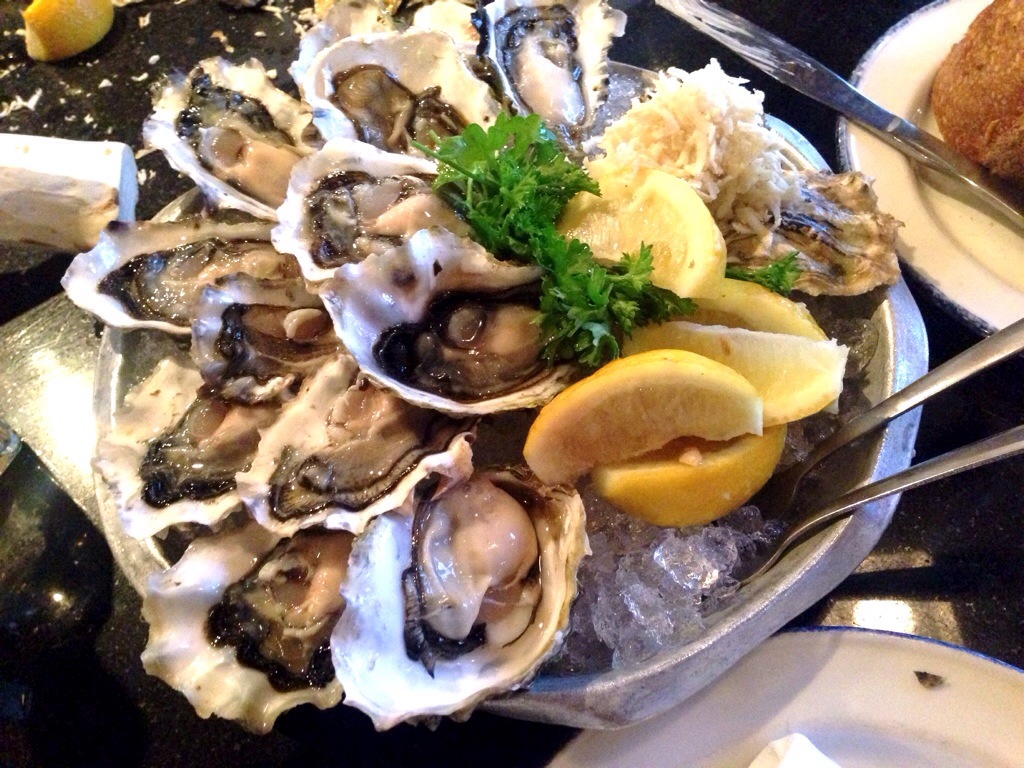 Although happy hour had not officially arrived in Vancouver, many restaurants had been busy promoting their own version of pre-dinner hour to attract diners. I had seen names like 'Appy Hour' or 'Hapa hour' (at Hapa izakaya). But I thought Low Tide was pretty fun and funny name. From 3 – 6pm here at Rodney's Oyster House in Yaletown, the "Low Tide" started with oyster shuckers yelling "low tide' along with ringing bells. The ambiance was similar to a Japanese izakaya restaurant where there were always noises from servers, cooks, or oysters shuckers.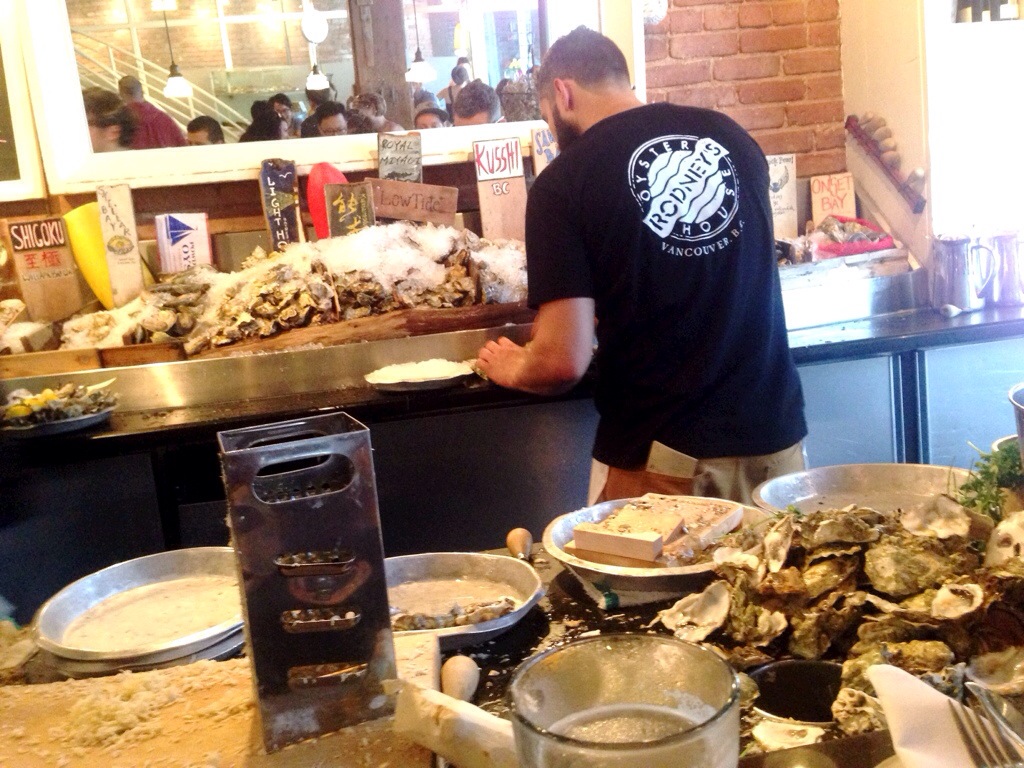 We were placed at the bar and right in front of the oyster shucking station. Our server who was also the oyster shucker, was riding high energy, and pretty entertaining to watch and interact with. Shaved horseradish was flying like snowflakes from the other shucker. A pile of oyster shells was slowing overflowing out of the shucking station to our bar top. On the right of the oyster station, there was a steaming station, where a designated cook was scooping clams or mussels in and out of the 5 or 6 cauldron looking pots.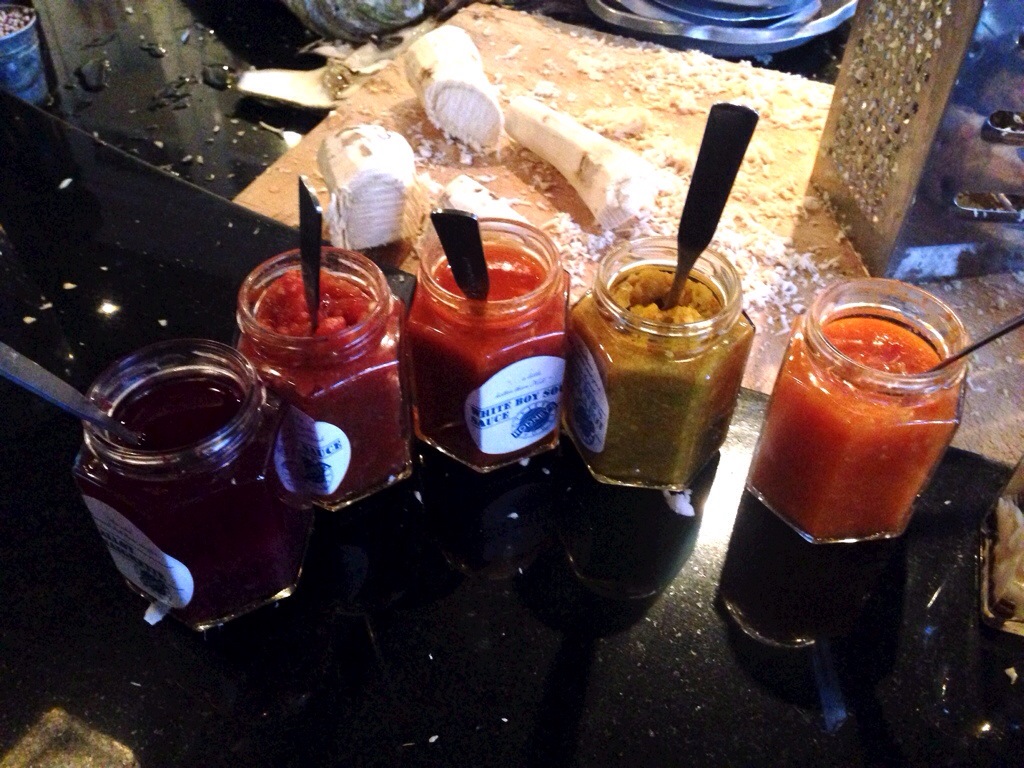 We ordered a dozen oysters and found ourselves being introduced to 6 bottles of their house sauces for oysters, with cheeky names like "Back from Hell", "Seawitch Sauce", "White Boy Soul Sauce", etc. And we were rather amused on the tallest bottle, which was merely a small bottle of vodka with some spices in it. I enjoyed most of them including the super hot "Back from Hell". The vodka one, I thought i would have liked it more if I could pour myself a shot from it. Fun times!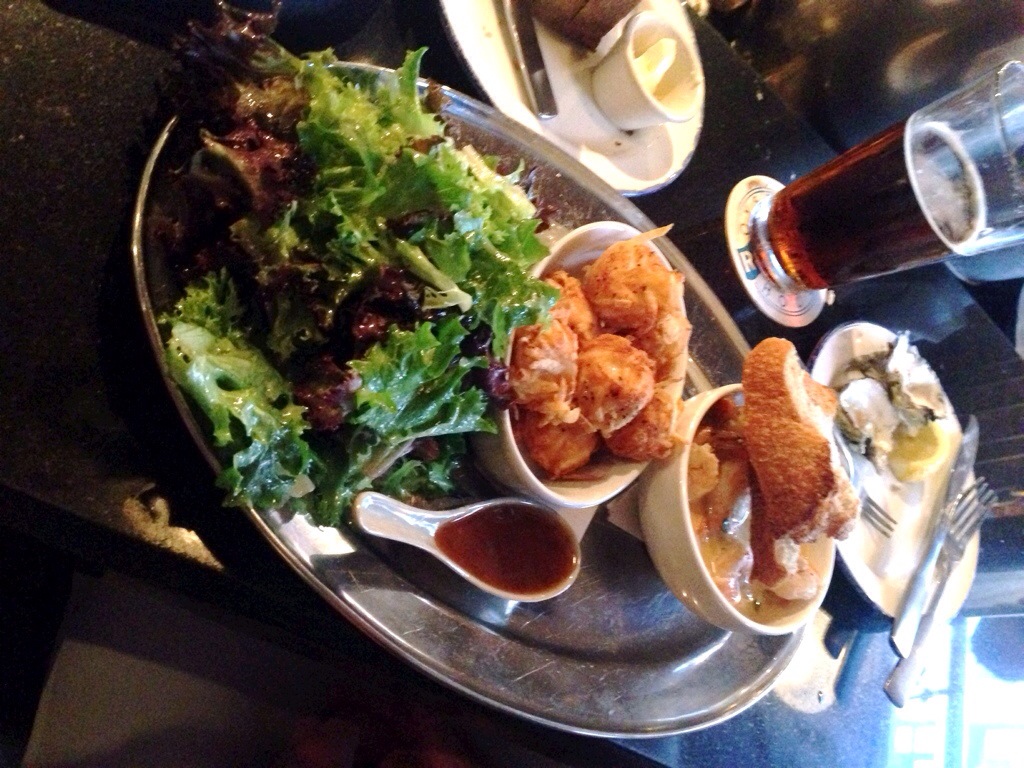 The oysters were super fresh and tasty, and the sauces definitely made it more fun to down those little jewels. However they didn't give us 12 perfect oysters, at least one or two were so small that I could almost breathe them in with my nose. We also ordered 2 items on the Low Tide menu: Scallop Gallete and Garlic Prawns… Great flavours and textures, although the prawns were a little small.
Yes I understood Rodney's offered a better than average oyster and seafood experience, but it was still a little pricey for a pre-dinner snack. Food plus 2 beers, it was more than 30 bucks per person.
I couldn't help thinking of Elliot's in Seattle, where all the oysters were the perfectly sized, only 0.75-1.00 each, and all the happy hour items like steamed mussels or salmon slider for only 3 – 4 bucks.
Map and other reviews on Urbanspoon: