What I knew about Indonesian cuisine in Vancouver was only limited to some dishes at Tropika. However, my recent tasting of the Nusantara Bowl by Kembali Food, the new Indonesian-inspired culinary concept, had expanded my view of the genre.
Kembali is created by the team-up of the owner of Nusa Coffee & importer of premium Indonesian coffee beans, Liza Wajon and chef Djaka Putra from Reflection Dining. Both are super excited to introduce the cuisine to Vancouver's diverse food culture.
The highlight of chef Djaka's dishes is the Nusantara Bowl. The world Nsatara means archipelago, or "collection of islands".  It carries the culinary philosophy of collecting different unique rich flavours from all the islands in the area, especially the ones of Java and West Sumatra.
I sampled 2 versions of the bowls, Chicken and Vegetarian. But both are consisting of the same flavourful components.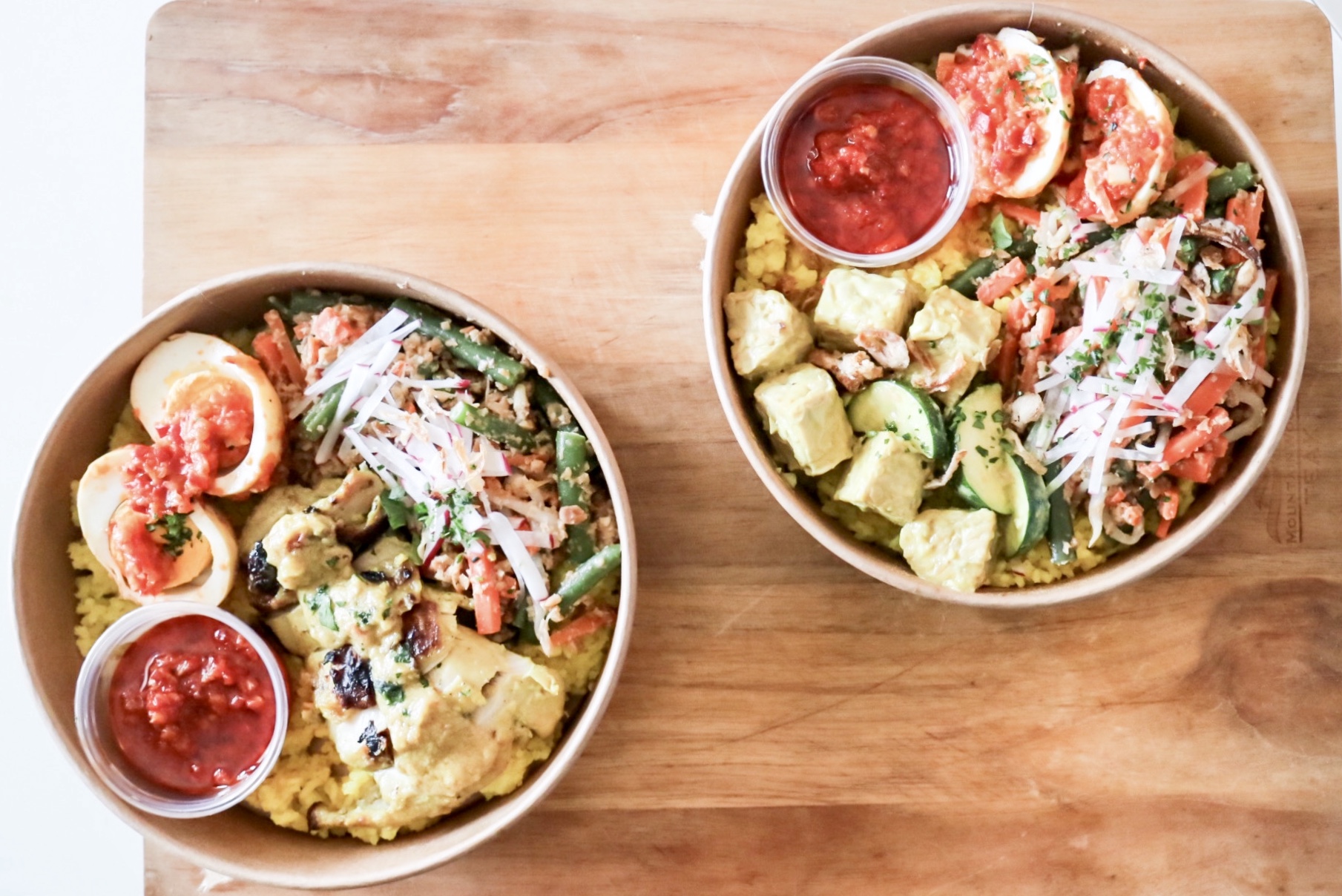 Nasi Kuning is the turmeric rice that's also the tasty base of the bowl. Besides using turmeric for the bright yellow colour and flavour, the chef has incorporated exotic flavours from shallot, garlic, lemongrass, and coconut milk. Gado-Gado is the refreshing salad served on the side that's prepared with fresh local produce such as green bean, bean sprout, radish, carrot, and potato. The salad is also topped with peanut sauce and fried shallot. Telur Balado or egg balado from Minangkabau, West Sumatra,  is a cooked egg in halves topped with a vibrant chili sauce. And the last common component is Sambal Bajak, an Indonesian sauce originated from Central Java.
For the chicken bowl, the Ayam (Chicken) Bumbu Terik tasted of the similar exotic flavours such as lemongrass and coconut and was cooked to a perfect texture. With a similar sauce, the Stewed Tempeh & Zucchini Bumbu Terik provides the succulent texture just like meat does.  I wondered if Mushroom could be used in the Vegetarian version of the rice bowl as well.  The stewed tempeh was also some fo the tastiest tempeh preparation I had ever tried.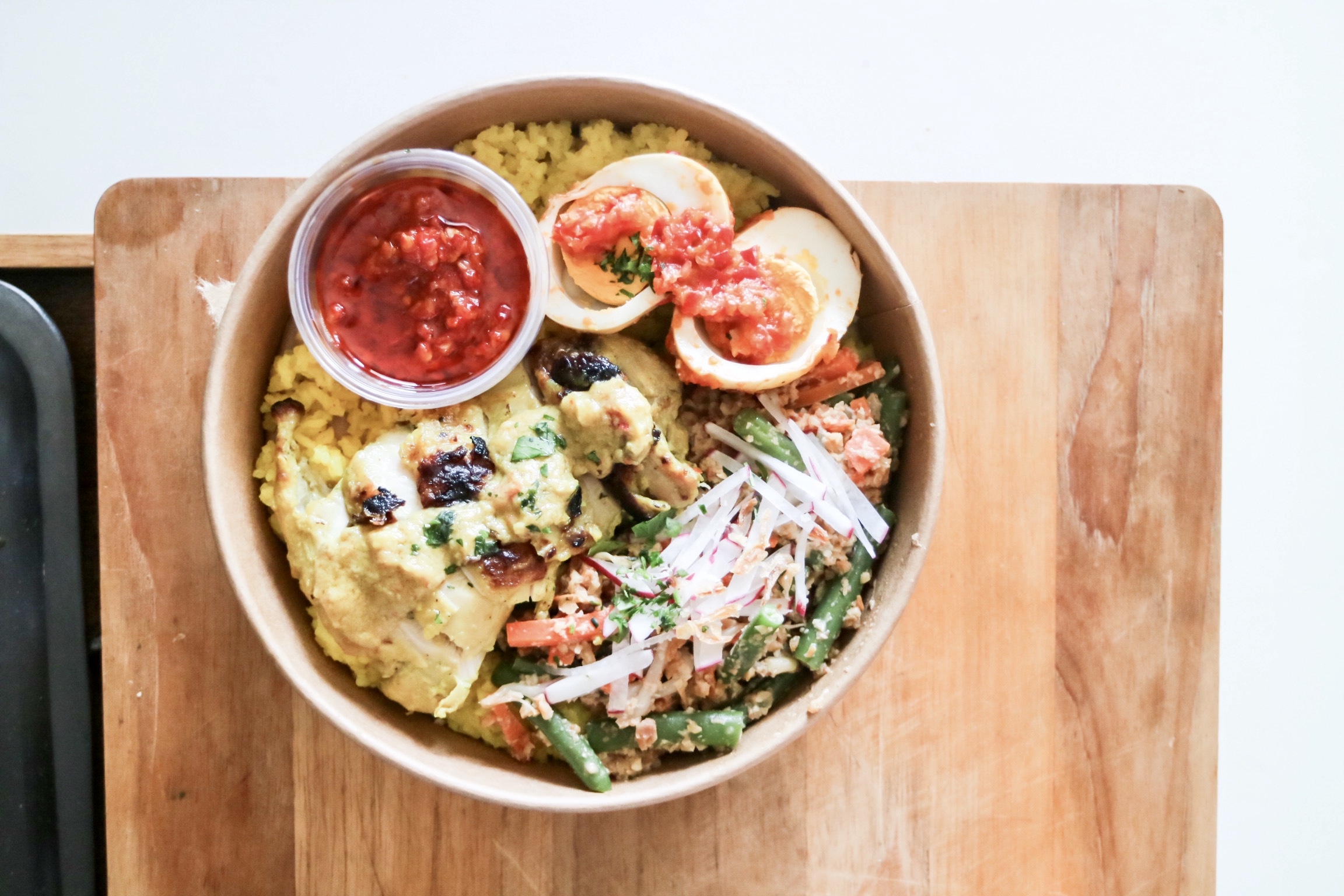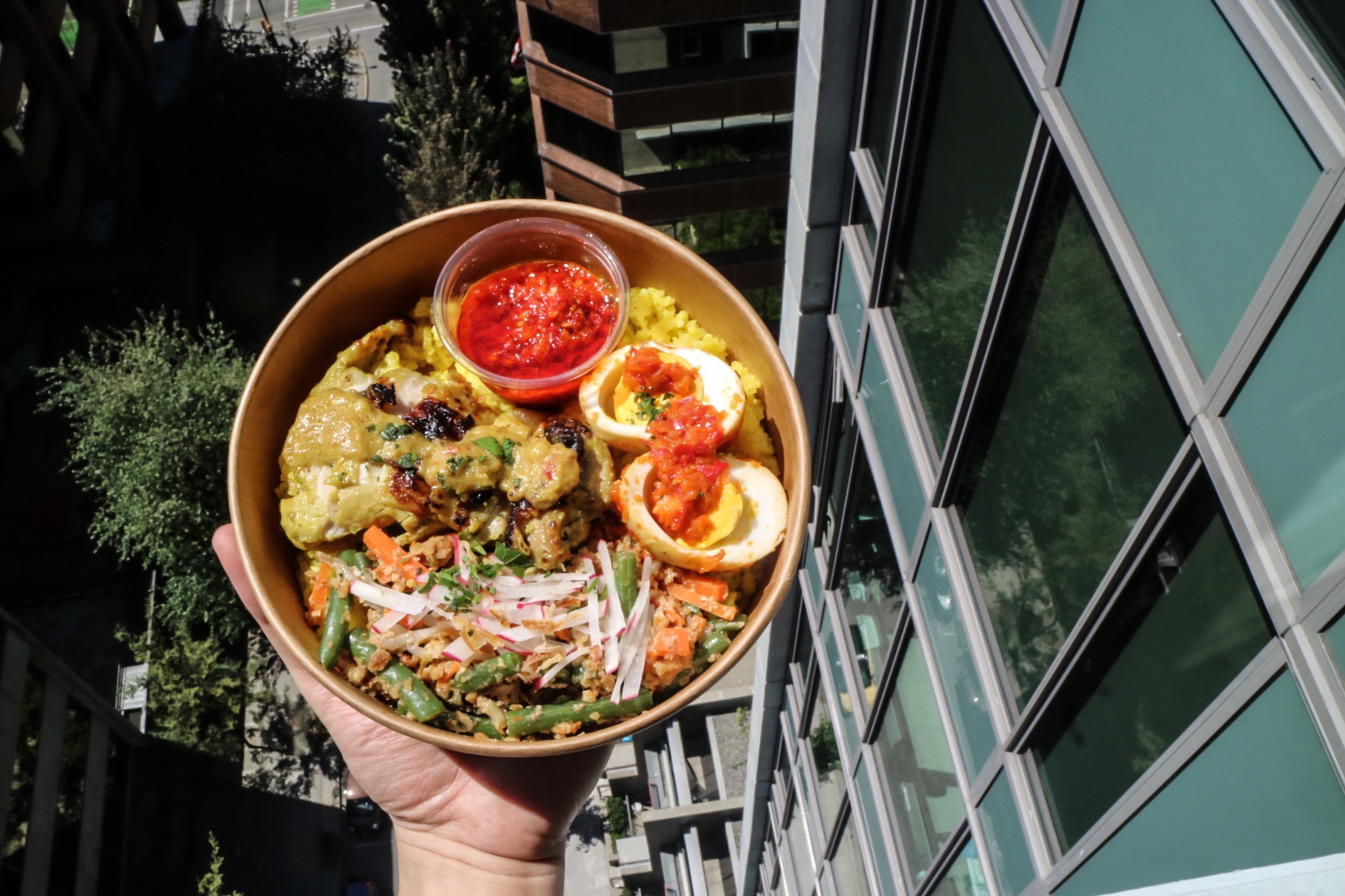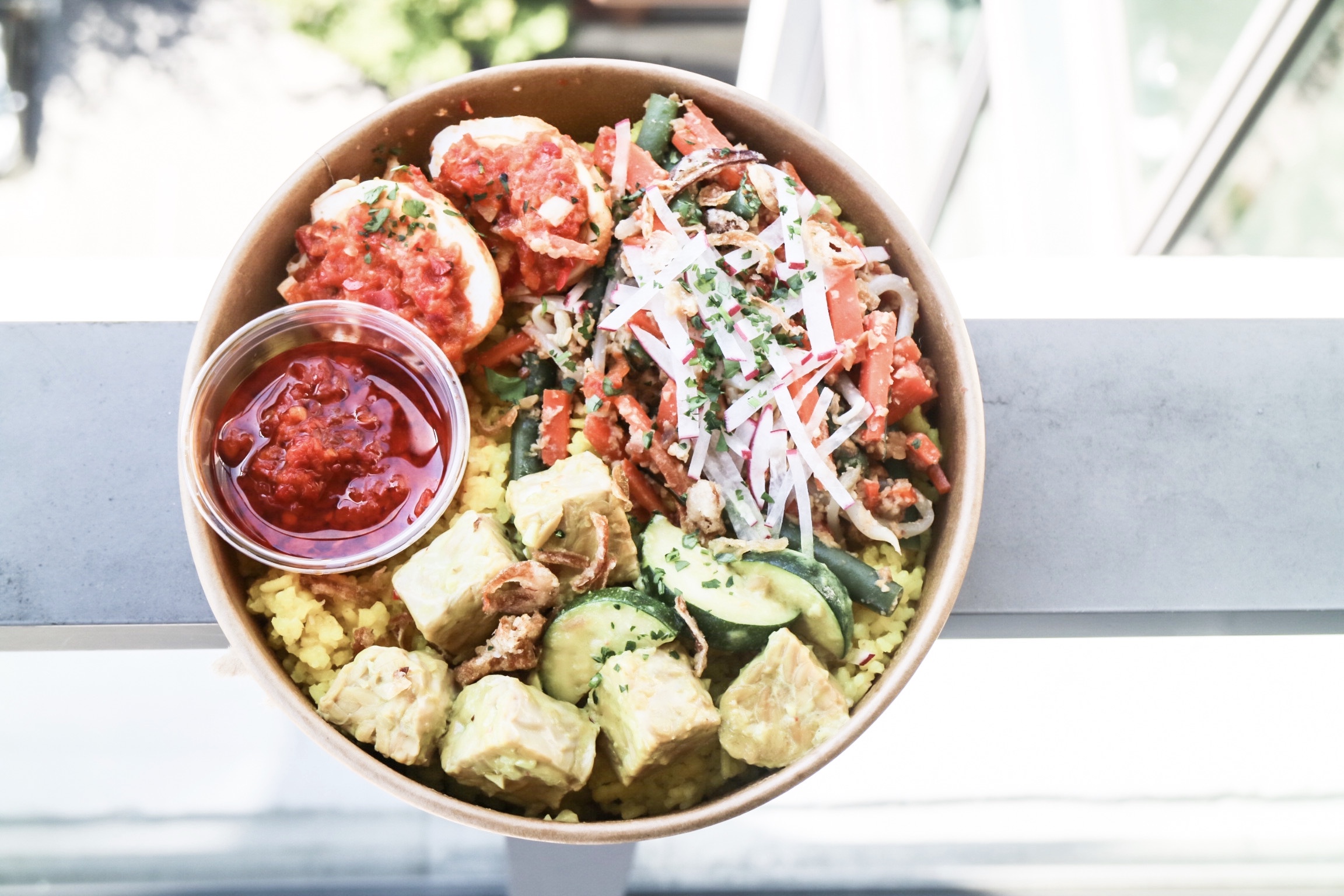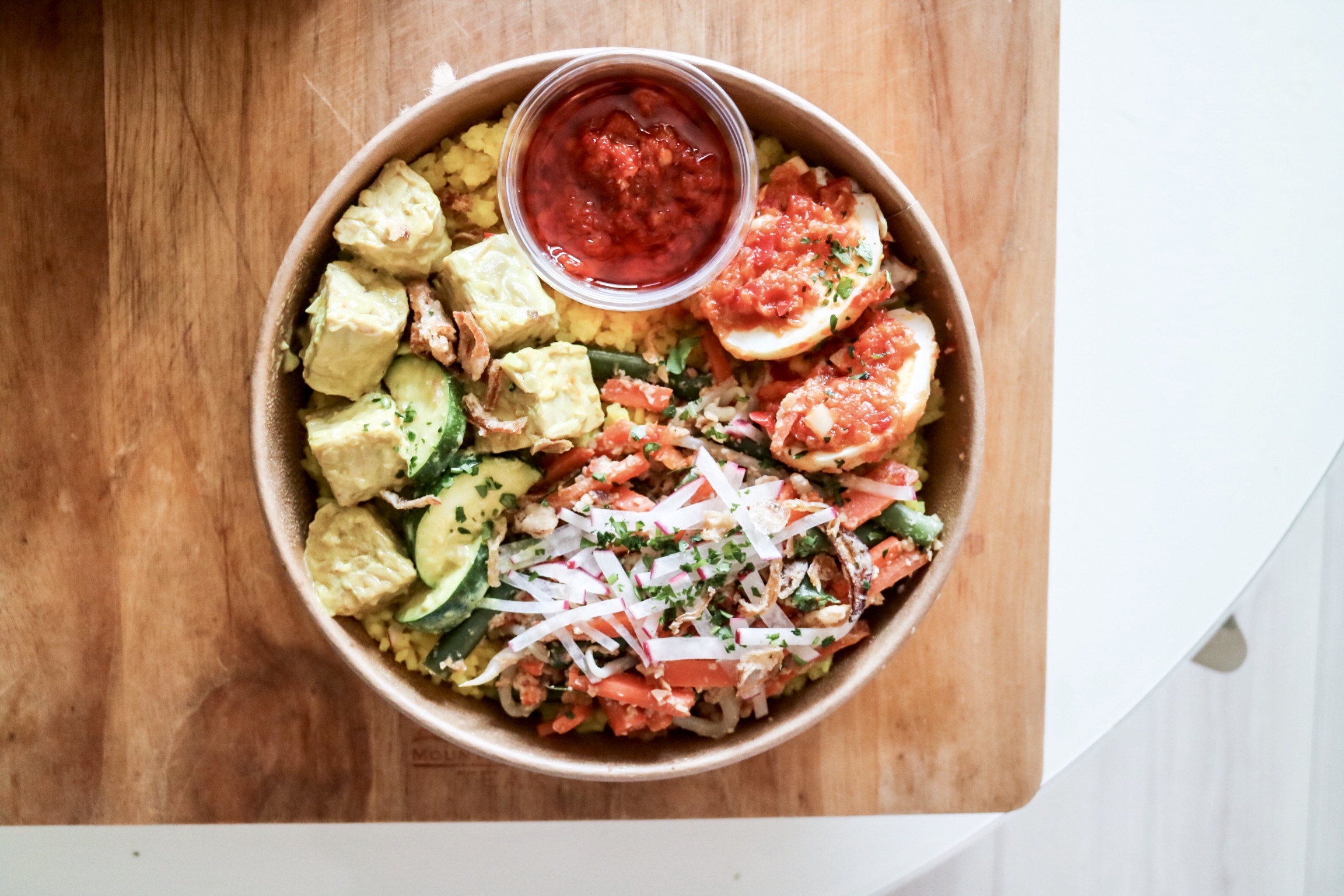 I was offered the Tumeric Drink, which flavoured with fresh turmeric, tamarind, coconut sugar and sea salt. This is the perfect drink that you want the whole meal healthy and tasting of the same flavour profile of the exotic rice bowl
Final thought
I have found the Nusantara Bowl very tasty with some flavours similar to the Southeast Asian ones of Malaysia and the Philipines, but also with unique ones on its own. The Sambal Bajak chili sauce on the sauce is quite the key because it could be quite important if you love some heat in the bowl. These bowls by Kembali Food are now available at Nusa Coffee in Kitsilano and Pacific Coffee Roasters in Downtown Vancouver.
* All food and beverage items tasted in this post were complimentary. Opinions are on the reviewer's own.