This post is on 2 separate visits to Kamei Baru, a sister restaurant of Ebisu and Kamei Royale.
Part I: Drinks and Snacks Before Pre-Dinner Drinks
It was our big Hawksworth dinner night, and I was excited to show Will the best restaurant in Vancouver. As we were meeting a couple other friends for pre-dinner drinks at Prohibition at 7:30pm before our dinner reservation for 4 at 9pm,  we had a little more than an hour to kill in Downtown.  I decided to take Will to get some drinks and snacks somewhere. I conveniently picked Kamei Baru because we parked at Scotiabank Theatre's parkade, which was in the same complex with the restaurant.
I came here once a few years ago, and that particular visit was  a little sentimental for me for a couple reasons: I had lived in the residence building in the same complex for almost 3 years before moving down to Richmond, and I was still missing living downtown a lot; and also a slight heartache over  the location of this place because it was previously held by Ensemble Tap, a favourite of mine, which was short-lived after the celebrity chef owner Dale McKay, the winner of Top Chef Canada, suddenly disappeared from the local food scene.
Here I was again, taking another good look at this place. It very much reminded me of their sister restaurant, Ebisu, a bar and bistro intended for the party crowd, decorated with many different types of lights – almost too many that it felt busy in there even with barely any customers around. The waiting staff was quite attractive however. Our waitress, a young Japanese girl, was super friendly and had a great smile. She must be new because she ran to the manager for the answer to my question a few times.
Despite their claim on being a seafood and oyster, bar they offer a huge selection of Izakaya dishes on their menu, similar to what they serve at Ebisu. They also have a full sushi bar serving traditional sushi and sashimi, modern free style sushi rolls, and Aburi Battera style sushi. Thank goodness that they have got rid of the sections of ramen, teriyaki, and fusion pasta on their menu, as well as the odd dishes back in the days like Seafood Paella or Halibut & Chips. Seriously they just can't try to take on every single Seafood or Japanese restaurant in the city. However, they have kept the Curry section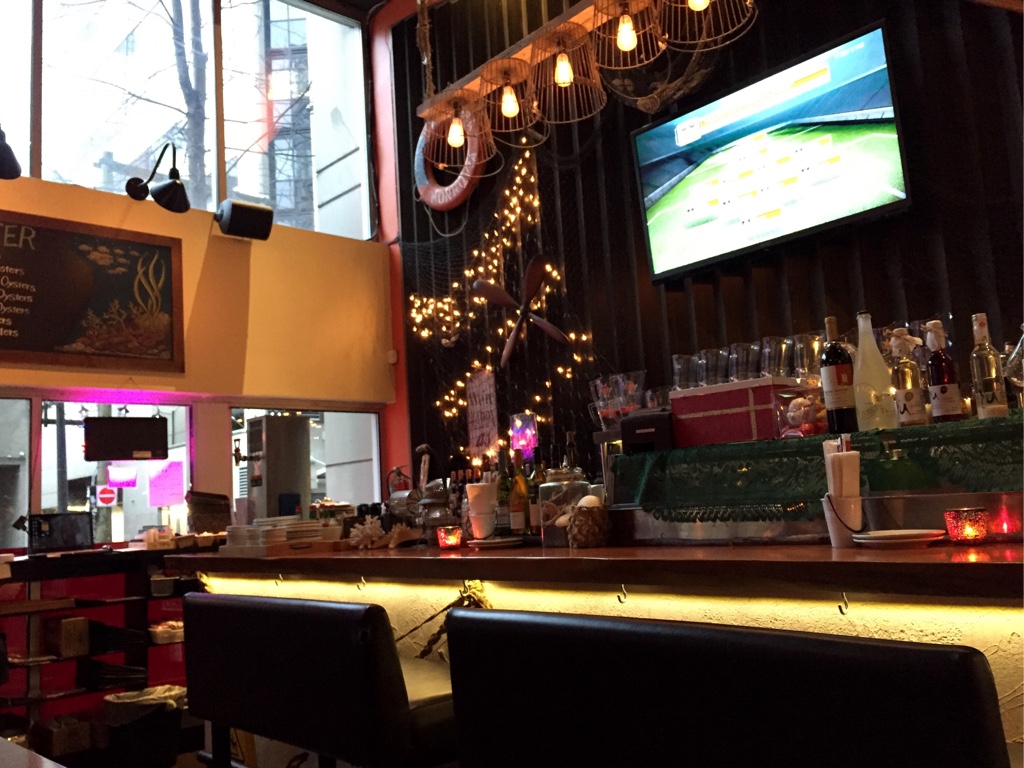 The Cocktails
We ordered a couple cocktails to get the evening started. Both  Sakura Cocktail ($6.95) and Lychee Ball ($7.50) tasted sweet and smooth, but barely any alcohol in it, especially my Sakura which consisted only Vermouth and mixer. This is the first I see someone using Vermouth, normally a mixer itself, as the the main alcohol in a cocktail.   Seeing Hendrick's Gin was listed under drinks SPECIALS section at $7, I decided to just get a Hendrick's and Soda with Cucumber, my favourite premium gin high ball. When I told the bartender my order, this tall and handsome Japanese young man looked a little confused. Cucumber? You mean pickle cucumber?  He asked.  I almost where to buy valium giggle, and told him… No no not pickle….FRESH!  Hmm… He still seemed confused, and he said… I don't have any cucumber.  And I was like… You can get some at your sushi bar maybe? (The sushi bar was only 3 feet on his right by the way) And he finally found some cucumber and made me my drink. There we go… I helped a bartender to make his first Hendrick's and Soda with Cucumber! You don't see that everyday, do you?  But the story of Hendrick's and Soda didn't just end here. Later on when I looked at my bill, I was charged 50 cents for the soda in my drink.  So it turned out the prices of all the hard liquors listed under SPECIALS were just for shots. This is a little unusual for me… Is it how do they do it in Japan?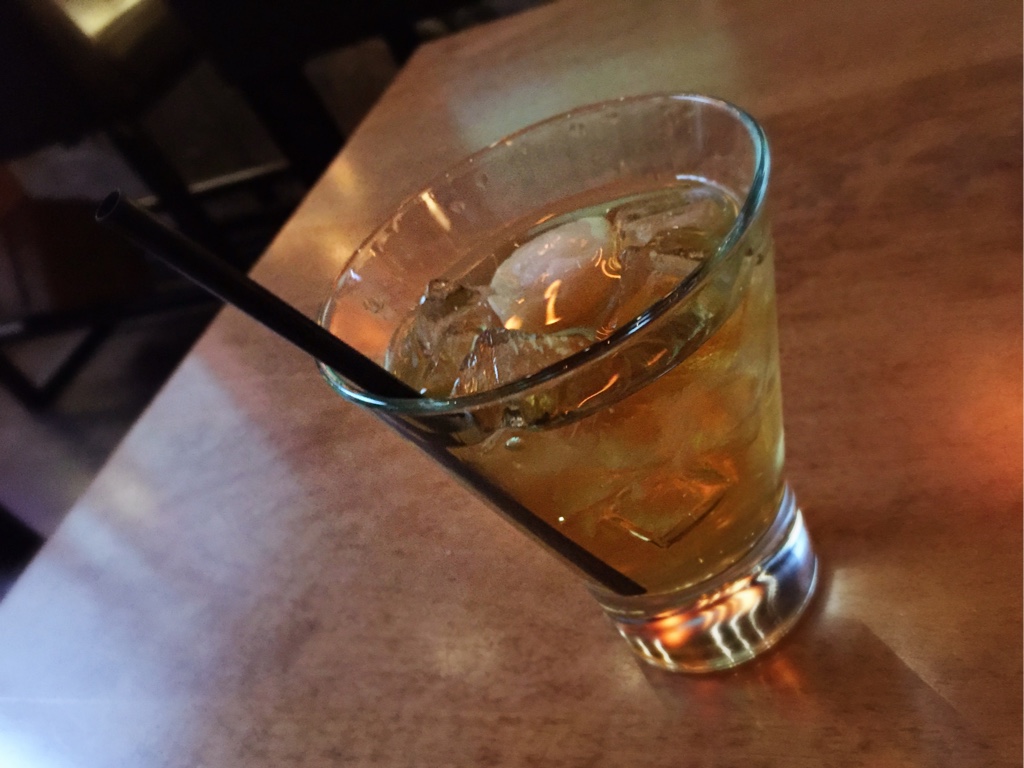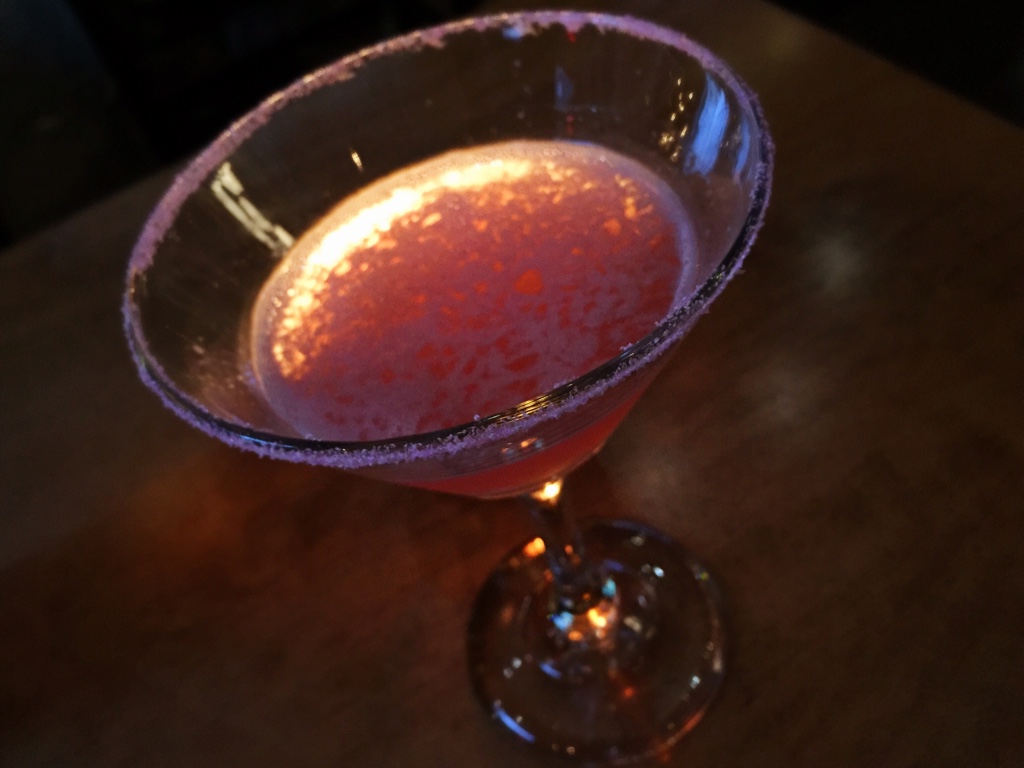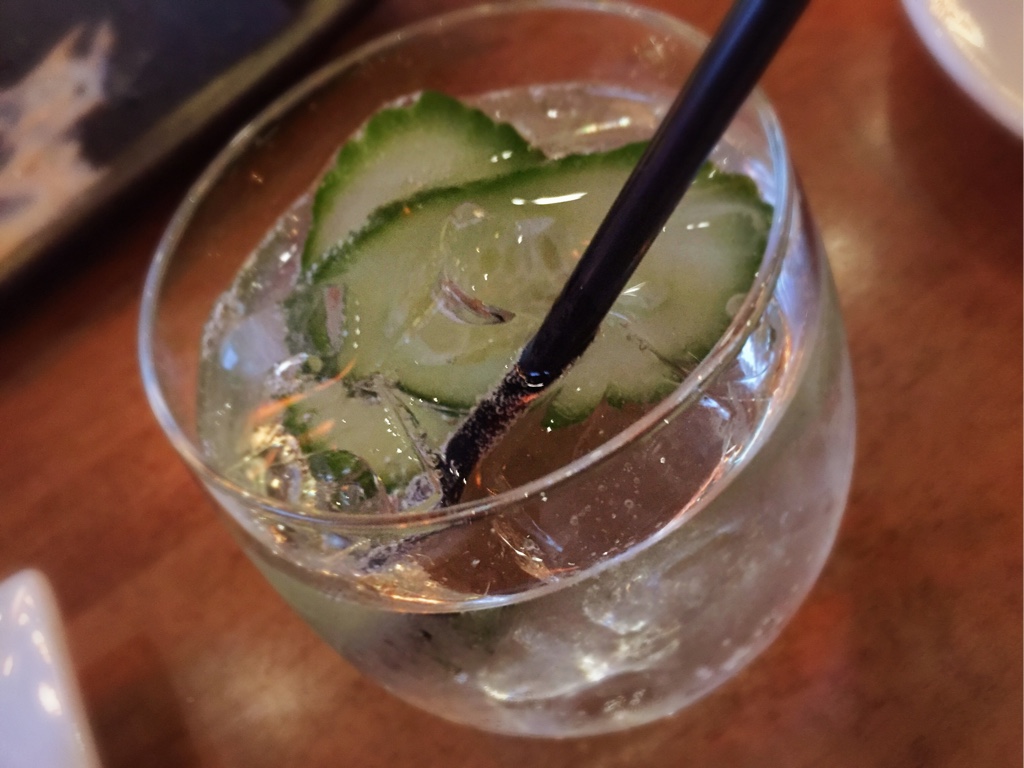 The Snacks
I also ordered us some Oyster Karaage ($9.95). Once the dish was served I found the 'oysters' nugguts perfectly golden and round. I started eating one piece, and it definitely tasted chicken to me! Hmm… My first reaction was, is the Oyster Karaage supposed to look like oysters but made from chicken?  So I asked our young waitress, and she ran away then came back being apologetic on her mistake. So we ended up getting free Chicken Karaage ($6.95)!  The Oyster Karaage came later and it tasted excellent as well.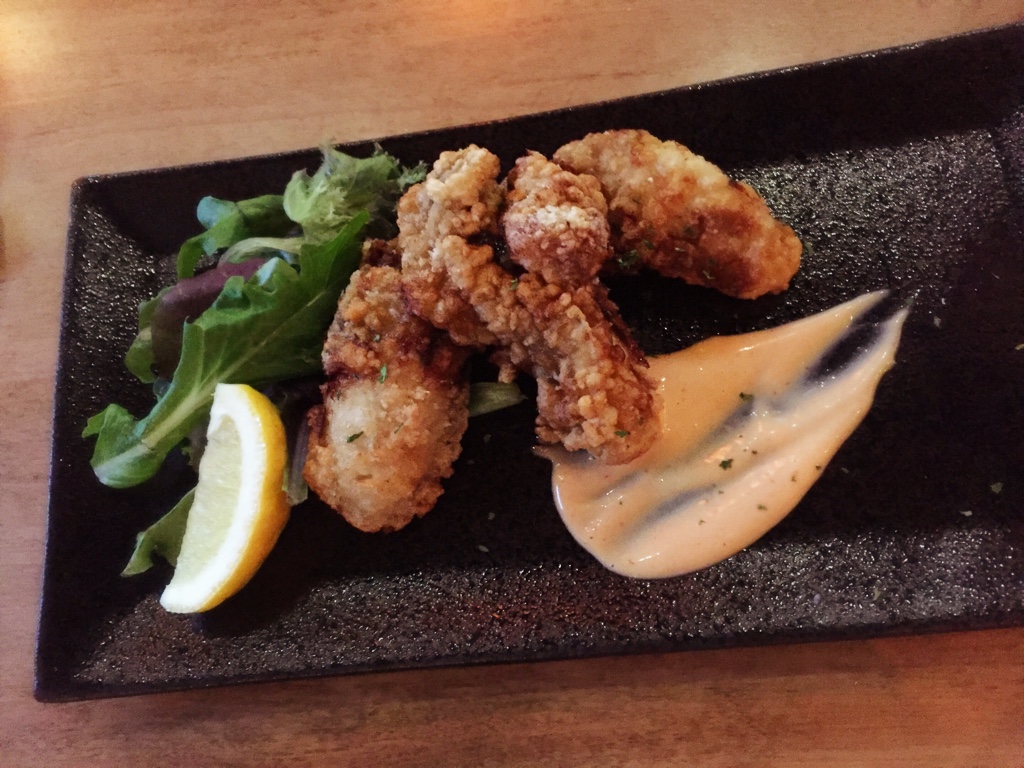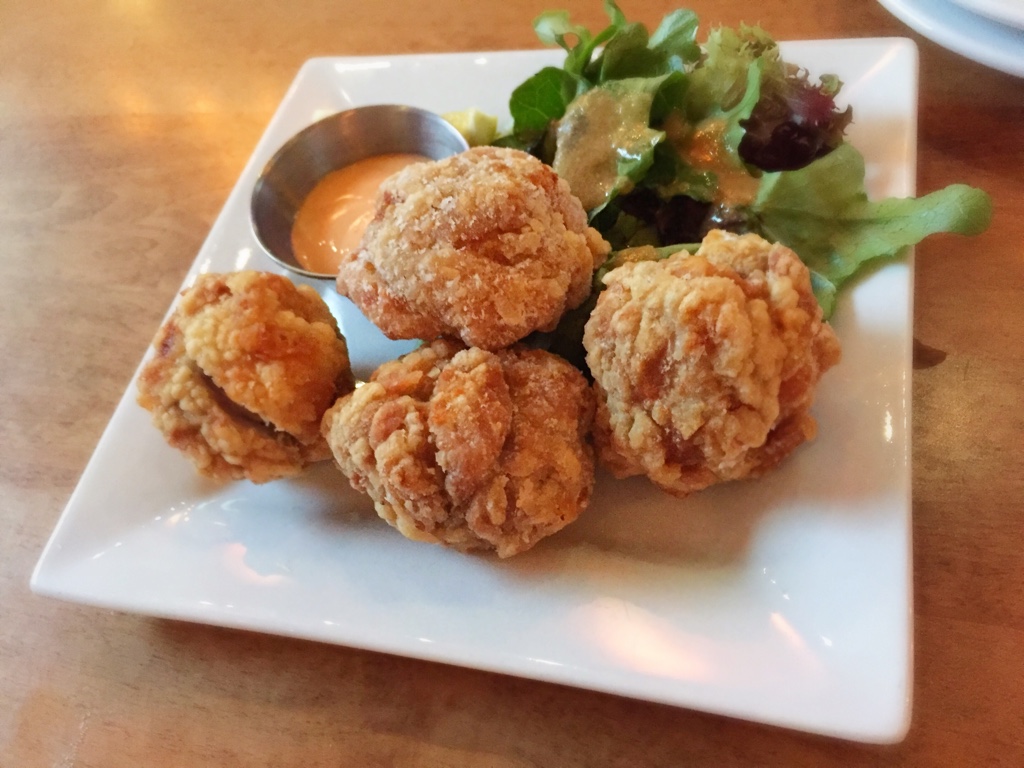 The experience was not bad for Will and I after all. The cocktails were a little weak, but the snacks were delicious.  I wonder why they don't put someone more knowledgeable behind the bar, or offer a better cocktail menu. If they work some magic with some real booze, customers are willing to pay more for good cocktails this town.
Part II "The Happy Hour"
Will and I saw the Oyster Blowout at Kamei Baru, so I was determined to come back for it. A week later I suggested the place to Foodgressing for our Happy Hour foodie meet. We got there at 5pm, the only special they were having at that time was the Oyster Blowout with 99-cent-a-shuck. The Happy Hour food menu here is only available after 9:30pm Sunday – Thursday, and 12:30PM – 2:30PM Saturday & Sunday.
The choices on their beer menu are limited, but the low prices are looking good. I had a couple pints of Sapporo (16oz) for just $6.95 each.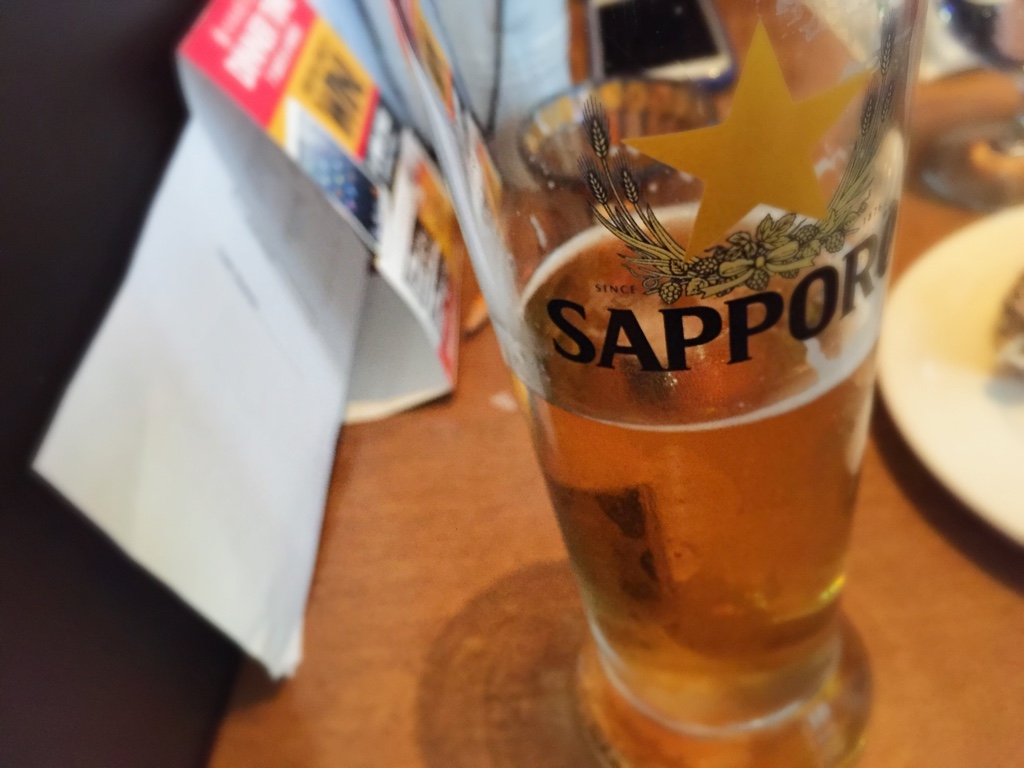 It is always hard to go wrong with Royal Miyagi for oyster happy hour. Although this variety from Sunshine Coast has a small and skinny body and not exactly a looker like Kushi, they are subtly sweet and tasty.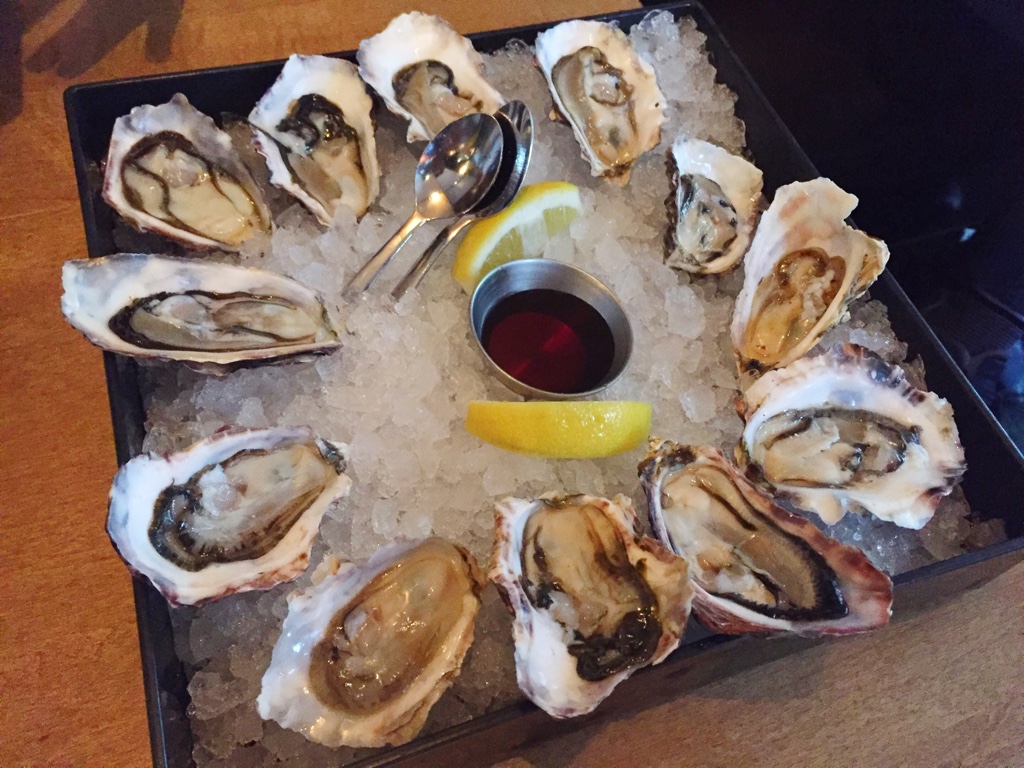 We also shared the Lobster Motoyaki ($12.95), with the mayonnaise-cheese topping baked to golden and smelling fantastic. It is definitely a very attractive dish and tastes decent too.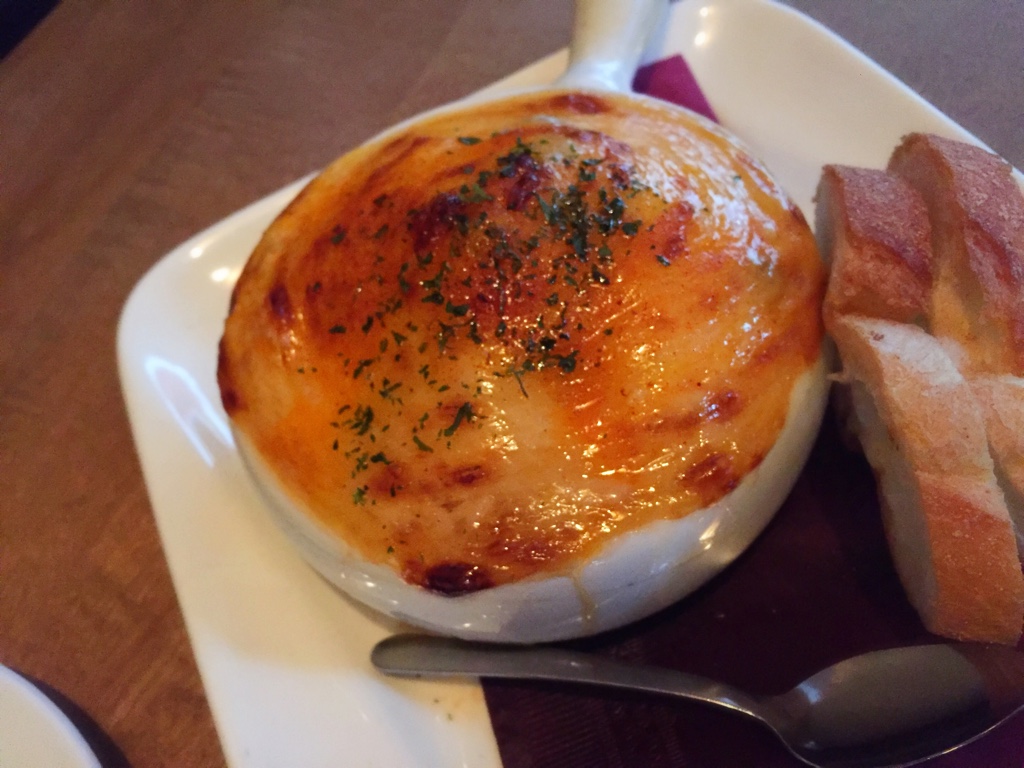 Website:
Location and more reviews: