I hardly slept the night before my flight to Japan.
I always wanted to visit Japan.  It's one of the coolest countries in the world, where traditions of centuries well preserved and coexisting with things that look futuristic to the rest of the world.
It is also definitely a dream of any foodie to visit Japan, as Japanese food is one of the most prominent cuisines on this planet.  No other peoples than Japanese folks are more serious about their seafood and their rice.  And apparently food in Japan is all about both the quality and the presentation – even the most minimal dish is aesthetic to the eyes.  Well, that's what Dennis the Foodie told me. He suggested that whatever food you buy at 7-11 would be mind-blowing, and that's what I was going to find out in a matter of hours.
The trip started with a small hiccup – the flight was delayed for 1.5 hours.
Plaza Premium Lounge at YVR
Luckily I borrowed Mom's Priority Pass to hang out at the Plaza Premium Lounge. Waiting for a delayed flight is definitely more tolerable when you are able to relax with a comfy lounge sofa, some hot food and an unlimited supply of wine.
I ordered some chicken noodle soup and tuna sandwiches from the hot food station, where hot Chinese food like lemon chicken and chow mein were also served.  Not exactly gourmet but the food was decent enough. I was just too anxious to care anyway.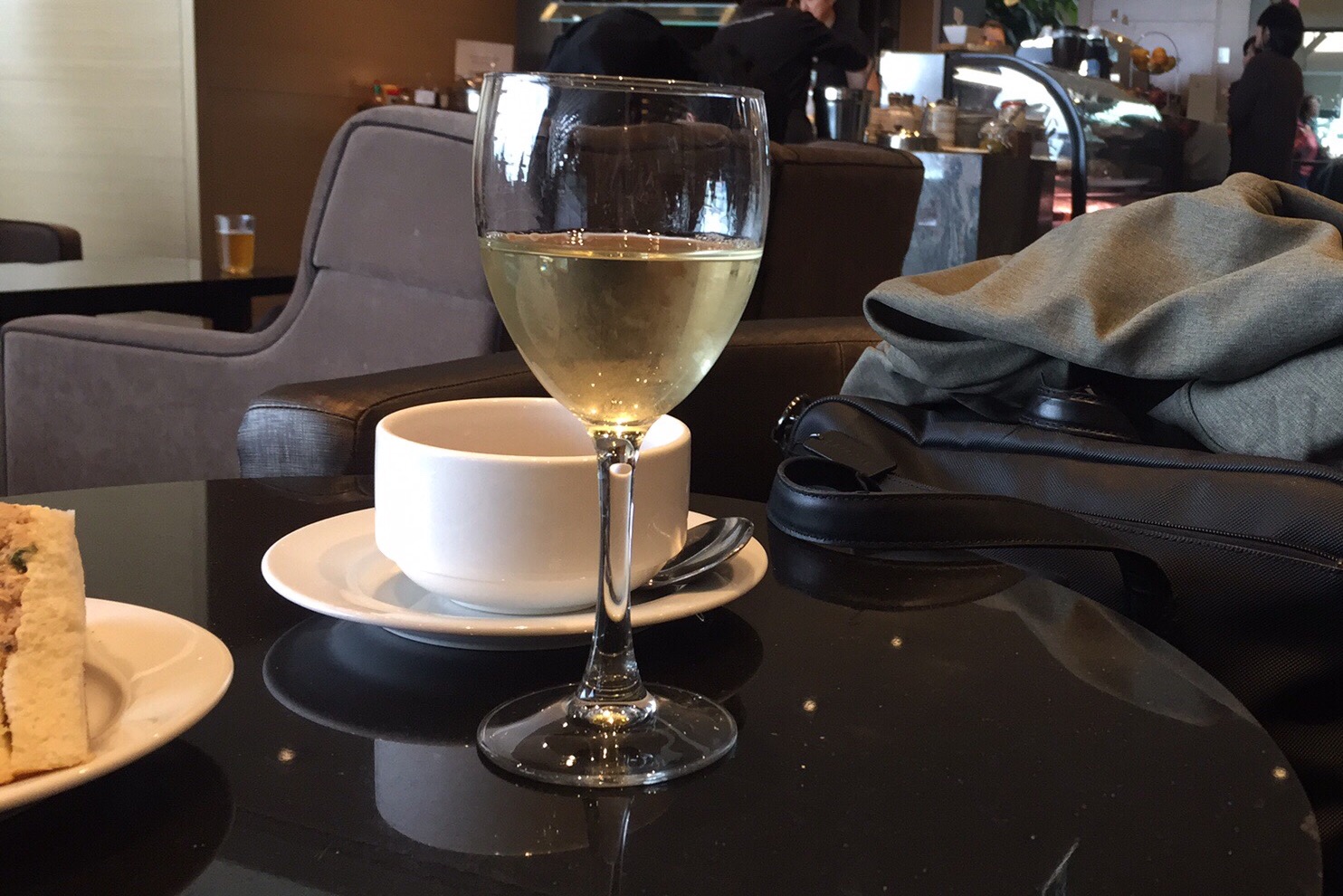 After my 2nd glass of Pinot Gris, I started to calm down a little bit but wondered if I should switch to gin. Yes, if you decide to be a little tipsier at this lounge before your flight, there are hard stuff like whisky, gin and vodka available.
I started to pay a little more attention to the lounge. It was spacious and clean but could use some updating. 75 percent of the USB ports didn't work when I tried to charge my iPhone. Yes, they need updating!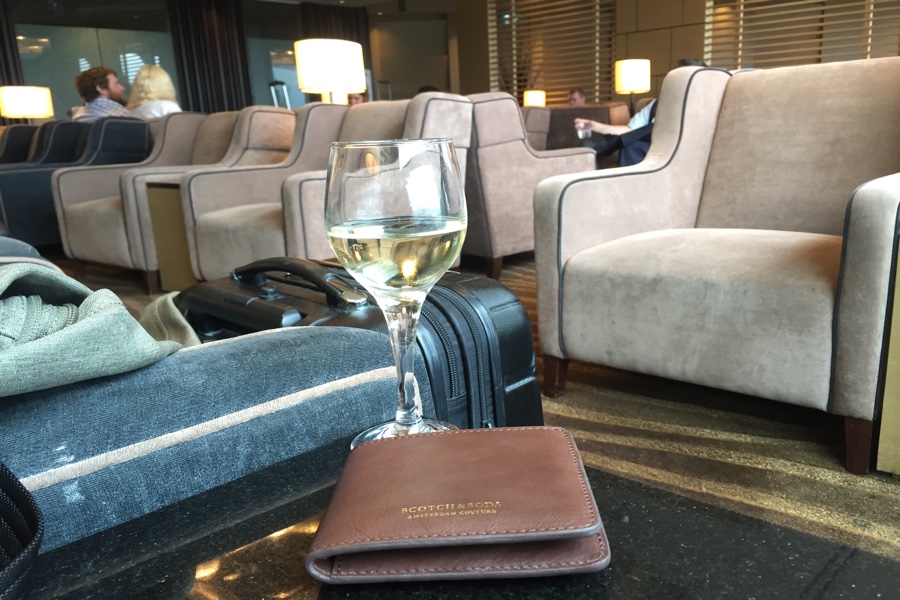 It was almost time and  I moved myself to the waiting area. The sky was a little gloomy today. But apparently, it is going to be sunny in Tokyo according to the forecast, which is great news!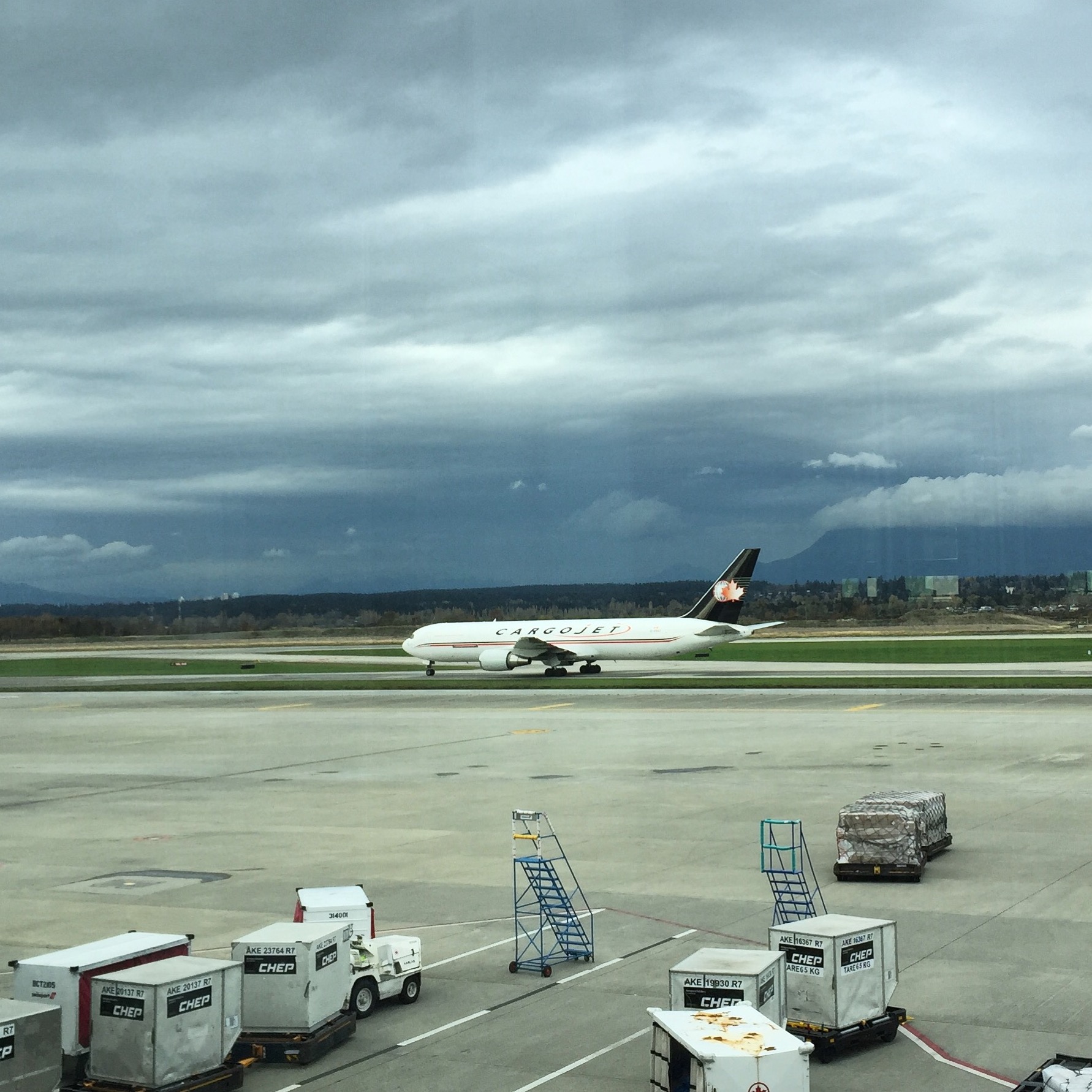 Look at this girl… She is rocking in her platform boots and all ready for Japan!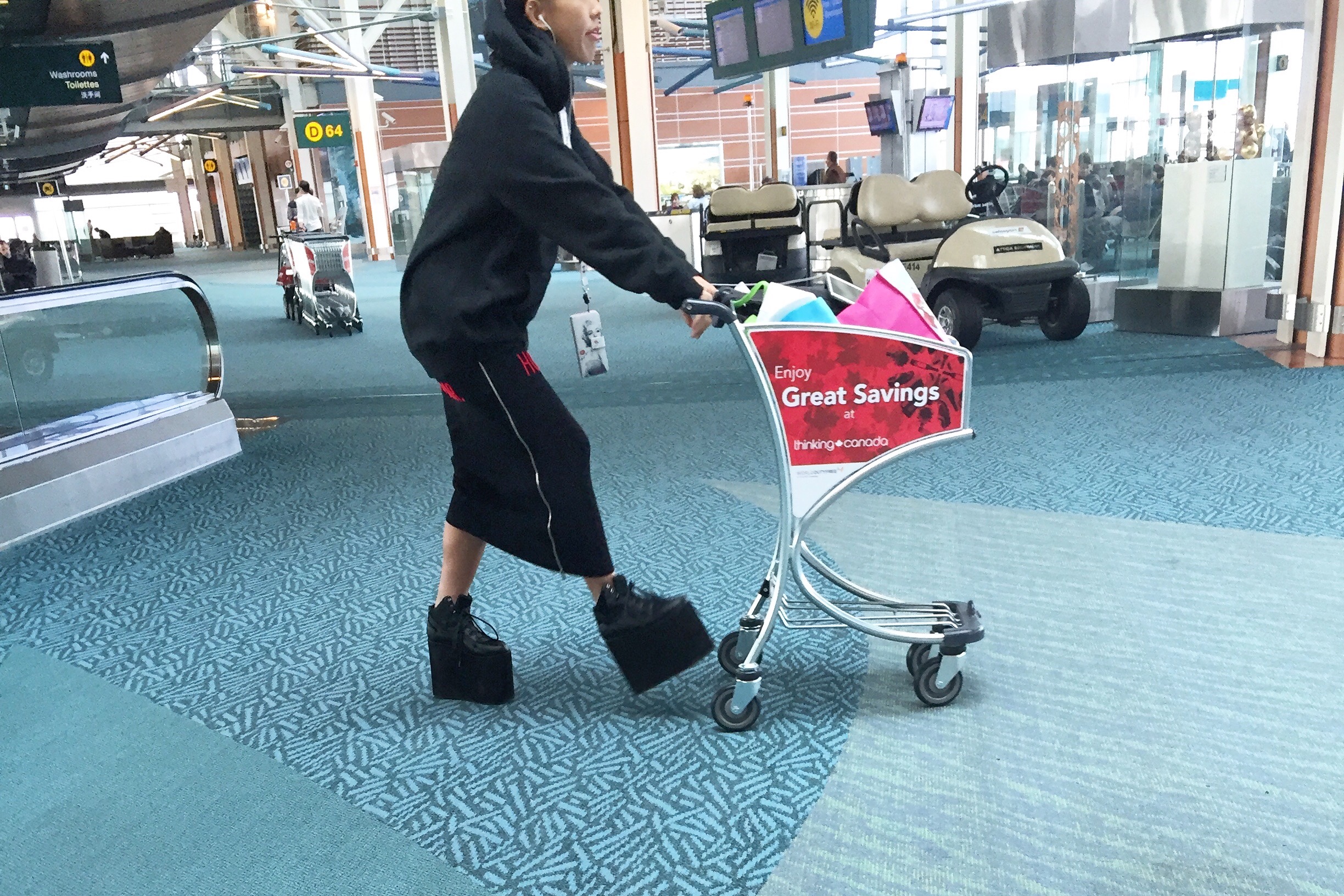 I was also stoked about flying to Tokyo on a fairly new Boeing 787, the "Dreamliner". First time boarding this slim fast-flying bad boy, how could I not be excited?  And when I was checking in the flight online, Air Canada showed me that I could move to a seat in front of everyone else in the economy class – seriously, how could I not be excited?
Just look at the "Dreamliner",  all nice and shiny – reminds me the brand new five-dollar bill in my wallet.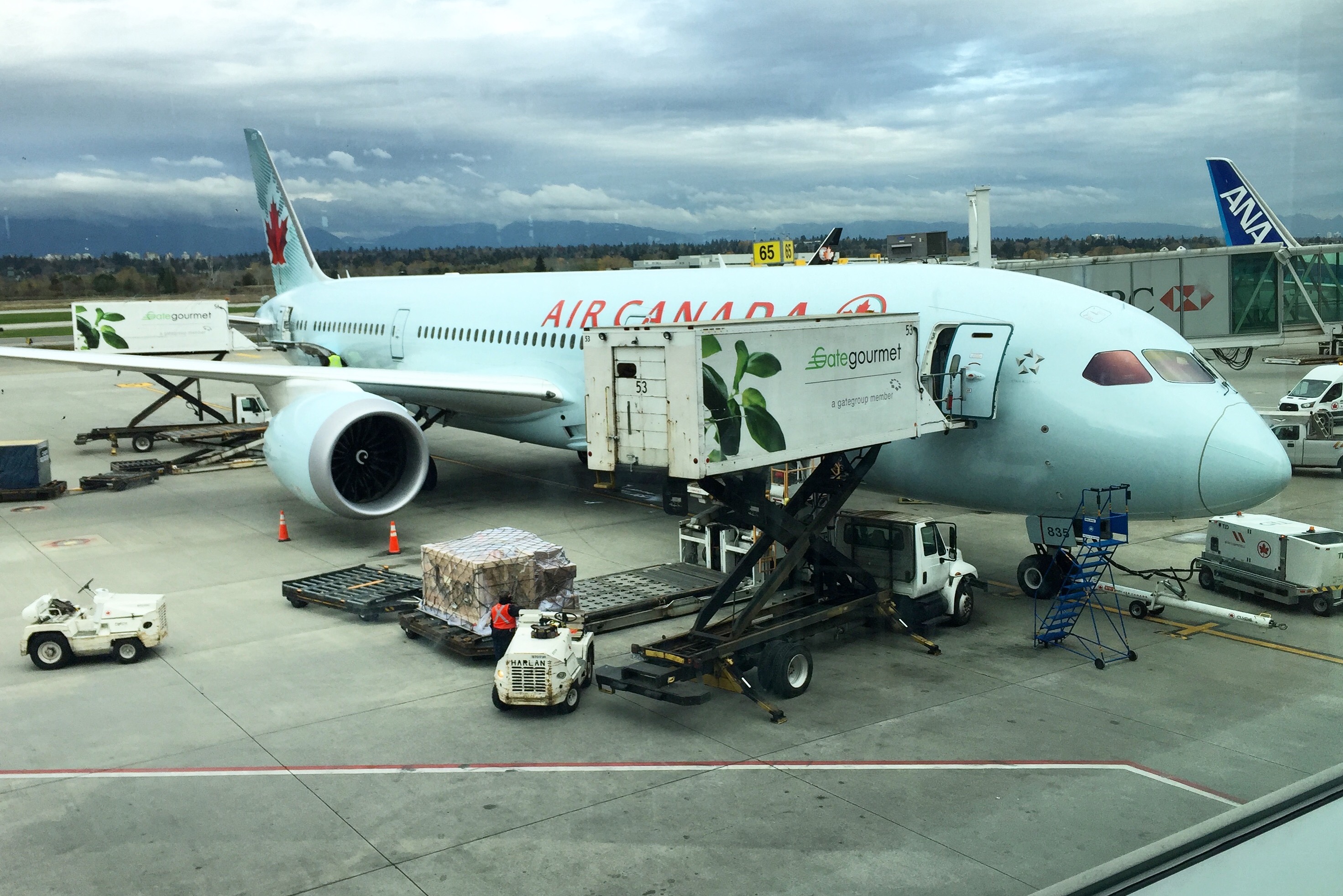 The Flight
Finally, I boarded the plane and I was in my fancy front seat and I was only a wall away from the Business Class. Let's stretch the legs, shall we?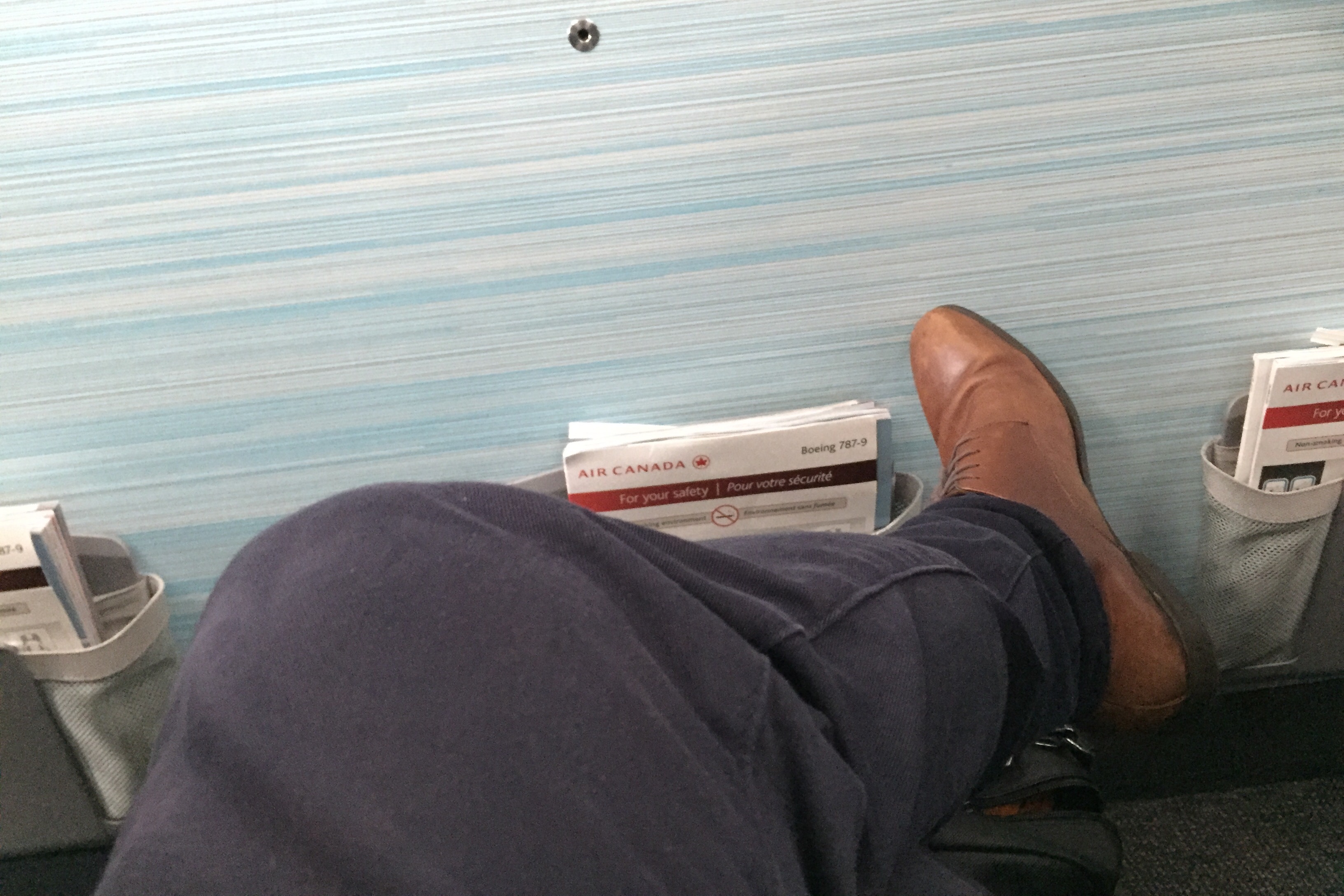 The 3-3-3 layout on 787 does make the seats more spacious than the ones on the 777, which I often travel with flying to Hong Kong.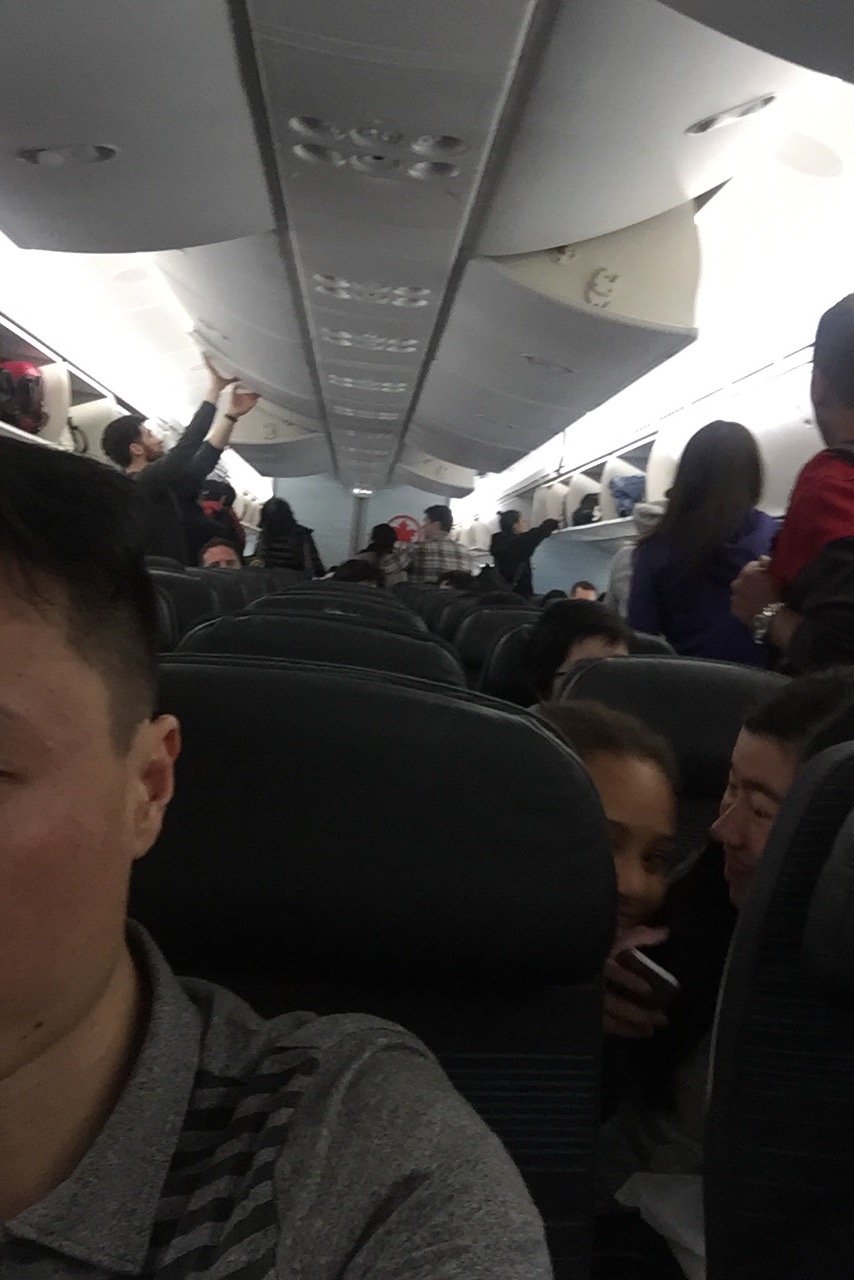 I was in the middle seat, and my neighbours, both Japanese guys, seemed pretty quiet, which is definitely not a bad thing.
But my heart sank when a big group of loud teenagers were settling down behind me.  They seemed to be on a school trip or something.  So during the whole flight, several teenage girls were trespassing the space in front of our seats… Before I almost yelled at them like a grumpy old man, I was in shock that the Japanese neighbour on my left got upset and put up his feet blocking out the passage for the girls. Well done!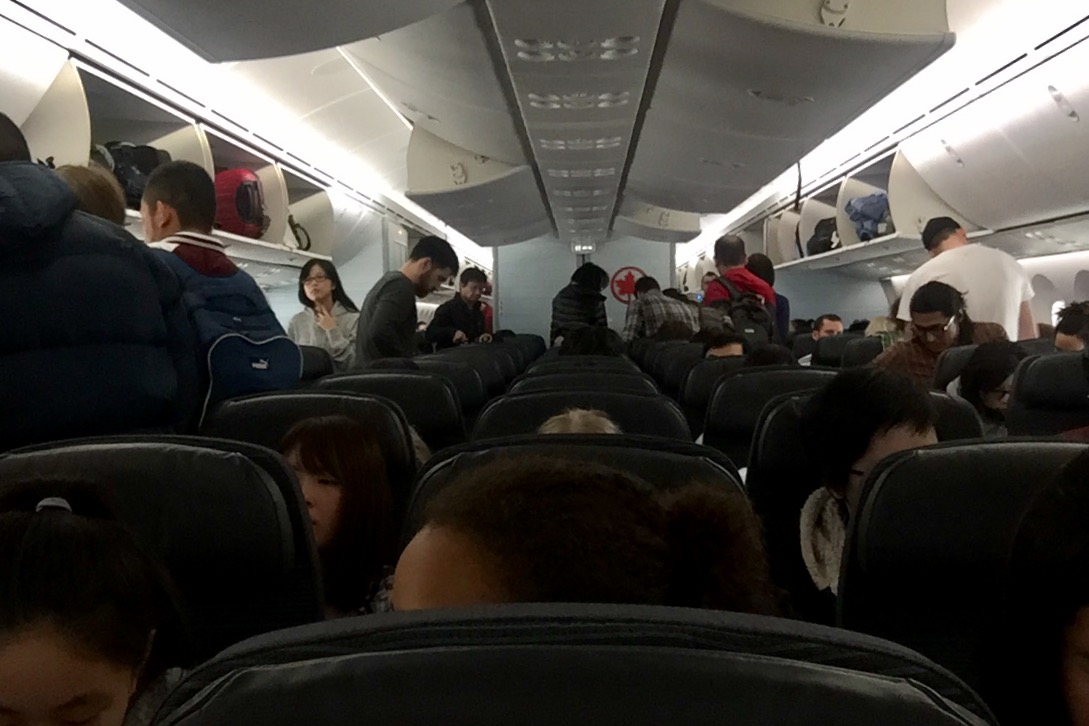 The in-flight entertainment system seemed to have an huge upgrade since my last year's Air Canada flight – not sure if it's an upgrade for the whole fleet or it's just another perk on 787. Wooh… Batman vs. Superman is on! I was holding back on watching this film in the theatre when it came out because of the reviews, but I still wanted to watch it.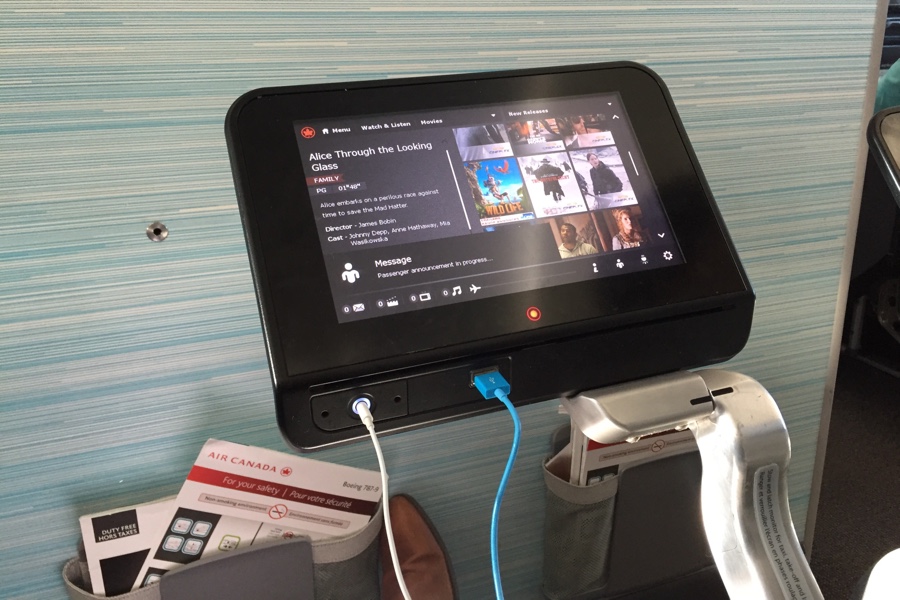 Skimming through Air Canada's EnRoute magazine, I saw the article on the best new restaurants in Canada they had picked.  Kissa Tanto from Vancouver won the first place! Although old news to me, it was a nice reminder to the dinner gathering at this place with my fellow food bloggers!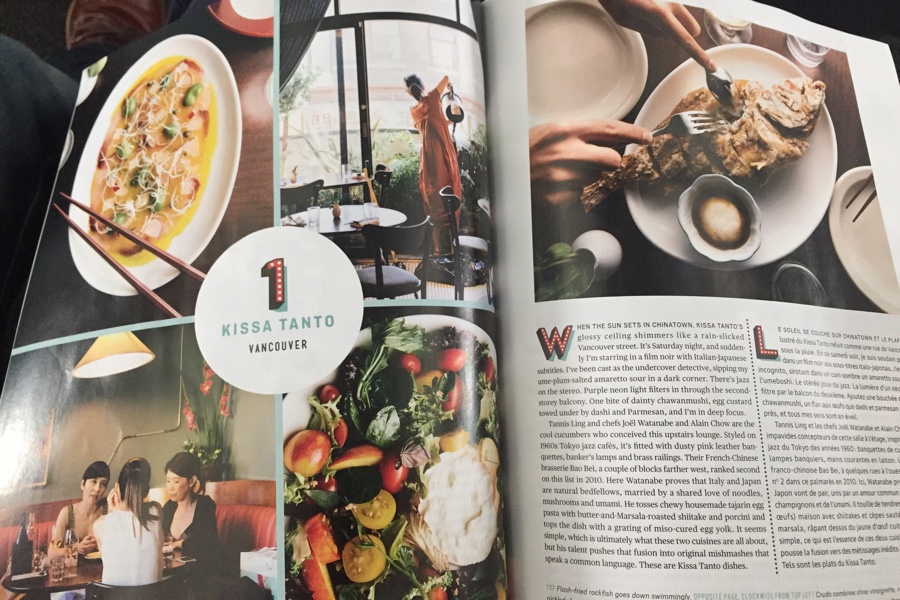 More wine on the plane – a white for my first meal… And I did red for the meal before the landing!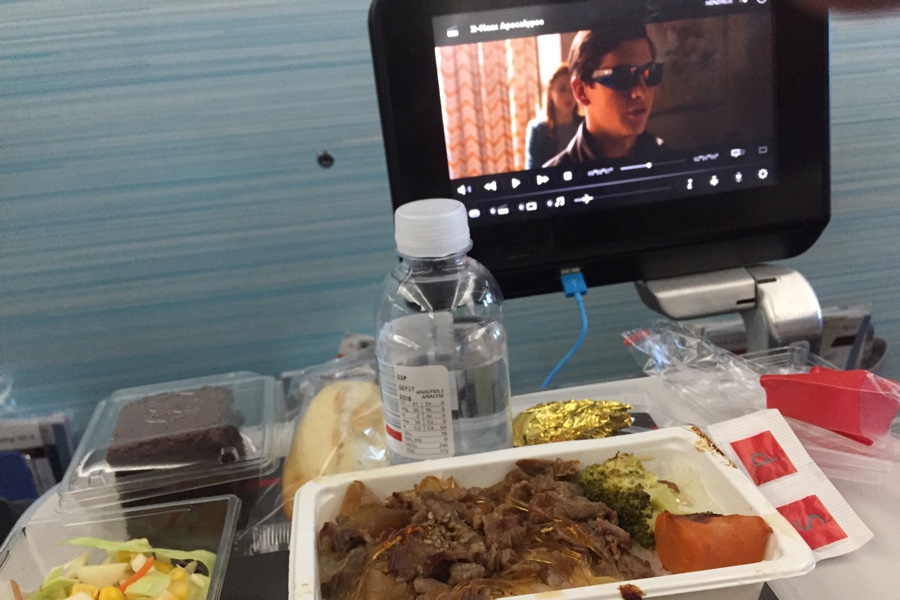 The food during the flight, however, really sucked compared to any of my previous Air Canada flight experiences.  I don't even remember what I ate. That looks like beef in the picture right?
In-Flight Meal
Tokyo / Narita Airport
Thanks to the swift 787,  I arrived at Tokyo-Narita airport with only 45 minutes late,  which was not too bad considering the flight was 1.5 hours late for the takeoff.
My buddy Louis was already at the airport waiting. He flew here from Hong Kong a couple hours ago.
The first thing we did was to rent a mobile wifi device so that we could have unlimited access to fast internet wherever we go in Japan. We picked the first rental booth that we saw. The 9-day rental of the wifi device cost about 12,000 yen ($180 CAD). For 2 people that seemed a little expensive. However, the wifi box can be linked tramadol buy online cheap to 10 devices, which is good if you travel with a bigger group.
It was just amazing to have the internet as soon as we arrived. We looked up the available transports to our hotel right the way and picked the best one.
The first was the Skyliner, which would take us to Nippori Station of Yamanote Line, and then just one more JR train ride to our hotel in Shinjuku near Shin-?kubo Station. It cost ¥2640. But if you're not in a hurry, you can take the Narita Express which will do the same thing taking you to Nippori, but cost only ¥1410, way cheaper and it takes only 20 – 30 minutes longer.
And let's briefly talk about exchange rate here… To us  ¥2640 or 2640 yen is proximate $260 USD or whatever it is in Canadian Dollars.
So overall, I found the Skyliner very similar to Hong Kong's Airport Express.
And we did all the planning through Google Map, thanks to the unlimited super fast internet we were having.  Google Map lists all the possible transit routes for your travel, and you can get to choose depending on time or price, and it's super convinient.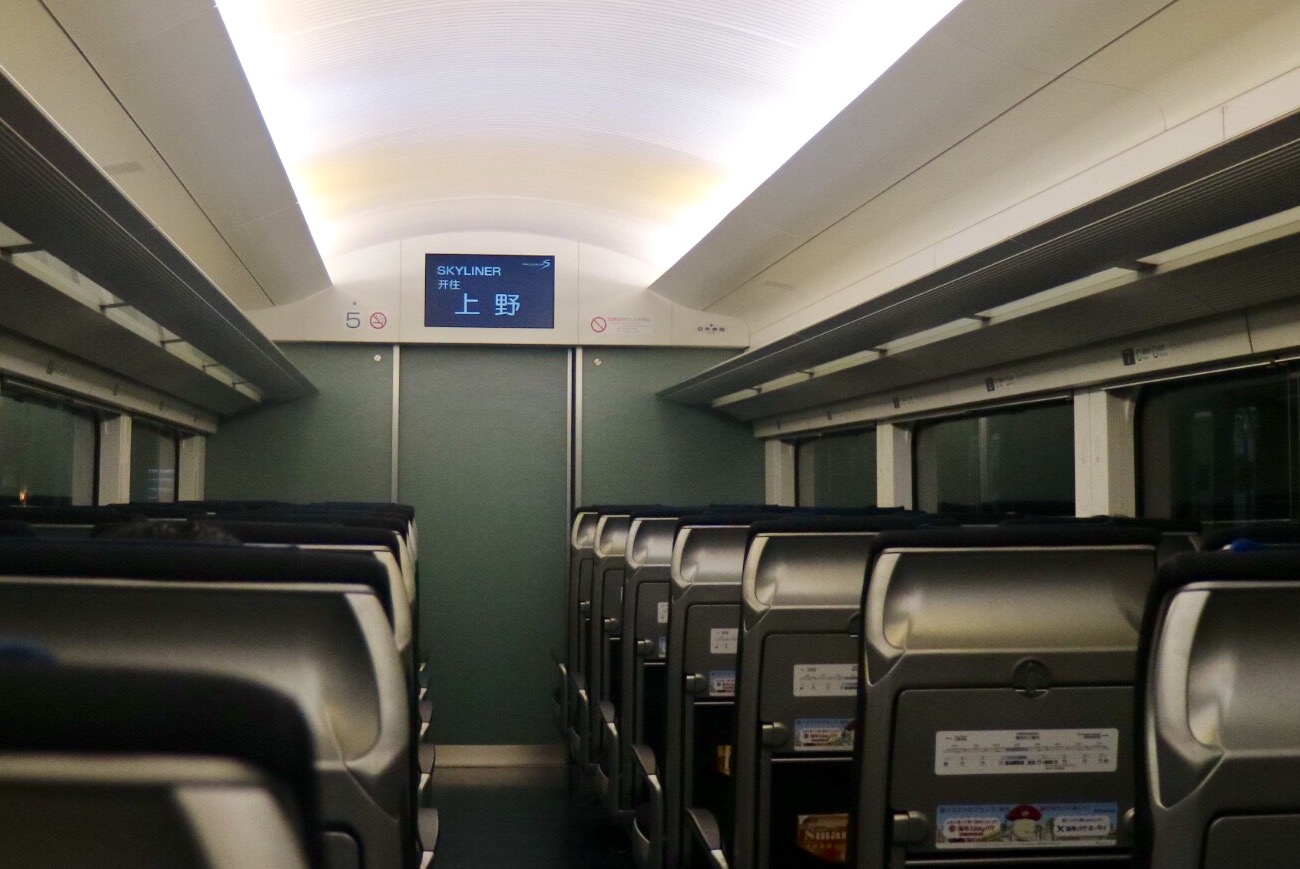 It took 40 minutes on the Skyline to get to Nippori Station of Yamanote for the transfer.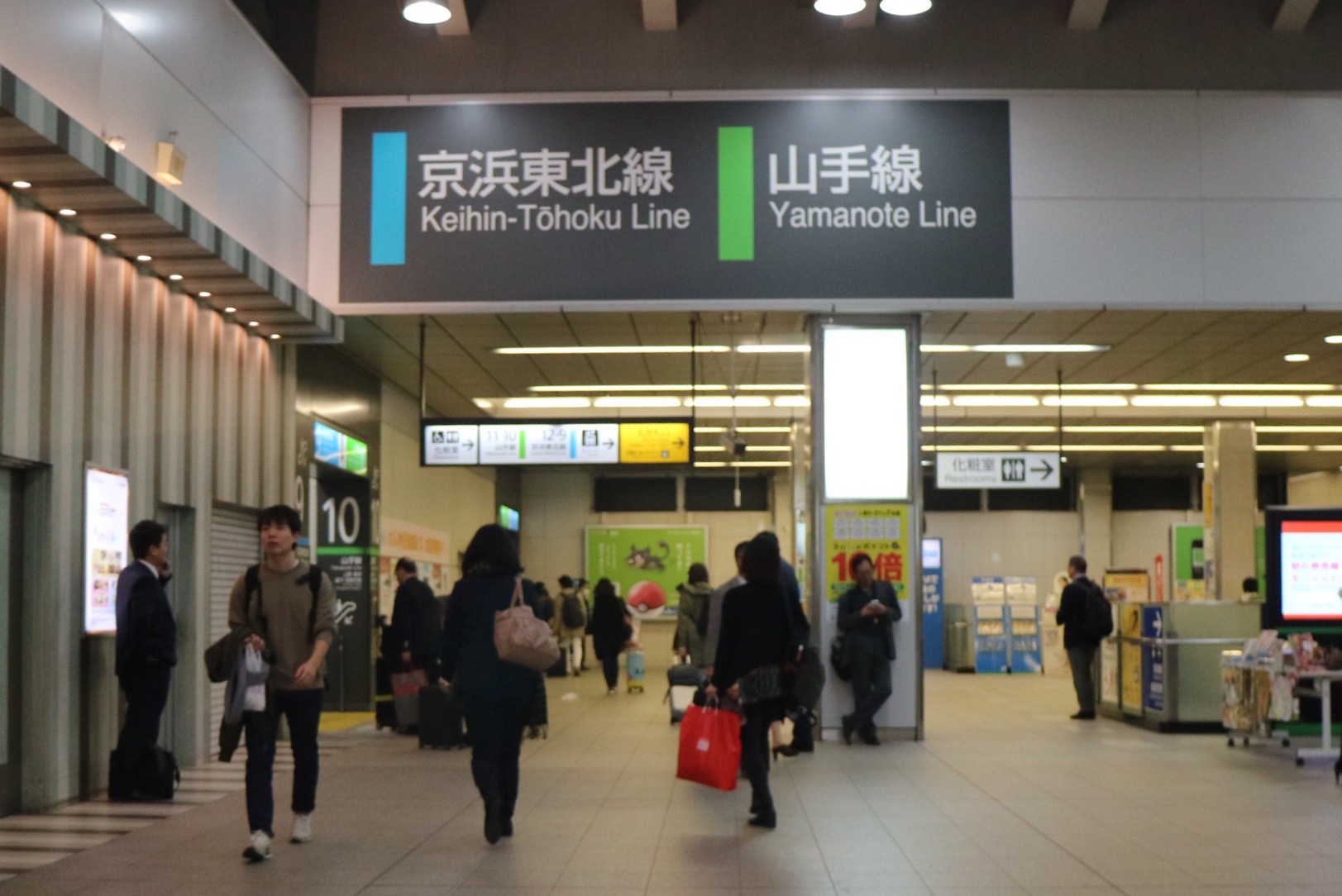 And another 20 minutes on Yamanote Line later, we got off at Shin-?kubo Station and found our hotel, Tokyo Plaza Hotel easily after a few minutes of navigating with Google Map.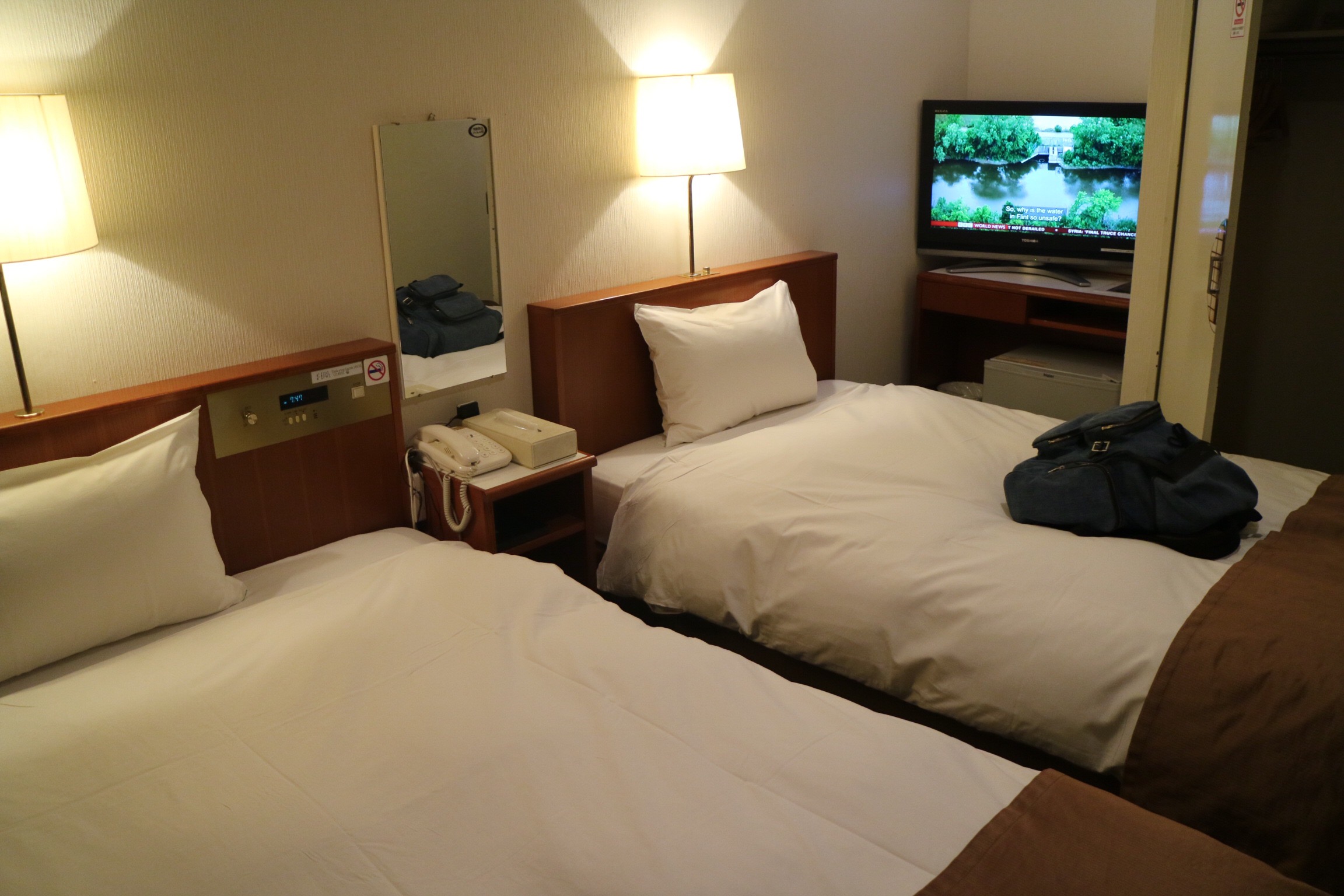 We probably could get a better deal on a hotel if we only need one bed. But we decided on Tokyo Plaza Hotel because they offered a room with 2 beds. There were one twin bed and one double bed in our room, which could fit 3 or even 4 people.  The hotel is not in the centre of Shinjuku, but it's only 10 – 15 minutes of walk away. Actually, the part of the area is considered Korean Town by the locals and indeed we could spot a lot of Korean restaurants in the neighbourhood. The hotel is nowhere near being glamorous but it's clean and has a great location. However, you're not allowed to have guests after 10 pm here unless the guest is willing to pay extra fees to stay overnight, which is quite strange and unheard of.
We were happy to see they have chilled beer mugs in the tiny fridge already!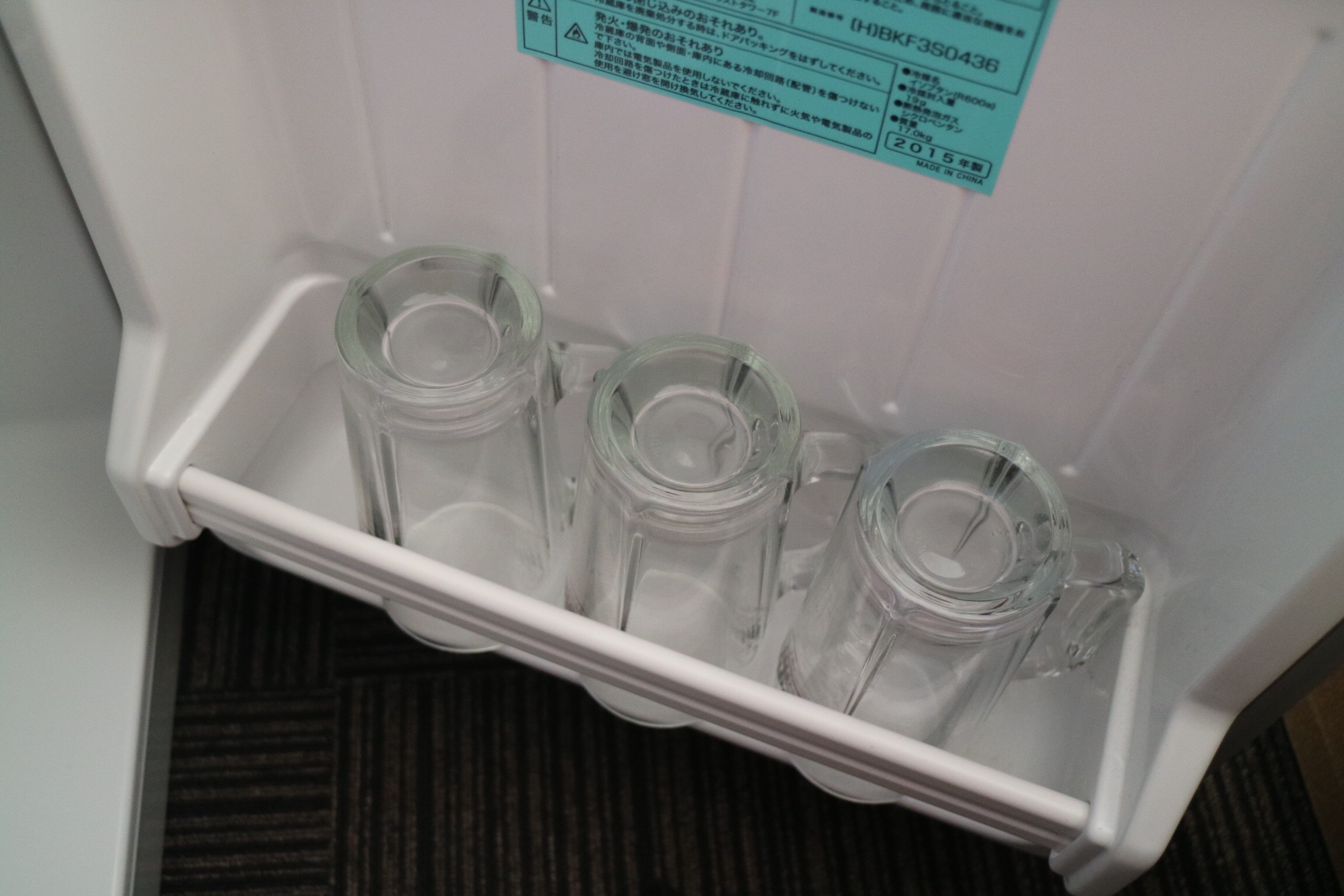 And the bidet in the bathroom… It felt weird using it at first but I started to get used it after a few times.
It was Friday night, but it was not super busy on the street when we arrived around 8 pm.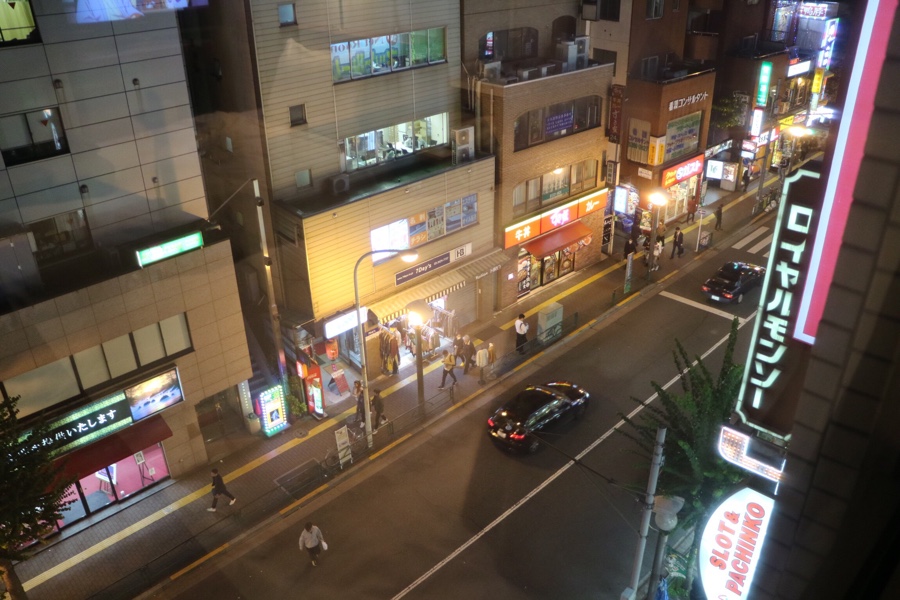 Time to get some dinner! At first, we were trying to find an izakaya bar that has a high ranking on Google that's about 10 minutes of walk from the hotel. But walking past like hundreds of izakaya bars, we couldn't find the one listed on Google, and we decided to find one that's not too busy and near our hotel.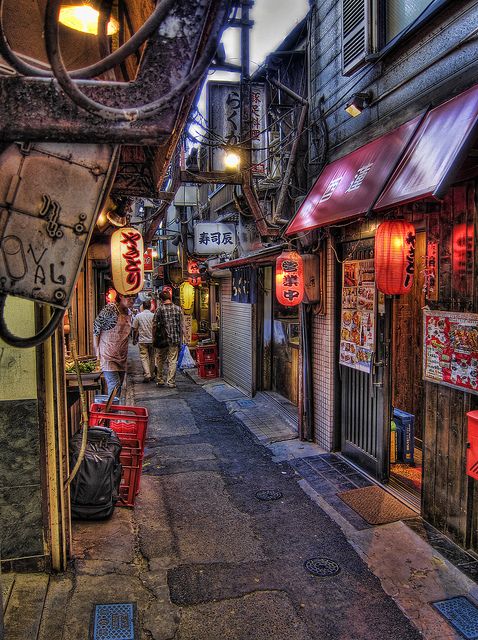 And we found this izakaya bar that looks decent from outside and didn't seem super busy inside. On the map it's called ??????, and the English name seemed to be "Izakaya Non-ki"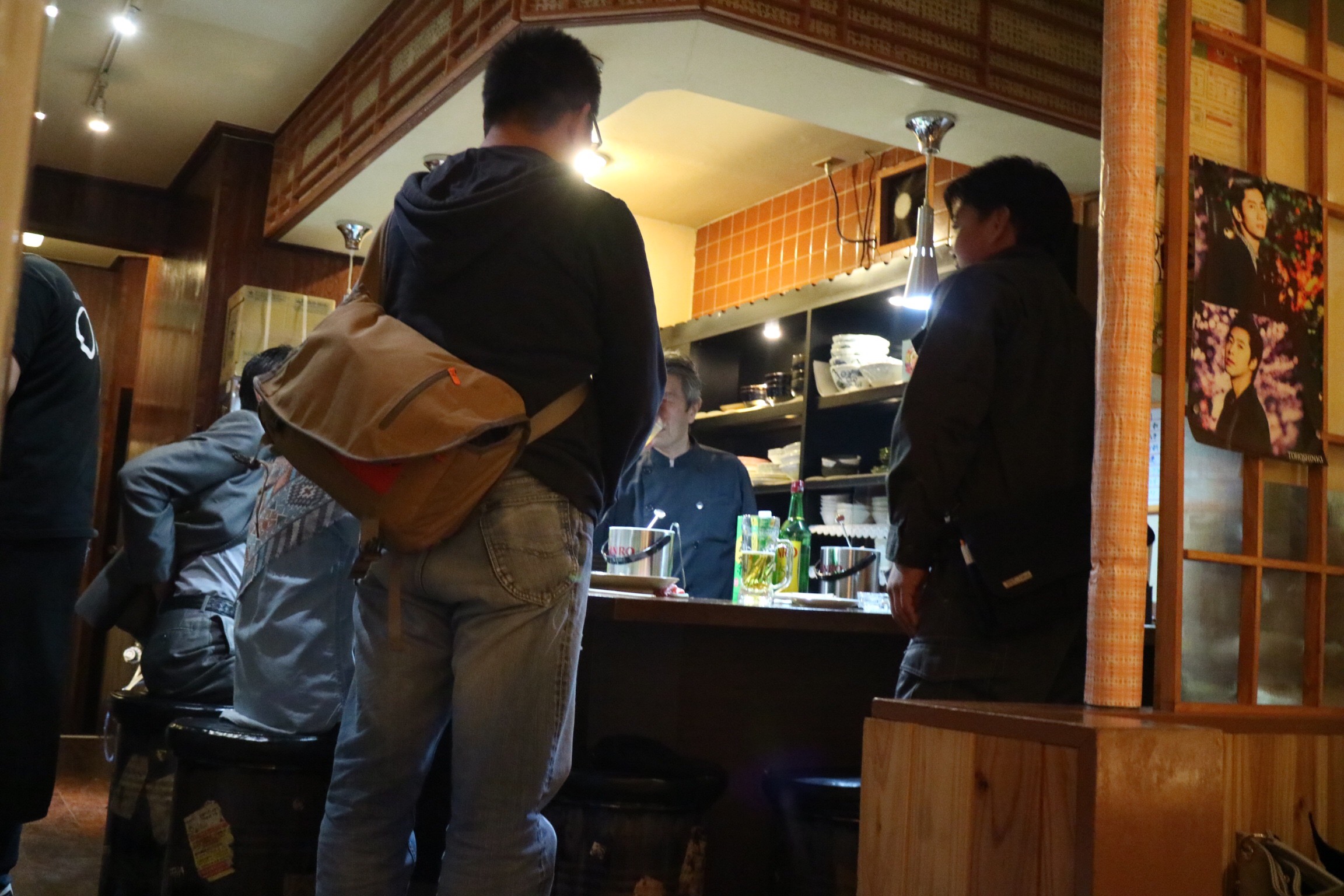 Louis knows a little bit Japanese and he did his best to talk to the chef who's serving us himself.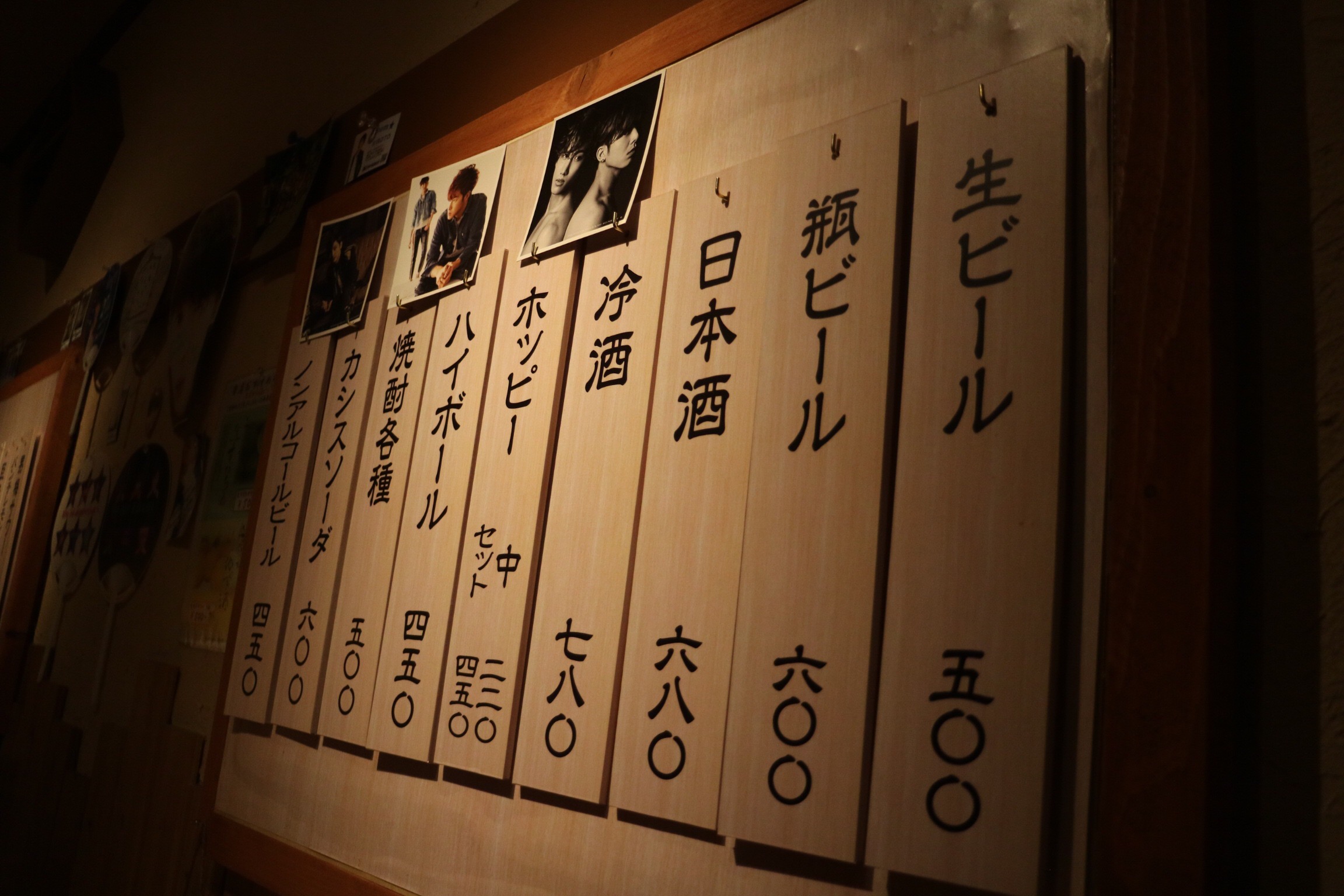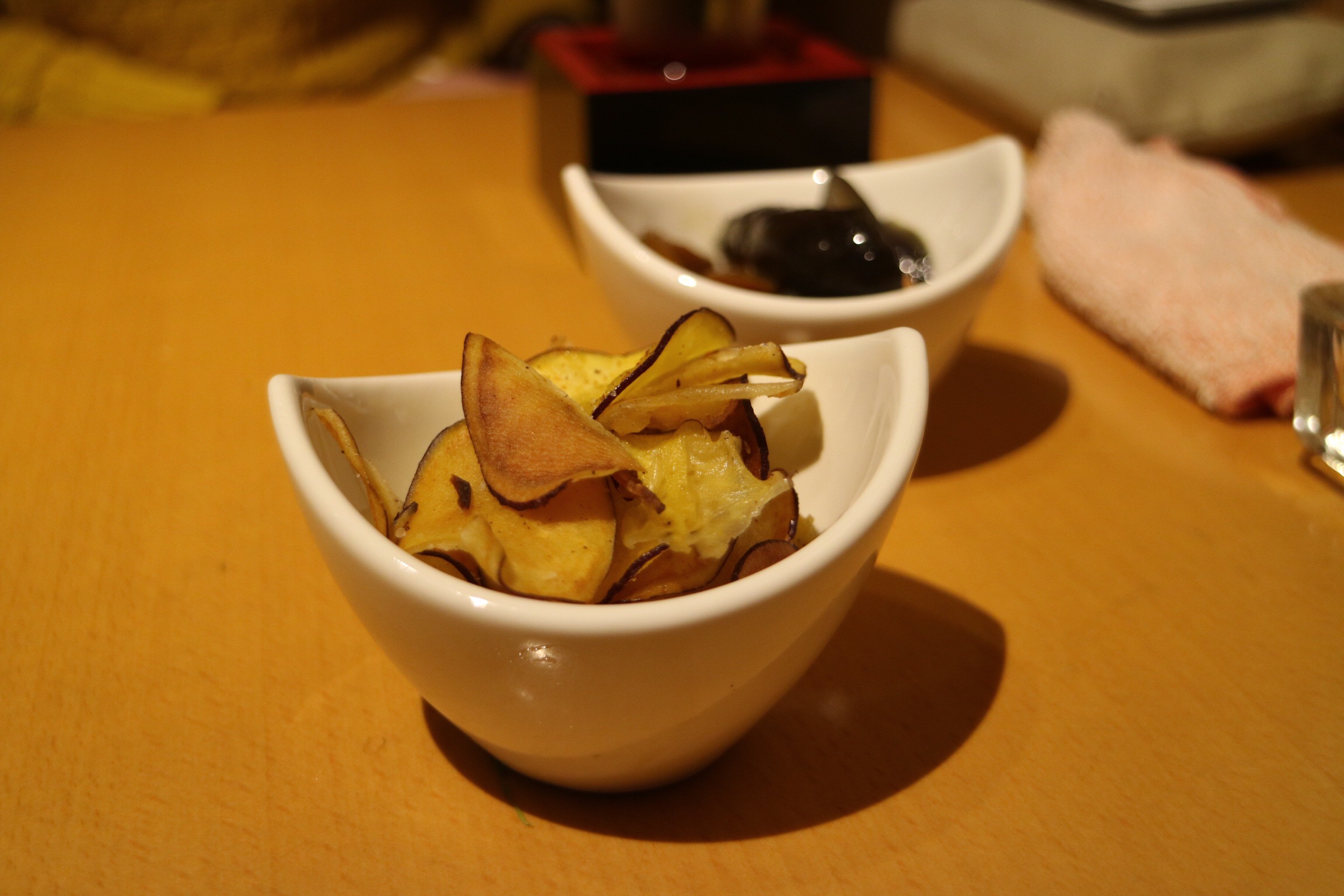 And let's start with cold sake of course!
I just love how they serve cold sake here – beautiful shot glass inside a wooden square cup. With both the glass and the cup filled up, it's the exact amount of 2 shot glasses. So when you finish the sake in the glass, just simply pour whatever there is left in the square cup into the glass, and it's another full glass of sake again!
The sake was so good – clean and flavourful! And the 4 – 5 oz serving cost 760 yen, which is about $10 CAD.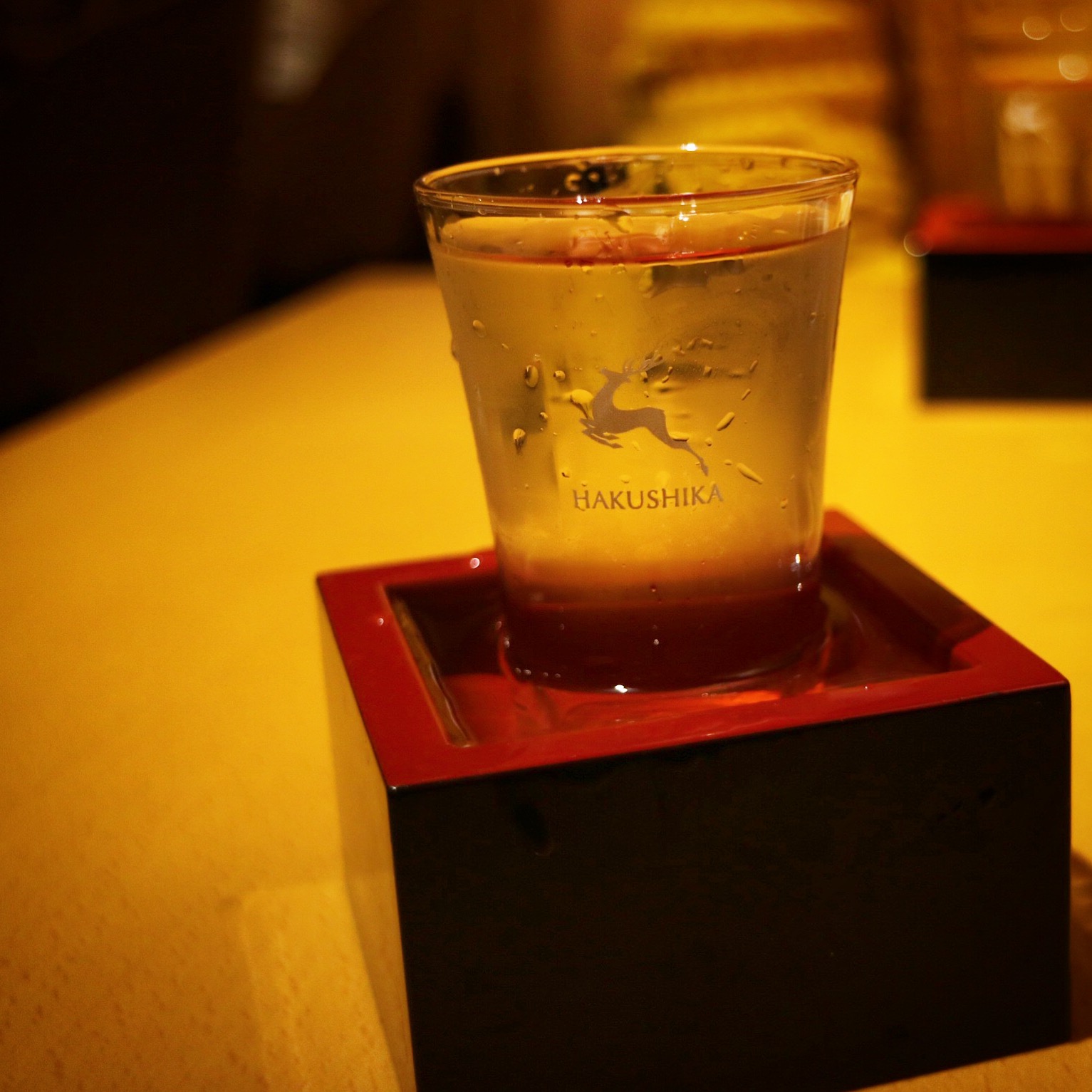 We tried to order some food. As we recognized the kanji writing of "??", meaning sashimi, we ordered it and was expecting some raw fish. But it turned out to be raw beef tripe. Never had raw beef tripe, we totally enjoyed it as it was marinaded in a spicy and savoury sauce with a hint of citrus.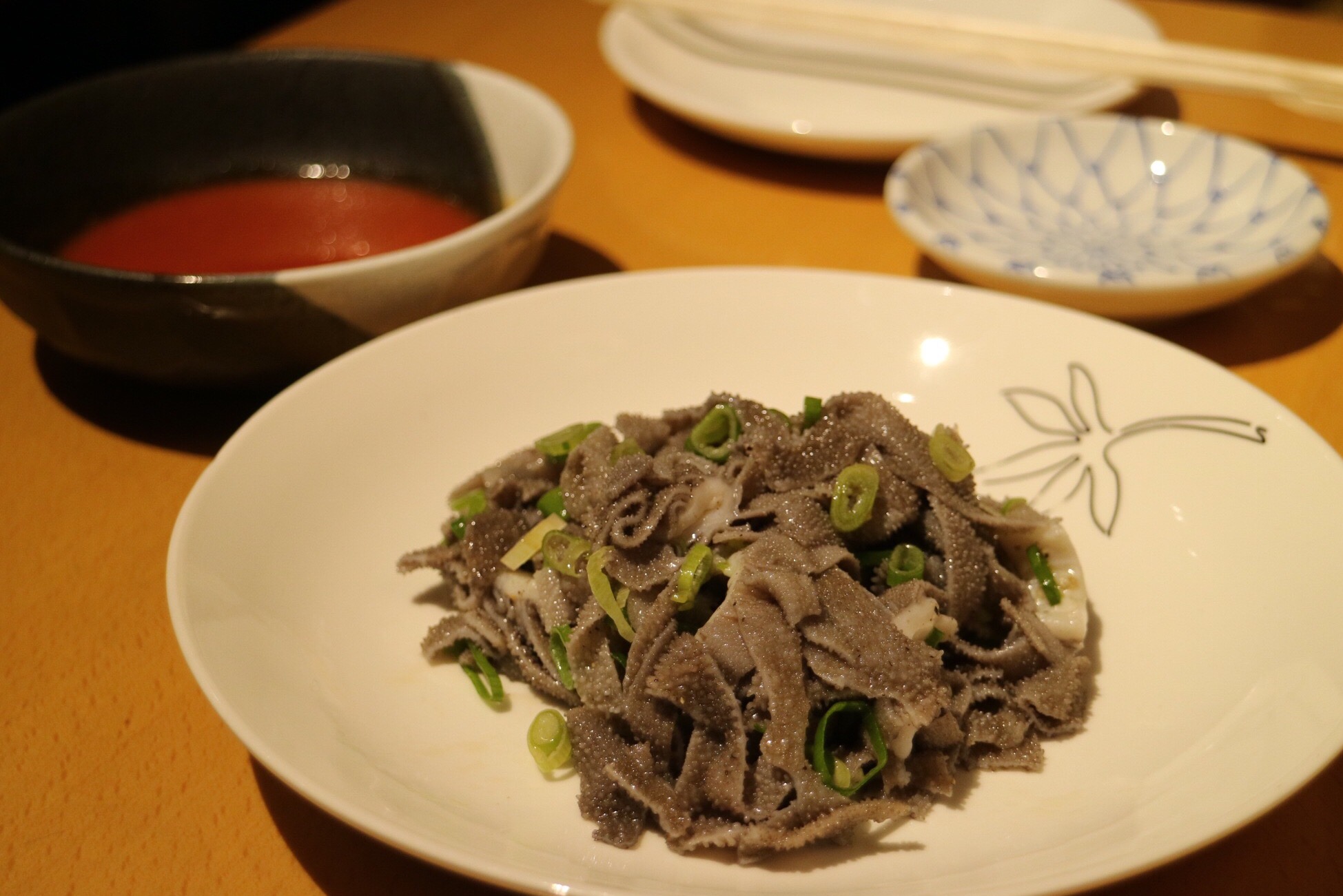 The next sashimi dish was closer to what we had back home – "Tako", aka octopus sashimi. It was so fresh and sweet and we devowed the whole thing within a couple minutes.
And we both recognized the kanji writing of Chicken Teriyaki and it was our last dish. It was so simple and the seasoning was subtle, but it was still very flavourful.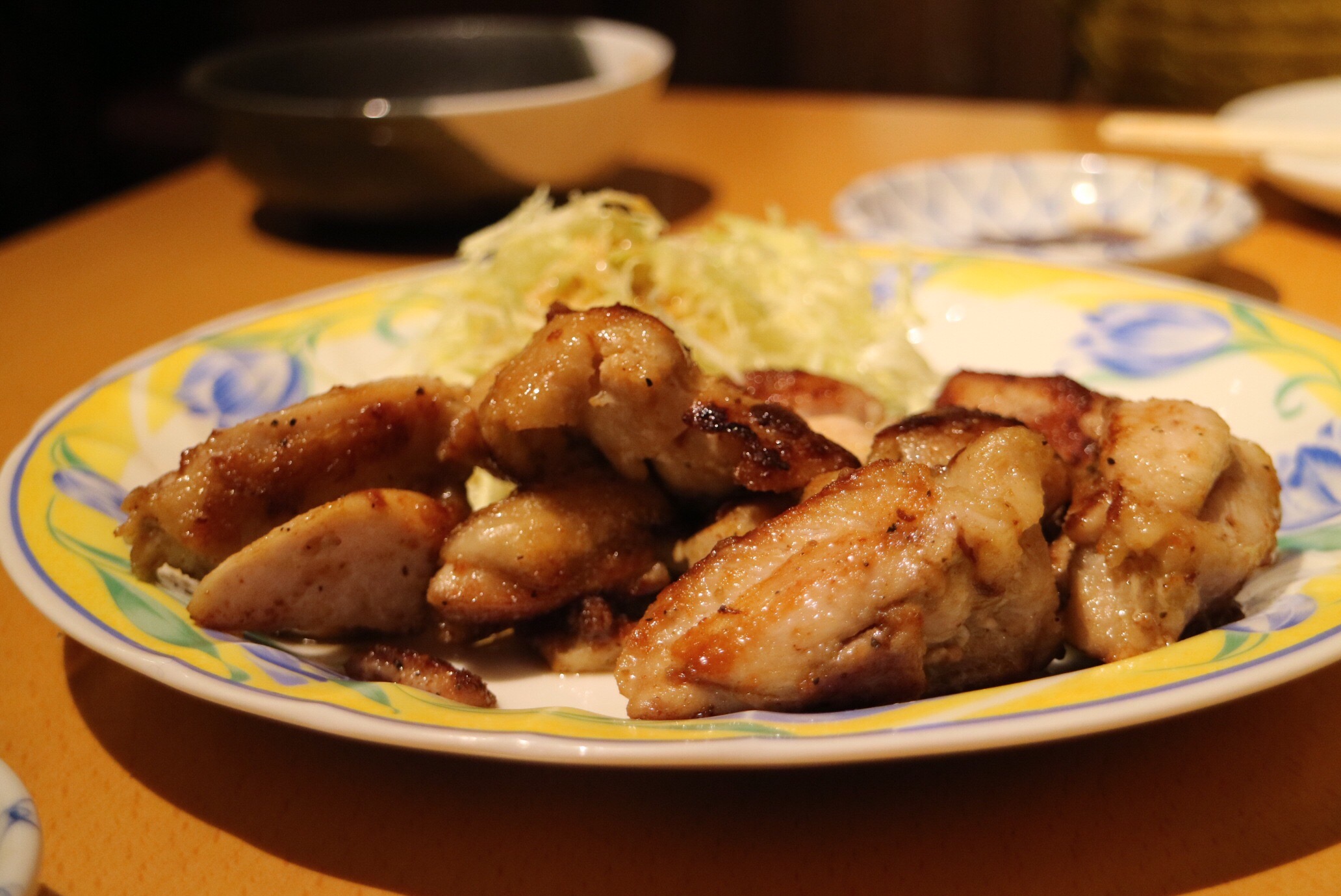 A Hunt at 7-Eleven
After dinner, we decided to visit 7-Eleven near our hotel for some beer, snacks and tomorrow's breakfast. I was in candy land and I totally forgot to take pictures. Everything looked so intresting and cheap (mostly 100 – 150 yen).  Here are what we got.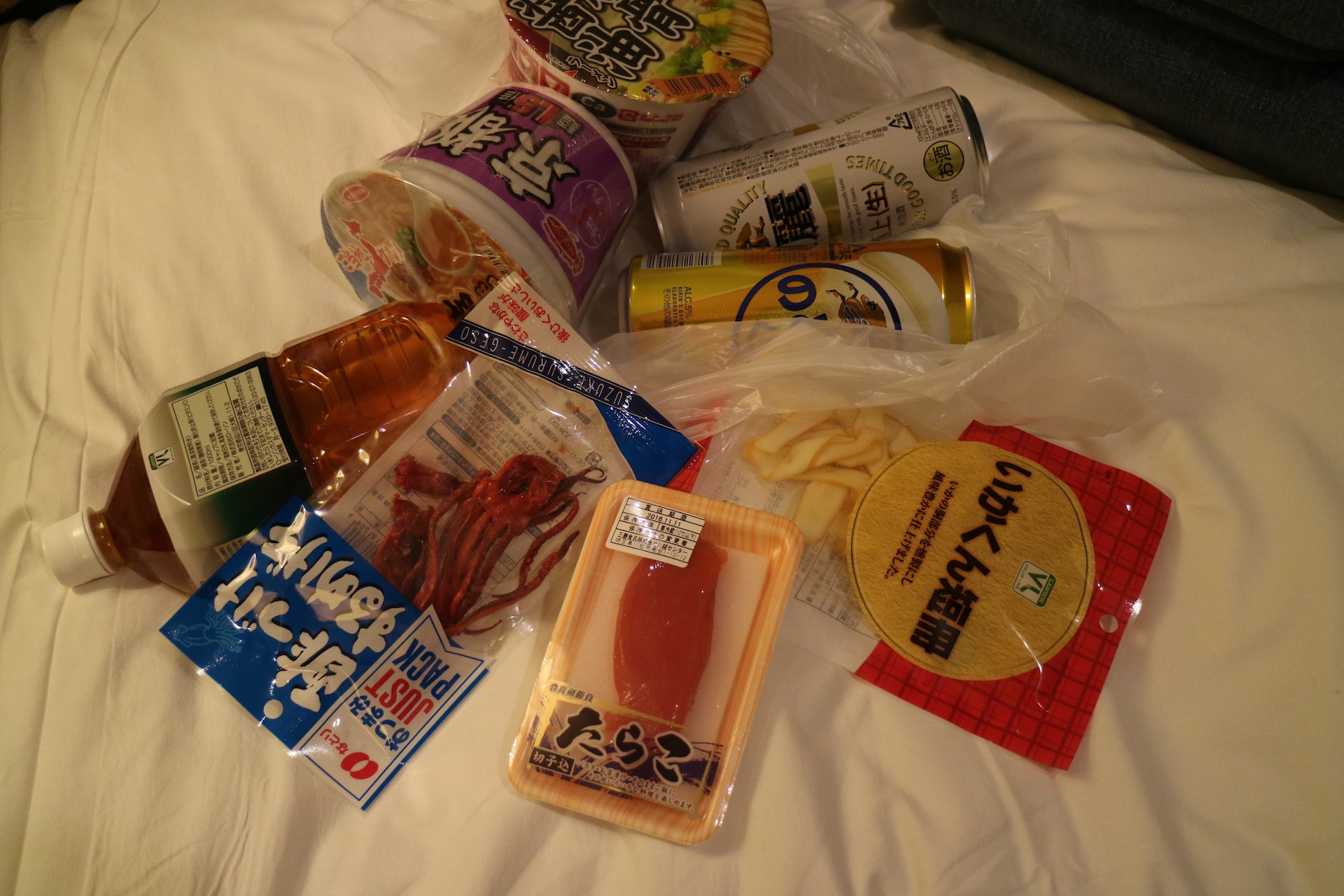 Mentaiko (salted pollock roe) is Louis's favourite and I friggin love it too. We couldn't even get mentaiko like this in a lot of expensive Japanese restaurants in North America, but here you can buy it for 100 yen at a convenience store.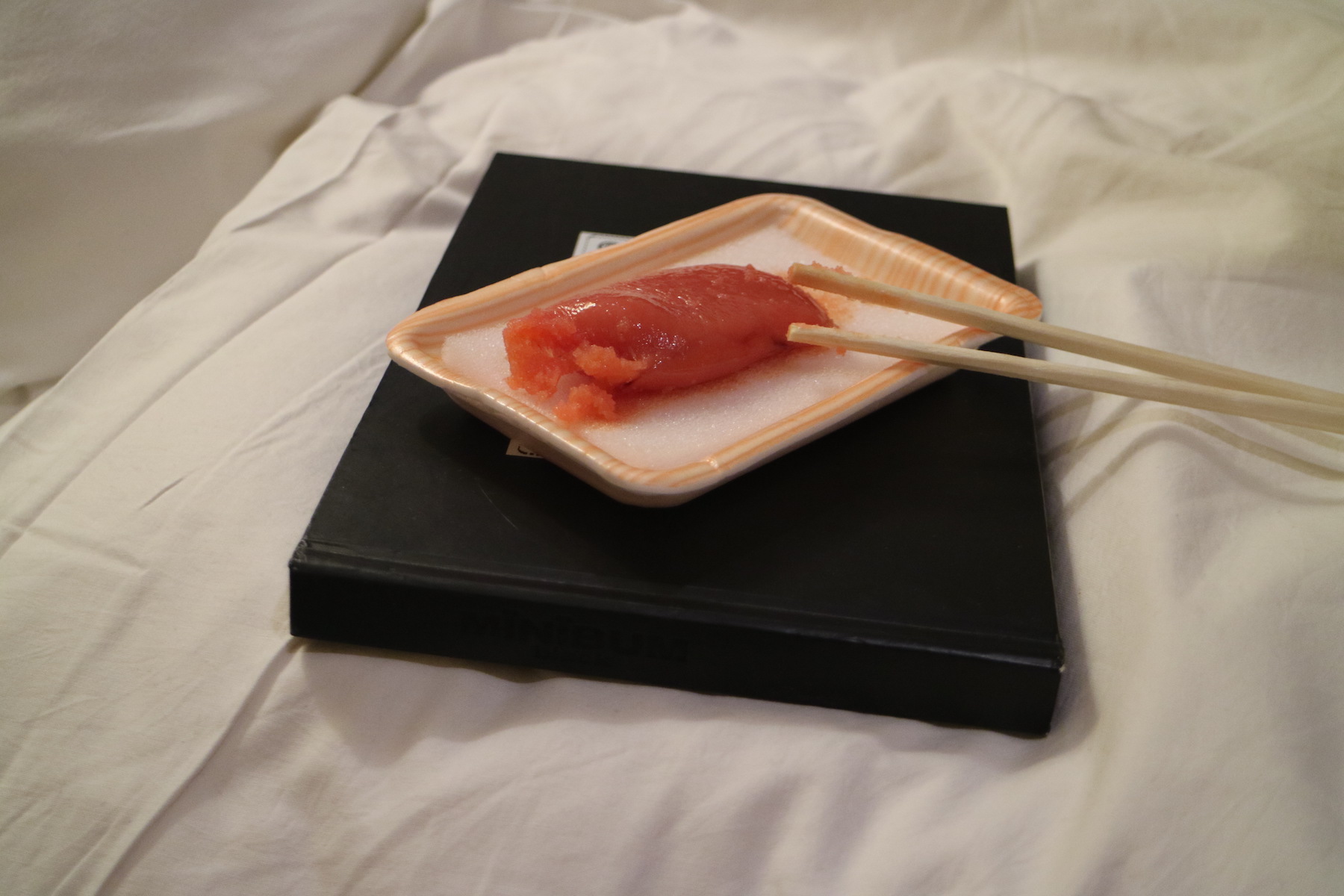 We also went out that night and ended up clubbing for a few hours.
And that was my first 8 hours in Japan before going to bed!
Stay tuned…
Check out my Tokyo video here: