We rarely stepped outside of Richmond for our after-badminton dinner last couple years. As our game is in Richmond and a handful of us live nearby, we would pick somewhere for the convenience. But since I moved downtown, the opportunity has knocked more often when it comes to eating something different.
Most of us were craving for Japanese this evening. Sushi was out because most sushi restaurants close around 9 or 9:30 pm. I suggested going to Suika in South Granville.
The loud and energetic Japanese pub-style restaurant is named after a fruit (suika is Japanese for "watermelon"). It is the sister eatery of those also known with quirky names: Kingyo ("goldfish"),  Rajio ("radio"), and Raisu ("rice").  Since Minoru Tamaru founded Kingyo in 2006, his vision of incorporating izakaya is unstoppable, impressing the locals with the colourful Japnese culinary culture. It might seem loud and super casual in those restaurants, but the food is how they do it in Japan, small, creative and crafted with quality.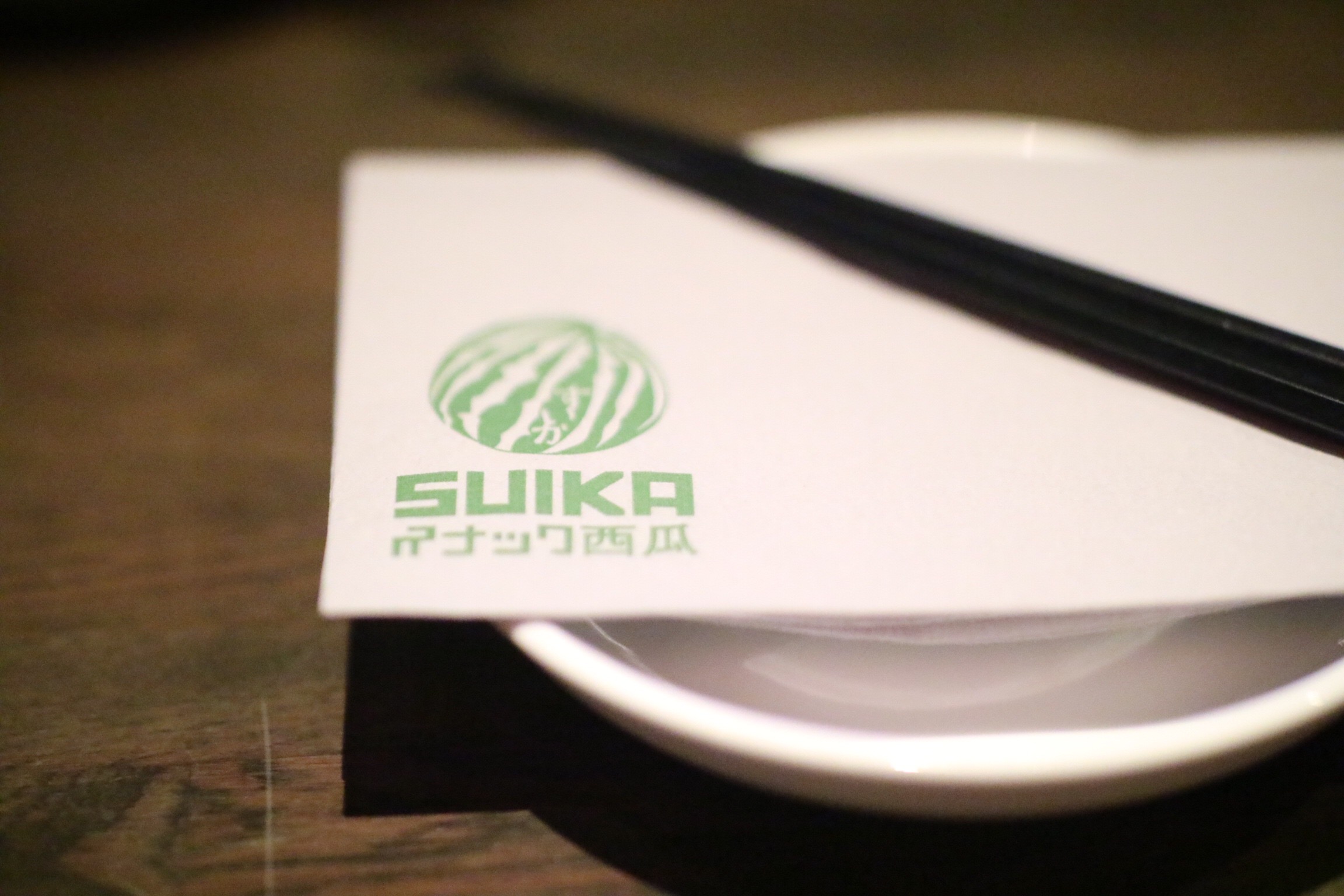 To me, Suika is not like the izakaya spots that I experienced in Japan. When izakaya in Japan could be just a small garage with no more than 10 seats around the bar/kitchen counter, Suika looks more like a full-fledged restaurant with a bar and a large semi-open kitchen. But the place has captured the spirit of izakaya. We were welcomed by loud cheers of "Irasshaimase" from the whole friendly staff.  Although it was past 8:30 pm on Wednesday night, we were about to see 3 birthday parties. Apparently, this place is known for the staff's over-the-top spirited cheers and singing for birthday parties. What a unique way to make customers happy.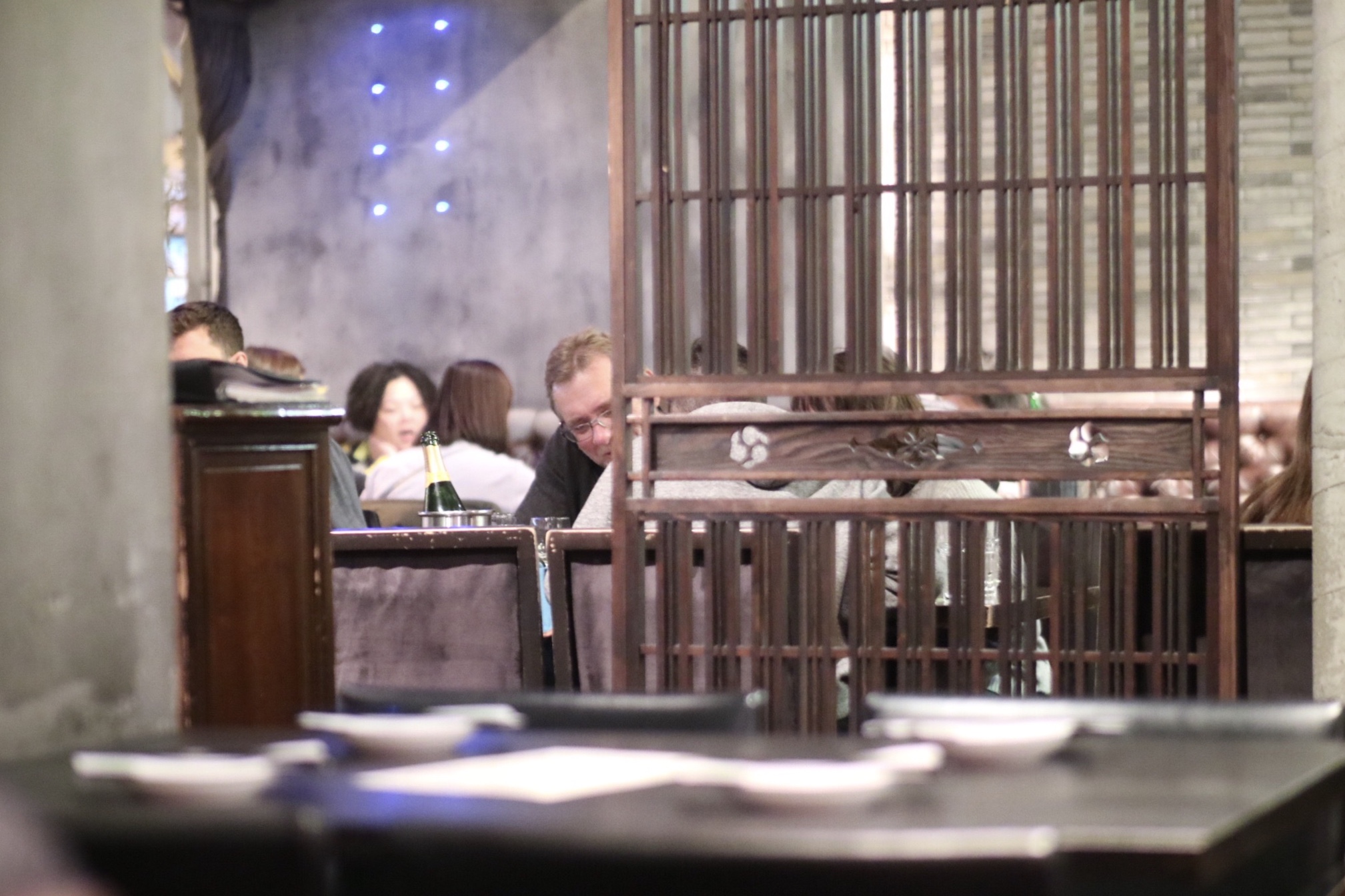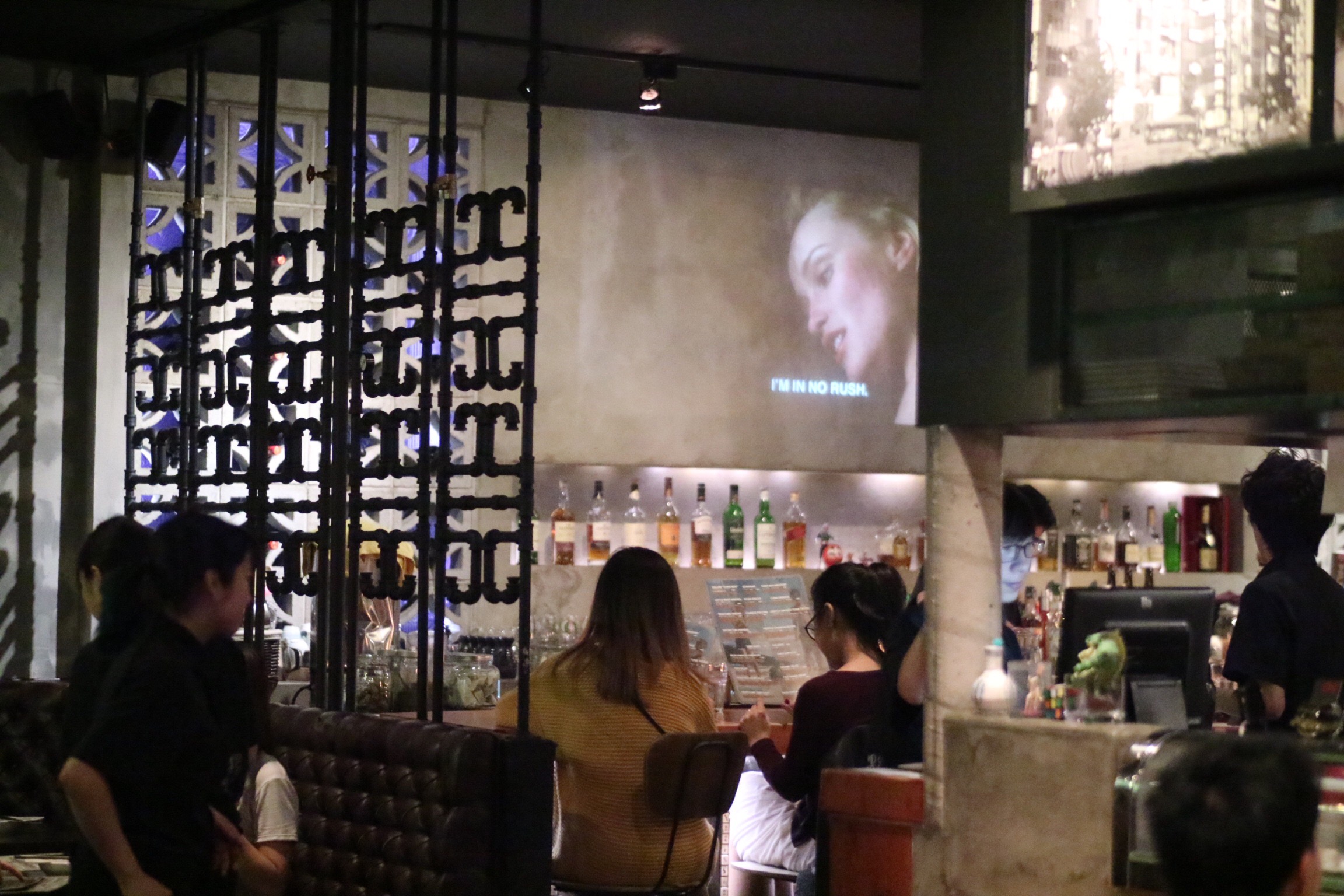 You have to have an alcoholic drink at an Izakya because it is the essential part of the culture. Like most of the Japanese pubs in the city, they have a good selection of Japanese beers and international wines and spirits.  And it's hard to miss their extensive list of sake – dry, sweet or more balanced. They also serve single-shot cocktails, which are, although mostly on the lighter side, fairly affordable – nothing is over 9 dollars. My Gin Sour Tonic ($8.80) is light and refreshing.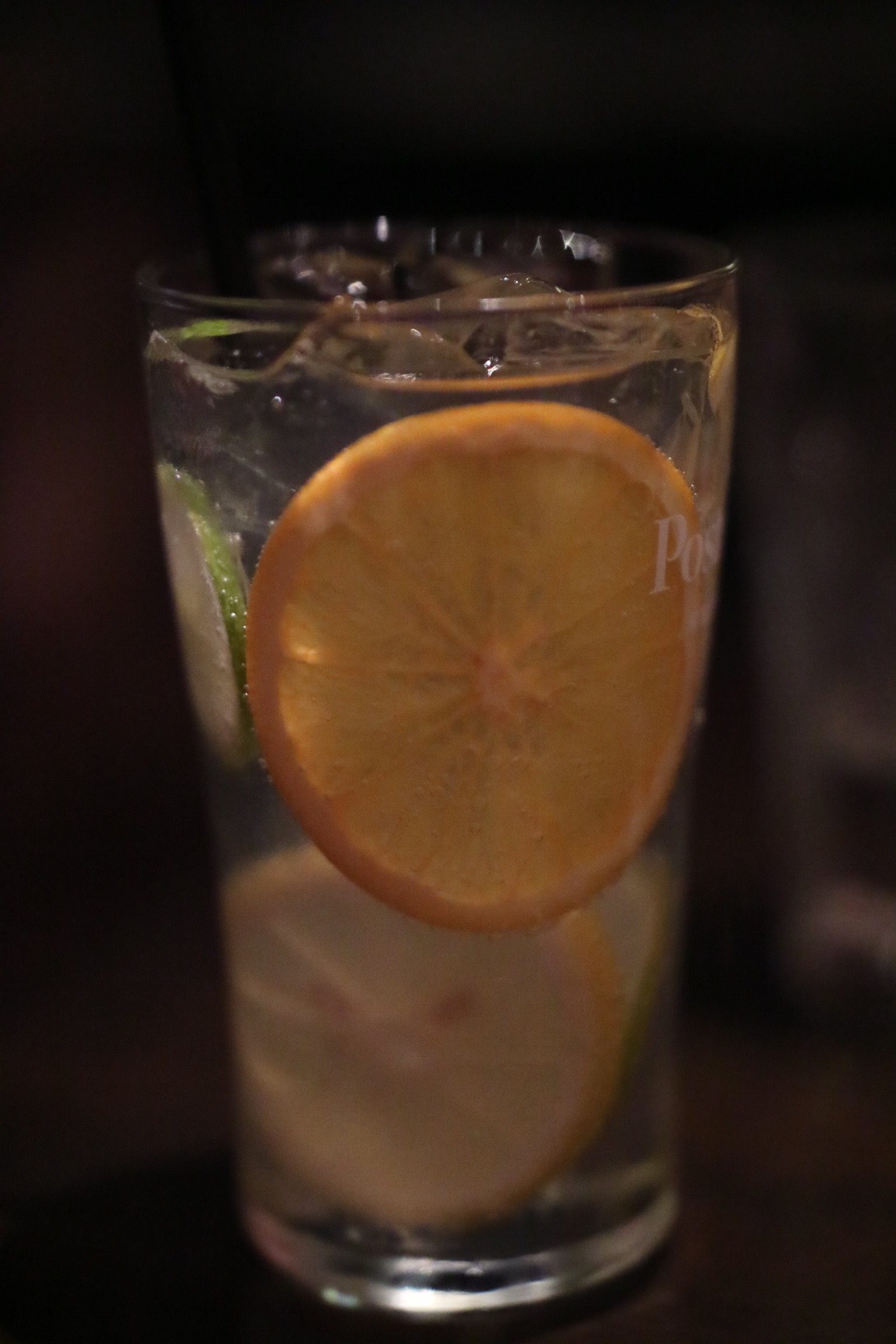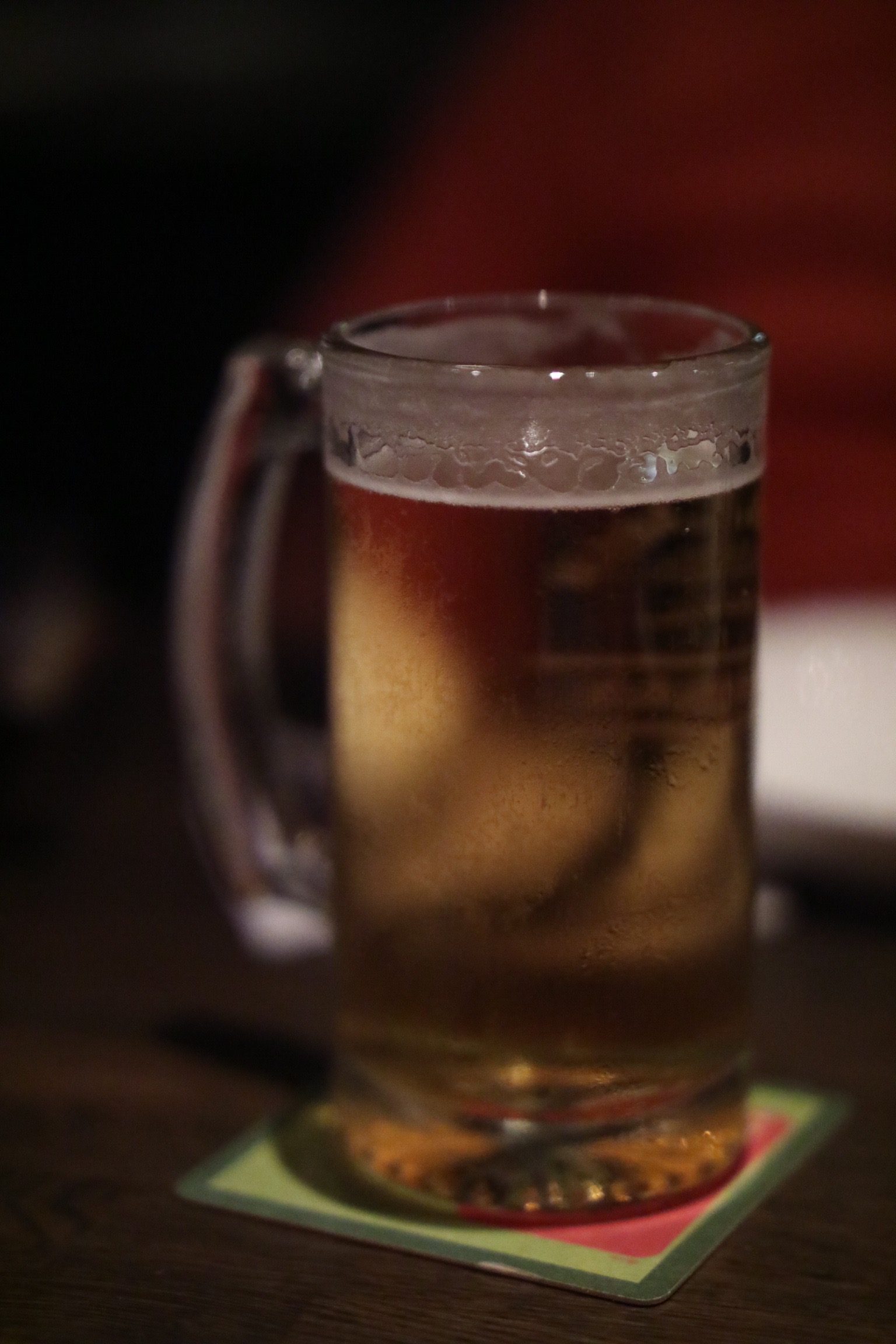 We were digging into our dishes, where were sharable among 4 of us. The Pork Belly Miso Carbonara ($12.80) packs a punch of rich creamy and savoury flavours. The miso in the sauce enhances the umami bomb that usually only consists of cheese.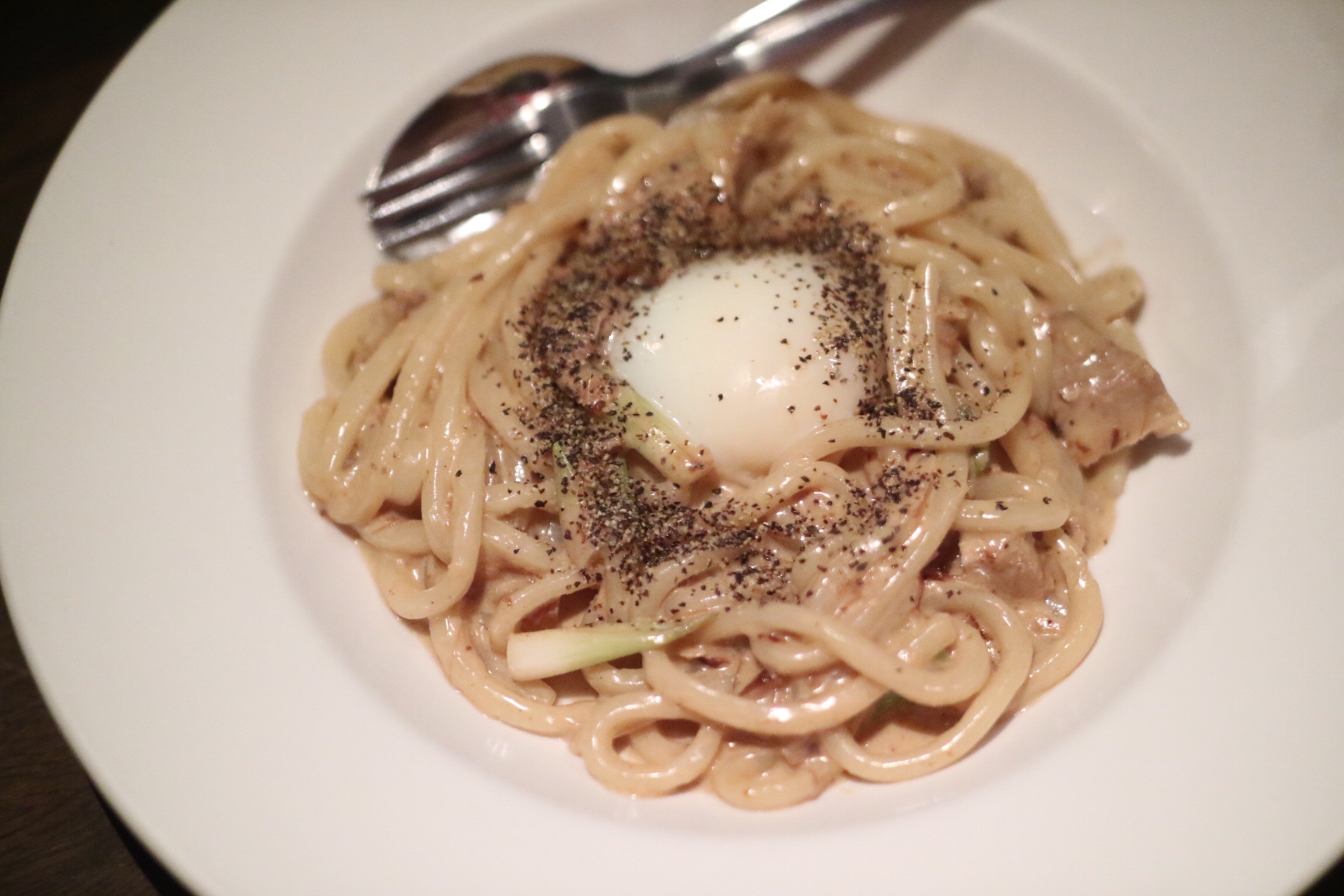 The following two dishes look similar to each other as both feature big lumps of brie cheese.  I liked them both. The Sea Urchin Poutine ($9.80) was highlighted with flavours of uni and ikura while the Cheese and Tomato Hotpot ($10.80) was featuring a tasty tomato broth filled with Napa cabbage and bacon, a reminder of  French onion soup. First time seeing brie used in poutine or a soup with cheese topping, the visual works, the flavour rocks, but functionality wise, it's hard to break the cheese and mix it with the rest of the ingredients. Some might enjoy those dishes as individual appetizers.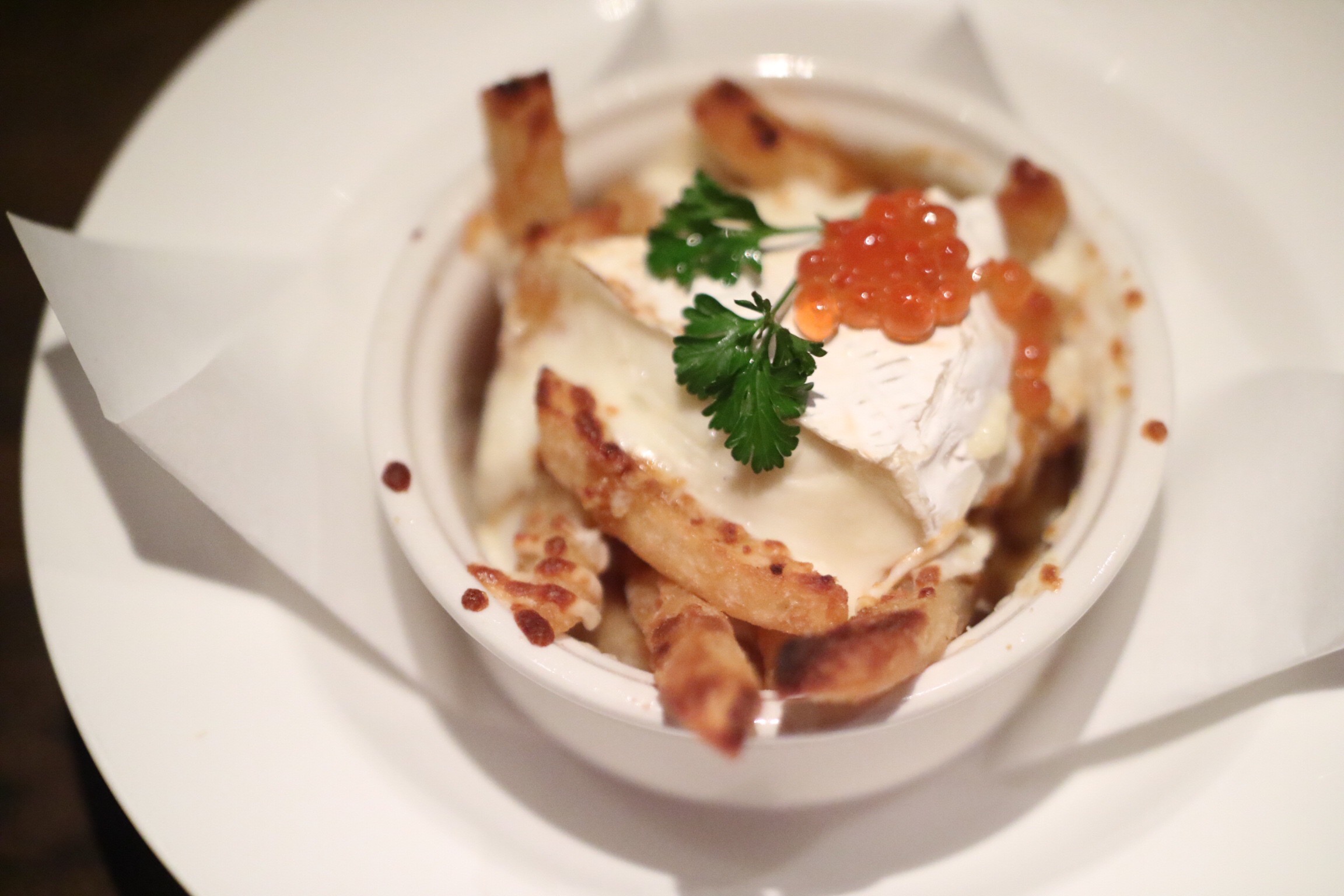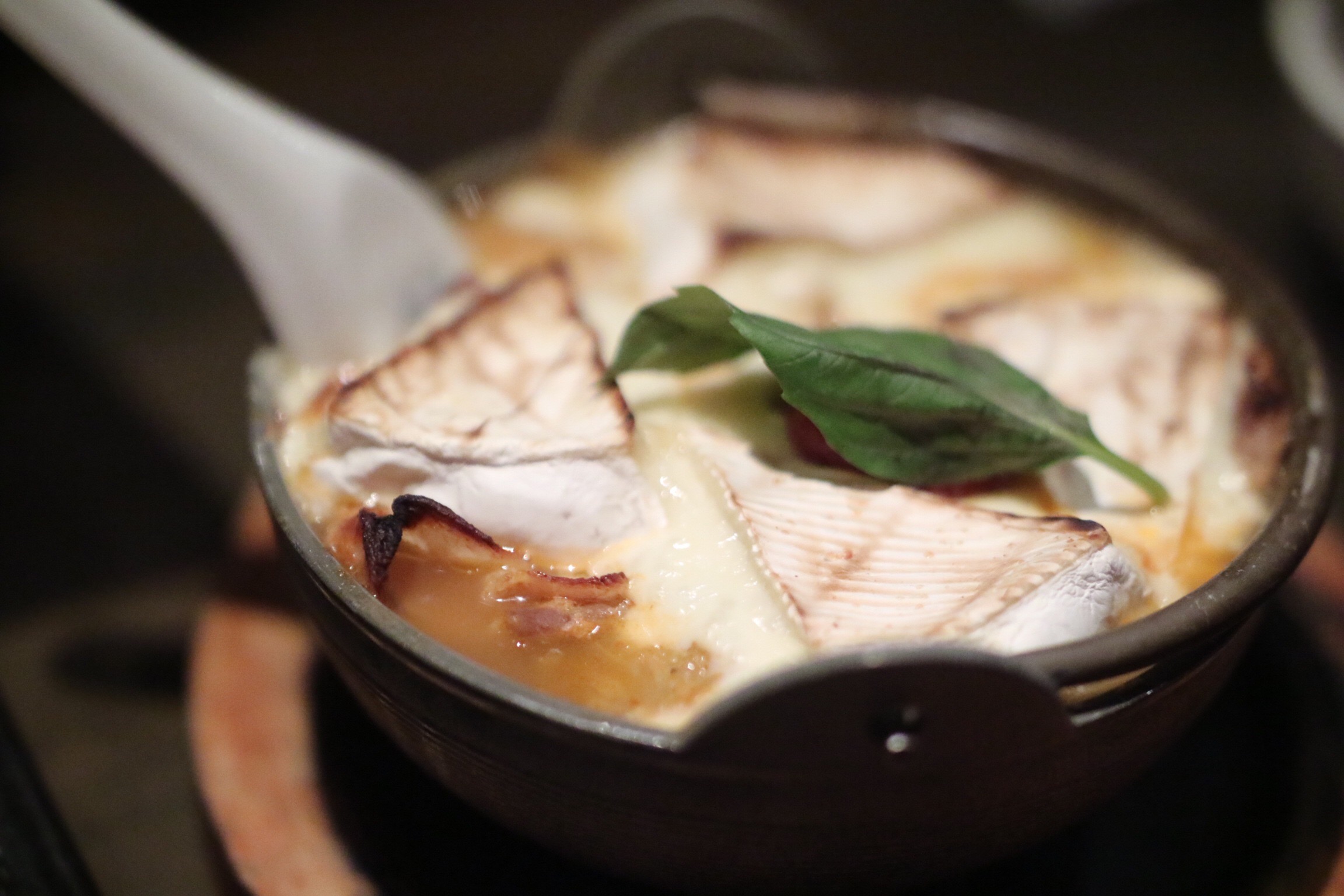 For the next dish, the Hellz Chicken S.O.S ($10.50), apparently the super spicy version of Chicken Karaage,  the server politely asked how everyone could handle the spice level and suggested us to have the sauce on the side. Yes the sauce was very hot, thanks to the habanero and tobacco, but it was also packed with a lot of great savoury flavours. The chicken was perfectly fried and enjoyably crunchy.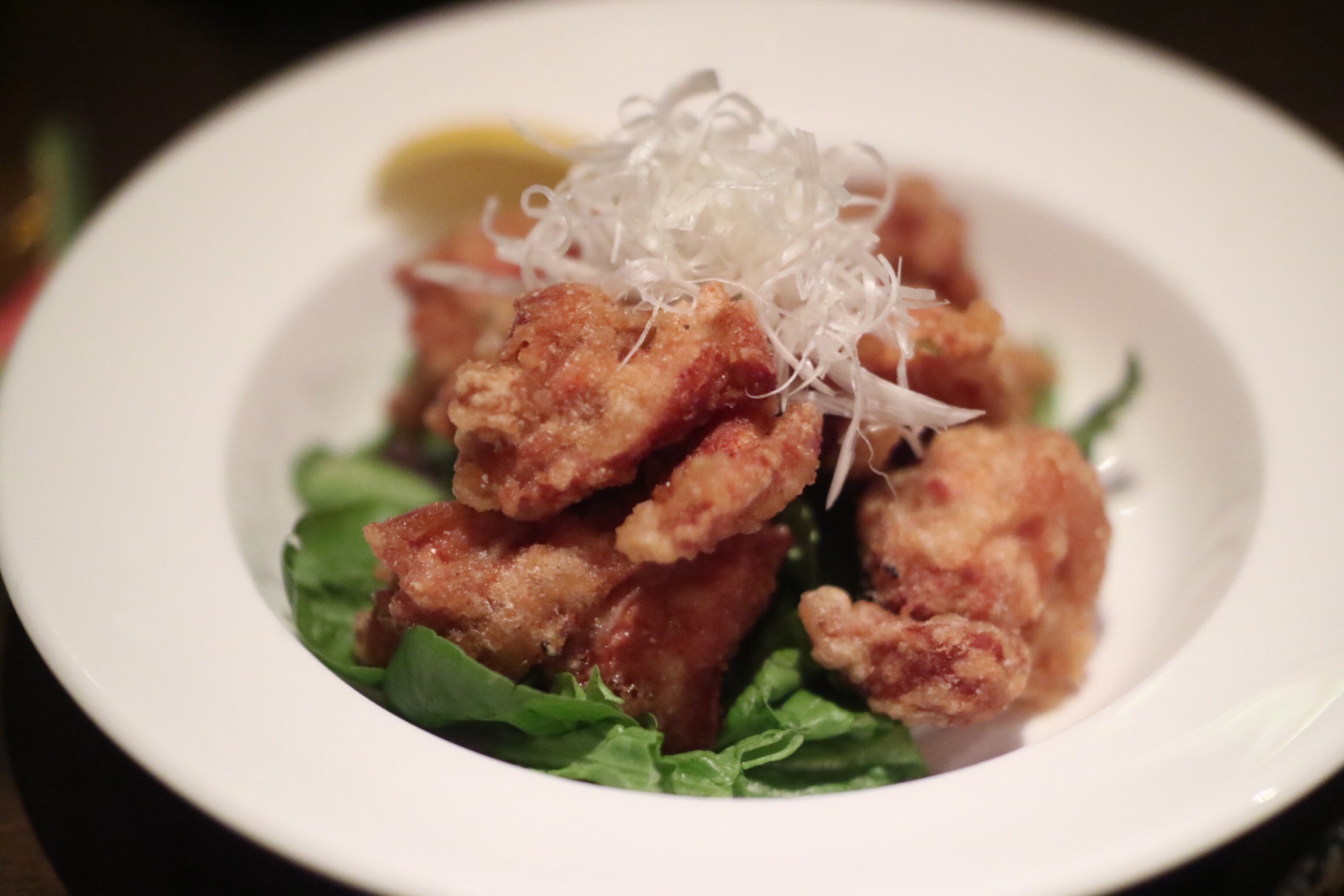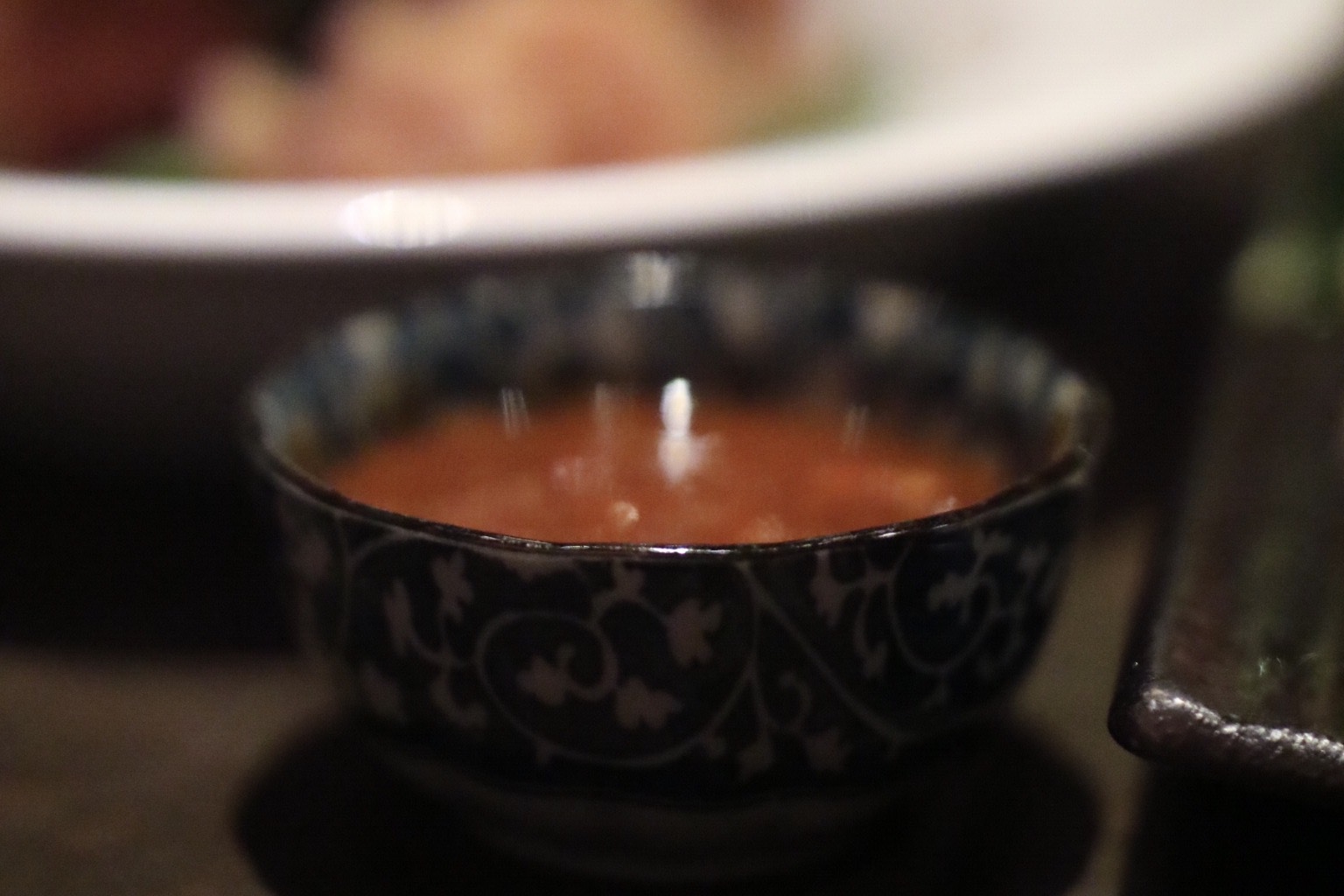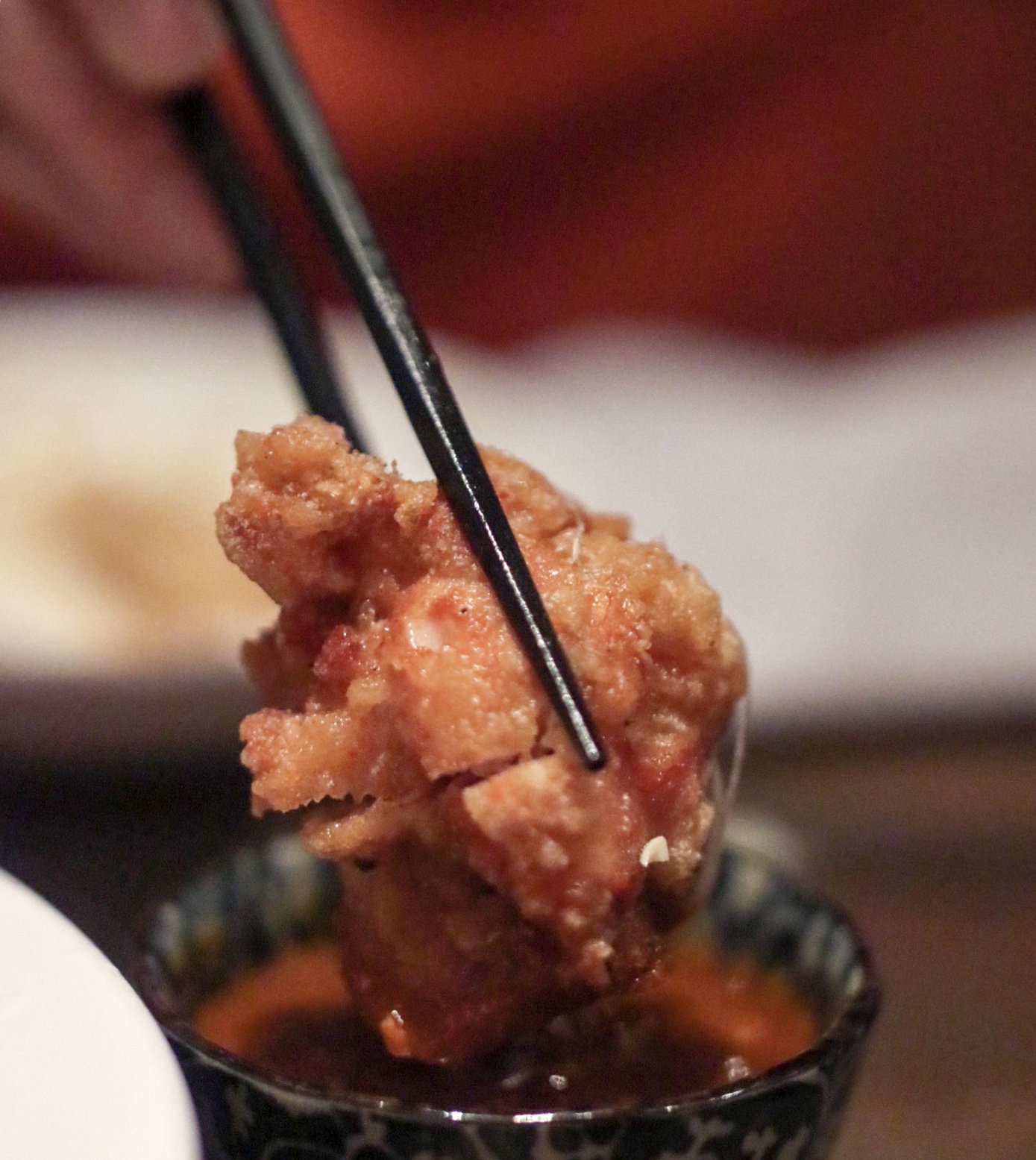 The Grilled Duck ($9.80) was served with negi miso sauce,  and topped with green onion and homemade chilli oil. The miso and chili oil formed a flavour similar to Korean doenjang 大醬 or Chinese soybean paste 豆瓣醬, giving a ton of flavour.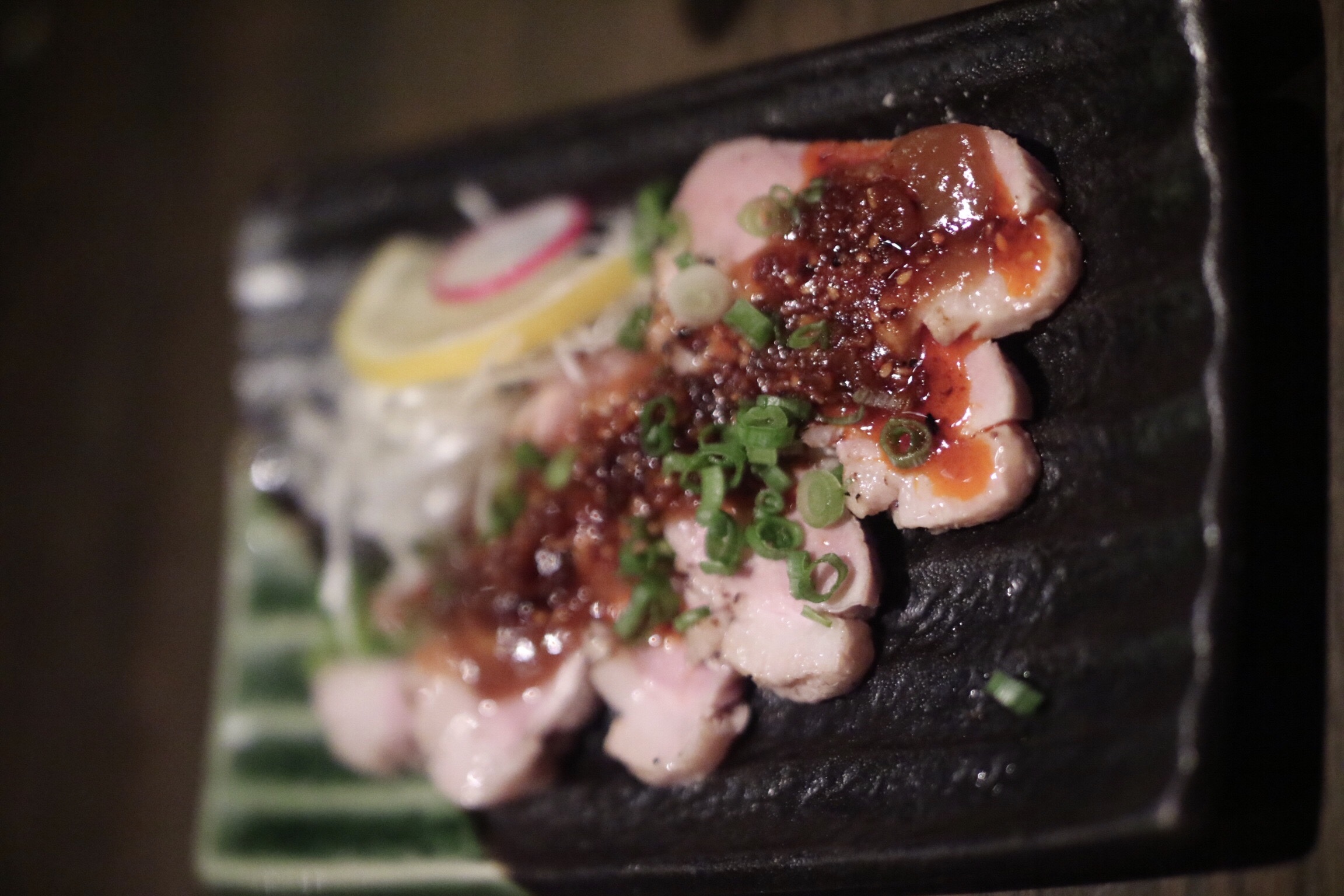 You don't usually find sushi at izakaya in Japan and it's not usually heavily featured here either. After all, izakaya food is all about being simple, casual and tasty, nothing overly labour-intensive. The Aburi Toro Battera  ($13.80) is one of the only 2 sushi dishes on the menu. The pressed sushi is topped with lightly torched fatty tuna, along with avocado, shiso, sesame seeds, and topped with a homemade soy and seaweed sauce.     Albacore tuna is very subtle in flavour, making the sauce seem little overpowering. But if you want a plate of flavourful bar bites, it's not too bad.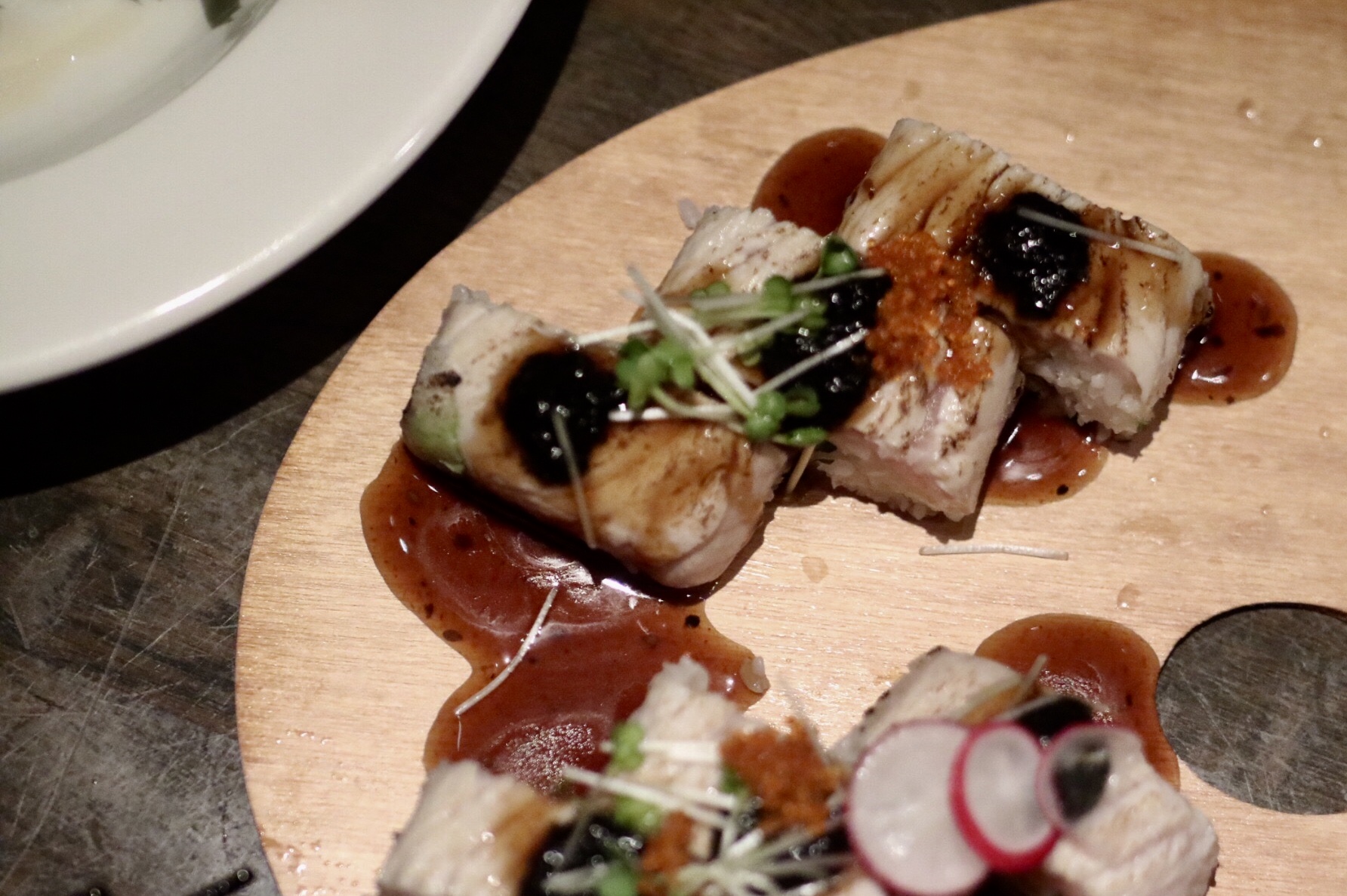 We also ordered the Kakuni Bibimbap ($10.80), apparently one of their classic dishes. The rice is sizzling with succulent pork belly, sweet dried shrimp and green onion in a hot stone bowl – a perfect dish to enjoy with a cheerful crowd.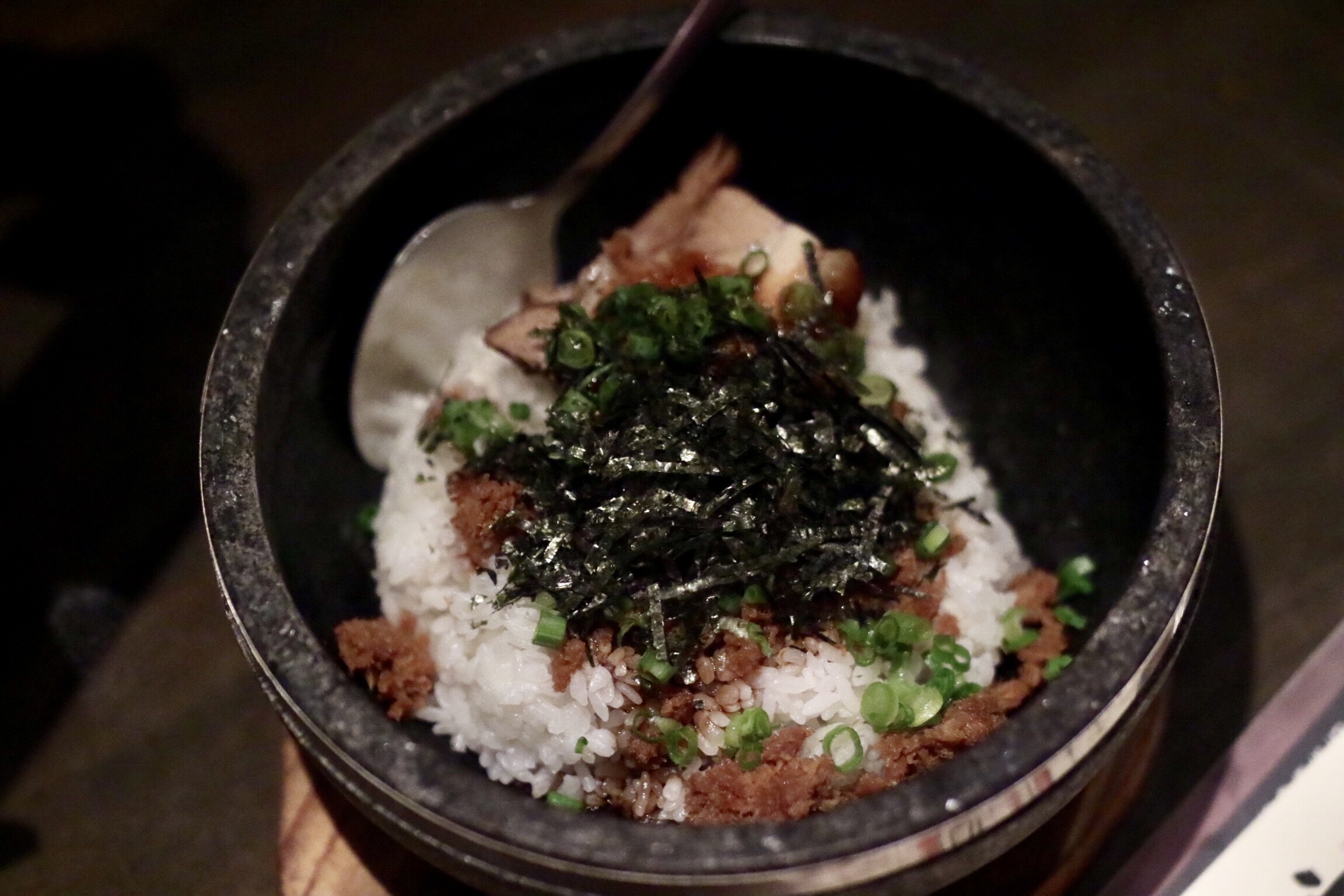 Kakuni Bibimbap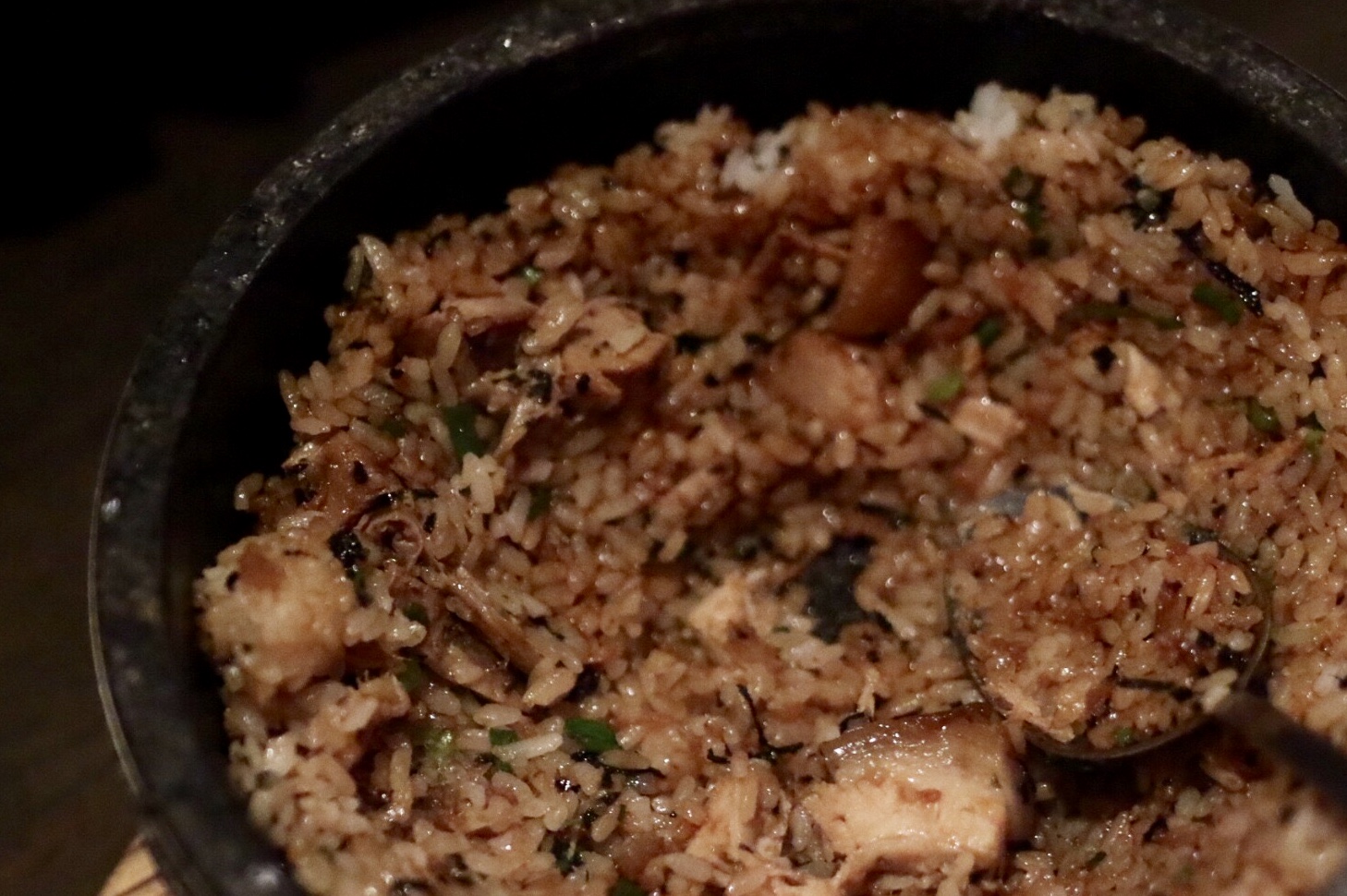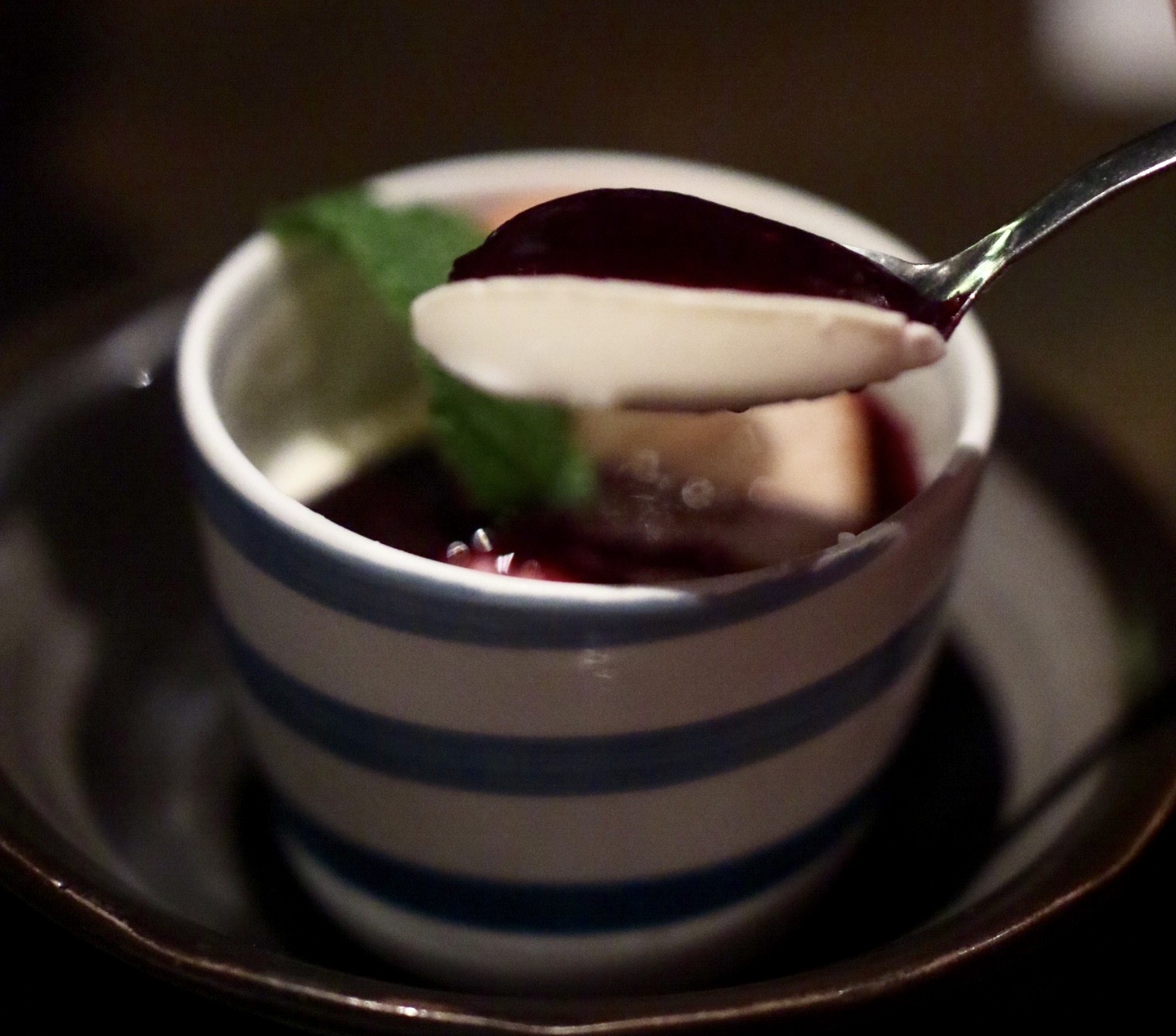 The Almond Tofu ($4.80) is similar to something that could found in Cantonese dessert menu, but this one here was topped with a berry jam and fresh mint. The almond flavour came through nicely.
Final Thoughts
The food here is solid as their reputation. My buddies were impressed with the great variety of dishes.  The service is great and the ambience is fun if you like it loud and energetic. The whole experience is a glimpse of what you get for a pub meal in Japan.  As the picky diner, I am satisfied.  I hope to come back to try the 2-lb steak next time, hopefully soon.  And I have to make sure to bring buddies who really enjoy sake.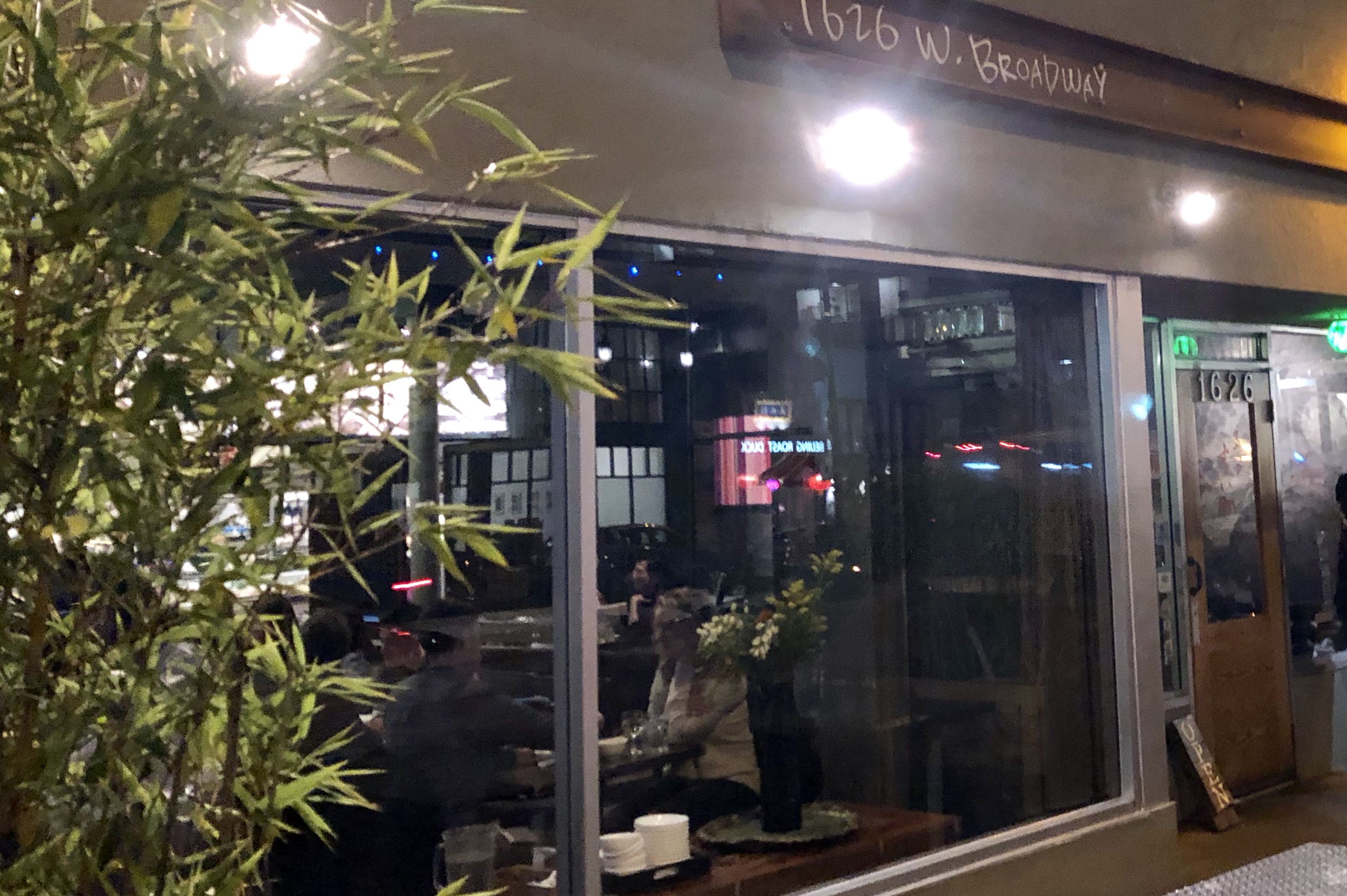 $$
rating: [wp-review id="15421″]
Suika Japanese Restaurant
1626 W Broadway, Vancouver, BC V6J 1X8
(604) 730-1678 or suika-snackbar.com

100318