Many of you probably know I love Hainanese Chicken on Rice, the specialty dish of Malaysia / Singapore, as it is light and healthy. When I have a craving for this at lunch time when I work from home, the closest place to get it is Banana Leaf on Davie. I have tried the dish at their location on Robson, and it was decent. It is amazing how the restaurant chain has quite the expansion in the city – 3 locations on the busiest streets in the West End: Robson, Denman, and Davie. This is quite an accomplishment. After all, Vancouverites love their spices. That's why the West End is filled with a ton of Indian, Middle-Eastern, and Southeast Asian eateries.
It was just past noon, and it was not busy at the restaurant. Only a few tables were occupied. When I was placing my order, the server lady asked me if I wanted rice. I was like… ummm… Didn't I just order it with rice? So I said, yes. When I came home with the takeout, I discovered that, they gave me an extra carton of rice and charged me like $2.75.  Well I could have felt a bit alarming when they told me the total. But I was clearly not paying full attention.
The chicken was okay, a little dry, but flavourful, and it came with 3 dipping sauces in generous amount – the ginger scallion sauce, the sweet chili sauce and the dark soy sauce. But it was really not nearly as good as the one I had at MamaLee a couple weeks ago.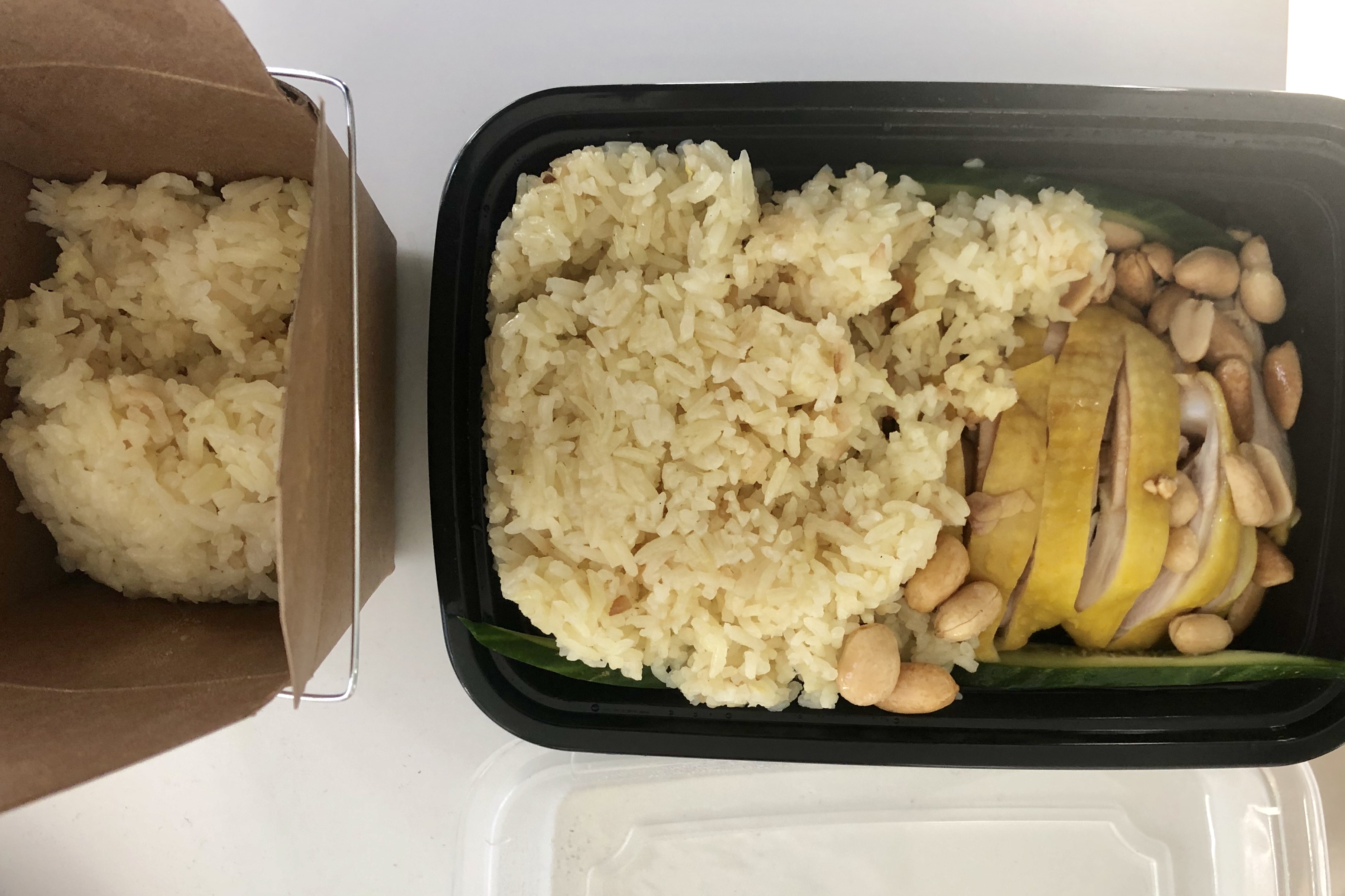 Final thought
It is strange to hear the server ask me if I want rice after I order the Chicken on Rice. I ended up getting some extra rice that I didn't need, and I got charged for it. I could have paid more attention but it just sneak some unpleasantness in the experience. The Hainanese Chicken is not bad, a little dry but flavourful. For a place that has many other specialties, it is acceptable.
Banana Leaf
1043 Davie St, Vancouver, BC V6E 1N2
(604) 669-3389 or bananaleaf-vancouver.com