I had a very delightful lunch at Gyoza Bar and Ramen. What a great birthday treat from my friend Pascal! I don't think the 40% rating on Urbanspoon is doing it justice. Yes the price might be above most of the ramen places in Vancouver, and yes their ramen dishes might not be as traditional as some diehard ramen fans have expected. But I applaud to their presentation and flavours. After all, this is what contemporary Japanese cuisine is all about – innovation and creativity. And did I mention that their gyoza dumplings are just superb?
I am not a huge Ramen fan. I rather refer Pho or Chinese rice vermicelli in fish broth. In my opinion, Rice noodles are lighter and soak up the flavours from the broth much more easily. And the ramen soup base is always a tad bit too salty for me wherever I go, including those prestigious ones on Denman and Robson area. However I really liked my bowl of ramen at Gyoza Bar and Ramen.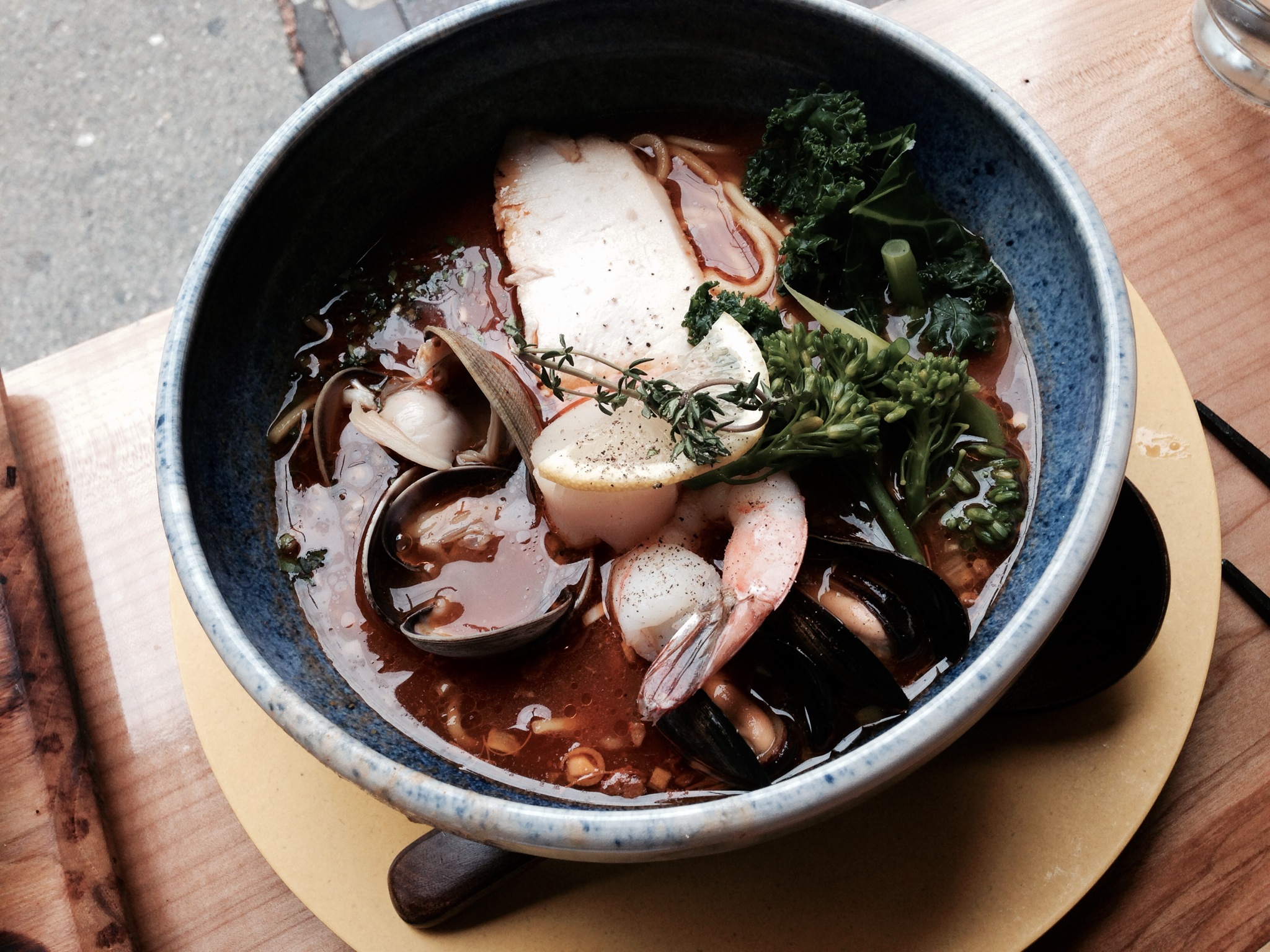 I had their Kaisen Tomato Ramen with seafood. The broth was nothing like I have ever tasted. It had the Japanese light soy broth foundation, but there was a strong presence of tomato, and a very subtle touch of saffron. Wow, in one bowl I could taste the inspirations from traditional Japanese, tom yum, and bouillabaisse. There were a generous number of mussels and clams, and a piece of perfectly cooked sea scallop, which I tried to savour very slowly. Ramen noodles were a tiny little bit over al dente for my liking, but it provided some good texture to the dish, along with some beautiful dark greens of broccolini and kale.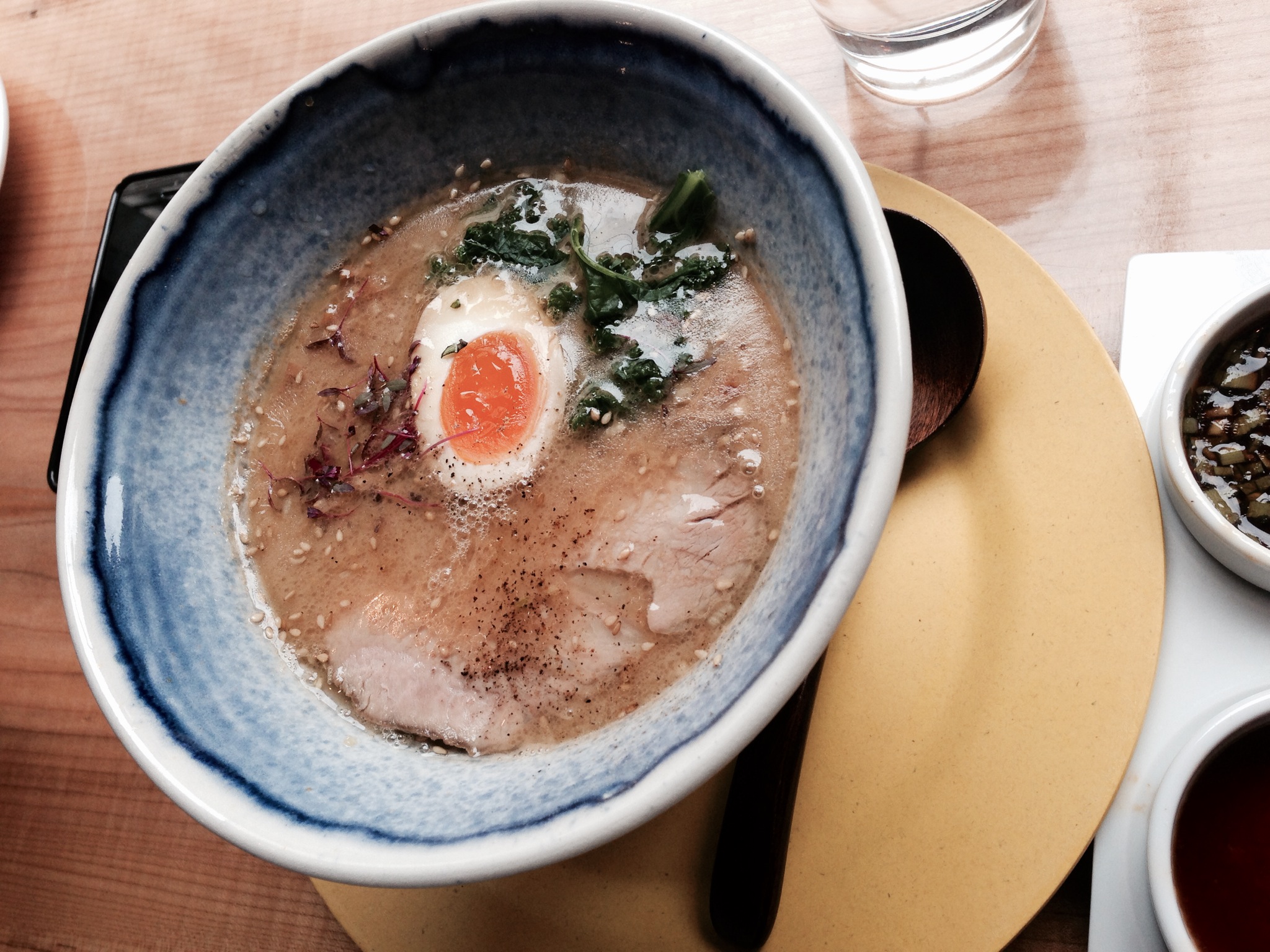 I had a sip of Pascal's Tamari-Shoyu broth, it was delicious. It was not overly salty like what I had at most of the traditional ramen places, but still very rich and flavourful.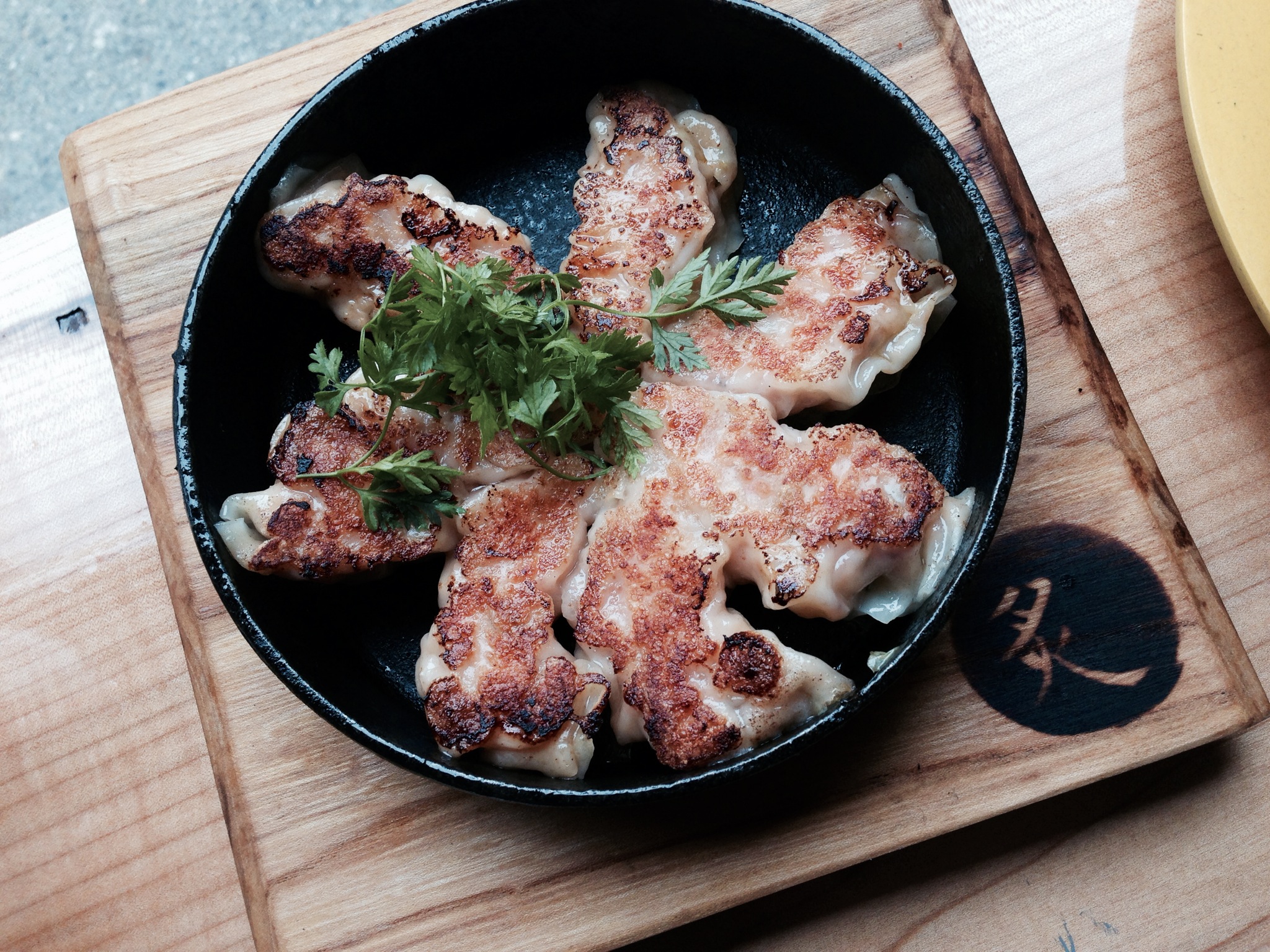 Their pork gyoza was simply divine. Each piece was pan fried to perfection – slightly crunchy outside and soft and moist inside. The taste of the filling was very well balanced, aromatic, sweet, and savoury… Or that's what we call it, UMAMI!? Again there were familiar flavours and there were new flavours that elevated the overall taste, that is why I really liked them. The condiments of spicy garlic soy sauce and umami soy sauce both provided nice enhancement for the gyoza experience.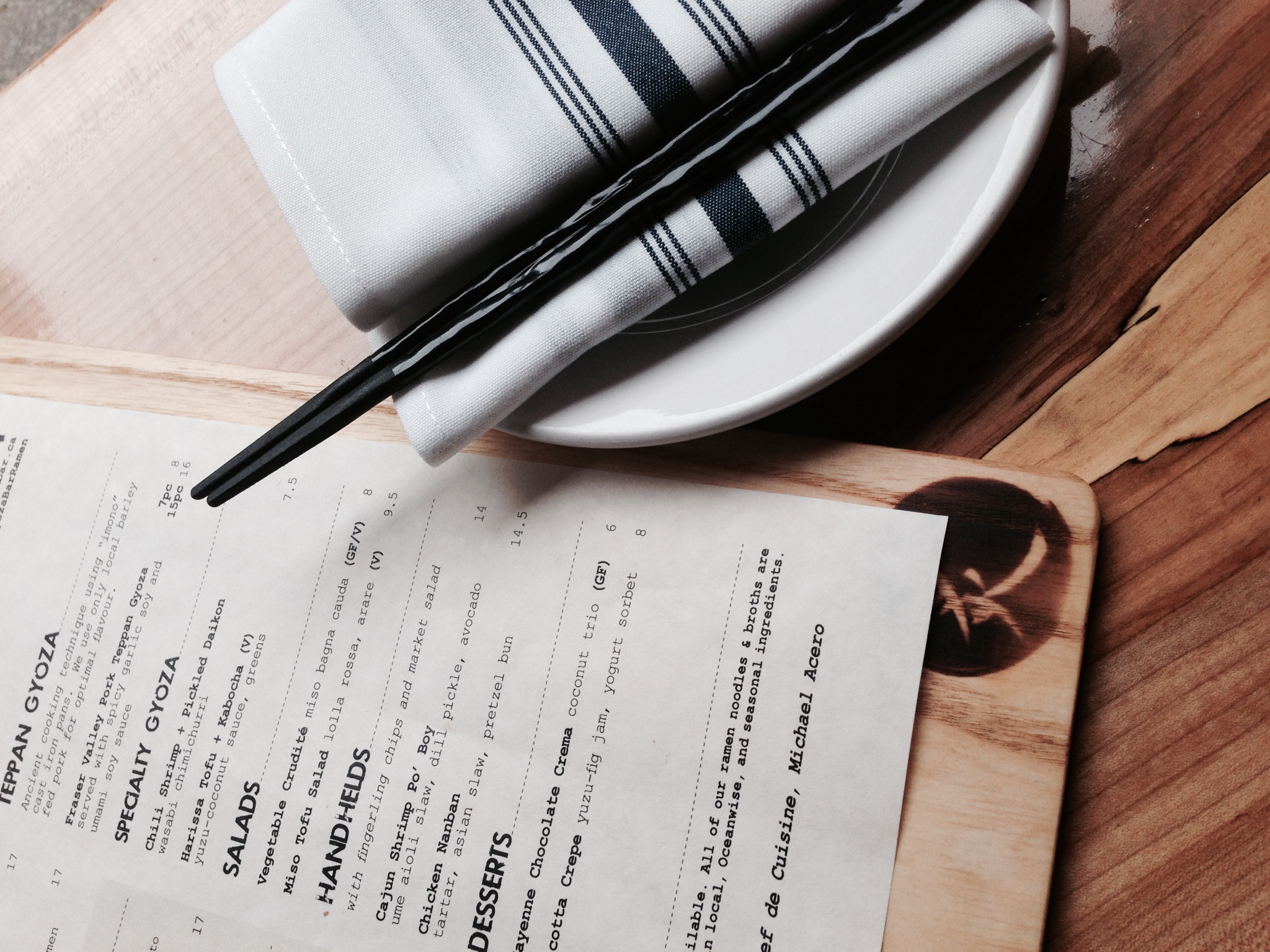 The service was pretty good as well. Although I was there at 1pm, which was close to the end of peak lunch hours and there didn't appear to be any lineup, I was told to wait for 20 minutes for a table. Then after merely 5 minutes, I was informed my table was ready, which seemed a bit odd. Our waiter was a handsome young man from Dublin, he was really informative and friendly, which made our lunch experience more enjoyable.
Gyoza Bar and Ramen has impressed me as a hip and beautiful restaurant with a great energy, a good-looking and friendly staff, and very well made dishes. I am really hoping more and more customers are pleased and enjoy what they pay a slightly higher price for.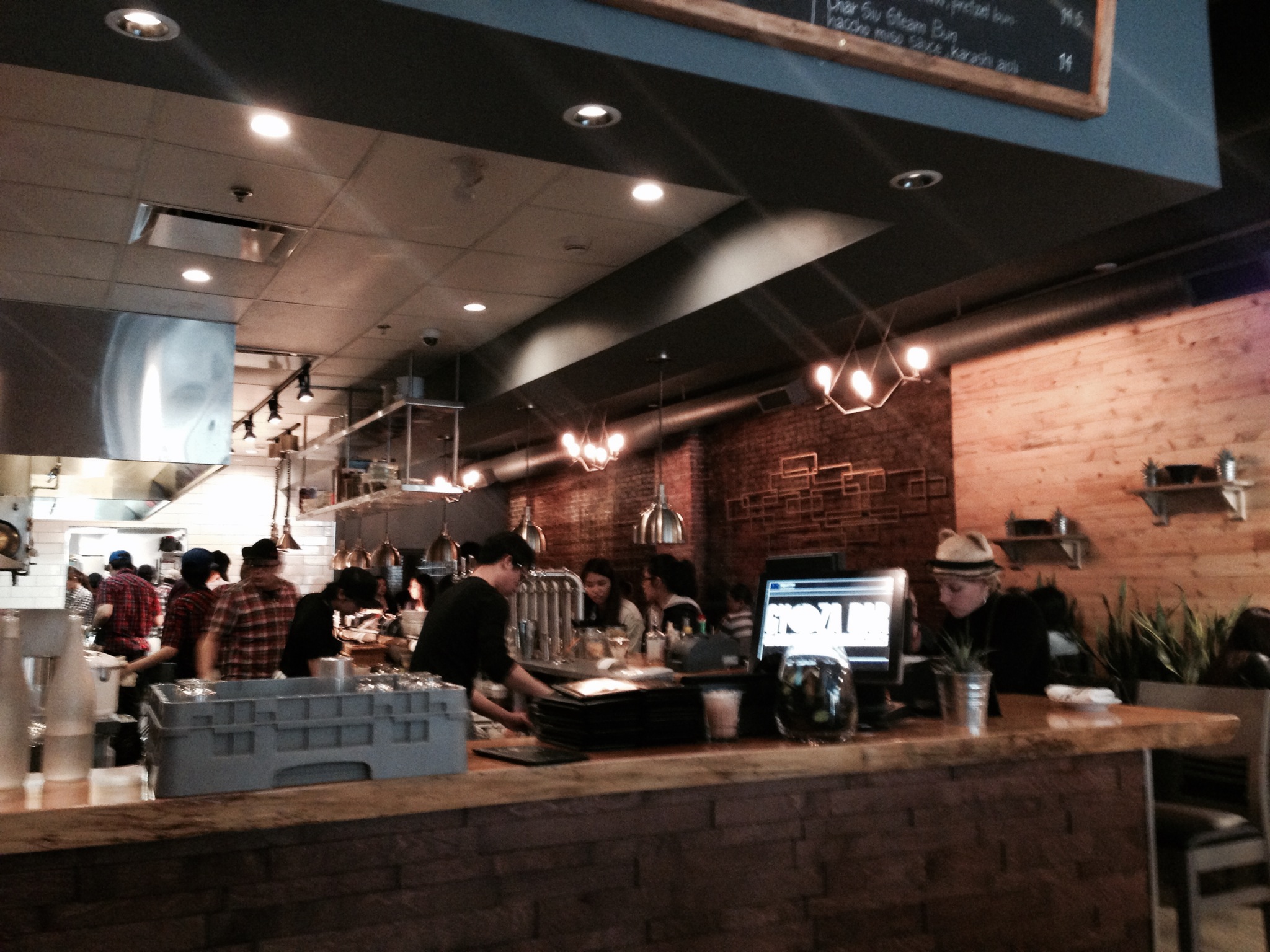 Official website:
http://gyozabar.ca

Map and other reviews: