It's no secret that I am a fan of Tuc Craft Kitchen and their flavouful dishes. I even celebrated my birthday here last year, which was quite memorable. As they are also known for their cocktails, I was excited that we decided to put them on the list for our Gastown Cocktail Crawl.
After a funky start at the pink-flamigo-themed Gringo, the change of scene was definitely dramatic from the cheap cheesy fun to a chic and classy spot like Tuc. I was loving the dark wood furnishing, which made great background for photo shooting of the gorgeous cocktails with my new camera.
Oh yes that's right I have a new camera!
Having been using my iPhone for a long time, I finally decided to step up on my food photography. My new Canon EOS M3 Mirrorless is one of the best mid-range models. Besides it produces great photos and it's super easy to use, it also has a wireless function that allows me to transfer photos in merely seconds to my phone for quick social media posting. So far I'm fairly impressed with it!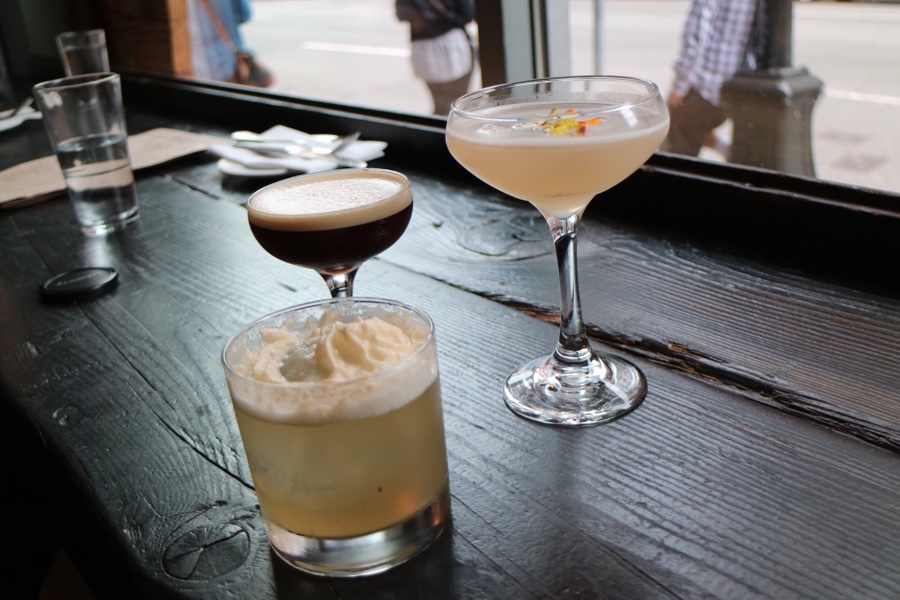 As a gin lover, I picked the Flowers for Algernon ($13), featuring Odd Society Wallflower gin, St Germaine, grapefruit and  lavender. All the ingredients are my favourite and together they definitely produced the harmony –  the lavender mixed with gin is floral but not overly fragrant, and the notes of fruitiness in St Germaine are well complemented by grapefruit, resulting in minimal sweetness. Visually the drink was stunning, with the light blush pink liquid topped with fresh pedals of vivid colours. This is definiely what I call a great cocktail!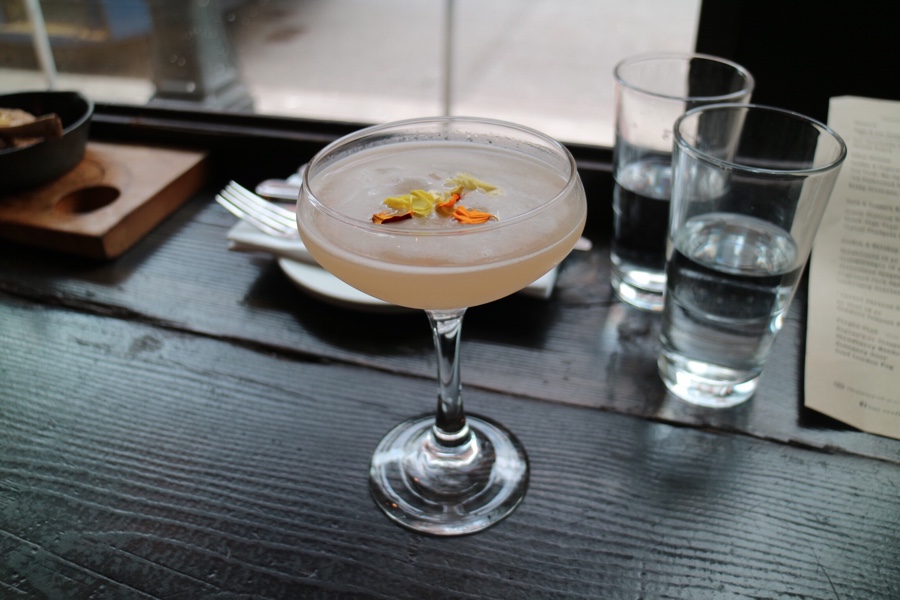 Food Wench ordered the Frida Kahlo Old Fashioned ($12), as Old Fashioned is one of her favourite cocktails of all time. The drink consists of Hornitos reprosado tequila, Pierre Ferrand dry curacao, cardamom and an orange foam. An orange foam and no whisky?  That just doesn't sound like a typical Old Fashioned.  The drink was almost clear with a very light tint of orange with a creamy foam on top. The tequila countered the citrusy sweetness well, but as I predicted, it was still a little too sweet for Food Wench.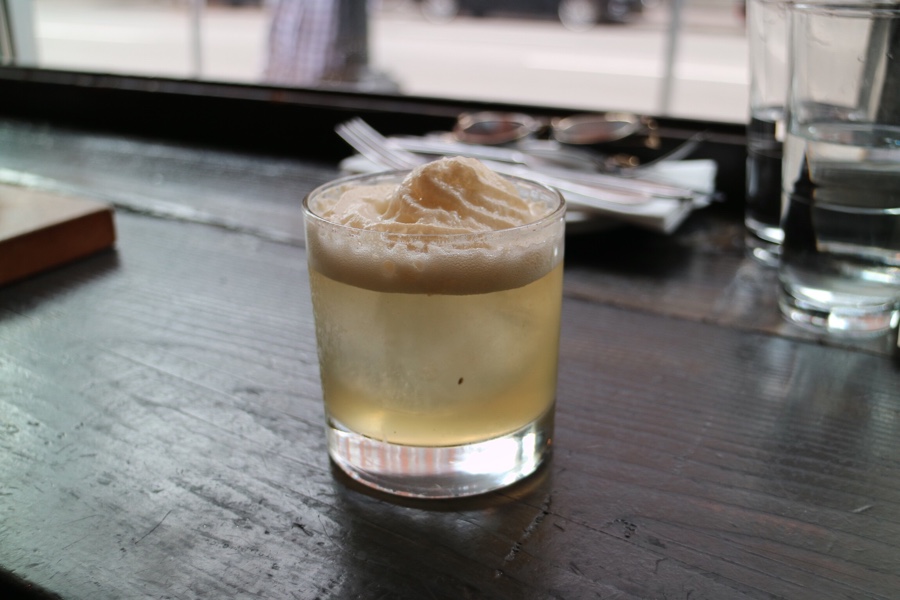 Maggi was pretty happy with her Coffee & Cigarettes ($10), the sole purpose of her putting Tuc on our list. This reminds me of my hero Anthony Bourdain at The French Laundry dinner, covered in both his book and his show 'A Cook's Tour'. To poke fun of Bourdain's booze drinking and cigarette smoking bad boy image, Chef Thomas Keller created a coffee custard infused with tobacco flavour.  We certainly don't have nicotine in this cocktail, and we find Laphroaig quarter cask, Amaro Montenegro, espresso and xocolatl mole bitters in the drink. And all together, it does have that smoky coffee flavour that hits all the right spots. The smokiness seems to come from a mix of spices like cinnamon or nutmeg, which I find quite intriguing.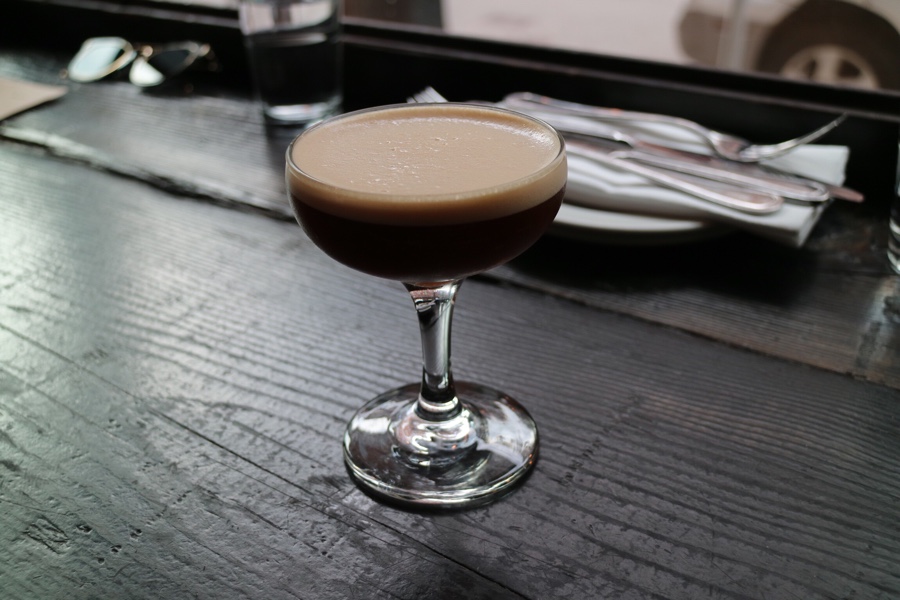 Since it's Maggi's first time at Tuc, both Food Wench and I recommended one dish each for us to snack on. I always find the Crispy Bacon and Egg ($4) the most likeable bar dish here – crispy bacon just makes everything taste better. And the light and fluffy tempura batter and the bright orange runny yoke make it even more appetizing. Maggi totally loved it.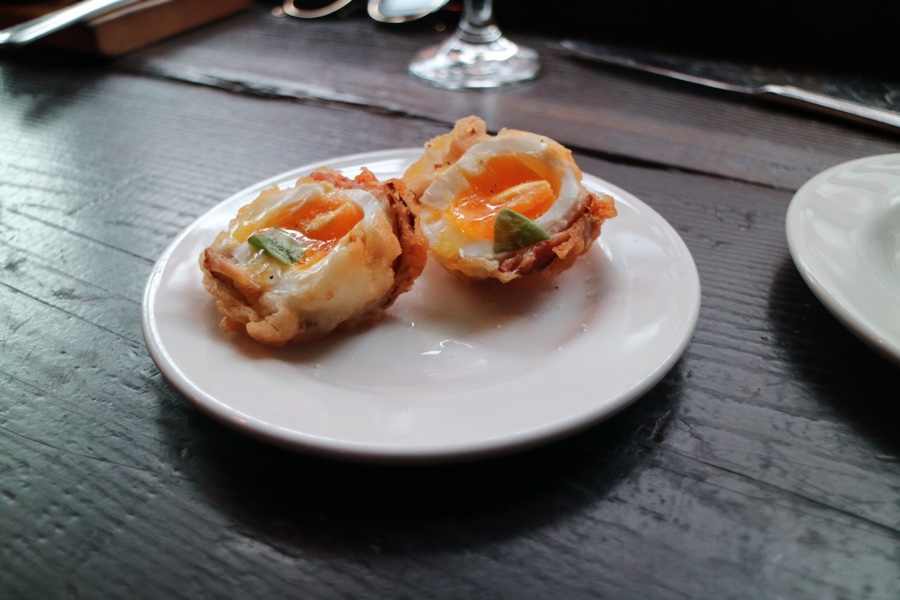 Food Wench's suggestion was a hit too. The Orange-glazed Lamb Ribs ($11) was fall-off-the-bone tender, and the jalapeno pepper and  the orange glaze were such a brilliant combination and provided depths of flavours.  And it is interesting enough, I think the lamb dish could pair well with the Frida Khalo Old Fashioned since they both have the orange flavour.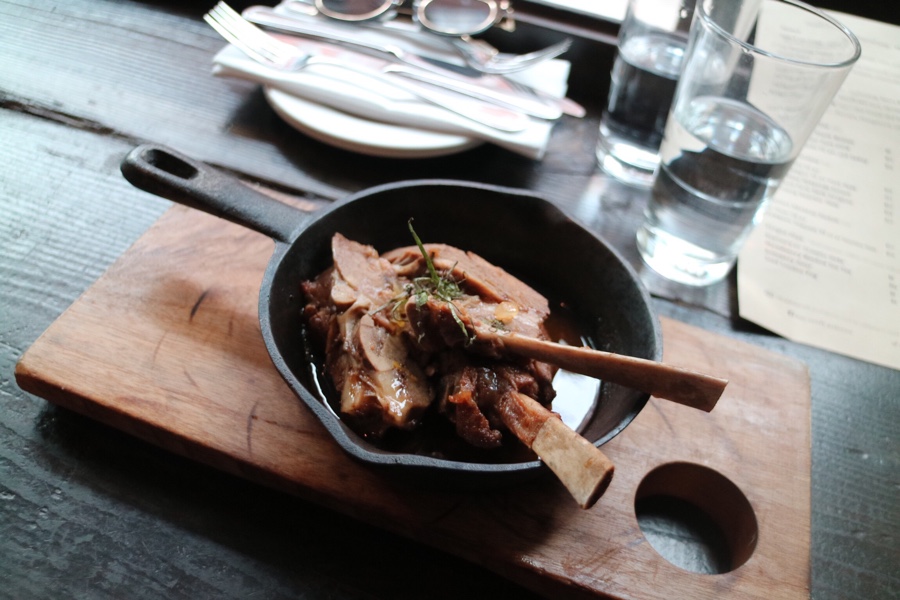 Tuc Craft Kitchen definitely makes a great stop for a cocktail crawl, with a great list of both classic and original cocktail recipes catered to different tastes. I was pleased with all 3 original creations this evening, with the"Flowers for Algernon" being the gin perfection and my favourite. The"Coffee & Cigarette" also makes a fun and whimsical choice.  There is a good selection of small plates to go with your drinks and I think the Crispy Bacon and Egg would go well with almost anything.
Website and menu:
http://www.tuccraftkitchen.com/
More reviews:
Location: