I was invited by Vanfoodster to check out his very first Vancouver Taco Crawl.  During this taco extravaganza I was able to sample both traditional and non-traditional taco creations, and it turned out to be quite a fun evening.  Not to mention that, my friend and fellow blogger Maggi was my crawl buddy, and we totally rocked this adventure.
The format is similar to the organizer's Tasting Plates events,  in which food lovers follow a map to find each participating restaurant and taste their delicious food. However, while the regular Tasting Plates events take place in a particular neighborhood, the participating restaurants for the taco crawls are more spread out in the city.  So driving or car pooling is definitely recommended over taking public transit.  Also there are 5 destinations and 8 unique taco creations, so it is a lot of food!
Dosa Hut – South Indian Taco Rocks!
For the first stop we arrived at Dosa Hut. This South Indian restaurant in Sunset neighborhood offered a dosa taco for their signature entry, not quite the traditional taco from Mexico, but the concept is the same – it features a tortilla-like golden crispy pancake encasing scrumptious fillings. There were options of Chicken and Vegetarian Dosa Taco to choose from. My chicken dosa tasted slightly spicy but full of flavours, something much more sophisticated than the average curry sauce, and I was able to taste the chicken and other fresh vegetable ingredients.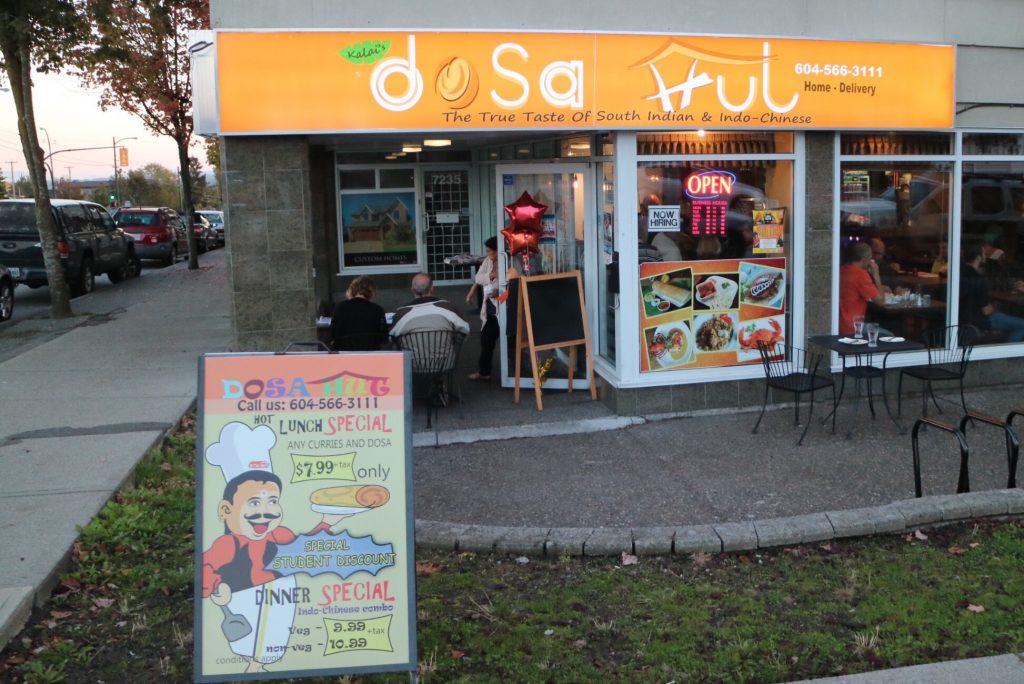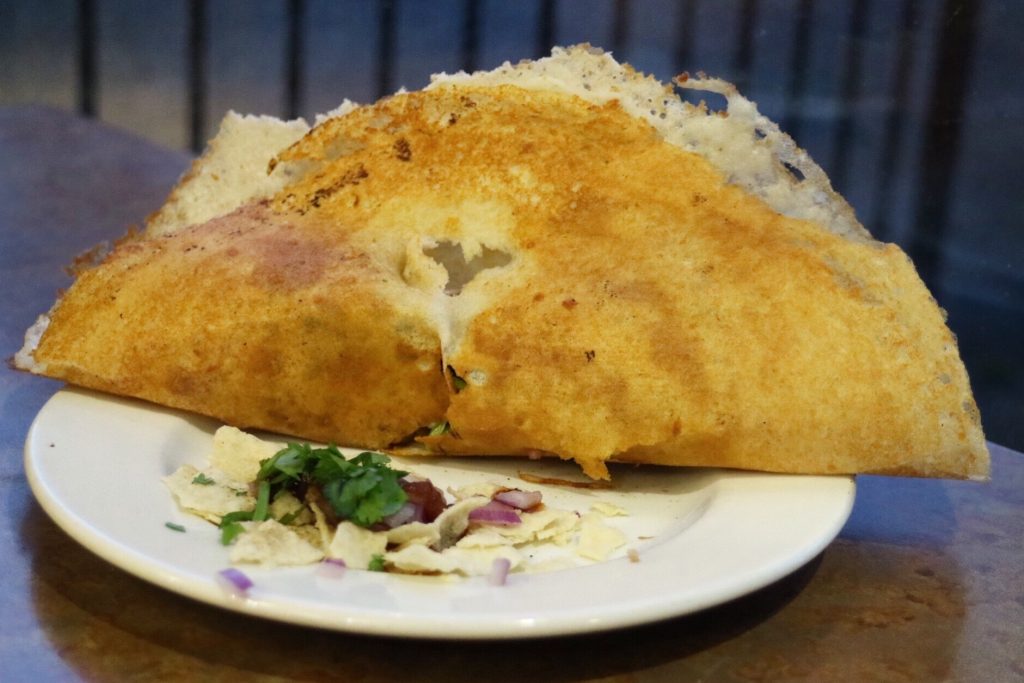 They also offer dosa in giant wraps. What an amazing art when they can make the pancake so large and yet so thin!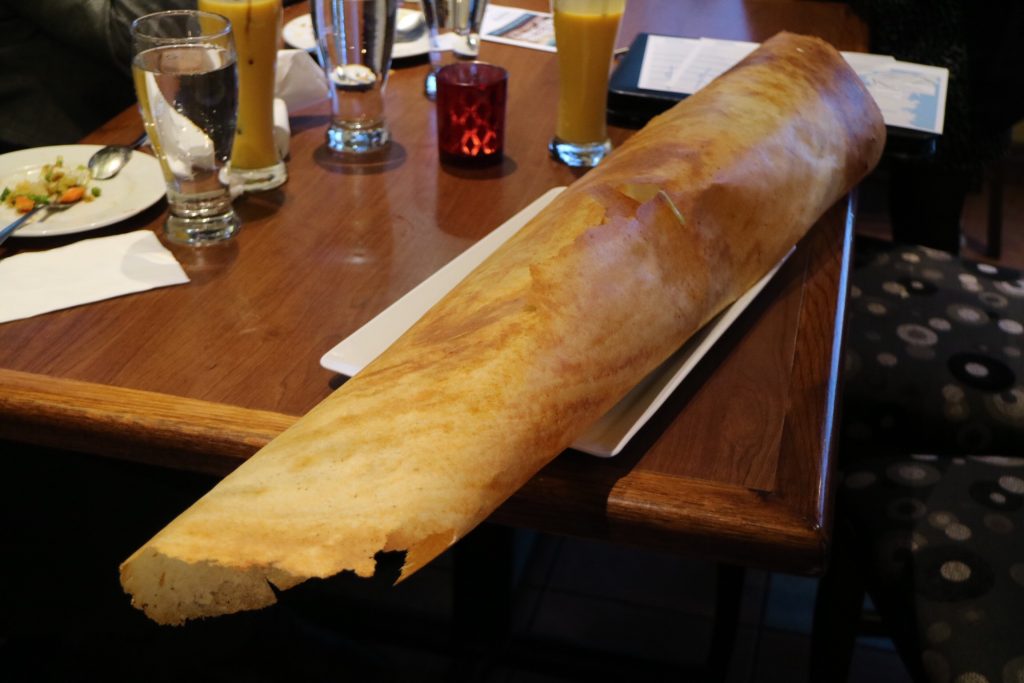 Las Tortas – Traditional Taco Joint with Hollywood Theme in Spanish
Our second top, Las Tortas is this cute little taqueria in South Cambie that is full of characters. I love the movie theatre theme with all the old Mexican movie posters on the wall.   We were in a treat for a Pulled Pork Taco and a Mexican Zucchini Taco. The pulled pork was tender but still had a good bite in the texture, which really makes it a  great taco that you can take a big bite of and  feel the mouth full of meaty goodness. The zucchini taco was also fairly flavourful and it was just as good as the meat one in my book.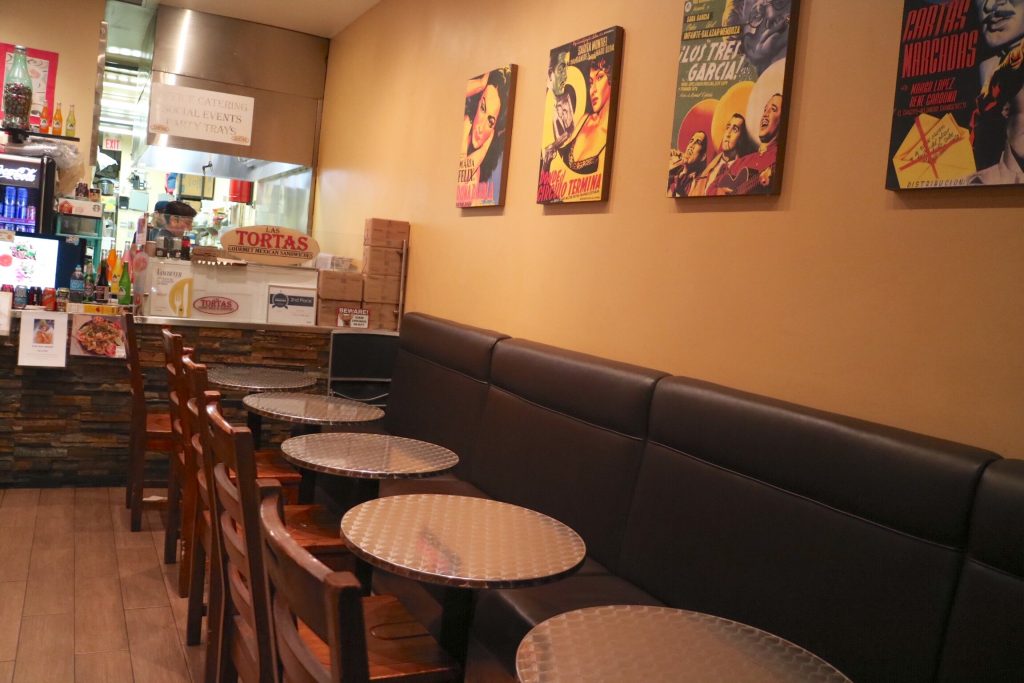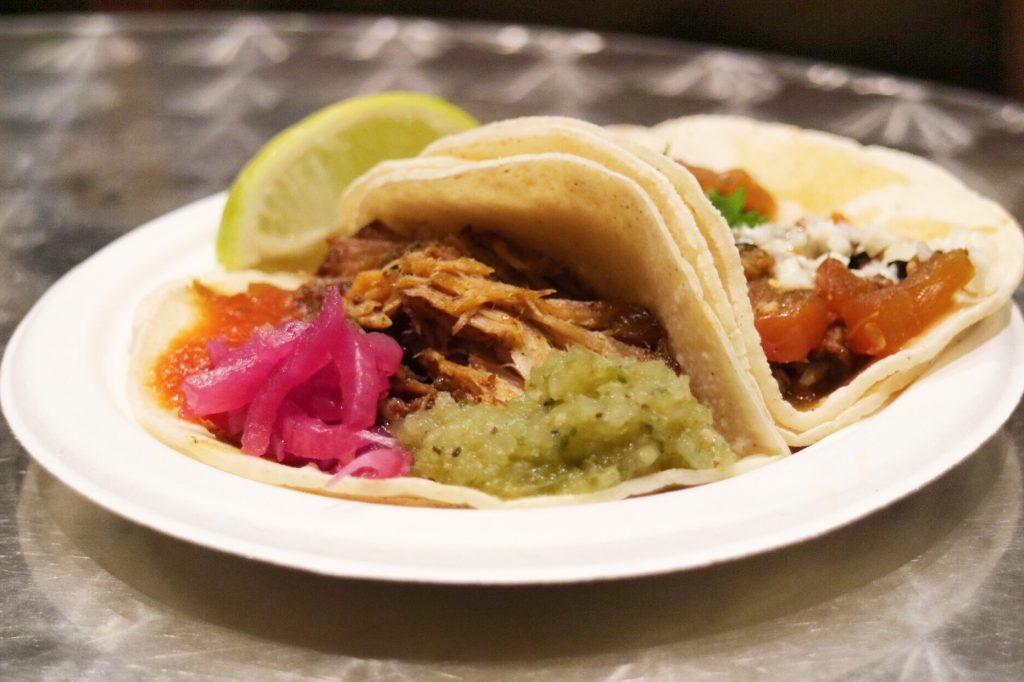 TMix Tea & Dessert Bar – Dessert Taco Asian Style!
TMix was just conveniently across the street from Las Tortas. This Asian style tea house has a high ceiling and spotless white brick walls, with very comfortable the seating. There is a huge selection of beverages and dessert treats.  Although not the quite the traditional taco,  the delectable Asian style sweet treats were making the dessert lovers very happy.  We were offered a Bubble Waffle Taco with a scoop of their specialty ice cream as the filling. I got the Double Chocolate ice cream as Maggi set her eyes on the Lavender flavour one.  We both found the lavender ice cream quite perfume-y in taste, but we both appreciated the quality of the bubble waffle full of eggy goodness.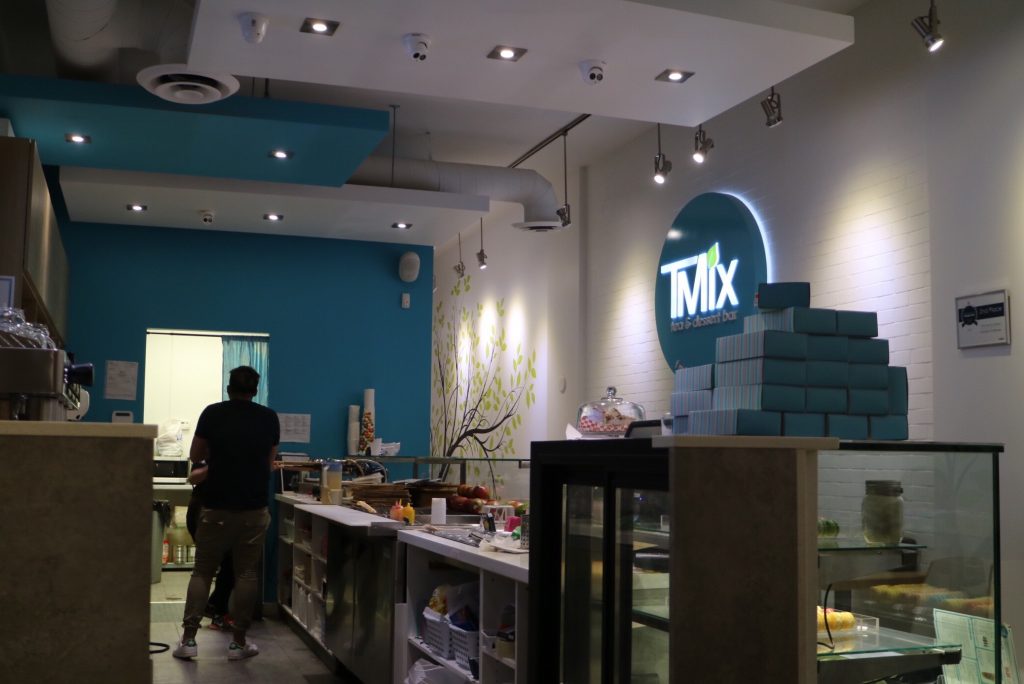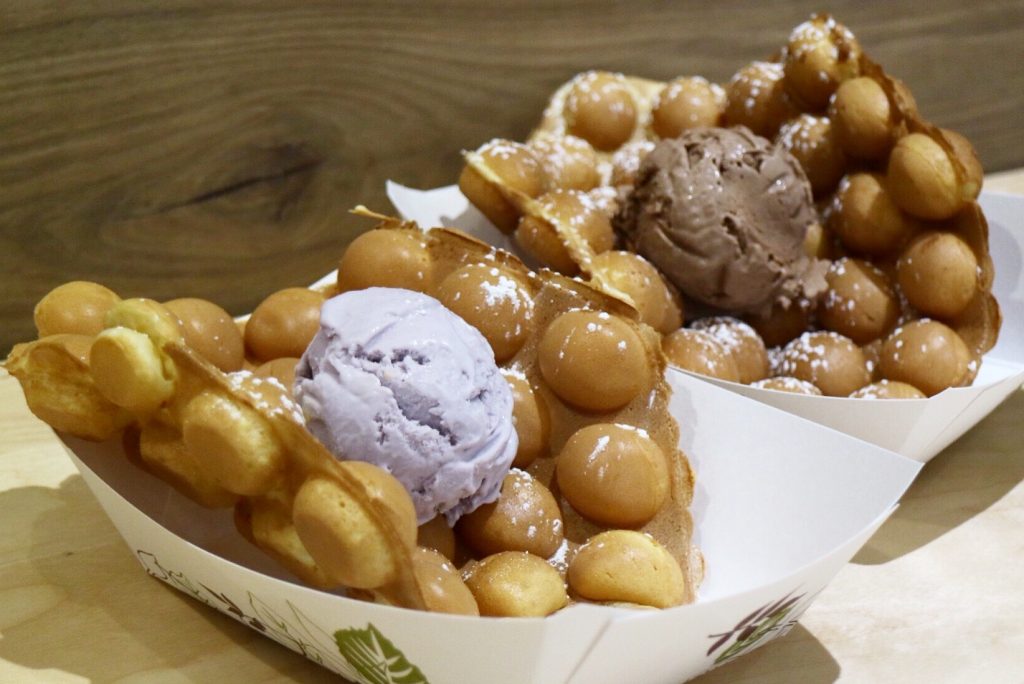 Patron Tacos & Cantina – Tacos Go Well with Tequila and Margarita!
Did I mention that it was my birthday week? So Maggi offered to buy me a tequlia shot at the next taco stop. Located near the Stadium area where there is always busy traffic of sport fans and concert-goers, Patron Tacos & Cantina is the only one in the restaurant bunch of the evening that has a liquor license. Although alcohol beverage was not included in the taco crawl ticket, I saw many taco crawlers were pleased to be able to order a beer or a margarita to go with their tacos.
So we began with a couple shots of tequila. The Tequila was quite smooth, and what made it event more enjoyable was the Verde Chaser, made of pineapple, cilantro, mint, and jalapeño, which was quite a tasty drink by itself. Maggi was calling the whole experience a splendid one with a warming start and a refreshing finish. This is definitely a winning combination.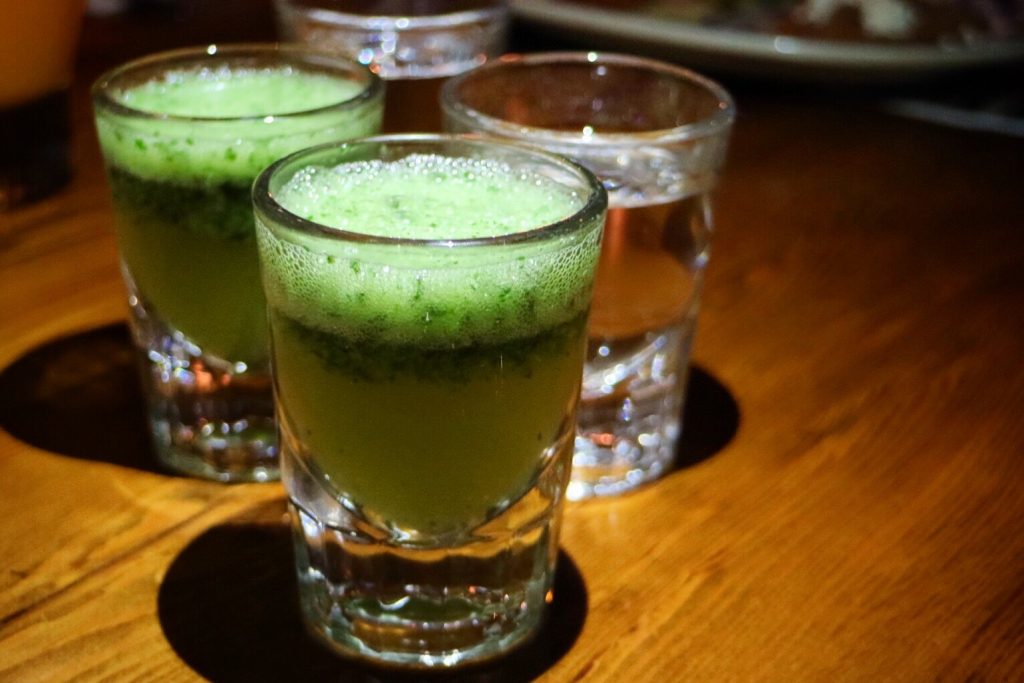 We also sampled a couple of their Margaritas, my Classic Lime Margarita was masculine and refreshing as Maggi's Mango Spice Margarita was sweet and exotic, quite a sexy choice.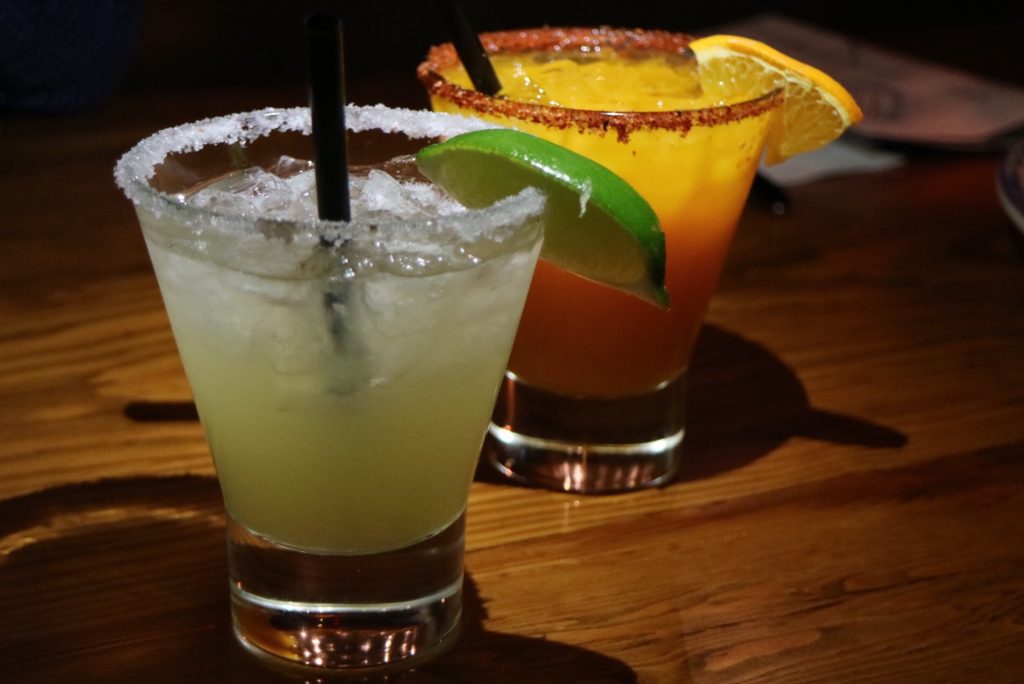 So here are the tacos. The Nopales Taco came with tender cactus leaves thinly sliced and cooked, and was a delightful treat for veggie lovers. And the Cochinita Taco was featuring slow cooked pork butt meat with achiote paste, quite a satisfying combination for meat eaters.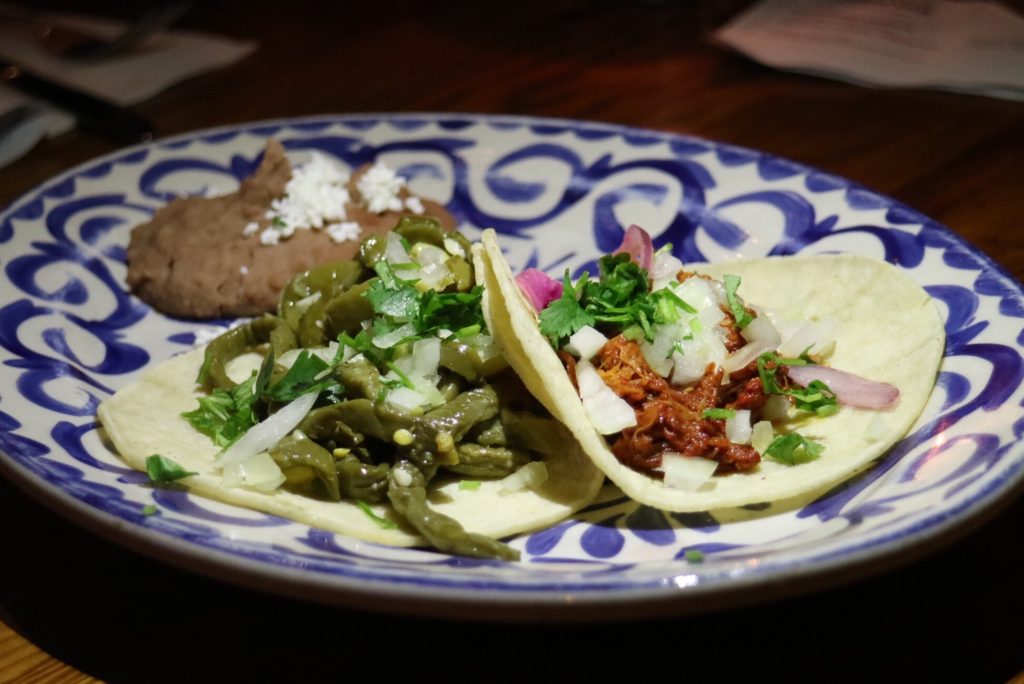 La Catrina – More Traditional Tasty Tacos!
I think at this point, we were both starting to feel a little full. But we have one more place to go! For the last taco stop, we found ourselves sitting side La Catrina on Denman street near English Bay. This small cozy taqueria is critically claimed even in the local Mexican community.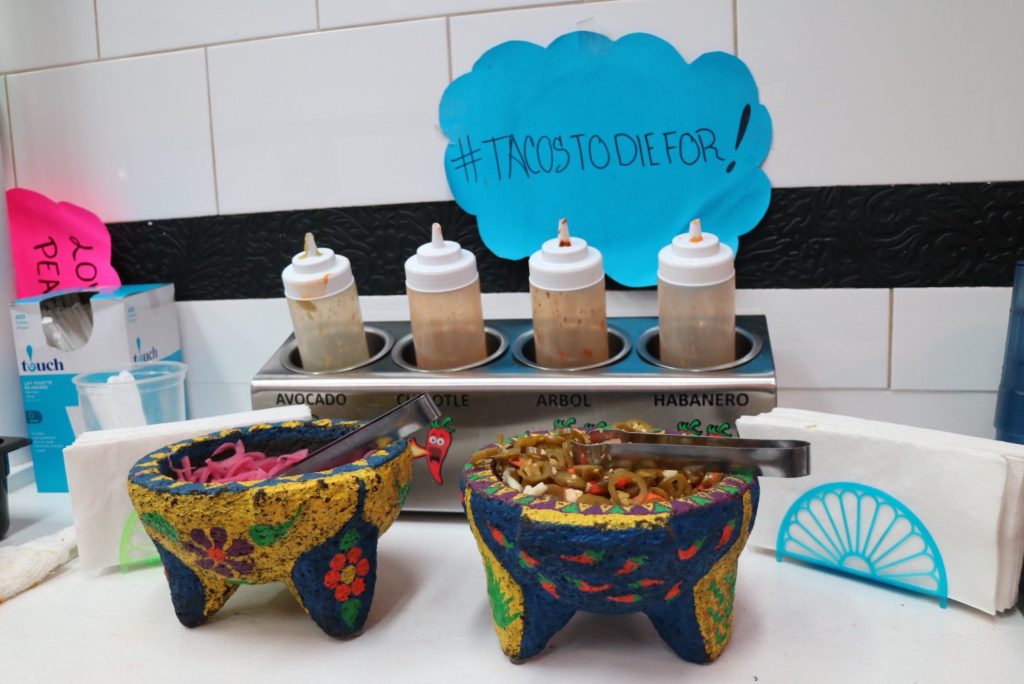 First we tried the Papas Mexicanaswas, filled with Mexican potatoes with drizzled cream. This is another vegetarian taco that rocks my socks. Being quite the carnivore myself, I never went for any vegetarian taco before tonight. But at 3 different taco joints, I get to experience how amazing Mexican cuisine is on cooking vegetables. The heartiness of the potatoes and the richness of the cream do provide a great level of comfort in my mouth. Next the Res en Cascabel , featuring braised beef cooked in cascabel chili sauce, was a pretty solid choice for a good classic beef taco with subtle heat and hint of sweetness.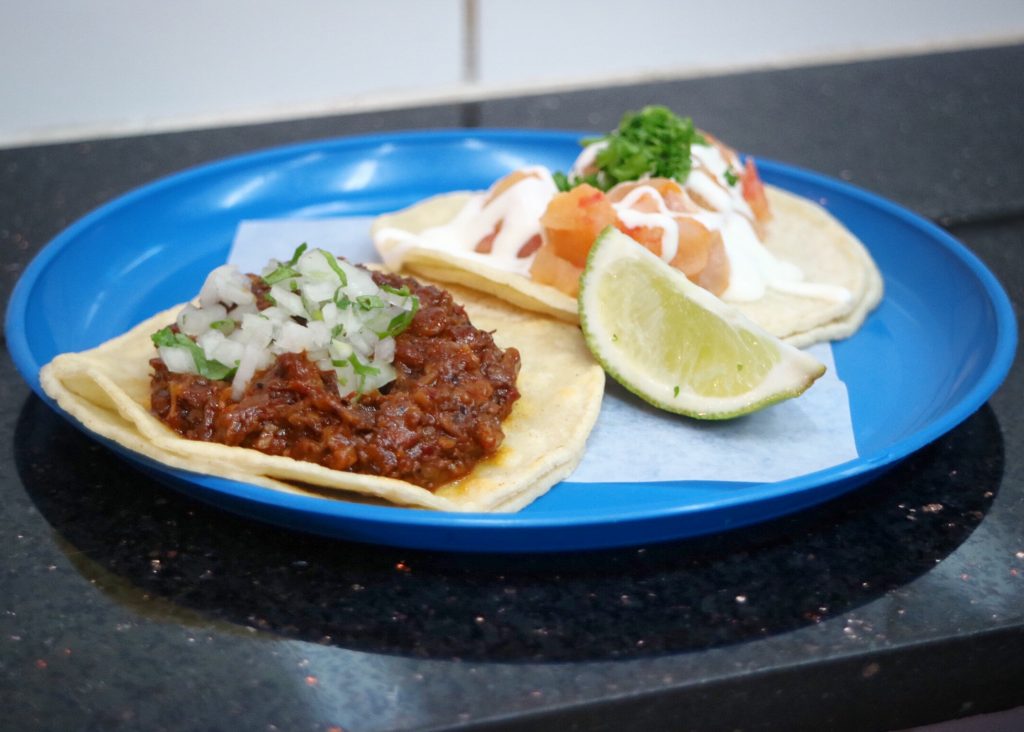 So that was my taco adventure with Maggi and it was quite a memorable experience. Big thanks to Vanfoodster, who has thrown awesome events like this, helping Vancouverites and visitors get to know the awesome local eateries and  food trends. I'm looking forward to the next crawl!