It doesn't matter where we are,  autumn is the season of celebrating the harvest. Whereas we have Thanksgiving In Canada, Chinese folks celebrate the Mid-Autumn Festival, which lies on the full moon night of the 8th moon cycle in the lunar calendar.  For this day many Chinese families hold reunions, and many Chinese folks travel back to their hometowns for the special occasion, just like how many Canadians do for Thanksgiving. And the most common way of celebration of the festival is a feast on traditional dishes, newly harvested fruits, and mooncake.
I was honored to be invited to Western Lake Seafood Restaurant for a taste of their special Mid-Autumn Festival dinner. The special dinner set for 10 features whole Alaskan king crab, whole Peking duck, classic Cantonese dishes, and mooncakes.
Having crab in autumn is a tradition in many regions of China, mentioned in some of the most well-known Chinese literature such as Dream of Red Chamber (???). Incorporating native luxury ingredients of North America such as king crab into the Chinese dishes is just ingenious as it reflects both the tradition and the modern world.  The dishes in this feast all turned out incredibly delicious, making me feel blessed living in Vancouver.  Without any doubt, here we have the best Chinese food in the world outside of China.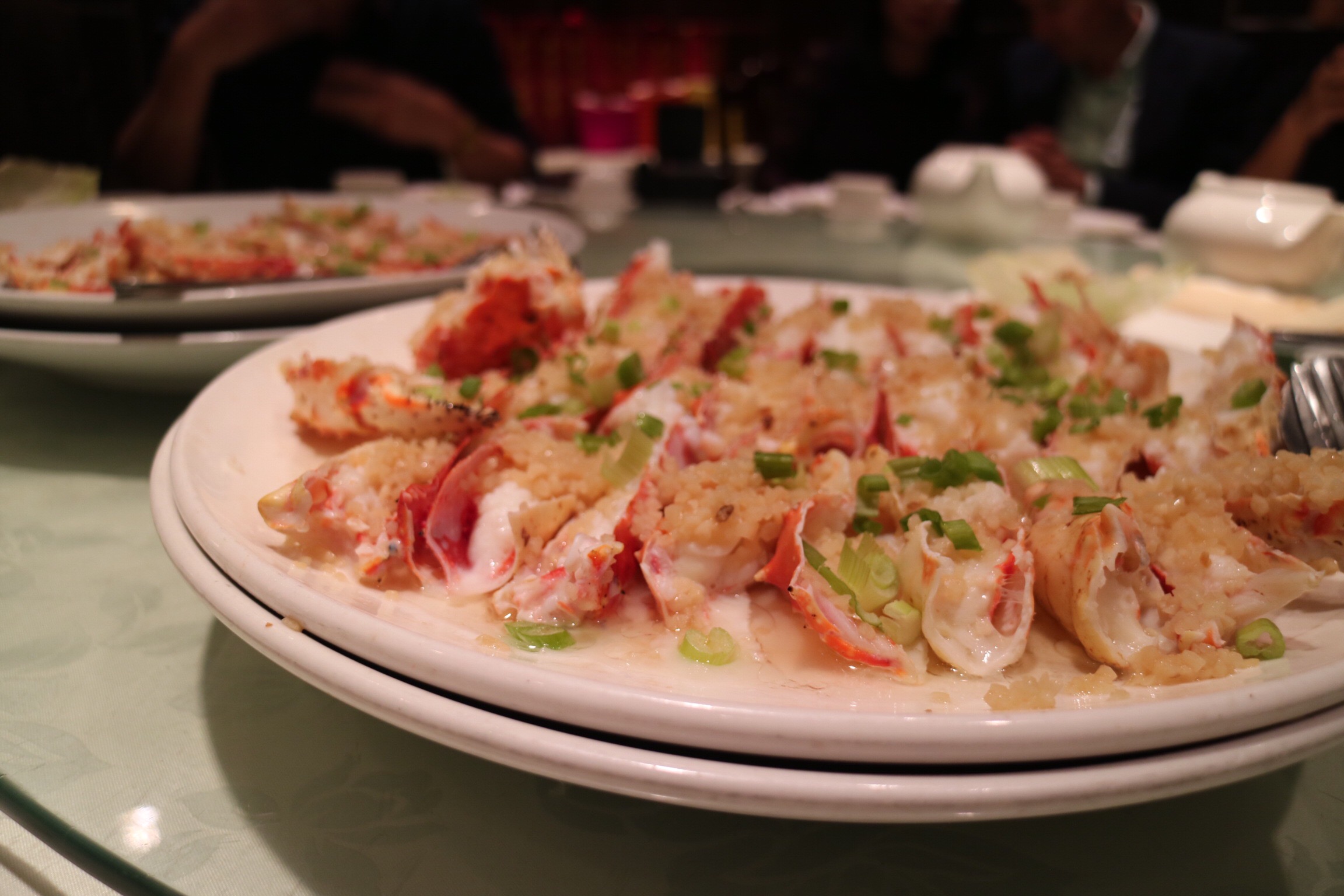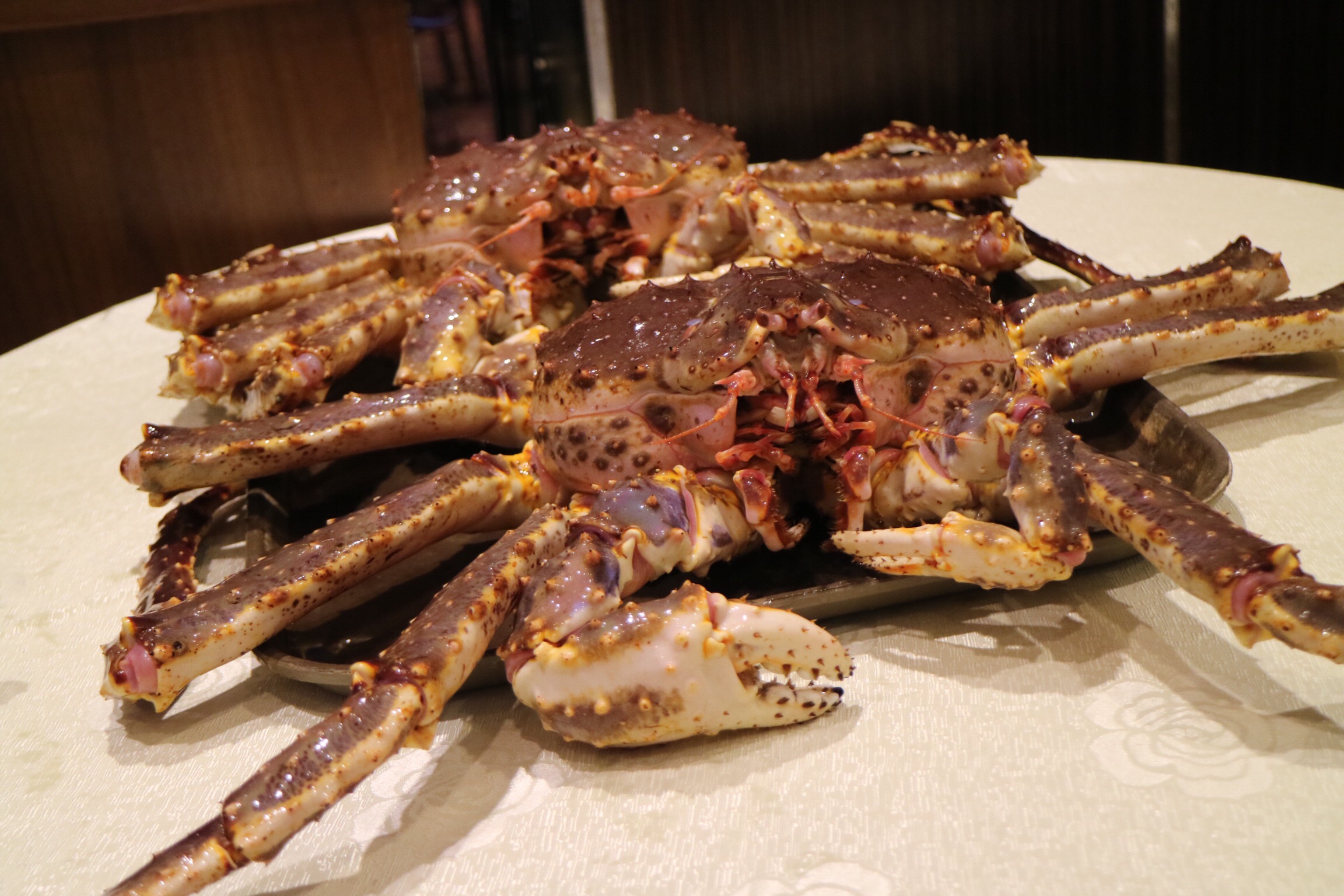 The Mid-Autumn Festival Dinner has 12 courses, including 3 courses from a whole Peking Duck, and 4 courses from a whole king crab: 
Crispy Peking duck skin with crepes (Peking Duck dish #1)

Shredded duck meat soup with dried scallops (Peking Duck dish #2)

Duck meat with lettuce wraps (Peking Duck dish (#3)

King crab legs steamed with garlic (King Crab dish #1)

King crab in supreme soy sauce bedded with rice cake or 

Spicy king crab bedded with vermicelli (King Crab dish #2)

Diced beef tenderloin with deep fried milk puffs

Dried scallops braised with pea tips and enoki mushrooms

Sautéed and deep-fried sole fillet

Egg whites fried rice with dried scallops or 

Baked rice with seafood (King Crab dish #3)

Tossed noodle with crab sauce (King Crab dish #4)

Baked tapioca pudding with taro

Mooncake
The whole Peking Duck is served in 3 courses. The Crispy Duck Skin with Crepes is always the opening act of the feast.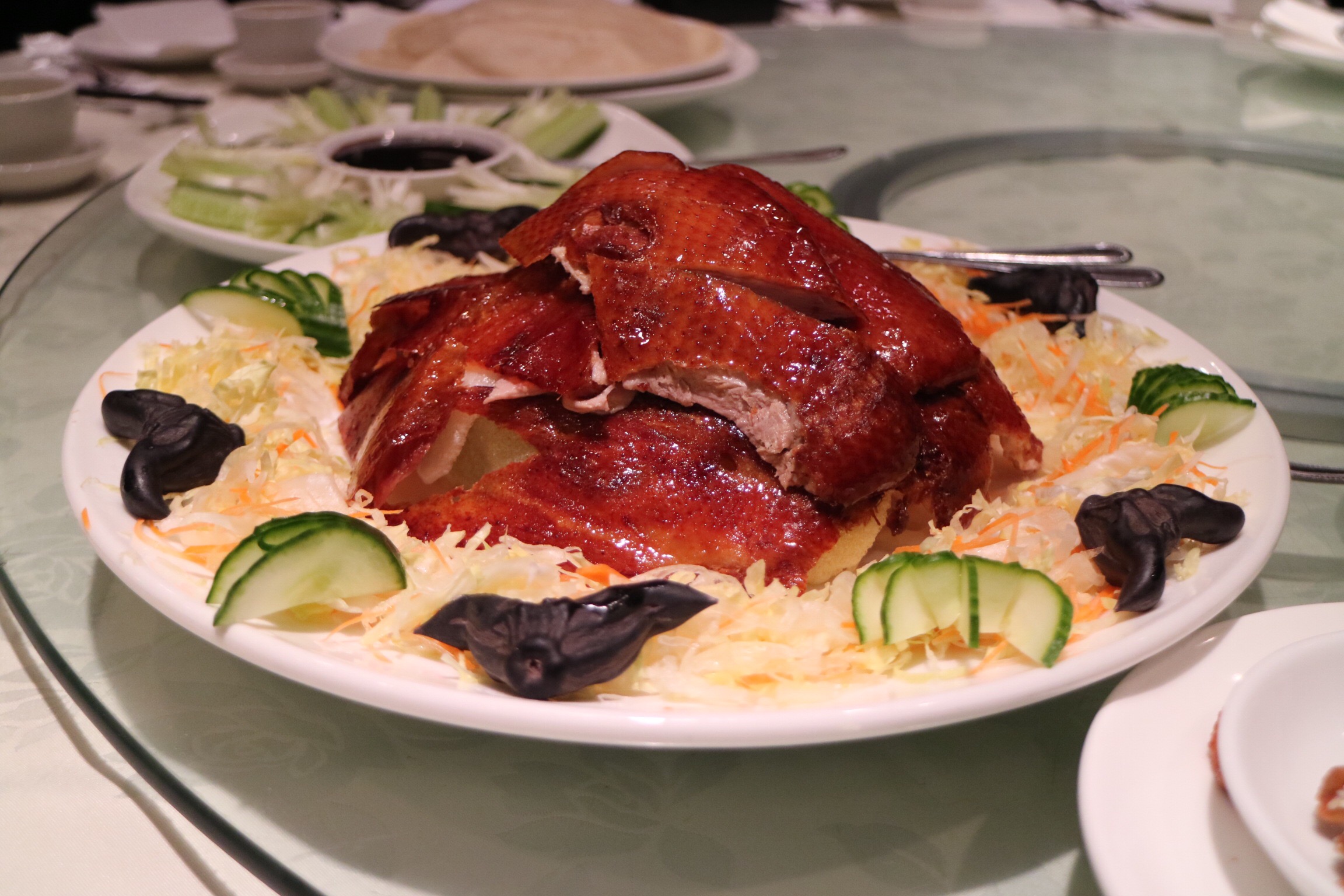 The Duck Meat and Dry Scallop Soup is served as the 2nd course of the Peking Duck. The combination of the duck and seafood flavours was fantastic.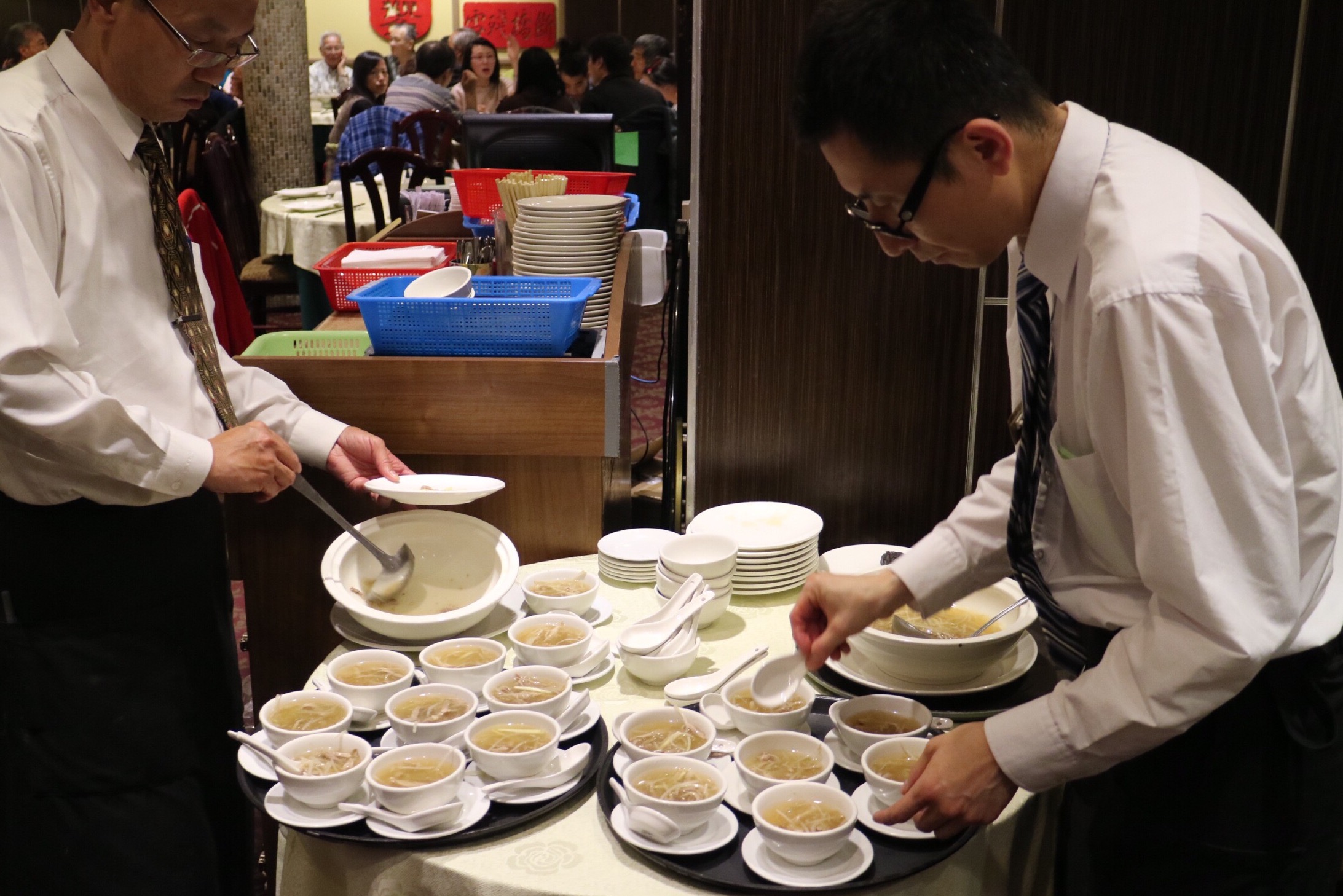 I quite like their version of the Duck Meat Lettuce Wraps, the 3rd course of the Peking Duck. They put some crispy root vegetables to add some extra crunch texture.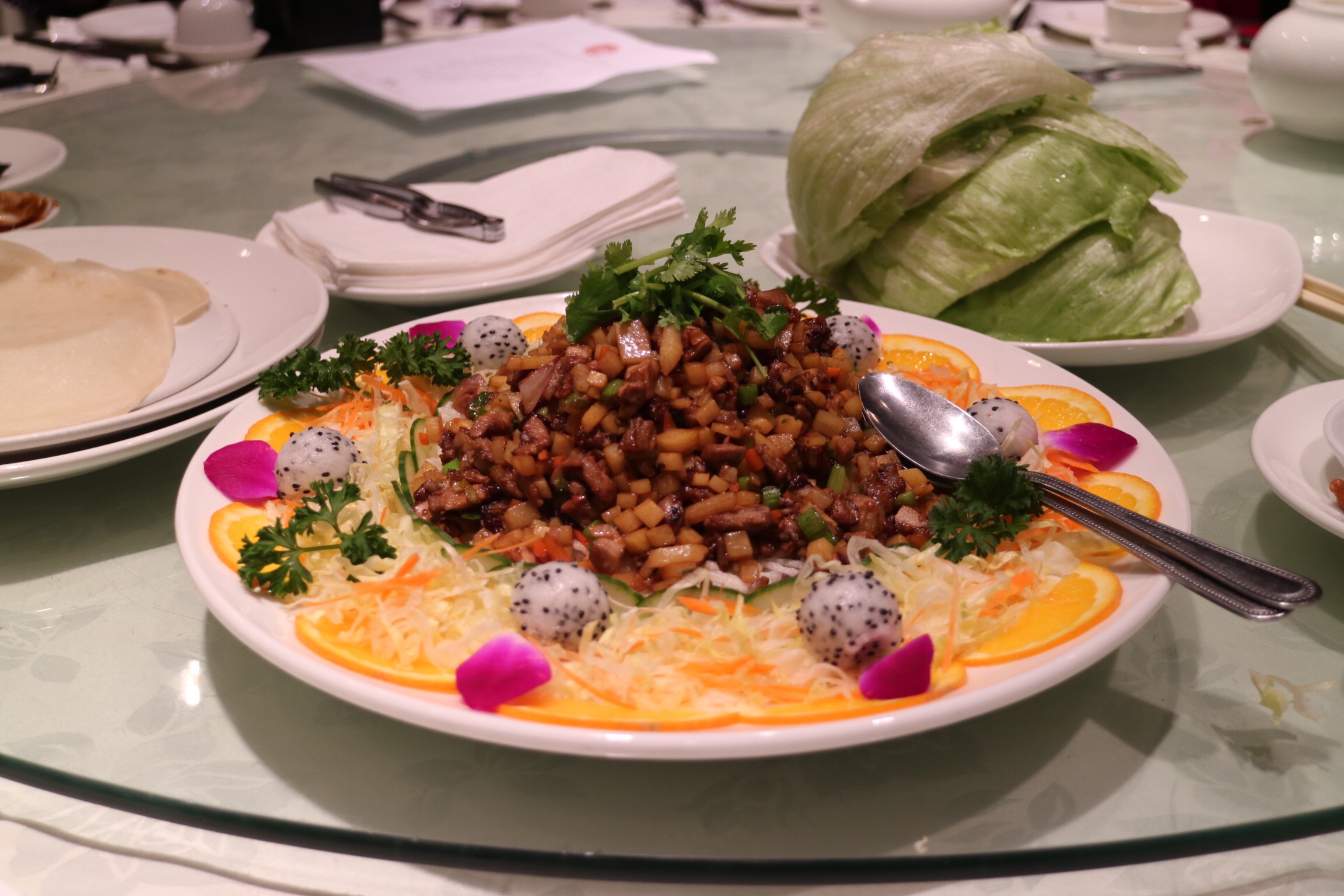 The King Crab Legs Steamed with Garlic has proved that simplicity is often the best way to showcase ingredients of extremely high quality.  There is no better way to enjoy such sweet and delicate crab buy valsartan online 160 meat.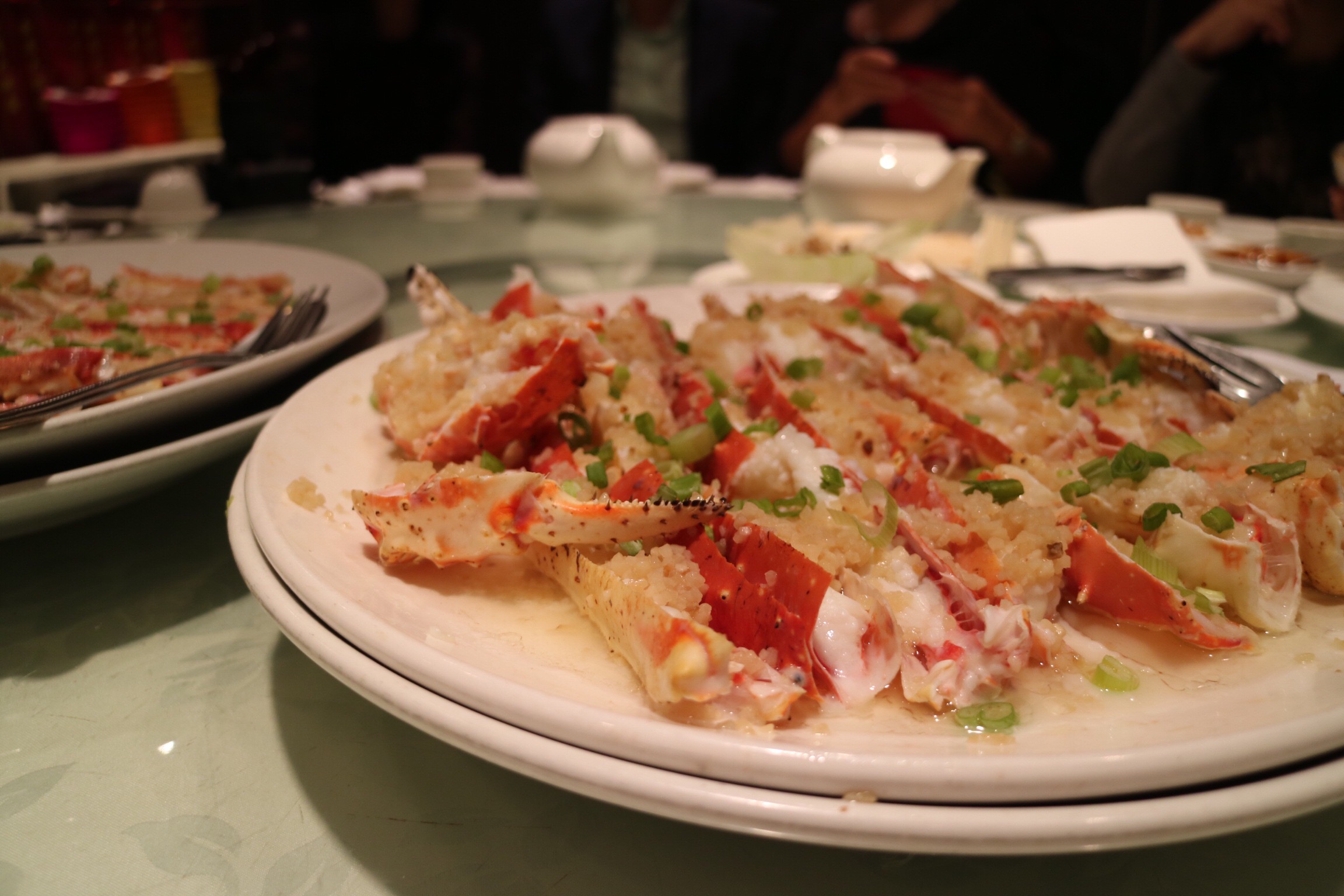 The following 2 dishes feature the crab meat from the knuckles.  In the King Crab in Supreme Soy Sauce with Rice Cake, I think the rice cake steals the show as it absorbs the flavour from the crab meat.  I like the crispy exterior of the crab pieces in the Spicy King Crab with Vermicelli, and the perfect amount of spiciness. For quality seafood, a small amount of spiciness help accentuate the sweetness of seafood. That's why I always ask for chilli oil when I order the Shrimp Dumplings at dim sum.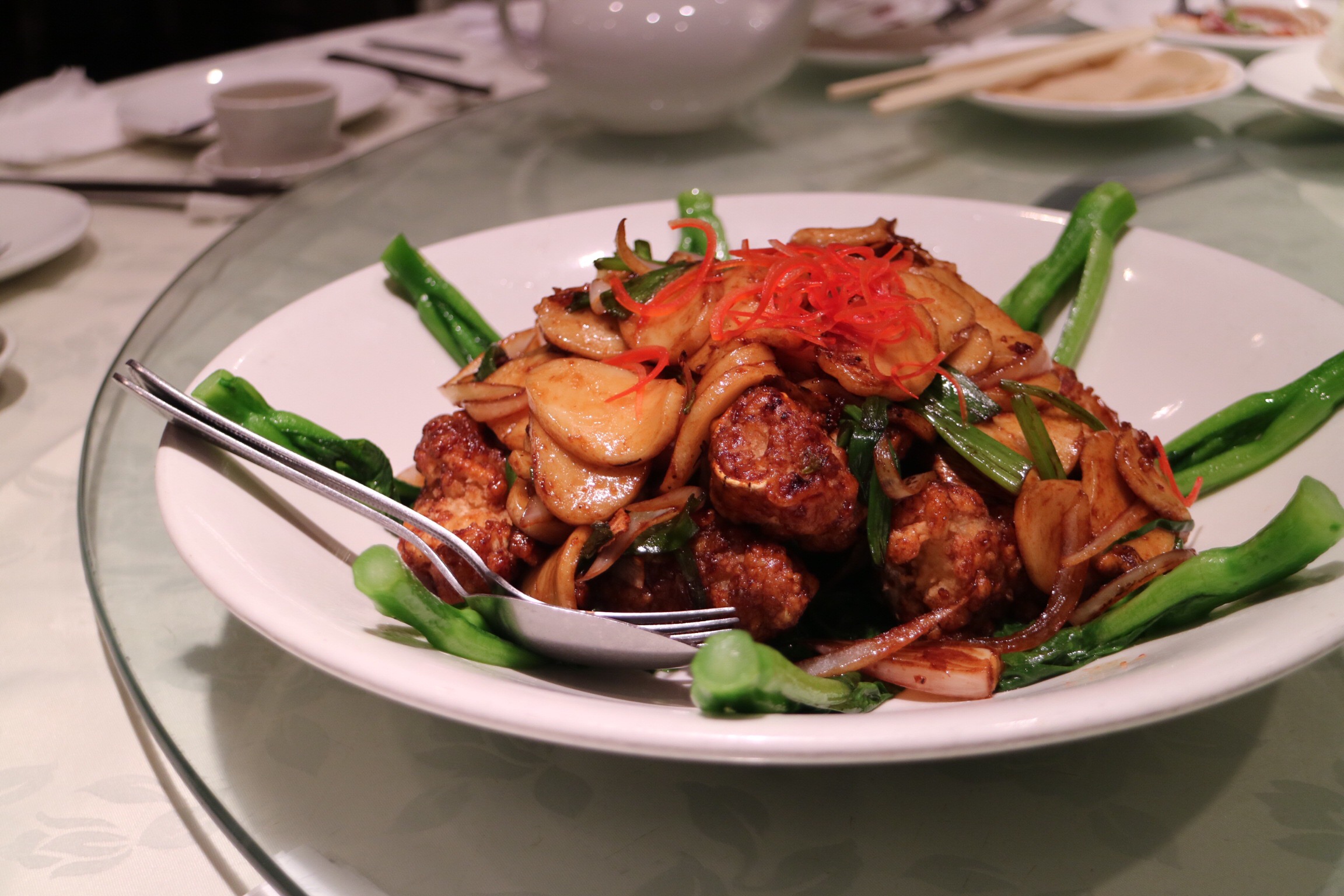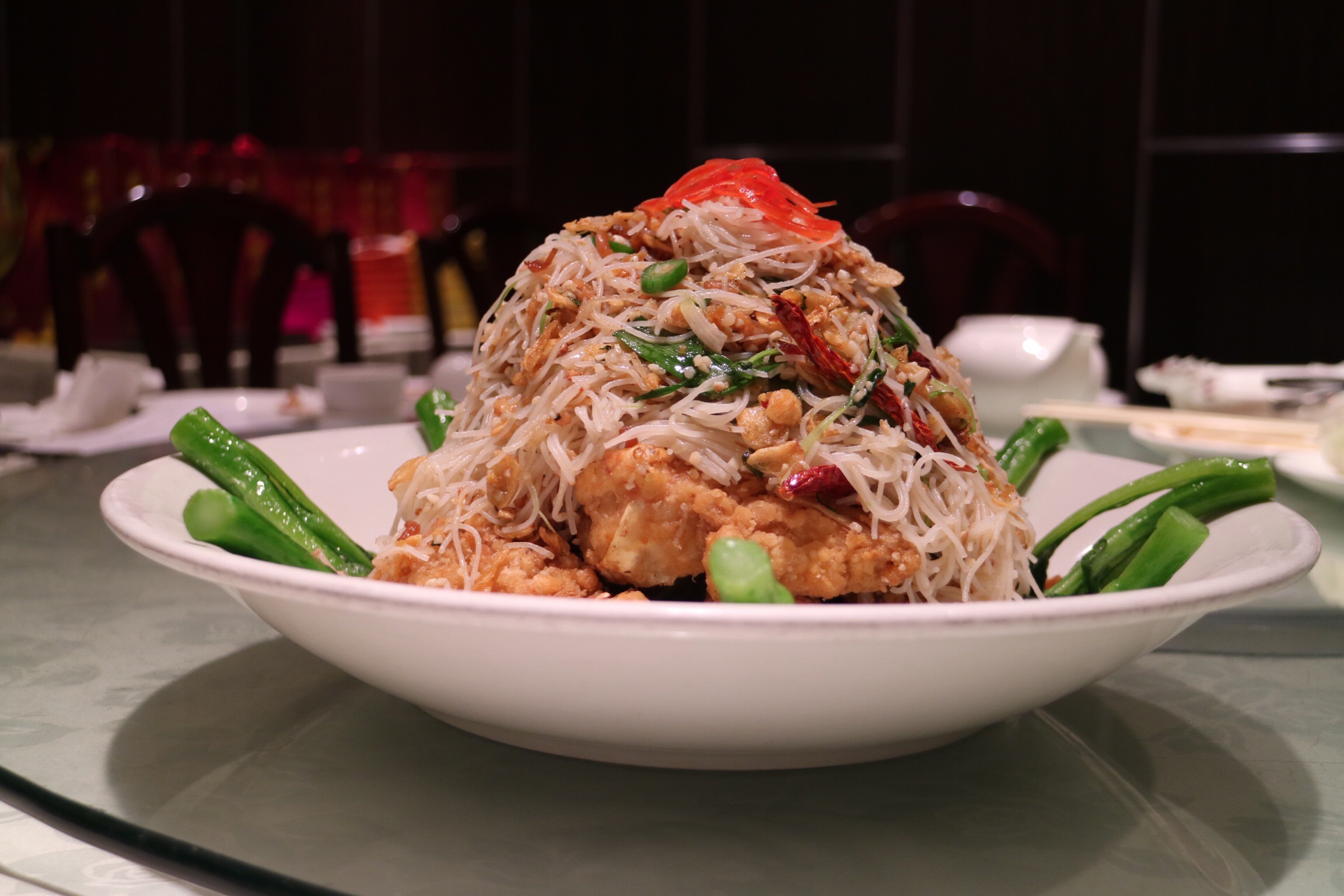 There are a few specialty dishes from the restaurant that are included in this feast, including the Diced Beef Tenderloin with Deep Fried Milk Puff, the Dried Scallops Braised with Pea Tips, and the Sautéed and Deep-Fried Sole Fillet. And those are some of the most tradtional Cantonese dishes, and they definitely reminded me of the taste of home – fresh, delicate, and flavourful!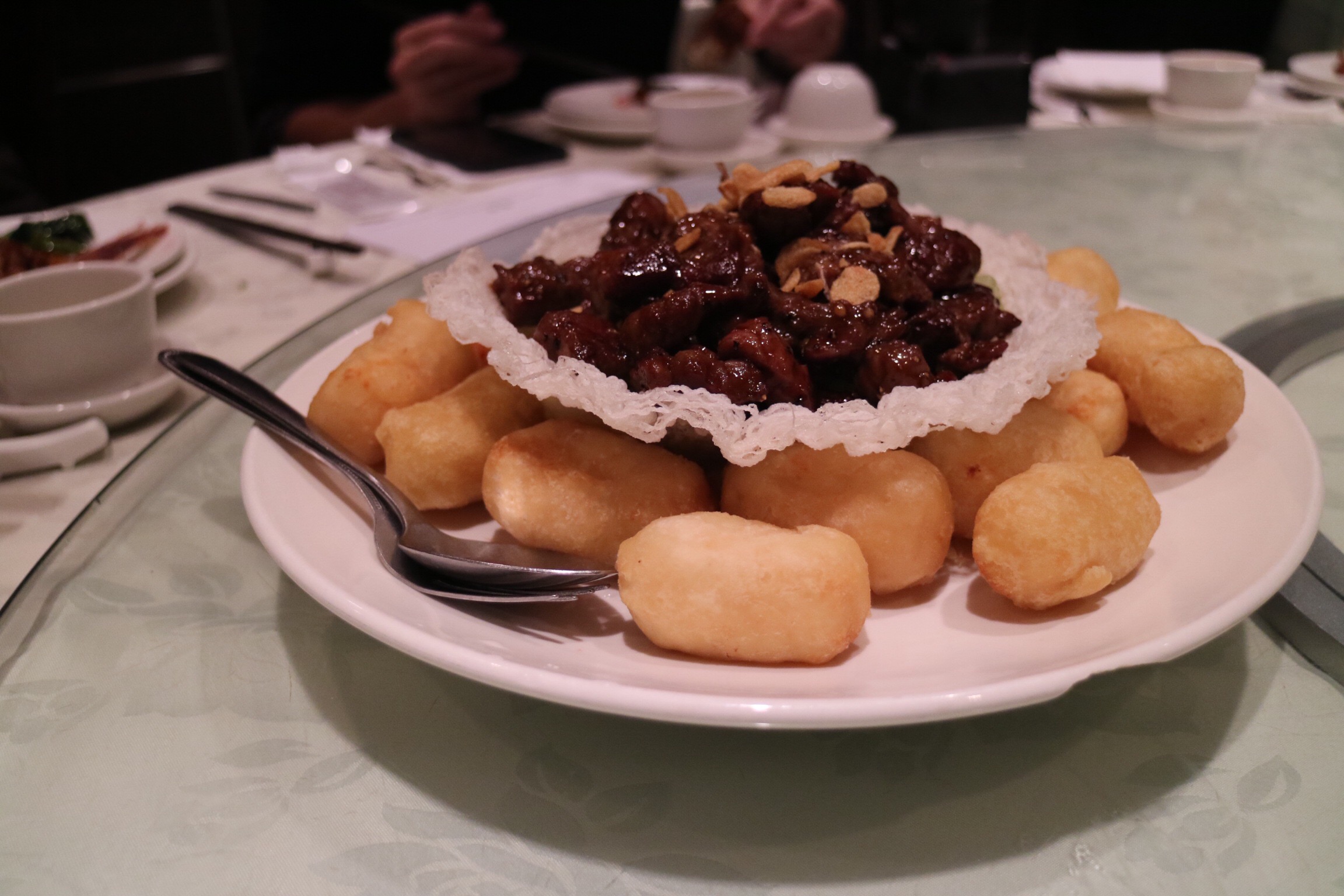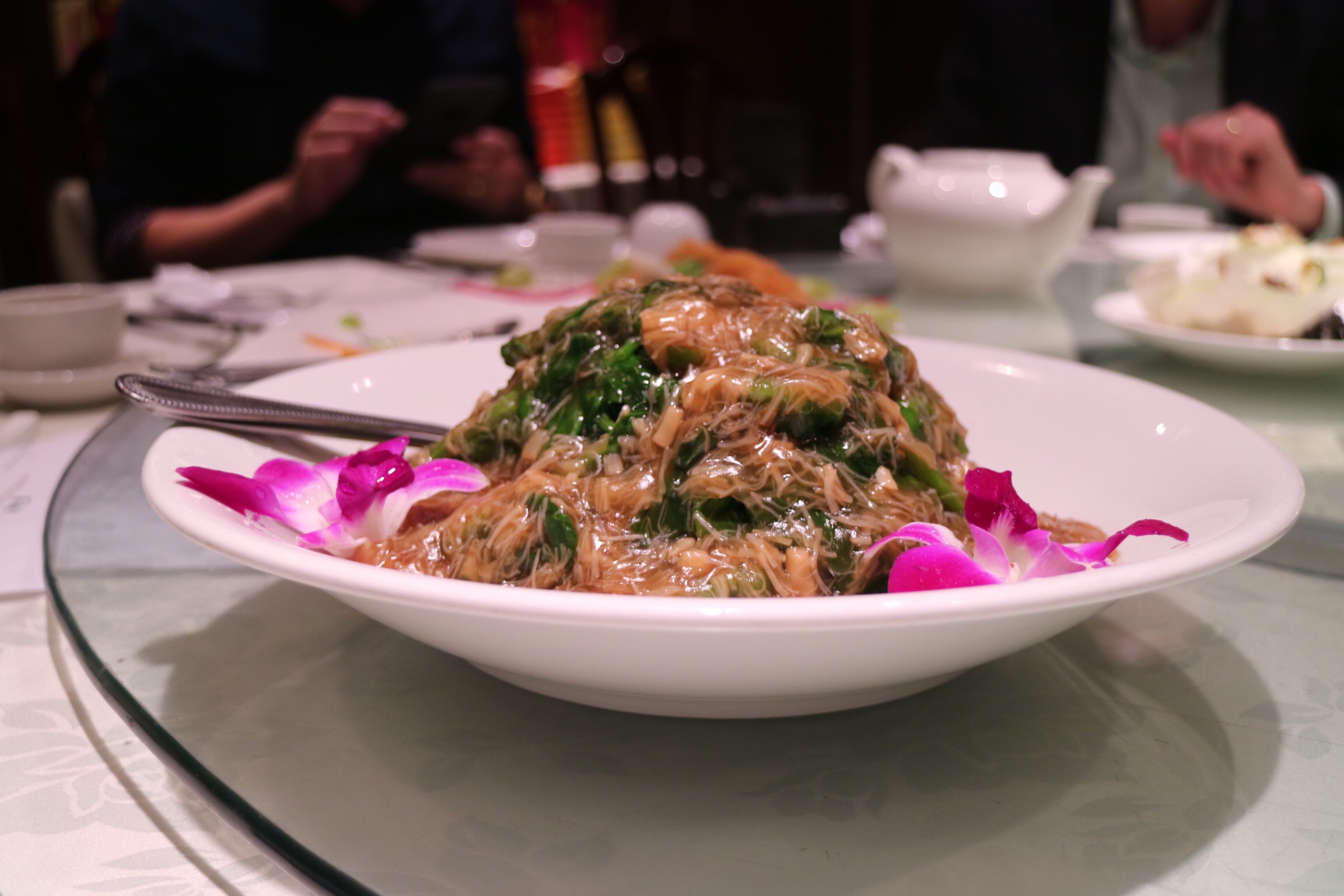 Traditionally at a Cantonese banquet fried noodle and fried rice dishes come after meat, seafood, and vegetable dishes. The Egg White Fried rice with Dried Scallops is served in the king crab shell. Besides the extravergan presentation, the seafood flavour on the rice is incredible.   I was even more impressed with the Tossed Noodle with Crab Sauce as the crab meat flavour was completely absorbed into the noodles.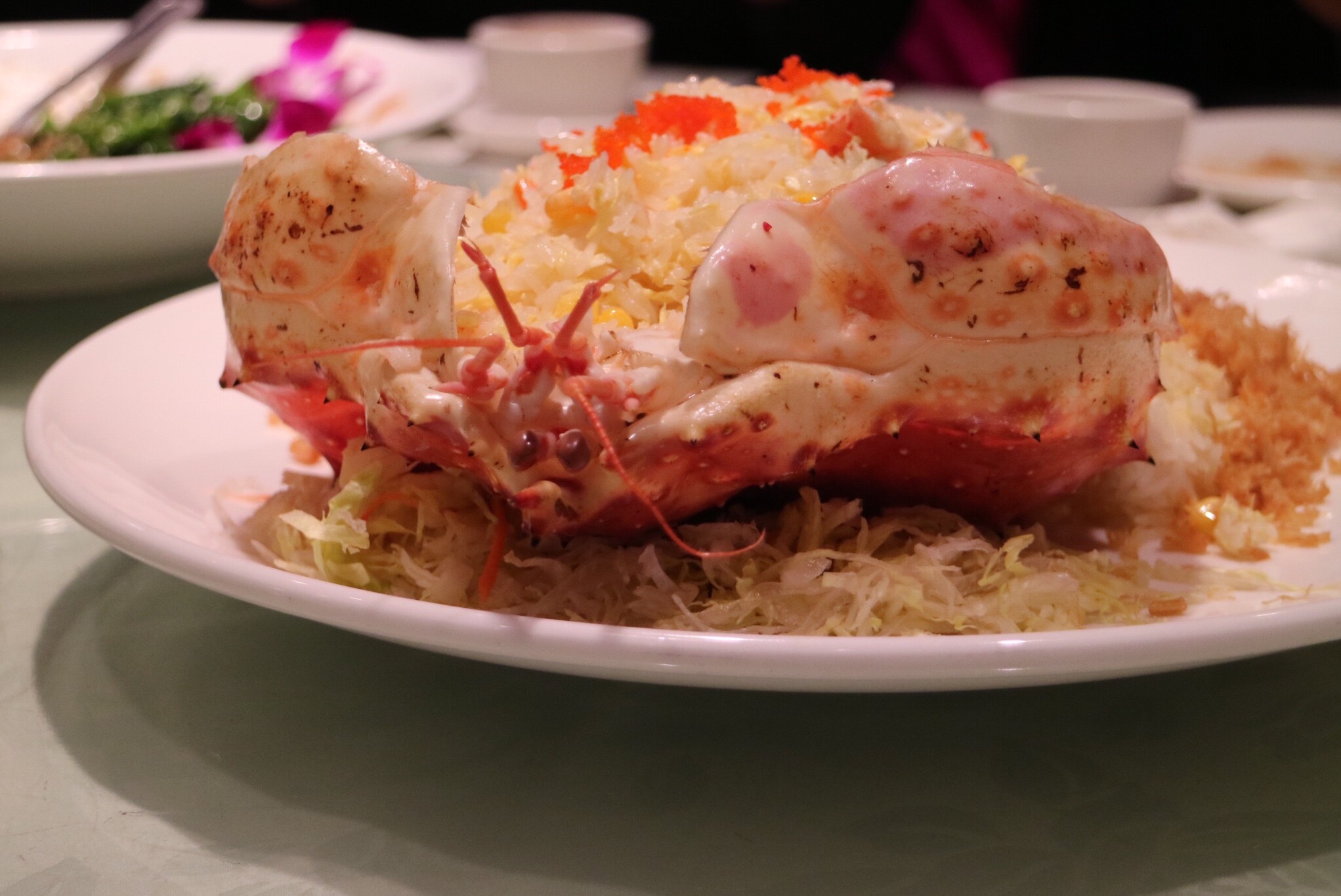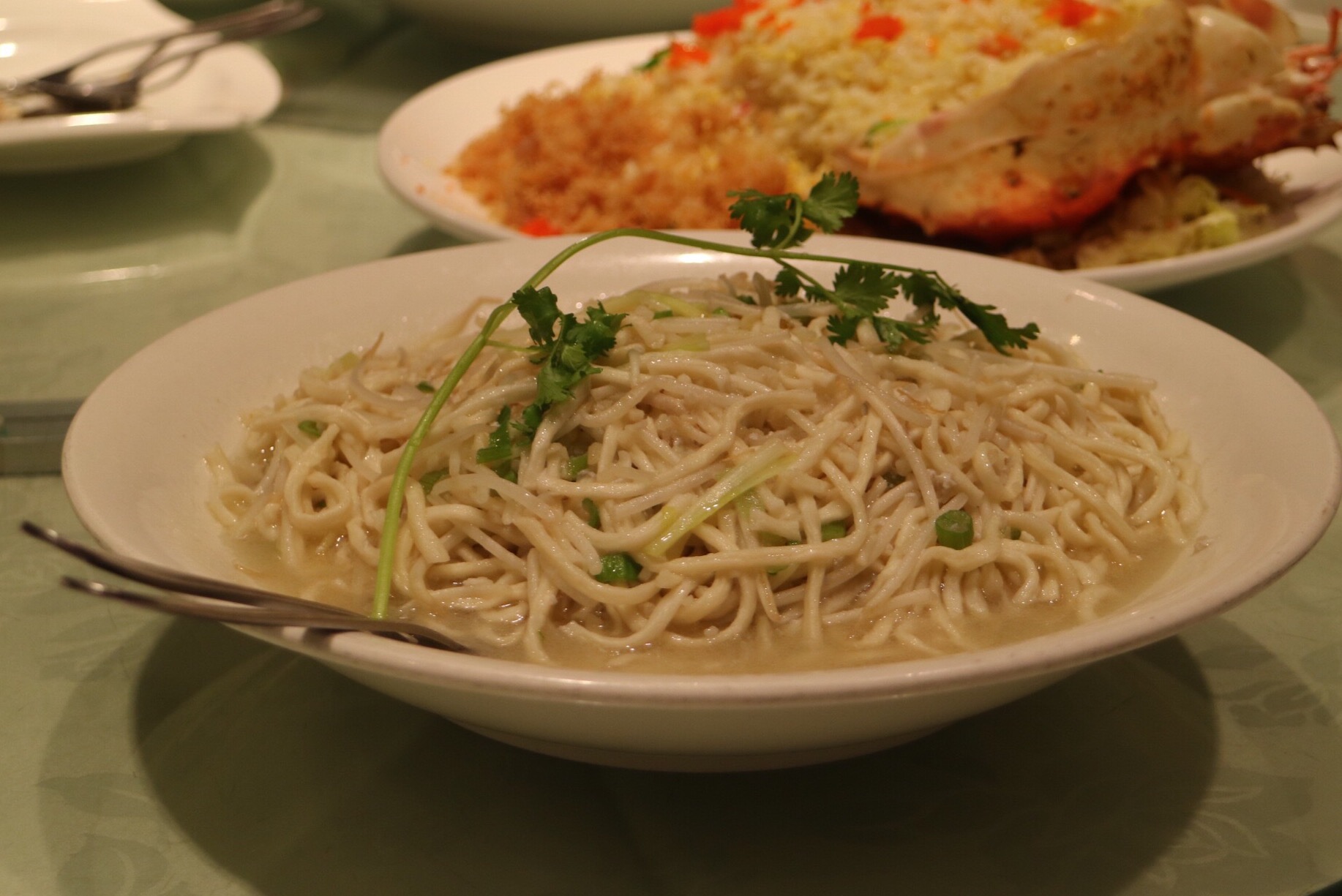 The festival feast had a sweet ending with the Baked Tapioca Pudding with Taro and the Mooncake. Taro is another traditionl ingredient heavily used in Cantonese dishes and a must-have for the Mid-Autumn Festival.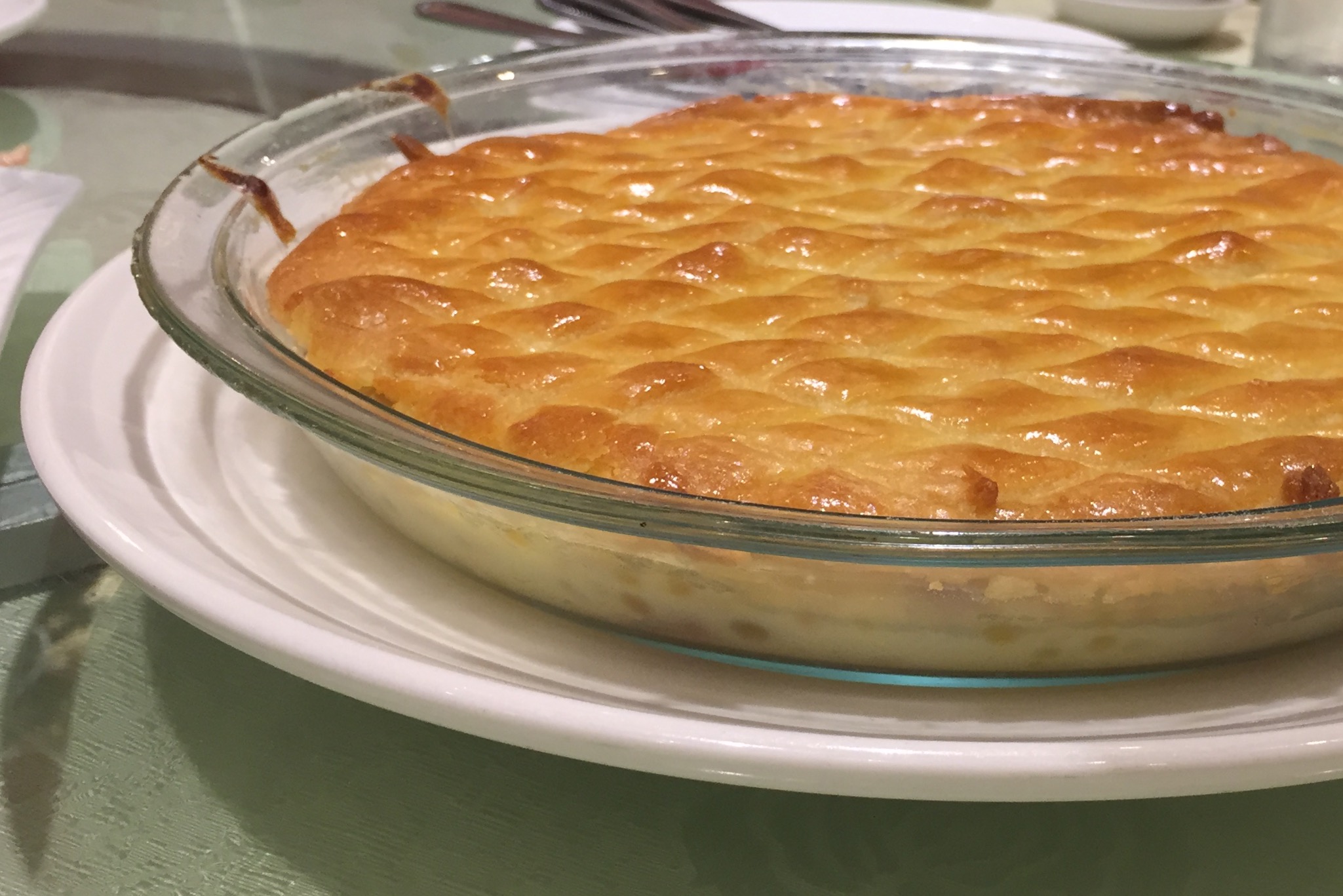 And for the mooncake, it is hard to find anything in the world that has the similar texture and taste with it. It is definitely worth a try to whoever hasn't done so.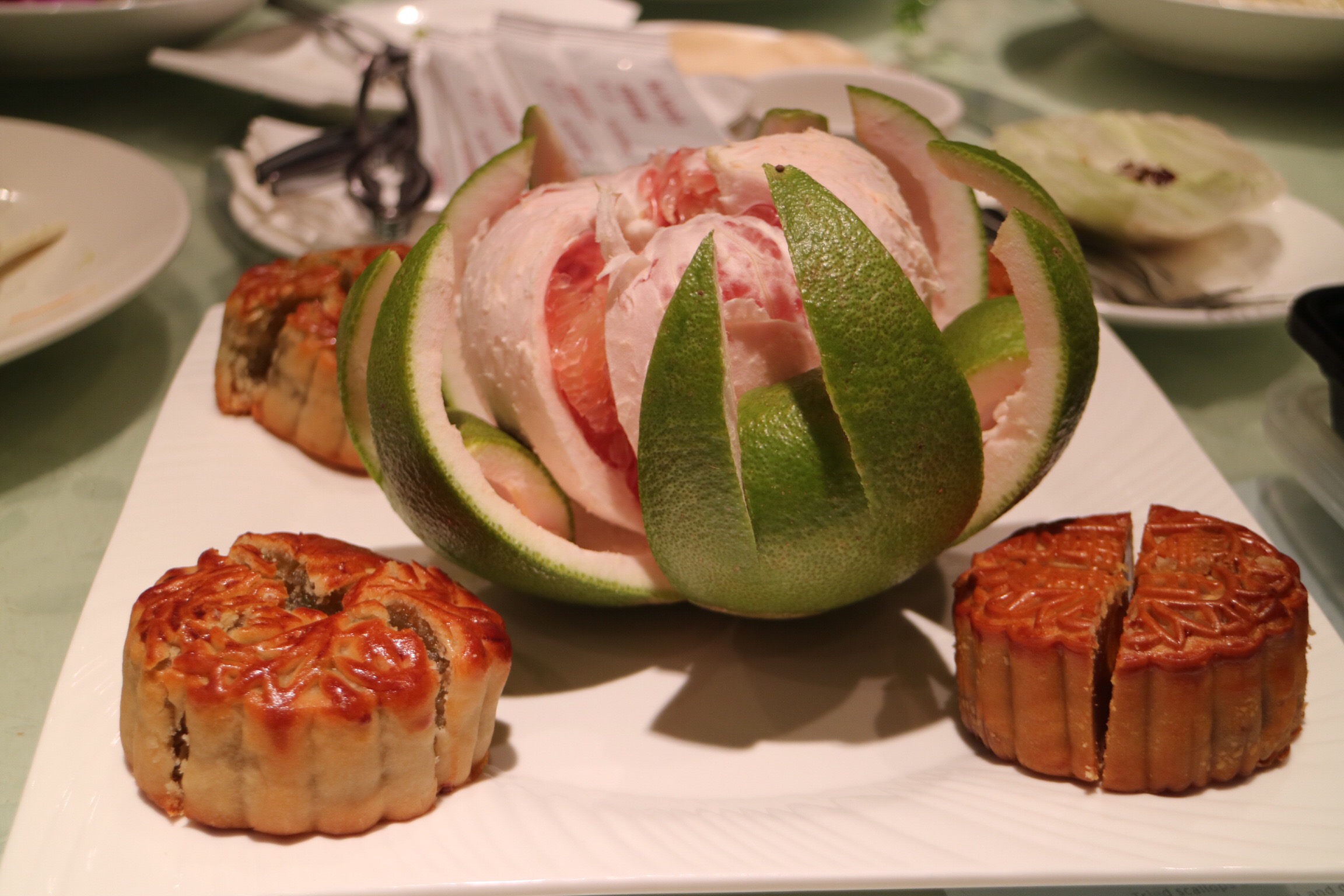 The Deals
The King Crab with Peking Duck Dinner for 10 people is $668.
A smaller menu of King Crab Dinner for 6 people is $398 (limited time offer till October 8).
Dried scallops with golden chive soup
King crab legs steamed with garlic
King crab in supreme soy sauce bedded with rice cake or Spicy king crab bedded with vermicelli
Sauteed cod fillet with greens
Western Lake free range chicken (half)
Egg whites fried rice with dried scallops or Baked rice with seafood
Baked tapioca pudding with taro
More about Western Lake and the Chefs
Western Lake Chinese Seafood Restaurant has opened for a decade with dinner service from
5 – 10 pm every day. Chef Tony Mah and Chef John Deng have been sharing their passion and talent in Chinese culinary arts for the past 30 years. They have continuously reinvented Chinese cuisine with their creative cooking style and well-honed traditional skills. They have created numerous Cantonese dishes, with a delicate fusion of Northern and Southern Chinese cuisine.

At Western Lake, most of the ingredients are sourced locally.  Chef Mah and Chef Deng are firm believers in using the freshest seasonal ingredients. They go to great lengths daily to find the finest produce Vancouver has to offer in their dishes. 
Website and menu:
http://westernlake.ca/english/
Location:
* All dishes tasted in this post were complimentary. Opinions are on the reviewer's own.