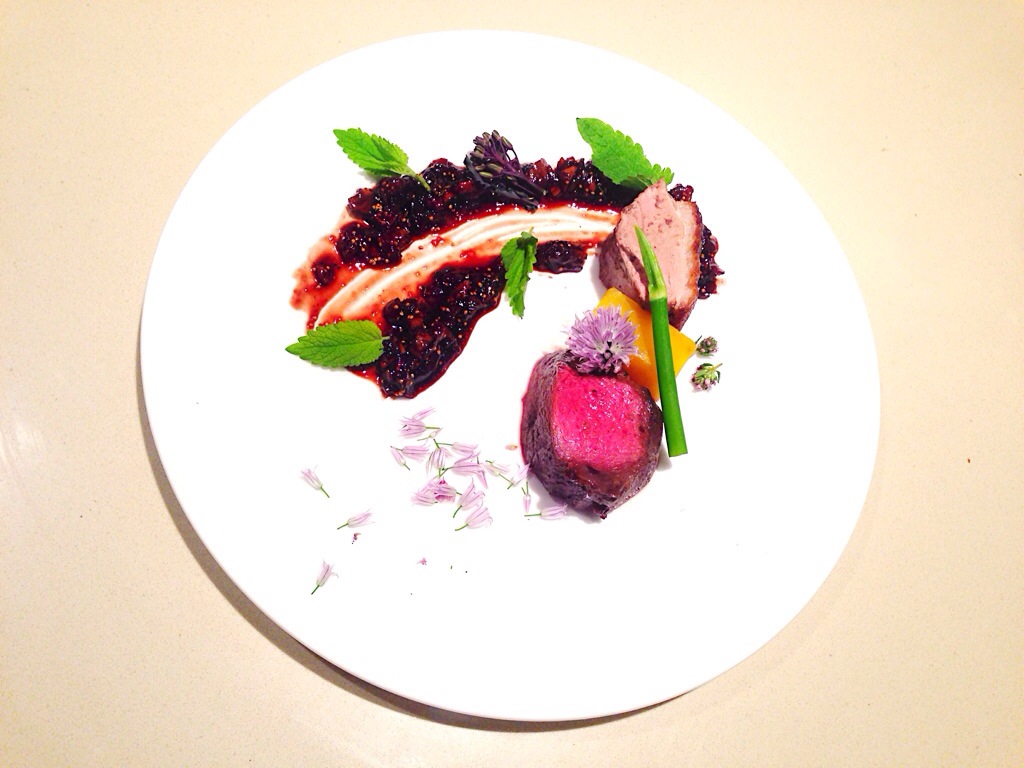 I just happened to have a big bag of dried figs from Costco. I decided to use them in preparing a dinner party for my friend Sofina's birthday.
As dried figs had very high content of fruit sugar, I thought I could break it down with red wine and balsamic, and make a very nice compote for serving duck or wild game meats such as venison. The sweetness would complement the gaminess of the meats, and bringing those wild game dishes together.
To start the compote, I finely chopped about 1 cup of dried figs, and put them in a small sauce pan along with some olive oil, finely chopped garlic and shallots, and fresh thyme. Then I added about a cup of dry red wine and about quarter cup of balsamic vinegar. Let the sauce simmer on low heat and kept stirring it till it reached the compote consistency. I also added some salt and freshly ground black pepper to taste. The flavours were sweet and savoury, and a little bit tangy.
For the game meat, I prepared duck breast and venison loin. Duck breast was rendered and left with where to buy diovan 320mg crispy skin. See how to sear duck breast here. And I finished cooking the rendered duck breast by marinating it with a little maple syrup, lemon juice, salt, and black pepper, and putting it in the oven for about 10 minutes. Venison loin was super lean, and did not need a lot of cooking. I just rubbed it with olive oil, salt and pepper, seared all sides for about 10 minutes, and finished it off in the oven for about 10 – 15 minutes.
Duck, venison, and the dried fig compote worked really well together. I also put in a piece of quickly pickled golden beet, to add some acidity; and some fresh organic lemon balm leaves and chive blossom as garnish. Those little green lemon balm leaves were really pretty. They looked like mint leaves but they had a very refreshing and strong lemon flavour. Chive blossoms were a little spicy and tasted like garlic, and added another layer of flavour to the dish. I was really happy to see my wild game dish came together at the end.
I would like to recommend this place to get wild game meats: Pacific Exotic Meats.