Bao Down in Gastown has been known for their bao sandwiches. Sure I get that the idea that they are similar to tacos,  but as I grew up eating different kinds of bao buns in China, it's hard for me to find the white sugary buns appealing any more. Even at dim sum, I barely touch those BBQ pork buns  although I know how delicious the stuffing is.  I guess this is why I have't been planning to visit this place anytime soon.
However, when Bao Down was opening a much bigger second location in Olympic Village,  I found their new Gastropub and Raw Bar concept way more interesting. They boast a full menu with a mix of Thai, Hawaiian, Filipino and other Pacific/Asian flavours.  Besides shucked oysters, Hawaiian poke and beef tataki in the 'raw bar' section,  you can also find various small or big plates of meat, salad, noodles or rice on the menu, as well as the house charcoal-grilled platters using Thai charcoals.
So I Decided to do brunch at the new Bao Down with Food Wench of Drunken Noms, and my new blogger friends Jess and Phil from Domo is Craving.  The pair is happily engaged and also runs a YouTube channel. They are super nice and a lot of fun to hang out with.
Walking inside the restaurant, I felt like walking into a super colourful surfer bar by the Pacific ocean. Then I noticed the chic and contemporary details on the rustic wood-centric decors. The most visually stunning piece has to be this vibrant hip-hop style mural painted by local artist Taka Sudo on the wall right beside the bar.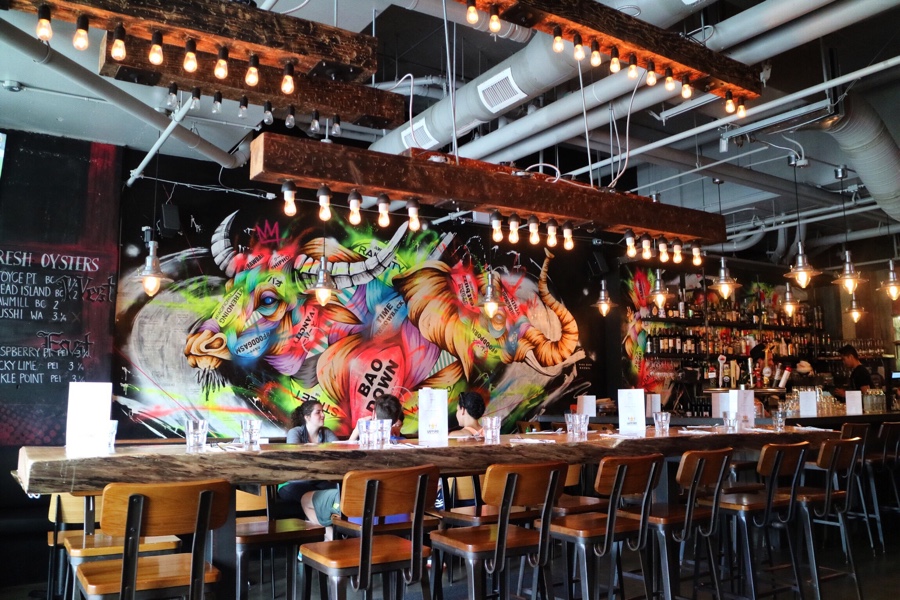 I spotted Food Wench sitting close to the front, forcing a smile on her face when she saw me. Only a minute later I realized she was still agonizing from the night before, just another one of her drunken nom adventures. Soon Jess and Phil joined, and it seemed like 11am was a little early for them as well. Surprisingly Food Wench didn't get a Caesar today, and settled on a Pot of Loose Tea ($5). I was a little bumped because I was hoping she would order it so that I could check out the wacky Caesar here that serves with prawn, seared tuna, bacon and kimchi, which sounds like a small meal itself.  While both Phil and I ordered the House Coffee ($3.50), Jess asked for a Thai Ice Tea ($5) for her caffeine fix. Although just a cup of coffee, it came with an elaborate set of add-ons: cream, 2 different kinds of sugar and a biscotti – pretty impressive so far!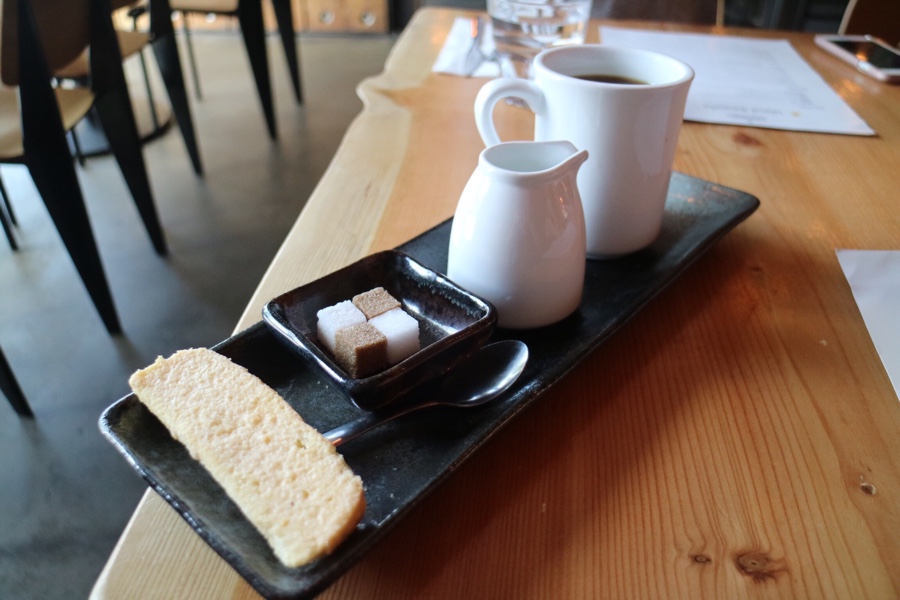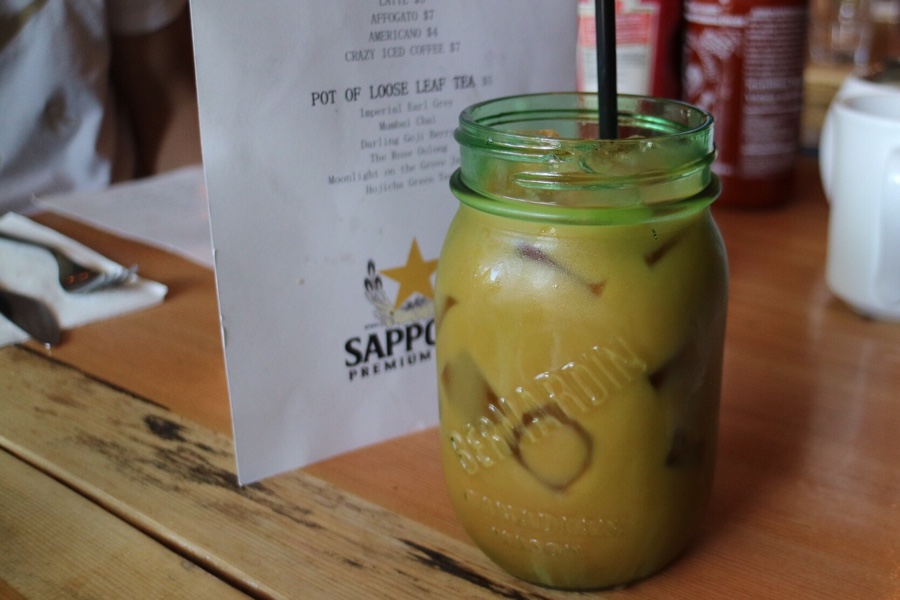 Jess and Phil were sharing a couple dishes. They didn't seem super impressed with the Phresh Prince Bao ($8), with sous vide beef, egg, bacon, cheese, peppers, onion, crispy garlic, and garlic mayonnaise served on a bao bun like an open face sandwich.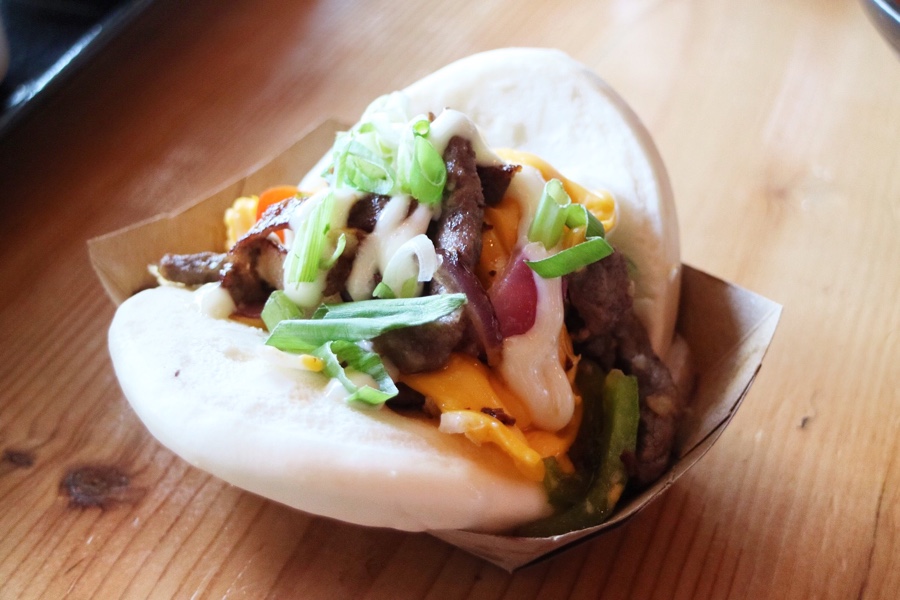 The couple also got the Hot Stuff ($18), which is the same with what Food Wench ordered, except that Food Wench asked for poached eggs instead of fried eggs. While the couple found the dish just okay, Food Wench really enjoyed it. The chicken and waffle dish is spiced up with thai chilli pepper and  finished with macadamia nut syrup. It would have been close to perfection for her if those poached eggs weren't over cooked. It was hard to see the disappointment on her face when she cut open the poached eggs because no running yoke was coming out. I took a bite on the chicken and waffle. They definitely had nailed the texture, with the chicken crispy outside and moist inside, and the waffle was soft but still held up pretty well soaked up in the syrup under the chicken.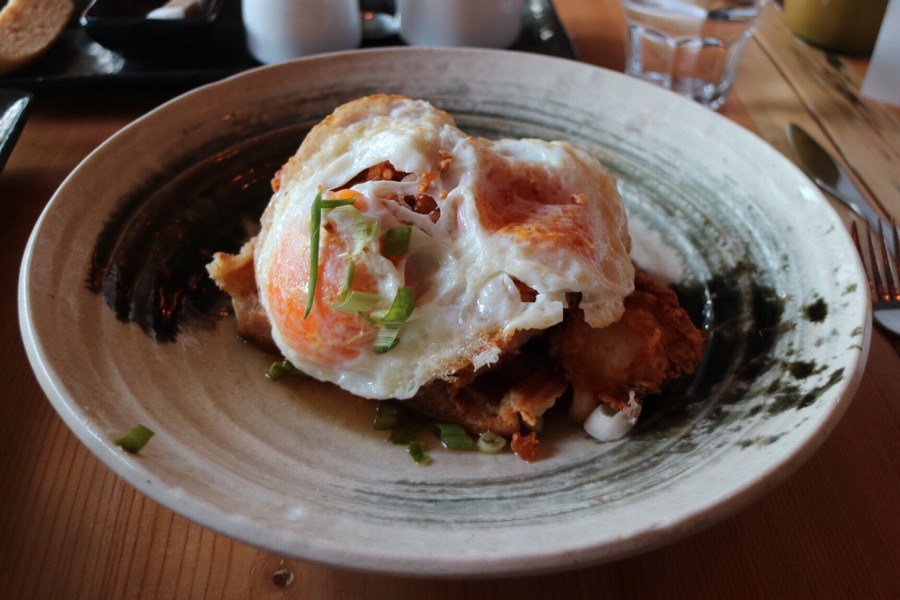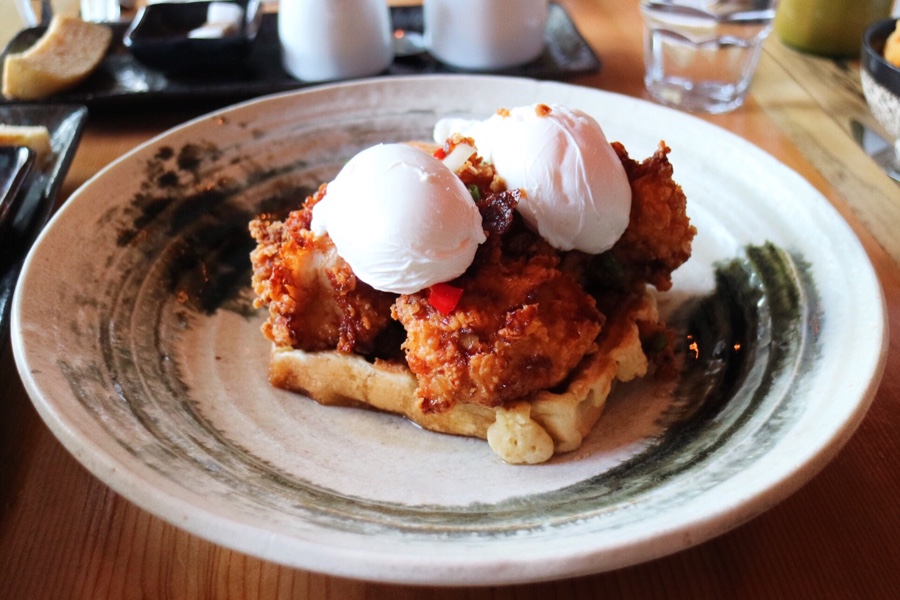 And Food Wench was cheerful like a little girl when she saw her side dish of the Hash Browns ($4) because they were actually Tater Tots. I remember I first discovered tater tots as Mexi-Fries at Taco Times when I moved to Canada, and it became my favourite instantly.  Those golden crispy nuggets here were just as good as what I could remember. And I could see now why Mercedes in Glee totally flipped when Sue Sylvester tried to ban tater tots in the school cafeteria.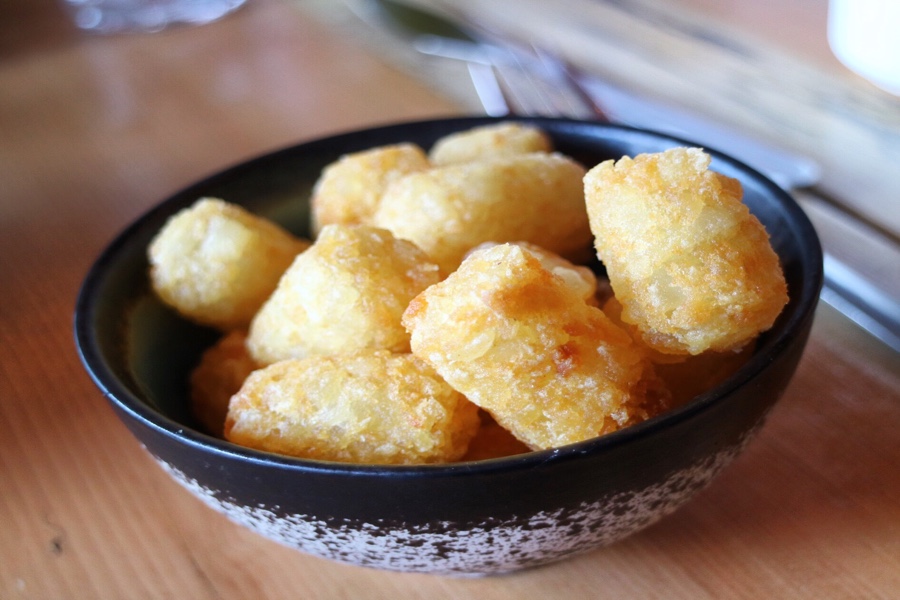 As for my own dish, the Loco Moco ($16) was visually pleasing. It came with pressed AAA beef patty, beef & mushroom gravy, garlic steamed rice, hash browns, and topped with 2 fried eggs. Ooh I got my own tater tots too!  Unfortunately everything in this bowl was under seasoned, which was such a shame since all the components looked so pretty and tasted so fresh.  Although being a Cantonese I could handle bland food pretty well, this is just a little too underwhelming for me – even the garlic rice barely tasted garlicky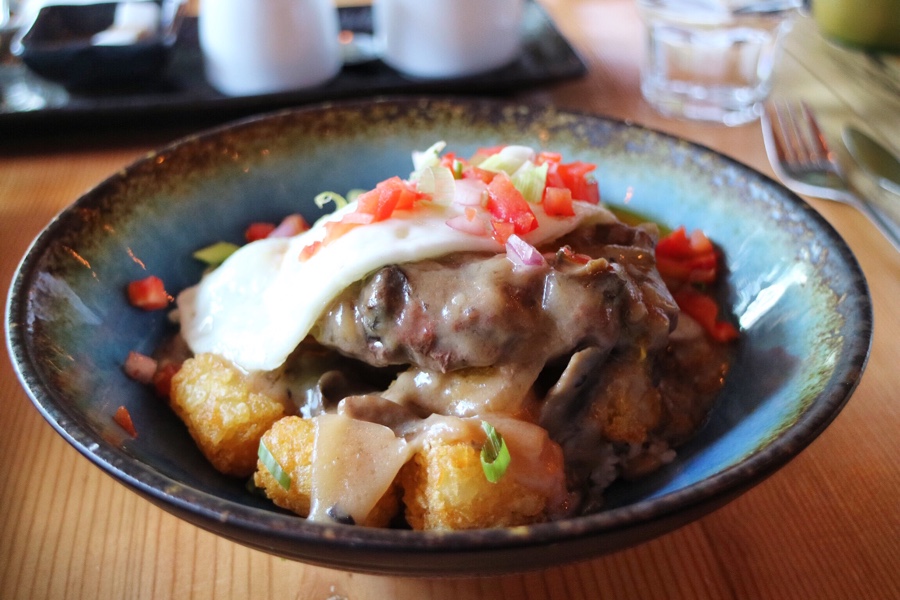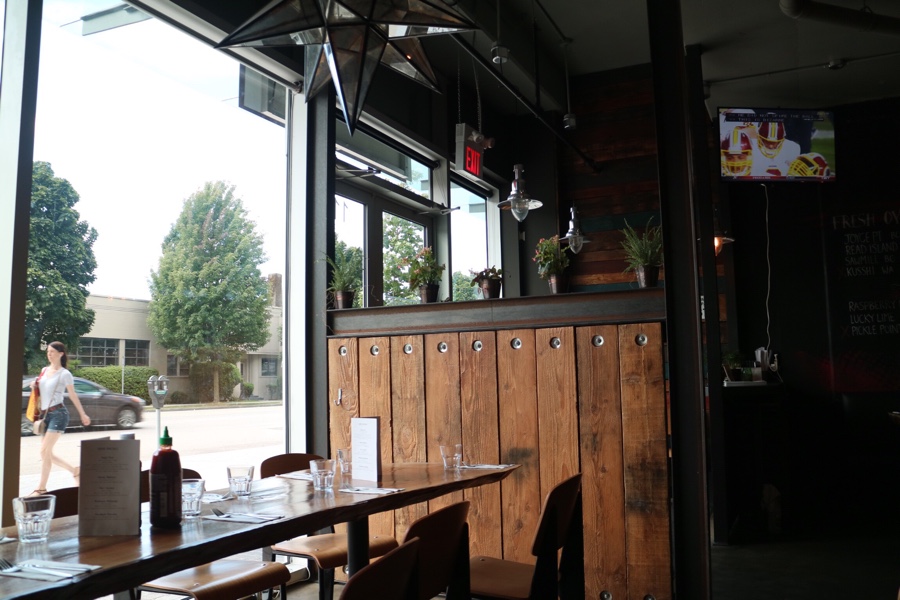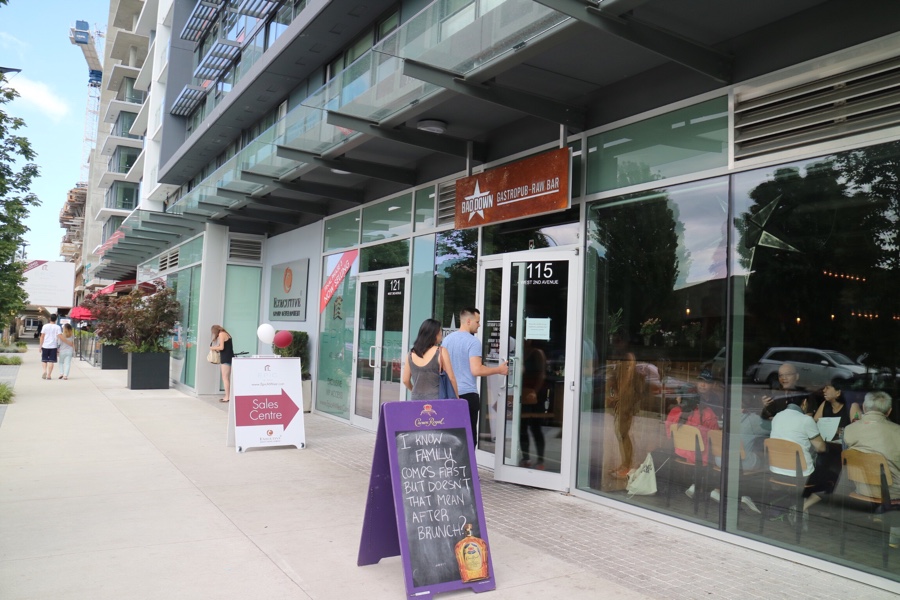 Overall, just by looking at their menu, they seem to have shown some creativity to draw the Pan Asian inspiration on their plates. There is a mix of ethnic dishes with local ingredients and North American dishes with exotic twists, which all sound quite intriguing. However for our brunch experience, the great concepts didn't all get executed properly, such as my Loco Moco that didn't deliver the bold flavours that I was forwarding to. Nevertheless, I am still willing to come back here to try the dishes from their Raw Bar and the Thai Charcoal Grill.
Website / Menu:
More reviews:
Location: