I moved to Vancouver in 1997, and I started noticing Locus not too long after.  Back in the days, years before I became a foodie, I thought Locus was way ahead of the time. I was learning words like "organic" or "venison" on the menu, and I was also impressed with the dark and artsy interiors, just as cool as what I saw at Wasubeez on Commercial Drive or its sister restaurant Subeez in Yaletown. But  21 years later, with both Wasubeez and Subeez long gone, Locus Restaurant & Lounge still runs as one of the iconic spots with the cool vibe on Main street.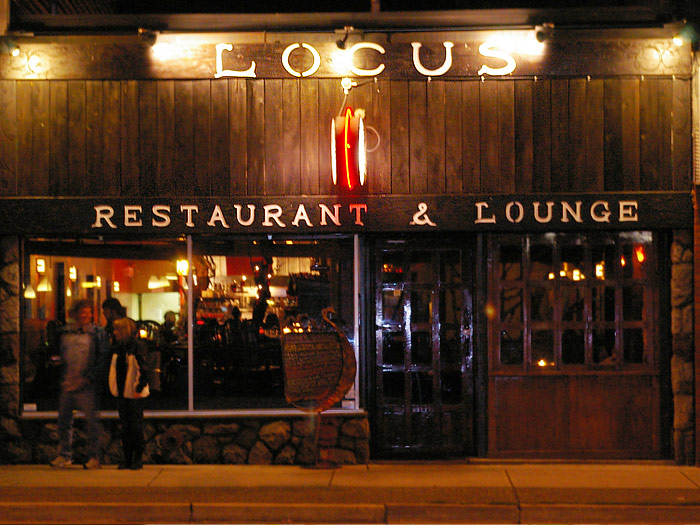 The current Executive Chef, James Green, has been helming the kitchen for 5 years. A veteran in the restaurant scene over 20 years, he could hardly contain his passion for cooking during our chat. He is grateful with how he has been growing as a chef in the industry,  working in such a great neighbourhood, largely known for the use of in-season local produce and sustainable meat and seafood, and settling at Locus, one of the pioneers for the ongoing local restaurant movement.  He's proud of putting local sustainable seafood on the menu, something he learned while working with Chef Robert Clark at C Restaurant. It's worth mentioning that chef Robert and his popular spot, Fish Counter, are just a block away from Locus. Chef James shows his love for the freshest from the local farms in his ever-changing "Dinner Features" section of the menu. And the section sometimes features sustainable protein such as wild boar, bison and camel, both excellent sources of nutrition benefits but leaving minimal footprints on the natural environment. His latest spring-summer 2019 menu also includes a variety of vegetarian, vegan, gluten-free, and dairy-free options.
Like any of the trendy food spots in the city, Locus carries an interesting cocktail menu.  The Railbird ($10) was our server's recommendation,  featuring bourbon, ginger beer, peach preserve, honey syrup, and fresh lemon, light & refreshing version of Kentucky Buck. The War of the Roses ($10)  is mixed with Pimm's no. 1 gin, St. Germaine, fresh pineapple, and cranberry – another great choice for the summer. Making a wine-food pairing decision is seemingly easy as there is a very detailed description of each wine on the wine list.  A great selection of beers, ciders, and scotch are also available. Happy Hour can be taken advantage of daily 3 pm – 6 pm, with $4.50 featured beer and $5.50 on house wines and cocktails.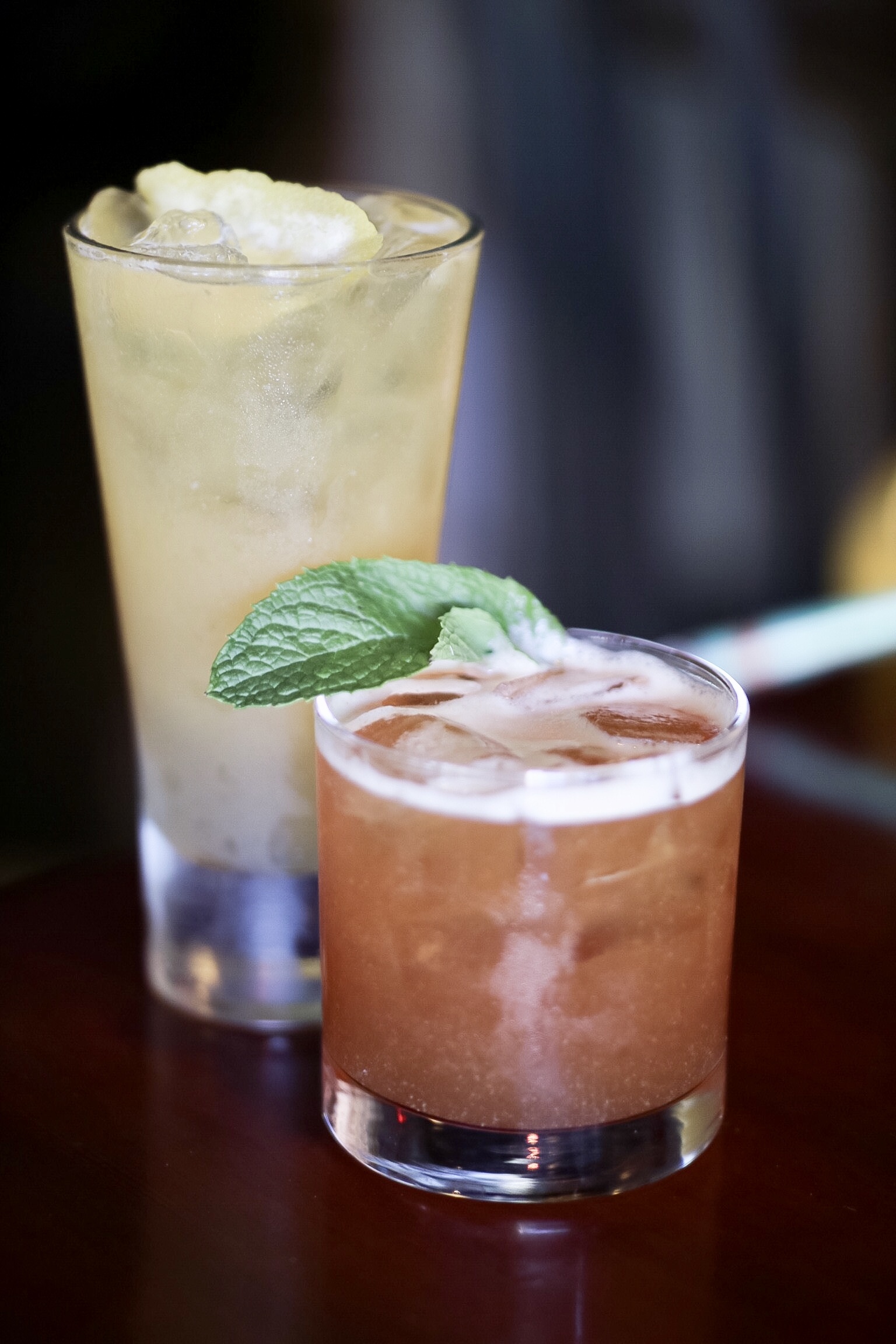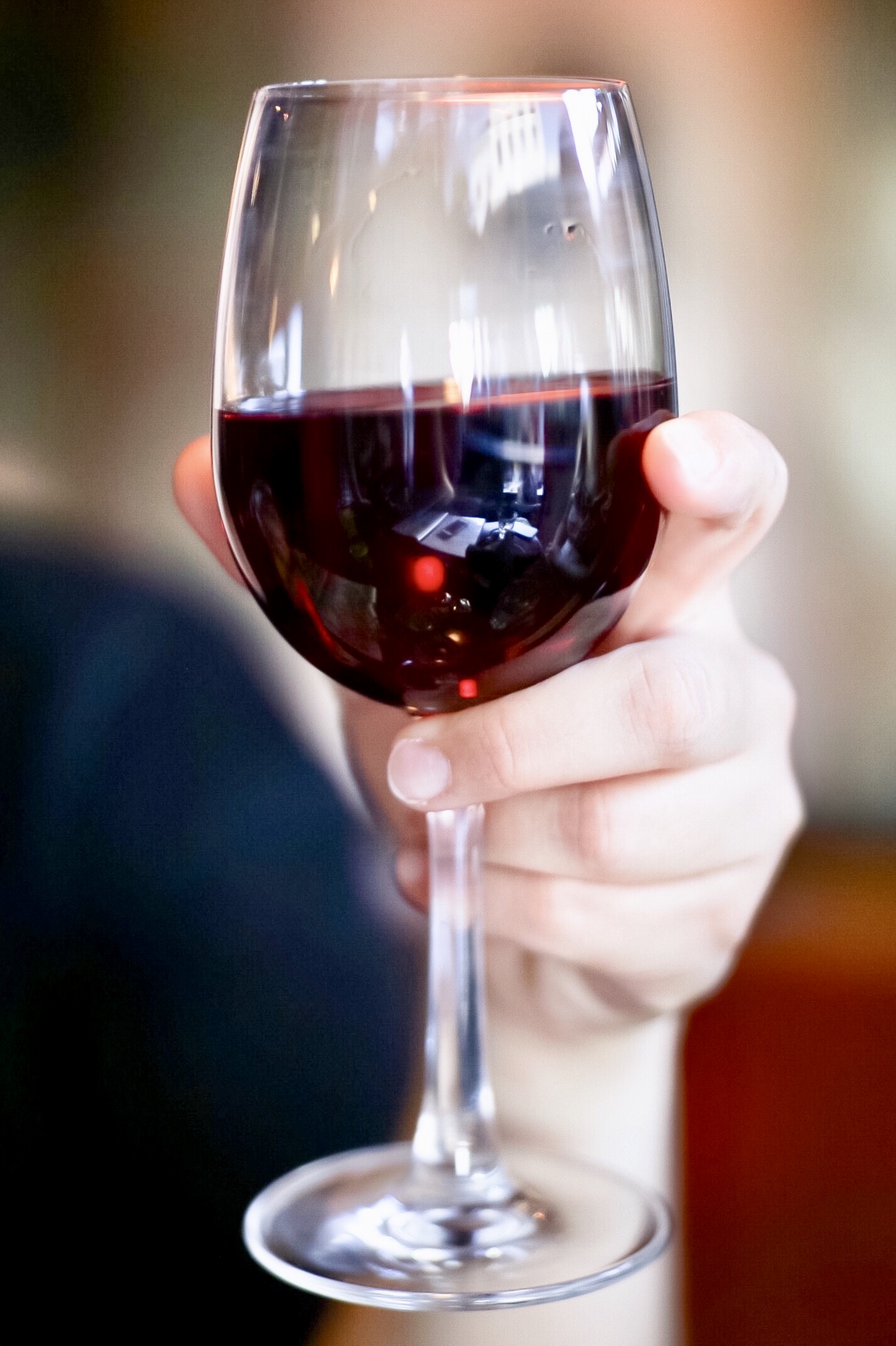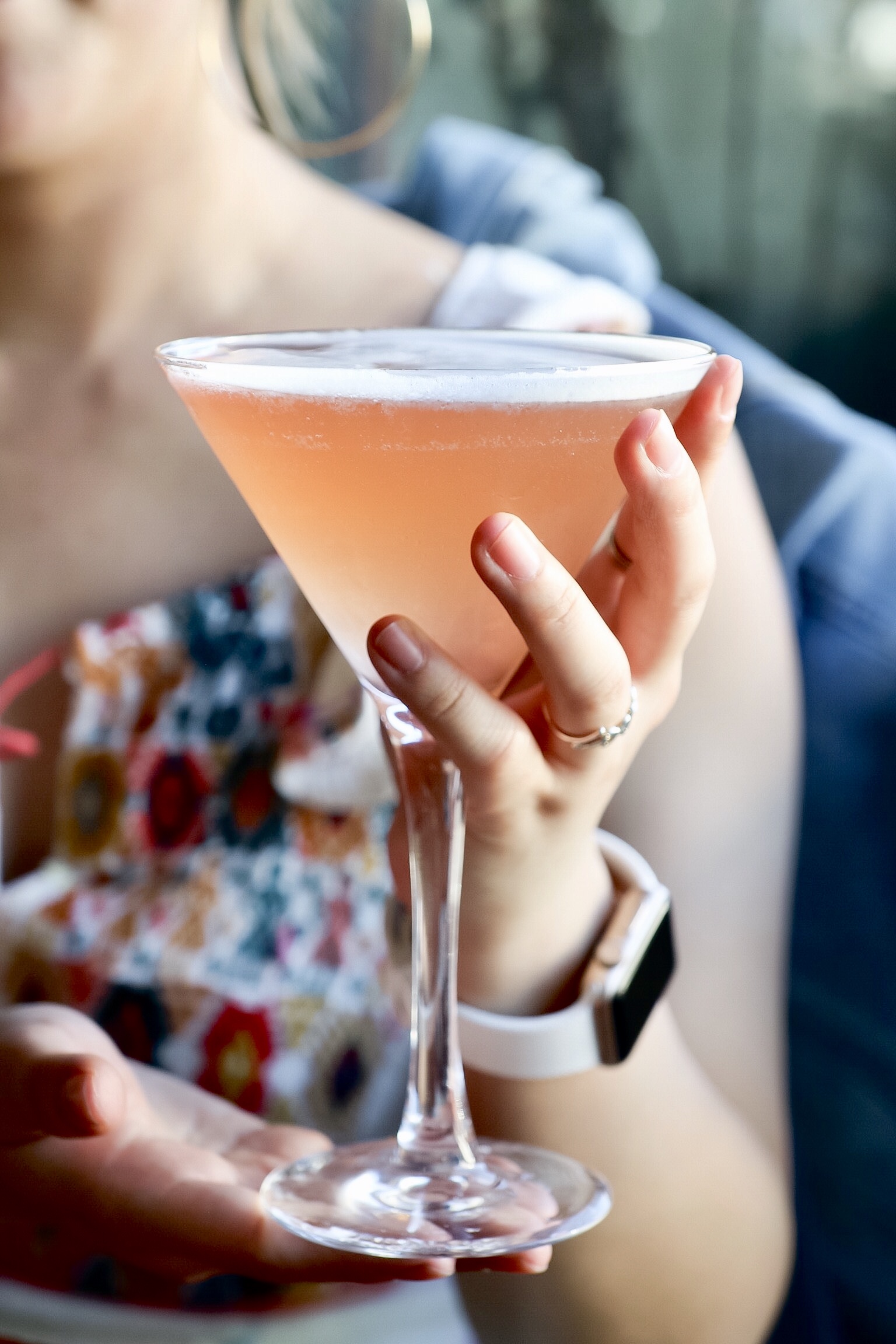 We couldn't wait to dig into the food. First came the Potato Bread, which has a hearty crust but is soft and fluffy inside. Although made by their neighbour, Cobs Bread, the  Locus kitchen supplies the cooked potatoes in the morning for making the bread. The house made savoury butter here is delicious. However, they also serve a cinnamon and brown sugar butter in the morning with their cinnamon raisin bread.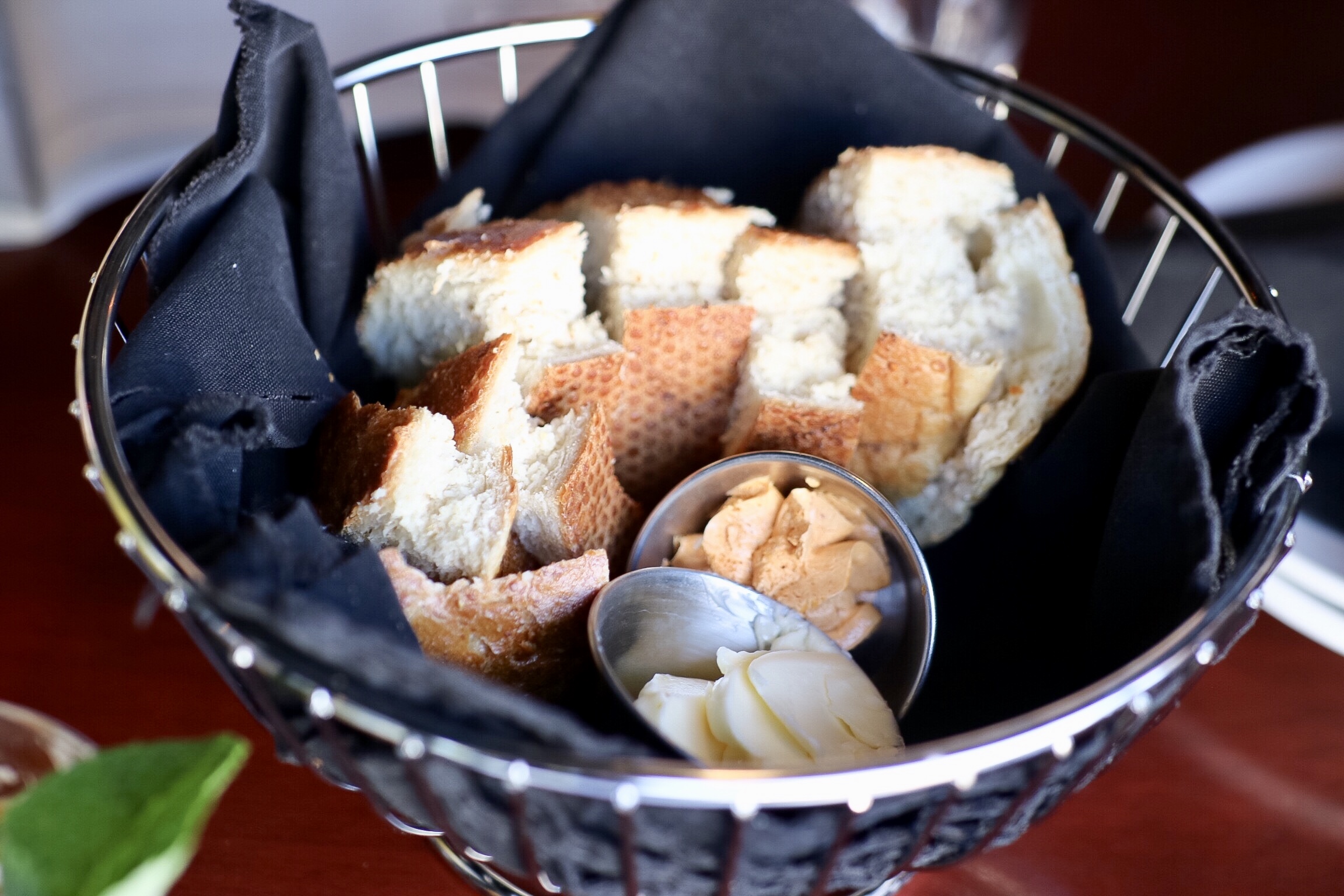 For the appetizers, the Crispy Brussels Sprouts ($12) is perfectly crispy and I could totally taste that distinct green, sweet, and slightly bitter taste of Brussels Sprouts. Brussels sprout is definitely the new cauliflower as a gastropub favourite in 2019. The Cyprus Halloumi Skewer ($15) brings us to the Mediterranean, with delicious grilled Cyprus sheep's milk cheese, basil-arugula pesto, toasted pine nuts, sundried tomato, charred artichoke, kalamata olives, arugula, cilantro, and finished with citrus olive oil. It was extremely vibrant and flavourful. We are off to a great start!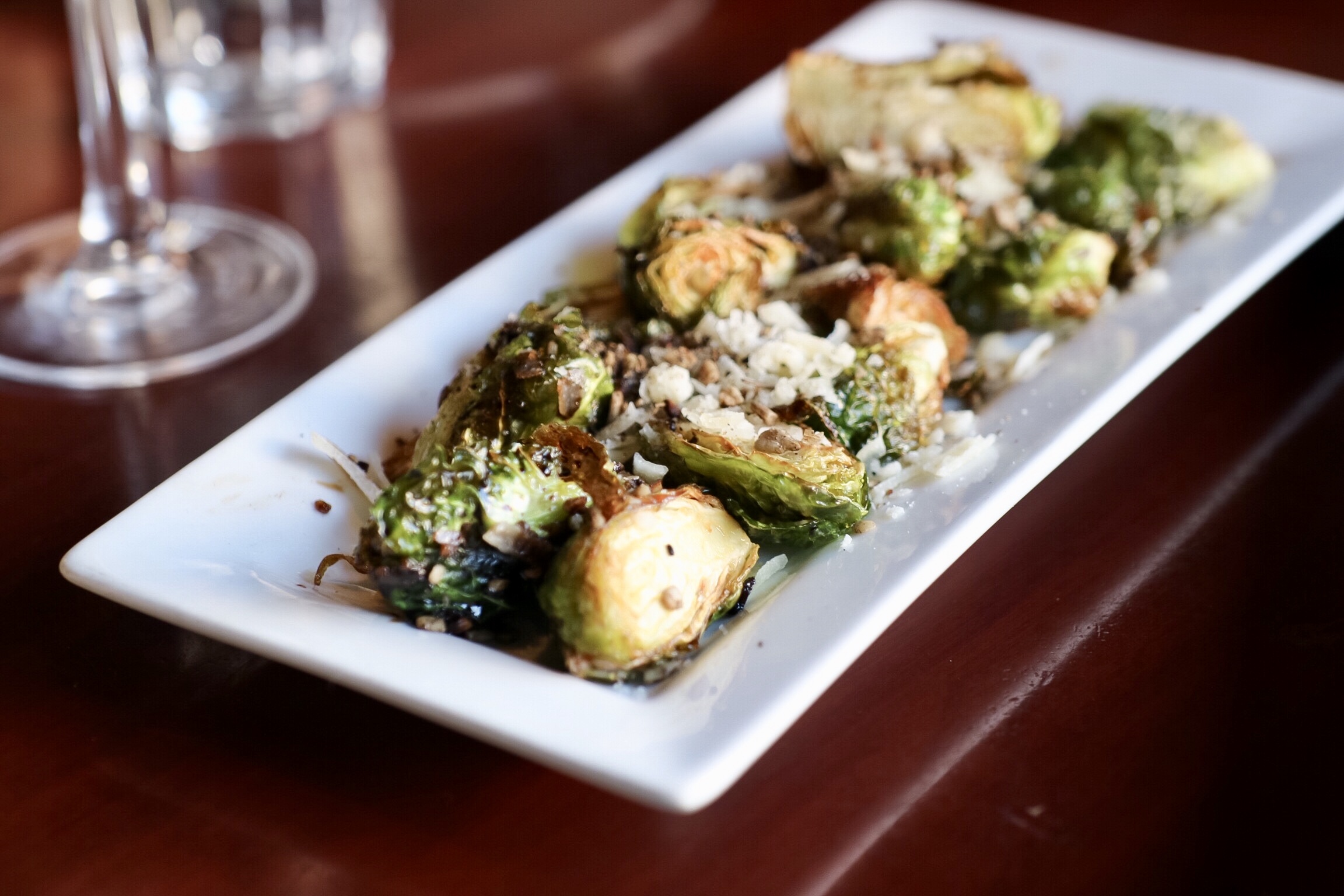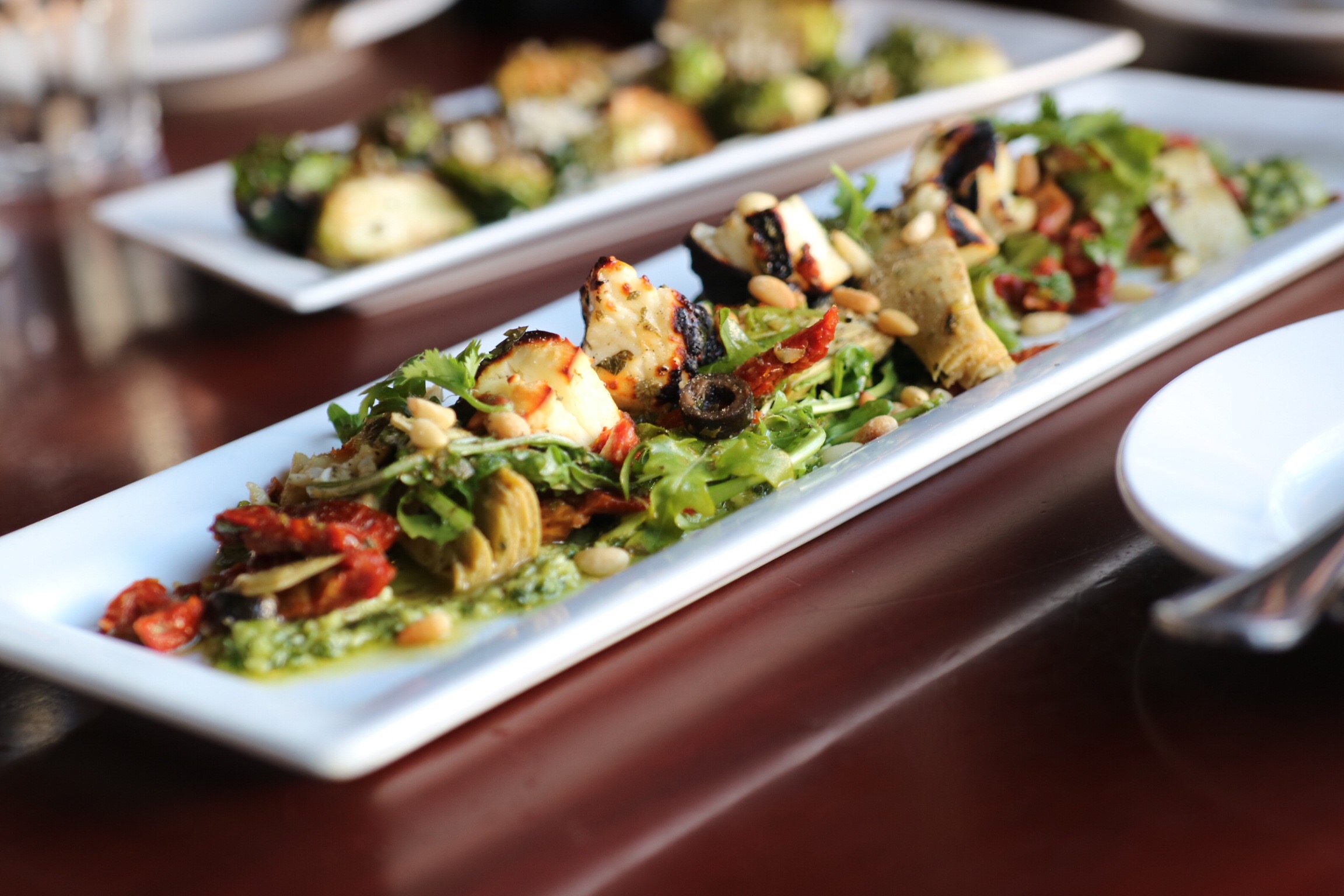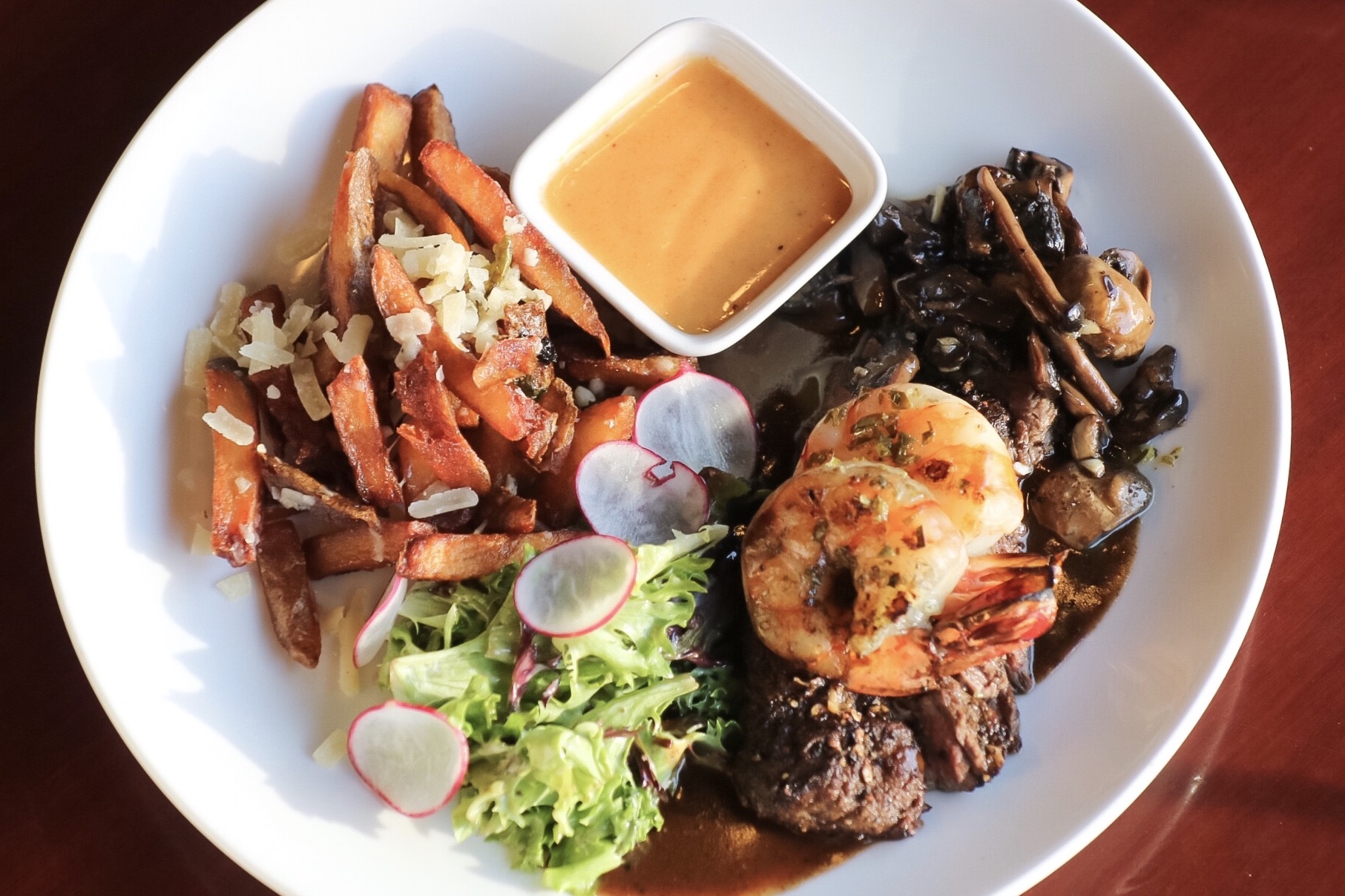 The "Dinner Features" section, including one featured dish in each of  "Soups", "Land", "Sea", "Vegetarian", and "Desserts",  changes weekly or even more than once a week depending on what are available. When we were visiting, we had the "Surf & Turf" Steak & Frites ($27) from the "Land" section, with pan-roasted AAA Albertan beef sirloin, demi-glace, grilled garlic black tiger prawns, parmesan black truffle fries, smoked paprika aioli, wild mushrooms, and seasonal salad with French red radish, as well as the "Le Sorcier de Missiquoi" Mac n'Cheese ($19), loaded with torched soft-ripened "Sorcier" cheese from Quebec, sperpentini pasta, carrot, grilled asparagus, curly red kale, blistered heirloom tomatoes, basil-argula pesto, arugula, pine nuts, chef's micro greens. The steak & frites reminds what I had at a small bistro in Paris, which was just as rustic and packed with flavours. I like how vibrant the mac n'cheese dish is compared to the stereotypical mac n'cheese with all the fresh vegetable, but the flavour profile is very similar to the Halloumi dish and it feels like having a deja vu.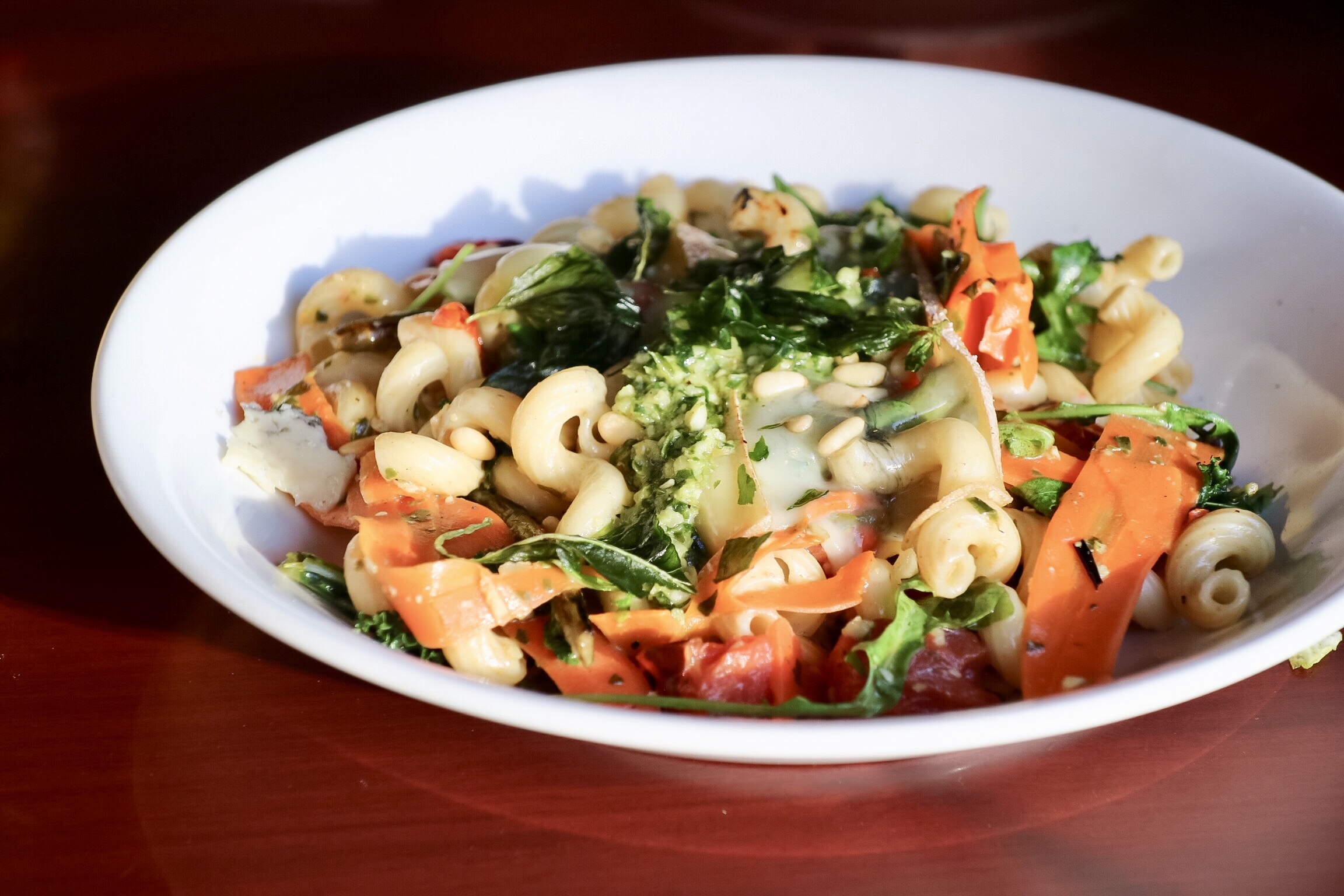 We all loved the texture on the Gnocchi ($24), made with wild spruce tip and chèvre, pan seared , and served with crumbled chèvre, arugula pesto, grilled summer squash, asparagus, fresh strawberries, and balsamic reduction.  The little gnocchi pillows are fried first resulting in a crispy exterior. This is such a cool technique. I also like how goat cheese (chevre) and strawberry get incorporated into the dish. The argula pesto makes a great binder of everything on the plate, but this is the third dish that features the pesto, and it's deja vu all over again!  I suppose this is only an issue when the guests are sharing the dishes. It would be great if we get a little warning if the server is knowledgeable of the food menu.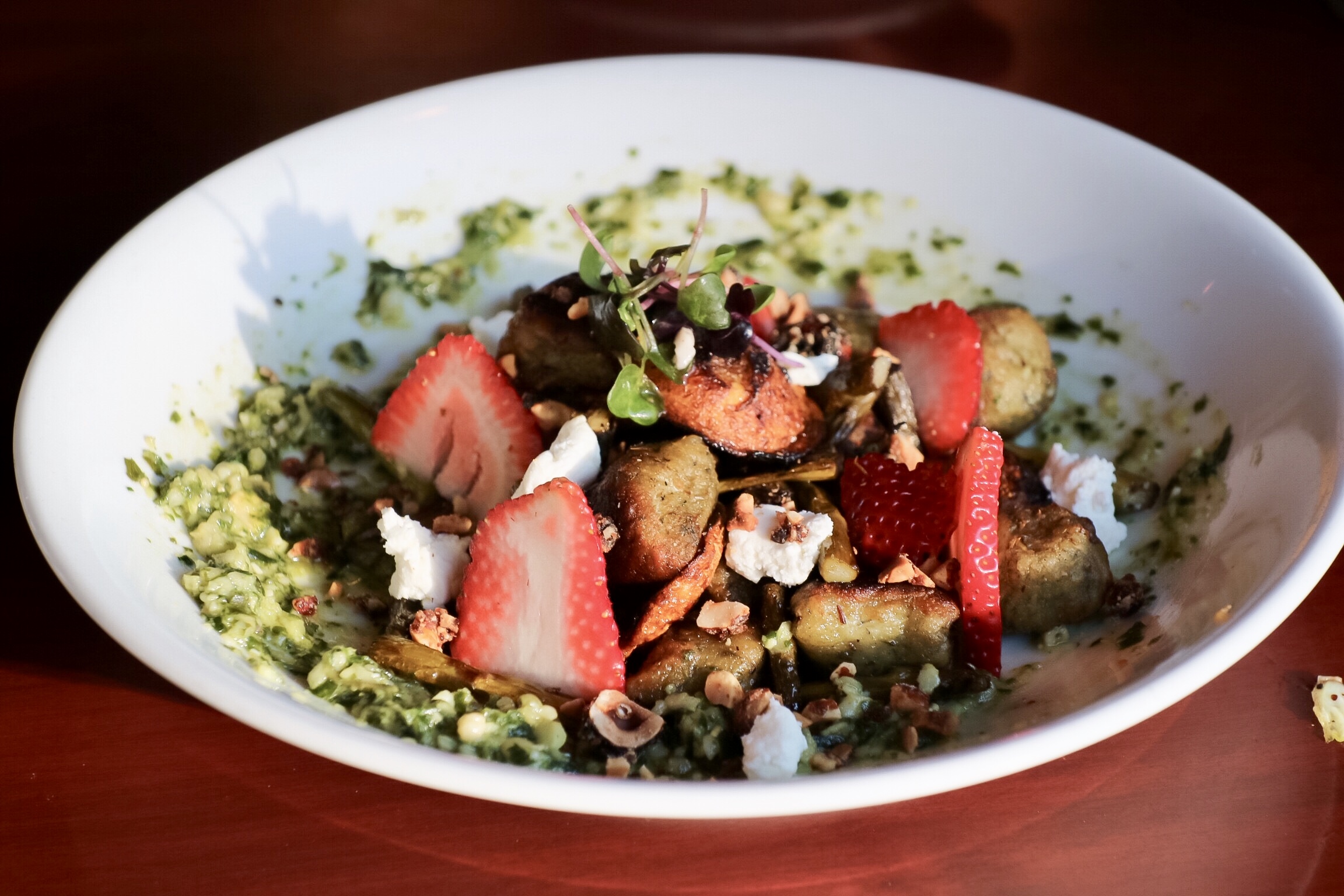 I rather enjoyed the following seafood dishes.  The Haida Gwaii BC Halibut ($32) features pan roasted local halibut fillet,  topped  with some torched Provencal lemon herb butter, and served with grilled summer squash, roasted bell peppers, caramelized fennel, capers, organic fingerling potatoes, spinach, and Chardonnay halibut fumet. Despite the number of ingredients, all the flavours were incorporated nicely, and the arrangement is rather focused. The Seafood Spatzle ($22) is prepared with fried sage-orange spatzle, Atlantic lobster, rock crab, Manila clams, jumbo tiger prawn, sockeye salmon, citrus-herb oil, capers, caramelized fennel, snap peas, blistered heirloom tomatoes, curly endives, and mustard greens – a rather impressive display of a great variety of seafood and fresh produce.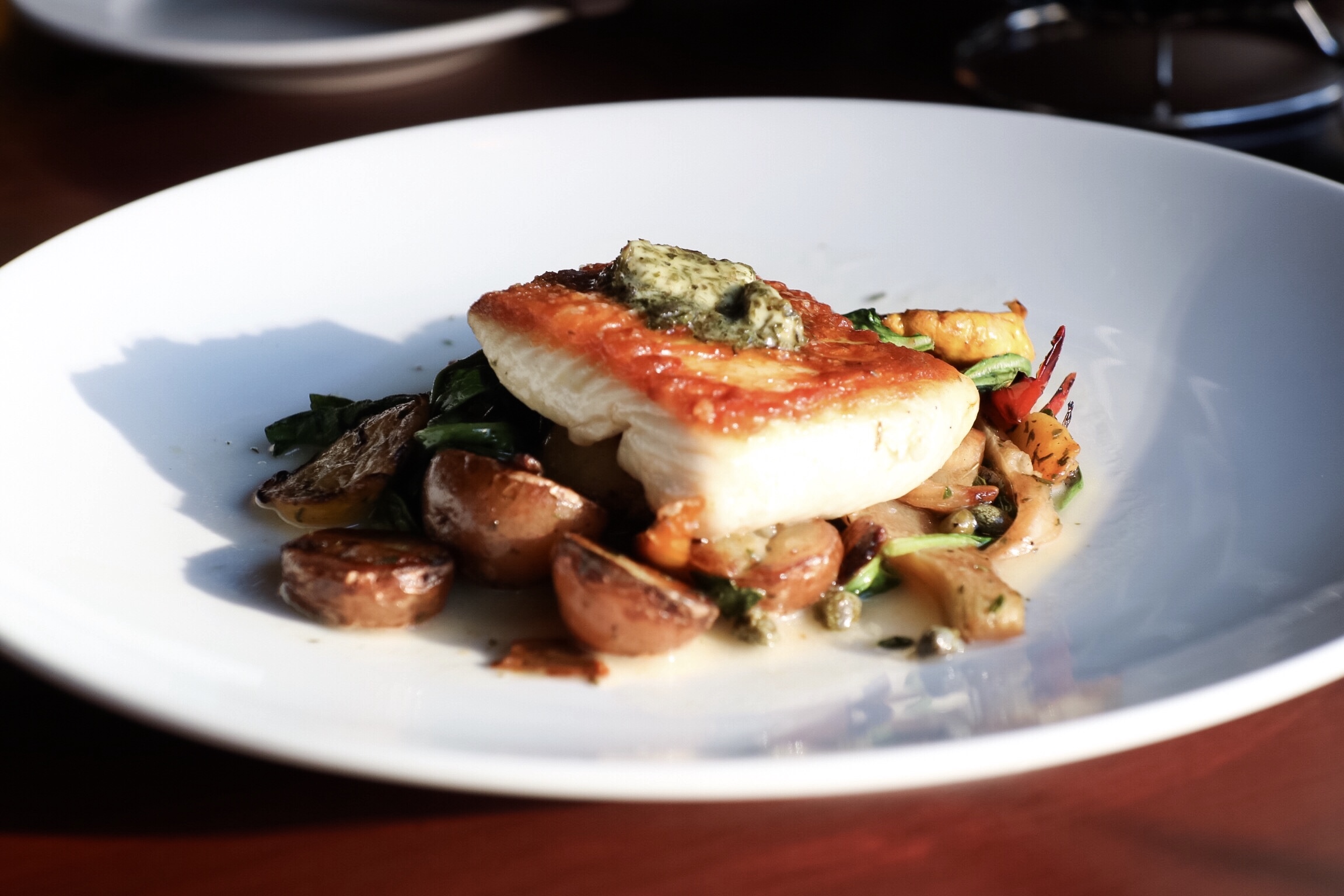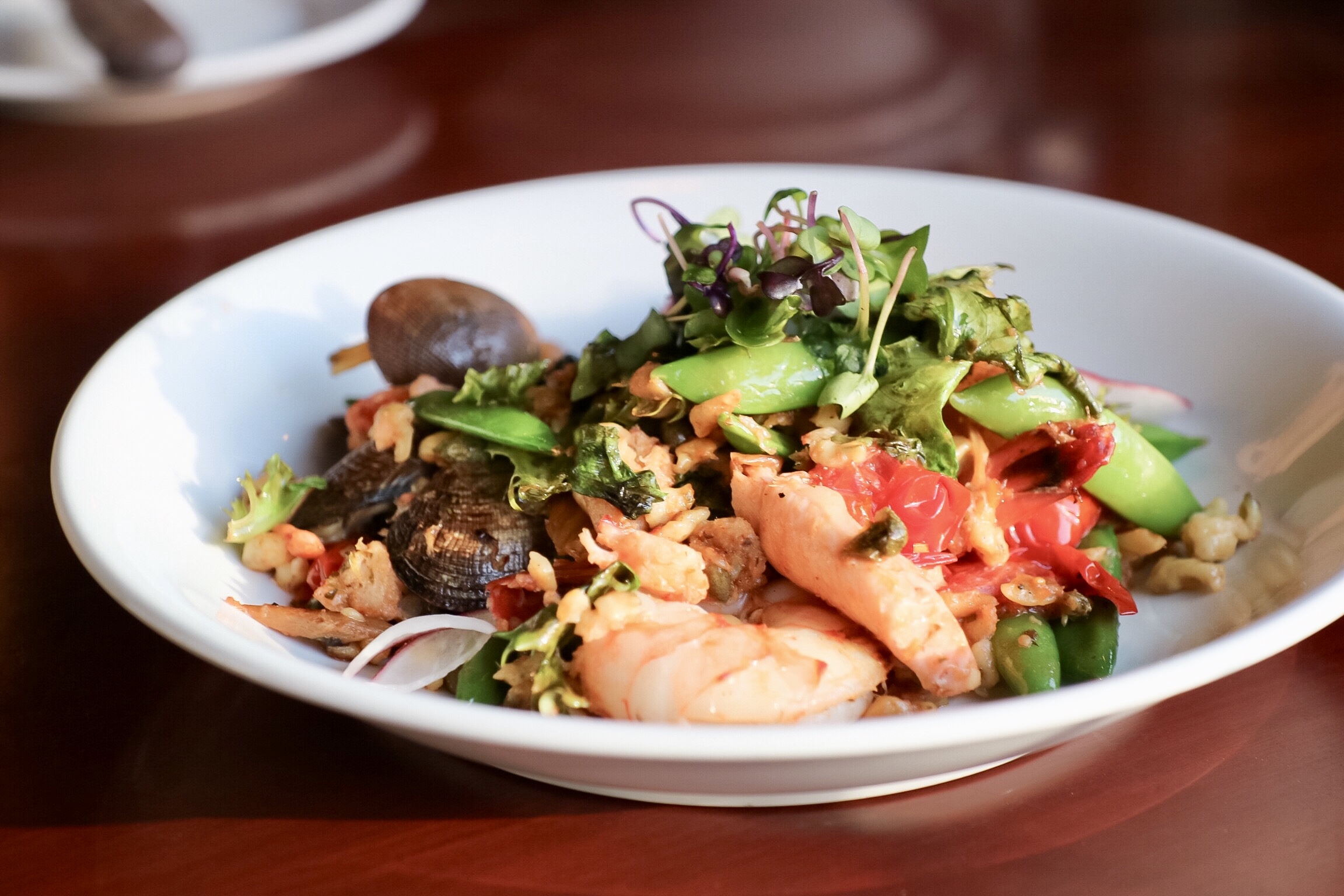 Final thoughts
The chef's cooking style shows in the dishes at Locus. It is lovely to see a great variety of fresh in-season produce with such high quality incorporated into almost every dish on the menu. The excellent selection of sustainable meats and seafood is also applaudable. The food here is rustic, vibrant, healthy, and bold in flavours. Although I wish our server had warned us about some of the dishes having a similar flavour profile when she knew we ordered the dishes to share, I would be happy to order my own plate of food when I come back here next time.
$$
Rating: 3.5/5
Locus Restaurant & Lounge
4121 Main St, Vancouver, BC V5V 3P6
(604) 708-4121 or locusonmain.com
* All food and beverages tasted in this post were complimentary. Opinions are on the reviewer's own.