The prime spot of former Secret Location has now become the new home of Coquille Fine Seafood, helmed by Lee Cooper and Jack Chen of L'Abattoir in the kitchen, with a focus on fresh premium seafood. The partnership also has also included Nin Rai of Truffles Fine foods. This is one of the highly anticipated restaurants in the first quarter of 2018
The 4,100-square-foot seafood house serves lunch, dinner and bar drinks in the busy centre of the historical Gastown, right across from the Gassy Jack statue.
I was curious how the eatery would compare to Hook Seabar, which is also nautically inspired. But once I walked in, the lounge and the dining room looked rather classic, but also with a touch of modern elegance.
It was just quick casual lunch date with a friend, and we just ordered a couple dishes to share.  The Spicy Marinated Octopus ($18) was dressed with 'nduja, a spicy, spreadable pork salumi from Italy, and sprigs of parsley for the freshness, and served on a sourdough toast, somewhat Spanish tapas inspired. The octopus was cooked to tender but still with a slight resistance for a texture to savour.  The flavour was great, leaving me wanting for more. But there was only a couple bites if you share this with another person.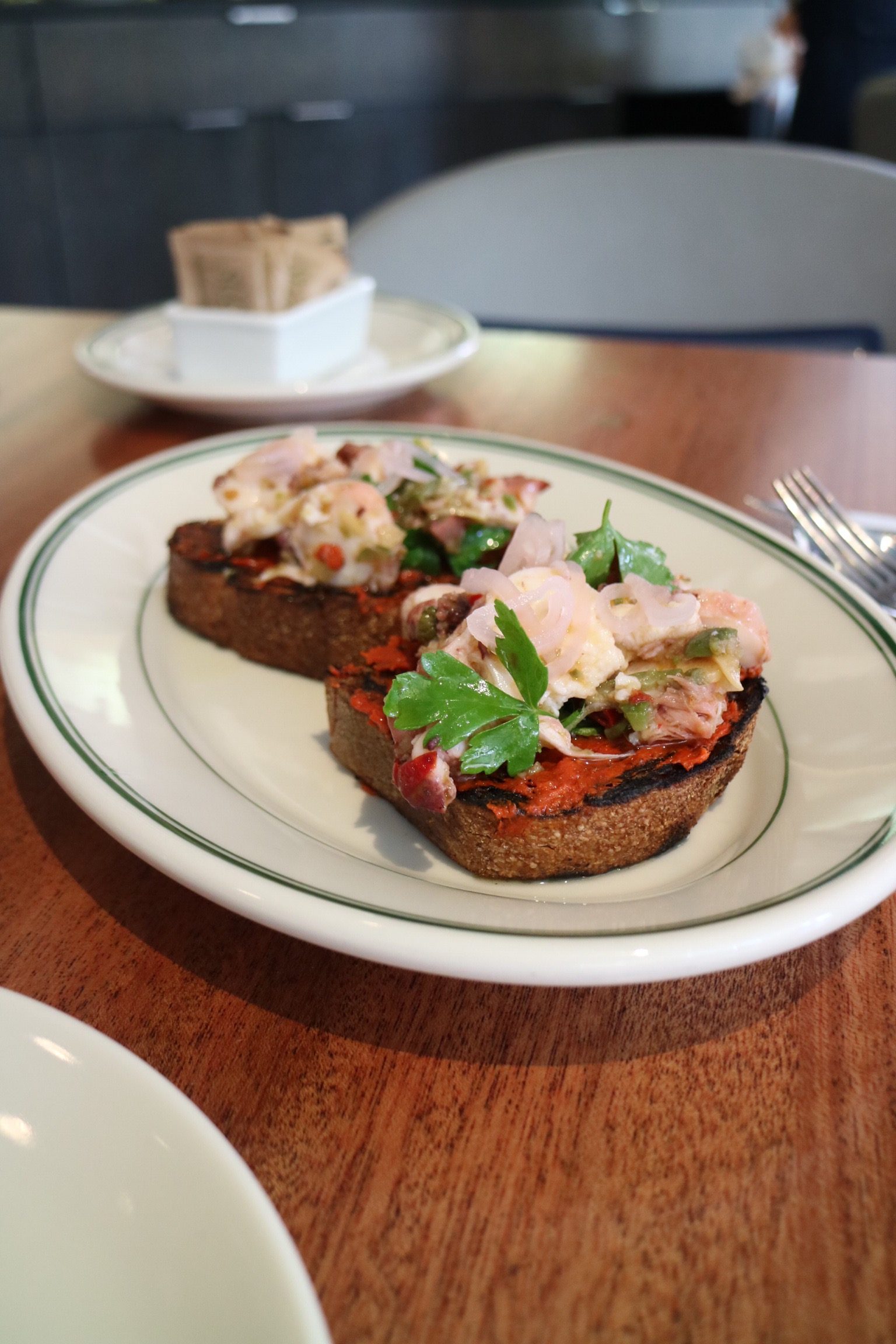 The small chunks of lobster were tender and juicy in the Lobster Risotto ($26). I enjoyed the richness of the taste of butter and parmesan and the touch of lemon for balance. But I wasn't a huge fan of the peas in the risotto. I like fresh peas in freshly made pasta or risotto, but the sweetness of peas clashes with the sweetness of lobster here. Also just be warned that, if you are spending more time chatting than eating, maybe this dish isn't such a great idea because it's better to be consumed when it's nice and warm, or the buttery sauce gets a little waxy.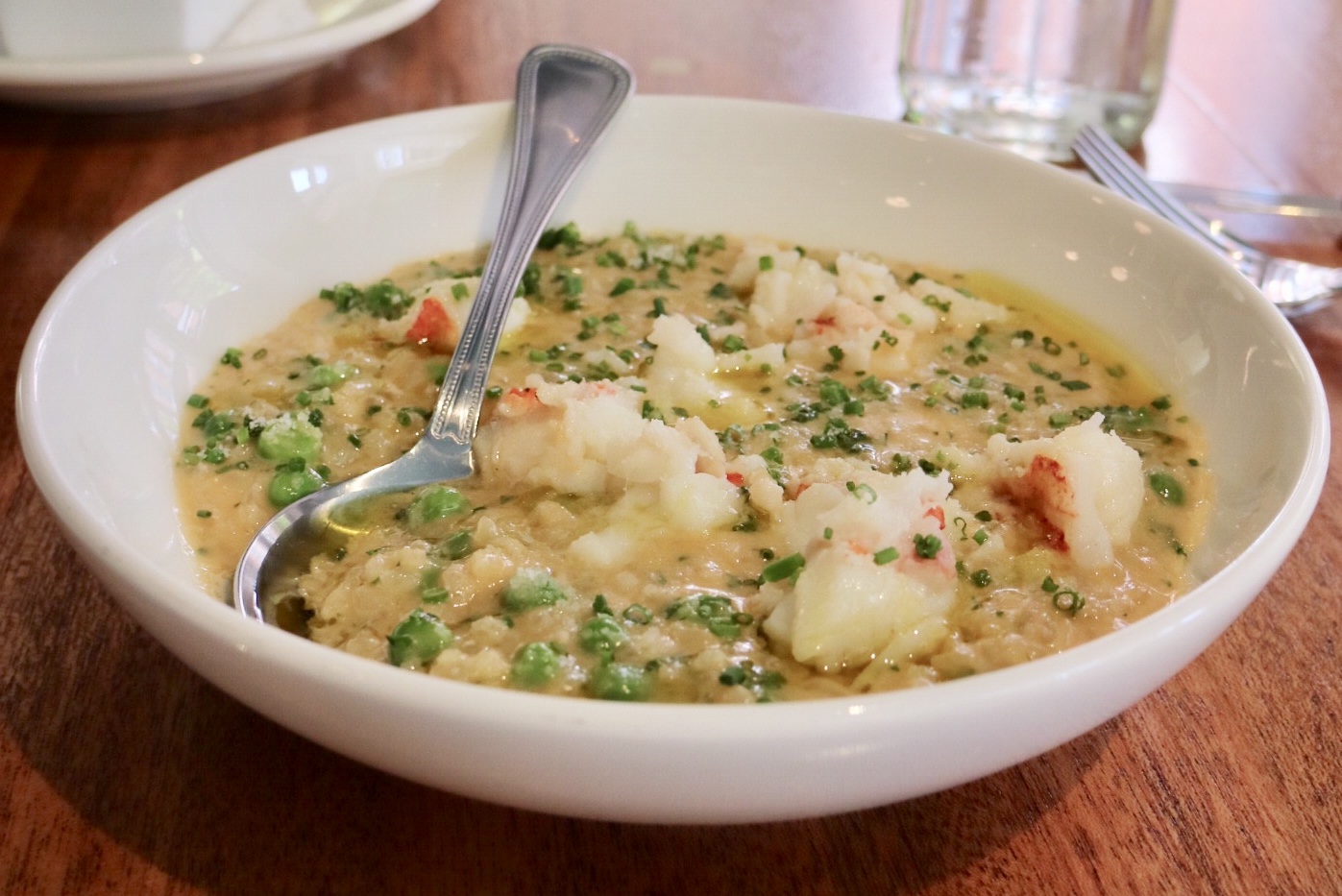 I also had a Negroni ($8) from the tap, which did not taste particularly strong because of the crushed ice. I would rather prefer a stronger one.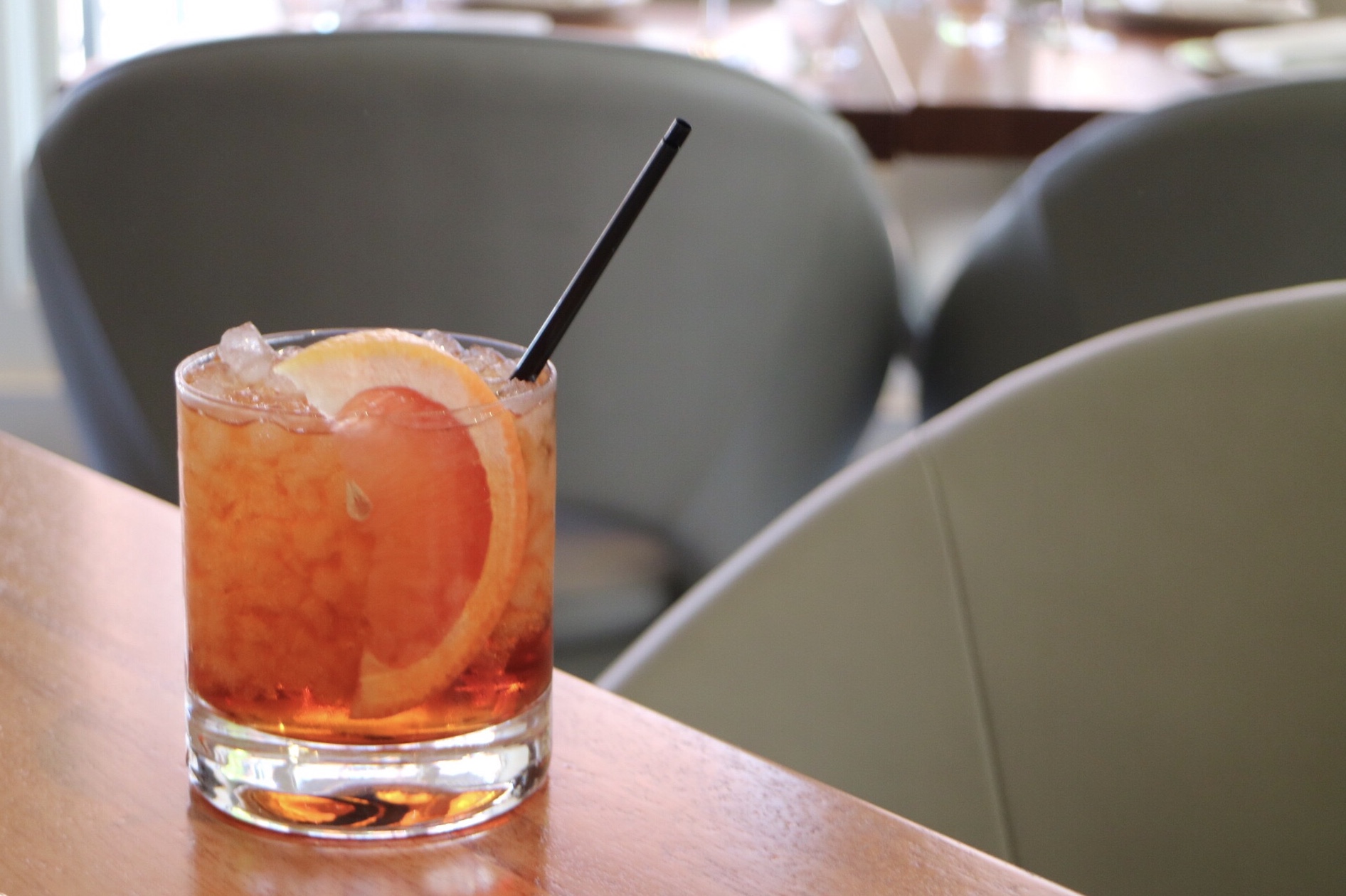 Overall
The quality of ingredients and the elegant ambience here are the selling points for this new seafood house, as I found our Spicy Marinated Octopus and Lobster Risotto nicely prepared. The portions are on the small side here so you could rack up the bill rather quickly if you come hungry. Our server lady was not as attentive as I had hoped – it was not very busy at all at 1:30 pm.  However, I am very interested coming back to try their large seafood platter which costs $175 but it's made for 5 – 6 people with oysters, shrimps, scallops, crab legs and lobster tails, which sounds like a decent deal.
$$$
rating: [wp-review id="14522″]
Coquille Fine Seafood
81 Carrall St, Vancouver, BC V6B 0R5
(604) 559-6009 or coquillefineseafood.com