Nice Sunny Patio
I had walked past The Distillery Bar & Grill in Yaletown many times, and always fascinated by their French bistro style patio with those cute rattan chairs. It seems like a nice spot for happy hour drinks on a sunny patio. And recently I found out this place is owned by the same company, Mark James Group,  who owns their next door neighbour Yaletown Brewery, as well as Flying Beaver, a favourite bar of mine in Richmond. So I suggested this place to Pascal for our quick happy hour drinks on a Friday.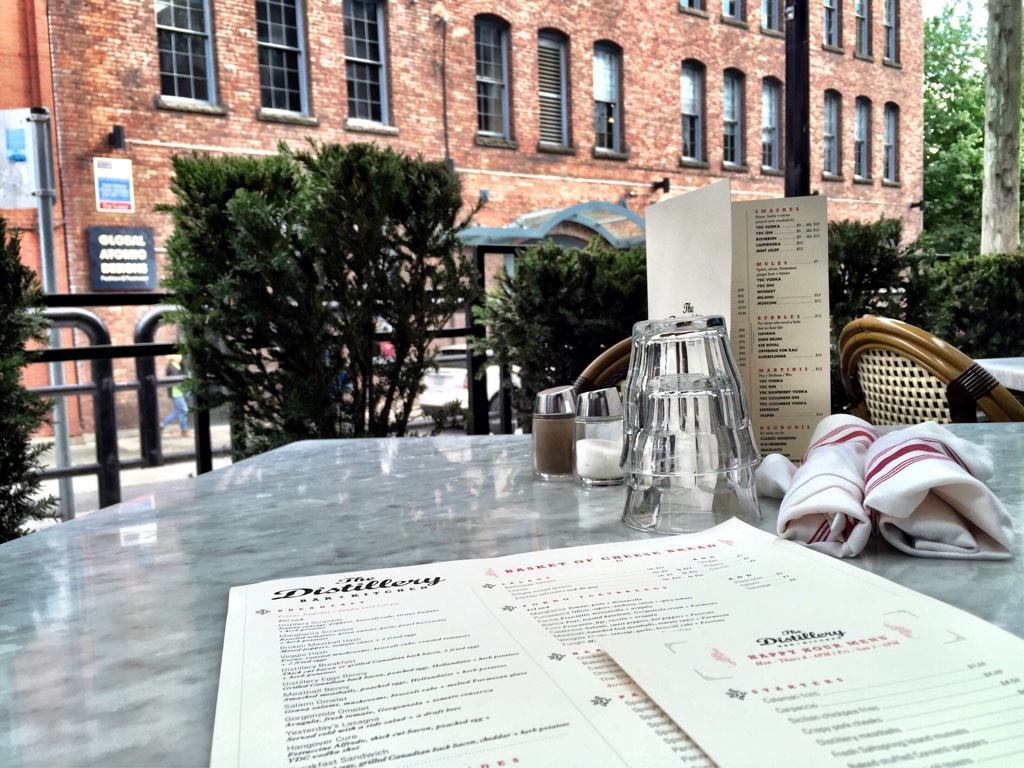 Drinks: Round I
It is indeed a very nice spot when sun is out, especially after a long week of hard work. Although the happy hour menu seemed to focus quite heavily on food, there were still quite a few choices for drinks, definitely taking advantage of having own distilled liquor and fresh brews right at the spot. They have 3 different beers from the brewery – larger, pale ale, and a season choice, and high balls from the distillery. Having become more of a white wine drinker when it comes down to the choice of drink in the early evening, I started with a glass Hester Creek Pinot Gris ($5), the white wine choice for the happy hour menu. It was a little spicy and stiff for a Pinot Gris at the first sip, but it went a lot smoother after. Pascal had the seasonal Wheat Ale ($5) which was pretty easy drinking with a slight smoking flavour.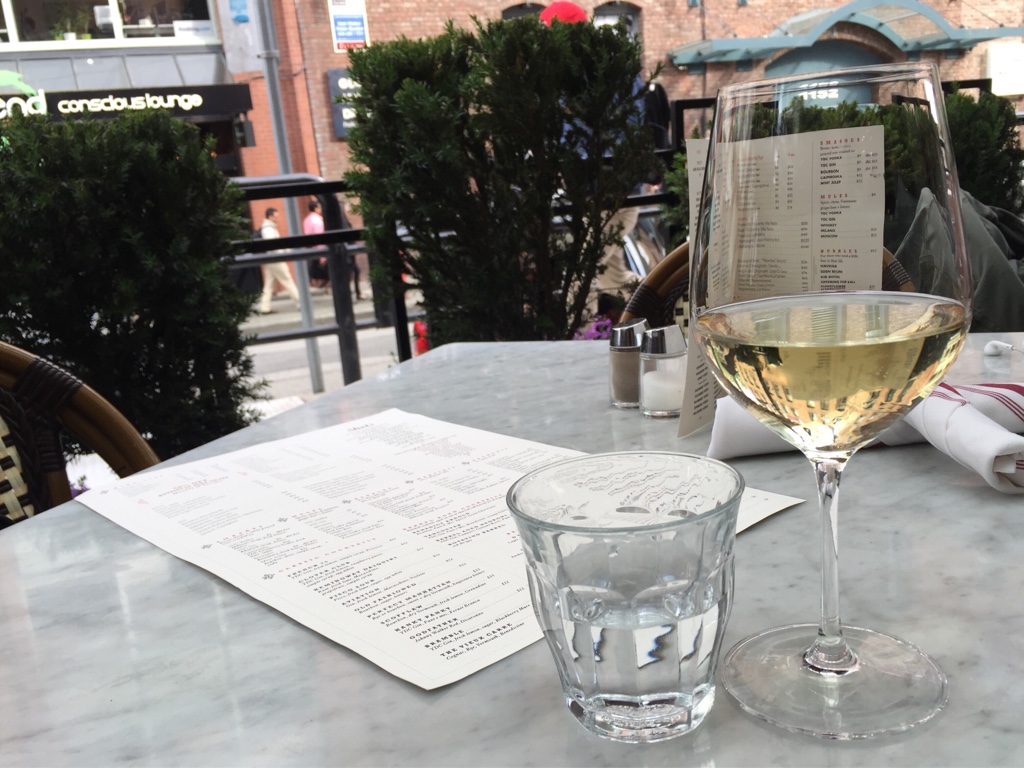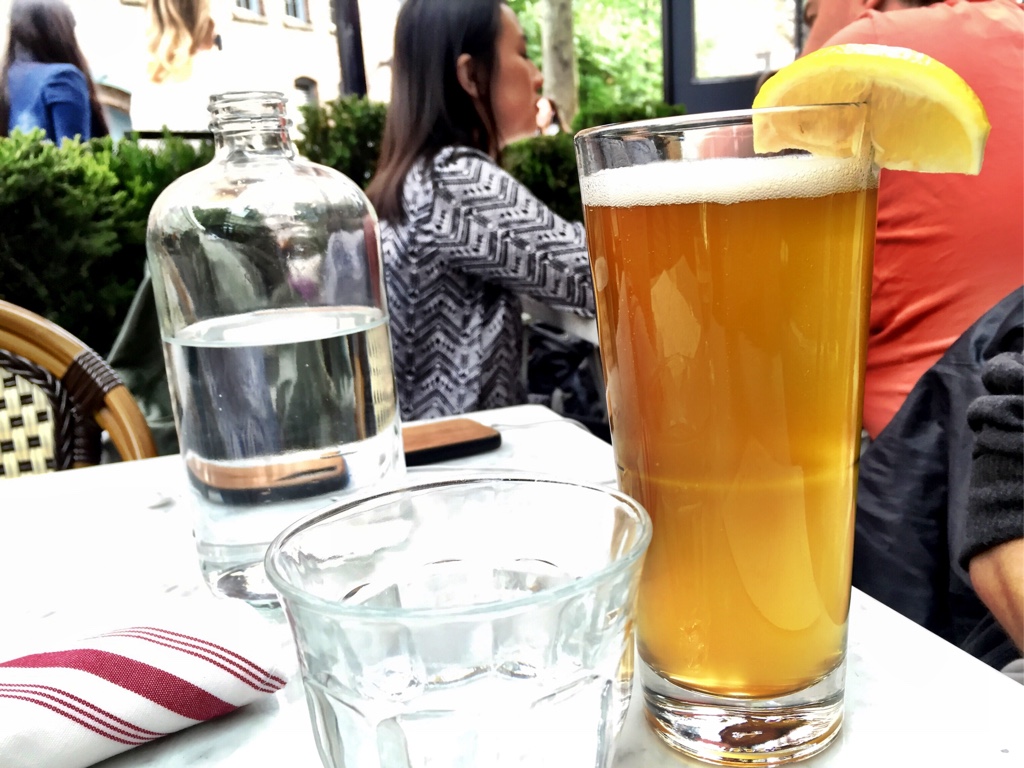 The Happy Hour Plates
The Carpaccio ($7.50) had a buttery quality to the texture, but it didn't have a lot of flavours itself.  The toppings such as arugula and capers definitely helped elevating the dish. I should have asked them if it was beef or veal. The colour was too light for beef and a little dark for veal, and  would remain as a mystery until next time.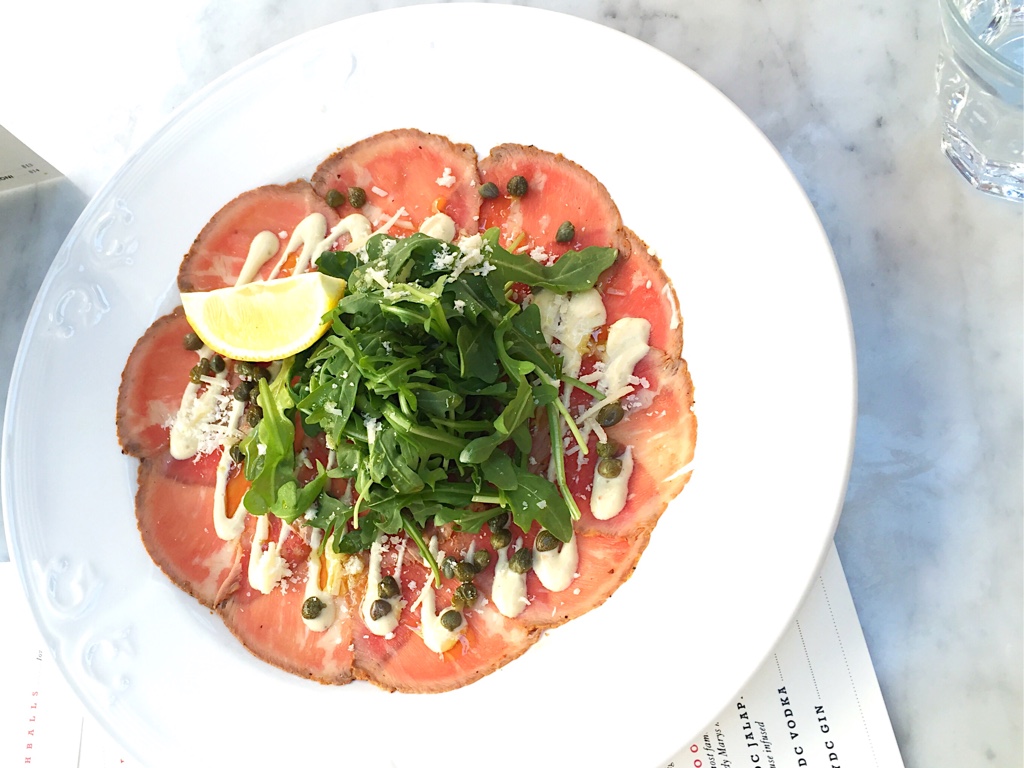 The Calamari Fritti ($7) were nicely golden and crunchy, but little heavy on the breading. The fresh finely chopped parsley was a nice touch.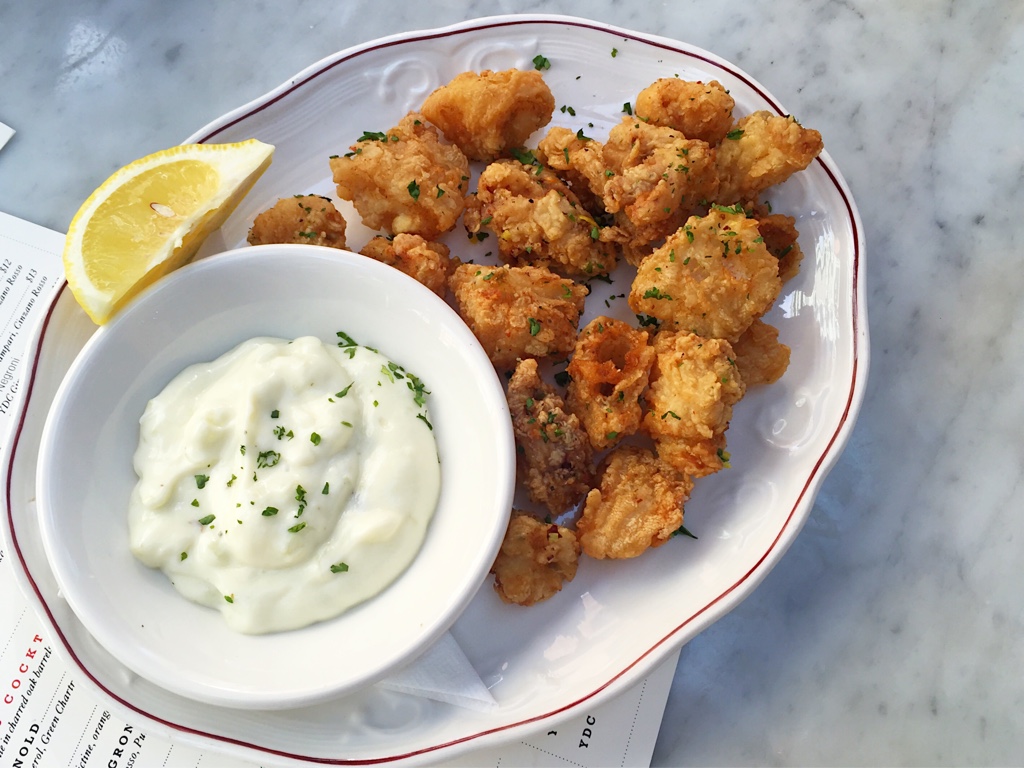 I found the Salt Spring Island Mussels ($7.50) a pretty decent deal. The quality of mussels from Salt Spring Island are often praised – although not super meaty, they are pretty special because their natural sweetness, and they usually are not cheap.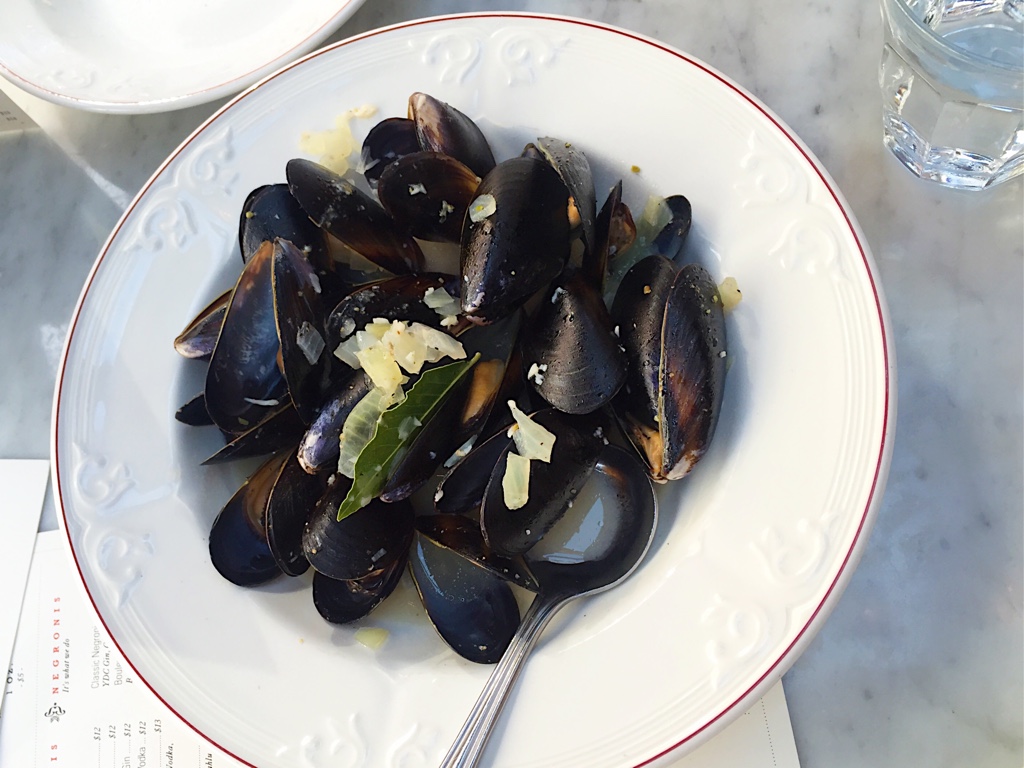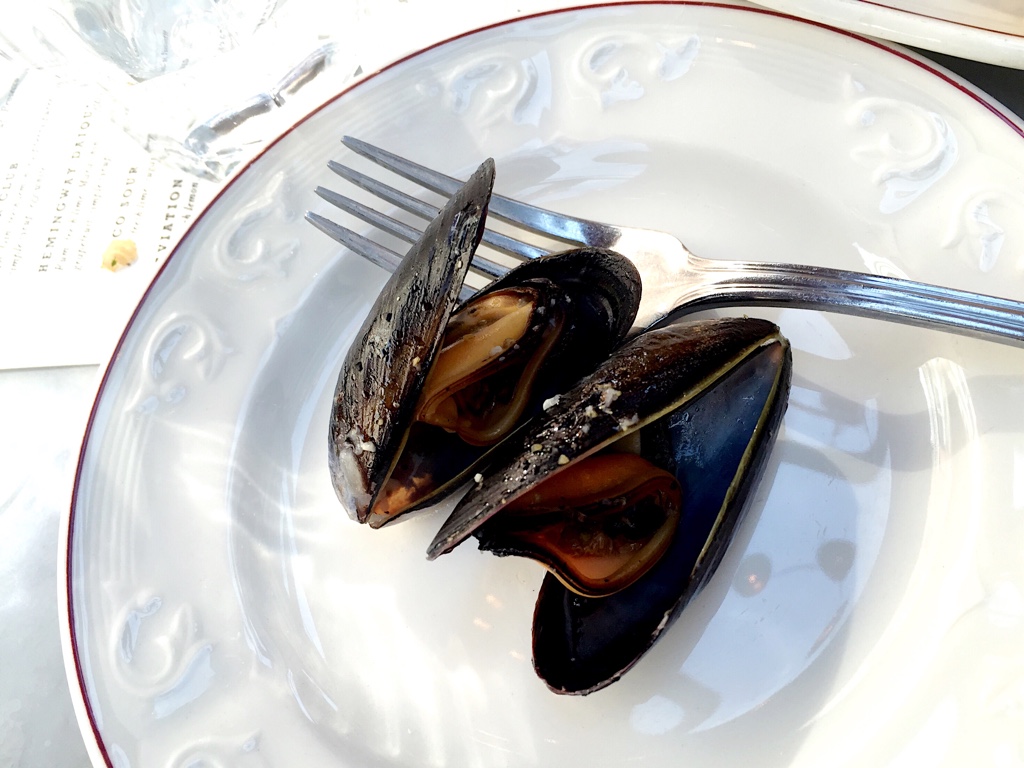 Drinks: Round II
It might be too soon for me to switch to Red, but I did it anyway just for a taste of their happy hour red. CC Jentsch Cabernet Merlot ($5) was pretty stiff as the mix of cabernet and Merlot had suggested, and it would be better to pair with the other other small plates on the happy hour menu such as the Crispy Pork Cheeks or House Meatballs. Pascal switched to the house Pale Ale ($5) too, which was another easy drinking beer for a hot summer evening.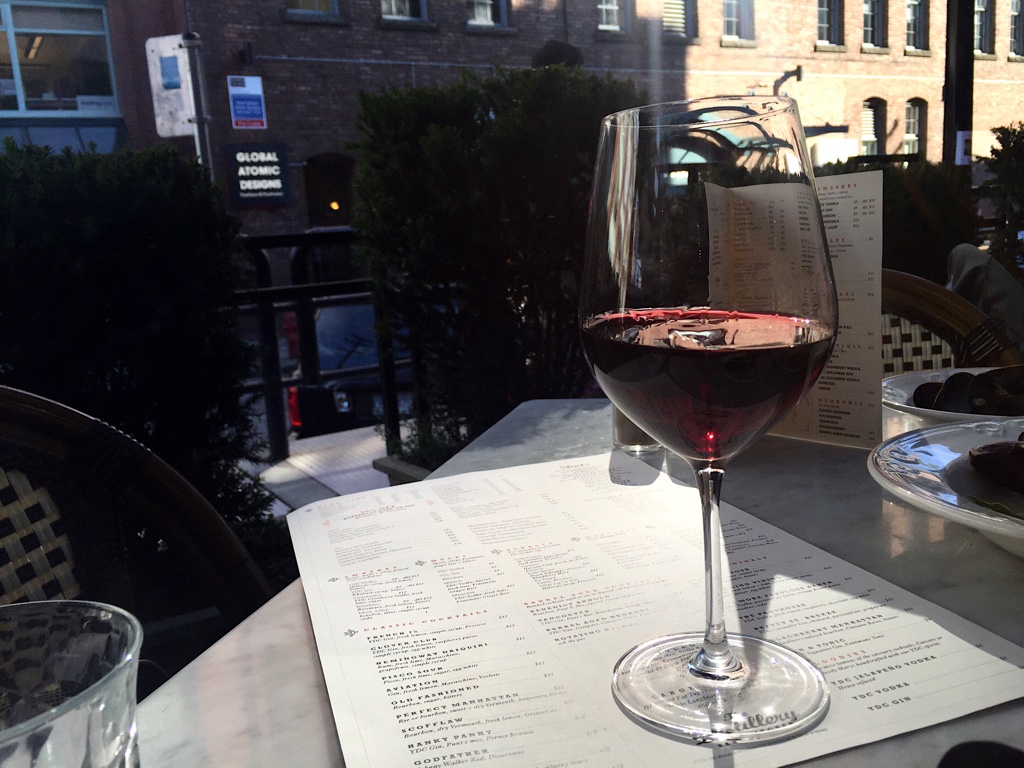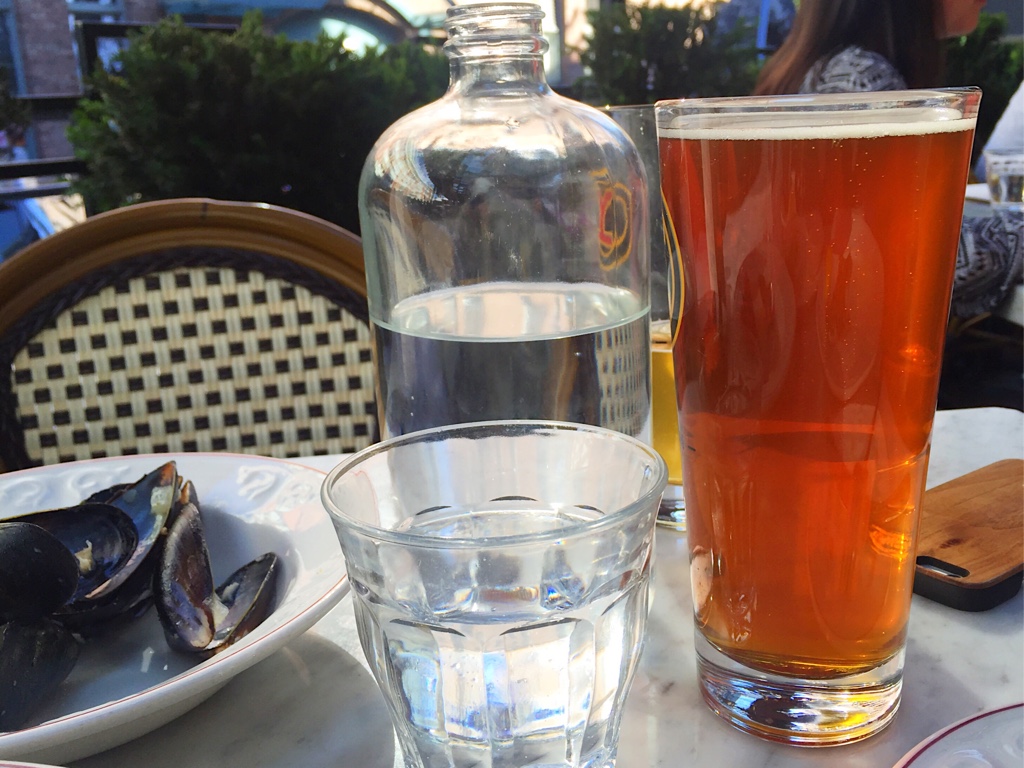 Overall
I think they have done a fine job showing a glimpse of their dinner menu at happy, which seems to hold a pretty good value. The main dining room seems to be pretty up-scale, and the menu features the New York style American Italian dishes like pasta and pizza. So it is like a little Paris outside on the patio and they going old school NYC inside – it reminds me of being at one of those casinao restaurants in Las Vegas.  However, the fresh brews from next door is definitely convenient. And I would certainly like to try their own distilled liquor next time.
Website:
http://www.mjg.ca/distillery-bar-and-kitchen/
Menu:
http://www.mjg.ca/drive/uploads/2015/11/TDB-K-Dinner-Menu-updated-Oct-2015.pdf
More reviews:
Location: