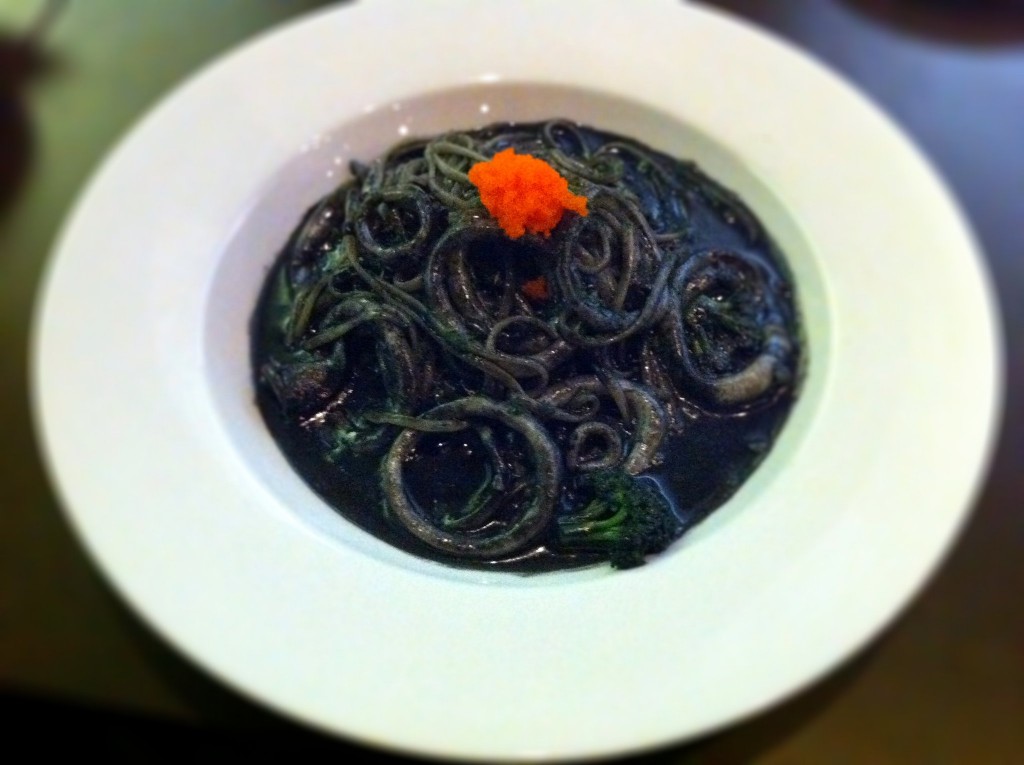 Asianized Pasta? I was almost a little skeptical standing in front of Bistro the Home, a little restaurant buried in the sea of restaurants on Alexandra Rd in Richmond. And it looked like a Karaoke bar from outside.
The decor was actually pretty nice inside the restaurant and much classier than outside. Delightful ambience and comfortable seating. Their menu is a combination of typical Italian pasta dishes and some confusion ones with ingredients such as Taiwanese sausage or Kimchi. And cold or hot drinks came with a meal like a lot of Asian cafe style restaurants. Having enjoyed making pasta dishes quite often myself, I was looking to get something that was not made easily at home.
My dish was called Nero, and I guessed the inspiration was drawn from Spaghetti al Nero di Seppia – Spaghetti with Squid Ink Sauce. But they used Linguine instead. The squid was sliced into rings of the thickness as the noodles, and the texture was just perfectly al dente. The sauce was delicious. It was creamy but not heavy. It kind of reminded me of having a very tasty chopped scallop cone, with a balance of the natural sweetness of seafood. A touch of Tobiko caviar was on top of the pasta added more flavour and fun to the dish. But I think maybe salmon caviar (Ikura) would probably would give more of a punch of excitement to it.
My friends enjoyed their dishes too. The tomato sauce was simple but it jived from all the beautiful fresh ingredients. Maybe this is the essence of the so-called Asianized Pasta?
It was truly a pleasant surprise.